Modern business operations wouldn't be the same without artificial intelligence chatbots offering quick and effective customer assistance. AI Chatbots have been used in various industries, including retail, banking, healthcare, and education. This final chapter of our Chatbot Guide will look at the common channels you can integrate chatbots into and real-life AI chatbot examples and use cases of how they've boosted the customer experience and streamlined operational processes.

From straightforward customer service bots that handle more simple requests to sophisticated artificial intelligence-powered virtual assistants that use conversational AI to interpret context, each chatbot example demonstrates the adaptability and promise of chatbot technology. After reading through the examples of chatbots in this chapter, you will be left with ideas and solutions for adopting chatbots in your business.
Common chatbot channels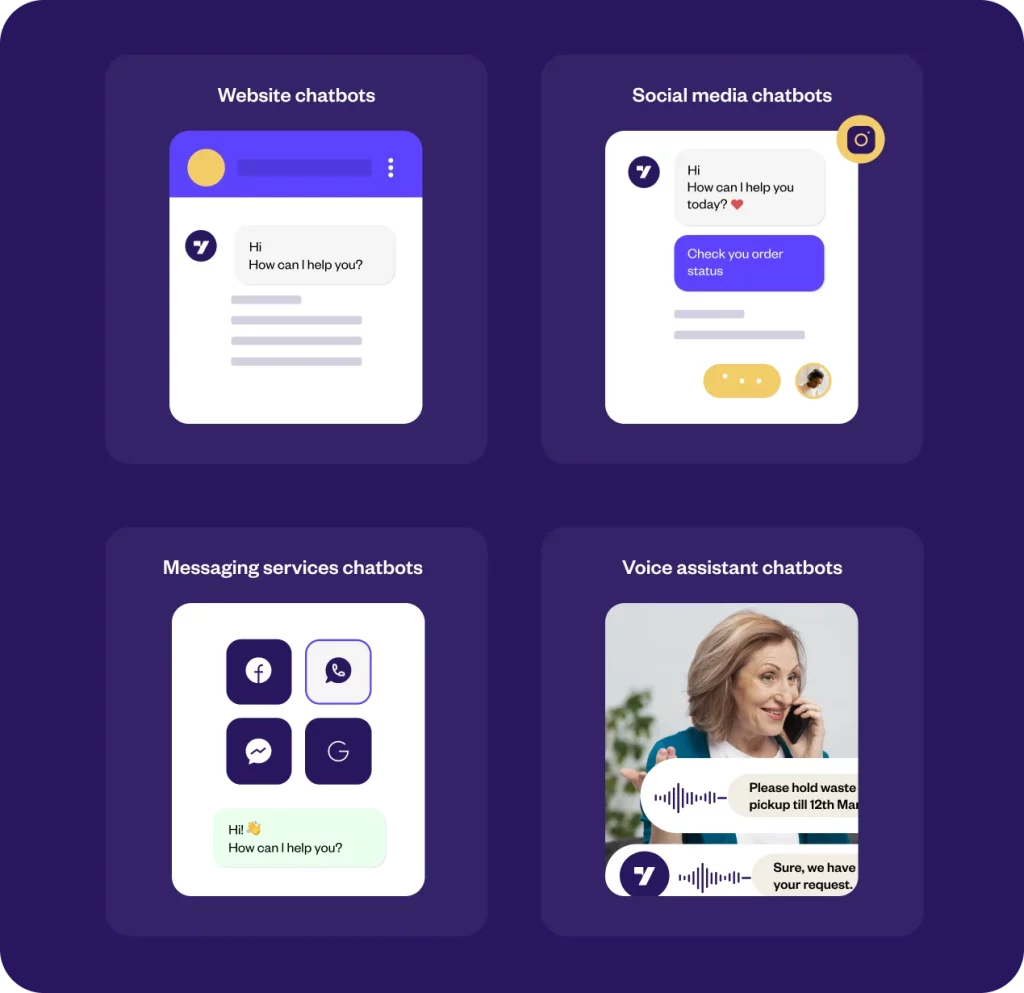 Before we dive into the examples, let's discuss the main channels companies use to integrate their chatbot. It's important to note that this is not a comprehensive list.
Website chatbots
The website chatbot example might be the first thing that comes to mind when you think of AI chatbots. Your website is an excellent target for supporting users that have already initiated their search for your products and services.
Integrating a chatbot on your website encourages your website to initiate a chatbot conversation instead of heading directly to the contact page for any requests or questions they might have. Integrating your chatbot with your site gives the bonus of being able to personalize your bot to align with your brand and website design to provide a more cohesive user experience.
Social media chatbots
Social media platforms are also popular channels for chatbot integration. This is a great way to reach an audience that is not yet aware of your products at a low cost by targeting their demographics, interests, and browsing behavior.
From the customer's perspective, social media chatbots on these channels are more convenient since they can request more information without leaving the social platform's native app or navigating to a website.
Messaging services chatbots
Messaging services like Google messages, WhatsApp, and Facebook messenger offer a cost-effective and scalable way to develop a chatbot. Creating a Facebook messenger bot or another type of messaging services chatbot is incredibly straightforward, allowing you to set one up within minutes.
Voice assistant chatbots
Deploying your chatbot as a voice assistant is a bit more complex but works as an extremely convenient channel for customers to resolve queries. However, it can give you an edge over your competitors and enhance the user experience by assisting customers and holding intricate, verbal conversations with them at any hour of the day. Some popular voice assistant chatbot examples include Alexa, Siri, and Cortana.
Best chatbot examples across industries
1. Customer service chatbot examples
Customer service chatbots handle a range of customer inquiries and enable customers to access the information and support they need at any moment. These chatbots offer prompt, effective client support around-the-clock, reducing the need for human customer service teams to engage in customer conversations.
Chatbots can be employed in several ways to handle different facets of customer service, including:
Offering 24/7 support: Chatbots offer users round-the-clock assistance to promptly and effectively answer customer queries, handle customer requests, and resolve issues. Round-the-clock support increases customer engagement and fosters brand loyalty. Additionally, it demonstrates to users your genuine concern for and attention to their needs.
Scheduling, reservations, and booking: You can deploy a chatbot on your channel to assist clients in making reservations or, better yet, make the reservations for them.
Recommending products: When chatbots recommend products to users based on their interests and requirements, it can directly impact conversions, customer engagement, and Average Order Value.
Handling returns: Chatbots can accelerate the process of returns and refunds by accepting returns, ensuring the product is eligible for a return, and initiating a refund right from the chat interface.
Confirming and tracking orders: Customers can grow impatient while waiting for their order to arrive. Chatbots can send the customer's order IDs, shipping confirmations, and tracking details and answer any questions to keep them engaged throughout the order fulfillment process.
Collecting customer feedback: Chatbots can help gather customer data by including interactive questions in the conversation flow to help measure customer satisfaction and drive innovations and changes to your product or service.
Providing a knowledge base: Many users prefer chatting with a chatbot whenever they want answers to quick questions instead of waiting for a human. Chatbots can be the perfect knowledge base for customers to get instant answers to their questions.
Customer service chatbot tips and considerations
Prioritize your chatbot's greeting: An effective AI chatbot conversation starts with a greeting message. An AI bot with a greeting that contains grammatical errors or comes across as robotic can quickly turn users off to the bot entirely. Your chatbot's introductory message could be the most crucial factor in determining whether or not users will take advantage of it for their customer service inquiries, so it's imperative to ensure it is engaging, friendly, and free from errors.
Make your chatbot easy to find: Your AI chatbot should be easy to locate so users can access it without hassle, effectively reducing the number of users who need to contact human agents for customer support.
2. Marketing chatbot examples
Marketing chatbots aid businesses in their digital marketing strategy by helping to improve their lead generation, brand awareness, customer engagement, and sales.
Here are a few of the many ways to use chatbots in your digital marketing efforts:
Promoting products: Marketing chatbots employ conversational AI marketing to promote products and services. They understand the customer intent by conversing with them and recommending the products they are most likely to buy.
Funnel marketing: Chatbots can be used as a marketing funnel automation tool to seamlessly engage your customer base throughout different stages of awareness, consideration, conversion, and retention.
Second-net lead generation strategy: Most companies use a lead generation form to gather customer data, but only a few customers are interested in filling out the form. To make the lead generation process more interactive and fun for customers, companies must also apply the 'second net' strategy, wherein a chatbot asks engaging multiple-choice questions from customers to collect their data. Your sales team can then use this data to follow up with prospective customers and close more sales.
Marketing chatbot tips and considerations
Determine a measurable objective: Decide what the objective is for your marketing chatbot. Whether raising brand awareness, generating more leads, or boosting sales, be clear on your goals and which metrics you will use to measure success. These metrics could be the number of sales, leads, or users.
Share relevant content: Connect users with podcasts, videos, articles, and other content that might interest them via your chatbot. In addition to giving your content more exposure, this offers users a smooth customer experience because they can easily access the content without having to leave the chatbot platform or do their own search.
3. E-commerce chatbot examples
E-commerce chatbots help users with online shopping by responding to queries, making product recommendations personalized to each shopper, and guiding the checkout process.
These are some of the most effective applications of E-commerce chatbots:
Assisting with online shopping: E-commerce chatbots can aid online shoppers by supplying product details, responding to their inquiries, and leading them through checkout.
Making product recommendations: E-commerce businesses can use chatbots to examine customer information like browsing and purchase history to provide personalized product recommendations. Additionally, they can make recommendations based on a customer's behavior and preferences using machine learning algorithms.
Processing payments: Chatbots can help clients make payments by offering information about payment options and guiding them through the transaction. They can also answer customer queries and assist with returns and refunds.
Tracking orders: Chatbots can provide users with their order confirmation and tracking information.
E-commerce chatbot tips and considerations
Focus on scalability: E-commerce chatbots must be scalable and handle a high volume of user interactions, especially when demand is high during peak shopping seasons.
Cross-sell or upsell products: Your E-commerce AI bot can cross-sell or upsell products by giving customers individualized suggestions based on their browsing or purchasing history.
Provide product demos and information: Provide customers the opportunity to try demos or learn more about products they might be interested in to help guide them to conversion.
4. Human resources chatbot examples
A company's internal systems, such as employee portals or messaging platforms, can be combined with human resources (HR) chatbots to automate tasks, enhance HR processes, and assist and engage employees efficiently.
HR chatbots are designed to interact with employees and job applicants and encourage employee self-service by providing information, assistance, and customer support in various HR-related duties. These tasks include, but are not limited to, the following:
Recruitment: Human resources chatbots can facilitate recruitment by screening applicants, collecting information, and ranking them based on qualifications, skills, and experience. They can also answer basic questions about the job and the application process.
Onboarding: Minimize bottlenecks by using chatbots to connect new joiners with the team, collect paperwork, and send them important information and documents about company policies.
Training employees: Training new employees has never been more straightforward. Chatbots can structure all the training data in a question-answer format, help employees study training materials more engagingly, and test their knowledge using conversational assessments that provide real-time feedback.
Troubleshooting and ticket automation: While the HR and IT teams focus on tasks that demand more attention, chatbots can help employees self-resolve simple queries. For more complex problems, chatbots can help employees raise a support ticket.
Internal communications: Emails can get lost in the crowd, and essential information can go unnoticed. Using chatbots to send personalized alerts related to changes in policies, holidays, and rewards is more efficient.
Applying leaves and checking balances: Employees don't have to follow a tedious process to apply for leaves or check their leave balance; a chatbot can help them do that in just a few clicks.
Human resources chatbot tips and considerations
Incorporate a knowledge base: Chatbots can be coupled with a knowledge base that includes company details such as policies and benefits. A comprehensive knowledge base helps your chatbot respond to many employee inquiries.
Consider data security: HR chatbots must be able to authenticate employees and access HR systems to fetch data that could be sensitive properly. As such, data governance, isolation, and control are essential.
5. Education and training chatbot examples
Chatbots used in education and training can understand students' questions and engage with them naturally. An educational chatbot can be integrated into a school's internal systems, including messaging channels and learning management systems.
By offering prompt and accurate assistance, cutting down on wait times, and raising student satisfaction, these chatbots assist educational institutions in streamlining their operations and improving the student experience.
Here are some of the best chatbot examples for educational purposes:
Tutoring: Education and training chatbots can offer students individualized, on-demand tutoring in various subjects. They can also help students with homework, assignments, and test preparation.
Self-paced learning: Chatbots can offer interactive courses that allow for self-paced learning. Students can use them to monitor their progress and pinpoint the areas where they need more help.
Language learning: Chatbots can help students learn new languages by offering interactive conversation practice, grammar instruction, and vocabulary-building assignments.
Professional development: For employees, chatbots can offer on-demand training and professional growth opportunities. These chatbots offer a personalized and compelling learning experience and help with compliance training and onboarding.
Education chatbot tips and considerations
Incorporate engaging and interactive content: To keep learners engaged and enhance retention, use a range of content formats, including videos, photos, and quizzes.
Personalize the learning experience: Make the learning experience more relevant to the learner by personalizing it with information from their profile or previous interactions.
Use gamification techniques: The learning process can be more engaging by adding game-like elements like points, leaderboards, and badges.
6. Healthcare chatbot examples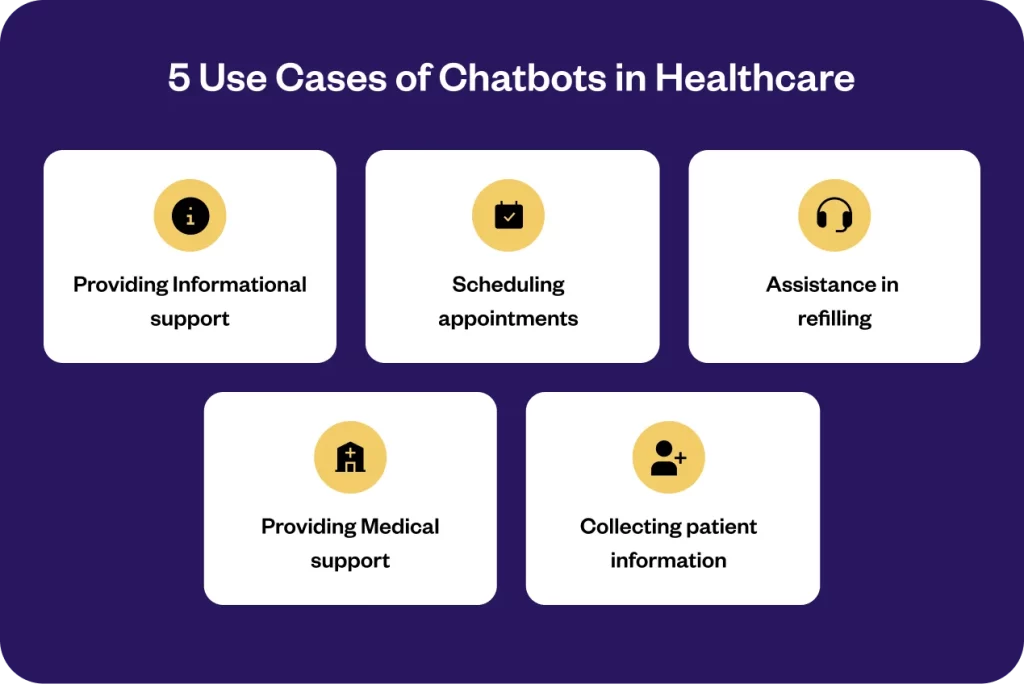 Chatbots can automate and streamline healthcare-related tasks, freeing up human medical personnel and allowing patients to get the medical assistance they need at any time.
Here are some of the healthcare tasks that chatbots can manage:
Booking appointments: Patients can use chatbots to see available appointment times and locations and ultimately schedule an appointment.
Refilling prescriptions: A healthcare chatbot can help patients reorder their prescriptions while sending medication refill reminders and providing information on medication availability. In addition, chatbots can provide details about potential medication side effects and drug interactions.
Medical assistance: Chatbots can help patients by answering their inquiries about symptoms, providing information about common illnesses, offering lifestyle and self-care tips, and pointing them to the right resources.
Healthcare chatbot tips and considerations
Maintain compliance: It's vital to ensure your chatbot platform is secure and HIPAA-compliant to build patient trust and avoid any legal ramifications.
Keep a human support agent on standby: Having human agents available is essential for handling patient questions that your chatbot cannot fulfill. Suppose your chatbot is continually struggling to deliver the information the user wants. In that case, you can offer the user the option to contact a human support agent for better assistance.
7. BFSI chatbot examples
Banking, financial services, and insurance (BFSI) chatbots help organizations in this industry cut expenses by handling several functions, such as responding to customer inquiries, providing account information, and processing transactions.
Here are some of the tasks that BFSI chatbots can handle:
Reminders and alerts: Customers can receive notifications and reminders from chatbots in the banking and finance industries regarding upcoming payments, account balances, and other crucial details. Additionally, they can provide notifications regarding account activity, such as significant or suspicious transactions.
Claim processing: An insurance chatbot can help customers process insurance claims by answering coverage inquiries, tracking claims progress, and updating them on the claim process.
Accepting payments: Chatbots can help clients make payments by giving them information about their payment options and guiding them through the transaction. Additionally, they can assist clients in setting up automated payments and provide information regarding payment deadlines.
Policy renewals: Chatbots can help customers renew their insurance policies by supplying information on the various policy alternatives, responding to inquiries about coverage, and guiding them through the renewal process.
Reporting lost credit cards: Chatbots can help customers report lost or stolen credit cards by giving them instructions on how to do so, deactivating the card, and ordering a replacement.
BFSI chatbot tips and considerations
Ensure compliance and data security: Ensuring your chatbot can handle and process user data securely while shielding it from unauthorized access is crucial. BFSI chatbots must abide by laws like the Payment Card Industry Data Security Standard (PCI DSS) and the General Data Protection Regulation (GDPR).
Consider integration with existing systems: Your chatbot must integrate with existing systems to guarantee that it can access user data and carry out transactions. These systems include customer relationship management (CRM) systems, databases, and other financial systems.
8. Entertainment and gaming chatbot examples
Users can receive information about movies, TV shows, music, games, and other forms of entertainment via chatbots. Entertainment and gaming chatbots can also suggest recommended content based on the user's preferences and watching history.
Businesses in the gaming industry can use chatbots for simple games like trivia, puzzles, or word games, as well as more complicated games like role-playing games (RPGs).
Personalized recommendations: Based on user preferences and watch history, chatbots can provide tailored recommendations for movies, TV shows, music, and other forms of entertainment.
Transformed gaming experience: Chatbots can be used in games to give players tips and help them advance in more challenging games. They can also be used as interactable virtual characters or opponents. Additionally, when combined with AR or VR technology, chatbots can transform the gaming experience for customers.
Monetization opportunities: Chatbots can also make way for more monetization opportunities, like increased subscriptions, plan upgrades, and other content promotions, as they engage with customers throughout their journey.
Entertainment chatbot tips and considerations
Flexibility: You should be able to optimize your chatbot as user preferences and technology evolve. Additionally, your chatbot must be compatible with other systems like gaming consoles and streaming services to provide the best customer experience.
User engagement: Chatbot development for the gaming and entertainment industries requires a deep understanding of user engagement and to capture the users' attention. Consider offering a variety of conversational content and using natural language that can be easily understood.
9. Travel and tourism chatbot examples
With the help of chatbots, customers can receive immediate and valuable assistance with their travel needs. Users can easily access travel-related services and information, and time and money are saved by automating many steps in travel preparation.
Personalized suggestions: Chatbots can offer customized recommendations for locations, lodging, and activities based on a customer's interests and spending capacity. Additionally, they can provide the user with information about local events and happenings while traveling.
Answering FAQs: Customers can receive help from chatbots by asking them relevant questions about their trip's destinations, accommodations, and other information. Travel chatbots can also provide relevant information on currency exchange rates and visa requirements.
Booking flights and reservations: Customers can also use chatbots to make reservations for travel-related services, including flights, hotels, and rental cars. Travel chatbots offer relevant information on timetables, availability, and locations, and they help users evaluate pricing to make the best decision for their travel needs.
Travel chatbot tips and considerations
Support multiple languages: Travel chatbots should support many languages and dialects to effectively support a diverse range of travelers and provide a seamless experience.
Drive the conversation forward: Consider the following steps once the traveler has used your chatbot to obtain information or complete an action. Travel chatbots can be designed to share follow-up information to assist users continually. For instance, once a user has booked a flight, a travel chatbot could send users lodging options for their target destination.
Putting these chatbot examples into action
If you've read all three chapters of our Chatbots Guide, then you have the knowledge you need to start creating your own chatbot. With an understanding of the differences between rule-based and AI chatbots, the strategies for creating a chatbot, and the best chatbot examples, it might be tempting to dive right in and start enjoying all the benefits of implementing chatbots in your business.
However, effective chatbot implementation is the key to experiencing the complete range of benefits, from reducing costs to improving user satisfaction. Creating a chatbot can be complicated, particularly if you lack the technical expertise, but it doesn't have to be. A chatbot-building platform can help you simplify and streamline the process without writing a single line of code.
Yellow.ai is a world-leading CX automation and bot-building platform, as recognized in the winter 2022 G2 Grid Report for Bot Platforms, based on receiving a high customer satisfaction score and having a significant market presence. With the help of our no-code chatbot builder, you can create a custom chatbot for your business that requires minimal training and uses our robust proprietary natural language processing framework to understand and cater to your specific customer requirements.
Here's why our conversational AI chatbot platform is trusted by more than 1,000 enterprises worldwide:
Easy development with pre-built nodes
Quick deployments to over 35+ channels
Excellent speed to market value realization
Easy integrations with over 100+ applications
24/7 real-time customer support
Reduce operational costs by upto 60%
With our bot-building platform, you can take advantage of free trials to test out different chatbots before committing to one. Request a demo to learn how Yellow.ai's AI-powered chatbot platform can help you create a bot that meets your business's and your customers' needs, integrates with multiple platforms, and ensures enterprise-grade security.