Did you know that 80% of our everyday customer queries could get a quick response without a human resource engagement? It's the age of chatbots, and businesses are soaring on the bandwagon. Remember when you last asked Spotify for a song recommendation or tracked your Amazon package? You probably chatted with a bot, and guess what? It knew precisely what you needed.
We all want instant gratification, quick solutions and problem-solving mechanisms. Irrespective of the nature of the business, consumers expect fast turnaround times. Phone calls and emails are integral parts of customer support. However, on the flip side, they can be time-consuming and result in delay in response and resolution. Here is where chatbots come in.
Today's next-gen chatbots are software applications that utilize AI and NLP to respond to customer needs, offer desired solutions and improve customer experience by simplifying the process.
Chatbots act as virtual assistants for customer touchpoints. Bots can interpret user intent, process requests, and give prompt, relevant answers. Businesses can provide instant and round-the-clock customer support by integrating a chatbot into a brand website or communication channels.
What is a AI chatbot?
At its core, a chatbot is a software designed to emulate human conversations through text or voice interactions. Its primary purpose is to empower businesses to serve their customers efficiently, even when human agents are away. Chatbots function as virtual customer assistants, automating and streamlining customer interactions across various messaging channels.
Imagine this common scenario: you are navigating a website. There is an icon discreetly nestled at the bottom of your screen. This seemingly hidden symbol plays a vital role—it's your dependable chatbot.
Always on standby, it welcomes you with a warm and inviting question: "How can I assist you today?" It elevates your online experience by providing instant and valuable assistance whenever you require it.
Related must-reads:
AI Chatbots: The expanding horizon
Chatbots can answer frequently asked questions, provide product information, and guide customers through troubleshooting processes, offer personalized recommendations, and offers, help make payments, and so much more to ensure a seamless customer experience. As a result, chatbots are now an essential part of the marketing mix. The North American chatbot Market is expected to register a CAGR of 26.6% over 2023-2028.
Sophisticated conversational chatbots allow businesses to create smooth customer journeys as they interact over various digital channels and devices. For that matter, evolved chatbot platforms also enable enterprises like yours to decipher conversational nuances and identify the needs of the customers, through deep insights into their behavior, purchasing history, engagement and more. This makes them invaluable to businesses serving today's Generation-NOW customers.
What are chatbots in their current avatar?
Chatbots are versatile tools that can address a wide array of business needs. Chatbots offer a robust solution whether you want to enhance your customer service or tactical marketing communication to improve conversion rates. One remarkable attribute is their unwavering accessibility, providing support around the clock.
These intelligent chatbots can seamlessly comprehend and respond to customer inquiries. Moreover, they respond to customer queries with human-like empathy, tone and language. They excel in delivering personalized assistance, finely tuned to cater to each user's unique preferences and requirements. Some advanced chatbots integrate seamlessly with voice assistants such as Amazon Alexa or Google Assistant. These chatbots further augment their functionality.
Common types of chatbots
Chatbots have been around for some time. However, they have generated significant interest in recent times. Businesses globally are deploying diverse chatbot variations to enhance their customer service. This section will examine these chatbot categories and applications. Moreover, it will help you identify the best chatbots to enhance your business operations.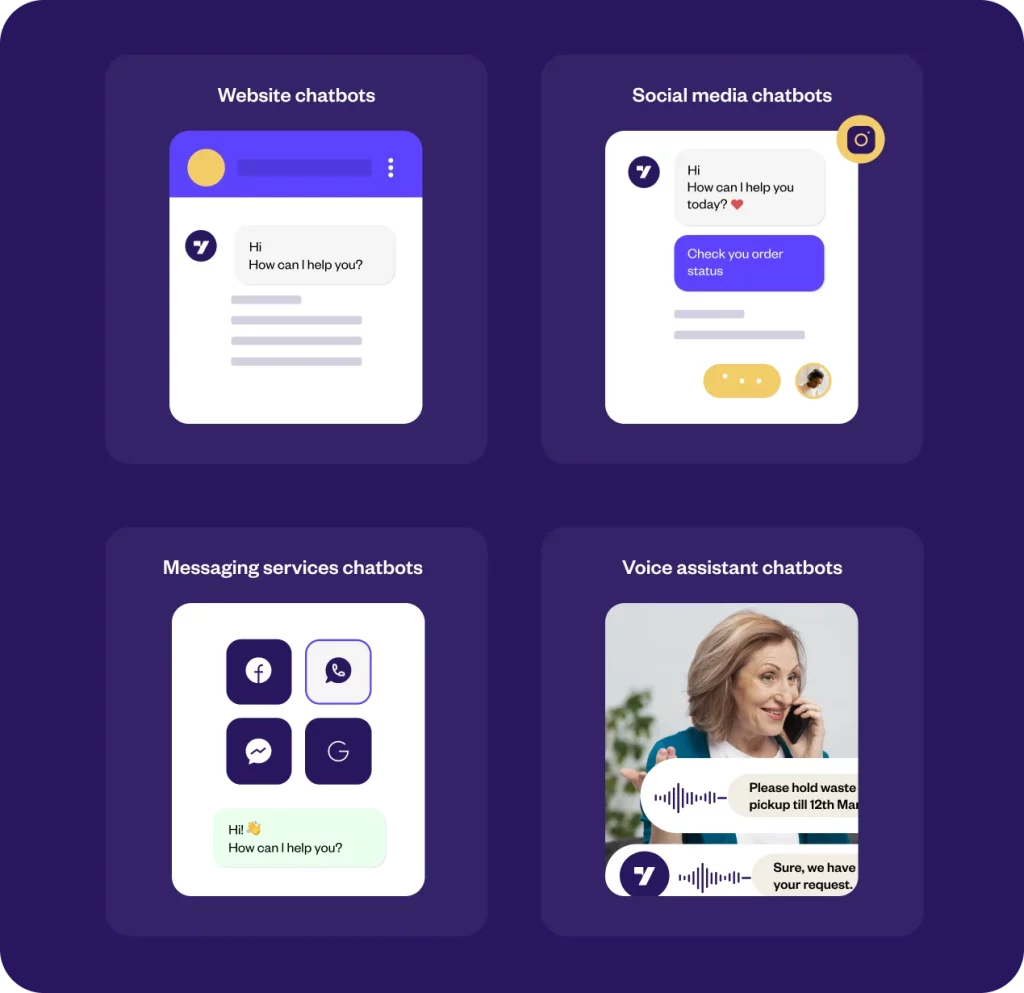 1. Website chatbots
Consider your website the primary gateway to your business, with a constant influx of visitors seeking information and assistance. In this scenario, website chatbots play a pivotal role. They are dynamic digital tools that naturally engage visitors while adhering to your brand's voice.
What sets these chatbots apart is their versatility. They can swiftly handle routine inquiries and provide detailed responses based on user input. Unsurprisingly, many businesses now employ them as the frontline for customer support, ensuring a prompt and relevant response for every visitor.
2. Social media chatbots
Scrolling through our social media feeds has become as natural as sipping our morning coffee. With platforms like Facebook, Twitter, and Instagram boasting billions of active users, businesses have a golden opportunity right at their fingertips. Enter Social media chatbots.
They are like super-responsive friends who reply instantly, no matter what hour of the day. These bots engage with users directly on your customer's preferred social media platforms, providing answers, making product recommendations and even sharing personalized offers.
3. Messaging services chatbots
Ever notice how often we're hanging out on apps like Facebook Messenger or WhatsApp? In fact, every month over 2.7 billion users are active on WhatsApp alone! Now, imagine tapping into that audience with a smart assistant. That's where Messaging services chatbots come in.

They've essentially bridged the gap between casual chats and business interactions, making customer engagements feel more like talking to a friend and less like a transaction.
And the numbers back it up. Reports show that WhatsApp has a 98% open rate whereas other email and message open rates stand at no more than a mere 20. It's clear that they are here to stay!
4. Voice assistant chatbots
These chatbots can be directed by voice commands, much like personal assistants. They can offer consumers various services, including weather updates, news summaries, and personalized suggestions. Smart speakers like Amazon Echo or Google Home, Alexa from Amazon, Siri from Apple and Google Assistant are classic voice bots.
Want to know more about what advanced voice bots can do? Read:
9 Best AI chatbot examples across industries
Here a quick tap to the different chatbot examples by industries:
Customer service chatbot examples
Marketing chatbot examples
E-Commerce chatbot examples
Human resources chatbot examples
Education and training chatbot examples
Healthcare chatbot examples
BFSI chatbot examples
Entertainment and gaming chatbot examples
Travel and tourism chatbot examples
1. Customer service chatbot examples
Customer service chatbots use AI to answer consumer inquiries and provide rapid, adequate client support 24 hours a day, seven days a week. Also, according to research, 65% of US adults know that AI creates chatbots for customer service.
Beyond basic tasks like resetting passwords or placing orders, modern customer service chatbots are now equipped to handle intricate queries. For instance, they can assist in personalized product recommendations based on user preferences and purchase history. It enriches the user experience and increases the likelihood of sales conversions.
Introducing Qatar's first ever pizza chatbot by Papa Johns, powered by Yellow.ai!
#1 Chatbot example: Sony – Enables round-the-clock service with voice automation
Sony has always been at the forefront of delivering exceptional customer service, and their recent initiative is no exception. Recognizing the diverse linguistic landscape of India and the need for efficient round-the-clock assistance, Sony raised the bar in customer support with the introduction of Isha.
This voice AI assistant, developed in collaboration with Yellow.ai, offers a dedicated 24/7 helpline for customers and dealers, proficiently communicating in three key Indian languages: English, Hindi, and Bengali. Since its debut, Isha has seamlessly managed over 21,000 interactions in less than two months, a testament to Sony's commitment to innovation and superior service.
#2 Chatbot example: Waste Connections – Enables voice AI agent to handle 100K+ unique users per year
Waste Connections has always prioritized seamless customer service, and with the advent of AI agent Trina, they've once again set a new industry standard. This dynamic chatbot, powered by Yellow.ai, ensures customers have 24/7 access to crucial services in both English and French.
From scheduling pickups to managing billing, Trina handles many tasks and deftly escalates more complex issues to live agents. Waste Connections' dedication to modern, efficient customer service is evident in every interaction with Trina.
2. Marketing chatbot examples
A marketing chatbot promotes specific brand offers, responds to inquiries about products or services during the research and purchasing process, and offers customer assistance. Chatbots improve lead generation, brand exposure, customer engagement, and sales.
Also, chatbots are subtle and are not perceived as "Salesy" if designed well. They communicate with the consumer subtly, being a true guide to making informed decisions.
#3 Chatbot example: Multinational furniture brand – Drives seamless automation with Yellow.ai's Zendesk integration
For a leading multinational furniture brand, streamlining customer interactions was paramount. By integrating Yellow.ai with their Zendesk system, the brand ensured that all customer service tickets are instantly and efficiently updated.
Moreover, leveraging the power of Yellow.ai's Conversational Commerce Cloud (CCC), they've innovatively expanded their reach, crafting and launching WhatsApp promotional and marketing campaigns to drive leads. This strategic alliance with Yellow.ai demonstrates the brand's commitment to modernized customer engagement.
3. E-Commerce chatbot examples
According to 61% of US consumers, they are more likely to buy from a brand when there is an instant response to their queries and pain points. It implies that having a chatbot is a simple approach for retail and e-commerce brands to increase sales. An e-commerce chatbot may instantly personalize the customer experience by gathering information about the user.
#4 Chatbot example: Sephora – Sephora embraces digital experiences through conversational AI
When you think of eCommerce innovation, Sephora is always a step ahead. With their Virtual Assistant, shopping at Sephora is now a tailored experience. The customers have to get into a conversation with their chatbot, and it's like having your own personal stylist.
Based on your fashion preferences, Sephora's AI, powered by Yellow.ai, guides you, engages you, and, before you know it, you've found the perfect product match.
#5 Chatbot example: Spencer's – How Spencer's Retail redefined retail with digital commerce
Ever wished your grocery list could talk? Spencer's made it happen.
Spencer's Grocery Assistant (SGA) is a groundbreaking tool crafted for WhatsApp. Developed in collaboration with Yellow.ai, this friendly bot does much more than just take orders. It transforms grocery shopping across all 160 Spencer's stores, making it feel like you've got a personal shopper in your pocket.
4. Human resources chatbot examples
The real magic of HR chatbots lies in their ability to combine the efficiency of technology with the nuance of human-like interactions. By leveraging AI technology, these bots can streamline talent acquisition, enhance the employee experience, and offer consistent HR support. It means your HR team can spend less time on administrative tasks and more on impactful strategic initiatives.
While traditional hiring practices can be time-consuming, as evident from research, where each job posting receives an average of 250 resumes, taking around 42 days to fill a position, chatbots offer a revolutionized approach. They can instantly screen and sort through thousands of resumes, speeding up the recruitment process considerably.
#5 Chatbot example: Aditya Birla – How AI helped Aditya Birla Fashion and Retail enrich employee experience
Aditya Birla Fashion and Retail recognized the need to foster an environment where employees felt informed and empowered. The solution? Zoe. Developed in alliance with Yellow.ai, Zoe is not just an AI agent but a pivotal source of clarity within their internal communication channels.
From addressing inquiries to facilitating requests for payslips and reimbursements, Zoe ensures that the company's policies and procedures are transparent and accessible. Through this strategic embrace of AI, Aditya Birla has enhanced its internal processes, elevating overall employee satisfaction.
#6 Chatbot example: Asian Paints – India's largest paint manufacturer cuts down critical call volume and improves user engagement
Asian Paints identified an opportunity to streamline its distributor support system, aiming for efficiency and reach. Partnering with Yellow.ai, they launched an on-demand service bot, fine-tuned to respond to distributor inquiries in multiple languages across India.
The result? A remarkable 25% drop in support call volumes. This initiative alleviated the load on HR personnel and solidified Asian Paints' commitment to harnessing technology for business excellence.
5. Education and training chatbot examples
Educational chatbots use AI to reshape how students interact with educational content and learn. Chatbots can provide students with individualized learning experiences in online schools by adjusting to their specific needs and assisting in various academic areas.
6. Healthcare chatbot examples
Healthcare chatbots answer patient questions, provide necessary information, and make appointments, freeing up medical staff to focus on urgent situations.
According to market statistics and statistics on chatbot usage, healthcare is one of the top 5 industries that benefit from chatbots. The benefits of employing chatbots in healthcare are monitoring, personalization, real-time interaction, anonymity, and scalability.
#7 Chatbot example: Zenyum – How Zenyum crafted a winning omnichannel strategy for CX with Yellow.ai
Zenyum is at the forefront of the healthcare technology industry in Southeast Asia. They desired to direct user traffic towards a virtual assistant who could assist customers and address their concerns. The Zenyum bot powered by Yellow.ai has helped enhance customer interaction and decreased the demand for a human agent for speedy resolution of client inquiries.
7. BFSI chatbot examples
Banks are implementing AI-powered chatbots to modernize the client experience and reduce hassle in routine banking. Conversational interfaces with virtual assistants for automated support now allow tasks that used to be accomplished by speaking to a human in a branch or on the phone to be completed in real time.
With the help of these banking chatbots, financial organizations may communicate with millions of consumers simultaneously and proactively notify them with the required information.
#8 Chatbot example: Bajaj Finserv – Bajaj Finserv scales in revenue and CX with Yellow.ai
Always at the forefront of financial solutions, Bajaj Finserv introduced BLU, a multilingual Virtual Assistant, enhancing consumer support across multiple stages of the customer lifecycle.
With Yellow.ai's expertise, BLU was seamlessly integrated across 5 channels, answering user queries, offering tailored financing solutions, and becoming a significant pillar of Bajaj's online services and sales. The results speak volumes – in 2020 alone, BLU was instrumental in generating over $100M in revenue.
#9 Chatbot example: UnionBank – Achieves 3X increase in self-serve users with AI automation
UnionBank recognized the immense potential in leveraging conversational AI for customer interactions and took decisive action. By deploying the dynamic AI agent Rafa on platforms like WhatsApp and Facebook Messenger, UnionBank redefined its digital engagement strategy.
With the technological prowess of Yellow.ai, UnionBank saw a staggering 3X increase in chatbot adoption among consumers, marking a significant milestone in their pursuit of banking excellence.
8. Entertainment and gaming chatbot examples
Consumers are discerning when it comes to consuming content in any form. Chatbots are essential tools to retain consumers on media and gaming platforms where personalization is crucial:
Provide tailored events and content recommendations to customers.
Easy navigation and better user experience
Regular version and content updates
Ease of transaction
9. Travel and tourism chatbot examples
Travel and tourism chatbots work as travel assistants by working with customers on flight and hotel searches, offering relevant travel options, and introducing packages and experiences based on customer travel patterns. These chatbots create an enhanced user experience. As a result, tourism verticals can use chatbots to generate leads.
#10 Chatbot example: Indigo Airlines – Indigo boosts customer satisfaction to 87% with AI automation
In its continued commitment to redefining the passenger experience, Indigo Airlines recognized the power of automation. They envisioned a solution that would seamlessly weave into their existing platforms. That led to the development of Dottie, a dynamic AI agent developed by Yellow.ai.
Available around the clock on WhatsApp and the Indigo website, Dottie masterfully integrates with the airline's backend, automating over 35 use cases. From meal bookings to ticket purchases and even managing reward programs, Dottie has revolutionized over 300 user journeys, setting a new benchmark in airline customer service.
#11 Chatbot example: Bengaluru Metro – Launches industry-first QR ticketing service powered by AI automation
With their latest innovation, Bengaluru's Namma Metro has truly set a precedent. Introducing an industry-first QR ticketing system on WhatsApp, the metro service transformed how tickets are procured.
This ingenious system, brought to life by Yellow.ai's AI automation, allows commuters to engage with the multilingual Bot. With just a conversation, tickets are secured, streamlining the commuter experience and setting Namma Metro several notches above the rest.
Conclusion: Chatbots fuel business growth
In today's digital era, the need for speed and personal touch in business interactions cannot be overstated. Chatbots are revolutionizing this space, ensuring customers never languish on hold and teams aren't inundated with routine queries. For consumers, it translates to on-demand responses, bespoke recommendations, and consistent support. For businesses, chatbots empower teams by automating the mundane, enabling a focus on intricate tasks, and blending technology with a touch that feels almost human.
But the magic happens when you choose the right platform. With Yellow.ai's Dynamic Automation Platform, businesses are not just enhancing their speed but also the depth of customer interactions. With its no-code platform and industry-leading Generative AI capabilities, Yellow.ai is leading the way in conversational AI solutions. Each interaction powered by Yellow.ai mirrors the authenticity of a human conversation, helping businesses foster genuine relationships and enhancing the customer experience at every touchpoint.
Chatbot examples – Frequently asked questions (FAQs)
How does a chatbot work?
Chatbots function as software programs replicating and interpreting human communication, enabling seamless interactions with digital devices, much like conversing with a human. They rely on three primary mechanisms: live agent intervention, AI-driven decision-making, and rules-based processes. The specific workings of a chatbot depend on its underlying mechanism.
What types of businesses can benefit from using chatbots?
The answer is simple. Irrespective of the industry, any business that is looking to boost customer experience at scale while optimizing cost, and open up new streams of revenue can benefit from using chatbots.  Research indicates that 35% of consumers wish more businesses would embrace chatbots to refine their communication and service offerings. As for their applications, chatbots have evolved beyond just basic support functions. Today's AI-driven chatbots can predict customer behavior, provide personalized product recommendations, guide users through complex processes, or even assist in detailed troubleshooting. Their unparalleled scalability and speed make them an asset, and their data-driven insights are invaluable for strategic decisions.
What are the benefits of using a chatbot?
Chatbots are like having a tireless team member who's available 24/7, handling customer queries, directing folks to the right department, or even helping customers make a purchase through offering the right offer at the right time in their journey with your brand. The best bit? They can juggle thousands of chats simultaneously, ensuring quick responses and enhancing customer satisfaction. Plus, they're a treasure trove of data, giving insights on customer behavior and preferences. For businesses, this means streamlined operations, happier customers, and a better bottom line.
Does the BFSI chatbot enhance banking process security?
Thanks to AI-driven algorithms, banking chatbots can identify anomalous behavior and potentially fraudulent transactions, assuring greater customer protection. Additionally, banking chatbots encrypt sensitive data and frequently demand authentication before allowing a transaction. A primary priority for banking chatbots continues to be the security of your data.