As customers migrate from in-person to digital-first channels of communication and customer service shifts to Customer Experience, companies shift from rule-based chatbots to AI chatbots.
Investing in a strong customer service team will definitely help businesses improve customer satisfaction, reduce data churning, and in turn improve revenue. Almost 90% of customers report trusting a company whose service they rate as "very good." On the other hand, only 16% of those who give a "very poor" rating trust companies to the same degree.
Artificial Intelligence in the customer experience industry is a necessary shift and has proven to be an excellent addition. It has given companies a path towards a better customer experience and an improved CSAT score.
AI chatbots are the front liners when it comes to artificial intelligence for customer experience. They can help customers in any stage of their buyers' journey whether it is booking a ticket or integrating a complex B2B service with their website, instantly. This makes customers very happy and satisfied with the business and eventually builds loyalty towards the company.
What is an AI Chatbots?
An AI chatbot is software that establishes a communication channel for AI-powered chatbots to engage with customers and resolve their queries. This can be done on all channels including websites, apps, social media, and Google My Business.
AI Chatbots facilitate computers to understand like humans and interact like humans. These chatbots are smart and can help humans (customers) in problem-solving and decision-making. With such incredible features, AI Chatbots become a perfect fit for customer support.
These chatbots, unlike the traditional rule-based chatbots, use NLP (Natural Language Processing), dialogue management, NLU (Natural Language Understanding), and ML (Machine Learning) for supporting customers.
By integration of artificial intelligence, chatbots can now learn and improve based on their conversations. This makes AI chatbots, a prominent part of the customer support team. From sentiment analysis to buyers' journey prediction, AI chatbots can be employed for a varied range of functions in Customer Experience.
Today, a Conversational AI (AI chatbot) can engage with customers with an extremely personalized approach, such that, it feels like human interaction, with a better speed and accuracy. Chatbots and voice bots (for IVR) have become an integral part of the customer experience industry and they are here to stay.
With a CTR (click-through rate) of 15%-60%, AI Chatbots are beneficial for businesses of all sizes and industries.
The power of AI/CX is enormous. A survey conducted by IBM shows that 50% of businesses are ready to deploy the power of AI for customer experience and are proactively looking to automate campaigns and processes.
Giants like Bharat Petroleum have moved to AI Chatbots for their CX needs. Using a WhatsApp Chatbot, Bharat Petroleum facilitated 500K LPG bookings in just 4 weeks and achieved a CSAT score of 4.4/5.
But why are companies shifting to AI chatbots?
10 benefits of AI Chatbots for businesses:
Let us now encapsulate a few of the many benefits of AI Chatbots for businesses. This will help you to get a clear picture of the potential and use-cases of AI Chatbots. 
Read more on: WhatsApp Chatbot – The Ultimate Guide for 2023
1. Omnichannel Presence- Be where your customers are.
Today, companies are present on every possible channel such as the web, social media platforms, and even on apps. This omnichannel presence is beneficial if you are able to interact with your customers on all the channels invariably.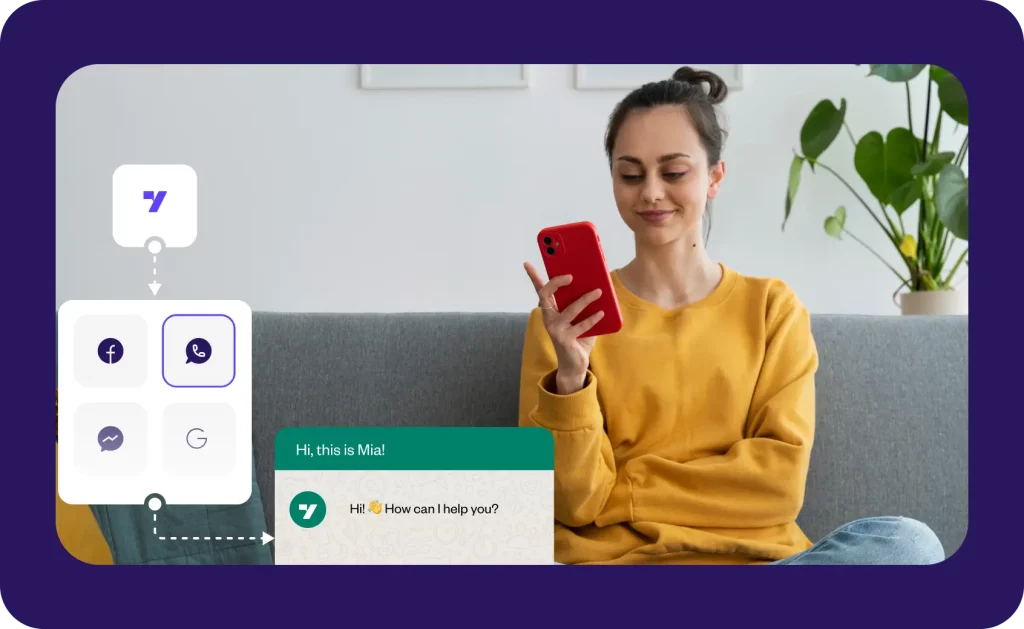 Conversational AI Chatbots can help companies build an omnichannel presence and maintain consistent interactions on all channels.
This happens because AI/CX comes with a customer support team dashboard for the team to access all the tickets at a single panel. With the help of this dashboard, customer experience agents can easily respond to the tickets that need attention.
Building a finely knit web presence is a crucial part of brand marketing. Customers can easily find you everywhere. This, in turn, helps you build a strong brand recall value for new customers and an improved loyalty and retention rate for the existing customers.
2. Fast & Efficient query resolution by AI Chatbots
AI Chatbots can read, understand and respond to customer queries within a few seconds, and that too with 100% accuracy.
While building a chatbot for a business, it is crucial to feed all the important customer data, the functionality of the business, and necessary commands to the chatbot. This creates a base for the chatbot to understand what the customer query is and how can it be resolved.
An AI Chatbot can churn all the data provided to it, comprehend customers' buyer journeys, and help in problem-solving based on the best possible solution.
However, if a customer's query is complex and cannot be solved by the chatbot, there is a seamless transition between the bot and the live customer support agent. The appointed customer support agent can carry forward the conversation after understanding the situation.
Research shows that 80% of standard customer queries can be easily handled by AI Chatbots. This is one of the most important benefits of using AI Chatbots, especially for large enterprises where customer support really consumes all of the customer support team's time.
3. 24x7x365 availability of AI Chatbots
Today's digitally sophisticated era cannot wait. Customers (and prospects) can reach out to you any time of the day or night. At that very moment, you need to be accessible.
With the internet at their fingertips and a tech-savvy mind, customers can reach out to multiple businesses at a time. There is cutthroat competition among brands and customer experience is the key to winning.
Businesses with a good web presence and round-the-clock customer service get an extra edge from customers' perspectives. AI Chatbots can help you get that extra edge and win the competition.
Customers using your product/service would also need instant support. The brands that are able to provide such customer service will be on the top of the loyalty and customer retention game.
AI Chatbots reduce the efforts required to provide customers with an extraordinary experience and an easy buyers' journey. 24x7x365 availability of brands with real-time problem solving and query resolution with 100% accuracy is one of the best virtues of AI Chatbots.
4. Easy analysis and improvement
AI Chatbots come with an analytics dashboard for obtaining deeper insights and valuable information. Businesses can take advantage of this information for improving their customer experience with artificial intelligence.
Understanding the gap between a good and an excellent customer experience is very essential. A business that understands this gap and acts on it can magically turn its CX game upside down. With easy analysis and a data-driven approach, AI Chatbots can be improved for better results.
Various metrics that can be recorded for analysis include chat volume, goal completion rate, number of bots initiated, bounce rate, fallback rate, retention rate, and satisfaction score. These are very generic insights. Along with these, you can generate custom analytics as per your company's requirements.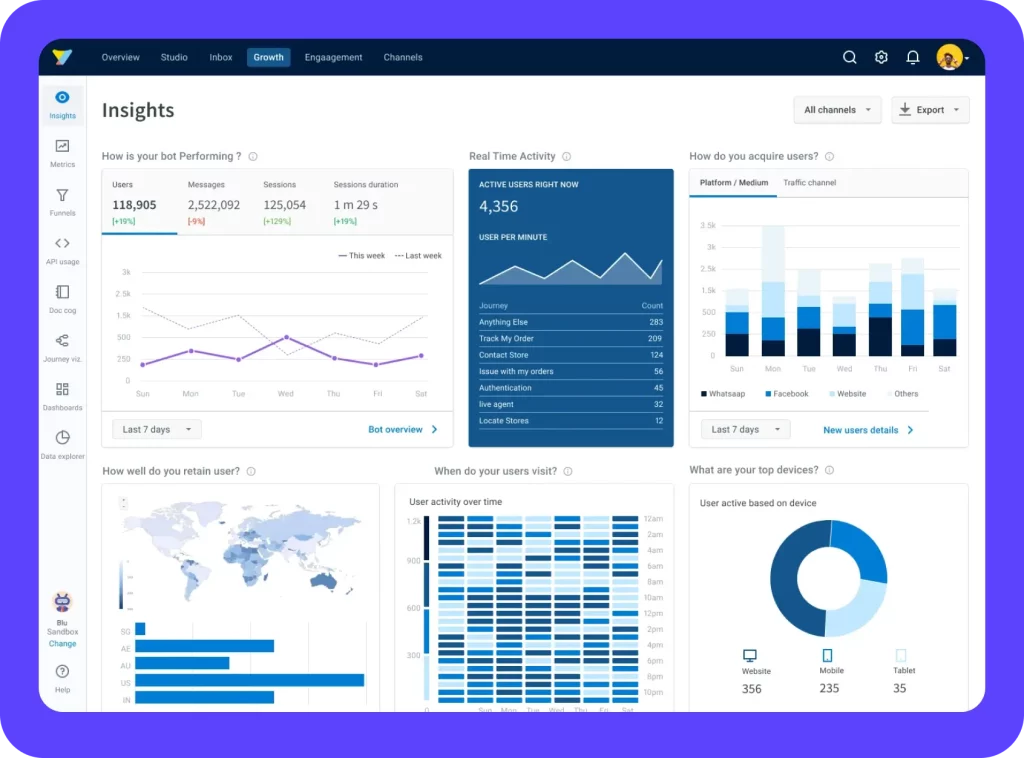 Data and information are important but the analysis is key. Companies can easily predict and plan their next steps by looking at the analytics of customer experience with AI Chatbots.
5. Scale up your Support with AI Chatbots
Customer Support, especially for large enterprises, is an extremely difficult and tedious task.
With thousands of tickets, calls, and emails, customer support becomes an unachievable target. Most of the times customers come up with requests like changing contact numbers, updating information, tracking orders, exchange requests, and issues with technicalities.
Handling these simple requests is an easy but time-consuming process. Here comes the function of AI Chatbots:
a. Automate AI Chatbots for query resolution
Queries that are based on companies' functionalities and laws can be easily automated by feeding data to the AI Chatbots. Also, queries based on order details, or delivery details that just need clear fetching and distributing data can also be covered by AI Chatbots.
b. Handle multiple queries at a time
Unlike humans, computers can handle multiple tasks at a single time. Handling thousands of requests at a single time is like a walk in the park for an AI Chatbot.
c. Scalable and Accurate
AI Chatbots make the customer support team scalable, that is, they can help the team handle more and more queries at a single time. They can handle data and generate responses with 100% accuracy.
6. Escalate Customer Engagement with AI Chatbots
Keeping your customers engaged is a priority for businesses. There are many benefits of customer engagement in terms of marketing and sales, such as improved brand recall value, quality leads, and loyal customers.
AI Chatbots have great potential in terms of Customer Engagement. With artificial intelligence, brands can personalize to a level where customers can comfortably engage with brands as they communicate with humans.
Most of the customers are comfortable interacting with businesses and providing them their data provided businesses use their data in personalizing instead of just pushing them through the sales cycle.
Setting up AI Chatbots for real-time responses give businesses an edge over competitors. Customers tend to have longer session durations when conversations with businesses are valuable and engaging for them.
However, building a chatbot and using it to its full potential can be tricky sometimes. Once the setup is done, AI chatbots and businesses can shine together.
7. Generate leads through AI Chatbots
Lead generation might not be an actual function of an AI Chatbot, but it has proven to have a potential for the same. The leads generated by AI Chatbots have a much higher transactional intent.
This is because customers tend to willingly share their personal details along with their requirements with chatbots (way too easily when compared to cold calls/emails).
AI Chatbots help in building a positive first impression with a welcome message. This can be an ice breaker for a prospect to move forward in conversation with a business.
Along with this, the multilingual feature of the chatbot plays an important role in lead generation. It broadens the target audience and creates opportunities all around the world. Multilingual AI Chatbots can make customers feel more connected and build a sense of trust for the business. Thus, quality leads are generated easily.
With automation, the leads generated can be accelerated to the sales team and meetings can be scheduled. This speeds up the process and gives customers a facility for quicker decision-making.
8. Relieve overburdened Customer Support agents
Whether building an in-house customer support team or outsourcing it to call centers, quality customer experience has always been a challenge. Customer Support agents, even after working hard, find it extremely difficult to satisfy customers and close tickets quickly.
Challenges like not knowing answers to customer queries, absence of right tools, crisis management, exceeding customer expectations, and speaking with dissatisfied customers have been a part of customer support agents since forever.
AI Chatbots relieve CX teams by automating answers to simple customer queries, fetching data instantly, improving the speed of responses, and reducing customer calls by a huge number. With NLP, AI Chatbots can humanize conversations and carry out various functions of a customer support team.
Engaging AI Chatbots is a happiness asset for the support team in your business and happy support equals happier customers.
9. Conversational AI Chatbot as a Marketing Platform
AI Chatbots can help businesses at all stages of a marketing plan- awareness, consideration, purchase, and delight. 
a. During the awareness stage, businesses can send messages using chatbots based on intent and demographics. This means chatbots can educate customers about the products/services offered by the company.
b. The consideration stage can be easily crossed by the AI Chatbots by building trust in the mind of a customer. With quick responses, chatbots can engage customers and help them understand the product better.
c. For a transaction, customers need to be completely aware and satisfied with your product/service. This can happen only by clarifying all the queries like quality assurance, product guarantee, transaction options, and post-purchase behavior. AI Chatbots can make customers feel rest assured and push them through the sales funnel.
d. The delight stage is crucial for marketing. Happy customers are the best source of spreading the word about the company. Making sure that customers are satisfied with the product/service is a responsibility of an AI Chatbot.
10. A smarter AI Chatbot with every use
AI Chatbots use Machine Learning (ML) for improving every day. With each interaction, these chatbots upgrade themselves in terms of customer interaction, data churning, and generating responses for complex queries.
With this feature, the speed and accuracy of chatbots increase day by day, and customers become more satisfied while interacting with the chatbots.
Machine Learning helps AI Chatbots understand the intent and the language (different phrases) of the customers better. This helps chatbots become more efficient in problem-solving and gives the end customer a faster and smoother experience.
This futuristic approach of AI Chatbots makes them an irreplaceable part of CX Automation. There is no going back to the traditional customer service via calls and emails with a wait time of 24-48 hours.
However, if there are any complex queries that cannot be resolved by the chatbots, customer support live agents can seamlessly enter the conversation at any point in time.
Along with these benefits, AI Chatbots are beneficial even from a customers' perspective. For customers, these benefits are the basis of them opting in to use AI Chatbots.
7 benefits of AI Chatbots for customers:
Employing an AI Chatbot is easy, but you have to make sure that your customers love it too. Here are a few benefits that customers expect from an AI Chatbot.
1. Round-the-clock availability
Strategizing customer support in a way that customers don't need to wait till the customer support agents are next available. This can be easily achieved by using AI Chatbot to its full potential and making sure it is good at query resolution.
2. Consistent responses
Consistency for a business is a sign of its reliability and truthfulness. Being consistent in conversations is a virtue for the brand as well as for customers. AI Chatbots can help in being consistent with all the conversations going out in the name of your business.
3. Personalization and Customization
Customers want brands to know everything about their interests and purchases. Even for up-selling or cross-selling of products/services, businesses must understand choices and requirements. AI Chatbots can help businesses bridge this gap and know (and remember) all about their customers.
4. Real-time responses
Businesses with minimum average response time tend to gain more traction and trust from their customers. Instant and real-time responses make customers feel important and satisfies with brands' customer experience efforts. AI Chatbots are developed for real-time responses.
5. Multilingual support
Customer support in local languages makes it easier for customers to interact with your businesses. With Yellow.ai you can build a chatbot that can interact in 100+ languages. Conversations can easily be passed to the agents in case of complex queries to ensure a satisfactory response for the customer.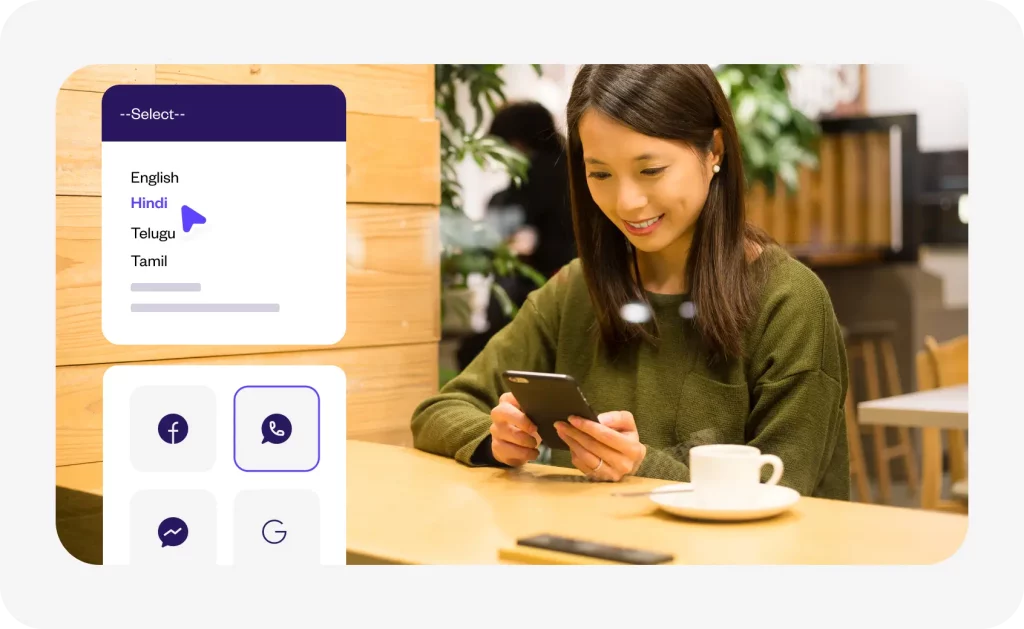 6. Self-service
Self-serving queries can save a lot of time and effort for customers as well as businesses. AI Chatbots can help brands with around 70% of self-serve queries. This can facilitate customers in decision-making without the help of any agent. Throughout the customers' journey, from education to transaction and even post-purchase support, everything can be taken care of by the AI Chatbot.
7. Omnichannel availability
If businesses are available on all channels for marketing their products/services, they must be available for query resolution and problem-solving too. AI Chatbots ensure omnichannel support for the customers and makes sure that customers are happier on every channel, be it the website, WhatsApp, Instagram, or any other channel.
The use of AI Chatbots is expanding day by day for businesses of all sizes, SMBs, and enterprises, and why not! Being available for customers has always been a good practice.
If you are looking for an AI Chatbot for your business communications and need some more insights on the topic, feel free to request a demo with Yellow.ai. Our subject matter experts will connect with you.
Even if you want to try your hands on building a bot, you can try Yellow.ai's no-code bot builder and start your journey towards a total CX Automation with us. We are here to help you with all the customizations you need in your AI Chatbot as per your business requirements.