From recruitment to onboarding and everything in between – there is a lot that falls under the domain of HR. However, various HR processes can be tedious and repetitive in nature.
This means that the time HR professionals spend on day-to-day, mundane tasks, can be best utilized to attract, source, recruit, develop, and retain the level of talent necessary to make your business a success.
Read this guide to learn more about how you can unlock maximum HR efficiency with AI-powered automation.
What is an HR process?
Human resource processes are the various strategic initiatives that HR leaders take in order to hire and retain the right talent that helps in achieving organizational goals. These processes are wide ranging and touch many different aspects of your business. HR processes are created to achieve the following objectives.
To attract and hire the most competent employees in order to achieve the stipulated goals.
To boost employee morale and retain talent with rewards, recognition and perks.
To ensure cross-functional harmony and proper internal communications within an organisation.
To improve employee productivity by equipping them with the right tools.
To help employees develop new skills and improve existing ones.
To ensure the maintenance of the company's culture, as well as its values.
To create a knowledge base with company information and assets that can be used by employees when necessary.
Cognitive Cloud Engagement Platform to Automate your HR Processes
What are the different types of HR processes?
1. Recruitment and selection
Recruitment is the process of attracting qualified candidates for a job profile and selection is the process of identifying the right candidate for the role.
Selecting the right candidates today can reduce the number of employees you would need to hire in the future. It is important to have a robust screening and selection process as the collective contributions of the people you hire can play a pivotal role in the sustenance and growth of your business. How to enable a smooth hiring process?
Schedule interviews and send reminders to candidates using chatbots.
Offer well-defined job postings that explain the responsibilities and required skills.
Make the application process short and simple.
Display job postings on your website as well as on other social platforms.
Utilize an applicant tracking system so that applications don't get lost.
Keep applicants updated about the status of their job application.
Identify and implement different metrics that you can use to evaluate your recruitment process.
2. Employee onboarding
Did you know that a great onboarding experience can improve employee retention by up to 82%? Yes, it is the first impression you make on the new hires and a prime opportunity to align them with the company's goals and objectives. It is how you acclimate them to their role, help them feel a part of the team and set them up for success.
There are some things you need to keep in mind to successfully onboard new employees.
Automate sharing and collection of important documents.
Keep new hires engaged with chatbots and send them an agenda for the onboarding week.
Make the application process short and simple.
Make your welcome kits remote friendly by including items that could also be useful in a work-from-home setup.
Schedule an introductory call to welcome the new hire to the team.
Assign a work buddy to help the new hire learn the ropes of the job.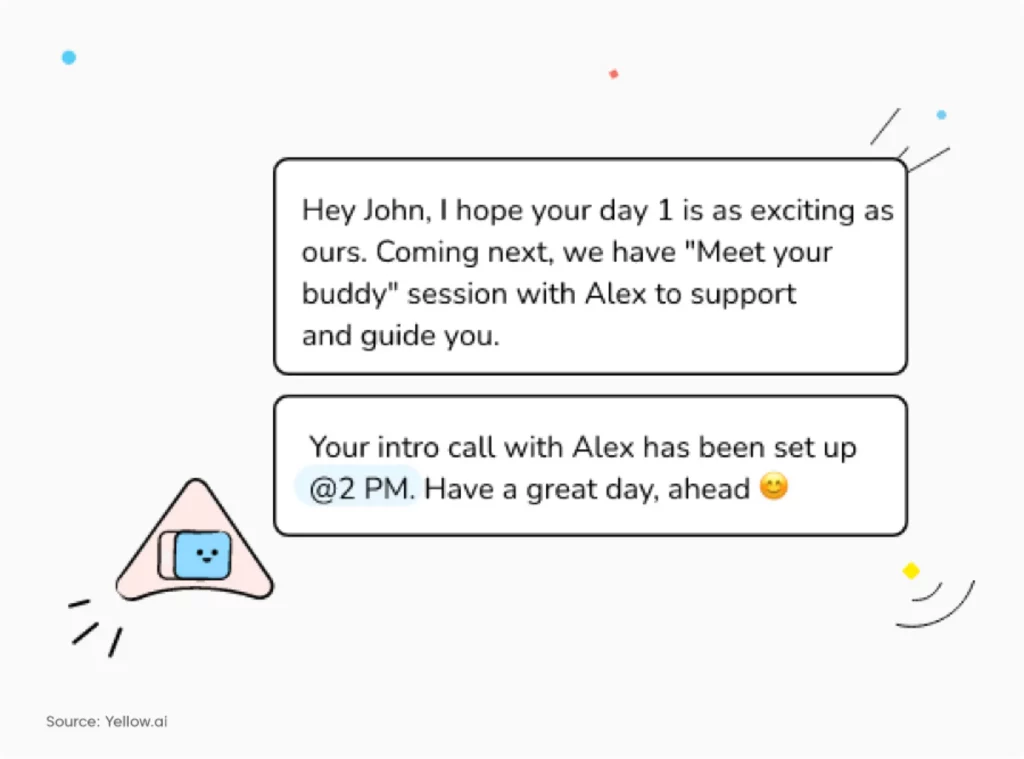 3. Workforce planning
Workforce Planning is the process of analyzing, forecasting, and planning workforce supply and demand. It means assessing gaps and hiring talent – with the right skills in the right places at the right time – to fulfill its mandate and strategic objectives. The workforce planning process has 5 strategic steps.
Understanding key organizational goals and future objectives.
Tracking attrition and other trends to understand the current workforce and how it's projected to change over time.
Conduct a demand analysis to identify current and future workforce requirements.
Analyze the gaps between workforce demand and supply. Implement appropriate solutions to close these gaps.
Improve and iterate solution implementations for the identified gaps to meet organization's strategic goals.
4. Leave management
Employee leave management, also known as time-off management, is the process of managing employee time-off requests, such as vacation, holidays, sick leave and parental leave. The goal of leave management is to handle employee time-off requests in a way that doesn't disrupt the business workflow while giving employees the benefits they are entitled to. Some leave management best practices are:
Outline the leave policy clearly in the employee appointment letter.
Make sure your leave policy is compliant with the labor laws.
Allow employees to track their leaves using a leave management dashboard.
Deploy a chatbot to enable employees to apply for a leave on-the-go and check their leave balance.
Measure your policy's effectiveness by setting goals and KPIs.
5. Performance management
Performance management is the process of ensuring that the employees can perform to the best of their abilities and produce the highest-quality work most efficiently. The process typically includes the following three elements – goal setting, performance review and performance improvement.
It starts by encouraging managers to set clear and specific performance expectations for individual employees and providing periodic informal and/or formal feedback about employee performance relative to those stated goals.
How can you conduct an effective performance review process?
Avoid unsolicited advice.
Offer feedback that is measured against clear and specific goals.
Be empathetic but also don't sugar coat your feedback.
Enable a two-way individual conversation where the receiver can respond to your feedback and ask follow up questions.
Follow up with your direct report and show appreciation when you see improvement.
It is also important to collect employee feedback from time-to-time. This feedback can give you some really helpful insights into company culture and employee experience.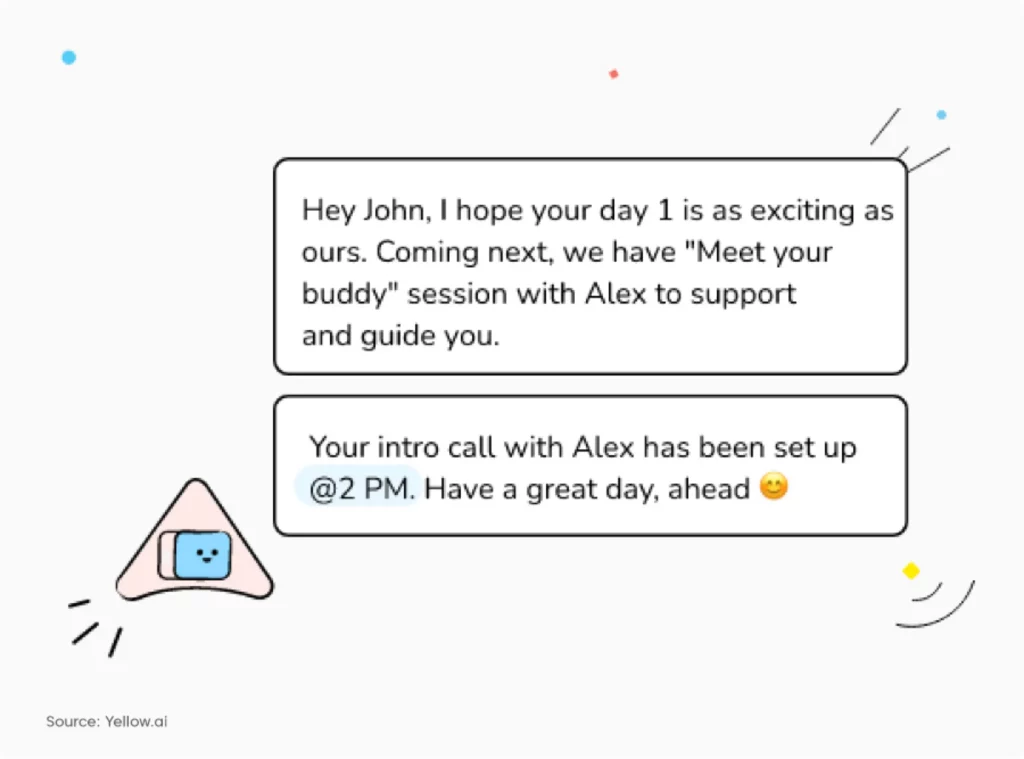 6. Learning and development
Learning and development is a systematic HR process that encourages professional development and growth of the employees. The goal of L&D is to enhance an employee's skills, knowledge, and competency, resulting in better performance. Training courses, seminars, certifications, development programs – all fall under the bracket of Learning and Development.
Some essential elements of a successful L&D strategy are:
A skill gap analysis to understand which skills are lacking among employees.
A personal analysis to identify what new skills do your employees wish to acquire.
Designing learning paths to ensure continuous development.
Analyzing the impact of L&D programs on individual and team performance.
Know how enterprise chatbots can offer a truly engaging approach to learning and development.
7. Compliance management
HR compliance management is a process of ensuring that your workplace policies are compliant with a city's, state's and country's labor laws, also aligned with industry-specific regulations.
Know your industry-specific regulatory requirements.
Build a document repository to rule out guesswork.
Conduct compliance training since employees are the first line of defense against non-compliance.
Conduct regular compliance audits and track violations.
Regularly review your compliance programs to spot vulnerabilities.
8. Compensation and benefits
Compensation and benefits refers to the compensation/salary and other monetary and non-monetary benefits given by a firm to its employees. Compensation and benefits is an important HR process as it helps boost employee morale and keeps the workforce motivated.
The components of compensation:
Fixed salary, that is the basic salary plus fixed components like HRA, LTA and travel allowance.
Variable salary, that is the additional compensation based on employee performance.
Equity pay, that is the company shares, often provided at discounted prices.
Some examples of employee benefits are insurance plans, stock options, retirement plans, corporate discounts, paid vacations, parental leaves and wellness programs.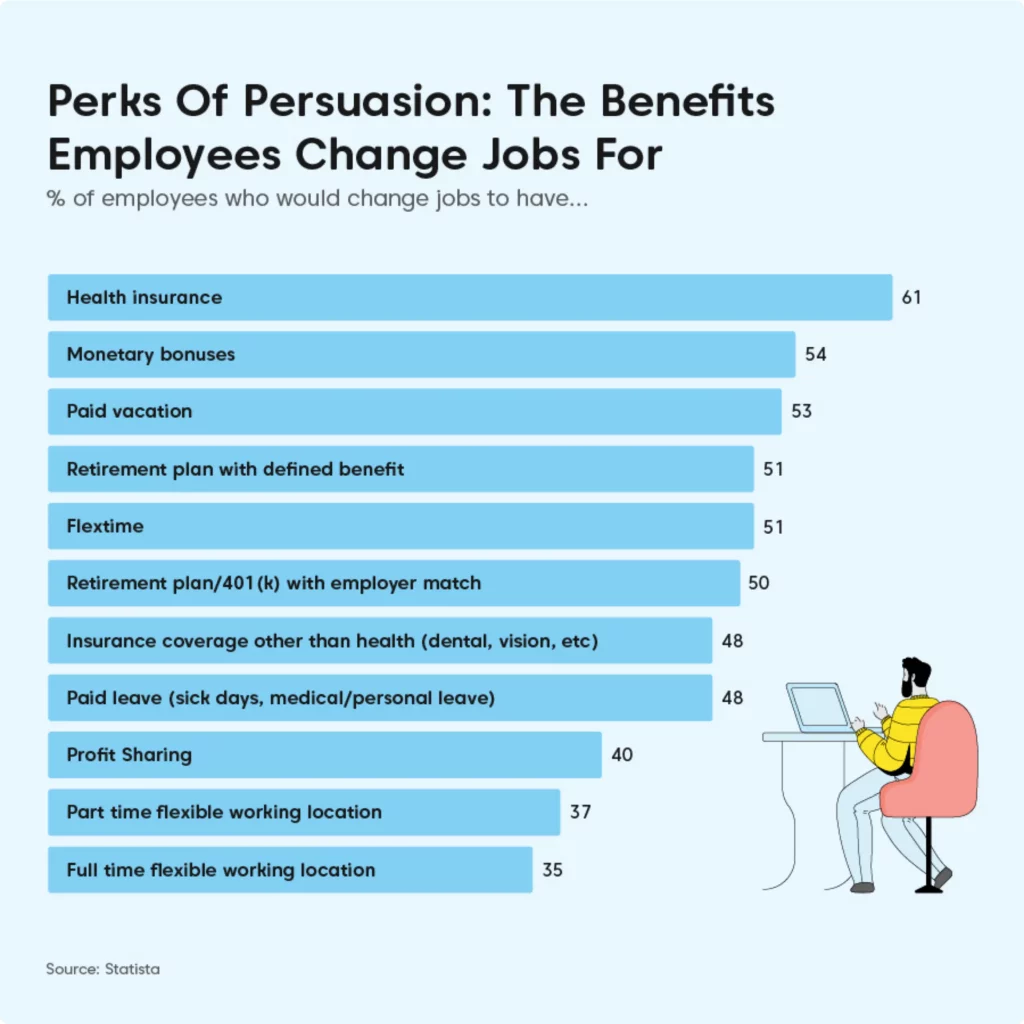 9. Employee offboarding
Offboarding is the process that companies go through when an employee leaves an organization through resignation, termination or retirement. A positive offboarding can help a company maintain a positive relationship with its past employees and also, increase its net promoter score (NPS).
How can you conduct a hassle-free offboarding process?
Create a checklist that includes several steps of offboarding an employee.
Inform the team member's of an employee's exit so that they can help with the transition.
Have the departing employee transfer knowledge regarding daily responsibilities with their replacement.
Collect company property which may include laptops, cell phones, important documents and security cards.
Conduct an exit interview to gather employee feedback regarding company culture and their experience.
Keep in mind to maintain a high degree of professionalism and give all departing employees the respect they deserve.
What are the major challenges faced by HR?
HR processes can have multiple repetitive steps that can cause inefficiencies. Let's have a look at some of the major challenges faced by your HR team on a daily basis.
1. Repetitive tasks
HR executives typically spend a large proportion of time handling manual tasks, such as answering basic employee queries, drafting time-log spreadsheets, managing payroll calculations, etc.
2. Lack of data
Gathering and integrating data that provides holistic understanding of employee expectations and needs has been a major roadblocker for HR teams from the start. Furthermore, the struggle is exacerbated when your workforce is diversified across full-time, interns or freelancers and across various devices – mobile & desktop.
3. Human errors
Manual data entry is not only an efficient way of managing your organization's data but also holds the possibility of human errors, which reduces the overall quality of the system at hand.
4. Unoptimized processes
Existing processes are not suited to handle the dynamic work environment today thereby leading to higher costs and lower revenue for the business.
5. Outdated and blanket workflows
"One size fits all" approach can't be continued while designing employees' L&D track, managing employee rewards & incentives. Every employee's needs and aspirations are not only different, but also changes with time and HRs can no more view them through the same lens.
6. Untraceable employee pulse
All of the above contribute to the lack of holistic employee evaluation and how their expectations are changing with time. When HRs can't keep track of why and who's missing out in the process, it eventually leads to shortage of good talent over time.
The good news is that with the help of an HR automation software you can eliminate any redundancies from the workflow and empower your HR team to spend their time and effort where it really matters.
What is HR automation and how to implement it?
HR automation is the process of enhancing HR efficiency by automating tedious time-consuming tasks and allowing the team to focus on more complex tasks like planning and decision making.
HR automation has a direct impact on a company's bottom line as it improves overall business productivity, increases operational scalability, reduces turnaround and lowers error rates. Organizations around the world are increasingly implementing Hr automation to maximize the outcomes of their efforts. Infact, According to Personnel Today, 38% of enterprises are already using AI in their workplace with 62% expecting to start using it as early as this year.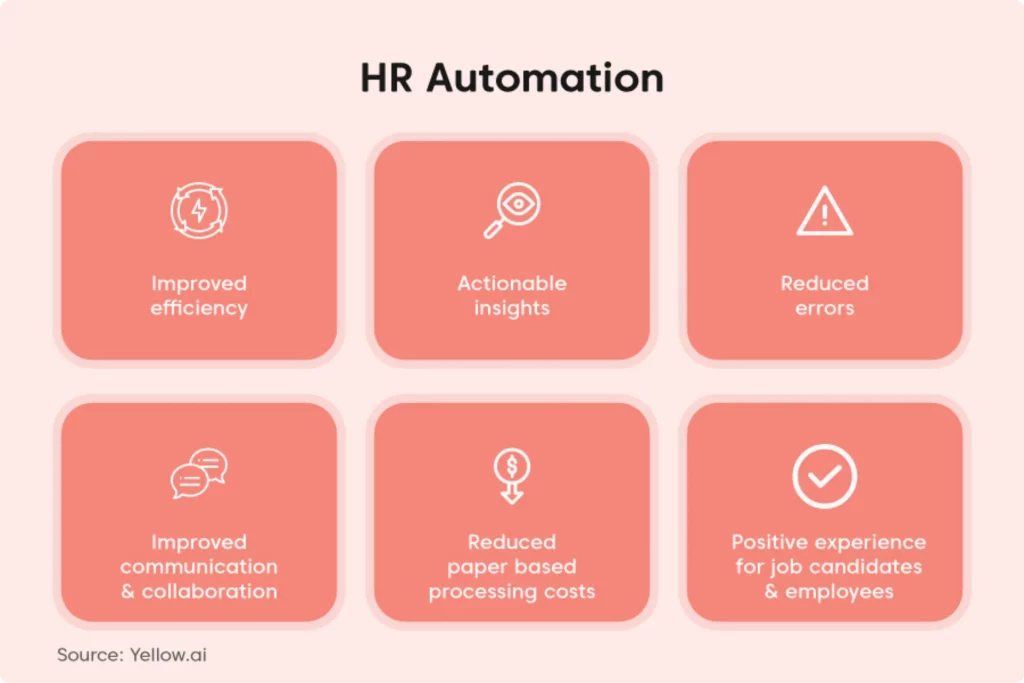 Examples of HR automation
1. Background checking
Employee background checking is traditionally a labor-intensive and time-consuming process. By automating this process you reduce the risk of errors and speed up your time taken to hire. It can also help your organization deliver a better candidate experience which is essential for employee retention in the long run.
2. Sourcing and screening candidates
HR automation software can also be used to screen incoming applications on the basis of pre-defined role-specific metrics like experience, education, skills and notice period. This can significantly reduce the time you spend on manually screening each application and allow you hire the right candidate for a role.
3. Collecting documents
Exchange of multiple documents takes place during the onboarding and offboarding of an employee. An HR automation software will not only help you collect but also manage multiple documents in a single place.
4. Enabling self-service options
The HR team spends a lot of time on a daily basis answering repetitive employee queries. This time can be best utilized focusing on more complex issues which is why, you can enable self-service options like chatbots integrated with a knowledge base to instantly respond to user queries in real-time.
5. Processing leave requests
An employee can apply for leave for multiple reasons like medical emergencies, sabbaticals, vacations, etc. It can get challenging to respond and approve all the requests in a timely fashion. HR automation software can instantly process any leave requests while updating the employee leave records simultaneously.
6. Filing taxes
There are different tax laws at local, state, national and international levels. HR software can prepare the taxes and calculate the correct amount of withholdings for your employees. You can also automate tax forms such as W-2s, W-9s, 1099s, and more , as well as, schedule payments to ensure that deadlines are never missed.
7. Managing expense claims
Prior to HR automation, the HR team would have to scan through various spreadsheets and stacks of paper files to manage claims. This way it took several days to sort through one employees' expense records. Even with a detail-oriented manual process, there is always room for inaccuracies that can prove to be costly.
Moreover, before the claim processing could start, the HR team would have to log every expense item into the company's system and then get it reviewed by the employee's manager. With an HR automation software you can automatically accept claims, check their eligibility and process them at scale.
8. Automating time management
Having a manual timesheet for time tracking and appointing one person to keep a track of everything can be extremely inefficient. These records can often be misplaced or filled incorrectly. An Hr automation software automatically records the time an employee sings in/out and systematically stores all time logs as well as attendance records. This makes the entire process faster and more accurate.
Must-have features of HR automation software
While deploying a HR automation software to boost team productivity, make sure it has the following features.
1. Management of employee information
This feature is usually implemented as a database of personal and professional employee information, which includes their resume, contact information, address, positions, compensation, vacations, etc. The automation software can automatically update any changes in the logged information and keep systematic records of up-to-date data.
2. Company documents management
It is a system or a database used to capture, track and store electronic documents for employees. These can be legal documents, provisions, manuals, safety guides, induction documents, templates, etc.
3. Applicant tracking system
This feature enables the electronic handling of recruitment and hiring. The applicant tracking system stores information about multiple applicants, job opening, open applications and ongoing interviews for specific positions. Also, this module is often integrated with third-party solutions for the screening and assessment of candidates.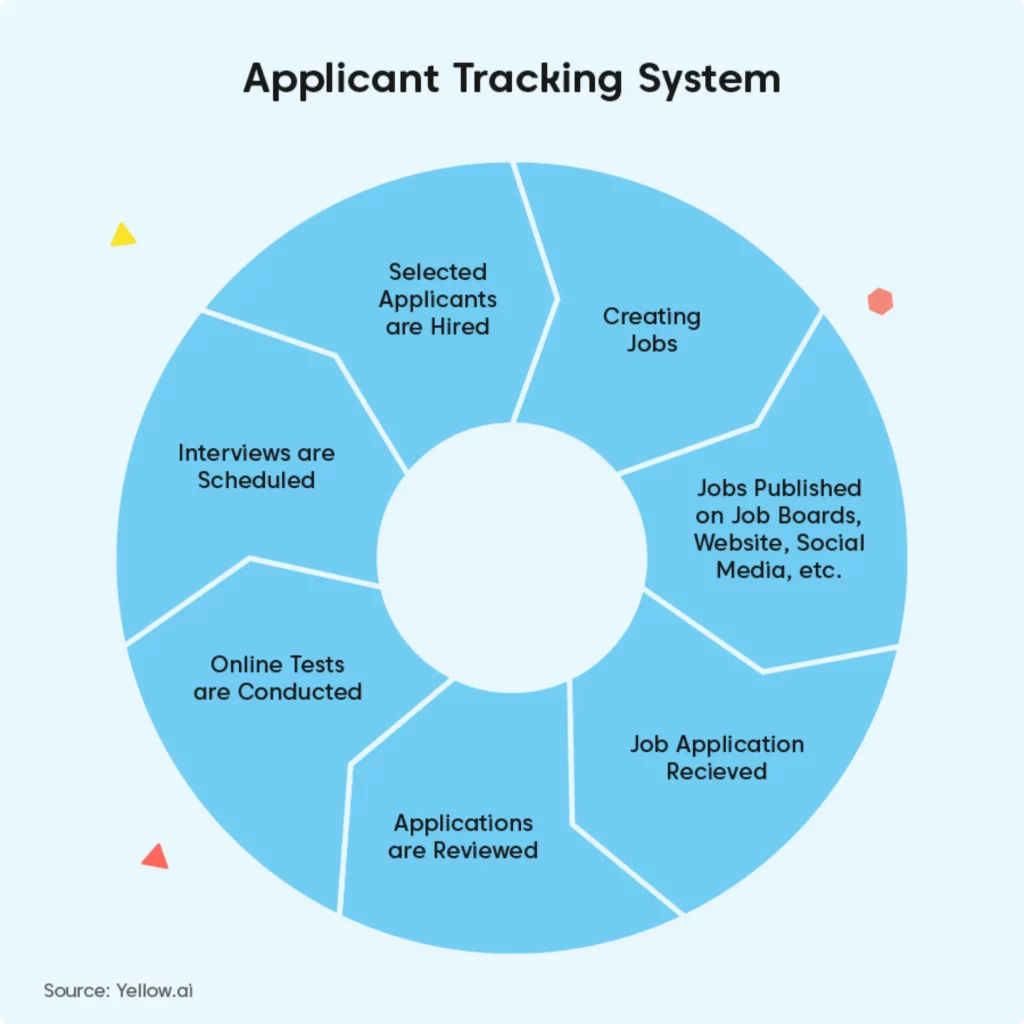 4. Payroll
The American Payroll Association (APA) estimates that automation reduces payroll processing costs by as much as 80 percent, much of that from reducing errors in invoices and paychecks. It collects employee data—such as tax withholdings, benefits contributions, and total hours worked—and makes the calculations for you.
5. Absence management
Automated absence management enables easy tracking and reporting of leave requests, overtime, balances, and accruals. The feature keeps a track of all such time-offs and automatically recalculates the salary for each employee.
6. Talent management
Automation can also be used in career path planning and creating mentorship opportunities to retain high-performing employees. HR teams can use this feature to provide personalized career guidance to employees based on their innate capabilities, potential and professional goals.
How Yellow.ai can help you automate your HR processes?
Attract and retain talent with end-to-end HR automation. From sourcing talent to hiring and keeping them engaged, our next-gen automation platform is all that you need to enhance the efficiency of your HR processes. Let's take a look at what the Yellow.ai HR automation platform has to offer.
Screens thousands of applications on the basis of pre-defined metrics and shortlists the most qualified candidates.
Enables self-service for routine employee queries/requests, thereby freeing up the HR bandwidth to focus on high-value activities.
Integrates with your performance management & L&D systems to build a 360 growth trajectory for your employees.
Collect company property which may include laptops, cell phones, important documents and security cards.
Reduces unwanted employee attrition by giving you intelligent employee sentiment analysis and collecting feedback.
Sends targeted ads to potential candidates, answering FAQs on the application process.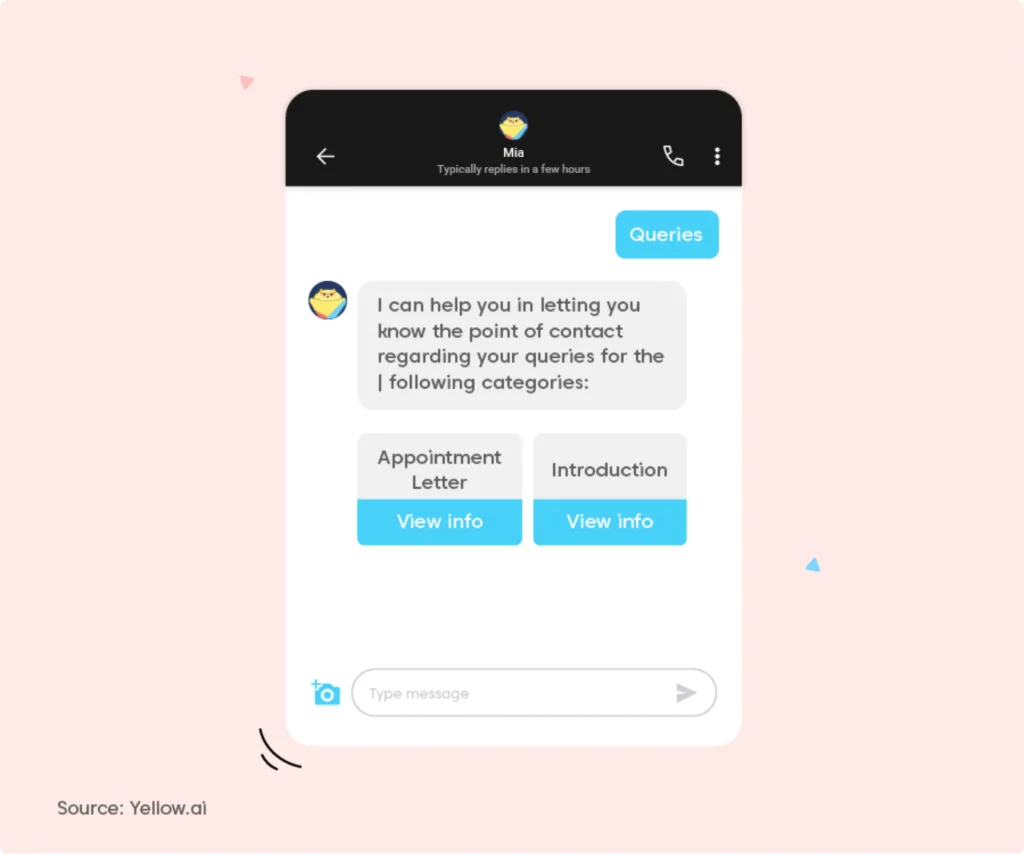 There is so much more that our HR automation platform can do for the individual needs of your business. Get in touch with our experts today and discover how we can help you supercharge your HR processes.
Frequently asked questions
1. How many HR processes are there?
The HR process can be different from organization to organization. However, there are 9 basic processes as highlighted in the guide above – recruitment and selection, onboarding, workforce planning, leave management, performance management, learning and development, compliance management, compensation, benefits and offboarding.
2. How to measure success in HR?
You can measure HR effectiveness by setting key performance indicators (HR KPIs). HR metrics help you recognize how the HR function is contributing to the rest of the organization. This means that a KPI in HR measures how successful HR is in realizing the organization's objectives. Important HR metrics are absence rate, NPS, employee satisfaction score, employee turnover, benefit satisfaction, internal promotion rate, quality of hire and 90-day quit rate.
3. What can HR leaders do to effectively manage HR processes?
HR leaders can improve HR processes by removing redundancies like repetitive manual tasks and using the right tools. All companies that surpass their competitors know that strategic human resource management practices are essential for business success. Some important tools and technologies for efficient HR management are HRMS platform, analytics platform, HR automation and feedback automation.
4. How can well-managed HR processes improve company culture?
Humans rank as the most valuable asset for any company. A well managed HR process ensures employee satisfaction and a proper progression of an employee's lifecycle. Without proper management of HR processes, companies would not be able to effectively recruit and retain employees, improve and enhance their experience, and they wouldn't be able to maintain a healthy, attractive workplace culture and environment.