Yellow.ai has been recognized in the 2023 Gartner® Peer Insights™ 'Voice of the Customer' Enterprise Conversational AI Platforms survey as a strong performer.
We proudly stand as one of the top six selected few vendors with more than above overall experience and an impressive adoption —amongst a roster of 128 contenders—in the Enterprise Conversational AI Platforms domain to achieve this honor.
As per the survey findings, an impressive 90% of customers are inclined to endorse Yellow.ai. Our platform secured an admirable rating of 4.5 out of 5.0 ⭐ based on 40 evaluations as of March 2023 from businesses boasting revenues in excess of $50 million and above.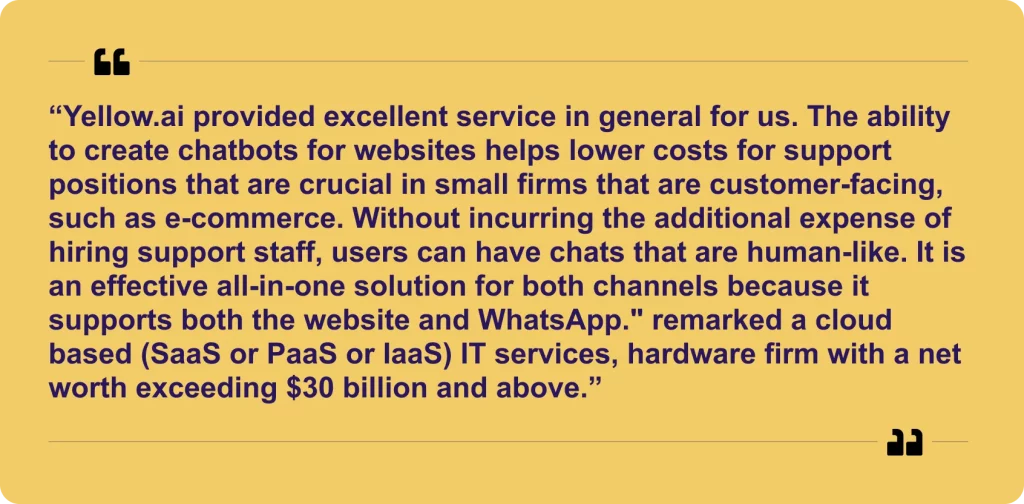 A glimpse into the survey
In the dynamically advancing world of Conversational AI, Yellow.ai emerges as a formidable leader, distinguished both in terms of global reach and innovation. With a commendable client list boasting over 1100 enterprises – including renowned names like Sony, Domino's, Sephora, Hyundai, and Ferrellgas – the company's prowess extends to automating critical business functions such as customer service, customer support, contact center, sales, and employee engagement across an expansive array of 35+ channels in a whopping 135+ languages fluently.
Yellow.ai's accomplishments haven't gone unnoticed in the industry. Marking a significant milestone, Yellow.ai was lauded as one of the top 'Challengers' in the prestigious 2023 Gartner® Magic Quadrant™ for Enterprise Conversational AI Platforms. Financially backed by an impressive $102M from esteemed blue-chip investors, Yellow.ai continues to stay ahead with building industry leading innovation like DynamicNLP™, Domain-specific, industry leading LLMs for a variety of use cases in the Generative AI space.
Yet, the real testament to Yellow.ai's prowess comes from its enterprise users. As per the recent insight into Gartner Peer Insights voice of customer survey; unfurled compelling figures. With a staggering 90% enterprises willingness to recommend Yellow.ai's Dynamic Automation Platform (DAP) powered by Generative AI, the accolades don't just end there, from a sample of 40 reviews, Yellow.ai clinched a remarkable 4.5-star rating from more than 20% enterprises with $1B and above in revenue. Delving deeper, it's evident that a majority of customers' positive feedback resonates with our platform's top-tier product capabilities, seamless sales experience, and the ease of deployment. There's also substantial appreciation for our competitive pricing strategy, industry agnostic deployment, highly rated professional services further emphasizing our commitment to enhancing autonomous customer and employee experiences.
Key survey takeaways
Renowned leadership: Yellow.ai stands tall as a respected authority in the Conversational AI domain.
Stellar customer feedback: An overwhelming majority have expressed satisfaction, emphasizing the platform's efficacy.
Commitment to excellence: Beyond products, the company's dedication to customer satisfaction and a hunger for continuous refinement shines through.
About the Gartner Peer Insights survey
The Gartner® Peer Insights™ survey acknowledges leading players in the enterprise conversational AI space, based on testimonies from verified industry professionals. The designation emphasizes both the volume of reviews and the collective user ratings. Only feedback from entities generating a revenue of $50 million or more are considered. To uphold its integrity, Gartner employs stringent benchmarks for acknowledging vendors showcasing superior customer satisfaction.
Our hearts swell with pride at this commendation, a testament to our clientele's trust in us. Earning the 2023 strong performer accolade underlines our dedication to building a state-of-the-art product backed by exemplary customer service. We remain committed to pioneering innovations that resonate with our user's aspirations and are eternally thankful for their candid feedback on Gartner® Peer Insights™.
Select testimonials from our clientele
"Yellow.ai improves customer experience"
"Yellow.ai has been an invaluable tool in our customer service modernization efforts, streamlining the way we communicate with customers and providing a more informative experience than before " – CIO of a transportation company ($3B – $10B firm size)
[⭐⭐⭐⭐⭐ / View the full review]
"Product is a leader today in creation of bots"
"We were one of the early customers of this vendor and used their bot. It has served many B2C and internal use cases for the organization leading to productivity improvement and saving of man hours" – Senior Manager of a prominent consumer goods conglomerate ($1B- $3B firm size)
[⭐⭐⭐⭐⭐/ View the full review]
"Excellent chatbot platform"
"Overall, our journey with yellow.ai was fantastic and genuinely exceptional. The expert team from Yellow.ai handled all of the integrations between their platform and our e-commerce system without any issues. Yellow.ai has assisted us hugely such as chatbot will assist with the questions from the growing customer base. It has the ability to address several customers at once and it continues to provide all customers with self-service of the same caliber. The most beneficial point was it lessened rework and human mistakes." – Project Manager of a leading IT services corporation ($500M -$1B in assets)
[⭐⭐⭐⭐⭐ / View the full review]
Related reads:
Emerging Tech Impact Radar: Hyperautomation
Emerging Technologies: Tech Innovators in Advanced Virtual Assistants
Magic Quadrant for Enterprise Conversational AI Platforms
Accessing the full report
Our deepest gratitude is extended to every customer who shared their insights. These testimonials not only help in refining our product suite but also bolster the confidence of potential adopters of Yellow.ai. If you've had an experience with Yellow.ai that you'd love to share, we invite you to express your views on our Gartner Peer Insights page, where you can also peruse all Yellow.ai reviews.
For a comprehensive understanding, delve into the full 2023 Gartner® Peer Insights™ 'Voice of the Customer': Enterprise Conversational AI Platforms survey here.