Almost 20 years since its inception, the E-commerce industry is infinitely growing, led by revolutionary technological advances in artificial intelligence and evolving user behavior. Although, due to fierce competition on a global scale, E-commerce players are finding it increasingly difficult to retain customers. This is where e-commerce chatbots play an important role.
Chatbots for E-commerce can upgrade your customer experience, so that you acquire and retain more customers, giving you an edge over your competitors. In this blog, we'll have an in-depth look into what E-commerce chatbots are, their benefits, use-cases and how you can implement them in your business.
Decision-makers in an e-commerce environment clearly understand the demand as well as the competition in the marketplace.
In order to become successful in the B2C and D2C markets, you need to stand out from the crowd and reach consumers and engage with them like never before. Therefore, e-commerce chatbots are not an option anymore.
You must deploy conversational AI to one or more communication channels and automate interactions with your customers.
It is expected that by 2040, 95% of sales will be conducted using e-commerce. During the Covid-19 pandemic, customers have experienced the vulnerability of brick and mortar stores and the comfort and convenience of e-commerce stores. From every day groceries to some rare out-of-the-ordinary goods, people are dependent largely on e-commerce stores for everything.
One of the major reasons for the surge is better customer experience. With the ease to order anytime, easy tracking and hassle-free shopping customers are ready to pay the price. Moving forward, customers would reach out to e-commerce brands on social media platforms such as WhatsApp or Facebook and place orders directly through chat.
In this article, we aim to give you an in-depth understanding of how brands such as Spencers or Sephora are leveraging e-commerce chatbots and what are the benefits they are experiencing. We will also cover the use of e-commerce chatbots on social media platforms.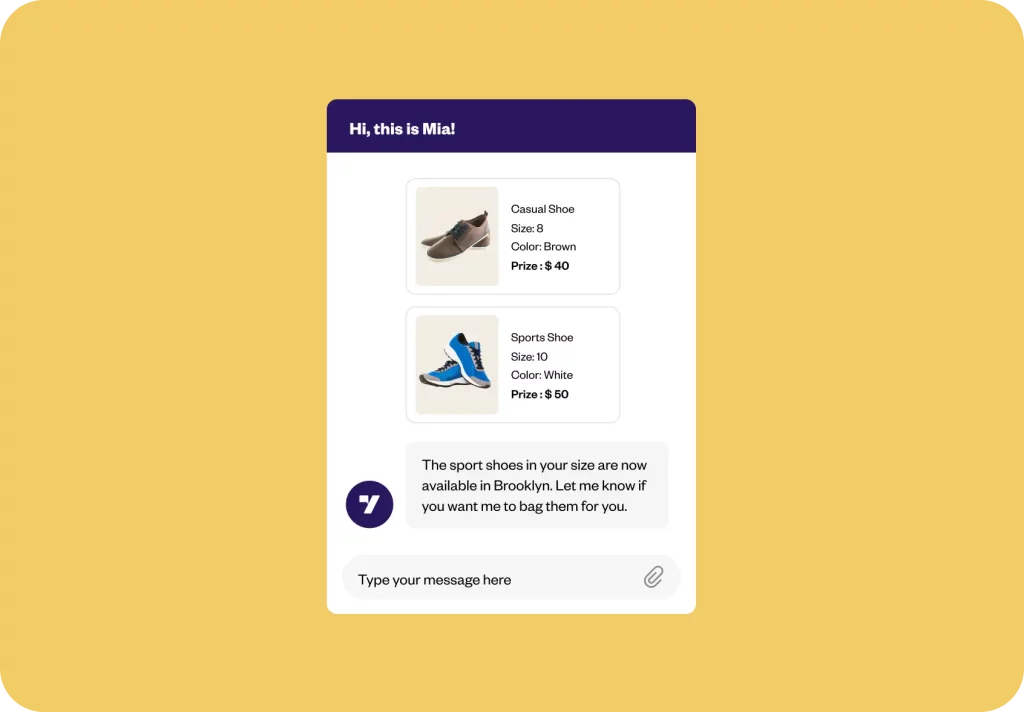 What are e-commerce chatbots?
E-commerce chatbots are AI-powered intelligent virtual assistants that assist customers throughout their online shopping journey. They serve as a perfect equivalent of the helpful store-associate who understands customer preferences and needs to help them complete their purchase.
E-Commerce chatbots facilitate conversational commerce as they unleash the potential of conversation to sell products and services via chat interface. The term conversational commerce was first coined by Uber's Chris Messina in a 2015 piece published on Medium. Since then, it has become a way for E-commerce brands to compensate for the lack of a personal touch in their online stores.
Benefits of E-commerce chatbots
Today's customers have high-expectations from a brand. They prefer high-value experiences that make online shopping more personal and dynamic. E-commerce chatbots can help you achieve this by engaging in one-to-one conversations with customers and answering their questions instantly.
Here are a few more ways in which E-commerce chatbots can prove beneficial for both your business and customers.
1. 24×7 Availability
51% of customers expect to be able to connect with a business any time of the day. However, staffing a support team that works round-the-clock can prove to be quite expensive. Also, human agents can only handle 1-2 customers at a time and it can cause frustration among other customerswhen they have to wait on hold.
E-commerce chatbots on the other hand offer a 24-hour support to customers and can handle multiple queries simultaneously, reducing the response time. They can provide instant answers to customers' questions and handle 80% of the queries without any human intervention.
2. Personalization
8 out of 10 customers are more likely to purchase a product or avail a service from a brand that offers them personalized experiences. Intelligent E-commerce chatbots use AI and machine learning to constantly learn and adapt. They make the conversations more fluid by gathering and analyzing customer data in real-time to offer better suggestions and product recommendations.
3. Proactive support
In this highly-competitive E-commerce landscape, companies need to always be one step ahead to forge a stronger, more relevant connection with their customers. E-commerce chatbots help businesses provide proactive support, wherein, they solve customer problems even before they arise.
For example, sending automated order updates to customers to keep them informed throughout the order fulfillment process. This reduces the number of inbound calls and emails received by the customer support team.
3. Cost optimization
E-commerce businesses can cut costs by assigning repetitive mechanical tasks, which form the most load of queries received by support agents, to chatbots. This can free-up the personnel to focus on more complicated work and also, the company wouldn't have to hire more agents to scale its CX efforts.
4. Improved customer experience
90% of customers use customer service as a deciding factor for whether or not to do business with a company. E-commerce chatbots can improve the impression of your business by acting as the first touchpoint in a customer's journey.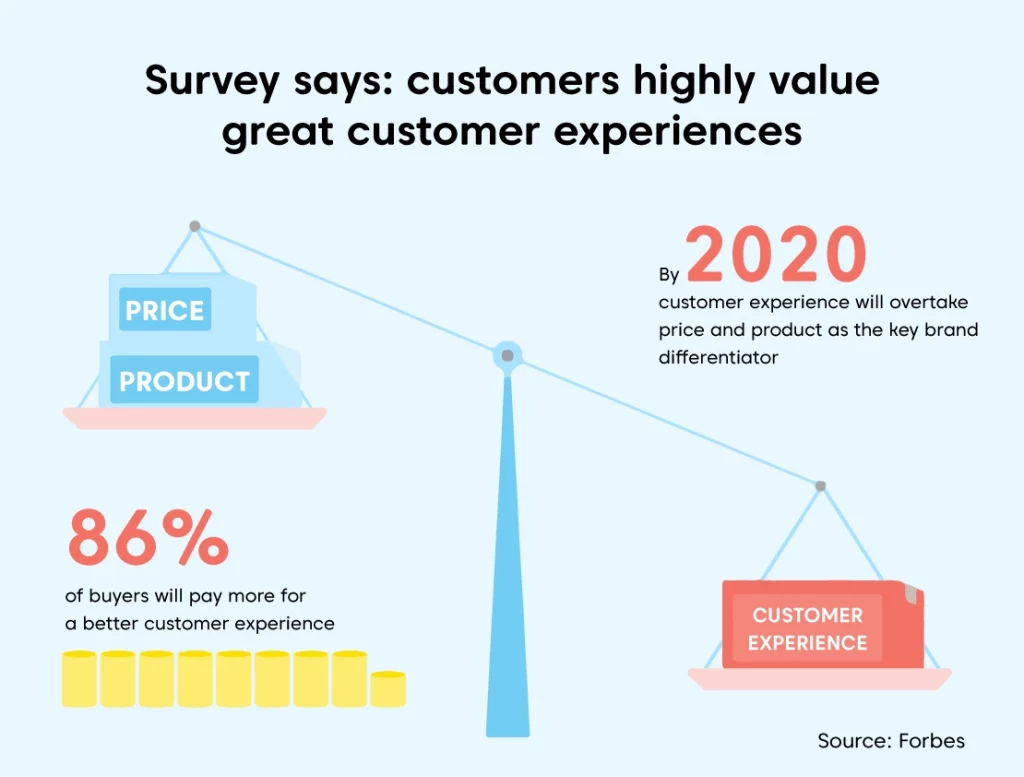 Very often, e-commerce websites are a maze of hundreds of products and customers tend to get confused and eventually bounce off. Chatbots can help customers find exactly what they're looking for by understanding their needs and preferences in real-time like a store associate. This not only saves customers' time and effort but also empowers a business to convert more leads into customers.
5. Cart Recovery
The key to recovering abandoned carts is re-engaging with your customers once they have left your site. Chatbots can do just that by reminding customers of the items that they have left in their cart and encourage them to complete their purchase by offering tailored offers and discount codes. E-commerce bots operate 24/7/365 to ensure that no sale is left behind and are capable of raising cart conversion by at least 30%.
Examples of e-commerce chatbots
In order to give you a better understanding of how you can leverage this technology, we are taking examples of some of our customers who use e-commerce chatbots to their full potential and experience excellent results.
1. Sephora
Sephora is a leading beauty retailer whose mission has been to create a welcoming shopping experience for all. It is the epitome of a customer-centric company that doesn't just welcome smart customers but embraces them.
The challenge for Sephora was that it wanted to attend to online customers in a similar way as it does in its brick and mortar stores. The brand wanted to engage with its customers and ensure a similar level of support and assistance.
Read full case study: Sephora virtual assistant
With a virtual assistant, the brand was able to provide personalized consultations and an excellent online shopping experience.
Try for yourself, how our virtual assistant works for Sephora- chat now.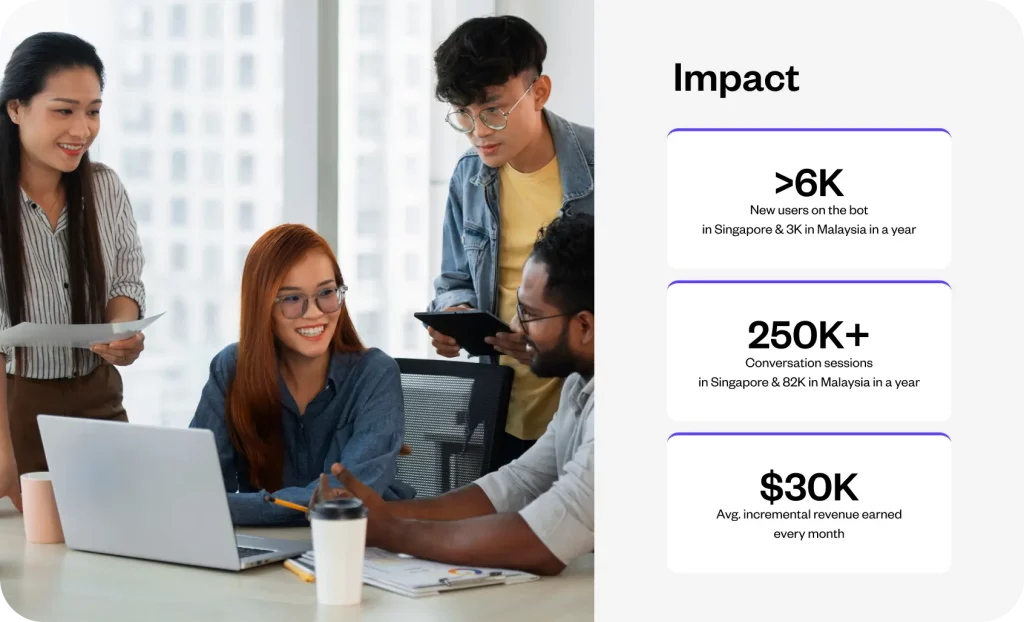 2. ZALORA
ZALORA is a premium Fashion & Retail destination in Southeast Asia with a perpetually growing presence in the fashion, beauty and lifestyle space.
Using e-commerce chatbots, ZALORA wanted to improve its support operations while working within the limitations of its current workforce.
Read full case study- ZALORA virtual assistant
The company was able to automate a delightful shopping experience for customers which led to higher customer satisfaction. Along with this, the brand expanded globally by proving customer support in multiple languages.
Zalora saved a lot of man-hours and provided excellent customer support without human intervention.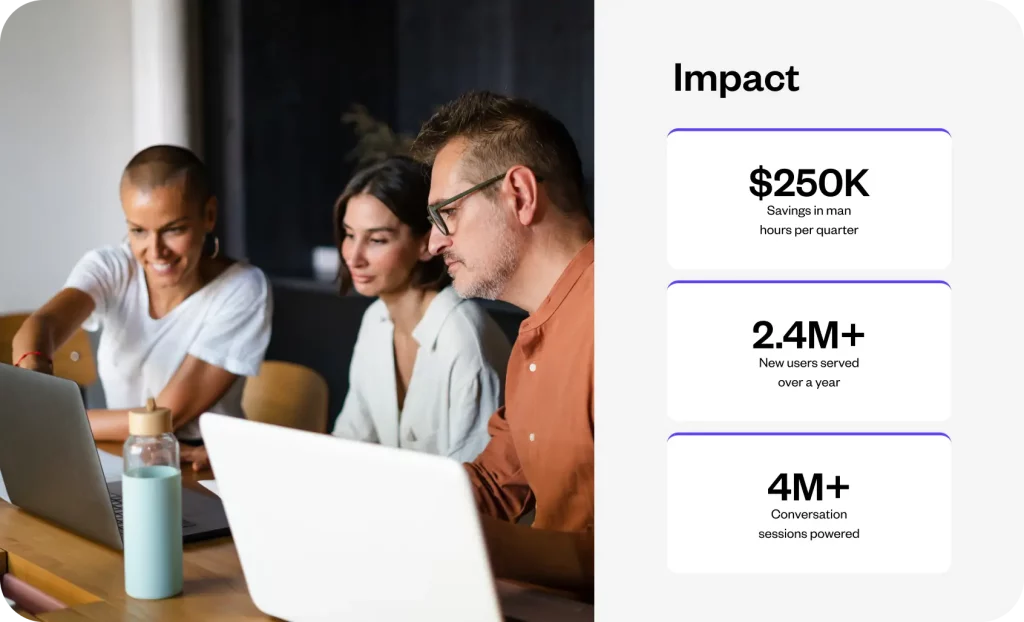 3. Sayurbox
Sayurbox is a farm-to-fork, mobile-first e-commerce platform for purchasing fresh produce that is cherry-picked, and delivered directly from farms to consumers (B2C) and restaurants (B2B). They function in Banten, West Java, and Jakarta.
The brand serves an altruistic purpose of dis-entwining the demand and supply chain for a vast population and faced umpteen customer support queries with long wait times and limited agent help. It wanted to manage the large volumes of incoming queries and lack of agent availability with an e-commerce chatbot.
Read full case study- Sayurbox virtual assistant
With an end-to-end solution, Sayurbox was able to answer customer queries and handle placing, tracking and confirming orders. With availability on WhatsApp and the web, the brand was able to meet its customers where they are and solve their queries accurately without fail.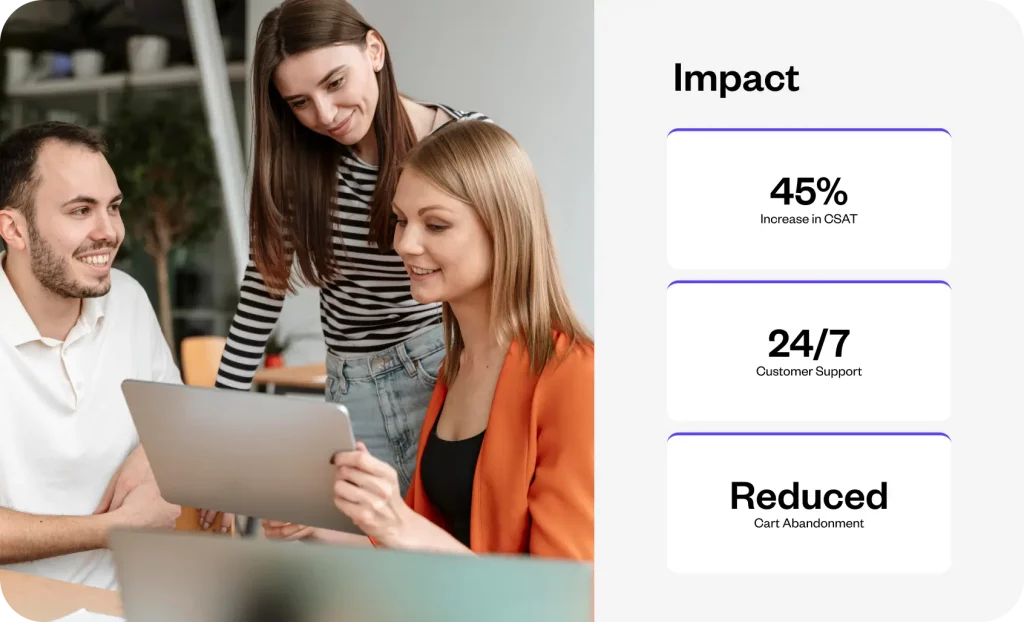 4. Kitabeli
Founded in 2020, KitaBeli is Indonesia's premier social commerce platform that sells packaged goods and daily essentials. Users can invite their friends to join the platform and form groups to receive bulk discounts from sellers.
As a startup in the fresh new space of social commerce, the brand wanted to engage its growing user base with chatbots that would enable multiple customers to place orders at once. They needed an intelligent solution to handle their volumes and give customers a delightful experience.
Read full case study- Kitabeli e-commerce chatbot
With a chatbot, Kitabeli was able to complete all the mundane and repetitive tasks easily. The company's chatbot handled customer queries efficiently using natural language processing (NLP).
The impact of the chatbot is yet to be seen as it was deployed recently by Kitabeli. However, we've review that was received from the company said that they were able to improve their overall customer experience.
We have a sample of Kitabeli's e-commerce chatbot for you to experience the innovation- try now!
5. Spencer's
Spencer's Retail is an Indian chain of retail stores headquartered in Kolkata, West Bengal having a presence in over 35 cities in India. Spencer's is based on the 'Food First' Format.
COVID-19 brought about an unprecedented upsurge in consumer demand amidst great panic for daily essential needs. Spencer's Retail started looking for solutions to further its unflinching mission to support the nation's cause and serve millions of households with daily essentials at their doorstep.
Solution- Spencer's grocery assistant on WhatsApp
Leveraging a WhatsApp chatbot, Spencer's was able to manage grocery and daily essentials orders from across the country. 
In the above examples, we could see that brands loved WhatsApp as a channel to connect with their customers and used WhatsApp business API for supporting their e-commerce business. Let's see how can the e-commerce industry use WhatsApp e-commerce chatbots.
E-commerce chatbot use cases
1. Real-time order updates
E-commerce chatbots enable two-way communication with customers. They're no longer just used to send updates or marketing messages, but customers can also ask them for order updates, real-time tracking information, to change the shipping address or share instructions with the delivery team.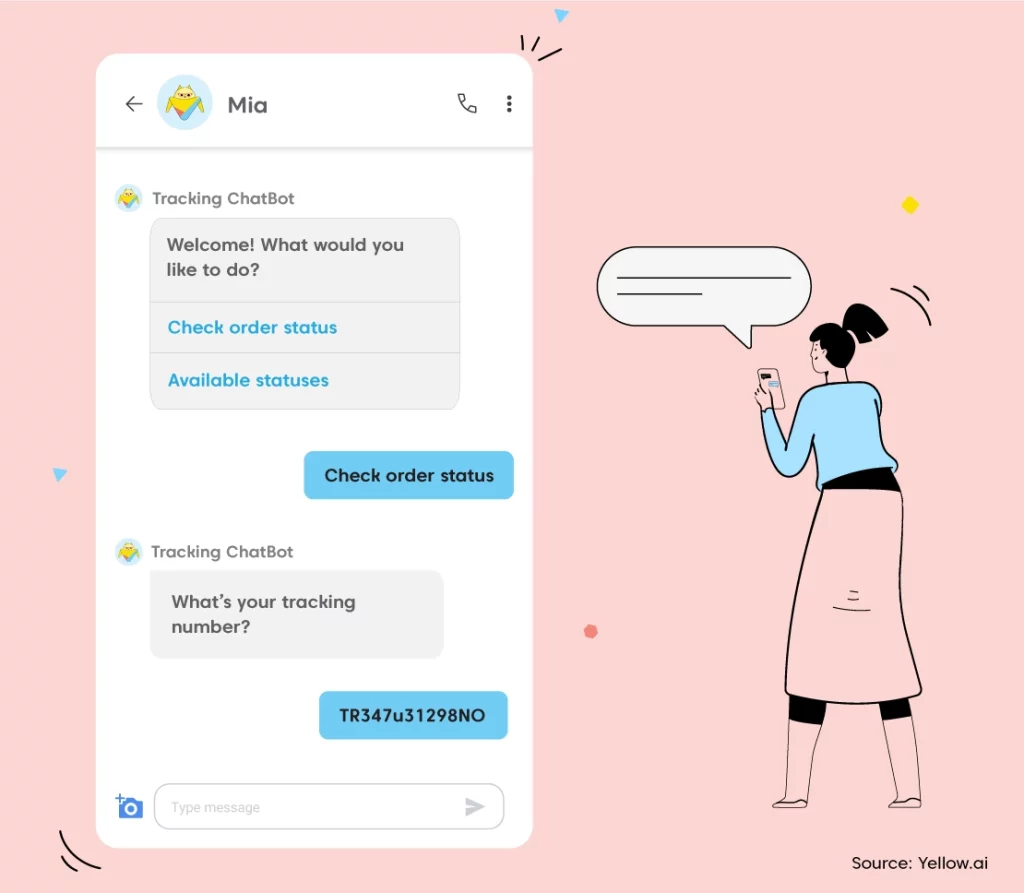 2. Up-seling and cross-selling
Chatbots for e-commerce are powered with sophisticated NLP engines that help them analyze customer sentiment and requirements. This enables them to identify up-sell and cross-sell opportunities to recommend better, high-value value products to customers.  
3. Lead generation
E-commerce bots take a conversational approach towards lead generation as they engage with customers using rich media to gather important information. They also send interactive surveys and forms to customers that have a better response rate than other lead generation campaigns.
‍4. In-chat payments
A report by Salesforce revealed that 74% of customers would switch to a competitor if the buying process is too complicated. This is why it's important to have fewer steps in the checkout process. E-commerce chatbots integrated with payment gateways can handle online transactions and accept payments right in the chat interface, thereby shortening the sales cycle. Now, customers wouldn't have to switch between channels to complete a purchase.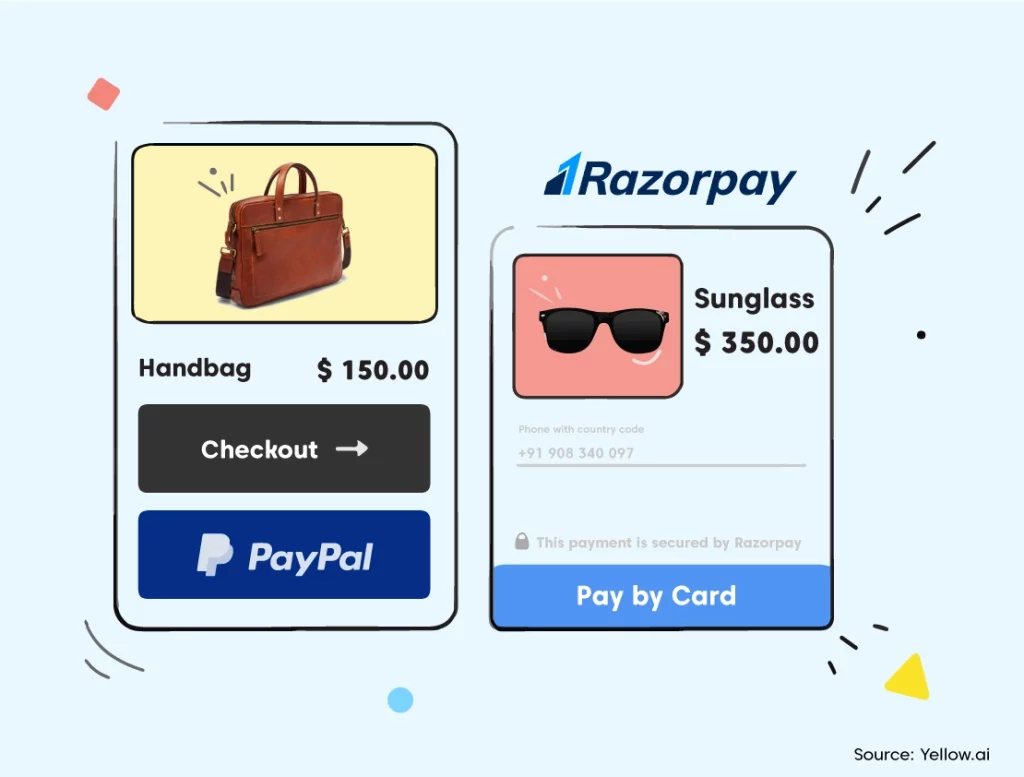 5. Offers and promotions
A chatbot, without being intrusive, can push notifications about new product releases and offers, keeping the customer's preferences in mind. E-commerce chatbots can also be used to broadcast messages and create tailored campaigns for every user.
Chatbots are three times more successful at converting a prospect into a customer. Companies that use E-commerce chatbot marketing report an increase of 67% in sales.
7 E-commerce chatbot features can supercharge sales and revenue for your online store
1. Deliver personalized experiences automatically
Customer service is not a one-size-fits-all kind of approach now. Every customer has their own unique preferences and beliefs. Customers today demand a personalized experience when they are shopping online. They no longer base their loyalty on just price and product.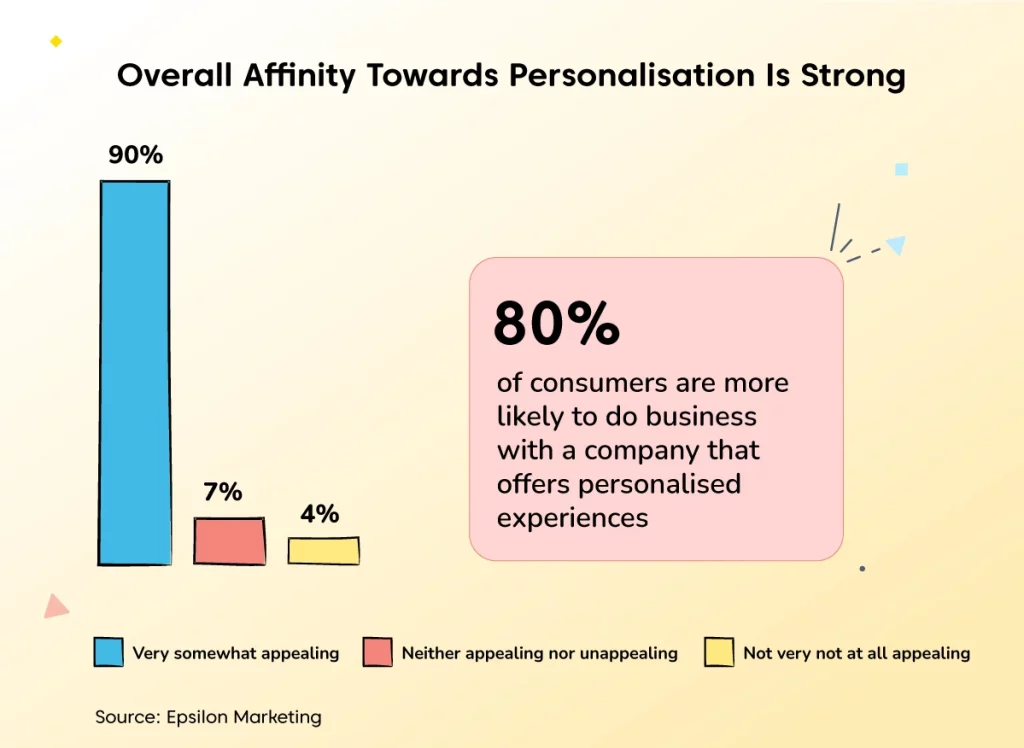 Recent research indicates that 80% of consumers are more likely to make a purchase from a brand that provides personalized experiences. E-commerce chatbots utilize past interactions and customer data to offer personalized customer experiences. Bots can guide customers down the sales funnel by providing them with useful product recommendations.
2. Handle multiple conversations simultaneously
Let's face it, staffing more agents to tend to the rising number of customer queries is one of the biggest business expenses nowadays. Not having enough agents means employee burnout and a longer wait time for customers.
To avoid this, E-commerce businesses can use chatbots to handle an unlimited number of interactions simultaneously. (thus optimizing customer service costs substantially!)
Chatbots can not only handle multiple queries at once but they can shorten the sales cycles and lead the customers to complete their purchase, all in one go. That's how convenient and useful they are, both for businesses and customers.
3. Empower you to provide omnichannel CX
In this hyperconnected world, businesses can not expect customers to come to their website or app. In fact, businesses need to be proactive and meet customers where they are. Omnichannel customer experience allows you to reach the modern consumer at every point in their journey, no matter what channel.
Let's take an example of an insurance company to understand this better. For instance, if a customer gets in touch with an insurance company over WhatsApp, they will be greeted by a chatbot and asked for respective details and documents.
Later, if the customer switches the channel and contacts the company again, but this time, on the website, the customer will not have to repeat the entire information again. The chatbot simply records customer information in real-time and uses it for further interactions. Now it'll be able to take the customer journey forward without asking the customer too many questions.
Customers value such experiences and 70% of customers "say connected processes are very important to win their business." Furthermore, over 80% of customers are willing to give a company relevant personal information in order to bridge the connection between their online and in-person experiences.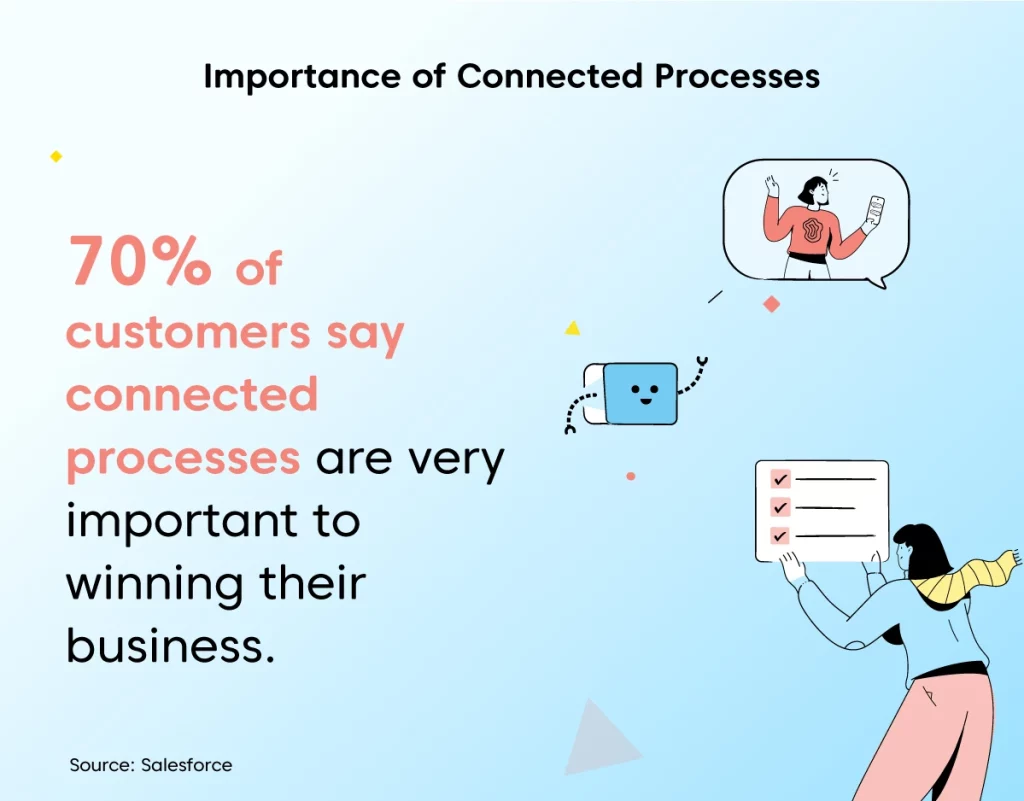 4. Act as a knowledge base
If there's one thing that traditional E-commerce may lack, it's a helpful store assistant. Well, with the advancements in the field of NLP, NLU, artificial intelligence and machine learning, E-commerce ai chatbots are emerging to be the perfect shopping assistants.
They are available round the clock for your customers and provide them with an instant resolution of problems. Customers don't have to call support agents for every little thing or wait to receive a reply on email.
All they can do is text the chatbot and get their questions answered within seconds. Such proactive customer service helps businesses not only earn the loyalty of customers, but research also suggests that customer-centric companies are 60% more profitable than companies that aren't.
5. Reduce cart abandonment rates with retargeting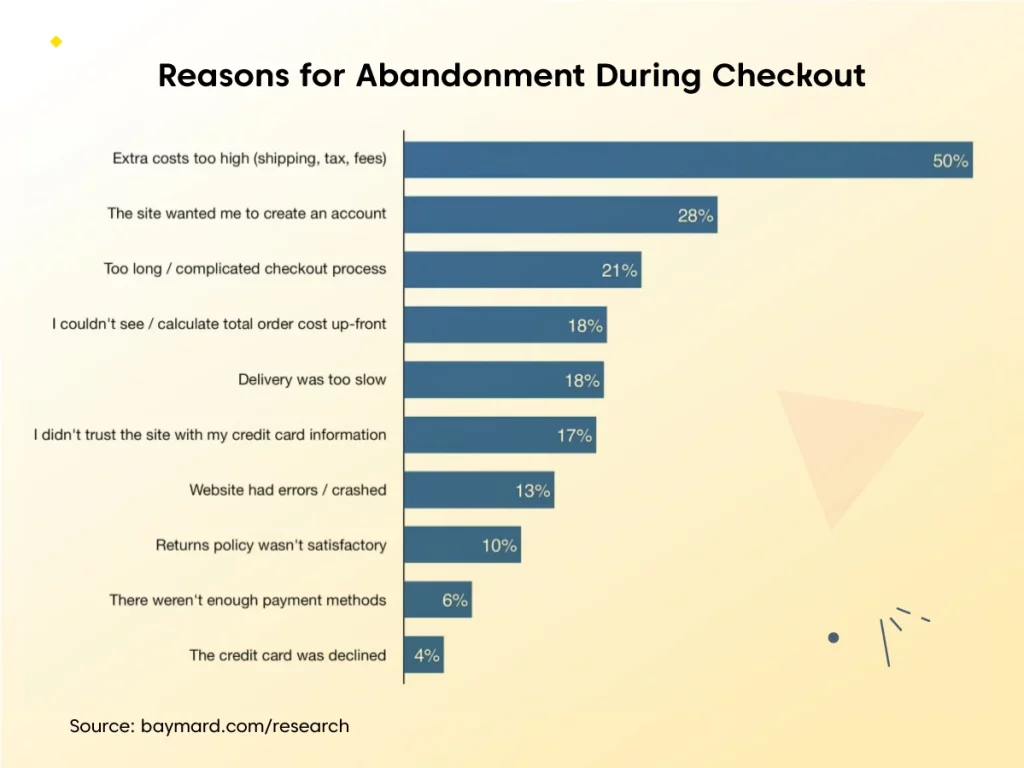 An increasing cart abandonment rate is a nightmare for any E-commerce company. There are several reasons why customers may abandon their carts, including, lack of trust, unexpected shipping costs, no checkout-as-a-guest option, and more. Here's how you can fix this issue with the help of E-commerce chatbots:
a. Sending in-app reminders for abandoned carts.
b. Sending push notifications on social media channels.
c. Enticing customers to complete purchases by offering limited time offers.
d. Instilling fear of missing out (FOMO) in customers by informing them that the product they're interested in may soon run out of stock.
e. Answering any last-minute doubts or questions regarding the check-out process.
Chatbots can also identify various upsell and cross-selling opportunities. This can help raise shopping cart conversion by up to 30%
6. Record customer information in real-time
Chatbots for E-commerce are not just about saving time and money. They also play an important role in helping you generate high-quality leads. As a matter of fact, chatbots help businesses generate 55% more high quality leads. They actively engage with potential customers and keep them from leaving your website unconverted.
Enterprise chatbots for E-commerce record customer information while interacting with the customers in real-time or even via engaging forms, questionnaires, or contests. They then seamlessly direct leads to the concerned-sales team member for closing the deal.
7. Drives further sales with conversational analytics
Real-time conversational analytics has emerged as the new paradigm, as more and more customers are using E-commerce chatbots to interact with brands.
But, what exactly is conversational analytics? It is the ability to capture, analyze, and evaluate customer data through the conversations that take place between self-service bots and customers.
Chatbots gauge customer emotions and use sentiment analysis to generate real-time insights into customer preferences. This valuable data is later used by organizations to identify trends in consumer behaviour, any gaps in service or to further personalize customer experiences.
E-commerce chatbots, built on the laurels of progressive technologies like NLP, AI and machine learning, generate actionable customer insights that allow a business to measure and improve customer satisfaction, prevent customer churn, and enhance revenue.
Things to keep in mind while building an E-commerce chatbot
1. Identify customer pain points
Before building your chatbot, make sure you properly analyze the customer journey and trends to identify their pain points. This will help you get a headstart by establishing a few key use cases for your E-commerce chatbot. 
2. Design conversation flows
Conversation flow is the comfortable progression of questions and responses in a conversation. E-commerce customers prefer to engage with chatbots that have natural conversational abilities, so keep that in mind along with the customer journey and the kind of experiences you want to deliver while creating the conversational flow of your chatbot.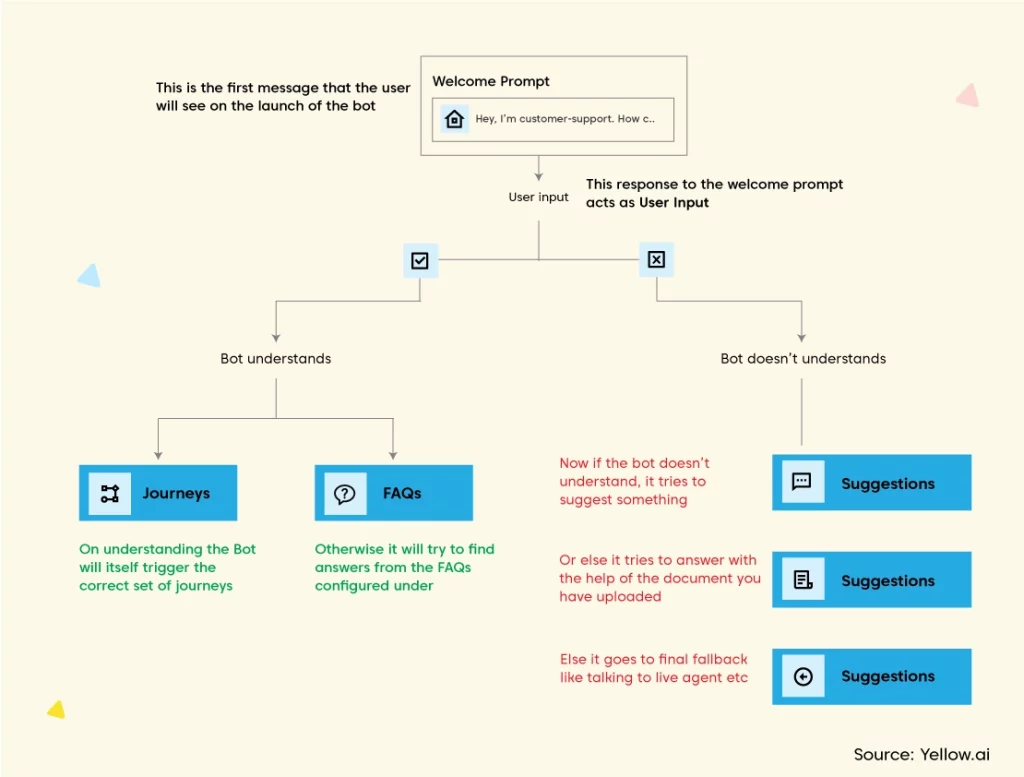 3. Enable data to be usable on chatbot platforms
Integrate your E-commerce chatbots with internal company databases like CRM, ERP Systems, SharePoint or other third-party APIs so that your chatbot can extract customer data in real-time to deliver more intelligent, human-like responses.
4. Train your chatbot with deep reinforcement learning
Your chatbot should be able to learn from past interactions and become more intelligent with time. With deep reinforcement learning, your E-commerce chatbot will improve upon itself with every interaction it processes – even with the queries it misses. It actively learns from every unresolved utterance to never miss the same query twice.
5. Give the chatbot a personality
In order to make an emotional connection with your customer, your chatbot should have a personality – name, appearance, tone, etc. Having a personality is a core component of user experience for any conversational interface.
6. Test your chatbot
Chatbot testing is important to improve conversation quality and make sure that the bot appropriately answers each user's queries. Since chatbots integrate multiple functions, you need to analyze if all the necessary features are implemented correctly.
Here is a checklist for chatbot testing:
Conversational flow and personality
Active learning
Navigation and routing
Accuracy and error management
Response time
7. Launch on the channels where your customers are
Your E-commerce chatbot should be able to meet customers where they are, on social media pages, messaging apps, SMS, voice platforms and even email. It should be easy to deploy on multiple platforms and deliver a truly connected omnichannel experience.
Conclusion
E-commerce chatbots are gaining popularity as they not only help businesses increase customer satisfaction but also in reducing costs, improving metrics like NPS, conversion rates, response times and boosting agent productivity.
In an era when chat is increasingly becoming the most-preferred method of correspondence with brands, E-commerce players must jump on to the chatbot bandwagon to deliver exceptional customer experiences.
If you're also looking to integrate a chatbot solution into your E-commerce platform, then you're at the right place.
Our award-winning no-code chatbot building platform with a drag-and-drop editor enables you to create a custom E-commerce chatbot and deploy it to 35+ channels with a single click. Request a demo.