When you think of advancements in technology, edtech might not be the first thing that pops into your head. But during the COVID-19 pandemic, edtech became a true lifeline for education by making it accessible and easy to use despite there being numerous physical restrictions. Today, technologies like conversational AI and natural language processing (NLP) continue to help educators and students world over teach and learn better. Believe it or not, the education sector is now among the top users of chatbots and other smart AI tools like ChatGPT.
These educational chatbots are like magical helpers transforming the way schools interact with students. Now we can easily explore all kinds of activities related to our studies, thanks to these friendly AI companions by our side.
Related must-reads:
What are educational chatbots?
Education chatbots are interactive artificial intelligence (AI) applications utilized by EdTech companies, universities, schools, and other educational institutions. They serve as virtual assistants, aiding in student instruction, paper assessments, data retrieval for both students and alumni, curriculum updates, and coordinating admission processes.
Renowned brands such as Duolingo and Mondly are employing these AI bots creatively, enhancing learner engagement and facilitating faster comprehension of concepts. These educational chatbots play a significant role in revolutionizing the learning experience and communication within the education sector.
The new online education system in 2023
Predicted to experience substantial growth of approximately $9 billion by 2029, the Edtech industry demonstrates numerous practical applications that highlight the capabilities of AI and ML.
Education as an industry has always been heavy on the physical presence and proximity of learners and educators. Although a lot of innovative technology advancements were made, the industry wasn't as quick to adopt until a few years back. Today however, all stakeholders, whether schools, educators, students, or all it's peripheral support functions, understand and appreciate the immense benefits of having the right kind of technology tools.

AI development is becoming a significant focus for universities all around the world. Many prestigious institutions like Georgia Tech, Stanford, MIT, and the University of Oxford are actively diving into AI-related projects, not just as topics of research but as initiatives to help make learning more effective and easy.
For example, Georgia Tech has created an adaptive learning platform for its computer science master's program. This platform uses AI to personalize the learning experience for each student. Similarly, Stanford has its own AI Laboratory, where researchers work on cutting-edge AI projects. MIT is also heavily invested in AI with its MIT Intelligence Quest (MIT IQ) and MIT-IBM Watson AI Lab initiatives, exploring the potential of AI in various fields.
Furthermore, tech solutions like conversational AI, are being deployed over every platform on the internet, be it social media or business websites and applications. Tech-savvy students, parents, and teachers are experiencing the privilege of interacting with the chatbots and in turn, institutions are observing satisfied students and happier staff.
What are the benefits of AI chatbots in education?
There are multiple business dimensions in the education industry where chatbots are gaining popularity, such as online tutors, student support, teacher's assistant, administrative tool, assessing and generating results.
1. 24/7 accessibility with chatbot support
Chatbots in education offer unparalleled accessibility, functioning as reliable virtual assistants that remain accessible around the clock. Much like a dedicated support system, they tirelessly cater to the needs of both students and teachers, providing prompt responses and assistance at any time, day or night. This kind of availability ensures that learners and educators can access essential information and support whenever they need it, fostering a seamless and uninterrupted learning experience.
2. Enhanced student engagement through chatbot interactions
Through interactive conversations, thought-provoking questions, and the delivery of intriguing information, chatbots in education captivate students' attention, making learning an exciting and rewarding adventure. By creating a sense of connection and personalized interaction, these AI chatbots forge stronger bonds between students and their studies. Learners feel more immersed and invested in their educational journey, driven by the desire to explore new topics and uncover intriguing insights.
3. Personalized learning at scale with the help of chatbots
AI chatbots can be attentive to – and train on – students' learning habits and areas of difficulty. They can closely observe the patterns in their studying and content consumption to curate bespoke learning experiences, tailoring content and instructional approaches to suit the unique learning style of each individual.

With intelligent tutoring systems, schools can deliver personalized learning experiences. It has been scientifically proven that not everyone understands and learns in the same way. To cater to the needs of every student in terms of complex topics or subjects, chatbots can customize the learning plan and make sure that students gain maximum knowledge – in the classroom and even outside.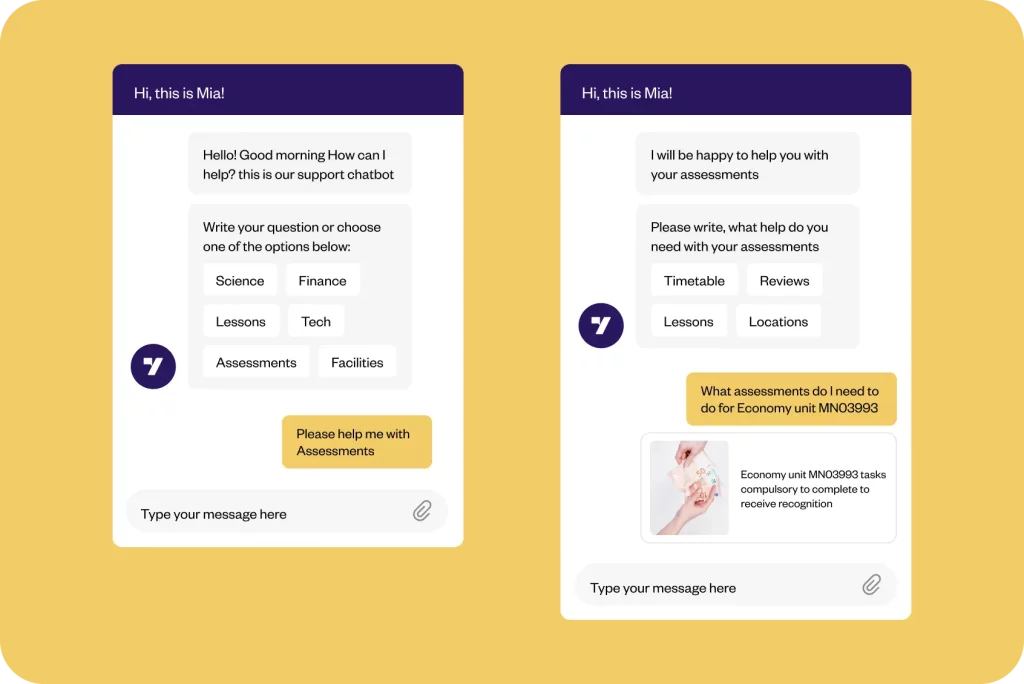 4. Improved administrative efficiency, aided by chatbot automation
Chatbots in education serve as valuable administrative companions for both prospective and existing students. Instead of enduring the hassle of visiting the office and waiting in long queues for answers, students can simply text the chatbots to quickly resolve their queries. This user-friendly option provides convenient and efficient access to information, enhancing the overall student experience and streamlining administrative processes. Whether it's admission-related inquiries or general questions, educational chatbots offer a seamless and time-saving alternative, empowering students with instant and accurate assistance at their fingertips.
| | | |
| --- | --- | --- |
| Obligation | How can chatbots help? | Example question |
| Course details and enrollments | Providing information about various courses available and answering questions related to admissions. | What is the basic qualification to opt for PhD in management studies? |
| Fee structure and other financial aid | Sharing all the details regarding the fee structure of the selected program and answering questions about installment, scholarships and many more. | How can I apply for the scholarship? |
| News about the institution | World-class institutions need to share news about their highest package or top-performing students. Chatbots can share this information with all customers having conversations via chatbots. | What was the average salary package in the last academic year? |
| Campus guide and school events | Parents and students need to know about the campus and the exposure that students get during their course. Chatbots help them by answering related questions. | What are the annual sports events taking place in the institution? |
5. Multilingual support integrated with chatbot capabilities
Multilingual chatbots act as friendly language ambassadors, breaking down barriers for students from diverse linguistic backgrounds. Their ability to communicate in various languages fosters inclusivity, ensuring that all students can learn and engage effectively, irrespective of their native language. Through this multilingual support, chatbots promote a more interconnected and enriching educational experience for a globally diverse student body.
6. Improved feedback collection using chatbot-driven surveys
A renowned quote by Ken Blanchard, "Feedback is the breakfast of champions." can never go wrong. Collecting feedback on a daily basis is extremely important, no matter which industry you belong to.
For educational institutes, there is a lot to collect feedback on. From teachers to syllabus, admissions to hygiene, schools can collect information on all the aspects and become champions in their sector.
Chatbots in the education sector can help collect feedback from all the stakeholders after each conversation or completion of every process. This can help schools in extracting useful information and attending to matters with poor results.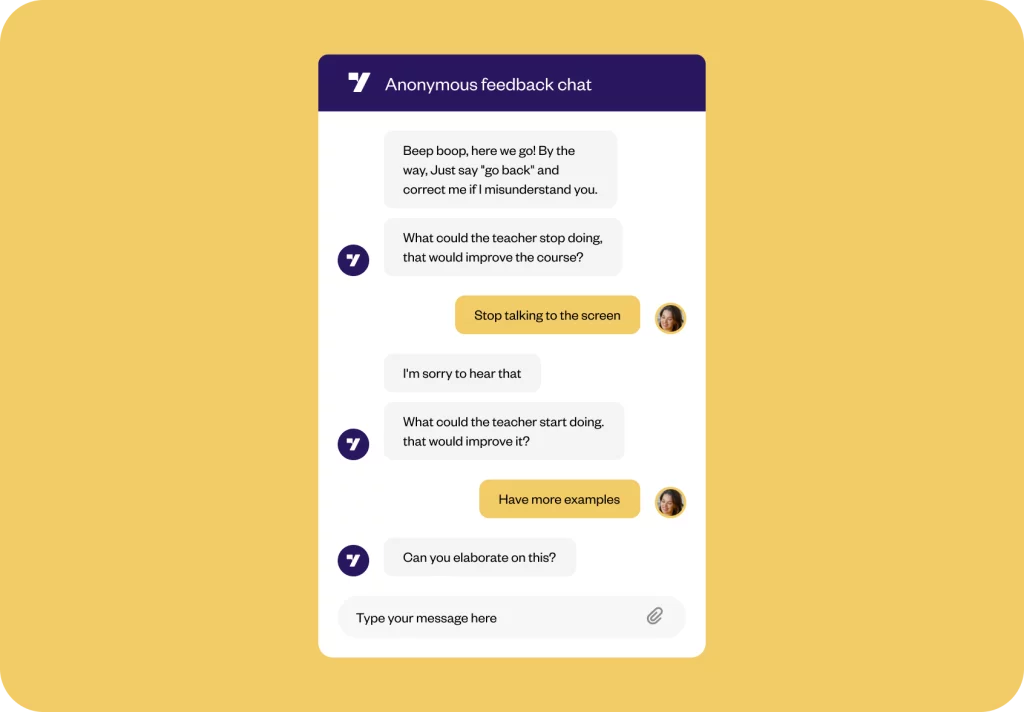 7. Cost savings achieved through chatbot-assisted tasks
Chatbots serve as valuable assistants, optimizing resource allocation in educational institutions. By efficiently handling repetitive tasks, they liberate valuable time for teachers and staff. As a result, schools can reduce the need for additional support staff, leading to cost savings. This cost-effective approach ensures that educational resources are utilized efficiently, ultimately contributing to more accessible and affordable education for all.
8. Data collection and analysis, leveraging chatbot data
Chatbots can help educational institutions in data collection and analysis in various ways. Here are the top three ways. Firstly, they can collect and analyze data to offer rich insights into student behavior and performance to help them create more effective learning programs. Secondly, chatbots can gather data on student interactions, feedback, and performance, which can be used to identify areas for improvement and optimize learning outcomes. Thirdly education chatbots can access examination data and student responses in order to perform automated assessments. The bots can then process this information on the instructor's request to generate student-specific scorecards and provide learning gap insights.
9. Scalability, with chatbots facilitating growth and support.
By harnessing the power of generative AI, chatbots can efficiently handle a multitude of conversations with students simultaneously. The technology's ability to generate human-like responses in real-time allows these AI chatbots to engage with numerous students without compromising the quality of their interactions. This scalability ensures that every learner receives prompt and personalized support, no matter how many students are using the chatbot at the same time.
Use cases of AI chatbots in education industry
In 2023, AI chatbots are transforming the education industry with their versatile applications. Among the numerous use cases of chatbots, there are several industry-specific applications of AI chatbots in education. Institutions seeking support in any of these areas can implement chatbots and anticipate remarkable outcomes.
1. Smoother admission processes
Automation is essential for all the administrative procedures in schools. Admitting hundreds of students with varied fee structures, course details, and specializations can be a task for administrators. Also, with so many variations, there is a scope for human error in the admission process.
With artificial intelligence, the complete process of enrollment and admissions can be smoother and more streamlined. Administrators can take up other complex, time-consuming tasks that need human attention.
2. Student sentiment analysis
Understanding student sentiments during and after the sessions is very important for teachers. If students end up being confused and unclear about the topic, all the efforts made by the teachers go in vain.
AI chatbots equipped with sentiment analysis capabilities can play a pivotal role in assisting teachers. By comprehending student sentiments, these chatbots help educators modify and enhance their teaching practices, creating better learning experiences. Promptly addressing students' doubts and concerns, chatbots enable teachers to provide immediate clarifications, fostering a more conducive and effective learning environment.
By leveraging this valuable feedback, teachers can continuously improve their teaching methods, ensuring that students grasp concepts effectively and ultimately succeed in their academic pursuits.
3. AI-powered teacher's assistant
Institutional staff, especially teachers, are often overburdened and exhausted, working beyond their office hours just to deliver excellent learning experiences to their students. Most of the tasks done by teachers are repetitive and mundane. Repetitive tasks can easily be carried out using chatbots as teachers' assistants. With artificial intelligence, chatbots can assist teachers in justifying their work without exhausting them too much. This, in turn, allows teachers to devote more time and attention to designing exciting lessons and providing learners with the personalized attention they deserve.
The future of AI and chatbots in education
AI and chatbots have a huge potential to transform the way students interact with learning. They promise to forever change the learning landscape by offering highly personalized experiences for students through tailored lessons. With a one-time investment, educators can leverage a self-improving algorithm to design online courses and study resources that go beyond the one-size-fits-all approach, dismantling the age-old education structures. Chatbots will be virtual assistants that offer instant help and answer questions whenever students get stuck understanding a concept.
AI aids researchers in developing systems that can collect student feedback by measuring how much students are able to understand the study material and be attentive during a study session. The way AI technology is booming in every sphere of life, the day when quality education will be more easily accessible is not far.
Conclusion – Chatbot for education
Conversational AI is revolutionizing the way businesses communicate with their customers and everyone is loving this new way. Businesses are adopting artificial intelligence and investing more and more in it for automating different business processes like customer support, marketing, sales, customer engagement and overall customer experience.
Yellow.ai is an excellent conversational AI platform vendor that can help you automate your business processes and deliver a world-class customer experience. With our AI chatbots in education, schools can engage with prospective students right from the point of admission to making learning fun for them.

If your educational institution is looking for an AI chatbot, schedule a demo and have a conversation with our experts. They can guide you through the process of deploying an educational chatbot and using it to its full potential.
Go live with edtech AI bots 2x faster with Yellow.ai's marketplace templates. Explore templates now!
Deploy an educational chatbot
Enrich the learning experience for your staff, educators and students!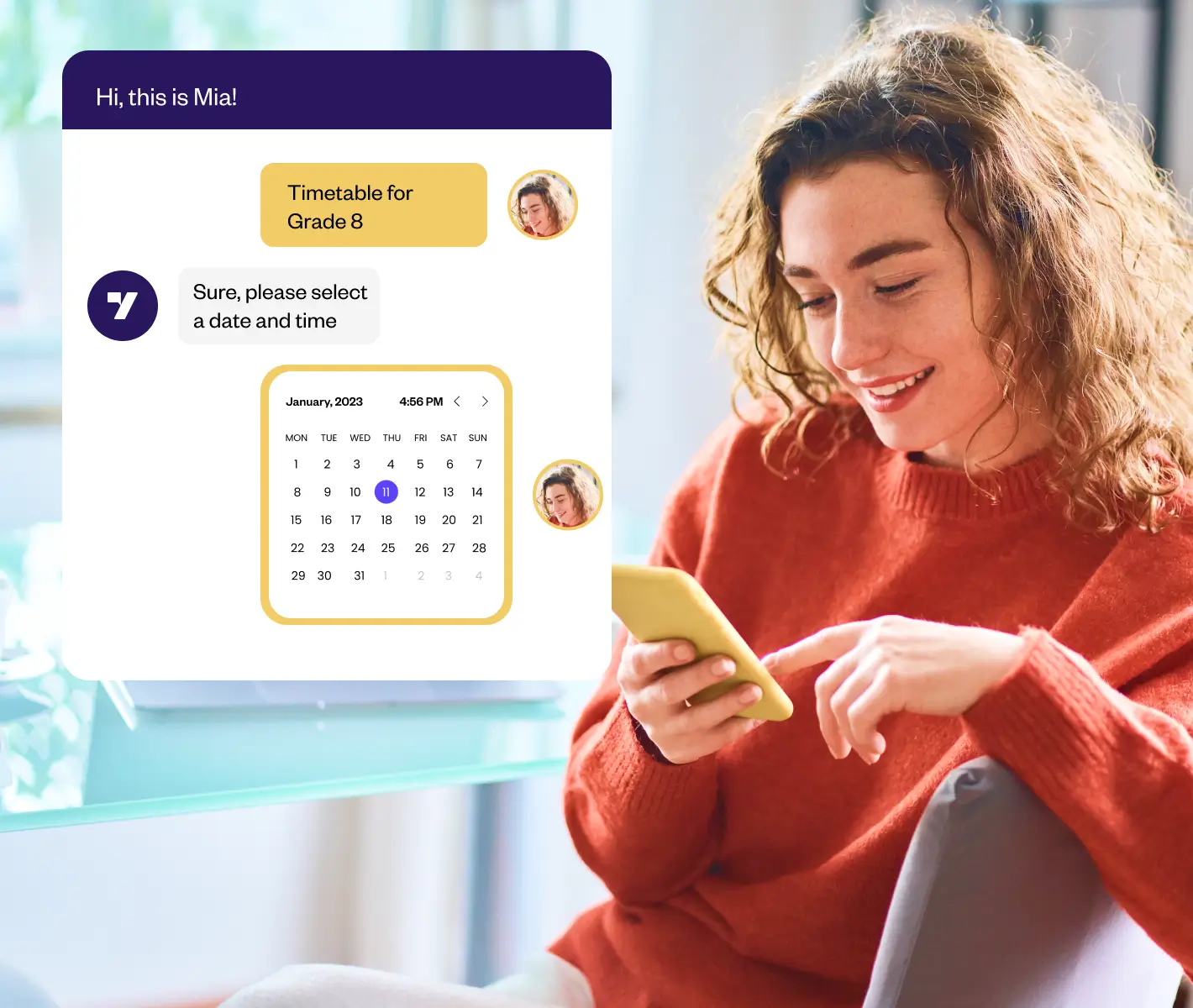 Education chatbot – FAQs
What is a chatbot in the education industry?
A chatbot in the education industry is an AI-powered virtual assistant designed to interact with students, teachers, and other stakeholders in the educational ecosystem. Using advanced Conversational AI and Generative AI technologies, chatbots can engage in natural language conversations, providing personalized support and delivering relevant information on various educational topics.
How can chatbots be used in education?
AI chatbots offer a multitude of applications in education, transforming the learning experience. They can act as virtual tutors, providing personalized learning paths and assisting students with queries on academic subjects. Additionally, chatbots streamline administrative tasks, such as admissions and enrollment processes, automating repetitive tasks and reducing response times for improved efficiency. With the integration of Conversational AI and Generative AI, chatbots enhance communication, offer 24/7 support, and cater to the unique needs of each student.
What is the future of chatbots in education?
The future of chatbots in education is promising and dynamic. As Conversational AI and Generative AI continue to advance, chatbots in education will become even more intuitive and interactive. They will play an increasingly vital role in personalized learning, adapting to individual student preferences and learning styles. Moreover, chatbots will foster seamless communication between educators, students, and parents, promoting better engagement and learning outcomes.
Can chatbots replace teachers?
While chatbots serve as valuable educational tools, they cannot replace teachers entirely. Instead, they complement educators by automating administrative tasks, providing instant support, and offering personalized learning experiences. Teachers' expertise and human touch are indispensable for fostering critical thinking, emotional intelligence, and meaningful connections with students. Chatbots for education work collaboratively with teachers, optimizing the online learning process and creating an enriched educational ecosystem.