The HR department stands responsible for bringing in the best talent for the organization and delivering the best experience to the employees. Juggling the obligations, the department can always use an extra hand that can help them with some of their repetitive and mundane tasks.
HR chatbots can prove to be an excellent addition that can handle the interactions carried by the HR team intelligently with a primary focus on increasing efficiency and improving employee satisfaction.
HR chatbots can provide excellent support to the HR teams in performing business operations like recruiting, onboarding, training, performance management, employee engagement, payroll management, offboarding and many other day-to-day tasks. They can be a point of contact for interested candidates as well as the existing employees.
In this blog, we would like to take your attention to 10 ways in which you can use HR chatbots to get the maximum ROI.
Related must-reads:
We have also covered the benefits that can be observed by deploying HR chatbots. By the end of this blog, you will clearly know which of your HR operations can be automated and what benefits can be achieved using conversational AI chatbots.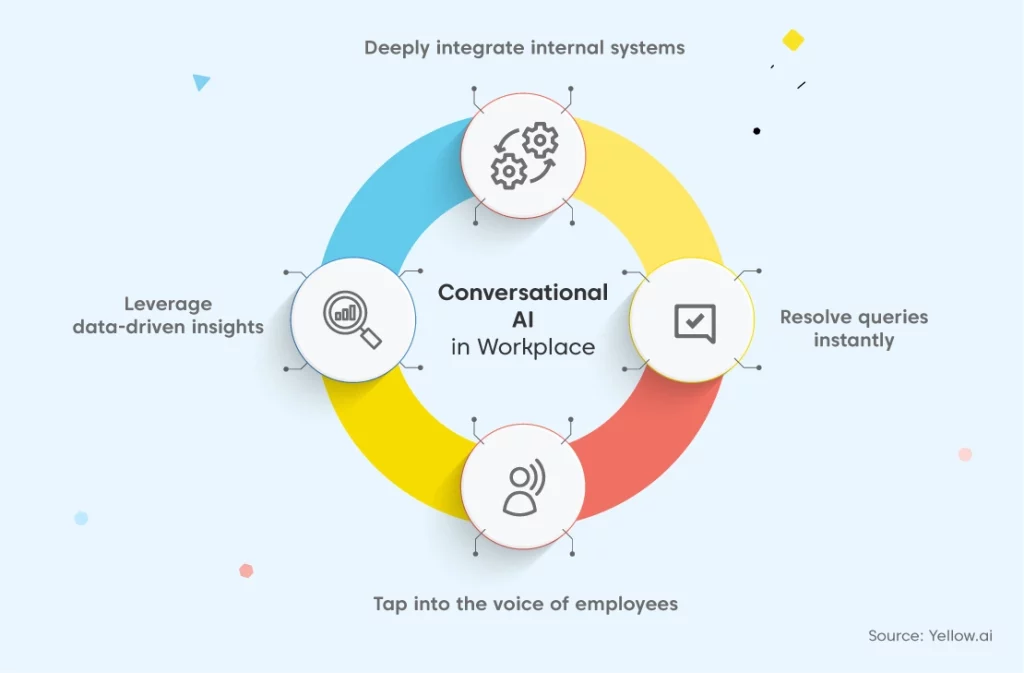 What are HR chatbots?
An HR chatbot is a conversational AI-powered software that automates human-like conversations with interested candidates and employees within the organization in order to automate business processes and improve the productivity and efficiency of the HR department.
Using technologies like natural language processing and machine learning, HR chatbots can easily comprehend messages and respond appropriately to the sender. However, in case of complex conversations and difficult queries, HR chatbots can seamlessly transfer the interaction to a human agent.
Benefits of employing HR chatbots
Conversational AI and chatbots have shown tremendous benefits for businesses in all industries across varied verticals of business operations. There are a number of benefits that are specific to the HR department that uses HR chatbots.
1. Easy accessibility for employees
HR chatbots enable unstoppable interaction with the employees. It is a 24×7 conversational channel where your employees from across the globe can come and ask their queries about any of the company policies such as employee benefits, referrals or salary breakup.
Using chatbots is efficient because they are available round the clock and can help employees in multiple languages without the need for a translator. Employees can reach out to them on public holidays and their out-of-office hours.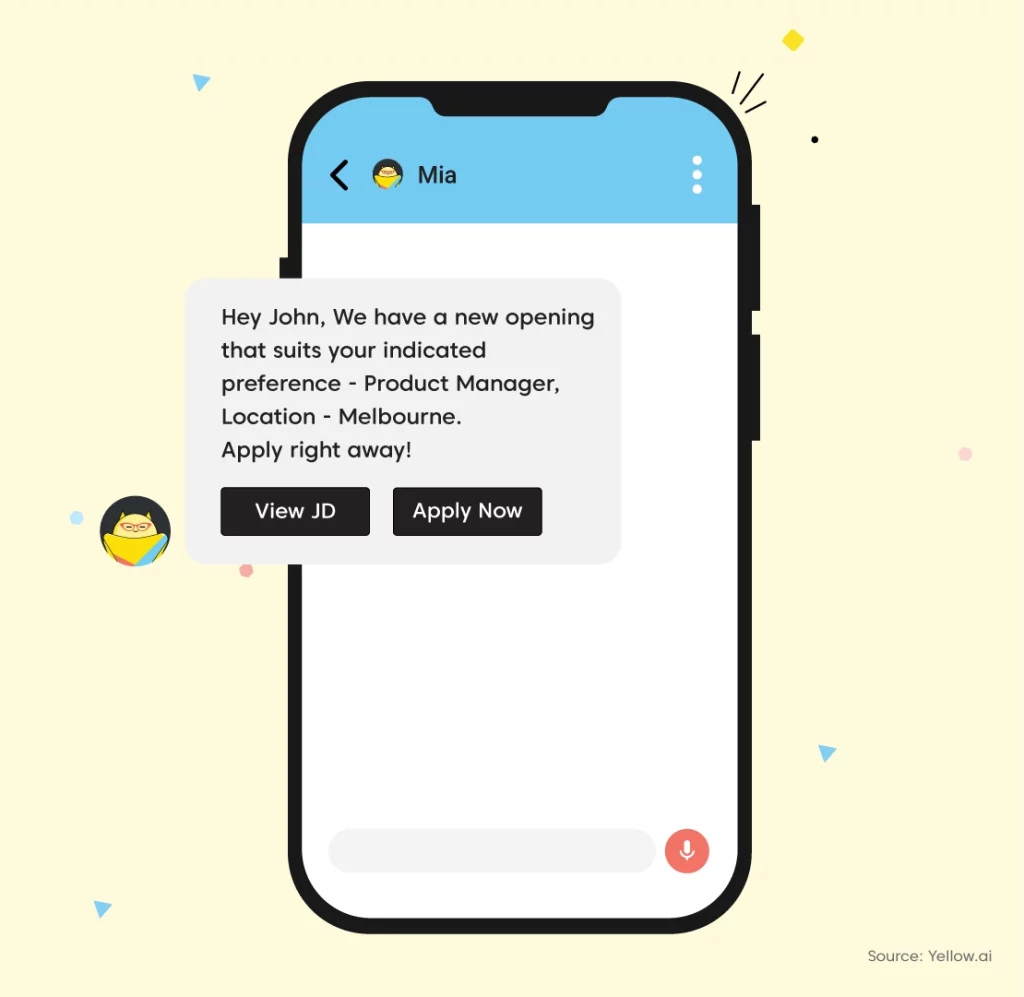 2. Hassle-free data handling
Chatbots can help in collecting and organizing data about employees and the organization online. It can enter or fetch details from an excel or .csv file, segregate them and convert them into valuable information.
Using this data businesses can get rid of the unnecessary manual paperwork and centralize it. With detailed information and insights managers and the HR team can make informed decisions and keep the employees happy and satisfied.
3. Accurate and consistent employee engagement
Employee engagement is of great importance in order to retain employees and keep them motivated. The HR department uses different strategies and tools to keep employees engaged and loyal to the employers.

Chatbots can be an excellent tool for keeping engagement consistent. They can interact with the employees and provide them with accurate information.
4. Efficient handling of internal queries
Employees can have a number of queries related to their annual package, perks and various declarations. HR chatbots can solve them in a timely manner with complete accuracy and transparency.
It is efficient in handling any type of internal queries that may generally take days or sometimes weeks to get resolved.
5. Valuable feedback from employees
Organizations with a good working environment attract good talent from the whole world. Feedback from existing employees can prove to be a magnet for the candidates looking for a job change or giving a fresh start to their career.
HR chatbots can be very helpful in collecting feedback from employees. You can ask for feedback after every interaction or maybe monthly, quarterly or half-yearly.
Use cases of HR chatbots for businesses
Now that you know about the various benefits that can be achieved by using HR chatbots, it's time we throw some light on how you can achieve it. In the following section, you can find 10 use cases for which you can apply the chatbots and enjoy their benefits.
1. Screening and recruiting
Just like a person from the talent acquisition team would call an interested candidate and ask about their candidature during screening, the same can be done using chatbots. You can automate collecting all the details about candidates and checking if they are suitable for the current openings.
HR chatbots can also be a great help in the recruitment process as they can share all the documents, answer queries and help the candidates with all the information about the company policies.
2. Onboarding and training
Onboarding and training can be an overwhelming process with the employees engaging with their team members and getting acquainted with the work environment. The HR department can automate the complete onboarding and training process using HR chatbots.
All the documents and training materials can be shared with the new employees using chatbots. They can be used to engage with the employees and resolve any issues they may be facing while getting comfortable with the organization.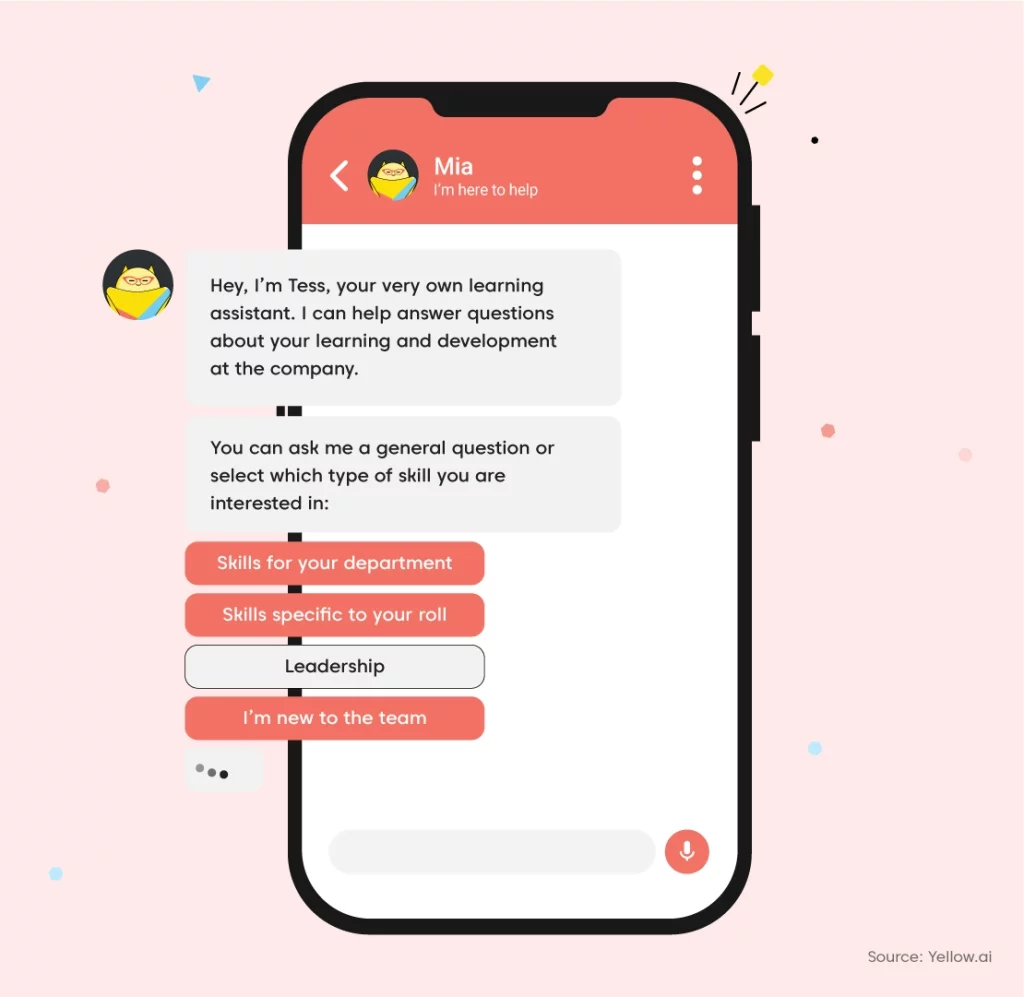 3. Handling incoming queries from interested candidates
While dealing with different responsibilities, the HR team might miss talented candidates approaching them for various opportunities in the organization. HR chatbots can help in responding to incoming queries.
Candidates can leave their resumes for the HR team while interacting with the chatbot. They can also ask for job descriptions or working hours for the position. HR chatbots can help by answering the questions and having a human-like conversation that leaves the candidates with a better experience.
4. Providing personalized employee support
Chatbots can be trained with data about all the employees in the organization. Using this data, an HR chatbot can provide personalized support to each employee whenever they need it.
The employees don't need to go to HR or management to ask simple questions like how can I claim expenses or how many leaves can I take in a year. HR chatbots can be used to answer the FAQs and seamlessly hand off complex queries.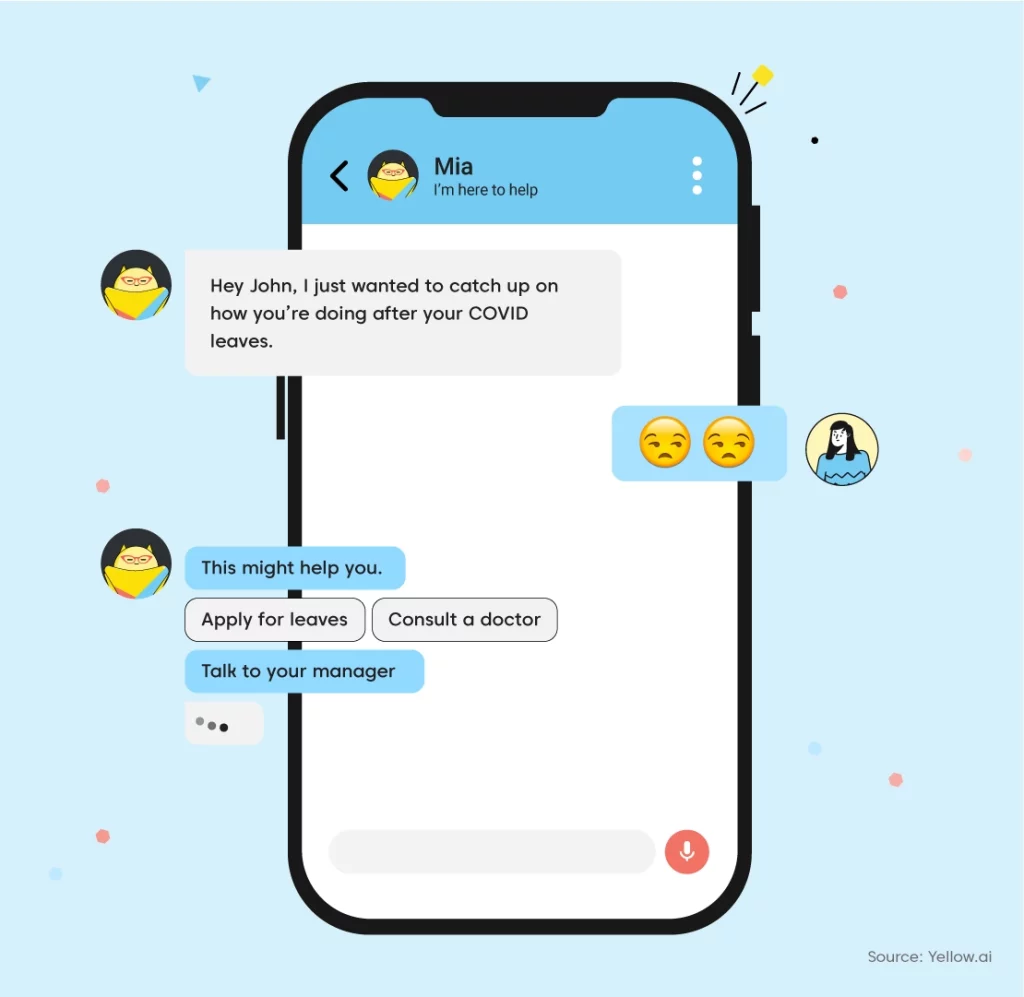 5. Ensuring a healthy work culture
By engaging with the employees frequently and understanding their sentiments HR chatbots can ensure a healthy work culture within an organization. Having a conversation with a chatbot is much easier than filling out a form or replying to an email.
HR chatbots can be automated to ask a few questions to every employee weekly or monthly in order to understand if they are happy and satisfied or if they need attention.
6. Tracking vacation days and leaves
The HR department can automatically track the leaves of all employees using HR chatbots. This will help the human resources save time and use it to accomplish tasks that need a human touch.
HR chatbots can be used to send notifications on vacation days to employees from all the different countries and continents.
7. Managing employee benefits
Organizations offer many benefits to their employees that can be used whenever they need to. The HR department can leave it to the HR chatbots to share the information about the benefits with the employees.
Employees can ask their queries about the benefits even at odd hours and receive a satisfactory answer. This can help the organizations satisfy their employees by helping them to use the benefits exactly when they need to.
8. Reviewing annual performances
Reviewing and analyzing the annual performance can be one of the most important and tricky tasks of the HR department. It takes months to conduct surveys and send questionnaires to the employees.
HR chatbots can help collect precise information from employees and organize it in the required format. This makes it easier for the department to review the annual performance leaving them with faster and more accurate results.
9. Supervising appraisals
Appraisals need to be reasonable and satisfactory for the employees. This becomes a hard task for the HR department to supervise the appraisals and coney it the team members.
HR chatbots can help collect information about the employee expectations and share the information about appraisals with the employees. It can help the department share revised offer letters to all employees and let them know about their appraisals.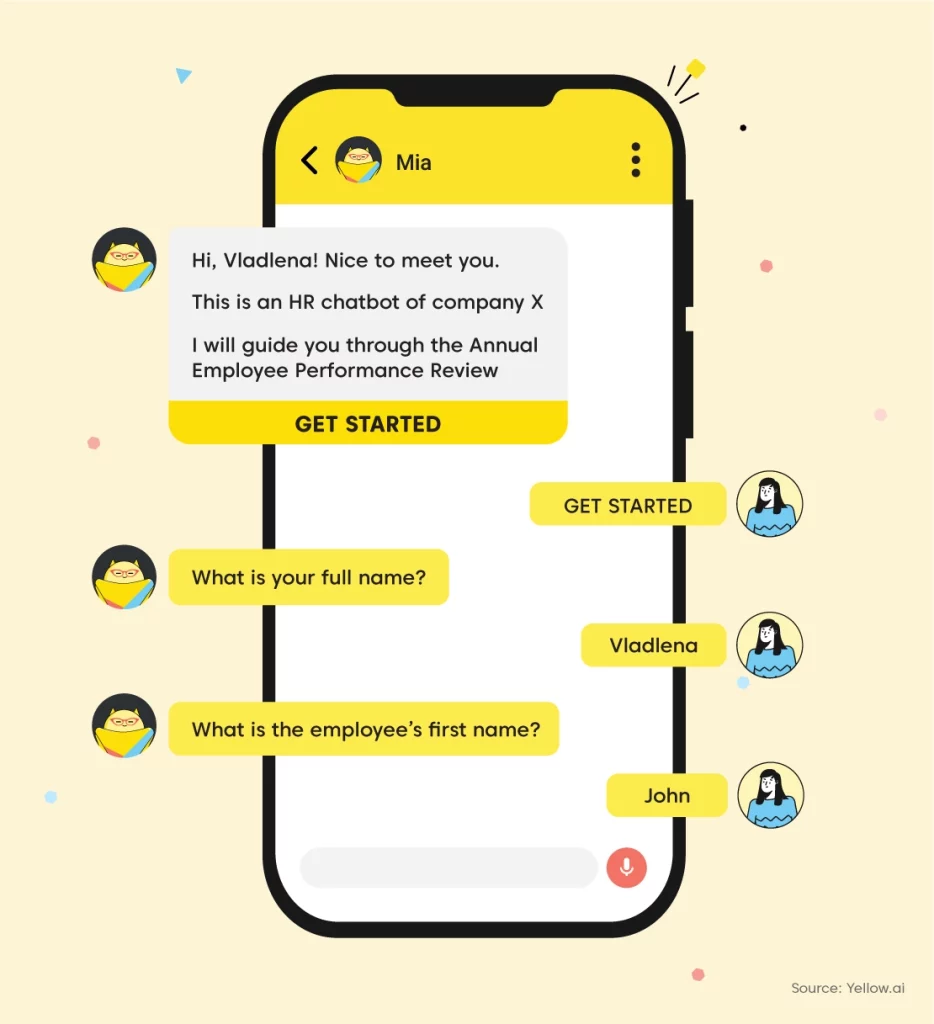 10. Increasing efficiency with real-time analytics
HR chatbots can do much more than just answer queries and share documents. They can track real-time data and share it with the management helping them make informed decisions. For example, HR chatbots can gather information about the most frequently asked questions that lead to a handoff. This information can be used to automate the queries related to the specific topic and let the chatbots handle them.
Conclusion
In the end, we hope we were able to with all the information you were looking for on HR chatbots and their use cases. Help your organization improve the employee experience by employing chatbots to handle employee engagement and employee support. As a result, retain the world-class talent and help the organization succeed like never before.
If your organization and the HR department are ready to use HR chatbots, we can provide a solution. Schedule a demo with us and talk to our experts about our offerings on helping your organization deliver an outstanding employee experience.