Ranked as the fourth most popular social media platform with more than 1.3 billion monthly active users, Instagram remains one of the most important platforms for brands to engage with their customers.
Messenger opened up the messenger API for Instagram to all developers who are making it possible for brands to offer messaging experiences on Instagram and we couldn't help but be one of the first companies to help brands deploy complete instagram conversational automation on Instagram.
In order to make it easier for brands, we decided to educate people who are new to Instagram bots, we decided to write this blog post in order to help them deploy their first messaging experience on Instagram.
So read away and feel free to build your first instagram chatbot on yellow.ai or contact our experts to build one for you.
What is an Instagram chatbot?
A chatbot or a voicebot is an automated conversation enabler. It facilitates a conversation between a human being and a computer.
An instagram chatbot is an automated conversation enabler for Instagram that lets brands promote offers, respond to customer queries and drive conversions in multiple formats, without much human intervention.
Why should you use an Instagram chatbot for your brand?
Instagram remains the fourth most popular social media platforms after Facebook, YouTube and WhatsApp in terms of monthly active users, making it one of the key channels for brands to engage with their customers.
1. Instagram stories count up to over 500 Million uploads every day. Imagine the number of impressions, reactions and actions that follow.
2. Over 50% of the 1.3 billion users follow at least one brand or organization.
3. About 80% of instagrammers decide whether they'd buy a product or not on instagram.
4. More than 50% of active users are below 35 years of age, making it one of the most relevant platforms for brands with millennial customers.
These numbers indicate that if brands get their positioning and experiences right, they've got solid conversion rates waiting for them, opening up a great channel to drive revenue.
Having a chatbot is proven to make your brand's CX stronger. CX being one of the key factors, influencing these users in your brand's favour. In a world where experience is everything, especially when it comes to being a factor determining repetitive purchases.
A chatbot will basically ensure no message goes unanswered and make your consumers feel attended to 24×7, 365 days, also ensuring that you optimize the bandwidth of your customer support and sales teams at a global scale.
Apart from all of the reasons above, one can start building a chatbot for free! That's compelling enough for any brand to try it out to understand how it works for them.
Features of Instagram chatbot by Yellow.ai
Yellow.ai's no-code chatbot builder
There's no denying that business owners know their customers and target audiences best.
Which is why we give these owners the power to build their own chatbot flows.
Businesses can set up various conversation flows ( product discovery, sign ins, complaints, feedback) and build an Instagram chatbot with powerful e-commerce solutions (such as Shopify), CRMs (Salesforce) or any of the preferred payment gateways, in a matter of a few clicks.
Instagram DM (direct messaging) automation
Businesses can set up their own most used options – like Quick Reply Buttons, for users to be able to chat with. Some conversation starters could also be an option to 'Explore products', 'connecting to a support agent' or even 'book a meeting.'
Furthermore, adding on to the platform's capabilities, is Yellow.ai's in house NLP engine, which enables these bots to deliver on human-like, empathetic conversations. 
Comments automation on the instagram chatbot
An active comments section is what speaks volumes about a brands engagement. What sets the best apart, are how fast and how contextually a brand responds to the comments received.
Comments could range from customers expressing dissatisfaction over poor delivery experiences, which can all be tackled with ease.
Now, brands can automate their response in multiple ways.
By responding to a comment with a ❤️. For example, when a customer says they like the latest product offerings or tag you in the post.
By responding to a user's post comment via a comment reply (for example, when a customer asks an influencer about the next 'Product review Live' session)
By sending DMs (direct messages) to the user as 'regards' post comment. For an instance, when a customer types a specific keyword that brands ask to post-comment as a part of a give-away lottery campaign)
More features
Instagram automation provided by Yellow.ai is supported by loads of features for brands to optimize their customer support and sales bandwidth, while aiming to improve customer satisfaction scores and increase sales tremendously.
How to build your own instagram chatbot in under 5 minutes?
Prerequisites to building an instagram chatbot
1. A Professional Instagram account. To convert personal account to professional account
2. A facebook page.
3. Connect facebook page to instagram account.
Integration of your chatbot for instagram channel
Firstly, you need to build a chatbot conversational flow from the no-code chatbot platform builder. It's really easy and it can be done within minutes! No coding knowledge required.
1. Locate the instagram card in the channels section and open it.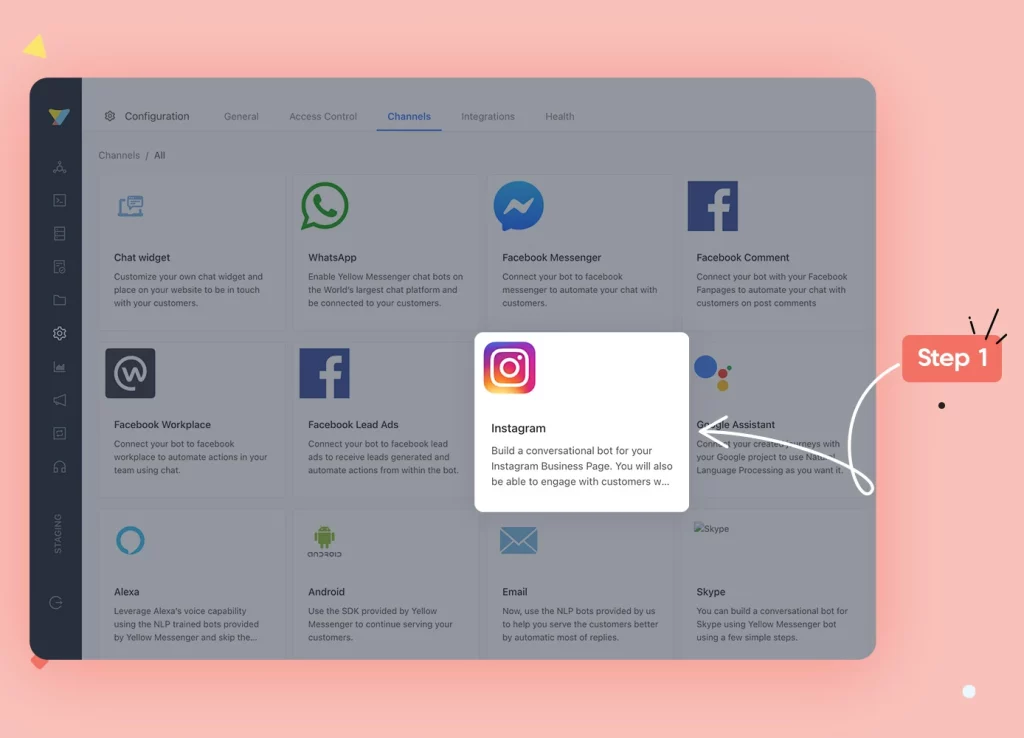 2. Go to the IG channel on the platform and click on connect to Instagram.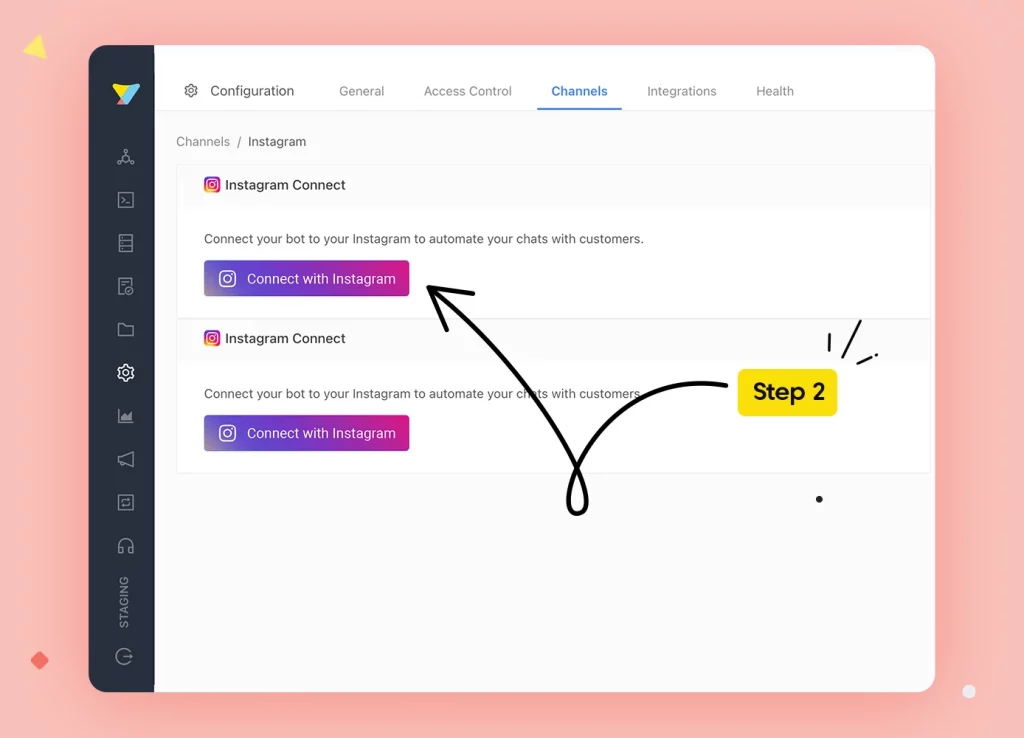 3. Then select the facebook page which is connected to the IG account from the list and then connect the IG account in the next step and accept all the permissions shown and click done.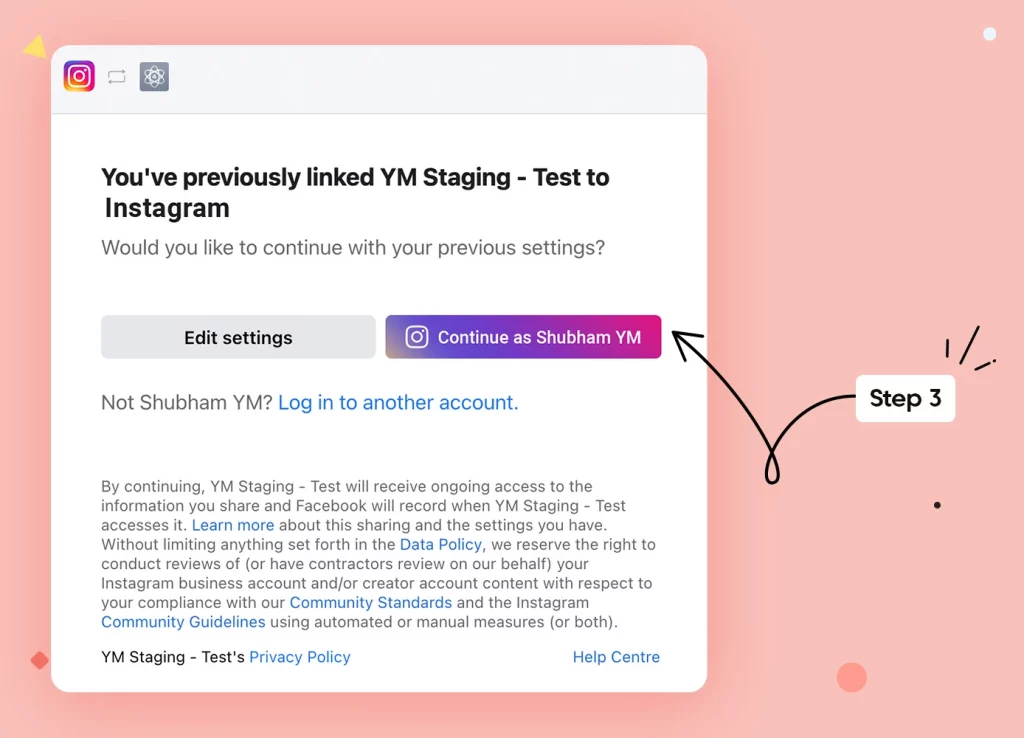 4. After clicking done, you will redirect to IG channel integration page in the platform, Ther click on connect.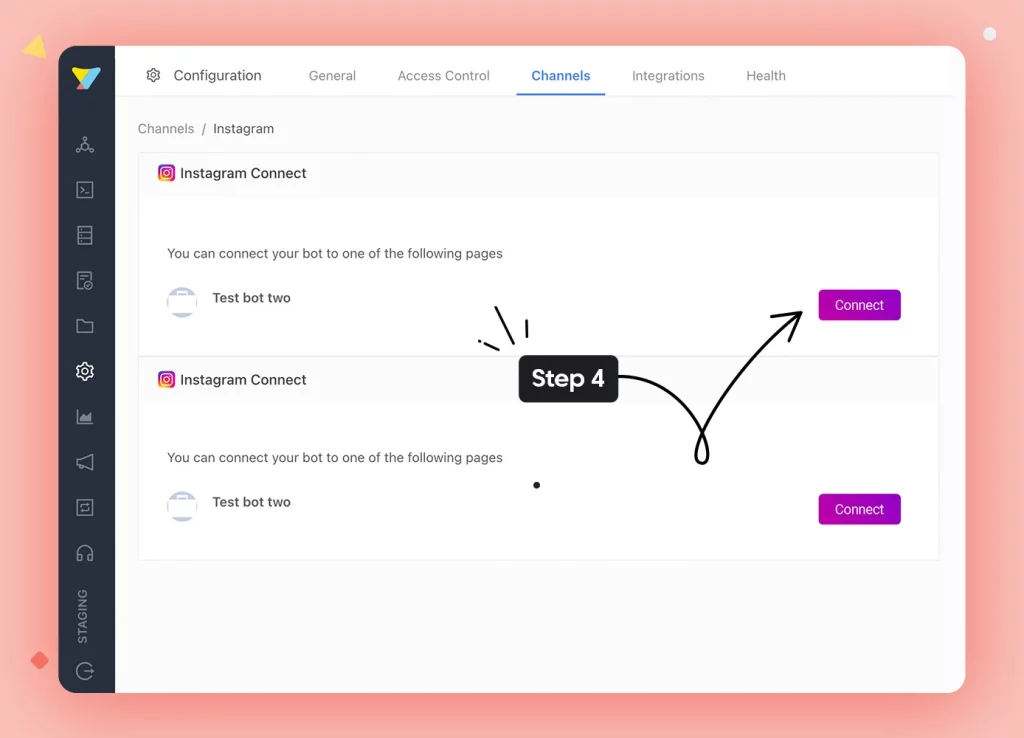 5. Enable access to comments for the bot you built.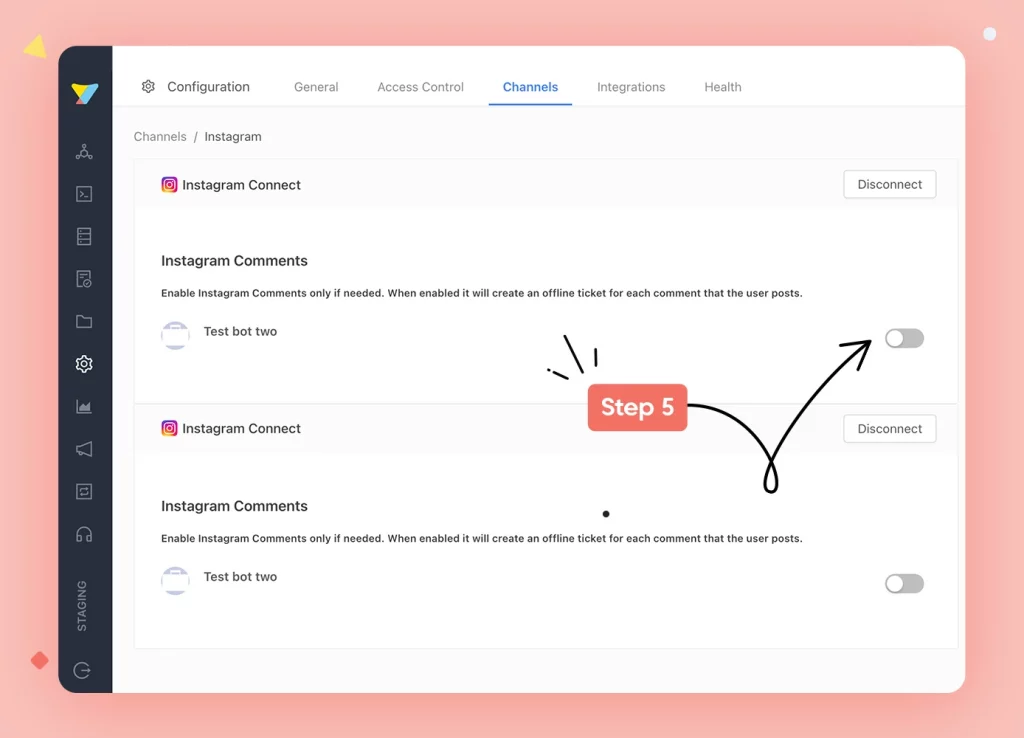 How to test your instagram chatbot
For testing create an IG account with a username starting with test_ and connect it to the FB page which you use to connect in the YM platform.
The first step is mandatory while connecting a IG account to bot unless the account you connect has followers between 1K-100K.
AI + Humans, your best bet for Total CX
Human experts are and always will help your brand add rich value to total customer experience. 
Which is why, we help automate about 80% of most common product and service enquiries. In this way, the business can offload repeated enquiries on Instagram, to the chatbot. While this happens, special cases such as escalations or live chat shopping can be taken on by human expert agents.