Customer: "Can I please get a fruit salad?"
Chatbot: "Sure, which kind would you like?"
Customer: "The watermelon salad without grapes, please."
Chatbot: "No problem. It will be done in ten minutes. How would you like to pay for it?"
Customer: "With my credit card."
Chatbot: "Perfect, I have received your payment. Thank you, have a great day!"
Providing an exceptional and interactive customer experience, hiring and training support agents, buying expensive tools and managing round-the-clock working shifts can be tiresome. Using AI in customer service is a solution to overcome these time-consuming tasks. It can be an excellent tool for improving customer support without spending too many resources.
Related must read: Customer experience vs. customer service
But can AI really make a difference in upgrading your customer experience strategy? Upon reading this blog, you will understand:
AI's role in improving customer experience and increasing ROI
Noteworthy chatbot trends to build a strong customer strategy
Advantages of deploying chatbots in customer service

The primary intention of customer experience automation is to foster customer satisfaction and optimize finances. According to a Gartner estimate from 2011, AI-driven technologies would manage more than 95% of customer relations in place of human employees by 2025.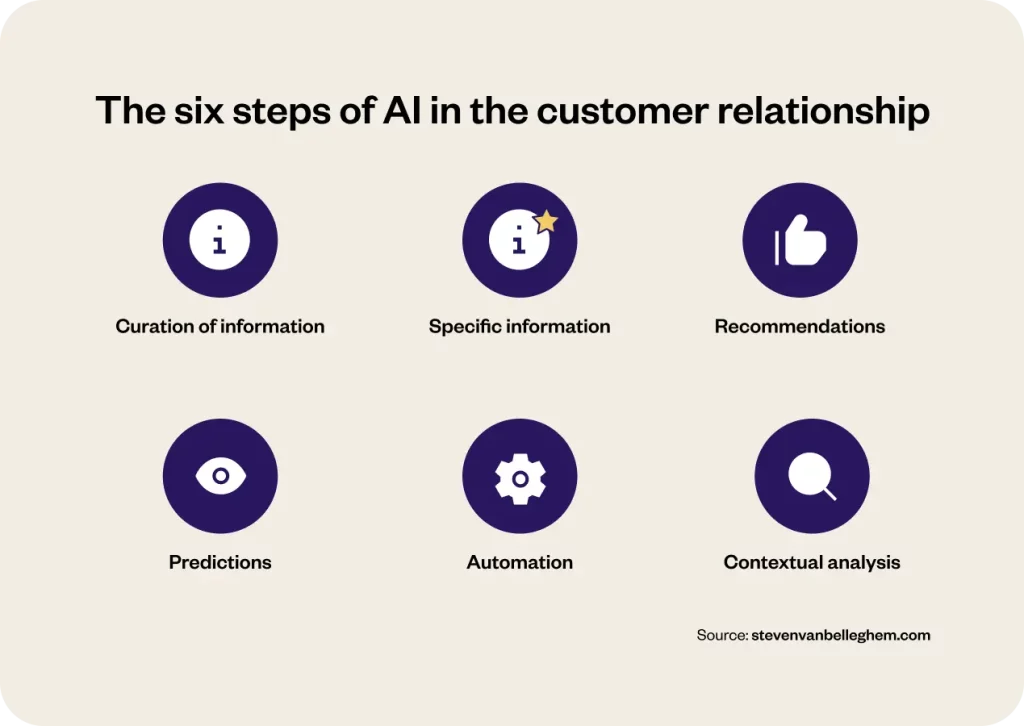 Recent trends in chatbot customer experience
Let us look at recent trends and forecasts around the impact of AI on automated customer experience.
As per the 2020 State of Conversational Marketing report by Drift, utilizing chatbots in a brand communication channel has gone up by 92% since 2019.
24.9% of customers used chatbots to communicate with organizations in 2020, a 13% increase from the previous year.
By 2022, 70% of white-collar individuals will interact with some sort of chatbot.
In 2019, Gartner predicted that AI-driven technologies and chatbots would manage 15% of the global interactions. By 2022, this percentage will increase to 70% in some industries that cater to the younger generations.
A vast majority (87.2%) of consumers hold a neutral or positive chatbot customer experience, with only a small fraction (12.8%) reporting negative experiences.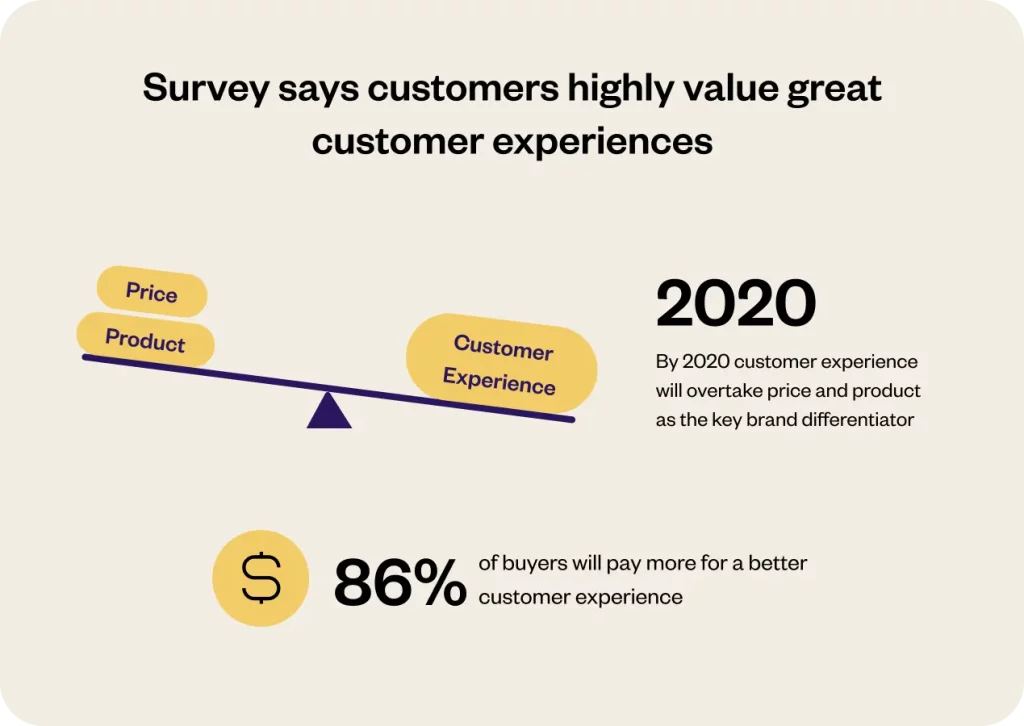 What is the role of AI in customer experience?
1. Answer FAQs and reduce agent ticket load
Chatbots help deflect agent tickets by answering recurring questions from customers.
Often, these chatbots are used in customer service applications and on websites. Most chatbots for business use Natural Language Processing, which helps the chatbot understand how humans communicate with tools like AI. They are even able to provide answers to questions that are framed differently than originally programmed.
2. Learn customer behavior and build loyalty
The more the businesses know their customers, the better they can provide personalized services. AI adapts to customer behavior and fosters customer relationships that stand the test of time. It stores vast amounts of response data, and AI-driven technologies analyze this data to get an insight into every step in the customer journey and help stakeholders understand what's driving customer behavior.
Additionally, with AI tools such as customer relationship management software (CRM), businesses can engage with customers and enhance the overall customer experience. This leads to favorable outcomes like greater customer retention, more robust customer relationships, and increased customer lifetime value.
3. Quicken response time and increase CSAT scores
A healthy response time is a key ingredient in a successful customer support department. Customers often need assistance with existing or previous orders.
By using voice assistants, businesses can simulate human conversation. The best part about voice assistants is that they can streamline problem-solving processes. It also boosts CSAT scores because customers can get their queries answered by chatbots within a short TAT without waiting for agent intervention.
4. Use language understanding to interpret real-time conversations
Organizations can use Natural Language Understanding (NLU) to interpret the conversation between the customer support representative and the customer through real-time analysis of chats, emails and customer service calls.
NLU also helps to provide conversational experiences in different languages. Beyond literal plain translation, NLU also helps translate the sentences in such a way that the original intent and tone of the statement are unaltered. With this, businesses can achieve a reasonable localization with ease.
5. Forecast trends and find unique patterns
Enormous amounts of public data are produced digitally every second. AI-driven bots analyze these chunks of data in minutes. This enables AI-operated predictive anticipation of trends, key events of interest and sentiments.
The key difference between traditional business forecasting and a machine learning–based solution is that AI-driven bots can be fed as many business metrics as you have at your disposal. Whether it's 100 or 100,000 factors that influence your forecast, AI finds unique patterns and correlations in data that a traditional system would find challenging.
6. Enhance communication between teams
AI-enhanced communication systems facilitate quick problem-solving between internal departments. The system focuses on the ultimate goal of customer satisfaction, facilitating fast data exchange and communication between departments.
Additionally, HR teams can use conversational AI chatbots to provide support for employee well-being. With chatbots, employees can ask for help and find the resources on their own. Highly contextualized and personalized conversations enabled by the Dynamic AI agents help businesses gain a better understanding of employee intent, thereby enriching employee experience.
Read more: Conversational AI – A complete guide for [2023]
7. Secure customer data
AI-driven technologies like User Entity and Behavior Analytics (UEBA) and Security Orchestration Automation and Response (SOAR) safeguard customer data. They not only ward off external threats but also generate alerts when sensing internal breaches. These systems are also trained to combat security threats automatically, reducing the cost of human supervision at all levels of data security.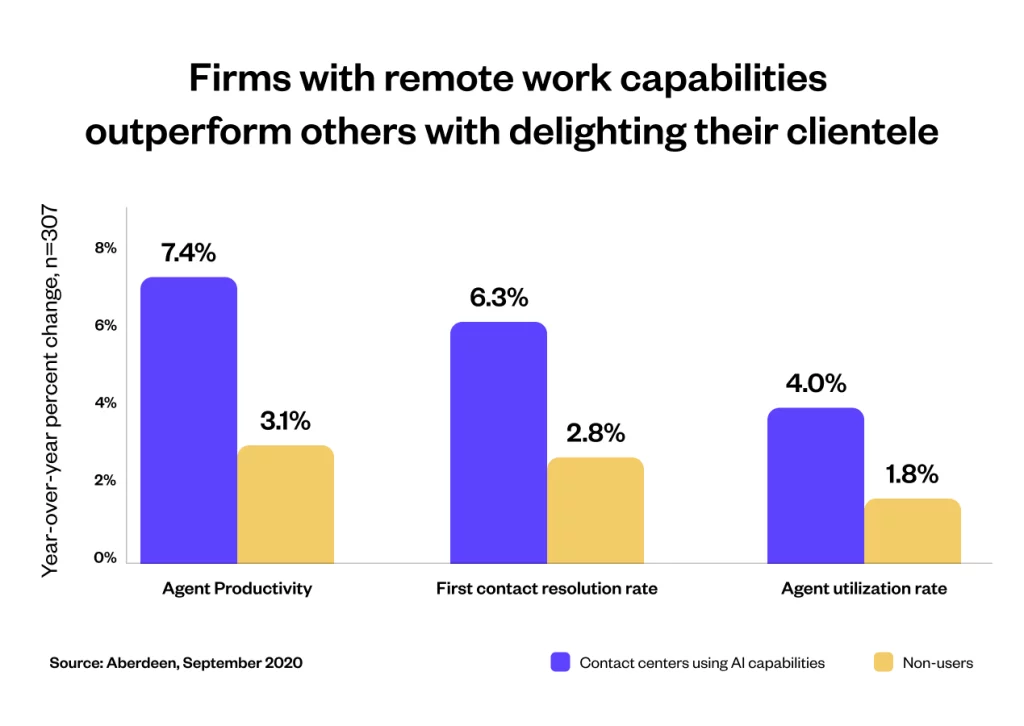 Advantages of AI chatbot in customer service
AI chatbots have become an indispensable part of human lives. Today's consumer demands better and more personalized interaction. AI chatbots are programmed to respond to queries with quick and suitable answers in nanoseconds.
Let's take a look at the 6 top reasons why you should say yes to AI chatbots in customer service:
1. Advanced personalization
AI-driven chatbots promote advanced personalization when it comes to customer experience management. They have the capacity to integrate with customer relationship management systems (CRMs) to provide a heightened customer experience that is more efficient.
Did you know?
According to a study by Accenture, 75% of consumers are more likely to buy from a brand when they're acknowledged, remembered or get relevant recommendations.
You can personalize these chatbots according to your company's needs. Deciding factors in customization are target audience, product/service and location.
2. Dynamic support
A shortcoming of human customer support is ensuring an employee is always working the shift. The quality of work by humans varies based on the mood and situation.
With an AI chatbot, you can resolve queries on demand, round the clock, in any language,
across text and voice. Businesses can even automatically understand their customer data profile and personalize conversations, solutions and actions based on sentiment, intent and persona, paving the way for higher CSAT.
3. Enhanced automation
AI chatbots reduce the human expertise required for simple tasks, and this relocation of resources improves overall efficiency. AI-driven customer support technologies not only boost sales but also register post-purchase experiences. This creates a loop of feedback analysis, troubleshooting and follow-ups that promotes brand reliability.
4. Higher brand recognition
Besides helping clients, a chatbot can become a brand ambassador for a brand and its products and services. AI-driven technologies are not only limited to chatbots but include voice AI, predictors and security systems. These create wider brand recognition and an exponentially growing client base.
5. Easier scalability
The first thing any customer-centric business organization aims for is scaling. Sometimes, there's a hike in traffic on the website, such as during the festive season or peak hours. The challenge here would be handling the rush with the same number of professionals and the same infrastructure. However, a chatbot ensures you don't face such bottlenecks as it gives you the scalability to take on different conversations in real-time.
6. Reduced customer support costs
Chatbots can handle many tickets simultaneously, minus any delay, and keep costs under check. They are capable of consistent and automated refinement. They are trained by user queries and then decode them to offer the best response, thus ensuring a top-notch chatbot customer experience. Chatbots also help increase productivity without incurring additional charges or resources.
Conclusion
With more and more consumers moving online during the peak pandemic months, businesses had to transform and strengthen their customer experience radically. Artificial intelligence (AI) and automated chatbot experience are drastically reshaping the customer support front. From automated messages and visual search to AI customer support chatbots, companies can better fulfill their customers' requirements at multiple touch points.
Unlock the power of AI-powered omnichannel CX management.