From the Wall Street Journal calling 'texting' the new fever in the early 2000s to 23 billion texts being sent worldwide each day, messaging has come a long way. It has surpassed phone calls and emails as the most-preferred form of communication globally. Especially among the Millennials, 75% of whom use it to connect with their family, friends and increasingly, the companies they buy from.
Messaging platforms like WhatsApp Business, Facebook Messenger and Apple Business Chat, which have billions of monthly users, provide limitless prospects and tremendous growth potential for businesses globally. In this blog we'll look at why brands need to include messaging into their customer service mix, and what are some best practices to implement a messaging-first customer service strategy?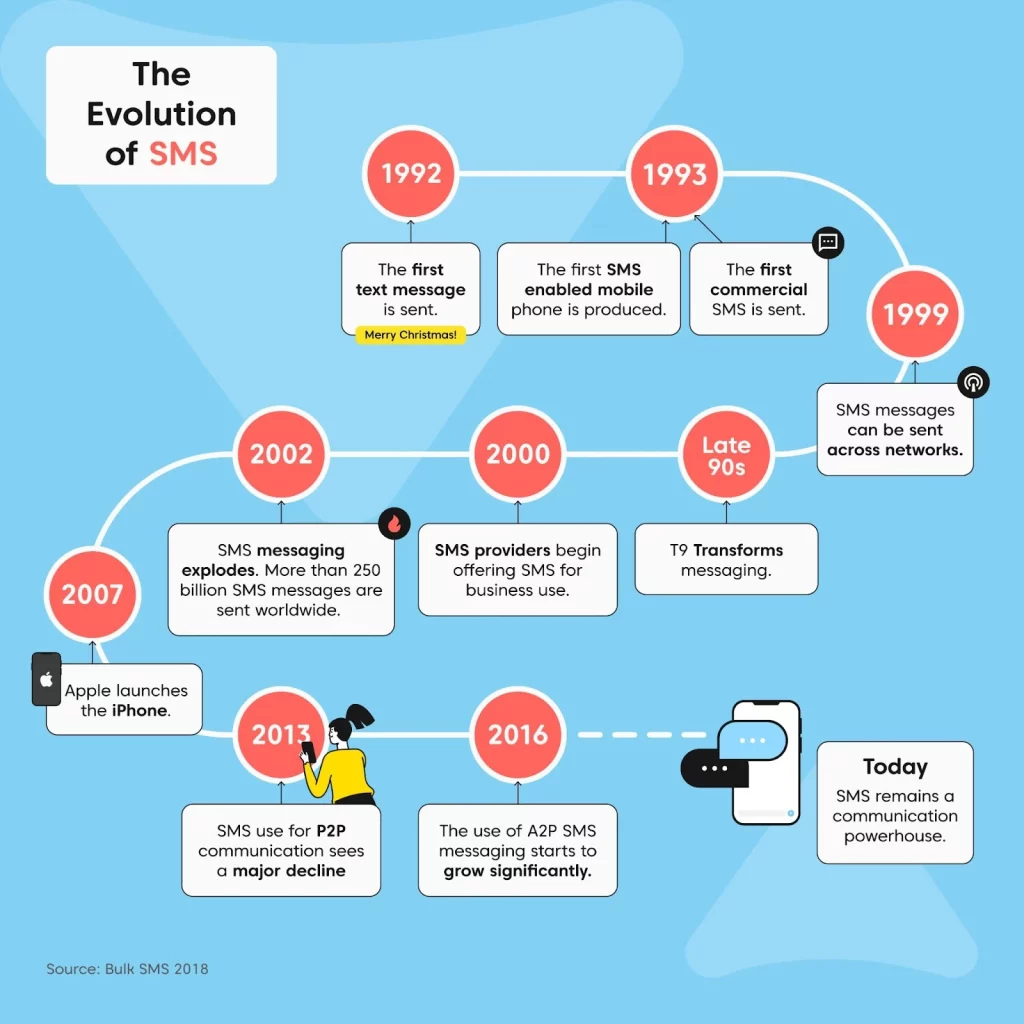 Brief history of text messaging and chat
The journey of messaging started when Neil Papworth, a developer and test engineer working on creating a short message service for Vodafone, sent the groundbreaking first text "Merry Christmas" on 3rd December, 1992. A year after that, Nokia launched a feature to signify an incoming message and fast forward to now, 270,000 messages are exchanged every second around the globe.
However, before the outbreak of Covid-19, messaging was primarily utilized on a personal level. It was quite rare to see brands communicate with their customers other than the usual SMS blasts. Now, more than 5 million businesses are actively connecting with customers on various messaging platforms, enabling customers to get on-demand support.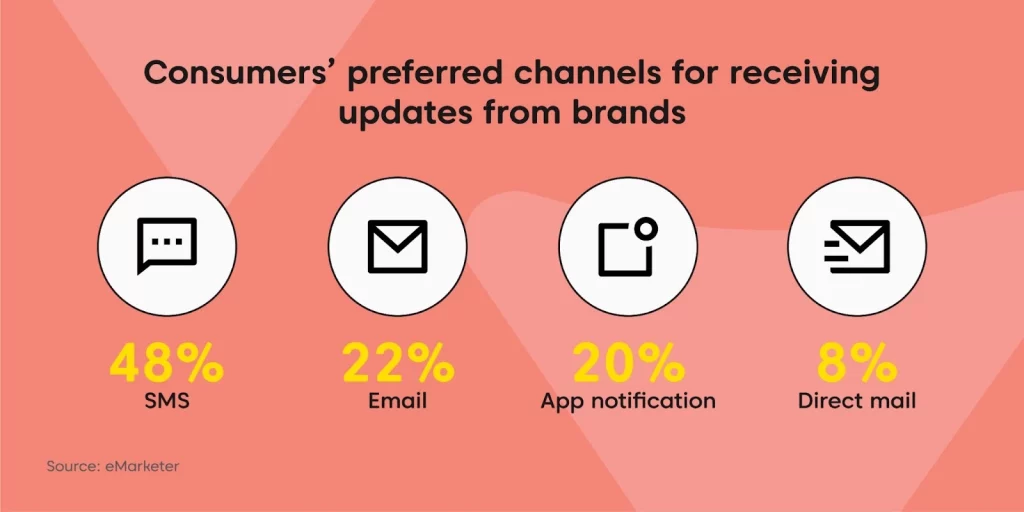 As a result, customer-business relationships are changing and customers expect brands to send them text messages with personalized updates, offers and information. Infact, 71% of customers are already buying products and services over chat. This number is expected to rise in the future as the rise of messaging platforms fuels conversational commerce.
Benefits of text messaging for customer service
Research shows that customers in the United States prefer companies that use messaging as a communication channel. Almost two-thirds of respondents would move to a company that offers text messaging as a mode of contact. If you think customer preference is not reason enough to utilize messaging for customer service, let's look at a few more benefits.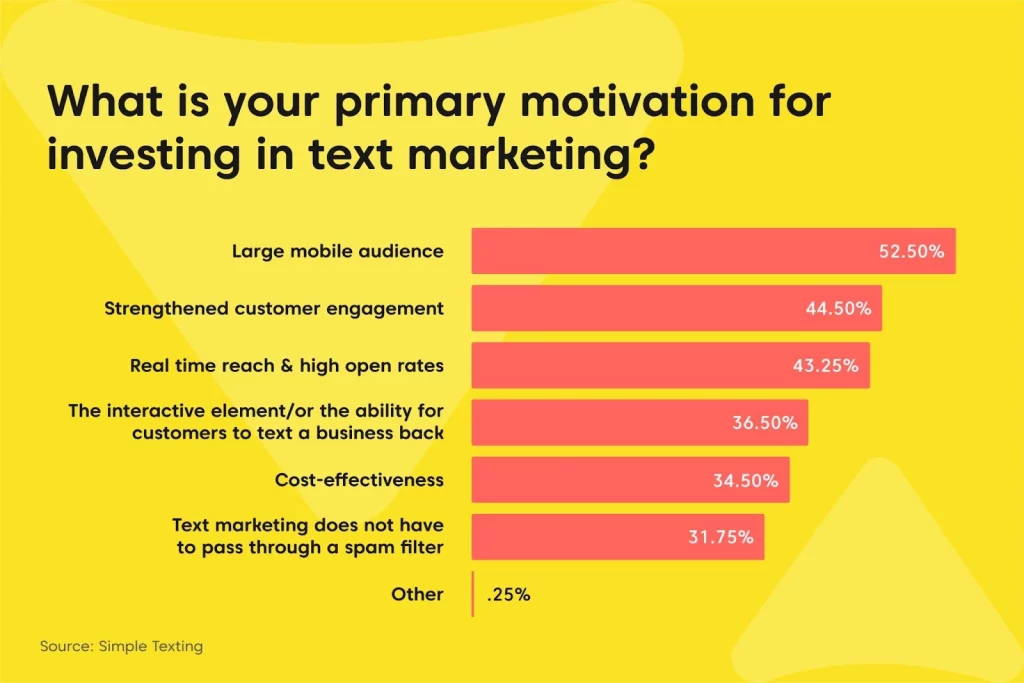 1. Speed
If there is one thing that customers hate the most, it's staying on hold for too long or waiting for a reply. 90% of customers rate an "immediate" response as essential or very important when they have a customer service question.
With messaging, agents can handle multiple queries simultaneously without keeping anyone on hold. This reduces the average time per resolution and ensures a positive customer experience.
2. Flexibility
Today's customers expect to connect with brands on their preferred platforms. Omnichannel messaging enables agents to deliver support to customers on their platform of their choice. Moreover, by deploying AI-powered chatbots, you can also offer round-the-clock support to your customers and enable self-service for up to 80% of their queries.
3. Context
Asking a customer the same questions over and over again is a guaranteed way to lose them. Infact, 72% of customers dislike repeating themselves multiple times when they have a customer service issue. They also expect brands to already know about their problem even before they get in touch with an agent.
With text messaging, you can save the full conversation history so agents can quickly identify the issue and resolve it without having to ask the same questions repeatedly. This will give you a better context of their problems and help you offer proactive support.
4. Costs
Based on a recent report by Gartner, More than 40% of customer service and support leaders have experienced increased service contact volumes compared to original 2020 projections due to the COVID-19 pandemic.
It can get challenging for businesses to handle increased customer engagement without hiring more support staff and putting a dent in their operational expenditures. Messaging is a way for businesses to handle multiple multiple interactions at once, without the need for one-to-one calls, thereby optimizing costs.
5. Opportunity
Finally, don't overlook the fact that exchanging text messages with a customer opens the door to marketing opportunities. After a customer opts in, you can send them promotional offers, news, and coupon codes in the future.
Not to mention, messages have a 98% open rate; whereas,the open rate for emails is 20-30%. This means with messaging, you can expand the reach of your business up to 4 times more than any other marketing channel.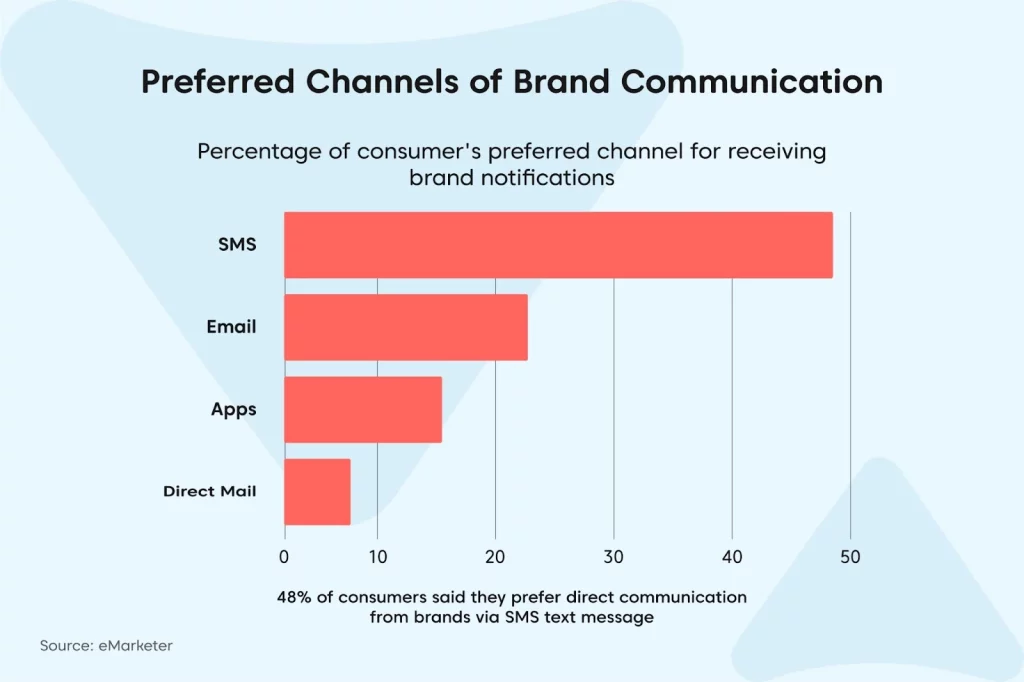 Tips and best practices for offering customer service over chat
1. Pick the right platforms
There are a lot of messaging platforms available for you to offer SMS support to your customers. The trick is to figure out which channels to use and how to get the most out of them. Find out which messaging apps your clients prefer by asking them.
Then learn about the specific advantages and features that different platforms have to offer. As a result, you can ensure that your customer service representatives are getting the most out of the app they're utilizing.
2. Integrate different channels together
Customers expect consistent support throughout their journey, regardless of the channel they use. All of your channels, including messaging, must be integrated and unified for seamless omnichannel support.
By integrating omnichannel capabilities into your help desk, you can enable your agents to offer enhanced customer support across chat, email and voice.
3. Categorize incoming messages
Once your business messaging platforms are up and running, it's time to look into ways to efficiently handle customer queries. For example, if you begin to receive a large number of communications, you'll need a system in place to manage them.
You could be naturally inclined to adopt a first-in, first-out (FIFO) approach but it might not be the best idea. There can be some queries that demand immediate attention while some may not be as urgent.
This is why it's better to use an AI-powered ticketing management system to classify your support requests based on urgency and delegate repetitive questions to chatbots. It will free up your agents' time and allow them to immediately tend to more complex customer issues.
4. Use SMS to obtain feedback from customers
Only one out of every 26 customers, according to Groove, actually complains or provides feedback about a bad customer experience. The remaining 25 out of 26 clients will switch to a competitor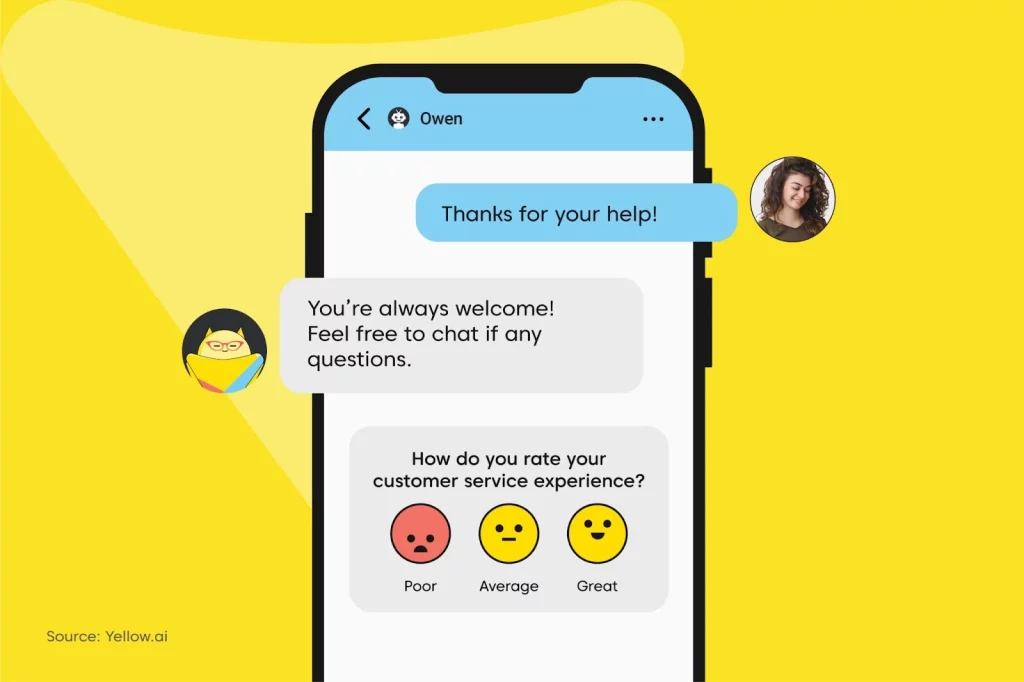 Gathering feedback over chat can help you get deeper insights into customer problems. Customers find it simple to provide feedback via messaging because it simply requires them to give one-word or numeric responses. It also encourages them to provide negative comments in a neutral setting where they are less likely to feel self-conscious.
On the bright side, your agents will have to handle less 'angry customer' calls and you will be able to neutralize the situation in a much more efficient way. Customers will also value the fact that you are listening to them and considering their suggestions.
5. Avoid deflecting users from one channel to the other
Another good thing about SMS customer service is that you can do all of your troubleshooting from one location. Live chats, for example, are frequently diverted to phone calls, while social media assistance might lead to email exchanges.
Customer service via SMS, on the other hand, allows you to complete an entire conversation in one channel. Customers can respond quickly to your messages and neither of you would have to navigate between multiple channels to resolve an issue.
6. Strike a balance between automation and human support
Automation is one of the reasons texting is less expensive than other customer care channels. When you deploy an AI-chatbot over your messaging platforms, you'll be able to offer on-demand assistance to your customers, round the clock, in any language, across text and voice. Self-serve 80% queries and seamlessly loop in live agents when needed to get the best of both worlds.
To sum up
Messaging has become the go-to way for customers to interact with their friends, family and the brands they buy from. Businesses must leverage messaging platforms to meet customers where they are and deliver proactive support.
Brands can further optimize their customer support strategy by deploying an intelligent chatbot that can handle the majority of customer queries without any human intervention. Are you ready to create your own chatbot? Here is how Yellow.ai can help.
With Yellow.ai no-code chatbot building platform, you can create a customized chatbot in just a few minutes and deploy it to 35+ channels, including text, with just a single click. Moreover, our chatbots are powered by a next-gen NLP engine that enables them to understand what your customers are saying with deep intent and sentiment analysis. You can also easily integrate your bot to your existing internal and external systems without any additional efforts.
Request a demo and our experts will help you get started!