As a business owner or a customer support lead, the biggest challenge is retaining existing customers and ensuring that they become your brand's advocates. To overcome this challenge, businesses need to make sure that their customers are 100% satisfied and happy with their products and services.
There are a lot of customer service trends that can be followed to improve customer satisfaction. Once you understand the significance of having a high customer satisfaction rate and prioritize improving it, there is no going back. With effective strategies, companies can easily stand out and beat the competition.
In this article, we are going to help you by unfolding the most important reasons why you should focus on improving your customer satisfaction and listing down a few most effective strategies. In the last section, we will also advise some metrics that you can use to measure customer satisfaction.
What is customer satisfaction?
Customer satisfaction is the measurement used to evaluate the happiness of customers with a company's products, services and overall experience. This score is usually taken immediately after a customer has had interaction with any of the business-defined customer touchpoints.

Businesses use several metrics to measure customer satisfaction such as Net Promoter Score (NPS), Customer Effort Score (CES), Customer Satisfaction Score (CSAT), Customer Churn Rate (CCR) and many more. These scores can provide the organization with a gist of how their customers are perceiving their products and services, and how they can improve on them.
Why is it important to improve customer satisfaction?
There is a huge interdependence between customer satisfaction and business success. The more your customers are satisfied the more successful your business is.
Most of the strategies that your business would use to improve customer satisfaction would be actually focused on improving customer retention and driving sales. It is a well-known fact that retaining existing customers is a much more economical process than bringing in new ones.
Apart from increasing the sales revenue and retaining customers, there are a few reasons to focus on improving customer satisfaction.
1. Increase the customer lifetime value
Customer lifetime value (CLV) is the total gain a business achieves during the complete customer journey. If customers are happy and satisfied, they would definitely have a higher customer lifetime value and become an asset to the company.
You can increase the CLV by focusing on the overall customer experience on all the touchpoints and measuring the feedback provided by the customers. Assuming that the quality of the product is good and the prices are fair, you can see huge growth in customer lifetime value by making your customer service aesthetically pleasing.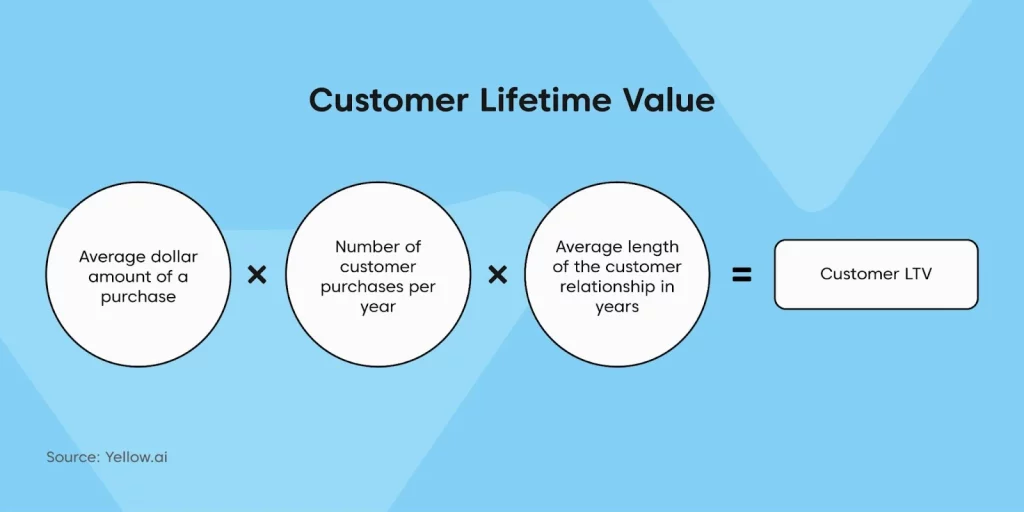 2. Improve brand image
Focusing on improving customer satisfaction can have a positive impact on the brand image. This is because you can get great ratings and reviews from customers over multiple channels, which in turn will make your brand trustworthy. Good reviews and ratings can help your brand shine through your competition and improve the perspective in the minds of your customers.
Brand image can be greatly affected by how your existing customers speak about your brand. If they talk highly about your business in front of their friends and family, you can continuously attract new customers and even new brand ambassadors.
3. Elevate customer loyalty
Repeat customers tend to spend 67% more than new customers. Only when customers are satisfied with your products and services do they shop with your brand time and again. In a pool of competitors, your brand needs to rise above all the hurdles that cost you your customers' satisfaction and loyalty.
In order to elevate customer loyalty you need to keep a check on the buying patterns of your customers and make sure that whenever they need a product such as yours, they reach out to you. They should have a smooth customer experience every time they visit your online or offline point of sale.
4. Acquire ambassadors for your brand
Be it a B2B or a B2C market, people talk about the products they are using with their friends and colleagues. You can build a strong relationship with your existing customers and make sure they will always speak highly of your business.
Turning your customers into brand ambassadors can be a tough job. However, it is easily possible with good customer satisfaction. If the customers are satisfied, they will definitely refer your products to people in their proximity.
5. Reduce the collateral damage that comes with dissatisfied customers
A bad review or comment on social media can directly reach out to thousands of your prospects and customers within no time. Dissatisfied customers are extremely harmful to your business and you need to deal with them carefully.
In case of accidental bad customer experiences, the damage can be controlled by making sure that the customer receives what he deserves. If there is a surge in the number of dissatisfied customers, you might need to check your product and customer experience thoroughly and roll out a message to your customers apologizing for the inconvenience, and that you have fixed the glitch.
12 Powerful strategies to improve customer satisfaction
Now that you know that you need to keep your customers satisfied in order to keep your business up and running, you need to build strategies around how would you improve customer satisfaction. There are a few practices that can actually lead you toward satisfied customers.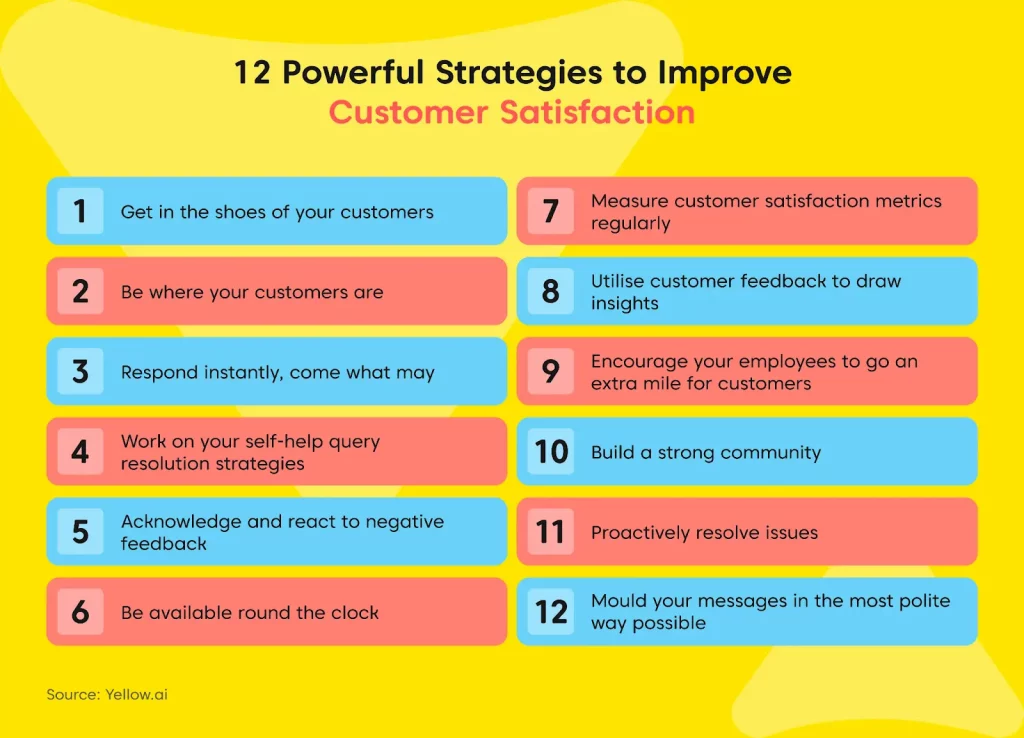 1. Get in the shoes of your customers
Knowing your customers, their likes and dislikes, interests and preferences can help you connect with them better. Business interactions from your end can be more personalized and intuitive. 48% of customers expect special attention and personalized treatment in order to become loyal customers.
Understanding what your customers are expecting from your brand is another important aspect that can help you provide a good customer experience. Looking at a situation from the customers' point of view, you can build your products and services to match the needs of your customers. Focusing on the needs and interests of your customers, you leave them no choice but to be satisfied.
2. Be where your customers are
Omnichannel customer engagement is the need of the hour. It can help you collate conversations over multiple platforms under a single dashboard and understand customer engagement in a structured form. Opting for an omnichannel engagement process over a multichannel process can help you break all the silos.
With a unified experience over multiple channels, your brand can increase its trustworthiness and consistency. The metrics that you want to drive are even more accurate and informative with omnichannel customer engagement.
With omnichannel customer support, you can also improve the first call query resolution.
3. Respond instantly, come what may
In the fast-paced marketplace, your responses to customer queries must be faster. Average response time, which is visible on the interaction channels, must show "replies within seconds" for a customer-centric brand.
It is humanly impossible to be present 24×7 to solve customer queries and provide satisfactory replies. In this case, you can automate replies with the help of AI chatbots. With the help of artificial intelligence, simple queries can be resolved by the chatbot itself. For complex queries, a human agent can come into action and interact with the customers.
This can dramatically reduce the average response time and help your brand respond instantly and improve customer satisfaction.
4. Work on your self-help query resolution strategies
Customers can gladly solve their own queries if provided with suitable resources and information. For a business, it is important to have a strategy to help customers solve their simple queries on their own.
You can build a FAQ chatbot (with or without artificial intelligence) where you address all the common questions asked by your customers. You can also deploy platform videos, tutorials and a comprehensive knowledge base.
The benefit of having a self-service platform is that the productivity of your entire customer support team increases and also your customers can educate themselves at their own convenience.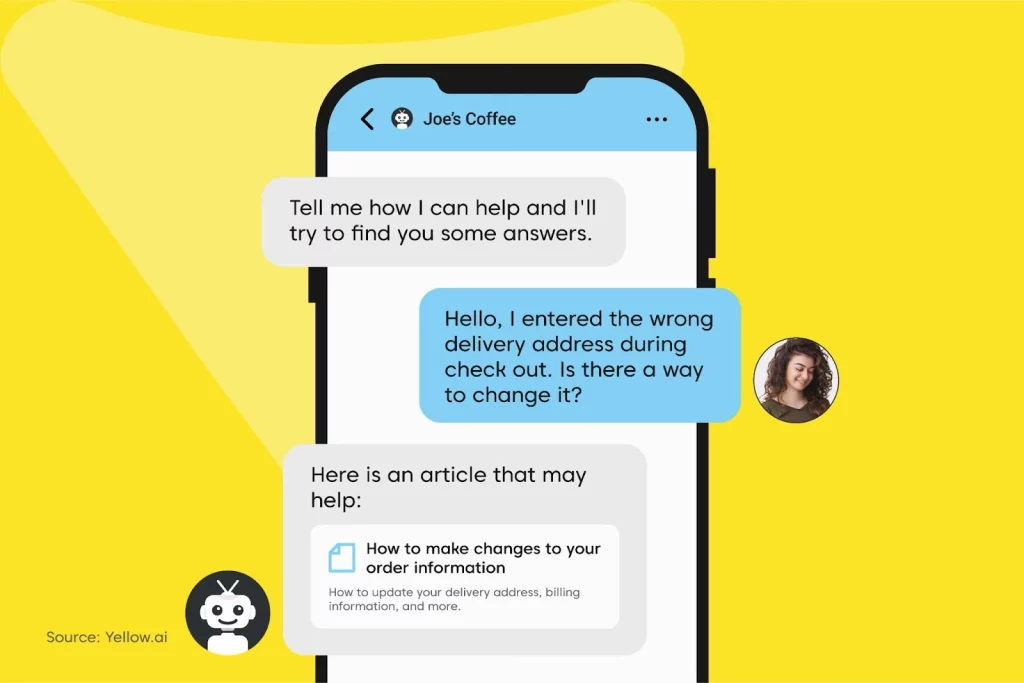 5. Acknowledge and react to negative feedback
Responding to negative feedback or negative comment can be tricky, but it needs to be done. Businesses cannot just move ahead ignoring or deleting them from their channels. It can decline your trustworthiness and your customer satisfaction rating.
Businesses that can handle customers' complaints and convert them into an opportunity to build better relationships are most likely to grow and retain customers for longer durations.
6. Be available round the clock
The most captivating feature of a brand can be providing 24×7 support to its customers. AI chatbots can help you achieve that without the load of hiring support executives in multiple locations.
With AI chatbots, you can provide your customers with a global customer support experience in multiple languages round the clock throughout the year. No matter if your team is on a public holiday, you can still be available for your customers.
That is what customers are looking for, and it is a major reason for the growth of the AI chatbots market growth.
7. Measure customer satisfaction metrics regularly
The efforts that you make to improve customer satisfaction need to be measured regularly in order to understand how your customers are responding to the changes. If they are liking the customer service provided by the company or is there something that is affecting them negatively.

There are metrics such as Net Promoter Score (NPS), Customer Satisfaction rate (CSAT) and Customer Effort Score (CES) that can be measured on a regular basis. It is essential that businesses measure customer satisfaction every time a customer query is resolved.
8. Utilise customer feedback to draw insights
Customer feedback can provide data about how your customers feel about your company's customer service, how much effort they need to put in to contact your business, and how much they are satisfied with your products and services.
You can draw useful insights from the data collected as customer feedback. By working on these insights, companies can continually improve customer satisfaction and make it easy for their customers to report their concerns.
9. Encourage your employees to go an extra mile for customers
Employees must be trained to take up the responsibility for customers' happiness and satisfaction. Encouraging them and giving them the freedom to make decisions on how they want their customers to perceive the brand's image can prove to be beneficial for the company.
Some companies also try incentivizing the customer support team based on customer satisfaction. This method also encourages them to try their best to get the best customer feedback.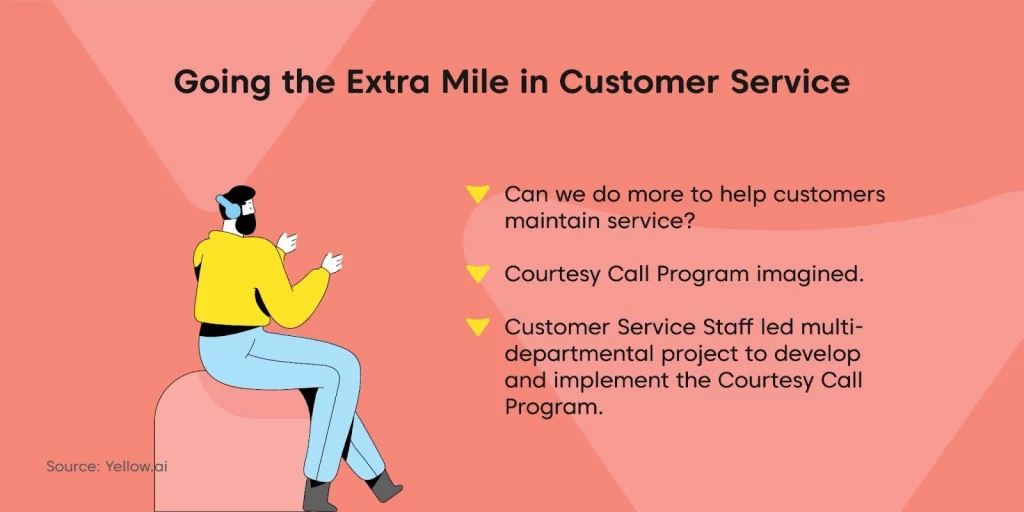 10. Build a strong community
Community management is a vital part of post-purchase customer service. It is a way to keep the customers engaged with the business.
Building a strong community can increase customer satisfaction rates dramatically. A community can be a place where people with common interests meet with each other, it can be an event organized by the company, or simply a business group over LinkedIn or any other social media platform.
Community building and customer engagement can help you greatly in retaining customers and satisfying them each time they make a purchase. Harley-Davidson community is a great example of community building.
11. Proactively resolve issues
Companies that focus on customer feedback and customer experience can easily find any queries that customers might have and proactively solve them a lot before the customers notice them.
For example, a customer support executive is speaking with a customer regarding any problem that he might currently have. On the basis of the interaction, the executive can share self-help resources and other instructions for the way forward with the customer.
12. Mould your messages in the most polite way possible
Companies can respond to customers as politely as possible. A response to a question related to some technical query can either be "I have no idea about that, it would be better if you connect with the technical team" or "I am not the right person to answer this question, let me connect you with the technical team."
Businesses can decide on the messages and tone of the conversation internally and make sure that they stick to it. If the brand uses quirky language and designs all across the website, support chat can also include a little bit of humor.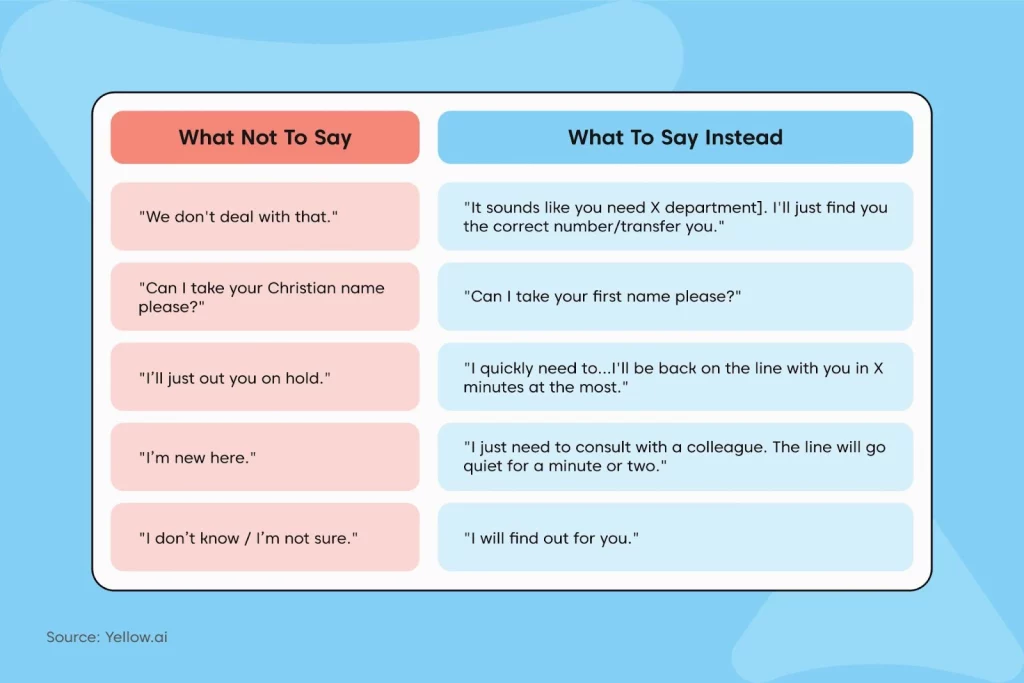 Conclusion
There is only one thing that matters in businesses, customer satisfaction. We hope that you are now ready with a strong intent and a perfect strategy to improve customer satisfaction.
If you need any sort of help related to customer support automation or conversational AI, you can simply request a demo with Yellow.ai. Our subject matter experts will get in touch with you within no time, understand all your requirements, and offer the best possible solutions to improve customer satisfaction.