Today customer journeys span across multiple channels which is making it challenging for businesses to deliver connected experiences. It's mainly because enterprises are focusing on a multichannel customer service approach, but that may not be enough.
To meet customers' growing expectations businesses not only need to engage with them over different channels but also break down communication silos and deliver seamless omnichannel support.

Read on learn more about the world of omnichannel and multichannel customer service as we unravel their distinctions and unlock the potential for exceptional customer experiences.
What is omnichannel customer service?
Omnichannel customer service is like having multiple doors open for your customers to connect with your brand. It goes beyond just one or two communication channels and creates a seamless experience across various touchpoints. With omnichannel customer support, you're not limited to traditional methods like phone support. Instead, you can engage with customers through email, social media, live chat, and more.
It's about meeting your customers where they are and making it easy for them to reach out in a way that's convenient for them. By embracing an omnichannel approach, you can enhance customer engagement and build stronger connections, ultimately delivering a top-notch customer experience.
Research collected by Think With Google indicated that omnichannel strategies help generate around 80% of the in-store visits by customers.
What is multichannel support?
Multichannel customer support, as the name suggests, offers two or more channels from a variety of traditional and digital channels for customers to interact with your brand.
Multichannel support is mostly focused on providing more channels of support that work independently and not in a synchronized fashion. This means there 's no real continuity or uniformity between different channels.
Difference between omnichannel and multichannel
| | | |
| --- | --- | --- |
| Key areas | Omnichannel customer service | Multichannel customer service |
| Data usage | Access to customer data with CRM integration to gain a 360 degree view of the customer so that you can reach them at the right time via the right channel. | Data is distributed across platforms which makes its gathering and usage quite challenging. |
| Consistency | Unified customer experience that doesn't depend on the choice of channel. | Separate experiences across channels. |
| Ease | Smooth cross-channel communication. | Customers may find it difficult to shift from one channel to another. |
| Personalization | Personalized service backed by contextual customer data. | Lack of data driven insights to provide tailored experiences. |
| Goals | To achieve synergy between channels and customer touchpoints to deliver an integrated experience.  | Geared towards increasing the number of channels of communication. |
| Cost efficiency | Shortens the sales cycle and reduces costs. | Takes longer to close sales which leads to increased OpEx. |
| Customer preference | 70% of customers prefer omnichannel customer support. | 61% of customers find it difficult to switch from one channel to another and start their journey all over again. |
Which customer service approach is best for your business?
In an omni-channel customer support approach, you not only offer numerous ways for customers to interact with your brand, but also integrate multiple channels for effortless switching and better customer experience. Whereas in the multichannel approach all the channels are independent which means if the customer wants to switch the mode of communication with your brand, they will have to start their journey all over again.
However, if your goal is to just engage with customers on multiple channels and cast the net as wide as possible to make more people aware of your business, then multichannel customer service is the way to go.
Benefits of omnichannel customer service
1. Diverse communication channels at your fingertips
In today's fast-paced world, customers value convenience and seamless interactions. They don't want the hassle of navigating through various channels to connect with your brand. Instead, they expect the flexibility to engage with your business through any preferred channel, regardless of language or time constraints.
The digital era has transformed customer preferences, making them comfortable with utilizing multiple communication channels such as email support, phone calls, in-app chat, ai chatbots, social media, and live chat.
By adopting an omnichannel customer service approach, you can broaden the range of channels available for customer interaction. This allows for a smoother transition of communication between different channels by integrating and unifying consumer data.
2. Unparalleled support enriched with context
Within omnichannel customer service, every channel collaborates harmoniously to guide customers along their journey in a targeted manner. By consolidating customer data, your business gains the ability to tailor communication to suit each customer's specific needs.
The omnichannel approach benefits not only your customers but also your support teams. It grants agents comprehensive access to customer data gathered from various platforms.
Equipped with this valuable context, your support teams can provide exceptional assistance by understanding the full scope of customers' issues, enabling them to deliver the highest level of support.
3. Enhanced customer data collection quality
The value of customer data cannot be overstated. The better the quality and relevance of the data, the more effectively your business can make data-driven decisions and meet customer expectations. Adopting an omnichannel approach enables the gathering of customer data enriched with insights from multiple channels.
This data holds immense relevance for both your business and your customers, empowering you to make informed decisions and deliver personalized experiences.
4. Reduced customer churn
If you limit your business to certain channels and platforms then there is a high chance that you may lose your existing customers and hardly engage with new customers. Not communicating with your customers on their preferred channels can result in the abandonment of your business.
72% of the millennials prefer brands that respond to their queries and feedback on digital channels like social media. So it is quite important to offer omnichannel support that can open more options of interaction than traditional channels for your customers.
5. Optimized resolution times
Customers want an effective service, regardless of the platform that they choose to interact with your brand. They don't want to repeat their problems multiple times and they expect you to know about their concerns even before they contact you for help.
Luckily for you, in omnichannel customer service, various touchpoints for support are unified into one platform, enabling the flow of information from channel to channel. It not only saves time for your time as they are already acquainted with the customers' journey and issues, but it also improves CSAT and NPS.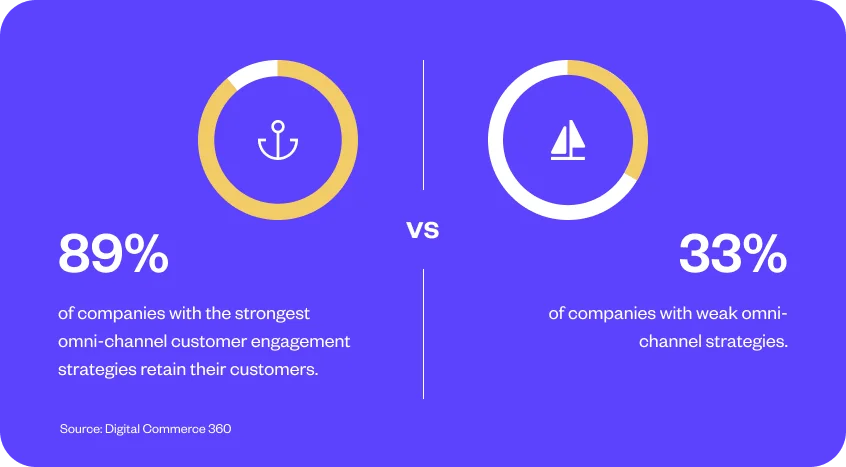 When and why does your business need an omnichannel customer service strategy?
An omnichannel customer service strategy becomes a must for your business when you find yourself operating through multiple communication channels and your customers expect flexibility in their interactions.
If your customers are experiencing inconsistent experiences or if you struggle with data silos and increasing support needs, it's time to embrace an omnichannel approach. This strategy not only brings consistency to customer experiences but also empowers you with valuable insights for personalized interactions.
Multiple communication channels: If your business operates across various communication channels such as email, phone, social media, live chat, or mobile apps, an omnichannel approach helps you streamline and integrate these channels to provide a consistent customer experience.
Customer demand for flexibility: When your customers expect the flexibility to interact with your business through their preferred channels at any time and from any location, implementing an omnichannel strategy ensures you can meet their expectations and deliver a seamless experience.
Inconsistent customer experiences: If your customers are experiencing fragmented or disjointed interactions across different channels, an omnichannel approach helps you unify these experiences, ensuring continuity and consistency throughout the customer journey.
Data silos and lack of context: When customer data is scattered across different systems or channels, it becomes challenging to gain a comprehensive view of your customers. Adopting an omnichannel strategy allows you to consolidate customer data, providing valuable context that can be utilized to personalize interactions and improve customer service.
Growing customer base and support needs: As your business expands and the volume of customer inquiries increases, an omnichannel approach helps you scale your customer support operations effectively. It enables you to handle a larger volume of interactions while maintaining the quality of service.
Competitive advantage: If your competitors are already providing an omnichannel customer service experience, adopting a similar strategy becomes essential to stay competitive in the market and meet or exceed customer expectations.
Omnichannel customer service examples and use cases
In the current context of 2023, the significance of an omnichannel experience has become even more evident. With customers predominantly engaging online, the need for diverse digital channels to connect with brands has grown exponentially. Additionally, the remote work environment has become a norm for many support agents, emphasizing the importance of a unified digital workspace in the absence of physical proximity.
If your business is still operating in silos, it's crucial to recognize the immense benefits that can be gained from adopting a more comprehensive omnichannel approach.
Numerous companies have already experienced substantial rewards by embracing this strategy, demonstrating its effectiveness in meeting evolving customer demands and optimizing support operations.
1. Improving user engagement: Rajamandir's success story using omnichannel campaigns
The challenge:
One of the challenges faced by Rajamandir Hypermarket was increasing offer visibility and awareness. The team wanted to launch a goal-based marketing campaign that was targeted toward users of the South Delhi store to increase store visits and provide visibility into offers. To make this happen, they needed effective targeting and personalized messaging to capture users' attention and make them aware of the offers available.
Solution: Goal-oriented omnichannel campaigns with Yellow.ai feature – Flows
With Yellow.ai's latest feature Flows, Rajamandir Hypermarket successfully implemented goal-specific workflows and designed interactive conversational campaigns across multiple channels. This allowed them to enhance brand awareness, boost engagement rates, and drive conversions. By easily setting up conversational workflows aligned with their objectives, Rajamandir Hypermarket efficiently created omnichannel campaigns, while continuously analyzing and optimizing their effectiveness.
Read more: Yellow.ai & Rajmandir Hypermarket: Improving user engagement with goal-oriented omnichannel campaigns
2. Enhancing customer experience: A Domino's case study on CX improvement
The challenge:
Home delivery is a rage in India, growing especially fast in the pandemic. With their 30-minute delivery guarantee, Domino's needed to streamline the customer experience from the point of order placement to pizza delivery. And, they need to do this at the lowest cost, given the competitive nature of this market. Any technology investment must deliver a rapid payback.
Solution: Omnichannel Virtual Assistant
Yellow.ai delivered an omnichannel virtual assistant for Domino's that handles customers' queries related to order placing, order status, and special order requests like extra olives on the pizza. After delivery, the virtual assistant also collects feedback and drives future orders through proactive offers and promotions.
Read more: Domino's cooks up delightful customer experience and digital delivery with Yellow.ai
3. How Zenyum crafted a winning omnichannel strategy
The challenge:
Zenyum is unique in the Healthcare Tech space in Southeast Asia. As an aggressively growing start-up, Zenyum's web platform sees traffic of over 50,000 users every month. They wanted to channel this traffic to be handled by a virtual assistant that could support customers and resolve queries.
Solution: The Zenyum bot
To build a true omnichannel support system and to deliver a connected experience across all human interactions in real-time, across channels, and at scale, the AI agent was taken live on their official website, Facebook Messenger, Instagram, and WhatsApp.
Read more: How Zenyum crafted a winning omnichannel strategy for CX with Yellow.ai
How to transition from multichannel to omnichannel customer service?
If you are already supporting your customers on multiple channels, it's now time to take the next step and integrate an omnichannel approach that delivers unified customer experiences. Here is how you can switch smoothly to an omnichannel customer support system.
Don't redesign the entire support strategy
Unless, of course, your current strategy doesn't yield the best results for you, you don't have to start from scratch. All you need to do is update APIs and data services to deliver a seamless customer experience.
Talk to our experts to understand how you can transform your multichannel platform into an omnichannel without reinventing the wheel.
Create a unified view of customer data
Consolidating customer data in a single location is the essence of a successful omnichannel strategy. With the help of a robust agent-assist dashboard, you can obtain a unified view of all the data collected from different platforms and equip your agents with AI-powered suggestions to ensure response consistency, provide automated responses to similar requests, and resolve open tickets faster with more contextuality.
Once you have integrated all your data into a single location, you can now use this data to mine customer intent and identify trends in customer interactions. You can then design service journeys to automate redundant tasks across customer journeys so that they can easily complete their goals.
Before launching your new customer service model, make sure you do MVP testing to find and remove hindrances from the path of omnichannel support. This can help you in the long run by saving a lot of time and money.
Popular brands using omnichannel customer service
| | |
| --- | --- |
| Disney | Disney has successfully implemented an omnichannel strategy by integrating their physical theme parks, retail stores, online platforms, and mobile apps. They create a seamless experience for customers, allowing them to interact with the brand across multiple channels. |
| Starbucks | Starbucks has integrated its physical stores, mobile app, and online ordering system to provide customers with a unified experience. Users can order and pay through the app, earn rewards, and pick up their orders in-store or via drive-thru. |
| Nordstrom | Nordstrom offers options like in-store pickup, curbside delivery, same-day delivery, and free returns across their physical stores and online platform. They also provide personalized recommendations and a seamless shopping experience across channels. |
| Sephora | Sephora has implemented an omnichannel strategy by integrating its physical stores, e-commerce website, mobile app, and social media platforms. Customers can earn and redeem rewards across channels, receive personalized recommendations, and access virtual try-on experiences. |
| REI | REI offers an omnichannel experience by providing physical stores, an e-commerce platform, and a mobile app. Customers can research and purchase products online, access in-store events and workshops, and use the app for navigation and tracking their membership benefits. |
| Best Buy | Best Buy has embraced omnichannel practices by integrating its physical stores, e-commerce platform, mobile app, and in-home consultation services. Customers can research products online, visit stores for demonstrations and purchases, and receive expert advice both in-store and through their digital channels. |
Popular brands using multichannel customer service
| | |
| --- | --- |
| Amazon | Amazon operates as a multichannel retailer with its extensive online marketplace and various physical stores, including Amazon Go stores, Amazon Books, and Whole Foods Market. |
| Walmart | Walmart, known for its multichannel approach, has expanded its online presence, improved its e-commerce platform, and introduced services like in-store pickup, same-day delivery, and mobile ordering to provide a seamless shopping experience across channels. |
| Best Buy | Best Buy operates as both an omnichannel and multichannel brand. While they have embraced omnichannel practices by integrating their physical stores, e-commerce platform, mobile app, and in-home consultation services, they are primarily known as a multichannel retailer. Customers can research products online, visit stores for demonstrations and purchases, and receive expert advice both in-store and through their digital channels. |
| Target | Target operates as a multichannel retailer with both physical stores and an e-commerce platform. Customers can shop in-store, online, and through their mobile app, and they offer services like in-store pickup, same-day delivery, and subscription services. |
| Home Depot | Home Depot is a multichannel retailer that provides customers with physical stores for in-person shopping, as well as an e-commerce platform for online purchases. They also offer services like buy online and pick up in-store, as well as home delivery options. |
| Apple | Apple operates as a multichannel brand with its physical retail and service stores, online apps, websites and other channels, in addition to traditional telephonic customer service offerings. By offering a combination of physical and digital channels, Apple ensures that customers have a range of options to engage with the brand, receive support, and have a seamless and consistent experience across various touchpoints. |
Bottom line
In conclusion, both multichannel and omnichannel customer support approaches share a common objective of offering customers multiple communication channels. However, there are distinct differences between the two.
While multichannel support focuses on having multiple channels available for customer assistance, omnichannel support takes it a step further by unifying the customer experience and journeys across these channels.
By connecting and synchronizing these channels, an omnichannel approach enables businesses to provide personalized service backed by contextual information, supporting customers seamlessly from discovery to conversions.
Omnichannel vs multichannel – FAQs
What is an example of multichannel customer service?
An example of multichannel customer service is when a company provides customer support through various channels, such as phone, email, live chat, social media, and in-person assistance. This allows customers to choose the most convenient channel to seek assistance based on their preferences and needs.
What are the types of multi-channel support?
Multi-channel support encompasses different communication channels through which customers can interact with a company. Common types of multi-channel support include phone support, email support, live chat support, social media support, self-service portals, and in-person assistance. These channels provide customers with flexibility and options to engage with a company based on their preferred mode of communication.
Why is omnichannel marketing better than multichannel marketing?
Omnichannel marketing presents numerous advantages over multichannel marketing, establishing it as a more effective and preferred approach for businesses. It prioritizes the delivery of a seamless and integrated customer experience across all channels, ensuring messaging, branding, and customer interactions remain consistent, regardless of the touchpoints utilized. This cohesiveness significantly enhances the overall customer journey and eliminates any potential disjointedness that can arise in multichannel marketing.
Furthermore, omnichannel marketing facilitates a higher level of personalization and customization. By harnessing data and insights from multiple channels, businesses can tailor their messaging and offerings to align with individual preferences and behaviors. This heightened personalization fosters increased customer engagement, fostering a sense of being truly understood and leading to heightened satisfaction and loyalty.
Deliver seamless experiences across channels
Get in touch with our experts to know how you can craft a winning omnichannel strategy for your business in 2023.