In the last decade, artificial intelligence and customer service have become inseparable. From being technical jargon to moving to the mainstream marketplace, artificial intelligence has blended with customer service in such a way that businesses are totally appreciating the combination. Customer service chatbots are the outcome of this perfect combination that can take your customer service strategy to the next level. You can make your customers feel so happy and valued that they become your brand ambassadors.
If you are a business still using traditional customer service tactics, it is time that you rethink your strategies and enhance as per the new generation of customers. They demand solutions that are fast, accurate, and can be achieved remotely from their comfort zone. It is all possible when AI chatbots are leveraged for providing customer service.
Customer service chatbots not only automate customer service but other business processes like lead generation, marketing, and recording customer feedback. These tools can multi-task and take care of all sorts of interactions that occur between customers and businesses.
50% of customers today do not mind who is attending to their needs or queries, human or an AI-driven chatbot. Thus, it becomes very easy for organizations to use automation tools and technology for customer service. With AI and automation in customer service, businesses can ensure a quick and accurate response over any and every customer touchpoint and boost the process of problem-solving for customers.
In this article, we will summarize the benefits and use cases of using customer service chatbots for businesses. Before we take the plunge, let's first have a clear picture of what exactly are customer service chatbots in our minds.
What are customer service chatbots?
A software application that automates query resolution and problem-solving using artificial intelligence and natural language processing (NLP) is known as a customer service chatbot. It can help businesses serve customer queries within no time through platforms such as websites, mobile applications, and even social media.

There are different types of chatbots used for customer service majorly classified into rule-based and AI-based chatbots.
Rule-based chatbots, also known as FAQ chatbots, answer a predefined set of questions. For example, "what is the guarantee on this product?" or "how to implement your services?". They can respond only if a customer has a query about a particular set of keywords, answers to which are predefined.
Whereas, AI chatbots use technologies like NLP and machine learning to respond to customer queries. They are data trained and can understand just like human customer service representatives. For example, "I need to cancel my ticket to Madrid for 20th January." can be very well understood and executed by an AI chatbot. They understand and respond in natural language and interact with customers simulating human-like conversations.
Businesses can select the chatbots as per their requirements and deploy them to the channels where they want to provide customer service. An omnichannel customer service strategy is currently the most efficient and advanced for customer-centric businesses.
Let us take a deeper dive into the benefits and use cases of AI-driven customer service chatbots.
10 important benefits of customer service chatbots
The use of artificial intelligence and automation in customer service can solve many problems like providing support during the off-hours, removing the language barrier, and reducing the workload on customer service representatives. Let us understand the benefits of customer support automation for businesses with chatbots in customer service.
1. Provide an improved customer experience
The overall customer experience is largely dependent on customer service. Good customer service ensures an excellent customer experience and improves customer satisfaction, customer retention, and customer loyalty towards the brand.
With chatbots for customer service, businesses can assist customers and resolve their queries with a speed and accuracy that is humanly impossible. Chatbots can become a one-stop solution for customer service. 72% of customers consider it a bad experience when they need to explain their issues to multiple people.
Quick query resolution and better customer service can improve customer experience to a great extent. All these efforts combined can help businesses with an overall top-notch customer experience.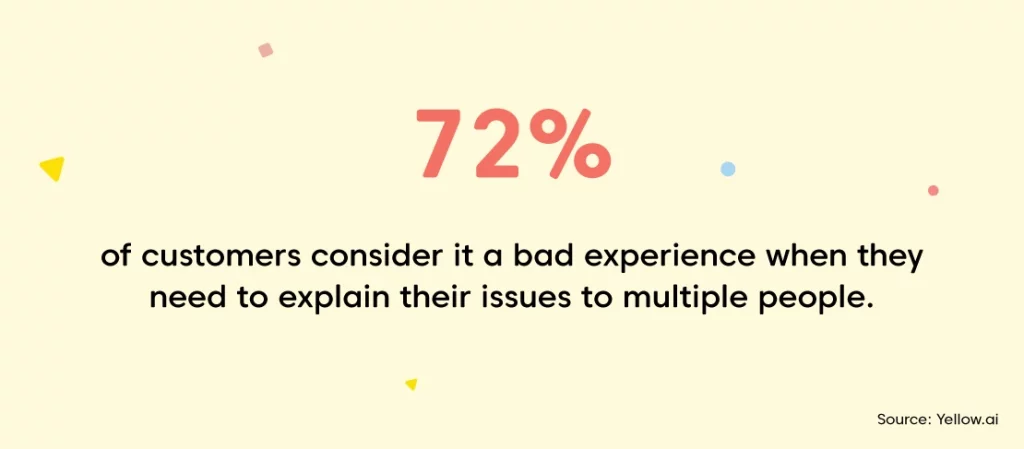 2. Personalize every interaction
For businesses, every customer interaction counts, even the small ones. Customer service chatbots can personalize every interaction and make sure that the customer feels valued.
Chatbots are data-trained and can fetch the customer details like name, order details, and history information easily. With all this data at their disposal, chatbots can quickly resolve all the customer queries as per their history with the company.
For example, if a customer wants to track their order, they don't need to enter their order ID or any other details. They can simply ask the chatbot "where is my order?" and all the details will automatically pop up.
3. Round the clock customer support
Chatbots ensure zero wait time for customer support. They are available 24×7 throughout the year for resolving issues faced by customers. No off-hours, public holidays, or timezone differences can stop your customers from being satisfied with the business.
Businesses can provide instant responses to their customers over every channel with the help of artificial intelligence and automation. However, in the case of complex queries, human intervention is necessary for query resolution.
Providing quick responses and resolving problems over the first call can have a huge impact on your customer base and can give you an incomparable competitive advantage.
4. Scalable, measurable, and achievable customer service
Customer service chatbots are an upgradation for the customer service department of a business. With chatbots, the customer service team can close multiple queries at the same time. Unlike human representatives, chatbots can take up hundreds and thousands of conversations at a time and respond to them with their full potential. This scalability is humanly impossible and can be achieved only through automation.
Along with scalability, customer service chatbots come with an insights dashboard for measuring and tracking all the customer support KPIs for the team. Using chatbots for customer service, businesses can now set improvement targets even for the support team and work towards achieving them.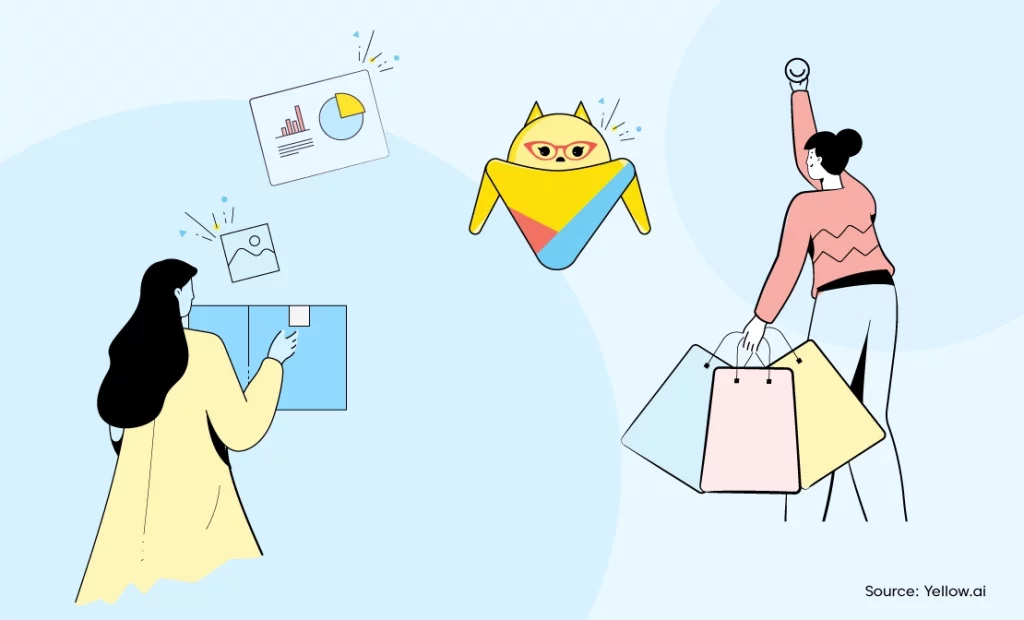 5. Lower operational costs
Human representatives for customer service cannot be replaced with chatbots. Software applications can be an important tool but not a replacement for human resources. Chatbots can assist the customer support team with quick query resolution but cannot fill in case of complex queries that need human intervention.
However, they can save a lot of time and operational costs for businesses by reducing the volume of work and handling all the monotonous tasks of a customer service representative.
This can lead to a better work environment and happier employees for the customer support team. Businesses can save a lot on operational costs by saving all the efforts of hiring and training employees.
6. Provide seamless agent handoffs
For delivering better customer support, seamless agent handoffs are necessary. Customers can feel annoyed waiting for the customer service representative to take over the conversation. Therefore, the process needs to be seamless.
Chatbots ensure a smooth handoff in case of complex queries. They provide all the previous information about the customer and take a back seat.
The right balance between communication between the representatives and the chatbot also makes it easier for the representative to take a break from regularly supporting customers.
Businesses can automate all the repetitive queries that need basic information and leave them for the customer service chatbots. Whereas complex queries can be taken by the agents.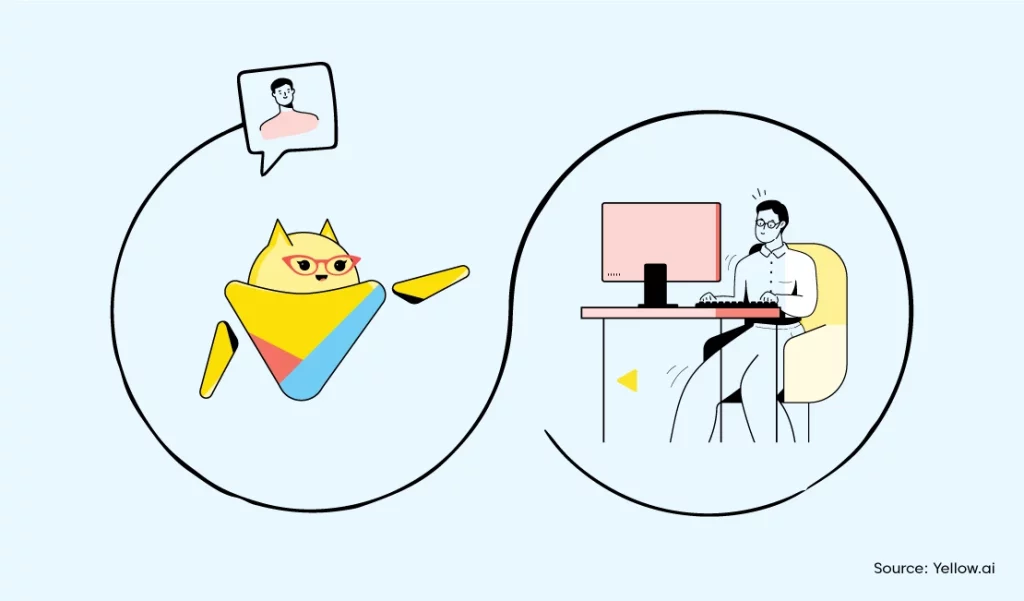 7. Obtain feedback in real-time
Consumers are more comfortable with chatbots and trust them with information. They readily provide feedback and share their issues during a chat. This makes chatbots the best source to obtain customer feedback, reviews and ratings.
Businesses can ask for feedback after every interaction, every purchase, or every query resolution, as per their KPIs and business needs.
Chatbots do well with feedback as they make it interactive and easy to answer by the consumers. Obviously, filling out a feedback form has much more friction than answering a question during an ongoing conversation with a chatbot.
8. Social media support automation
All of us know that social media has become a marketplace, but the question is if it is a customer support place too. If businesses can market their products and services according to customers' presence, support must also be provided on the channels where customers are present.
Social media and conversational AI have created a wave in the customer experience strategies for businesses. Organizations are shifting to providing omnichannel customer service. Automating WhatsApp messages and Instagram DMs and using social media for customer service is providing businesses with an opportunity to know their customers better and support them better.
9. Reduce IVR churn
IVR (instant voice response) systems can be time-consuming and annoying for customers. Listening to the menu and holding calls for customer care representatives can become friction for customers to re-visit your business.
Customer service chatbots can simplify the process and help customers with instant responses that efficiently solve their queries. The process of problem-solving can become very easy with chatbots and also the IVR system churning can be reduced.
While IVR can make mistakes in routing customer queries to teams, automating the process with conversational AI chatbots for customer service can reduce the chances of such mistakes.
10. Satisfy customers and track sentiments
When all queries are solved and all requirements are met, customers are satisfied with businesses. With the use of conversational AI, businesses are able to see a shift in customer behavior. They've seen a rise in customer satisfaction, and customer retention rate.
Chatbots in customer service play a vital role as they can track the sentiments of customers and understand how they feel about the business.
However, businesses must track customer service KPIs like NPS (net promoter score), CSAT (customer satisfaction rate), or CES (customer effort score) and continually monitor the performance of their chatbot.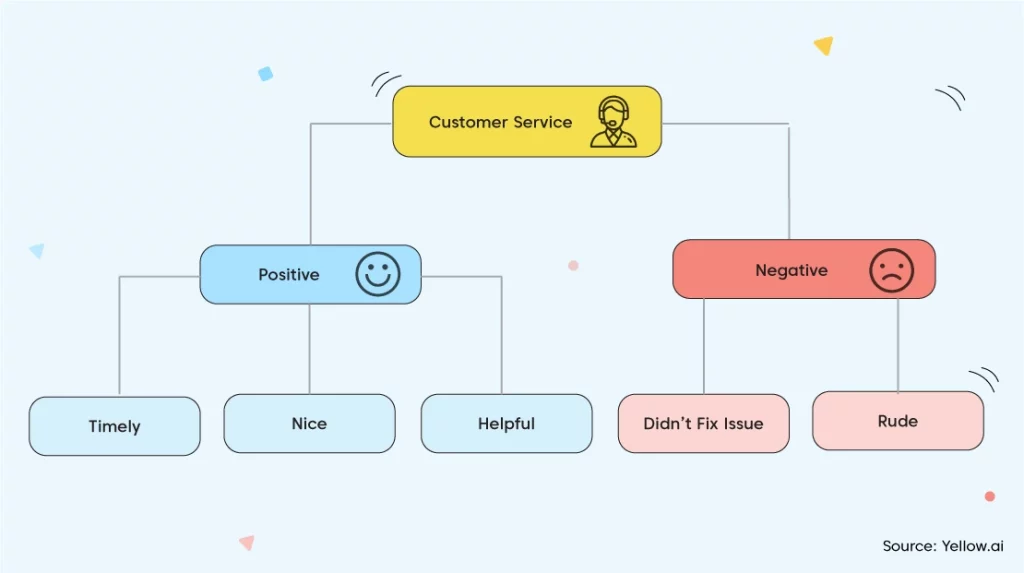 AI chatbots are on their way upward and are not stopping with these benefits. Conversational AI and automation are intervening and excelling in every business process, be it marketing, lead generation, sales, customer service, HR, or finance departments. Broadly used for customer service, these chatbots have multiple use cases in each business department.
Practical use cases of customer service chatbots
The customer service department can also be classified into many different business segments based on their functionality. Chatbots for customer service can be used in all of these segments.
1. Use chatbots to provide help to customers
Be it FAQs, tracking of orders, payment processing, or complaints regarding the products or services, the chatbot in customer service can take them all. Using NLP, these chatbots can understand what customers are looking for and provide the exact information as required. Customer queries will not just be answered, but answered instantly, no matter the time of the day, or day of the week. Customers will be satisfied with the best possible service.
2. Use chatbots for collecting customer information
Customers trust chatbots and share their details on the chat interface. This information can prove to be extremely useful for businesses. If the information is about a potential customer, it can be a lead, and if the information is feedback, it can be used in looking into the shortcomings and working on them.
3. Use chatbots for renewals and payments
Businesses with subscription-based models can send their customers notifications about their renewal and payments. Even for one-time payments, chatbots can support customers for simple transactions. Even for any mishaps, customer service chatbots can help customers with information about refunds or returns. Businesses can develop trust in the hearts of customers using chatbots for customer service.
With such benefits and use cases of chatbots in customer service, who would like to miss a chance to deploy them to their business website, mobile application, and social media.
If your business is looking for an upgrade in the customer service team and is ready to engage conversational AI for customer interaction, you have reached your destination.
Yellow.ai is the world's leading platform for total CX automation. We can help your business with all your needs by providing exceptional customer service and improving the overall customer experience.
Have all the requirements in place? Try your hands on no-code bot building with our bot studio. You can create your own customer service chatbot within 10 clicks and give your customers a heart-winning experience