Have you already started using Google Business Messaging (GBM) for your business communications?
Google is a very powerful tool for marketing in today's era. The new messaging feature makes it even more useful. Businesses can now give their customers another mode of communication via google search results, that is, Google Business Messaging.
Launched in 2017, GBM was initially available only for text messages. But now businesses can use this feature through the Google My Business app and be available for customers all day every day.
With 92.47% of the global search engine share (as of July 2021), Google is a tool for businesses to showcase and market their products especially to local customers. 49% of the businesses listed on Google My Business get more than 1,000 views on search per month. This shows the magnanimity of the extraordinary unified business solution.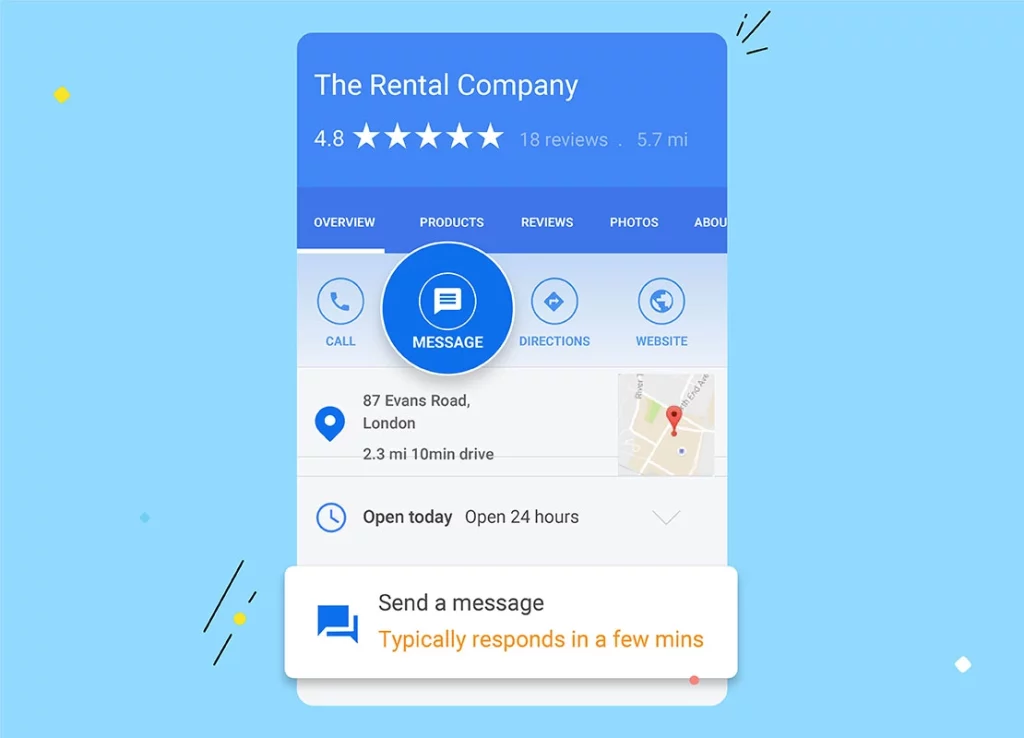 With the combination of various data, resources, and tools, Google helps businesses grow at a phenomenal rate. It gives businesses an A-Z solution for marketing and branding a product or a service. Beginning from a simple business listing to displaying ads, search engine ads, any and every type of target audience are in the range of Google. Business just needs to optimize accordingly.
What is Google Business Messaging?
Google Business Messaging (GBM) is a communication channel for businesses using which they can send and receive messages to their customers coming from Google Search and Maps to their Google My Business listing.

It started in 2017 as an SMS tool that could be used for searches through mobile devices. Google Business Messenger would help businesses reply to their customers via text messages and interact with them.
With digital evolution, Google Business Messenger expanded its use to desktop devices in 2021 via the Google My Business app. This gave businesses a way to interact with their prospects- becausepeople are turning to messaging to connect with businesses.
With this feature, people and businesses can easily know about each other and interact without any delays and difficulties. This feature makes it quicker and easier for customers to ask a question or voice a concern and provide the best customer experience.
In this article, we will share our views on:
1. Integrating Google Business Messages with Google my Business
2. Google Business Messaging- Points to remember
3. Use-cases of Google Business Messaging
4. Google Business Messaging X Conversational AI and Automation
Integrating Google Business Messages with Google My Business
Businesses that operate from a single location can use Google Business Messaging that is absolutely free of cost and doesn't follow any processes or complications. It can be integrated with your Google Business organic search result or Google Maps result.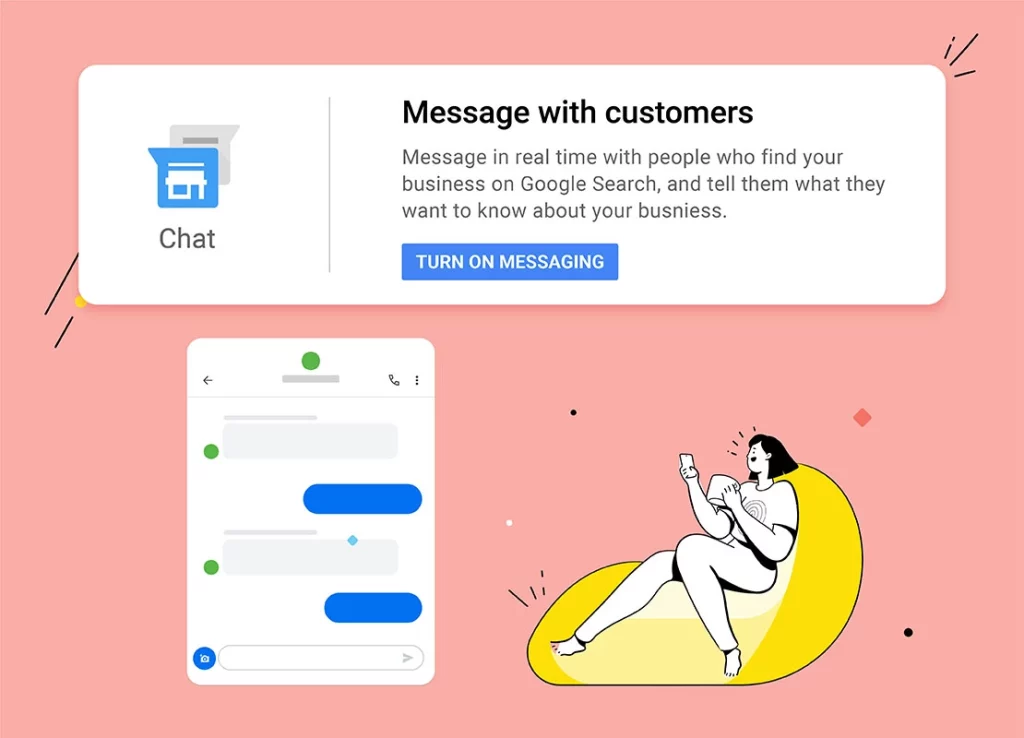 1. Google Business Messaging can work only on Google Business Accounts. You will need to create a business account in case you don't have it.
2. Once you have created a business account, make sure you have added all the required details like working hours, address, photos, and contact details.
3. To enable Google Business Messaging, go to Settings > Messages > Turn on the toggle for Messages.
4. Draft a short and interactive welcome message for your customers.
Following these simple steps will enable your business to give customers an opportunity to know about your brand via messages.
Google Business Messaging: Points to remember
1. Set up an interesting Welcome Message
Customers receive a welcome message from the company as soon as they click on the message button.
Businesses must use this opportunity in the best possible way, such that they do not miss out on prospects.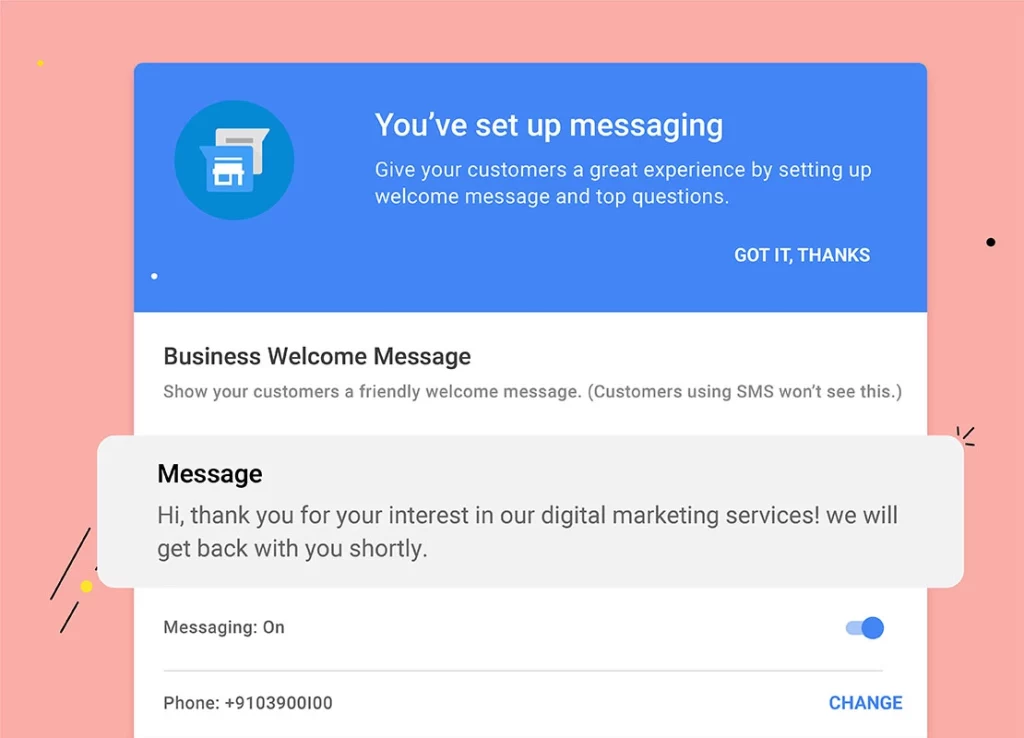 The best way of welcoming your customers can simply be: "Welcome to business_name!! How can I help you today?"

However, you can script your own welcome message whatever works best for you.
2. Respond within 24 hours
Google Business Messaging response window opens for 24 hours. Within this time period, a business must reply to its customer or the window will be closed.
Ideally, a business must reply to its customers within 60 seconds (minimum wait times). Because if someone is searching you on google and reaches your business listing, the intent is high and this must be a priority for businesses.
Turn on the notifications of the Google My Business app on your phone to know immediately as soon as you receive a message.

Google displays an average response time of a business, for example, usually responds in a few minutes. This gives the customer a glimpse of your business practices.
3. Conversation must be relevant
Before up-selling or cross-selling your products, look out for customers' queries. If they need to know about their product delivery status, they would not like to hear about your new products or a discount code.
4. Keep it concise & crisp
Sending out long, cheesy messages is not a good practice. Customers can sometimes get fed up with your marketing messages and stop interacting with you.

Understand the concerns and try to respond as concise & crisp message possible. But conciseness must not waive off clarity.
Make sure customers get a response that they came for.
5. Send pictures
Messaging has its own snags. Supporting conversations with images can prove to be a good practice. It can give customers the clarity they deserve. Also, it can help businesses in showcasing their product quality and improve customer satisfaction.
Google Business Messaging (GBM) use cases
Google Business Messaging can help automate answers to simple questions, enable fetching customer data, and seamlessly transfer conversations to agents when the going gets tough. With these features, businesses can clear the busy schedules of customer support employees. Let them use their human empathy and expertise in some less monotonous, reviving tasks.
1. Automate FAQs related to your business
When a customer searches for your business on Google Search or Google Maps, he/she has some basic questions. For example, your business hours, product details, or maybe your contact number if not available.
Such simple FAQs can be answered by Google My Business chatbot and answered in a few seconds. This makes your business available for customers and proves to be trustworthy in the longer run.
Especially after COVID-19, people prefer not to go out without proper information about a business. So your chatbot can help customers by answering about:
a. Business hours
b. Product details
c. Hygiene details (post-COVID era)
d. Business policies about exchange/ return of products
Also, bots can help customers with the timings of live agents, in case of complex queries and customer support.
2. Use personalized messages
Personalization can never go out of trend. It was, is, and will be an evergreen market trend for reaching out to customers.
Google My Business can use information like the name of the prospect to greet them, or even just welcome them to the business page.
Automating chatbots and instructing them to use proper salutations while greeting a customer can be impressive.
For example, a customer views your business page during the first half of the day. Greeting him as 'Good Morning [firstname]' would be a good practice.
Personalization and automation have no limits, however, be extra careful while creating the automation flowchart for Google My Business chatbot as a small mistake can harm your reputation.
3. Fetch customer information and store it for future use
Chatbots fetch customer data such as name, phone number, email address, and date of birth very easily. This data can prove to be a very essential pool of information as the customers here have a high intent of using your products and services.
This data can be used by your sales team to push the customers down the funnel.
Apart from this, if a customer has made a purchase/transaction, chatbots can automatically save details. These can be your order number, size, amount, and time and help customers with any queries related to the product in the brink of time.
Also, this information can help your marketing team to up-sell or cross-sell products as per the choice and size of the customer.
Using chatbots for different use-cases is beneficial no matter what. Your business will definitely go through a transition and have an improved CSAT as a result.
Google Business Messaging X Conversational AI and Automation
The magical combination of search engine chatbots and conversational AI is here at your disposal. This combination can leave the customers in awe of the customer support that businesses will now be able to provide over Google Business Messaging.
Customers don't need to visit websites or apps, or any other platforms to meet their customer support needs. It is right where customers are- on Google.
Large enterprises functioning from different locations are not able to handle queries and use Google Business Messenger to its full potential. This can be because of the vast customer base of businesses.
With Conversational AI and Automation combined with Google Business Messaging, businesses can improve the speed, quality, and performance of their interactions on Google.
Benefits of Automation and Conversational AI for Google Business Messaging
1. Instant query resolution using AI
With automation and conversational AI, businesses can easily automate Google Business Messaging based on the queries they receive on a regular basis. This will reduce the wait times and increase customer satisfaction significantly.
2. Brilliant Customer Experience
Customer Experience (CX) and Artificial Intelligence (AI) are moving hand-in-hand. With Google Business Messaging (GBM), customer experience is taken care of. By automating it, businesses can refine their customer experience.
3. Analytics and Insights
GBM gives some key performance metrics for analysis. But once integrated with Conversational AI, these metrics are not enough.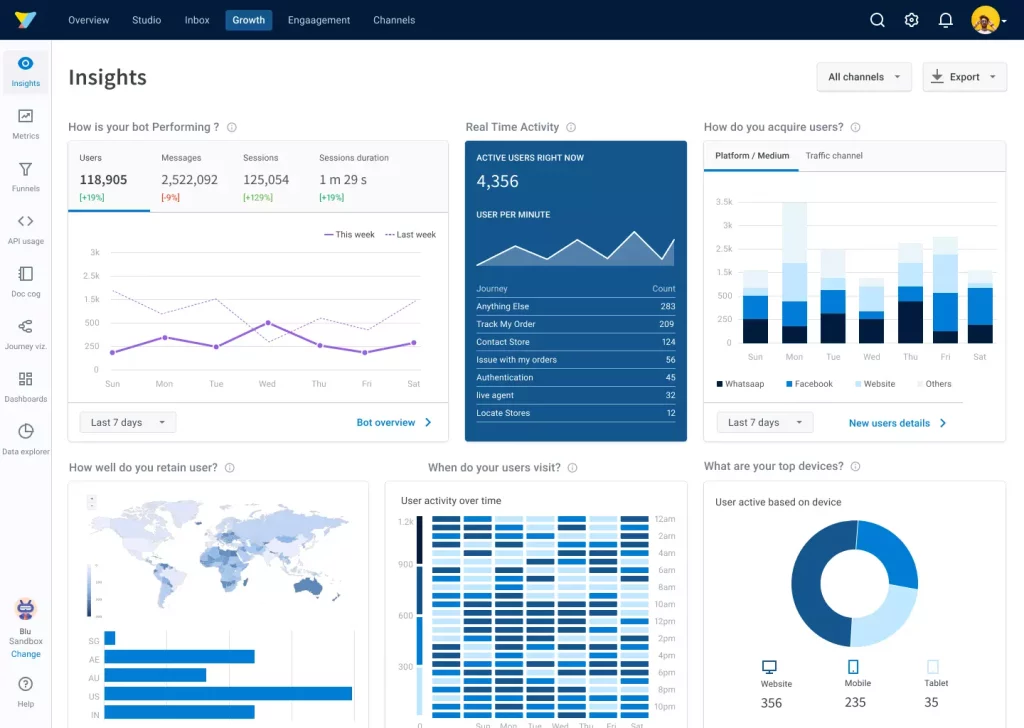 On a conversational AI dashboard, such as that of Yellow.ai, businesses can get valuable insights on their customer experience and CSAT score.
4. 24×7 Customer Support
Once you automate your Google Business Messaging chatbot, customers can resolve their concerns anytime. No need to wait for live agents, or customer support calls.
In case of complex issues, live agents can seamlessly take over the conversation.
5. Minimized need for live agent support
With the automation of Google Business Messaging, customer support can stop the juggle between call, message, and email tickets.
They can come in only in the case of complex queries.
There is much more to Conversational AI and Automation that you'll understand with the live implementation of these technologies with Google Business Messaging.
With Yellow.ai, you can add Google Business Messaging as a channel of communication for your customers. We can provide your business an omnichannel presence along with Google Business Messaging API, all integrated into a single dashboard for your customer support team.