Elevating customer experience is crucial to holding on to the existing clients. When the product or service hits a snag, users expect it to be addressed and resolved immediately. Infact, Gen-Z and millennial users prefer to be self-reliant when it comes to diagnosing and fixing a problem.
Long gone are the days when customers called or emailed customer support to fix a problem. Today, with the help of messaging apps and conversational AI-based chatbots, self-service is emerging as the new paradigm in customer support.
In this blog, we'll look at what customer self-service is and why chatbots serve as the best channel to facilitate self-service.
What is customer self-service?
Customer self-service can be defined as the process through which customers can resolve their issues without assistance from a support agent on-call or in person. Organizations would be wrong if they believe that 'all' customers would want to ask for help whenever there is a problem. People nowadays try to self-resolve a problem before they escalate it to a service rep.
A recent Gartner report shows that 70% of customers use customer self-service portals to resolve their issues.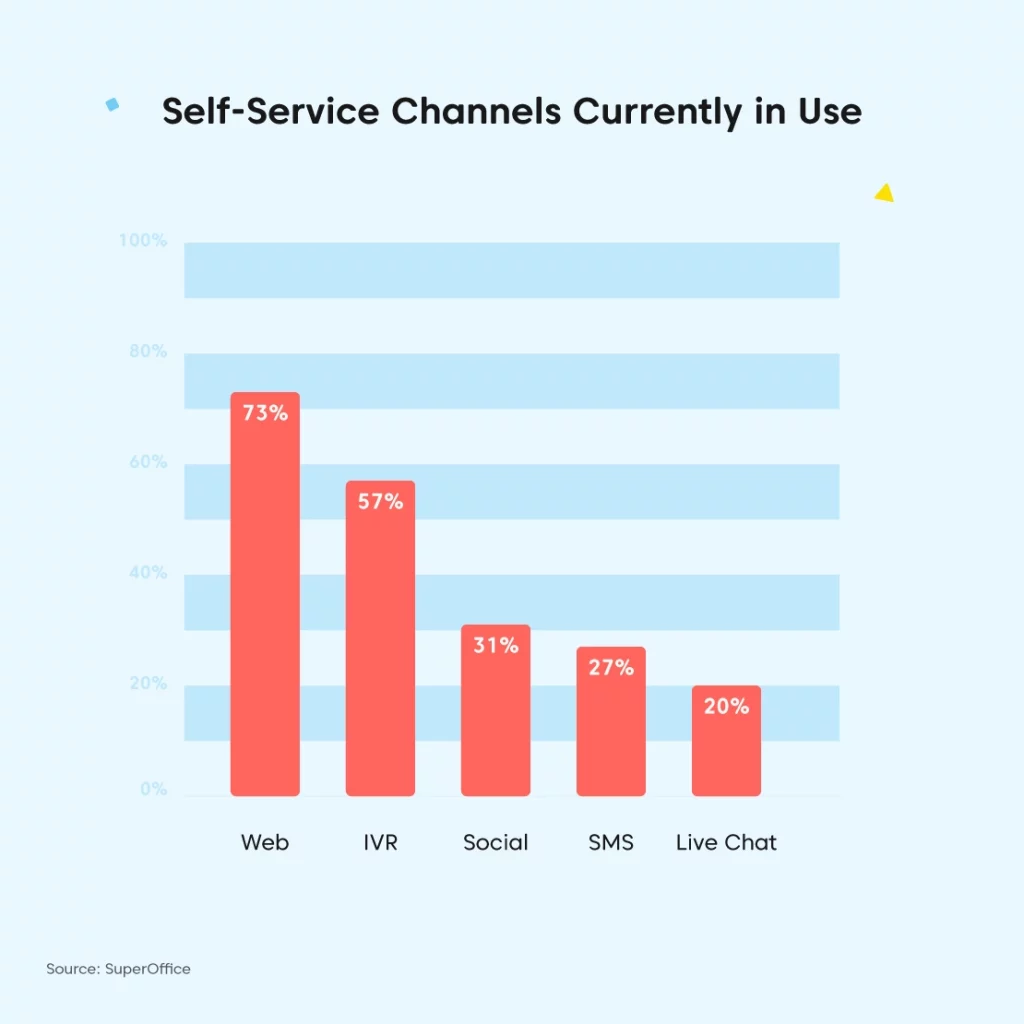 Most frequently used self-service options
1. FAQ pages
The frequently asked questions (FAQ) pages contain resolutions to the most common queries. These pages contain concise answers or links to other resources such as knowledge base articles or links to live chat and customer support
2. Knowledge base
Knowledge base articles contain detailed information for resolving problems. Customers can search for the relevant article using the brand's webpage or popular search engines. AI-powered knowledge bases can cut down the search time and significantly refine search results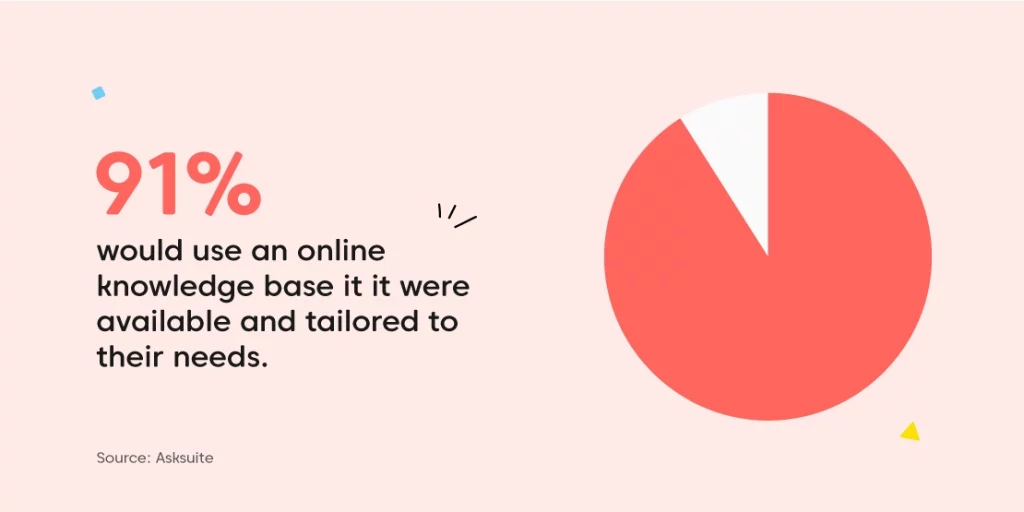 3. Community forums
These are forums where customers can discuss their queries with people who use similar products or services. These pages are often operated by brands as a part of their knowledge base, SME's or a group of people
4. AI-powered chatbots
The chatbots have taken over answering queries for most brands with an online presence. The AI-powered chatbots can connect with the customers across multiple platforms such as social media, instant messengers, SMS, mobile apps and other channels
5. IVR and voice automation
Even when the customer calls the support center, they can resolve their queries without talking to a live agent. An Interactive Voice Response or IVR technology powered by natural language processing (NLP) and AI can answer most queries and forward the call to a live agent if needed
With the self-service tools available today, customers can troubleshoot problems or have their requests serviced on the preferred platform. Most frequent interactions occur with the brand's chatbot.
Post interaction, a text message confirming the resolution of the problem is sent to the customer. If the problem continues to persist, a call with a support representative can be scheduled.
Benefits of self service for both brands and customers
The benefits of customer self-service extend in both directions. On the customer's end, it empowers them to self-resolve minor problems. On the brand's end, it frees up the support teams to focus on important tasks and cut down the associated costs for routine service requests.
A case study on the advantages of self-service at Stanley Black & Decker showed that post-implementation of a unified support approach with improved help center content and the embedded knowledge center widget, there was a drop in the resolution time across the board. The customer satisfaction score spiked from 85 percent to 90 percent.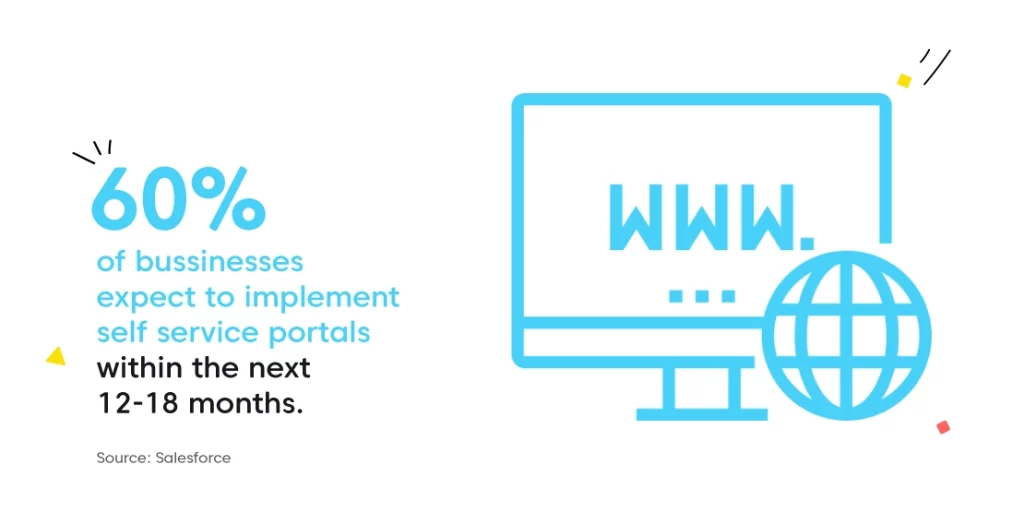 Implementing self-service customer support solutions is beneficial in the following ways.
Instant Query Resolution
Quick resolution of queries is a crucial factor in customer satisfaction. According to a Zendesk CX Trends Report from 2021, 32 percent of customers agreed that resolving problems promptly was the most important factor in a good customer service experience.
Chatbots can speed up the resolution process by cutting down wait time. The responses to queries can be personalized to improve the user experience as the customer self-service platform draws insights from previous interactions.
Improved Agent Productivity
Self-service frees the agent from resolving common issues that can be better done through an automated channel. The knowledge base available will also help live support agents to quickly find links to specific problems and share them with the customer rather than having to answer emails independently.
Significant Cost Savings
Gartner reports that queries resolved through self-service cost 80 to 100 times lesser than a live support agent setup. It is no surprise that customer self-service is a cost-saving opportunity for the brand.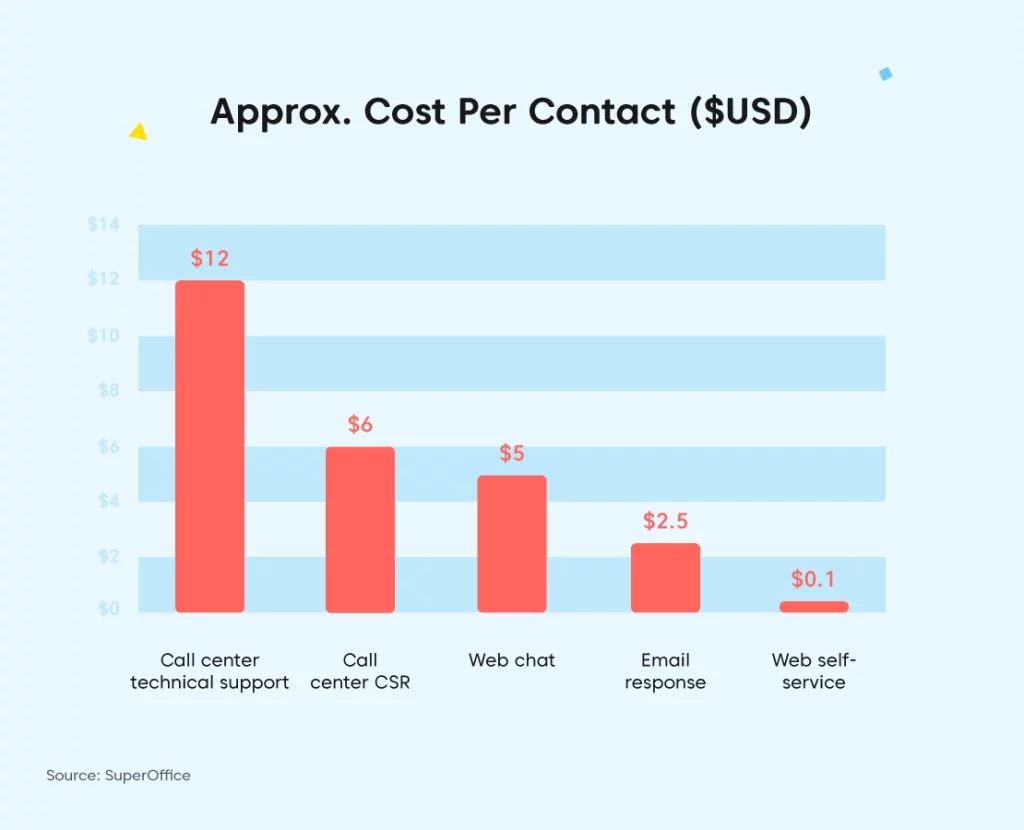 What makes chatbots the best channel for self-service? 
Chatbots are fast, resourceful, available 24×7 and serve as the perfect knowledge base for customers. Insider Intelligence predicts that customer spending facilitated through chatbots will reach USD 142 billion worldwide – a 50 fold increase from the USD 2.8 billion in 2019. So what makes them the best channel?
1. Chatbots are a comprehensive source of information
Chatbots will make it easier for customers to search for the information they need for troubleshooting. Instead of spending a long time on search engines, chatbots can help narrow down searches to give near-instantaneous results.
Brands that offer self-service customer support solutions deploy chatbots as the primary source of information. Generally, the approach is to deploy it for the FAQ pages or the knowledge base.
2. Chatbots keep the interaction conversational and human-like
One of the benefits of customer self-service through AI-powered chatbots is the level of humanization it can bring to improve customer experience. According to a statistic by Microsoft, 40 percent of customers who try self-services reach out to support teams.
One of the reasons for this trend is the non-conversational format of searches while looking for information. Most inquiries need follow-ups, which cannot be maintained by the uni-dimensional approach in FAQs and Knowledge Base searches.
Chatbots integrate a conversational approach that enables them to answer follow up questions to the initial query while still maintaining the context.
3. Chatbots can act as the first customer touchpoint
First contact resolution is an incredibly important metric to contact centers. Chatbot software are capable of fielding most queries by understanding the intent of the customer. It can then direct the customer to the right resource to resolve their problem. Statistics indicate that 80 percent of routine questions are handled by chatbots as most of them are repetitive. This also means customer complaints are more likely to be resolved at first contact.
As the first line of defense, chatbots can service a number of channels such as social media, instant messaging and emails. If the issue is resolved, then there is no ticket raised. If not, the conversation escalated to a human agent.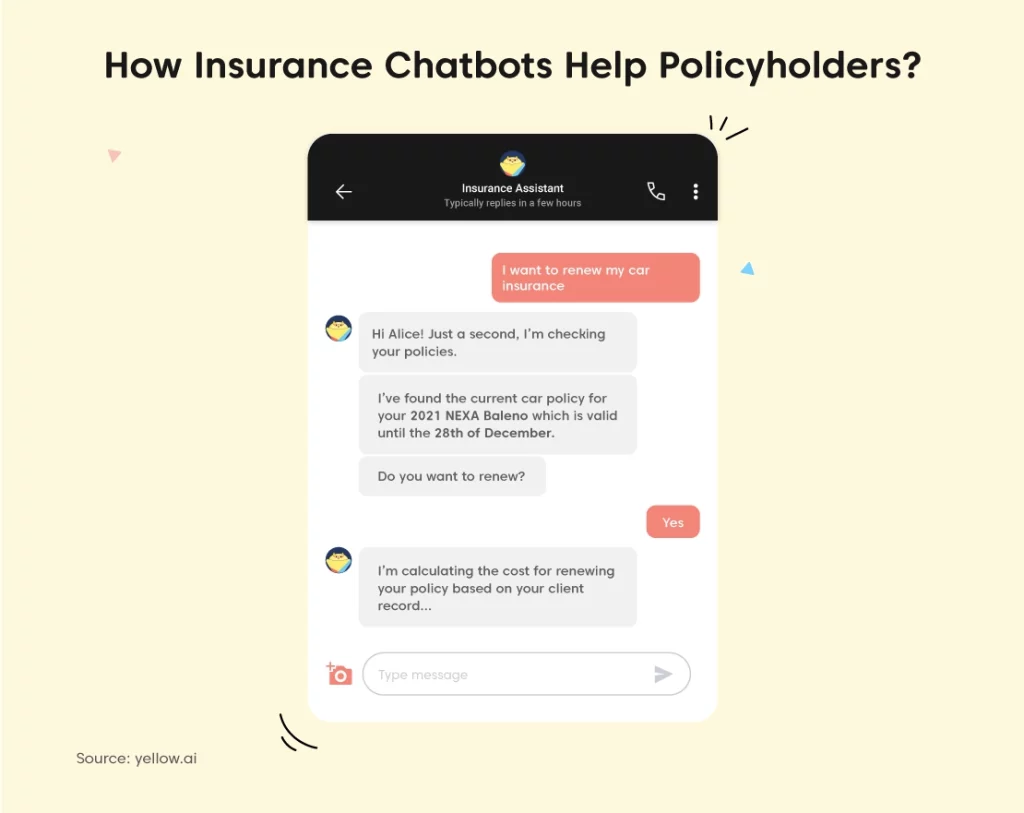 4. Chatbots add value to escalations
Chatbots do have limitations when it comes to complex queries. Assuming 80 percent of queries are fielded by the bot, 20 percent would still make it to the human agent. Chatbots can still provide value at this step through its escalation feature that gathers information before raising the ticket.
The task of human agents becomes simpler with information such as the topic, customer data, product data and full history of the interaction. Chatbots can also make smart escalations by assigning the ticket to the agent best suited for the task with a mapping system embedded in the programming.
5. Chatbots are available round-the-clock
Chatbots are available 24×7 for customer self-service. They are capable of handling most queries and speeding up the escalation process when needed. Chatbots had their moment to shine during the covid-19 pandemic when contact centers were stretched thin.
These critical departments could not have handled all the extra queries without the bots, as the entire industry was in a state of upheaval. Chatbots are immune to crises and quickly scalable when needed.
6. Chatbot technology will continue to advance
The biggest advantage of self-service customer support solutions powered by AI is the continuous advancement. Chatbots will only get better in the future with increased functionality. They will be able to handle endless queries, thereby freeing the live agents to handle only the most complex tasks.
Closing thoughts 
As more people continue to opt for self-service in the future, the best tool for their assistance would be AI-powered chatbots. Thanks to the advances in natural language processing and machine learning, the bots can be deployed over various channels to transform customer service and improve customer experience.
Customer self-service chatbots are only as good as the AI platforms that drive them. Request a demo to know how an industry leader powers chatbots for customer self-service portals.