Remember the days when you had to wait on hold just to ask a question about a product? Feels like ages ago, right? Thanks to the likes of Alexa, Siri, and Google Assistant, we're now in an era where we want — no, expect — everything at our fingertips, 24/7. And guess what? A whopping 86% of folks agree, demanding experiences that are not just convenient but also proactive and personalized when they chat with businesses online. Enter the game-changer: Conversational Commerce.
What is conversational commerce?
Conversational commerce refers to the intersection of conversation and selling. It is when brands make use of AI-powered technology such as live chat, chatbots, and voice assistance to sell their products and services. It's like walking into a store, but online. It's a win-win — customers like us get to interact with someone who can help them with their purchase in real-time, and brands have a direct hotline to 1-1 sales. And here's the kicker: a recent study found that a solid 65% of folks are totally fine with letting conversational AI guide them, kind of like digital sales assistants.
The rise of conversational commerce
In the last few years, there's been a subtle yet transformative shift in the way we shop and interact with brands. Remember the early days of the internet? Static web pages, cluttered with information, and those rudimentary 'Contact Us' forms? Today, conversational commerce is an essential cog in the ecommerce industry. This phenomenon, rooted in the intersection of sophisticated AI technologies and our inherent desire for real-time communication, has redefined the e-commerce landscape.
Conversational commerce isn't just a buzzword; it's a reflection of our evolving expectations as consumers. According to CX Trends, 70 percent of customers expect conversational experiences when interacting with brands.
We crave immediacy, personalization, and, most importantly, convenience. Brands, in response, have leveraged technologies like chatbots, live chats, and voice assistants to facilitate this on-the-fly interaction. By doing so, they're not only enhancing user experience but also forging deeper connections with their clientele. Think of it as the digital reincarnation of the mom-and-pop store experience, where shopkeepers knew your name and preferences. With the rise of conversational commerce, the digital marketplace is becoming more human, one chat at a time.
How does conversational commerce work?
Conversational commerce helps customers use natural language interactions i.e., the way they usually talk to other humans to navigate through product catalogs, seek recommendations, make purchases, and even receive post-sale support, all within the same conversation. This seamless and intuitive process not only elevates customer satisfaction but also drives sales and boosts customer loyalty.
Usually, a customer journey spans across 5 stages of awareness, consideration, decision, action, and retention. Here is how conversational commerce opens a dialogue between you and your potential customers so that you can interact with them at every step in their journey.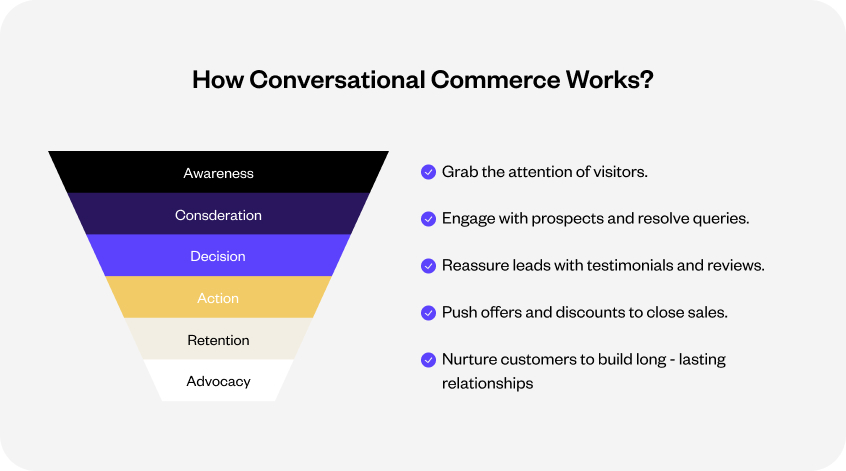 1. Awareness
The first and most important stage of the buying process is when a customer becomes mindful of a product or service they'll be needing. This is when you can create awareness by showcasing your products or services. Improving the relationship with your customers and creating your brand name is more important, and about 59% of buyers are likely to buy a product from a brand they are familiar with, so getting on board with conversational commerce will increase the familiarity of your brand.
2. Consideration
Now that a customer is aware that your product or service can fulfill their needs, they will look forward to gaining more information about your offerings. They may have some queries and you will have to respond quickly as 82% of customers expect immediate responses. Conversational commerce tools enable you to stay available for your customers on their preferred channel 24x7x365 and provide instant answers to their questions.
3. Decision
At this crucial juncture, customers are often susceptible to distractions and may start exploring other options, even if they're convinced that your product or service meets their needs. It's imperative at this moment to reinforce their decision by highlighting the value your offering provides. Utilize your chatbot to share customer testimonials and positive reviews, showcasing real-life satisfaction and success with your product. By providing this reassurance and social proof, you'll strengthen their confidence in your offering and encourage them to choose you over your competitors.
4. Action
Abandoned carts are very common and this only means, your customers need that extra push to complete the purchase. Conversational AI tools can help you push tailored offers, coupons, and discounts to close the deal faster.
If the customer abandons the cart, chatbots will automatically follow up with them and instill a fear of missing out by reminding them that the product may run out of stock soon or that the offers will only be valid till a certain date.
Must read: Reduce cart abandonment dramatically through automated personalized push notifications!
5. Retention and advocacy
Harvard Business Review estimated that retaining a customer is 25% more costlier than gaining a new customer which is why engaging with customers only till they make a purchase is not enough. After making the purchase, some buyers may have a buyer's remorse or issues which can impact your brand's trustworthiness. At this stage, your interaction with the customer will seed a sense of satisfaction and help boost customer loyalty and retention. A strong emphasis on retention and advocacy leads to increased customer lifetime value and sustainable business growth in the world of conversational commerce.
What are the different types of conversational commerce tools?
1. Live chat software
Live chat software is the most preferred feature used by eCommerce websites. This helps the customer to get quick and hassle-free responses from a live agent without submitting any form, sending an email or calling. Live chat software allows the agent to deal with multiple cases rather than dealing with a call at one time. This will reduce the waiting time for the customer and increase the sense of sticking around and being together in the journey.
Live chat can be reactive or proactive in nature, which means that either you can break the ice by sending a welcome message to the customers or the customers can get in touch with you with their issues. Either way, they can act as personal shoppers that can help customers pick the right product from the endless listings on your store.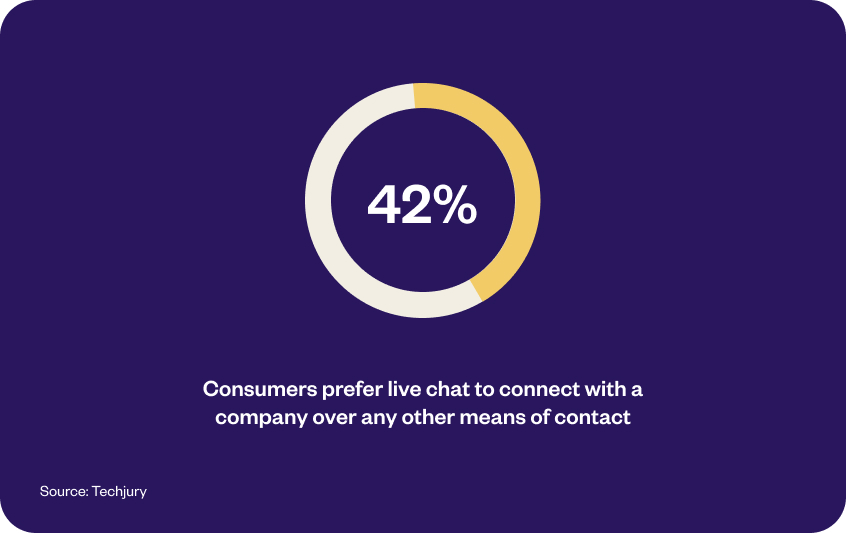 2. Chatbots
Chatbots are effective self-service tools that solve customer problems without much human intervention. In fact, chatbots can single-handedly resolve 80% of customer queries and free-up agents' time to focus on more pressing customer issues.
Also, the intelligent chatbots of today are backed by technologies such as AI, machine learning, NLP, and more that enable them to understand customer intent and deliver personalized support. These AI chatbots are designed to streamline communication between users and services. You can incorporate them into websites, mobile apps, messaging services, and virtual assistants for various functions like customer support, e-commerce, and information retrieval.
3. Messaging apps
Messaging apps are increasingly becoming the preferred way for customers to interact with businesses. For most people, mobile messaging consists of two platforms: Facebook and WhatsApp. Collectively, over 2.5 billion people use one of these two platforms, in some markets the two apps hold over 90 percent market share.
In order to improve customer experience and make more sales, you need to meet customers where they are and automate engagement across these platforms.
The messaging apps also enable instant and real-time communication between businesses and customers. Customers can reach out for support, and product information, or make inquiries, and your businesses can respond promptly, creating a sense of responsiveness and reliability.
4. Voicebots
"Alexa. Book an appointment for the dentist today." Yes, that's how easy it is these days to book an appointment. Not only this, virtual assistants such as Alexa, Siri, Google Assistant, etc are making everyone's life easier by handling time-consuming, redundant tasks. Using voicebots in your marketing and customer service strategies can help you boost your brand awareness. They are convenient, they are fun and most of all, they save your customer's time.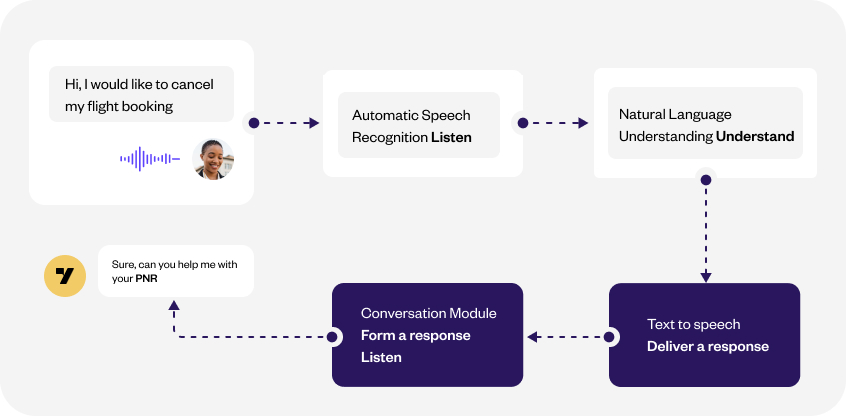 How to get started with conversational commerce?
Thinking of diving into the world of conversational commerce? You're not alone. Many brands are catching on to this transformative shift in e-commerce, fueled by our ever-evolving consumer expectations. But here's the rub — setting up a conversational commerce strategy is no walk in the park. It demands time, effort, and more than a little elbow grease, especially for small to medium-sized businesses. The sheer thought of enabling conversational commerce on all platforms with flawless execution can be, well, downright daunting.
So, where do you begin? Rather than trying to bite off more than you can chew, consider adopting a step-by-step approach. It's all about pacing yourself, taking thoughtful strides, and building your strategy piece by piece. Let's explore how to embark on this journey without getting overwhelmed.
1. Identify your target audience
Understand who your customers are and what they want. Segment them based on demographics, online behavior, and buying patterns. Personalized conversations at the right time, on their preferred channels can drive exponentially better engagement.
2. Choose your platform wisely
Not all platforms are created equal. The conversational commerce platform you choose should not just allow you to customize the conversational interface to go hand in hand with your brand's identity but also have advanced capabilities that understand and respond to customer queries contextually, making interactions more human-like and engaging.
3. Develop a content strategy
Crafting a compelling narrative that aligns with your brand voice is key to resonating with your audience. Whether it's witty, formal, or friendly, maintaining consistency across all conversations will help build trust and loyalty with your customers.
4. Leverage AI and chatbots
AI-powered chatbots are invaluable for automating responses, handling common queries, and providing instant assistance. However, a truly exceptional customer experience often requires a personal touch. Striking the right balance between automation and real human interactions is essential for customer satisfaction.
5. Integrate with existing systems
Seamless integration of your conversational commerce tools with existing CRM, inventory management, and payment systems is critical for a smooth customer experience. By ensuring interoperability between these systems, you can provide a more unified, streamlined, and efficient service.
6. Test and optimize
Don't rush into launching your conversational commerce strategy. Start with a pilot phase to test the waters. Gather feedback from customers, track key performance indicators, and make data-driven decisions to optimize and improve your strategy based on real-world performance.
7. Train your team
Once you've empowered your customer support team with AI tools and next-gen platforms, ensure that they are trained well to adeptly navigate AI-driven systems, extract meaningful insights from the data, and leverage chatbots for efficiency.
8. Prioritize security and compliance
It's essential to make sure that all conversations occurring on your platform are secure and protected from unauthorized access. In addition, ensure your platform is in full compliance with data privacy regulations necessary in your target region. Customer trust is built on the foundation of data security and regulatory compliance.
9. Monitor and improve
It's vital to keep a close eye on user interactions and feedback as part of your conversational commerce strategy. Regularly analyzing these data points enables you to make informed, data-driven improvements to your approach, ensuring that you continue to meet or exceed customer expectations.
10. Scale gradually
Once your conversational commerce strategy begins to show success, consider a phased approach to expansion. Gradually extend your reach to additional platforms and explore more advanced AI capabilities to enhance the customer experience. Scaling incrementally allows you to maintain control, assess what works best, and minimize any potential disruption to your operations.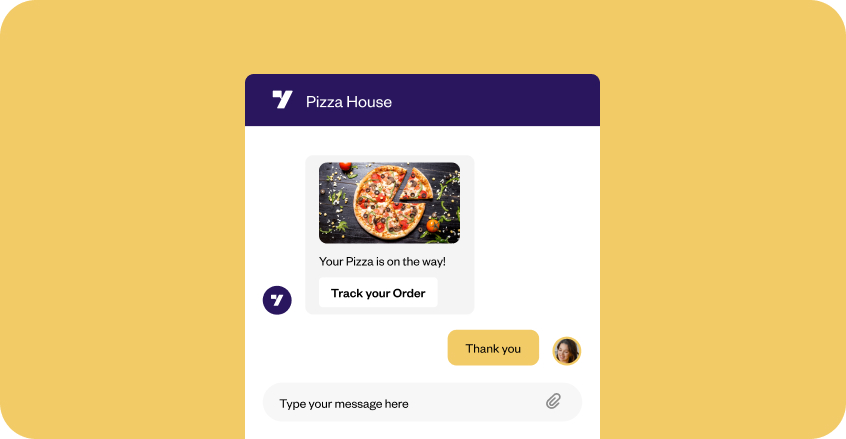 Conversational commerce use-cases
By the end of 2025, the conversational commerce business market is expected to reach $14 billion. If you're also looking to adopt C-commerce, here are some of the most popular use cases:
1. Product discovery and recommendations
It can get tedious for customers to choose the right product from the endless listings on an eCommerce site. With conversational commerce bots, you can help customers to make the right choice.
For instance, you are an insurance provider and a customer asks you for policy recommendations. Your AI-powered insurance chatbot will do all the work for you. It will gather the required information and documents from the prospect and present them with all the relevant recommendations to choose from. All without the intervention of a human agent.
This, in turn, narrows down the choices for the customers and they can make their decision in much less time. Conversational AI with sales functionality can help bring in more direct sales, as customers buy directly from the chatbot interface.
2. Pre and post-sales support
Pre-sales support is all about making sure that the customer completes the purchase without any hassle. Post-sales support is just as important. Once the customer has bought a product from your eCommerce site, they may want to return/exchange it, leave a review about it or inquire about the status of delivery. With the help of in-app notifications, live chat and voice or chatbots, you can keep customers engaged and achieve their loyalty.
3. Cross-channel engagement
A research by Bain & Company found that What transforms a multichannel customer service approach to an integrated omnichannel strategy, it's the cross-channel engagement. This means when customers switch from one channel to another, there is no loss of information and the customers won't have to repeat their problems to multiple people again.A chatbot that is integrated with your internal and external ERP systems can extract customer data and use it to deliver connected experiences. This in turn shortens the sales cycle and improves customer satisfaction.
In fact, leading companies are finding success with this approach. For example, when renowned automotive brand Hyundai was facing a challenge in handling a surge in customer queries on its digital platforms due to limited agent bandwidth, they leveraged Yellow.ai's automation capabilities to resolve the issue. With Yellow.ai's dynamic AI agents Hyundai was able to provide an end-to-end vehicle purchasing experience for its new-age customers on channels like their website, Facebook, WhatsApp, and Google Business Messages (GBM). This enabled potential customers to explore a wide range of Hyundai models, choose their preferred variant, and even book test-drives at their convenience.
Read the complete case study here.
4. In-chat payment integration
Now customers won't have to switch between channels to complete a purchase. When a chatbot makes a product recommendation to a customer, it can also provide an option for them to buy it from the chat interface itself. Accepting payments via chat can help save customers time and improve their overall experience.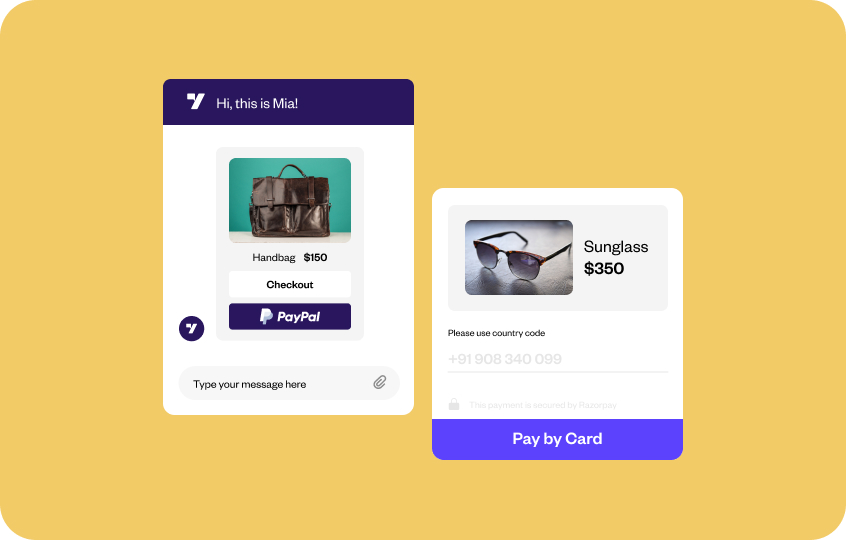 5. Secure co-browsing
Co-browsing or collaborative browsing enables live agents to assist customers by acting as their personal shoppers. It basically allows simultaneous navigation of any web page by agent and the customer. Co-browsing combined with other applications such as video chat lets the agent provide a human touch to the online shopping process. Also, co-browsing is completely secure, as during the session the agent can not see any other data on the client's device. The customers will need to approve the request before the agents can start the co-browsing session.
Ways to integrate conversational commerce into your marketing
Using conversational commerce is the new way to market products from your virtual store. From websites to social media, all the platforms can be well-integrated with conversational AI tools and can be leveraged in upselling, cross-selling and marketing products.
Let us look at some ways to use conversational commerce along with marketing and reach out to customers with products of their choice.
1. Interactive marketing campaigns
Take advantage of conversational AI to create interactive marketing campaigns. For instance, if you're a cosmetic brand, launch a chatbot-based quiz that recommends products based on the customer's skin type. Instead of traditional ads, engage your audience with interactive conversations that provide immediate value. This not only provides a richer and more engaging experience for your audience but also gathers valuable data on customer preferences.
Pro-tip: Create impactful marketing content instantly with YellowG's AI Content Engine
2. Personalized recommendations
Leverage conversational AI to offer personalized product recommendations and targeted promotions. For example, if a customer has previously purchased a summer dress from your e-commerce store, you could recommend matching sandals or accessories the next time they chat with your AI assistant. By utilizing data on customer preferences and behaviors, you can enhance your marketing efforts with curated offers and membership programs for high frequency shoppers and more, which can significantly increase conversion rates.
Must read: Transforming websites to an engagement channel for conversational commerce
3. Seamless customer journey
Integrate conversational commerce into your existing marketing channels, including social media, email, and your website. If a customer sees a Facebook ad for a product, they should be able to click on it and immediately start a chat with your AI assistant to learn more or make a purchase. Creating a smooth and consistent customer journey across all touch-points can improve the overall customer experience and drive sales.
Did you know that Yellow.ai's Dynamic Automation Platform supports 35+ channels & 100+ integrations? Talk to our experts to learn more!
4. Post-purchase engagement
Maintain engagement with customers even after they make a purchase. For example, after a customer buys a new smartphone, your AI assistant could send a thank you message and offer helpful tips on setting up the device. This not only nurtures long-term relationships with your customers but can also encourage them to make repeat purchases or leave positive reviews.

Must read: Empower your support team with generative AI-powered Inbox
5. Data-driven insights
Effective conversational commerce platforms, like Yellow.ai, come with built-in analytics tools and powerful dashboards. Leveraged well, they can help analyze campaign performance to identify purchase patterns, customer's intent during their search and sentiment through their feedback and reviews on social media channels, and consequently, run hyper-personalized campaigns that can increase average order value and reduce churn; uplift customer lifetime value by 15%.
5. Inclusive marketing
Conversational commerce can be a powerful tool for inclusive marketing. For instance, if you're a global brand, you could use conversational AI to engage with customers in their preferred language. Or, if you're selling products that could be helpful to differently-abled individuals, you could incorporate accessibility features into your chatbot. Inclusivity can help in expanding your reach and building a diverse customer base, which can ultimately drive sales and brand loyalty.
Did you know that Yellow.ai offers text and voice automation support in 135+ languages? Talk to our experts to learn more!
Examples of conversational commerce
Businesses across the globe have shown tremendous results by deploying a conversational commerce tool. Some of our e-commerce clients including Sephora, Hyundai, Domino's have delivered millions of seamless shopping experiences leveraging conversational AI.
Let us look at some practical examples of conversational commerce being used in businesses and understand the results.
1. Anchor & Crew
A British bracelet and accessories manufacturer uses live chat as a conversational commerce tool and allows customers to purchase products online. Anchor & Crew also use the live chat software to share promotional offers and clearance discounts in real-time.
For example, a customer visits the website for the first time. They receive a nice greeting from the live chat software and a promotional code for their first purchase.
2. Amazon Alexa
Amazon makes buying easier for customers by leveraging "Alexa", an AI-powered voice assistant, that is a utilitarian tool for houses. It can be connected to all the devices at home and let users control them through voice commands.
Apart from this basic use case, Alexa is widely used to shop products from Amazon. It can help customers revisit their abandoned carts and complete orders through voice commands.
3. Starbucks
Starbucks has dedicated a separate chat window on their mobile application for customers to order their morning coffee. This "virtual barista" lets its users place orders and pay through the app so as to streamline the entire sales process.
The online ordering process has positively impacted the customer experience as customers now don't need to wait in long queues in the morning to place and receive their orders.
4. H&M
The brand has a unique level of personalization in conversational commerce. They interact with customers using a messaging app called Kik, which is a chatbot available for customers 24×7. H&M focuses on delivering an experience similar to the in-store experience by offering stylist recommendations. These recommendations are based on customer preferences and their previous choices.
The chatbot allows a lot of customer engagement and enable the business to collect customer data. In addition, the chatbot is highly user-friendly and allows customers to interact in a very casual language, making the customer experience further better.
5. American Leather
A Texas-based leather furniture brand trying to make the furniture shopping experience to a whole new level. American leather enabled conversational commerce in order to respond to customer queries about the products instantly.
The brand implemented and used the chatbot furthermore by allowing customers to know about their order status, view order invoices or receipts and check warranty terms.
Conversational commerce – FAQs
What is conversational commerce and how does it relate to M-commerce?
Conversational commerce allows for two-way interaction between brands and consumers via messaging apps, live chat or chatbots and voice technology. M-commerce on the other hand is the buying and selling of goods and services through wireless handheld devices such as smartphones and tablets. Both of these are the more advanced types of E-commerce models that allow customers to interact with businesses anytime and anywhere.
What are the benefits of conversational commerce?
Conversational commerce platforms are a game-changer for businesses, and here's why. They create a truly exceptional customer service experience. Picture this: Your customers can chat with your brand anytime, anywhere, on any channel they prefer. It's a breeze to switch from Facebook to SMS to email without missing a beat. That kind of seamless interaction builds loyalty and drives sales. What's more, with conversational AI at the helm, you can respond to customer queries quickly, saving time and money. You'll be amazed at how much you can cut your customer service costs – up to 30%, in fact! That's not all, imagine a shopping experience where your customers feel understood. Chatbots, armed with NLP and customer intent recognition, can offer tailored recommendations that hit the mark. It's a whole new level of personalization. And the best part? You'll see your conversion rates soar, even if your website isn't the most polished. Lastly, we all know that dreaded feeling when customers abandon their carts. With chatbots, you can swoop in with irresistible offers and discounts, turning hesitation into a confirmed purchase. By addressing queries, sending notifications, and providing a personalized shopping journey, conversational commerce tools make those final conversions a reality.
What is the impact of conversational commerce?
Conversational commerce provides a more natural and user-friendly way for customers to interact with businesses. According to a study by Salesforce, 69% of consumers prefer to use chatbots for quick communication with brands. This real-time engagement leads to increased customer satisfaction and loyalty. The convenience of conversational commerce also translates to sales: An average person spends a little less than 7 hours online per day, and 26.1% claim finding products to purchase is a key reason for their social media use. In a world where the customer experience is paramount, the personalized, instant support provided by conversational commerce can be the difference between brands that thrive and those who get left behind.
What is conversational support?
Customer support has evolved in numerous ways, from keeping customers on hold to responding to them immediately, support has come a long way. Conversational support is a niche term that refers to the ability of businesses to provide support over messaging platforms. This means instead of calling a company, customers can easily get in touch with them over messaging platforms like WhatsApp and Facebook Messenger.
What role do chatbots and virtual assistants play in conversational commerce?
Chatbots and virtual assistants are the backbone of conversational commerce, delivering personalized and efficient customer interactions. Their ability to provide instant responses, proactive engagement, and personalized recommendations enhances customer satisfaction, drives engagement, and contributes to business growth. A Gartner study predicts that by 2023, 30% of all B2B companies will employ AI to augment at least one of their primary sales processes. These tools increase customer satisfaction by offering quick and efficient assistance. Furthermore, research by Accenture shows that 91% of consumers are more likely to shop with brands that remember their preferences and provide relevant offers. 
How can businesses leverage conversational commerce for sales and revenue growth?
Businesses can utilize conversational AI to offer personalized product recommendations based on customer data and behavior. By suggesting products that align with individual preferences, businesses can increase the likelihood of conversions and upselling opportunities. Also, by providing instant and efficient customer support through chatbots and virtual assistants, businesses can resolve customer inquiries promptly  leading to greater customer satisfaction and healthier bottom lines..
What is a headless commerce platform?
According to TechTarget, "Headless commerce, also called headless e-commerce, is a platform architecture that decouples the front end of an e-commerce website with the back end. The front end, or the "head," is typically a content management system (CMS) or digital customer experience delivery (DCED) platform that stores, manages and distributes content. The back end is the e-commerce platform that provides the purchasing logic, data and capabilities. This headless approach combines the customization of a CMS with the security of a software as a service (SaaS) e-commerce platform."
Headless commerce architecture is built for the IoT age where developers can use APIs to deliver things, products, content or customer reviews to any screen or device. Traditional commerce on the other hand has a predefined front-end that is tightly integrated with back-end, so it is only designed to deliver content in the form of websites and maybe native mobile apps.
What is conversational AI technology?
Conversational AI technology combines natural language processing (NLP), machine learning and AI with traditional conversational softwares like chatbots, voice bots and live chats to make them more intuitive and sophisticated. Conversational AI has multiple use cases across business functions like HR, ITSM, customer support, sales and marketing. On the whole, it bridges the conversational gap between brands and customers, and helps build long-lasting relationships.
What is the difference between eCommerce and mCommerce?
E-commerce, or electronic commerce, refers to the activities of buying and selling products and services with the use of electronic systems such as the internet. M-commerce is an extension of E-commerce mCommerce that refers to the process of buying and selling products and services with the use of internet/cellular data via wireless handheld devices like phones and tablets. The key differences between the two are:
Lack of mobility in E-commerce as customers prefer to use mobile phones over computers to shop online.
M-commerce leverages various positional tracking technologies on the mobile phones of users, such as GPS, WiFi, and cellular connections whereas, the only metric used to track e-commerce shoppers on computers is the IP address.
M-commerce can reach a wide range of users with the help of push, even when they're on the go.
E-commerce websites on desktop can be hard to navigate as compared to on the phones.
Ready for the future of conversational commerce?
Conversational commerce is the new way to interact with customers and engage them with the brand. Businesses need to re-think their customer engagement and virtual shopping experience on the grounds of real-time communications via chatbots, voice bots and messengers. They need to break the silos and fetch data that is accurate, unified and result-driven.
Yellow.ai is your ultimate ally in boosting lead conversions and achieving marketing wins effortlessly through its advanced multi-LLMs (Language Learning Models) and generative AI-powered Conversational Commerce Cloud. You also gain access to cutting-edge technology that revolutionizes your marketing strategies, streamlining lead generation, and conversion processes.
Yellow.ai's advanced multi-LLMs enable chatbots and virtual assistants to understand and respond to customer queries accurately and contextually across multiple languages. This empowers your brand to engage with a global audience, breaking language barriers, and creating personalized experiences for diverse customers.
Embrace innovation, expand your customer base, and watch your lead conversions soar to new heights with Yellow.ai as your trusted conversational commerce partner.