Gone are the days when potential customers accepted the treatment they received from brands where the communication was one way.
This involved a bombardment of messages that included promotional offers or discounts without consideration of the prospect's preferences or choices.
Why conversational commerce is the future?
It's no surprise that consumer expectations have changed. Today consumers pay attention only if they can have meaningful conversations directly with the brand. And these consumers do not interact with one-sided communicators.
According to a recent survey by Sweor Research, 88% of online consumers are less likely to return to a website after a bad experience. They desire meaningful conversations that lead to results. Customers expect brands to interact intelligently with them, utilizing customer data effectively to offer personalized products and services. According to a Forrester report, more than 41% of visitors expect live chat on a website.
Conversational marketing has evolved as a practice of real-time, two-way communications with the customer achieving the following goals:
Generating insights related to the customer based on the interactions
Personalized promotions and product offers based on preferences and needs
End-to-end customer journey (from discovery to purchase) on the customer's preferred channel
Keeping the potentiality of conversational commerce in mind, a brand's website needs to transform into an effective channel for the same in order to drive more sales and growth for the brand.
Related read: Conversational IVR – Why do businesses need voice automation?
What is the issue with today's websites?
A website is crucial for the brand image of any organization, and a poorly managed website can be detrimental to a brand's success. In today's world, it is not only important to have a visually appealing website with relevant information for a visitor, but it is extremely important to have a website that engages with its visitors. One major challenge that websites commonly face today is a lack of engagement with visitors.
Consider the case of a trekker who needs tof buy nightwear thermals and a neck gaiter for her next trip to the Himalayas. She searches on Google and opens the first website.
The site has a plethora of information and choices that add to her confusion and raise some concerns which are not mentioned in the FAQs. This could lead the visitor to abandon that site in favor of another brand that can offer an engaging experience.
The case would be entirely different for a website that is engaging. The following scenario showcases how a website engaging a shopper would result in a better experience:
Shopper is going through the neck gaiter webpage, a web bot enabled by conversational AI pops up to nurture the lead by understanding her choices and preferences to provide her attractive and personalized offers.
She is idle for 15–20 seconds considering her options, and a widget pop-up gathers her intent and preferences.
When she is showing an intent of exiting the website, she is asked to sign up on WhatsApp to receive updates on new trekking equipment offers, trip suggestions and discounts.
Understanding your visitors is extremely important to gauge their preferences and interests by knowing where they came from (referral) and understanding their intent by analyzing their user behavior. Such information is analyzed to create segments of visitors and target them accordingly. This would also help reduce website bounce rates. According to Contentsquare, the average industry bounce rate is 47%, and the worst performing industry, B2B, has a 75% bounce rate.
Utilizing Yellow.ai's Website Engage offering, brands can seamlessly engage with their site visitors and change a one-sided communication into an enriching two-way conversation between the user and brand.
| Type | Conversion Rate |
| --- | --- |
| Overlay Widget | 2.76% |
| Chat Auto Pop-up | 8.27% |
Yellow.ai's framework to transform websites into engagement channels
Websites are an important channel of interaction with the customers and establish the brand identity. Our Website Engage product enables brands to understand their customers' intent to visit the website and can offer personalized experience based on the visitor profile.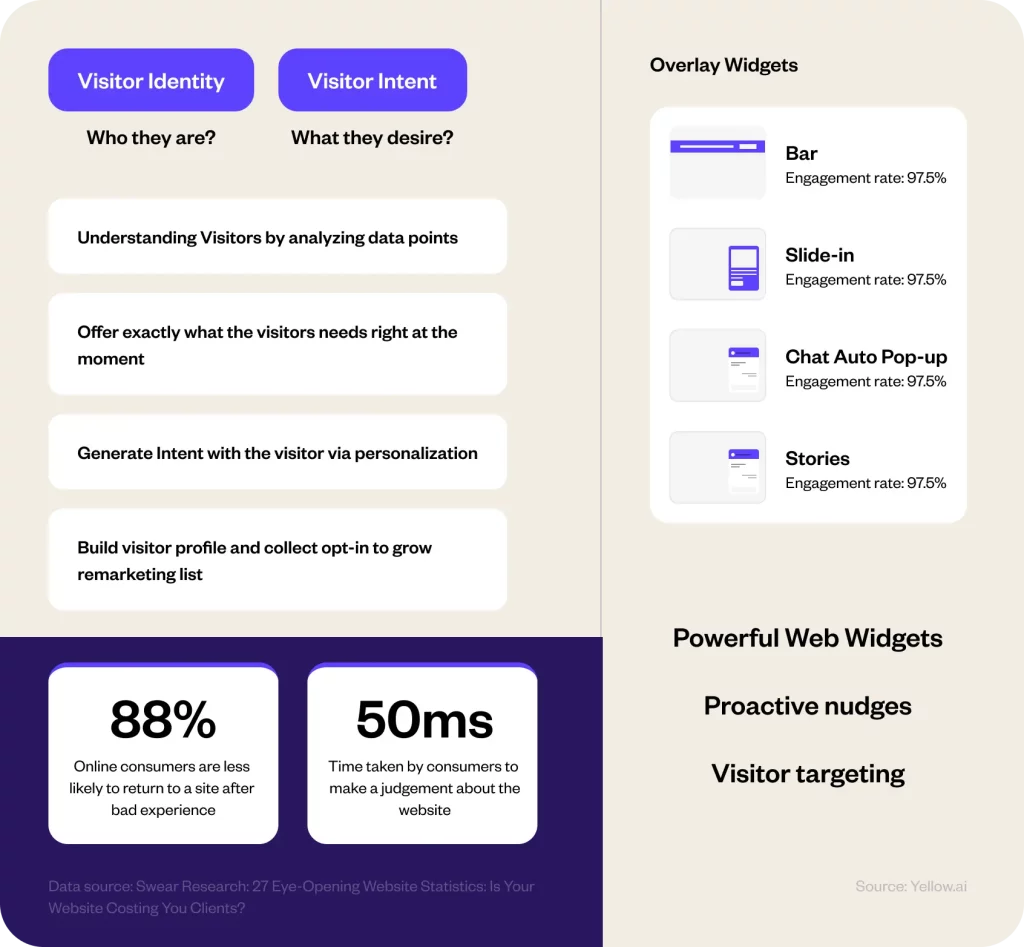 Converting websites into engagement channels requires focus on a few key questions:
Who are the website visitors and what do they desire (intent)?
How can we interact with the visitor?
Where can we complete their journey?
a) Identify the right audience by creating user segments
Yellow.ai's platform offers easy-to-make segments based on different parameters. We can segment them using their cookies, analyzing their URL keywords for specific interactions along with referrer URLs and plenty of other parameters. The Website Bot interactions help in gathering data from customers that can be stored in our internal CDP called User 360. These features are critical to understand the visitor and her/his intent to offer exactly what they need.
b) Create personalized template based on user intent
After learning the visitors and their intent, there are multiple avenues for interactions with them. Yellow.ai's platform provides powerful templates for slide-in widgets, pop-ups and web bot pop-ups to engage with the visitors. These can be triggered for different conditions and parameters like scroll percentage, time spent, idle time, etc. Post engagement and nudge with the visitor, the final stage involves completion of the customer journey.
c) Qualify leads via intelligent conversations
This stage results in transferring the website lead to a conversational commerce channel like website bot (if available) or a WhatsApp bot of the brand, or also transferring the lead to the CRM. The lead is further nurtured via two-way conversations, and then the completion of their journey takes place in the channel of their choice. This stage is also crucial to collect sign-ups for future communications.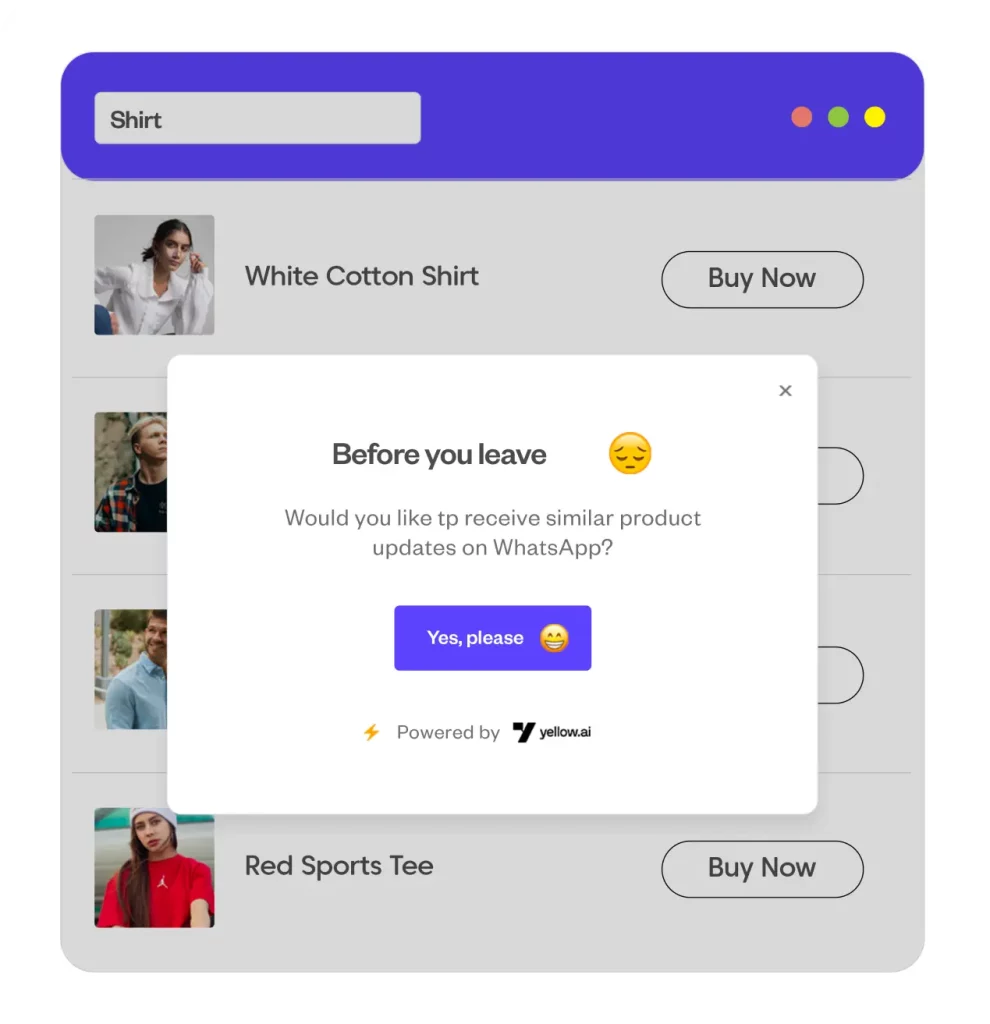 Transforming a website into an engagement channel will increase a brand's ability to attract, engage and then finally convert a prospect to a potential paying customer.
Want to transform your website's engagement?