Chatbots enable businesses to scale and enrich the interactions their customers and employees have with the brand. With the upcoming market trends and technologies, customers now are in a habit of endless and uninterrupted engagement and service. Today, more than ever, businesses need to adopt cutting-edge solutions for customer engagement.
According to a survey conducted by Oracle, 80% of marketers plan to use a chatbot in some way in their businesses by 2020. To endure this surge of chatbots, WhatsApp chatbots for businesses were introduced and since then there is no looking back.

WhatsApp Business application and WhatsApp business API (application programming interface) for small, medium, and large businesses are an asset. Where channels like emails have an open rate of 18%, WhatsApp Business messages have an open rate of 99%. This is huge.
With an active customer base of over 2 billion customers, WhatsApp is giving brands a chance to showcase their USPs and engage with their target audience personally. Who would like to miss such a chance?
Let's dig a little deeper into how you can implement WhatsApp chatbots and what's in it for you.
WhatsApp Business solutions: application and chatbots
WhatsApp offers two solutions for businesses: WhatsApp business application and WhatsApp business API. The differentiators for this are company size and costs.
1. WhatsApp application:
Free for small businesses (WhatsApp Business account), comes with features such as business profile, quick replies, automatic greeting message, automatic away message, message statistics, and catalogs. Here you can create a WhatsApp chatbot on your own. The success of this communication channel completely depends on the brand's strategy about how creatively it uses the features for customer service and how well does it promote the WhatsApp link.
2. WhatsApp Business API:
For medium and large-scale businesses, can be provided to brands by third-party WhatsApp chatbot providers, Yellow.ai being one of them. WhatsApp chatbots are AI-powered and have a proven record of excellent customer engagement. Some of its excellent features include a centralized dashboard, multiple sign-ins, third-party software integrations, programmatic response to customer queries, and many more.
So, which WhatsApp business features do you need for your business?
What is a WhatsApp chatbot?
WhatsApp chatbot is an AI-driven conversational chatbot that stimulates human-like communication between brands and customers via the WhatsApp chat interface. It basically automates the process of sales and customer support for businesses over WhatsApp. With automation, personalization, and artificial intelligence in play, the WhatsApp Business chatbot can level up your total experience game, and transform the value your customers as well as employees derive from their interactions with your brand.
Using a WhatsApp Business API, you can also get your business verified. That is, you can get a green tick with the name of your business.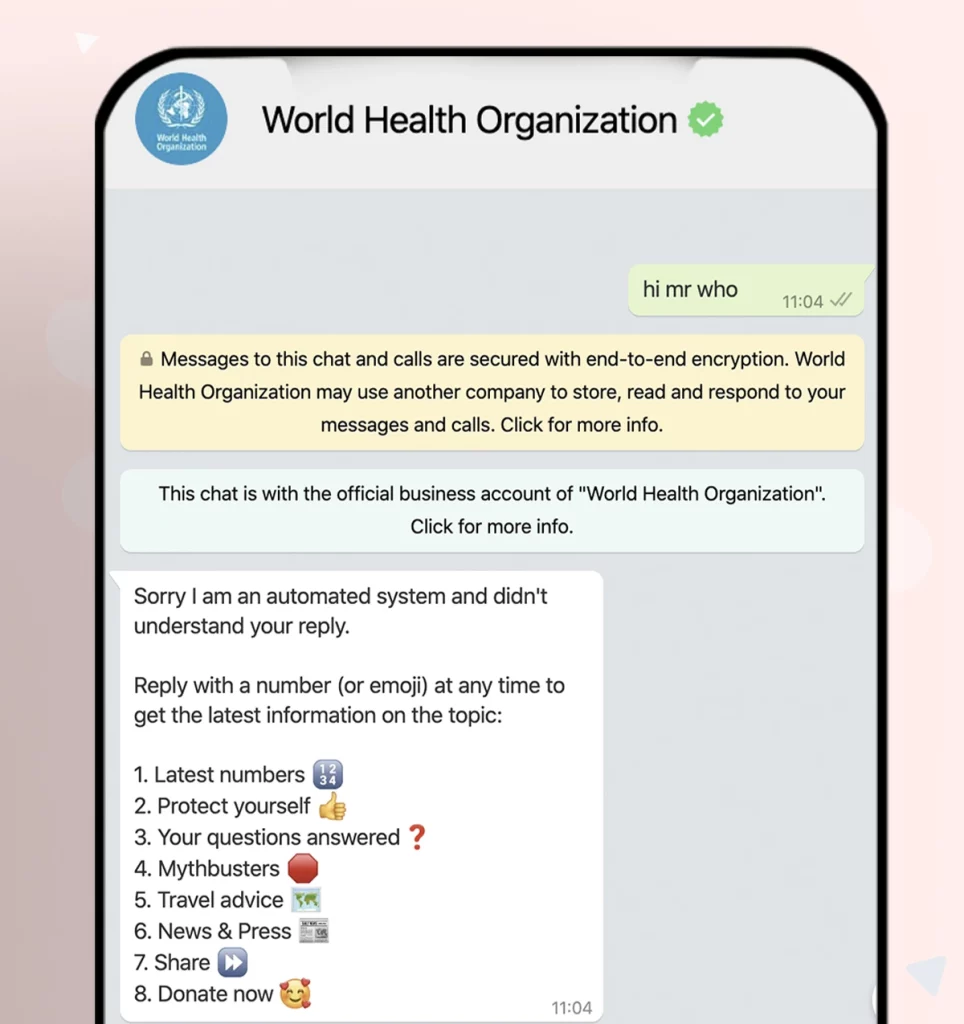 Let's consider an example of an eCommerce business. Trying to sell fresh farm produce directly from farmers to direct consumers (B2C) and restaurants (B2B)- Sayurbox.
With WhatsApp chatbot, this agricultural brand built an end-to-end solution for answering customer queries in regards to placing, confirming, and tracking orders.
This digital transformation helped the brand increase the CSAT score by 45%, and a reduced cart abandonment rate.
This case study depicts very few of the many benefits of WhatsApp chatbots. Let us discuss a few more.
Benefits of using WhatsApp Chatbots for businesses
In addition to the phenomenal benefits of Conversational AI and chatbots for customer engagement, WhatsApp chatbots have some distinctive benefits.
1. Ease and simplicity of WhatsApp
WhatsApp being the most popular global mobile messaging application has over 2 billion users as acclaimed in July 2021. This data suggests the ease and simplicity of the platform. People with smartphones, of all demographics, are using WhatsApp today.
As easy as it is for people to use WhatsApp, as it is for businesses. Once you have your WhatsApp Business API and a verified business account, there is nothing technical that one would need to understand the platform or its functionality.
2. Quantitative metrics
A brand can easily analyze and comprehend information related to its WhatsApp customer engagement with the following quantitative metrics:
a) Message delivery reports: Number of messages delivered successfully.
b) Message seen reports: Open rate of the messages.
c) Average session time: How much time does a customer spend chatting with the WhatsApp chatbot.
d) Custom Analytics reports: As required by the business.
3. Easy to automate
Chatbots are meant to help customers and the customer support team by doing all the automated tasks. Automating tasks like checking shipment status, canceling, or making orders, booking, or making reservations can be easily completed.

Simple, information-based customer queries can also be closed by AI-powered WhatsApp Chatbots. Using a WhatsApp chatbot can result in improved customer support, faster query resolution, a decrease in the number of support calls/emails. As a result, an increase in customer satisfaction is achieved.
4. Active customer interaction
Businesses should be where customers are- on WhatsApp. According to research, the chatbots market is estimated to reach $1.25 billion by 2025 with a compound annual growth rate (CAGR) of 24.3%.
Although this data comes for all chatbots, WhatsApp chatbot has a high customer interaction rate (41 billion messages per minute) and is an asset for businesses.
It is not easy to get such an audience base elsewhere. So, if you are still thinking if WhatsApp Business API is beneficial for your business, you need to buck up.
5. Cost-effective
With the benefits listed above, cost-effectiveness comes automatically. If a brand can automate business functions, and get a huge audience base, by paying a minimal cost for a WhatsApp Business API, it is a beneficial deal.
Along with this, customer support teams can have lighter shoulders and bigger smiles to attend to customer queries.
There is much more to WhatsApp chatbots apart from these benefits. Once your brand starts to use chatbots at their full potential, you will understand the features and benefits in-depth. At that point in time, you will understand the power of conversational AI.
How to implement a WhatsApp chatbot for business?
1. Define WhatsApp chatbot's purpose
Chatbots without a purpose are a fail. They can actually harm your customer engagement game and taint your business reputation. With the hype about chatbots, businesses have been employing chatbots without any purpose and have failed badly.
With a clear thought and a better understanding of chatbots, you can assign tasks that a chatbot can actually complete, such as sending reminders, receipts, shipment details, greeting messages, and feedback messages. WhatsApp chatbots can reach a wide range of audiences, and no brand would like to fail at such a large scale.
At Yellow.ai, you build a WhatsApp chatbot and test it, even before you've got the API.
2. Get in touch with WhatsApp API providers
Now that you've thought about the purpose of your chatbot, you can contact WhatsApp Business API providers, Yellow.ai being one of them. The process of getting an API takes around a week's time, however, you can get your business verified in zero wait time.
WhatsApp has partnered with Yellow.ai to provide conversational AI features to its customers and get their accounts verified. You can contact us for WhatsApp API directly and we can assure a fast, smooth, and easy integration.
3. Find a partner with a chatbot
Large organizations get full access to the WhatsApp Business API and integrate their chatbots. However, for medium businesses, chatbot providers seamlessly integrate chatbots for ease of use and analysis. This helps businesses for an omnichannel presence.
4. Build a chatbot persona
Chatbots are usually the first interactions customers are making with your company. This makes it essential to build a positive chatbot persona.
For WhatsApp chatbots, you cannot change their name or profile picture or give them a nice logo. With these limitations, brands need to be creative and happening with the WhatsApp messages they send to their customers.

So after completing all the technicalities, looking towards the tone of messages and creating a persona is really important.
5. Build your chatbot
WhatsApp chatbots are mostly rule-based chatbots with a number of (basic) keywords. This combination of decision trees and keywords is meant to resolve basic queries and engage with the customers without getting them to a closed loop.

Include all the possible customer query cases your brand has ever faced, and build an efficient chatbot. Some of the essentials of a Whatapp chatbot are- send a welcome message, include keywords understanding the intent of your customers, and make use of a lot of emojis.
6. Test it for various use-cases
Thoroughly test all the possible use-cases of your WhatsApp chatbot. Think of the conversation from a customer's point of view and try to understand all the possible conversations.
It is recommended to get the test done by someone who was not involved in the process of creating the chatbot.

Even if you are satisfied with the chatbot's performance, test it one last time. Thorough testing is essential to obtain good results.
7. Set it live & promote it
As you know, WhatsApp chatbots cannot engage with the customers upfront, you need to promote your chatbot as much as possible.

Use CTAs, promote that you can chat with us on WhatsApp, and create a buzz. This will help your bot to be of use. You can also add your WhatsApp number to the social handles from where your customers can be directly redirected.
Total Experience(TX) automation is all about making customers happy with your products and services, by simple gestures like a greeting message or an instant response. WhatsApp chatbots are best at doing it all.
So, if you now feel you are ready to build and test your WhatsApp chatbot, request a demo with Yellow.ai to get started.