WhatsApp Chatbots have opened floodgates businesses to automate every repetitive customer-facing business interaction with no human intervention. With WhatsApp Chatbot, businesses can generate leads, gain customers, handle orders, and provide customer service all on autopilot.
Building a WhatsApp chatbot is a simple process when you have a clear understanding of what is a WhatsApp chatbot and how to integrate it with your business. In this article, we will try our best to leave you with complete knowledge on how to build a WhatsApp chatbot using WhatsApp API.
What is WhatsApp Chatbot?
WhatsApp chatbot is an AI-driven conversational chatbot that stimulates human-like communication between brands and customers via the WhatsApp chat interface. It basically automates the process of sales and customer support for businesses over WhatsApp.
With automation, personalization, and artificial intelligence in play, the WhatsApp Business chatbot can level up your customer experience game, and transform the value your customers derive from their interactions with your brand.
WhatsApp chatbot needs to be integrated with WhatsApp API in order to drive conversations with customers. WhatsApp API is an Application Programming Interface that provides automation along with different features such as proactive message templates, payments and a green tick symbol beside your business name showing that your business is verified.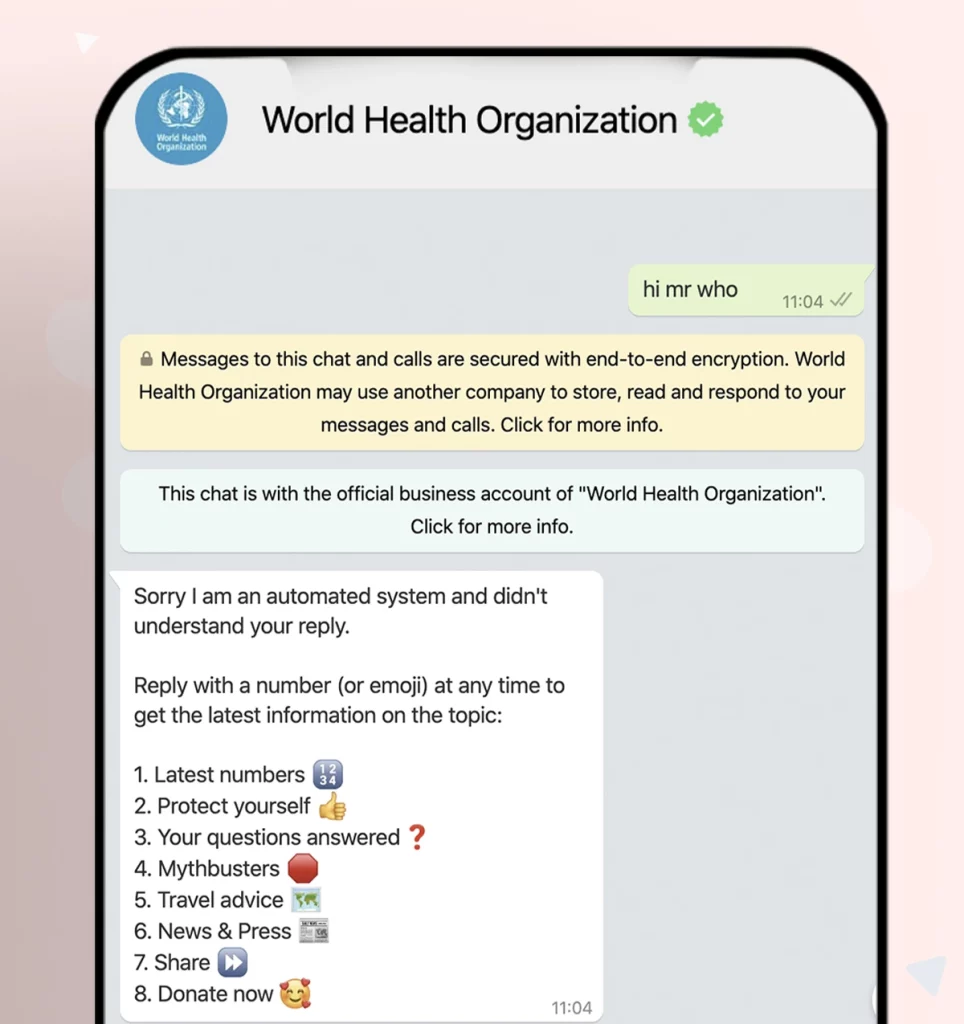 Let us dig deeper into the process of getting a WhatsApp API and creating a WhatsApp chatbot.
4 steps to create your WhatsApp chatbot
There are certain steps that need to be followed to get WhatsApp business API and integrate it with your WhatsApp chatbot. We have created a simplified list of all that you need to do to build your WhatsApp chatbot.
1. Apply for WhatsApp business API
Before you can apply for a WhatsApp business API, you need to have a Facebook business page, a website and all the legal business documents.
Once you have everything in place, open a Facebook business manager account. It is a very simple process where you need to enter some business details such as the name, business address, phone number and business email address.
After completing this process you can apply for WhatsApp API with Yellow.ai or any other business solution provider. You need to provide certain details about your business such as your business name, logo, business description and your website URL to the solution provider for them to take the request forward.
It takes around 2-3 days to get a WhatsApp API and voila!
2. Plan the dialogue flow
After applying for the API, businesses need to plan out the dialogue flow, that is, how will the conversations proceed with the chatbot, what questions will the chatbot address, how will the chatbot greet or welcome the customers, and many more.
While planning a conversational flow, a company needs to have a rigorous and thorough discussion internally. Business needs to plan out all the possible use cases and answers to all possible questions that customers may have or else the chatbot will fail.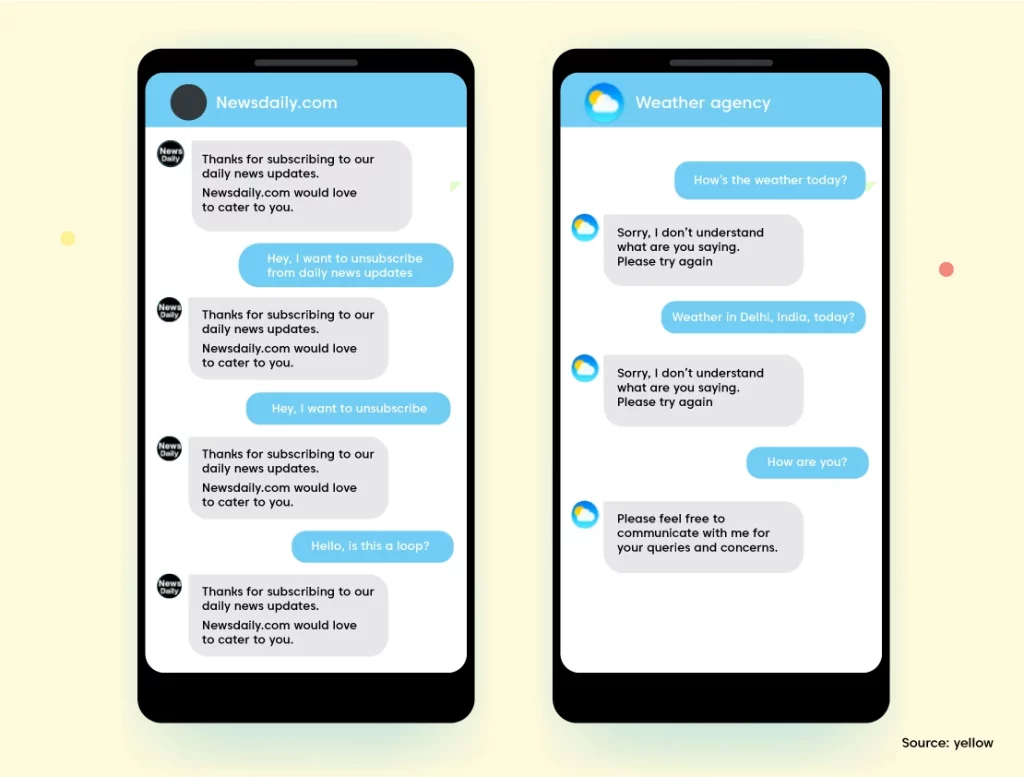 3. WhatsApp chatbot integration
Once the business solution provider is ready with the API, they integrate it with WhatsApp and create the chatbot. This is done by using a database for the chatbot to save the chats.
Since WhatsApp API is only an Application Programming Interface, it needs a dashboard to access the conversations and respond to them. The business solution provider also provides you with a dashboard that can be used by your support team from anywhere in the world. It will have all the WhatsApp API features and an analytics panel where businesses can track metrics with respect to the conversations happening over the platform.
4. Test your WhatsApp chatbot
Before rolling out the news about your WhatsApp chatbot and sharing your WhatsApp number with the world, test your chatbot with infinitesimal use cases. See if it responds as your company's customer support team would have responded, use it with some impossible cases, at odd hours and try using slang language in conversations.
If you have opted for a multilingual chatbot, communicate in different languages and see how the chatbot responds. Once you are completely satisfied with the results, take the chatbot live and start communicating with your customers.
You can send out an announcement notification to all your customers over WhatsApp only, and ask them to come to say "Hi" to your business.
As simple as this process may sound, it can be a bit tricky as WhatsApp can even reject your request for WhatsApp API. Business solution providers can only ensure that you request the API accurately and reduce the chances of rejection.
FAQs about WhatsApp chatbot integration
We are sure you might have heard a lot of misinformation about the topic and might have many questions. We will try to answer the most common questions that we have received since we became business solution providers.
1. Does Yellow.ai help in the WhatsApp Business API application process?
As soon as you apply for WhatsApp business API with Yellow.ai, our team will connect with you and understand your requirements. Post that we will be a part of your application process that may take up to 7 working days.
2. Can we create conversational ads on WhatsApp using API?
Promotional templates are not allowed by WhatsApp. Alternatively, you can add a CTA button to your ad on Facebook, Instagram and other platforms that land in your WhatsApp chat window.
3. How does Yellow.ai help with the WhatsApp Business API application process?
In partnership with WhatsApp, Yellow.ai ensures zero wait time for getting businesses verified. With our conversational expertise, we can help your business deliver smart conversations as soon as you are ready with the WhatsApp chatbot.
4. How long does it take for WhatsApp Business API to start functioning?
It takes around 2-3 weeks for the WhatsApp Business API to start functioning but it can vary depending on the use cases and API integrations opted.
5. Can I start designing my bot before my WhatsApp API access is approved?
Yellow.ai allows you to build a no-code WhatsApp chatbot on our bot studio and test it before your API application gets approved.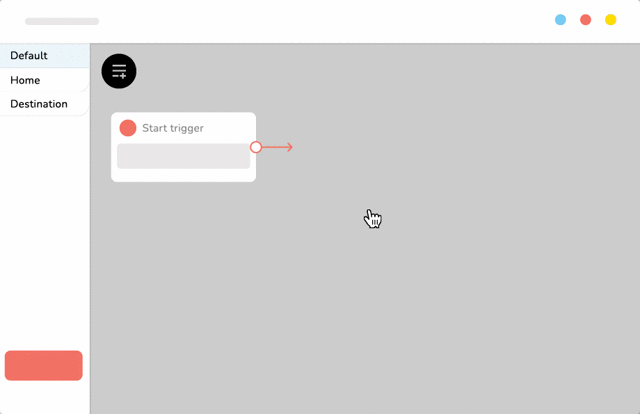 6. Do you provide WhatsApp bot tutorials?
Yes, Yellow.ai provides a demo video explaining all the use cases of the bot, as well as our support team is available 24/7 for any clarification.
7. Does Yellow.ai provide artificial intelligence with WhatsApp Chatbots?
Yellow.ai gives WhatsApp chatbot service embedded with AI NLP-driven technology using the cognitive platform.
8. Can a WhatsApp chatbot be created without coding?
Yes, a simple FAQ bot can be created on WhatsApp without any code. Although, if the use cases of the chatbot are complex, you need to have a hard-coded WhatsApp chatbot.
9. Is it possible to create FAQs for the WhatsApp chatbot for faster navigation?
Yes, a simple FAQ Whatsapp chatbot can be created in no time, as no coding is required. With the help of a cognitive platform, you can have your WhatsApp Business API up and running within 24hours.
10. What are the metrics that can be tracked for the WhatsApp chatbot?
The following analytics are provided for WhatsApp Business API:
Message Delivery Reports: Information when the message was delivered to WhatsApp.
Message Seen Reports: Information when the message was read in the WhatsApp Application.
Number of Users: Total number of users actively using the chatbot.
Total Messages: Total number of messages received.
Average Session Time: Interaction time of the user with the chatbot
Custom Analytics: If your enterprise needs custom analytics, Yellow.ai can provide a custom analytics dashboard.
11. How can we use QR codes to invite customers to our WhatsApp chatbot?
Enterprises can use Whatsapp QR codes to invite their customers over WhatsApp. It can be displayed on your website, banners, digital ads, Facebook page, newspaper, product, basically, anywhere you can imagine.
12. What type of content can be sent using WhatsApp Chatbot?
You can send and receive text messages, audio content, URL, location information, images, videos, stickers as well as any document in any format. You can even send and receive emoticons.
13. Can the enterprise CRM be integrated with the WhatsApp chatbot?
Enterprises can connect their CRMs like salesforce, Freshsales, and billing and invoicing software with the WhatsApp chatbot on the Yellow.ai platform easily.
14. What does it mean to be a WhatsApp partner?
WhatsApp partners or WhatsApp business partners are companies that can help other companies get their WhatsApp verified within no time. Yellow.ai ensures zero wait time so that businesses can start with conversational AI from the first day.
15. Does WhatsApp chatbot support multiple languages?
Yes, the WhatsApp chatbot is multilingual and supports 10 languages currently.
Conclusion
We expect that this blog clarifies all the questions regarding WhatsApp API and WhatsApp chatbot that you had in your mind. You might have also understood that it is a simple process to get conversational AI over WhatsApp and help the sales and customer support teams.

If you are planning to start your journey to improving customer experience and meeting your customers where they are, now is the time. Request a demo with our WhatsApp API experts and start using the chatbot at the earliest.