It's 2022 and online shopping by voice only is expected to have reached a market of $40 billion by now. Is your business going with this trend?
We are living in a digitally transformed era where communication is frictionless, and customer experience is effortless. In such a business environment, it is imperative to give your brand a voice for communicating with the customers and delivering messages as a brand ambassador.
Voice automation, also known as conversational IVR, speech recognition, voice chatbots, or voice assistants, has taken over every other method of brand communications. With artificial intelligence and automatic speech recognition (ASR), businesses as well as customers face no troubles and connect in a jiffy, and communicate with great ease.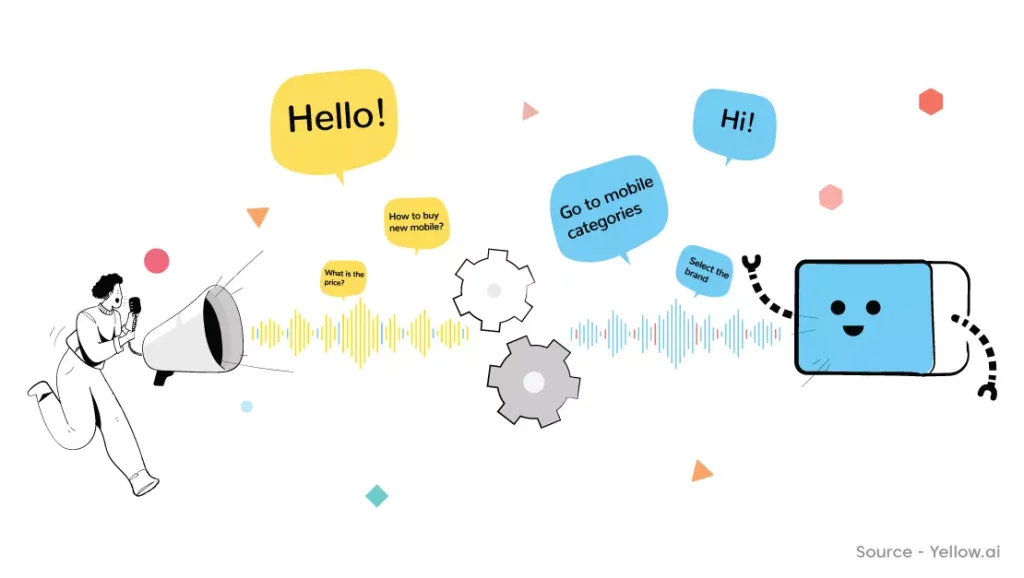 With technological advancements and increased use of personal voice assistants like Amazon's Alexa, Apple's Siri, and Google's Home Assistant, people are now in a habit of giving voice commands for even the smallest things they need. From playing a song to automating all the home systems and appliances, everything is done by a voice command today.
In this article, we will cover what is voice automation, why businesses need voice automation, and common use cases. So before integrating a conversational IVR into your business website or application, read this article for a better understanding and clear mindset regarding the subject.
What is voice automation or conversational IVR?
Voice automation is an AI-powered technology that automates communication between businesses and customers and provides them a highly personalized experience over voice interactions. In layman's terms, it is a computer program that enables and automates computers to communicate with humans, like humans, using voice interactions.
It covers all the aspects of voice communication, that is, speech recognition, duplex conversations, voice recognition, voice biometrics, and speech analytics.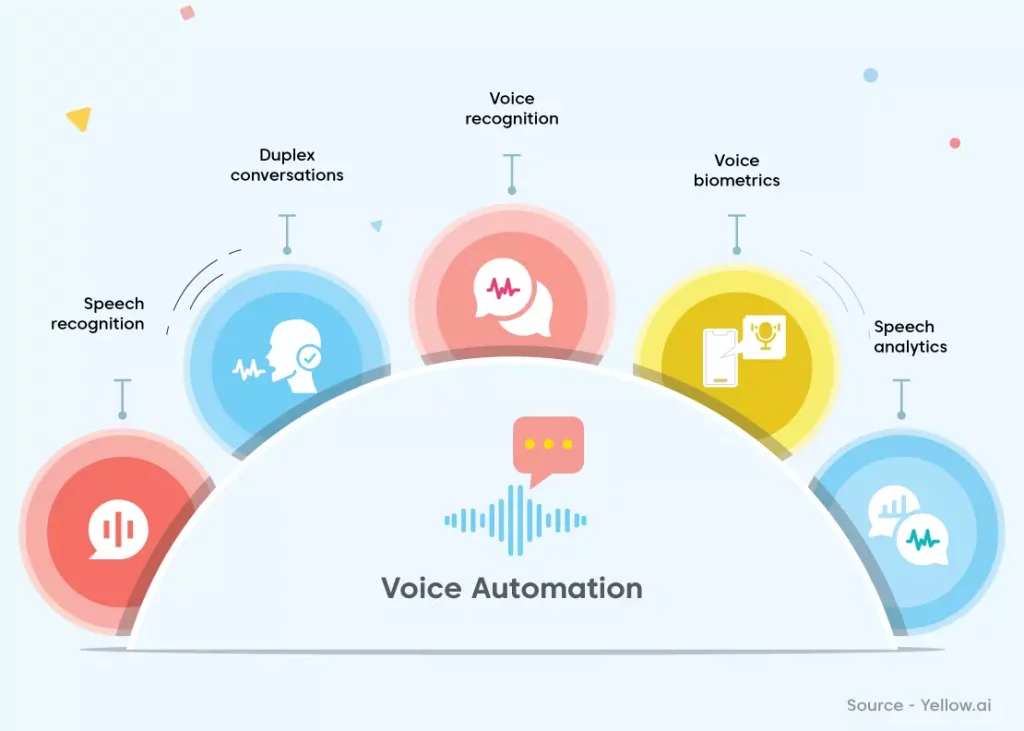 Speech recognition: is a function of conversational IVR that helps it to convert all the human messages from speech to text (STT) using artificial intelligence. This is done by using a large set of data- basically words and converting human words into a text format for computers.
Duplex conversations: It is a technical term that makes automated dialog flow feel natural and human. With this feature, computers wait until customers have spoken their part. Humans tend to have conversations with interjections like 'okay', 'yes', and many more. Processing and responding to the customers' queries after they've completed their sentences is a duplex conversation. Conversational IVR can deliver a top-notch customer experience with accurate speech recognition and duplex conversations.
Voice recognition: is not about what is being said, but rather it is about who is saying that. It is a technology used for customer authentication. Recognizing a voice can help in simplifying tasks if the system is trained for a specific voice. It can be also used for verifying customers for security purposes.
Voice biometrics: creates a unique voiceprint, which is a mathematical representation of the speaker's vocal tract. It is a high-level precise security system entangled with conversational IVR that enables businesses to combat fraud and reduce the overall verification time and costs.
Speech analytics: is a process of examining collected voice data for improvements in communication and future engagements. It is used for analyzing the topic of discussion and the emotional character behind the speech. With machine learning, speech analytics can help voice automation improve its functionality and deliver a better customer experience.
Voice automation in regards to all of these aspects can help companies improve their customer support many folds and improve their customer satisfaction and customer lifetime value.
Why do businesses need voice automation?
Voice automation technology is making the lives of customers and businesses easier and better. It provides us with flexibility, convenience, and effectiveness in communicating with customers. Trends are changing and people are now comfortable with using voice automation in their personal as well as professional lives. Customers are actually looking forward to meeting voice automation for the businesses they frequently interact with.
1. Research predicts that 50% of internet searches are voice searches. Customers have got a hang of using voice automation and are continuously increasing their usage.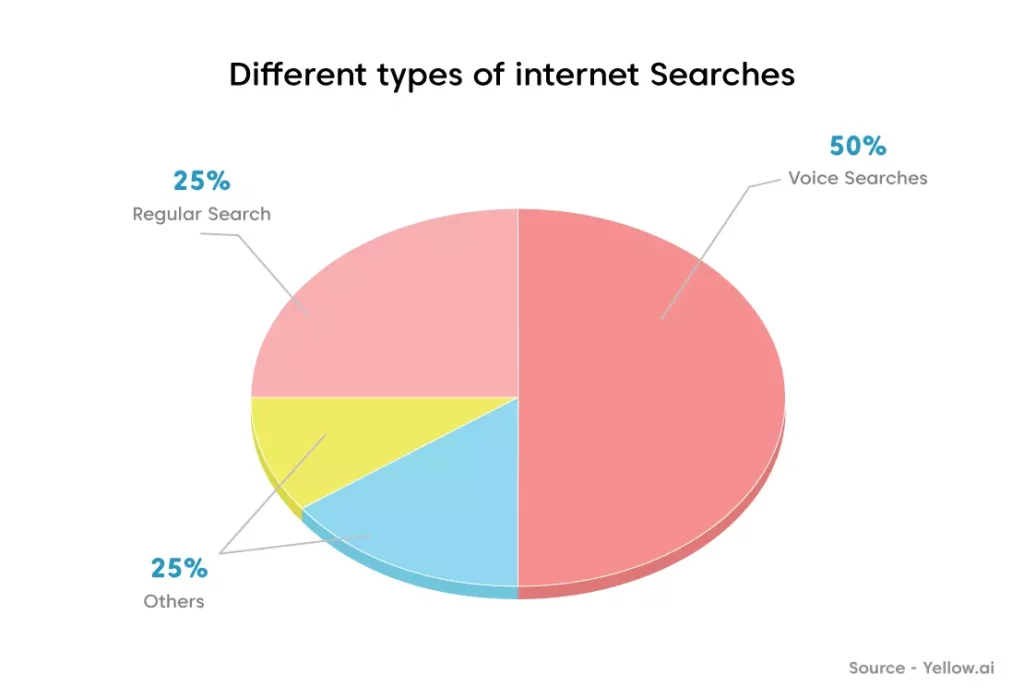 2. The combination of IoT (Internet of Things) and voice automation has a massive potential of transforming the way we use our devices. We are already at a stage where we use voice assistants to turn off the lights, or play music. We talk to our smartwatches and gadgets.
It is an urgent need for businesses to upgrade their customer experience with voice automation and capture their positions in the competitive marketplace. Conversational IVRs are not just for call centers, but for every business that values its customers and wants to be available for them.
It isn't just about customers. Businesses also augment their functionality by automating voice recognition and improving the use of technology. They can significantly decrease the time and amount that goes behind responding to customers' queries and solving their problems. They can help their employees feel lighter on their shoulders by automating repetitive tasks like calling for a welcoming message, or reminding them about their payments over the phone, or even asking them for feedback. All these tasks are redundant and don't need a human brain stressing over them for no valuable reason.
Let us, deep-dive, into the use cases and benefits of voice automation for businesses.
Use cases and benefits of voice automation for organizations
With multiple use cases of voice automation in businesses, here is a list of the most practical and effective use cases for businesses.
1. Voice-based searches
Using voice search on search engines is a daily practice these days. In their personal lives, people search for their favorite songs, movies, TV shows, and even their shopping lists through voice. Say while driving, or maybe cooking, people can't type in their queries and so they'll voice search.
Even for professional lives, I personally use Siri to search for meanings of different words and get the latest details about chatbots and artificial intelligence. With technological advances in speech recognition, regarding dialects and languages, voice automation is growing its popularity and usage.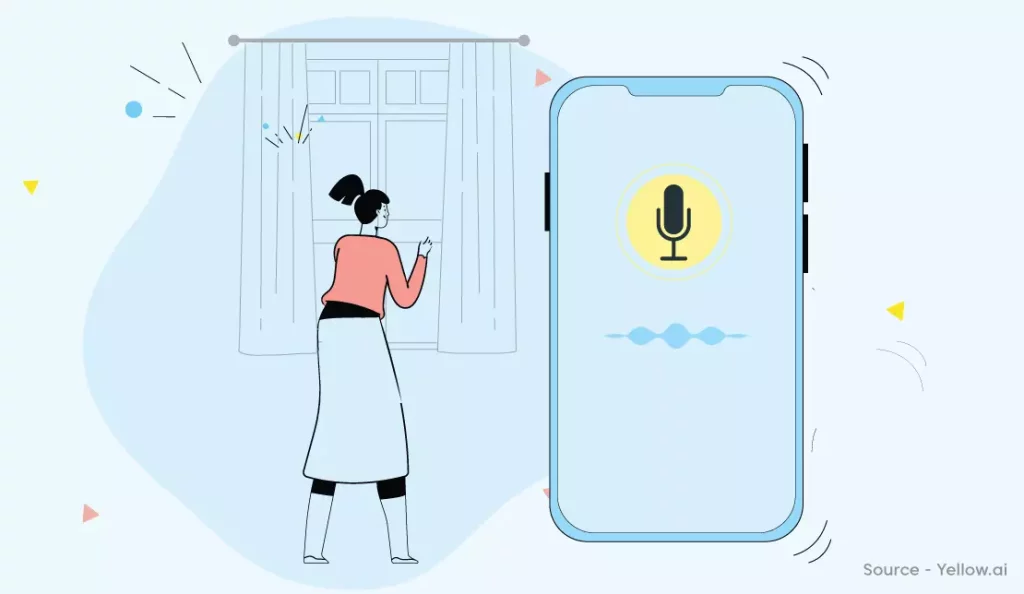 2. Voice automation in customer support
Customer support has been using voice automation for a very long time. But it has always been a rule-based option selection automation that has left customers annoyed. Because of this, customers on calls prefer interacting with human agents no matter how much they need to wait.
This has changed with artificial intelligence. Conversational IVRs are a midway solution for companies as well as customers. Voice automation for simple data-driven queries and seamless agent handoffs for complex queries is ideal for customer support.
Strategically planning speech recognition and automation can help businesses in all industries take customer support and customer satisfaction to the next level.
3. Order management
e-Retail sales are growing at a commendable pace. It is expected that by 2024, 21.8% of retail sales worldwide will be online. When we look at a closer picture, this broad industry has many verticals. Order tracking and status, return/exchange, delivery notifications, and re-order reminders are a few of them. Companies definitely need a lot of management and automation as they expand.
Voice automation can help in automating internal and external customer support leaving the organization in a systematic and better place. With speech recognition, customers can easily know all the details they need about the person- their choices, needs, and spending choices.
4. Automating frictionless customer experience
A customer experience that supports multiple languages and helps customers even before they need it is a frictionless customer experience. It is about the little things that impress customers and makes them fall in love with your brand. These little things may include reminding customers about the orders they need to place or giving them a heads up for delivery. These tasks are mundane but essential for customer experience. Automating these tasks is essential for businesses as they grow and succeed.
Adding speech recognition makes the company's tasks even easier and more personalized. With voice automation, companies can develop a strong and interactive customer engagement network.
5. Multitasking and scalability
Long wait times and call holds are very annoying for customers. This happens because of the overburden of the limited customer support agents. Voice automation can help in multitasking by automating query resolution and problem-solving for the customers.
Also, speech recognition can attend to thousands of queries and help in scaling the support many times.
It can help companies have fewer waiting tickets and increase customer satisfaction.
Voice automation covers all the repetitive tasks and lets humans do the jobs that are uniquely human and need creativity.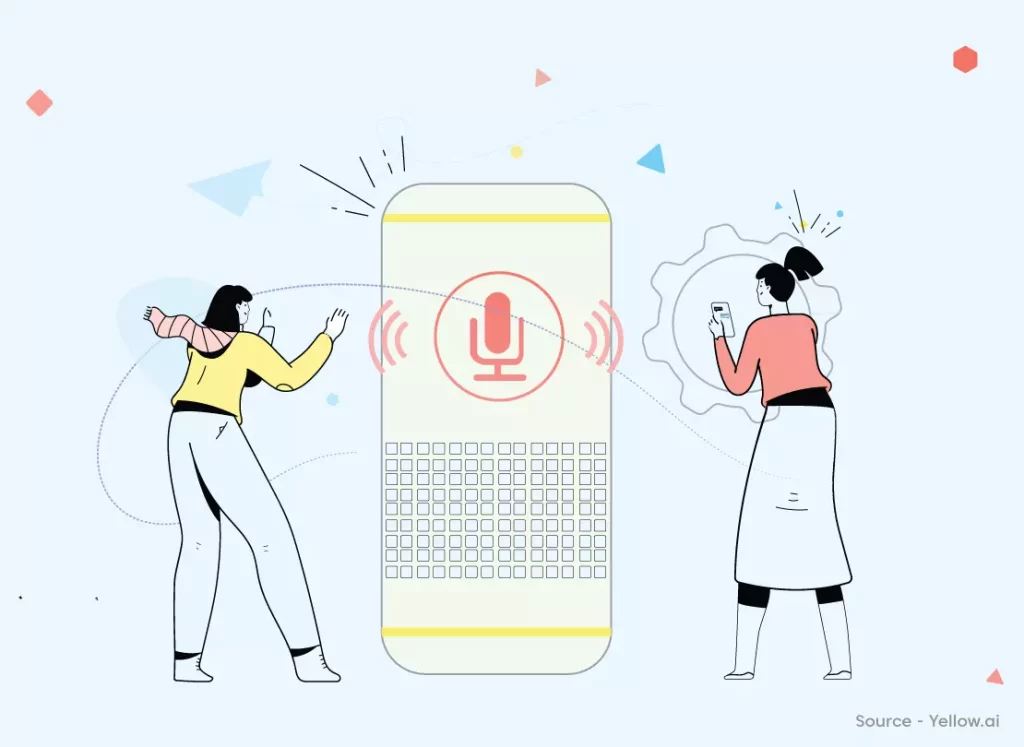 Using voice automation within these use cases gives maximum results and helps companies save a lot of their operational time and cost. However, there are many other use cases like automation within the company, and among the employees for helping them manage tasks live sending and receiving voice messages for inter-department communications.
Example of conversational IVR
Today, all of us have used personal voice assistants at least once in our lives. We know how it works for personal tasks. Let us look at an example where a conversational voice assistant is used as a business communication tool.
We will first see how a common agent completes the task and how the conversational IVR does that.
A common agent would ask you questions about your budget, brand needs and specifications that you are looking for. The agent might ask these questions altogether or one after the other. This is one type of customer experience where a customer interacts with an agent and books a phone of their choice.
Now you call an IVR, and try to book a phone:
You directly tell the voice assistant, 'I need a new iPhone 13 pro 128 GB.' Here the IVR would break the statement into segments: which phone- iPhone 13 pro, specifications- 256 GB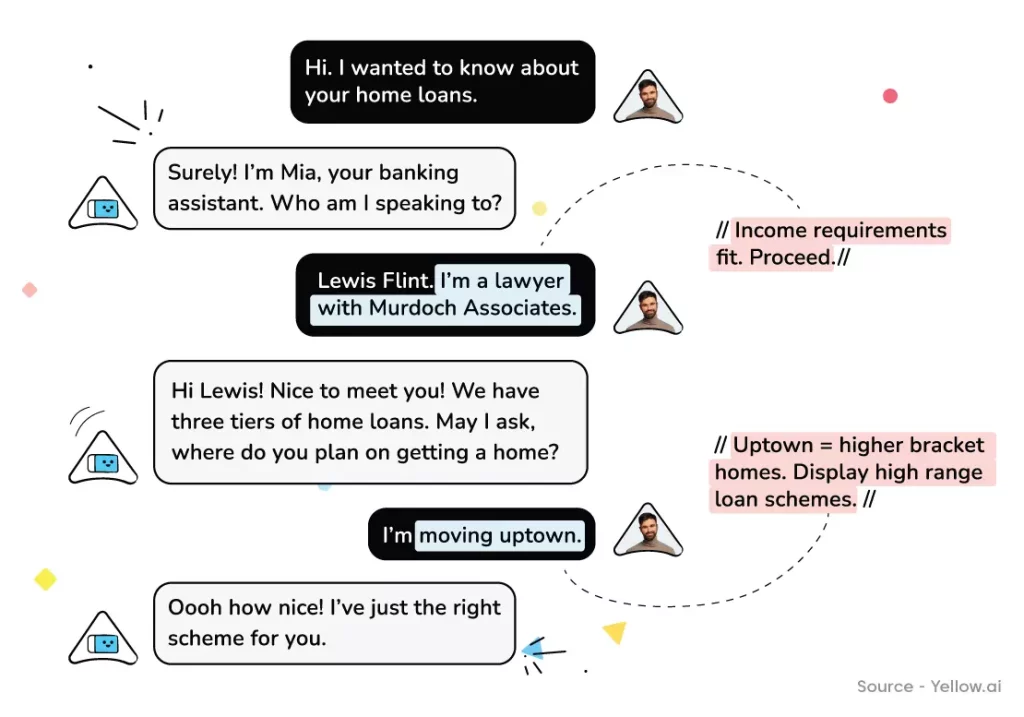 The IVR will just ask you the color of the phone. That's all, your phone is booked and will be delivered to you in no time.
The ease voice automation provides the customers is ultimate and due to this companies see a growth in their revenue as they install it with their business websites and applications.
According to research, there are 3.25 billion voice assistants already functional worldwide, and this number will go up to 8 billion in 2023.
These are not just statistics, these are a shift in business trends.
Integrate voice automation into your business
Make voice automation an integral part of your business communications and excel in the industry with customer experience.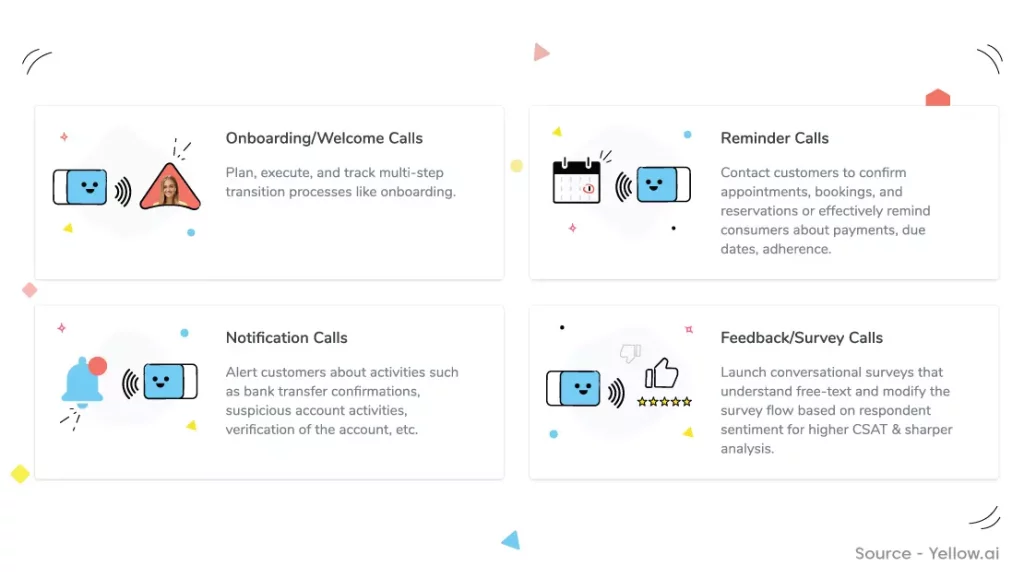 Yellow.ai can assist you with all your CX automation needs and help you improve your CSAT score by at least 20%.
With Yellow.ai's voice automation, give your brand a voice to remember. Reduce customers' wait time by 100%, the business's total cost of operations (TCO) by 80%.
Welcome your customers with a welcome/onboarding call, engage with them through reminder and notification calls, and take feedback through survey calls.
Have 1:1 voice conversations, just like humans. Schedule a demo for the best voice automation for your business.
For any other CX automation needs, you can visit Yellow.ai and we promise to provide you with the best text and voice automation for your business.