In the era of hyper-connectivity, it's important to remember that your competitor is just a click away. A good customer service is what differentiates you from your competitors, keeps your customers loyal to your brand and improves brand reputation. In this guide we'll learn more about customer service, why it's important for your business and how you can enable a flawless customer service experience.
Use the best of AI and human intelligence to support your customers throughout their journey.
Request Demo
What is customer service? Examples of good customer service
Customer service is the process of supporting your customers before and after they buy your products or services. The goal of customer service is to stay available for your customers throughout their discovery, use, optimization, and troubleshooting of a product or service to build long-lasting customer relationships.
Offering a good customer service experience is how you win customers' trust and loyalty. Below-listed are some examples of good customer service.
The evolution of customer service
The concept of customer service dates back to the time when humans first started trading. Of course, over decades, the modes of communications have evolved, but even today, the goal of customer service is to meet customers' expectations and deliver better experiences than the competitors. Let's see how customer service has evolved over time.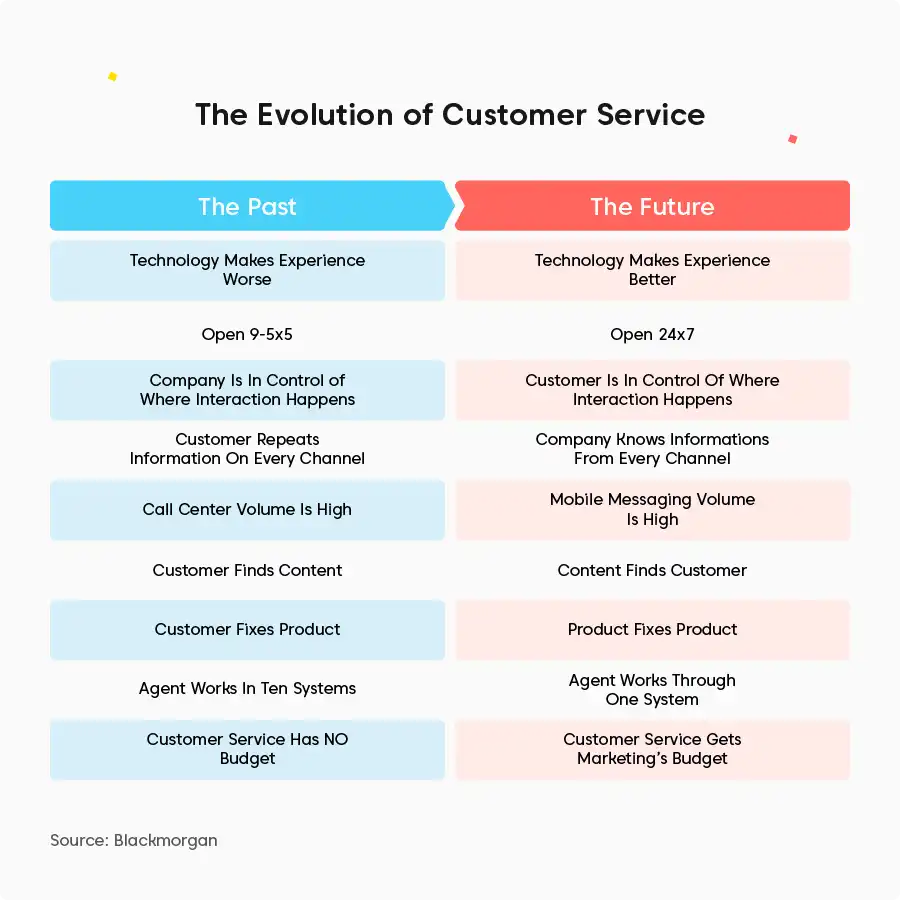 The Telephone
Soon after the invention of the telephone by Alexander Graham Bell in 1876, it became an effective tool for sending and receiving customer complaints and queries. It became a way for brands to directly communicate with individual customers and hear about their pain points.
Call Centers
In the 1960s came the call centers where with just the touch of a button, agents could directly call customers and sell their products and services. It was then that businesses started analyzing and collecting customer data such as the preferred time of calling and customer interests and invested in digital innovations like IP telephone systems, caller ID or caller line identity (CLI) on the screens of telephones and the headsets used by call center executives to answer calls.
1800 Toll-free Number
With an intention to encourage customers to share their feedback, the concept of toll-free 1800 number was introduced in 1967. The clear motive behind launching a toll-free number was to increase convenience and also that the customer's don't have to pay to share their grievances. However, because numbers were tied to geographical areas, either only 5% of these calls were free or the companies had to keep several toll-free numbers. To solve this problem, in 1981, AT&T scientist Roy Weber came up with an even better innovation. He actually made the 1800 numbers toll-free by connecting them to a computer file, like a hosting server.
Interactive Voice Response
Interactive voice response technology or IVR was developed during the 1970s by Bell Telephone Laboratory as an automated phone system technology that allows incoming callers to access information via a voice response system or by utilizing menu options via touch tone keypad selection or speech recognition. Later when companies found the computer voice response technology to be expensive, they started using recorded voice responses embedded into IVR dialogue trees to synthesize human conversations.
Email
It was 1971 when Ray Tomlinson invented and developed electronic mail, as we know it today, by creating ARPANET's networked email system. It was later in the 1990s that email became an integral part of our everyday lives and businesses as well started using it for customer service. However, email communication suffered from language barriers but this problem was soon solved with the development of customer support softwares.
Live chat and chatbots
In the 1990s, CRM became an integral part of marketing and sales and companies started using softwares that could be integrated with the CRM to offer personalized support to customers. Softwares such as live chat and chatbots started gaining popularity and companies used them to provide real-time assistance to their customers. Chatbots also enabled customer self-service and resolved 80% of repetitive customer queries with minimal human intervention.
Social media and messaging platforms
Social media and messenger apps such as Instagram, Facebook and WhatsApp are emerging as the primary mode of communication between brands and customers. These social media platforms have a combined user base of more than 3 billion and it only makes sense for companies to leverage these platforms to get closer to their customers. This has also given rise to messenger bots that are used to automate customer engagement across these channels in multiple languages and improve customer experience.
Voice Bots
Voice-enabled assistants have been around since the 1960s, but it was only with the launch of Siri in 2010 that they started gaining popularity. Ever since then, voice assistants such as Siri, Alexa and Google Assistant have become an integral part of our everyday lives. We can also see the adoption of voice-enabled chatbots in customer service. AI-powered voice recognition bots comprehend the speaker's request through natural language and voice recognition in real-time without human intervention and use it to converse with the caller with a high success rate of up to 98%.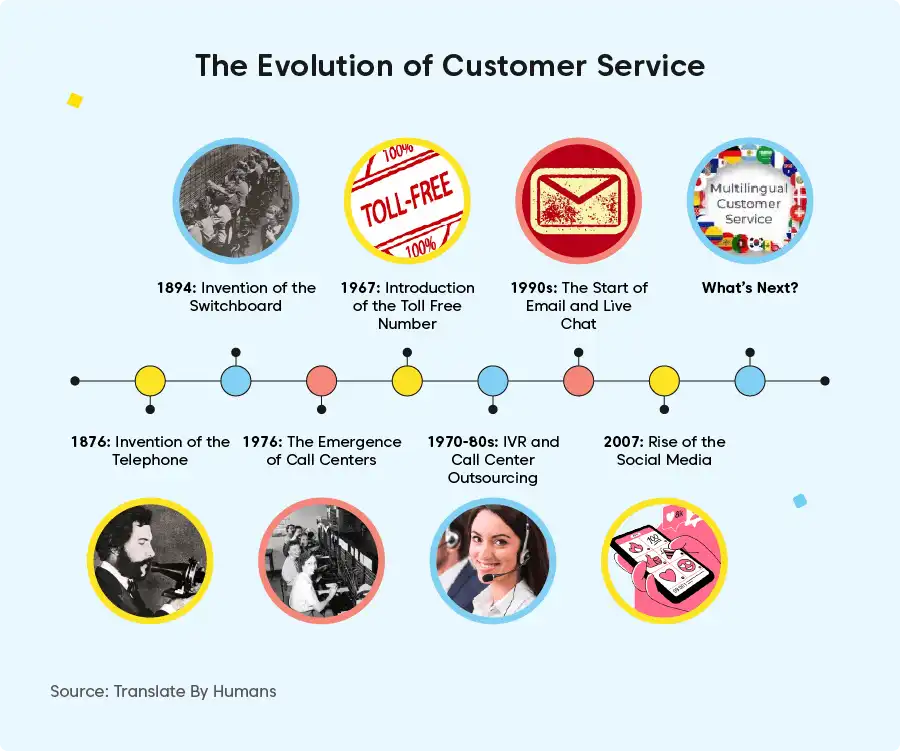 Types of bad customer service and how to overcome them
80% of customers say they would switch to a competitor after just one instance of bad customer service. Let's see some bad customer service examples and things you can do to fix them.
Keeping customers on hold for too long
Customers hate staying on hold. They want to know that you respect their time and putting them on hold for too long defies that purpose. In most cases, customers hang up even before they reach a human agent because they get too frustrated from having to wait for too long. This can cause dissatisfaction among your clients and cause them to switch to your competitors.
Transferring calls to multiple departments
Bouncing customer calls from one department to the other shows that you don't know how to solve the problem and are wasting customers' precious time. When a customer calls for a specific issue, you should be able to resolve it at the first touchpoint or direct their call to an agent who specializes in solving those problems.
Asking customers to repeat again and again
If there is one thing that customers dislike more than staying on hold, it would be having to repeat themselves multiple times. Infact, 75% of customers are annoyed when they have to repeat themselves multiple times. This shows the lack of an omnichannel experience and that your support agents do not have enough information about the customers' journey.
Not offering the speak to agent option
While deploying chatbots on your customer service channels can help you automate customer engagement, it should not be a 'set and forget' practice. There may be a lot of instances where the customers urgently want to talk to a human agent, at such times, not having the live chat or talk to agent option can adversely impact customer experience.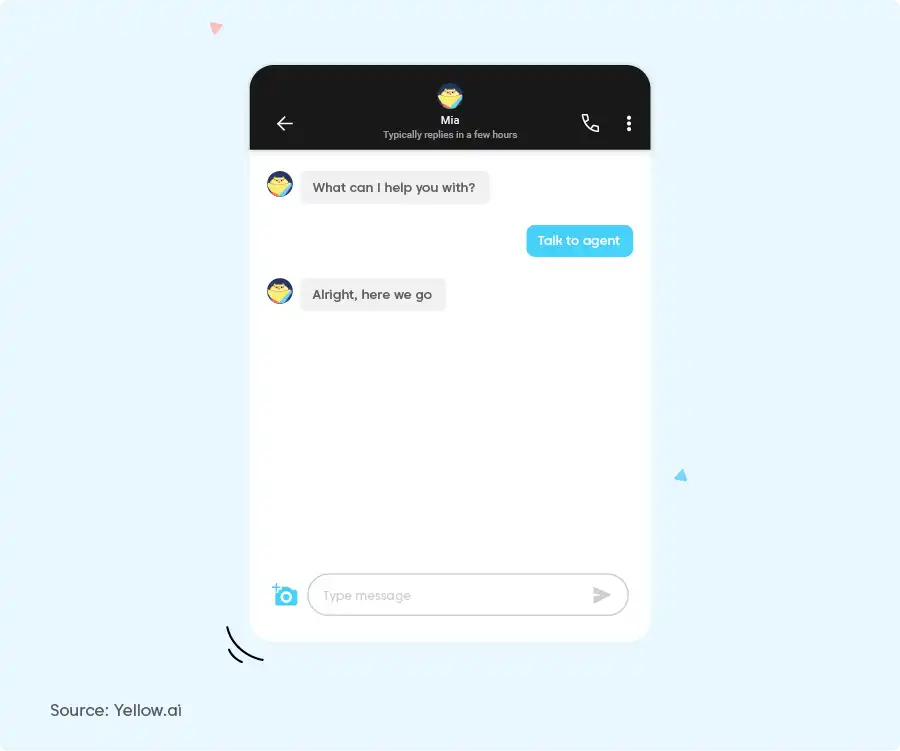 Failing to offer real-time support
Customers are accustomed to getting everything o-demand and that is how they expect the customer service to be. The main benefit is that it allows your customers to get an instant response to the questions they need answering. So, it's not surprising that 79% of customers say they prefer live chat purely because of the immediacy it offers compared to other channels.
Lacking customer service etiquette
Customers expect agents to be polite, patient, knowledgeable and offer empathy. Human agents have good and bad days that can reflect in their tone and voice. At times agents may even have to face angry and rude customers and if the agents lose their calm, it can reflect poorly on the company.
How to fix these problems?
Equip customer support teams with the right tools. Sky's the limit for what you can achieve with AI-powered automation tools. Everything from reducing response and wait times to directing calls to the right customer support agents, intelligent virtual assistants can prove to be really useful for assisting your customers. Moreover, VAs backed by technologies such as NLP and machine learning provide consistent and personalized support to each and every customer, no matter what time, no matter what language.
What are customer service bots and how do they work?
A customer service chatbot is a software that uses artificial intelligence (AI) and machine learning to answer customer questions via text or voice over the customers' preferred channel. Businesses have been increasingly adopting chatbots and incorporating them into their customer service strategies to automate repetitive tasks and assist customers throughout their journey. The basic functioning of a customer service chatbot is as follows:
User asks a question
Chatbot applies AI algorithms to the customer's query
It then delivers a response to the consumer via text or voice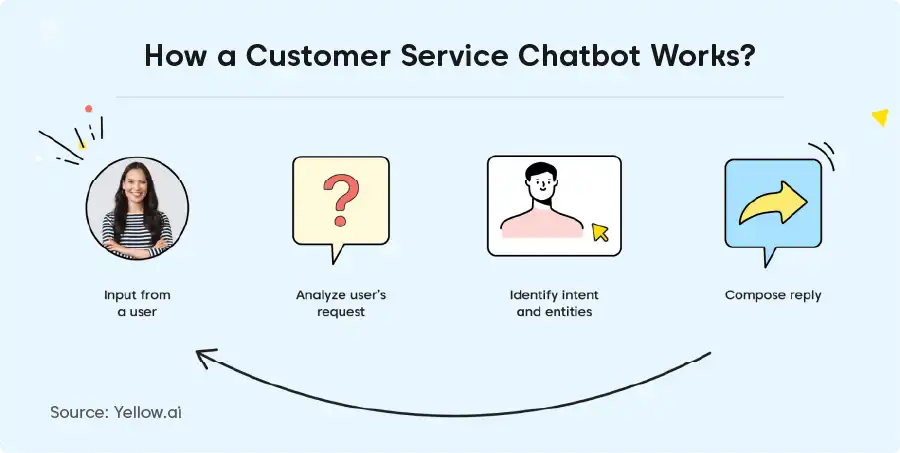 It is during the second step that the chatbot employs NLP, AI and machine learning. These technologies help them interpret users' queries and recognize verbal cues to better understand the user's sentiment. The chatbot also uses previous customer data to understand their journey, infer feelings, such as frustration or anger to add more fluidity and personalization to the conversation.
As we discussed above, such chatbots become more intuitive with time. As they interact with customers, they develop more sensitivity and learn more effective ways to respond to queries. This results in more accuracy and enhanced customer experience. AI chatbots can also be integrated with an intranet of other applications to make the customer journey more seamless.
How important is good customer service for your businesses?
Boost sales and revenue
According to research from PWC, 86% of buyers are willing to pay more for a great customer experience. Customer service has a multiplier effect on your profits and revenue. The better you treat your customers, the more they'll be willing to spend.
Retain more customers
Repeat customers are likely to spend more with your brand – 300% more, to be exact, which means your business has to spend less on operating costs. Clearly it's more profitable to retain customers than acquire new ones. A good customer service can keep your customers happy and keep them coming back for more.
Increase net promoter score (NPS)
Word-of-mouth spreads like fire and if good, it can do wonders for your business. Infact, 83% of customers would trust recommendations from the people they know like friends, family and colleagues. When you keep your customers happy they are more likely to spread a good word about your brand.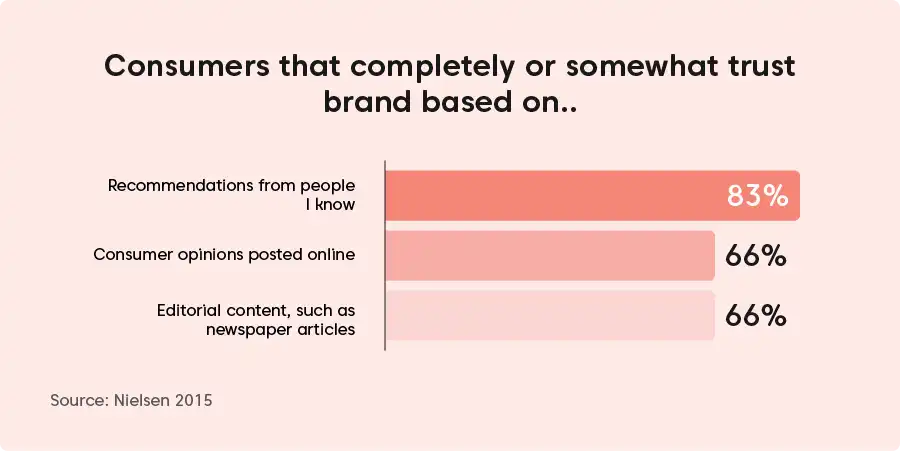 Improve products and services
A good customer service automation software can gather customer feedback and data. You can then use this data to derive insights that can help improve your offerings and customer experience.
Grow customer lifetime value (CLTV)
Offering good customer service is a great way to improve customer lifetime value. CLTV is a pretty important metric for every business. It represents the total revenue you can expect from a single customer account. Growing this value means that your customers are shopping more frequently and/or spending more money at your business.
Tips to enable a flawless customer service experience
Know your customers
The key to a successful customer service strategy is to understand your customers and their needs. You can do so by generating data from customer analytics and creating more robust buyer personas.
Train your customer service team
You must imbibe the right customer service skills in your team and train them to treat each customer with respect and empathy. Every customer is unique and every interaction is different, which is why your team should be adept at handling surprises and each conversation efficiently.
Use the right software
It's important to empower your customer service reps with the best helpdesk software that allows them to get a unified view of all the queries received on multiple platforms and easily engage with customers on a platform of their choice.
Monitor customer service KPIs
A customer service KPI can help you get a 360-degree customer view of your customer service efforts and optimize support processes. Some important customer service KPIs are customer satisfaction (CSAT), employee satisfaction (ESAT), NPS, CLTV, response time, handling time, cost per resolution and retention rate.
Choose the right tools
Repetitive tasks and queries can take up a lot of your team's time. Automating such tasks with the help of CX automation tools can help free-up your team's time so that they can focus on more pressing customer problems
How AI is transforming customer service?
From gathering customer data to speech recognition and message response times, AI is enhancing the customer experience nearly in every way it's applied. Here are a few benefits of AI in customer service.
AI makes total user experience more personal
AI enables real-time decision making with zero latency
AI saves time and cost
AI delivers a seamless omnichannel experiences
AI offers reliability and consistency in service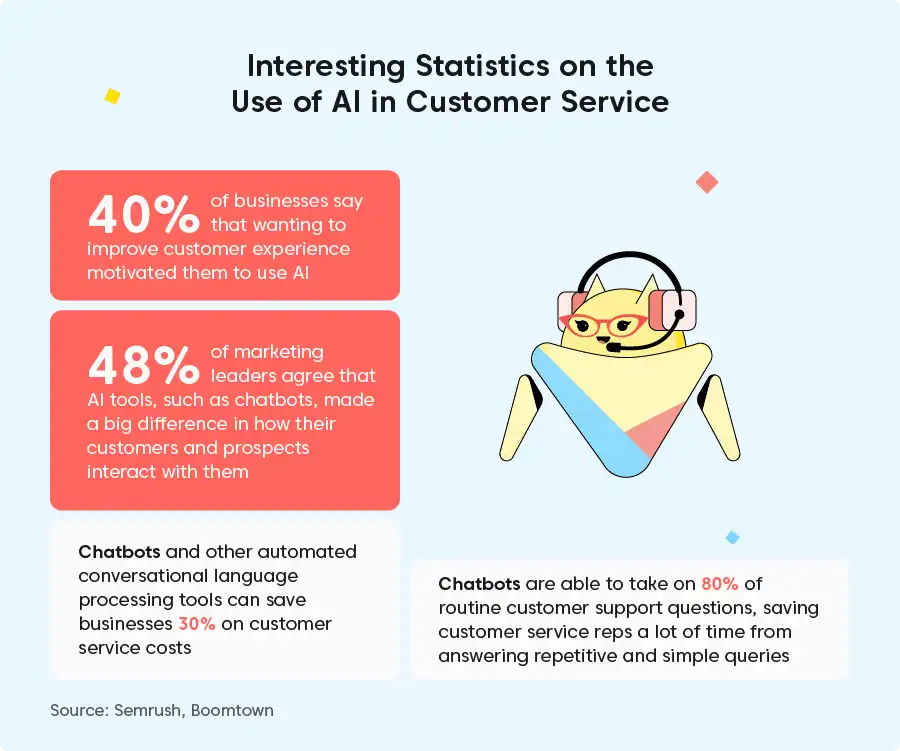 Use Cases of AI-powered automation in customer service
Resolving customers' most frequent queries
Customer support agents spend a lot of time on a daily basis answering simple FAQs. This task can be deflected to AI-based tools like chatbots that can efficiently resolve simple to complex customer problems in real-time. Moreover, human agents can handle only a certain number of customers at a time but with AI, you can assist hundreds of customers simultaneously without any delay.
Learning customer behavior and buying patterns
As the volume of customer queries increases, so does the response time. Keeping customers on hold for too long can make them feel frustrated. By employing AI tools you can promptly answer customer questions round-the-clock in multiple languages over the platforms of their choice. This helps develop trust and reliability of customers in your brand. AI-powered softwares can capture customer data and provide real-time analysis and insights to help you make more informed decisions. The collected-data can be used to understand your customers better, why they behave the way they do and what they expect from your brand. It is with these rich insights that you can increase customer satisfaction and provide delightful experiences to your customers.
Speeding up response times
AI-powered softwares can capture customer data and provide real-time analysis and insights to help you make more informed decisions. The collected-data can be used to understand your customers better, why they behave the way they do and what they expect from your brand. It is with these rich insights that you can increase customer satisfaction and provide delightful experiences to your customers.
Improving customer experience with sentiment analysis
AI chatbots can understand the intent and sentiment of the user to personalize and add fluidity to the conversations. This means that the chatbots understands the mood and tone of the customers and adapts the conversation to meet their needs. AI-powered tools are also capable of recognizing when a customer is upset and automatically escalate it to an agent who can handle the situation efficiently.
Capturing large amounts of data
It is impossible for human agents to manually and efficiently capture customer data in real-tile without a layer of AI-powered automation. AI has also done wonders for data extraction, when integrated with your ERP and CAI systems, it can extract insightful data on customer behavior to help improve customer service.
Identifying up-sell and cross-sell opportunities
AI chatbots, in a helpful and non-intrusive way, audit customer data to look for up-sell and cross-sell opportunities and make relevant recommendations to the customers. Chatbots can also gather preliminary research about a potential customer and share it with a live rep who can later use it to upsell or cross-sell with greater ease.
Personalizing conversations with context
With AI-powered intuitive customer service dashboards, you can view your customer's entire journey across channels in a single unified view built on top of your customer data platform to get superior context for better problem resolution.
How to get started with customer service automation?
Meeting customer needs at scale is a challenge for any growing businesses. customer service automation allows you to scale your support efforts without compromising the quality of customer service. To get started, you first need to choose the right customer service automation platform that can help you automate and personalize your customer support. If you're looking for such a platform, then Yellow.ai offers the best solution for you.
Why choose Yellow.ai customer service automation platform?