In this fast paced business environment, hiring and staffing the right people is critical for the success of any organization. However, what's more important is to anticipate future human resource requirements and meet them in a timely manner, so as to avoid costly delays.
This is where AI can play a monumental role in making the HR planning processes more agile. Read this blog to learn more about the role of AI in the human resource planning process and how you can make the best use of it.
What is human resource planning?
Human resource planning is a process of forecasting an organization's manpower needs in the near future. It is a continuous, data-driven process in which a company systematically plans its human resource requirements to ensure that available jobs are filled with the most-suited and skilled candidates.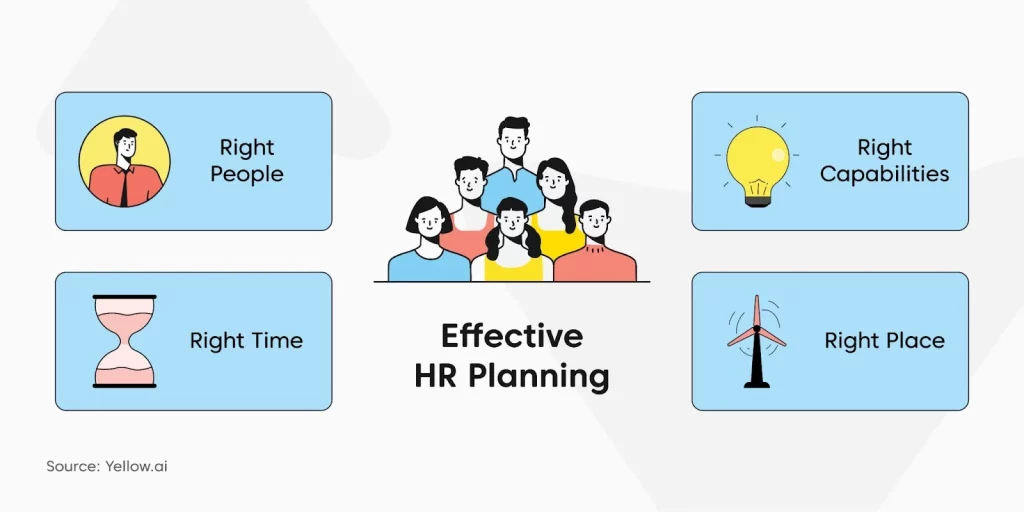 It also identifies critical HR activities that will assist the company in achieving its strategic goals and maintaining its competitive advantage without staffing excess or insufficient personnel. Let's look at some objectives of the HR planning process.
1. Anticipating and preparing for cultural shifts and changes in the business environment.
2. Hiring the right staff in a timely manner.
3. Adapting hiring strategies in order to find and hire the most qualified people.
4. Ensuring that your employees have the best technical and soft skills in order to boost performance.
5. Creating and maintaining critical human resource processes. (Performance management, recruitment and selection, training and development, compensation and benefits planning.)
6. Getting the most out of your HR budget.
7. Maintaining company policy and government regulations compliance.
Challenges faced by HR during the workforce planning process
1. Time consuming process
According to a recent report, the average time taken to fill an open position is 26 days. Activities like waiting for approvals, early candidate screenings and lengthy decision-making, slow down the entire process. Despite new recruiting technologies, time to hire has increased in most white-collar professions over the last decade.

2. Generic candidate screening
Dr. John Sullivan, a recruiting expert, has said that job interviews have become predictable, ineffective and biased. In an era where data-driven business decisions are the norm,
using generic questions like "Can you walk me through your resume?" or "What are your strengths and weaknesses?" may no longer work.
3. Reactive hiring
More often than not, hiring is done due to turnover or changing needs. While businesses should function proactively and constructively, new talent acquisition is sometimes a reaction to certain events rather than deliberate planning for the future.
4. Passive career development
Organizations struggle to meet employee expectations for career advancement. Traditional L&D methods fall short to meet the needs of today's workforce for diverse learning methods and content.

Role of AI in the HR planning process
While smaller organizations may be able to manually match individuals to relevant jobs using simple solutions, organizations with thousands of employees and hundreds or thousands of opportunities across business verticals and geographies face a monumental challenge in matching the demand and supply of human resources. This is where artificial intelligence enters the picture.
Organizations can utilize AI to examine their current employees' skill inventory and use past skill data to match internal employees with appropriate open positions, taking into account prior experiences and intended career paths.
Using AI to mine a company's HR information system can help forecast employees who are on the verge of leaving. This can help you guide and focus retention or replacement efforts.
For managers, this might mean a significant reduction in the time it takes to fill a role for. While, for the business as a whole, it means improved workforce agility and access to important data for strategic workforce planning related to future skills needs.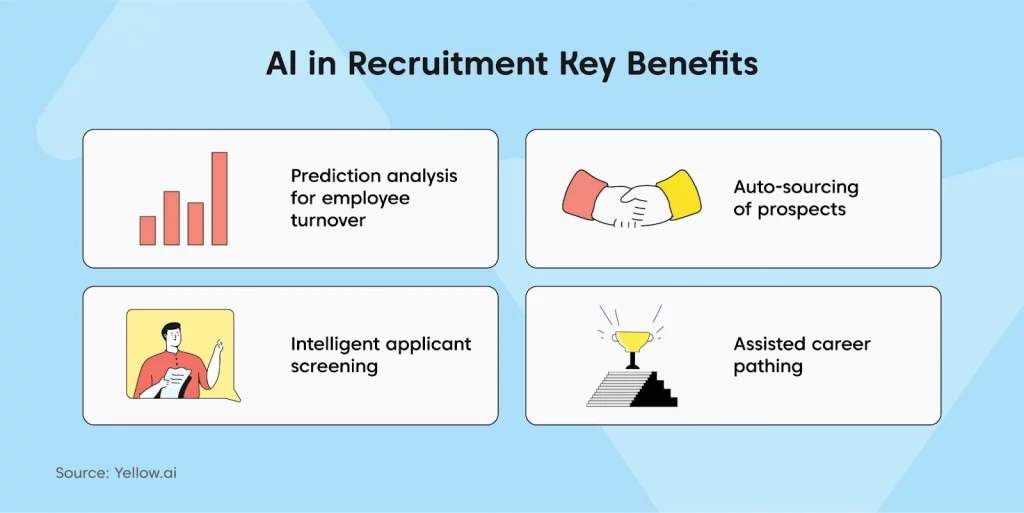 How to implement AI in the human resource planning process?
1. Prediction analysis for employee turnover
Employee turnover has been identified as a critical issue for organizations because of its negative influence on workplace productivity and long-term growth initiatives. Workers are quitting their jobs at record rates, thanks to a tight labor market and high confidence that moving on will also mean moving up, particularly in pay.
To overcome this problem, organizations can use AI-powered predictive modeling techniques to anticipate employee turnover. These predictions enable businesses to take steps to ensure employee retention or succession planning.
2. Auto-sourcing of prospects
Traditionally, candidate sourcing might require collaboration of different people from different departments, like, an initial team for scouring databases, followed by a series of other teams that check skills, qualifications and conduct interviews. AI sourcing will automate most of this process and enable you to focus on other important things.
AI will help you unearth top talent by sourcing hundreds of databases in a short period of time.
It gathers the essential criteria and skills listed in a job description to find candidates who would be suitable fit for that position.
3. Intelligent applicant screening
Why do human resource managers spend a lot of time on repetitive tasks when they could be focusing on more important HR processes? Well, because these mundane repetitive tasks, like screening job applications, are important as well.
AI can help the HR team weed out the most suitable candidates based on qualifications, experience and the skills required for a role. This will save a huge amount of HR's time that they can utilize for doing other high-value tasks.
4. Assisted career pathing
Career paths are traditional means of employee development and advancement within an organization. It's an effective way to make sure that future open positions are taken by candidates that know the ins and outs of your business already.
This reduces the cost of training new employees and it also increases employee retention. A 2019 LinkedIn Learning report found that 94% of employees would stay with their company longer if it invested in their careers.
AI gathers information about each employee's career path and delivers it in a customized manner. Each individual can chart their own career path, based on the precise learning experiences needed to bridge current and future skill gaps. One of the most effective methods to encourage learning is to provide employees with the clarity and resources they need to make career changes.
Summing up
As AI becomes more sophisticated and ubiquitous across enterprises and industries, AI-powered HR planning will include much more than workforce management. It will assume broader functions with the help of adaptive, deep learning capabilities, such as managing staff turnover in businesses and ensuring that all open positions get filled by the right candidates at the right time.
Given the data, it is not difficult to see a future in which AI will be a necessary and integral element of every business. Enterprises must recognise this and expedite their efforts to include AI not only in personnel management, but also in other aspects of their business.
By teaming up with AI-powered total experience automation platforms like Yellow.ai, you'll be able to boost the efficiency of your business processes and set your business up for success.
Get in touch with our experts to learn more about how your business can benefit from our AI integrated HR solutions.