We are excited to announce the general availability of Yellow.ai's DynamicNLP™, a first in the enterprise conversational AI market, that eliminates the need for training Natural Language Processing (NLP) models, helping businesses to go live with their AI automation journey in minutes.
Yellow.ai DynamicNLP™: a first-to-market
game-changer
The Problem
Natural language processing (NLP) has revolutionized a wide range of tasks in the last few years, thanks to deep neural networks and large-scale labeled training datasets. NLP models are extremely useful for businesses that need to analyze a large amount of language data, such as customer reviews or social media posts. However, the current supervised methods require manually labeled training data for all classes, making the process tedious, time-consuming and expensive. This also limits how much NLP can improve. According to research from Deloitte, training AI agents with manual methods can take as much as six to nine months, making it one of the most common setup challenges faced by enterprises.
Let's take the example to explain the problem better.
Consider an airline named SkyFly. They want to provide automated customer support with the conversational AI platform. One use case that they are looking to automate is "Get flight status." So whenever a customer asks the chatbot about the flight status, the chatbot will provide the live update based on the flight number.
Traditional workflow without Yellow.ai DynamicNLP™
Without Yellow.ai DynamicNLP™, designing the conversational flow for this use case would require the following steps:
Step 1: Create intent named "Get flight status"
Step 2: SkyFly then would have to list all the utterances related to this intent.
For example: It would create training data such as "Flight status," "What is the arrival time for my flight," "Is my flight on time,", "Is there a delay in 6W -1234," and so on for this single use case.
The biggest challenge in this process is to think ahead of time: How are my customers going to ask about their flight status?
It may be easy to identify a few utterances like "flight status," "what is my flight status," etc., but these cover only a fraction of all the possible queries the customers might ask with respect to fetching their flight status.
Step 3: Someone will have to manually feed all the training data/utterances in the platform.
Step 4: Train and test the model.
Step 5: Keep repeating the entire process to add each unidentified utterance by the customers while the bot is live.
Also note that we have considered the single intent "Get flight status." There will be hundreds of intents against which model will have to be trained.
The Solution
Yellow.ai DynamicNLP™ leverages unsupervised machine learning methods to train the NLP model. It is developed on the machine learning algorithm of Zero-shot learning, which ensures enterprises no longer need to go through the lengthy process of manually labeling the datasets for training the NLP models to deploy chatbots.
The main idea behind Yellow.ai DynamicNLP™ is that you can create "intents" without NLP training and take those intents live, literally in minutes.
"Yellow.ai is making Conversational AI simple and accessible for everyone," said Pranshu Rastogi, Head – Customer Experience & AVP – Marketing, Domino's. "With the new DynamicNLP™, Yellow.ai is making it possible for businesses to easily add sophisticated NLP capabilities to their applications without any specialized expertise or lengthy setup times, because there's no more NLP model training required. This is indeed a breakthrough innovation, many congratulations to Yellow.ai for bringing research to the hands of the businesses."
Coming back to the example above where we showed you the traditional workflow to automate the "Get flight status" use case without Yellow.ai DynamicNLP™. So, now with the inclusion of Yellow.ai DynamicNLP™ all SkyFly needs to do is create an intent named "Get flight status, and the Yellow.ai DynamicNLP™ engine will automatically learn from this intent name and work for user messages related to this intent. So there is no need to think ahead of time to manually add all the utterances. Moreover it continues to learn real-time and evolve dynamically.
Technically behind the scenes, when a customer asks "What's the arrival time of flight 6W-1234?", Yellow.ai DynamicNLP™ generates the sentence embedding for the intent: What's the arrival time of flight 6W-1234? It then uses all the learning across the billions of conversation data and picks the one that has the highest match, in this case intent named "Get flight status." This way there is no dependency on training data. No one needs to manually feed the training data/utterances for effective natural conversations. And from day one, the model has stronger NLP and better intent accuracy.
Eric Hansen, CIO, Waste Connections, said "Yellow.ai has helped us accelerate our AI automation journey for some of the most important use cases, and with the launch of DynamicNLP™ which enables zero training for NLP models, would elevate customer and employee experiences from day one. We firmly believe that Yellow.ai DynamicNLP™ will open new avenues to scale up additional use cases of customer support and agent productivity."
What is Zero-shot learning?
Zero-shot learning offers a way to circumvent this issue by allowing the model to learn from the intent name- a self-learning algorithm in which your model learns how to classify classes that it hasn't seen before. This means that the model can learn on the fly, without needing to be trained on each new domain. As a result, Zero-shot learning models can save businesses time, effort and money. In addition, Zero-shot models can also mitigate the need for collecting and annotating data that increases accuracy. Consequently, businesses that rely on NLP should consider utilizing DynamicNLP™ in order to maximize efficiency and effectiveness.
There are different Zero-shot learning approaches, but a commonality is that auxiliary information such as textual descriptions are used or encoded during the training process instead of explicit labels.
There are several potential applications of Zero-shot learning in the real world, and it is industry and use case agnostic — from COVID-19 disease diagnosis to self-driving cars and more.
Commenting on the launch, Raghu Ravinutala, co-founder and CEO of, Yellow.ai, said, "Yellow.ai DynamicNLP™ is a pioneer in the global enterprise Conversational AI industry; a breakthrough innovation that can help enterprises save time, effort and money, while optimizing their go live strategy. It enables zero training for NLP models, delivering pre-trained Dynamic AI agents perfectly capable of elevating customer and employee experiences from day one. As global tech innovators, we firmly believe that our DynamicNLP™ will open up newer avenues in cutting-edge NLP research across the industry."
Empowering Enterprises with Yellow.ai DynamicNLP™
Yellow.ai's proprietary Dynamic NLP is at the cutting edge of the Zero-shot learning technology, and our platform comes with pre-trained models with unsupervised learning that operates right out of the box. This means that your data scientists won't have to spend time training their own models. Instead, they can rely on pre-trained models that are already available. This can shave months off of the development timeline and you can go live much faster, literally, within minutes.
Commenting on the launch, Puneet Kaur Kohli, CTO, Universal Sompo General Insurance Co. Ltd., said "Yellow.ai's DynamicNLP™ is another step towards helping businesses get started with their chatbot deployments quickly and without any hassle. With this innovation, businesses can now easily create and deploy intelligent chatbots across channels such as Facebook Messenger, WhatsApp, WeChat, Twitter and many others. DynamicNLP™ is a natural language processing (NLP) engine that understands user intent by constantly learning from billions of real-world conversational data points. It enables businesses to not only quickly build chatbots but also accurately interpret what users are asking for – making customer interactions more efficient and delightful."
Here are some of the differentiated value propositions:
Stronger NLP, better intent accuracy: With DynamicNLP™, Yellow.ai platform uses an unsupervised approach where the models are pre-trained on larger datasets. This improves their intent generalizability since they are not limited to just a few specific intents they were originally trained for. It also helps reduce bias in NLP models as the potentially biased labels assigned manually are removed from the process, leading to a strong, robust NLP. This enables Dynamic AI agents to learn on the fly, delivering an intent accuracy of 97% and higher.

Faster deployment: As a result, enterprises can use pre-trained models to set up Conversational AI flows within minutes, effectively reducing the otherwise long development timeline. It facilitates automatic addition of intents from billions of conversations on the Yellow.ai platform, making the AI agents more human-like and scalable across industries with wider use-cases.

Cost reduction: With Yellow.ai DynamicNLP™, there is no need for training the NLP model. Which means you don't have to invest in doing repetitive tasks anymore and focus on activities that matter to your organization. With Yellow.ai DynamicNLP™, enterprises can go live within minutes rather than months as the initial training time is not wasted. It also provides better intent coverage across industries. This helps enterprises to provide frictionless customer experience with the reduced unidentified utterances.
"DynamicNLP™ is a game changer for businesses looking to deploy Conversational AI solutions faster, as it helps reduce the time from months to minutes, and cost required for NLP model training and deployment" said Samson Dsouza, Vice President – Technology, ICICI Lombard General Insurance Company Ltd. "Yellow.ai has been a great partner in accelerating our AI automation journey, and has improved customer experiences and operations here at ICICI Lombard GIC. With DynamicNLP™, Yellow.ai has taken another step in its mission to make Conversational AI accessible and affordable for all businesses across the industry"
Upcoming Webinar
Smarter Bots, Go live Faster
Unveiling the Next Big Step in Conversational AI
Save your spot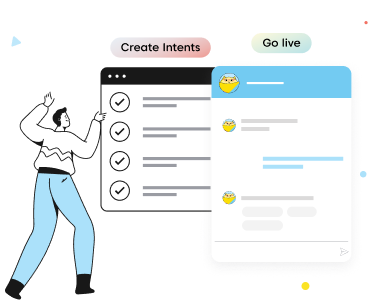 Sign up for a demo to see it in action!