Deploying an FAQ chatbot onto your website is the simplest and fastest way to refine your customer experience and enhance the productivity of your marketing or customer support operations. No matter how small or big a business is, FAQ chatbots are essential in order to deliver quick and apt responses to the customers, without involving a precious support resource.
Businesses struggle in choosing the right FAQ chatbot for their website, and even after they have selected one, they struggle in manually adding the frequently asked questions one by one. AI-driven chatbots for FAQs can solve these problems in the twinkling of an eye.
In this blog, we are determined to help you with all the information you need before positioning a FAQ chatbot on your business website. Once you have selected the chatbot and made up your mind about how you want to use it, we will help you build one in just 2 minutes. Let us begin our expedition from the basics.
What is an FAQ chatbot?
FAQ chatbot is a messaging interface where users can ask questions and businesses can guide them with an automated and accurate response to solving their issues instantly. With an FAQ chatbot, businesses can create the first line of customer support where simple queries can be resolved without scrolling through the website.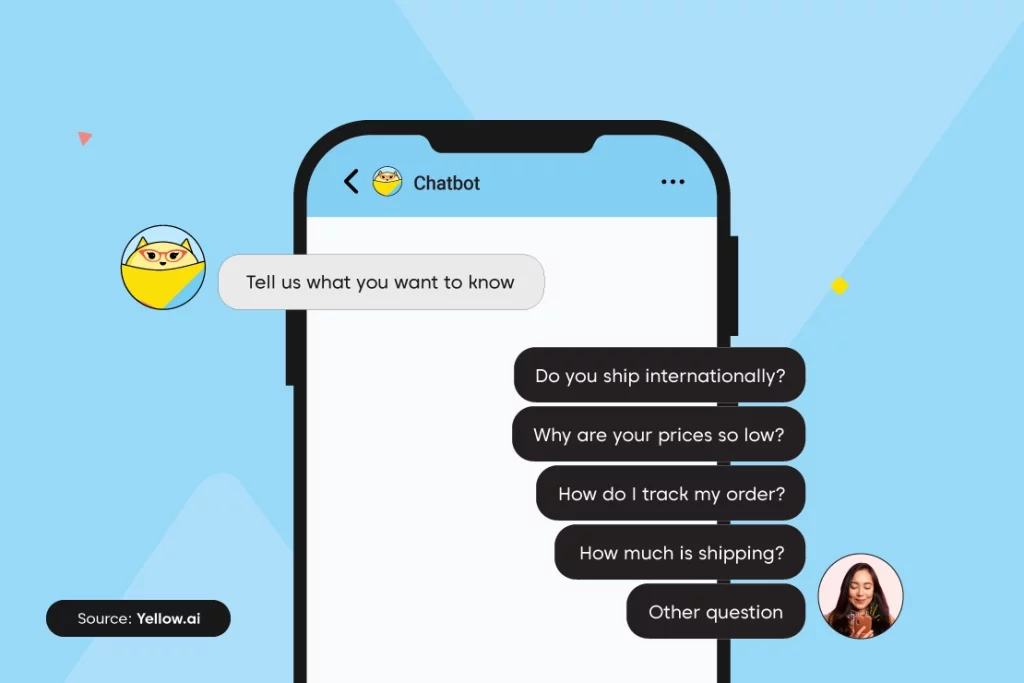 Businesses can either add FAQs manually or upload a CSV file with questions and answers. Based on the type of FAQ chatbot that you use, it can be trained to respond to the users accordingly.
FAQ chatbots can direct customers to the exact pages and products that they are looking for. They can share information about your company, guide customers by giving product demonstrations, send relevant blogs, whitepapers or videos and facilitate them in all ways possible.
In case of a complex query, an FAQ chatbot can address the customer and provide them with an estimated time when a customer support agent will reach out to them with a resolution. Using an FAQ chatbot can leave your customers much more satisfied and delighted with your services.
Types of FAQ chatbots
An FAQ chatbot can be either rule-based, artificially intelligent or a combination of both. You can select the chatbot as per your requirements and preferences. In the table below, you can find the differentiation of all types of chatbots.
| | | | |
| --- | --- | --- | --- |
| Factors | Rule based | AI-powered | Hybrid |
| Training | Can be trained easily and quickly with a set of keywords, questions and answers. | Takes a longer time in training. Has the ability to learn from new data and customer behaviour. | Can be data trained. It does not have machine learning capabilities to learn from new data. |
| Conversation flow | Rule-based chatbots do not understand conversation flow or user intent. | AI chatbots understand conversation flow and can help customers using natural language. | Hybrid chatbots leverage NLP and understand conversation flow. However, they do not understand user intent. |
| Integrations | Can integrate with available legacy systems. | Can integrate 100+ software applications with or without AI technologies. | Can be integrated with third-party APIs, CRMs and databases. |
| Personalization | Limited personalization, can just use data available in the CSV file. | High personalization. Can use names and other details of the user. Can respond in multiple languages. | Data bias personalization. |
Based on the need, level of personalization and cost of implementation, businesses can select the FAQ chatbot that is most suitable for them. Each of them has its own set of pros and cons but when it comes to customer satisfaction, all types have different outcomes.
Use cases of FAQ chatbots
An FAQ chatbot can be used aiming to accomplish many business goals such as improving customer satisfaction, capturing and nurturing qualified leads and reducing the burden of the customer service team. We have summarized the top use cases of FAQ chatbots that can help businesses as well as employees.
1. Enable self-service for customers
Customer support has shifted from physically visiting a business to resolving queries over a call/email to instant self-serve query resolution chatbots. This shift has gradually improved customer satisfaction.
Brands are trying to achieve zero-wait time query resolution in order to delight their customers and encourage them in becoming their ambassadors. FAQ chatbots can help in the process by helping customers with instant responses round the clock.
2. Capture and nurture leads
Chatbots can convert website visitors into warm leads within moments of interaction. While interacting with the customers, FAQ chatbots can gather essential information from the customers and at the same time help them with their queries.
Businesses can train chatbots to gather information like customer details, products or services they are interested in and most importantly their contact information. AI chatbots can even identify their intent by understanding their queries and buying intent. The collected information can then be shared with the marketing and sales department for a more personalized contact.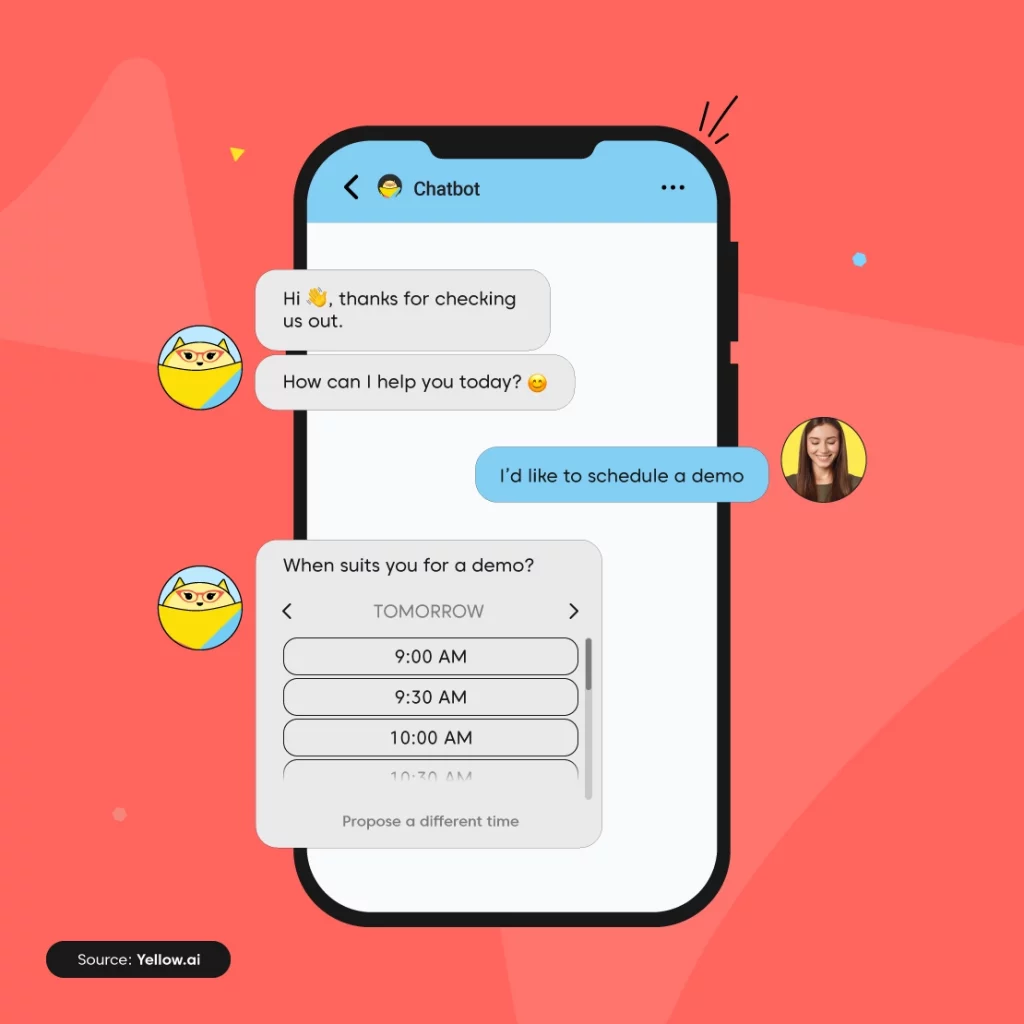 3. Cross-sell products and services
Although the role of an FAQ chatbot is to answer the customers and resolve their queries, it can be used efficiently to cross-sell products and services. AI chatbots can understand the queries and help the customers by promoting different products and services.

For example, if a customer has bought a table from your website, remembering this the chatbot can encourage the user to buy a table cover or a table mat.
4. Facilitate customers with order details
For getting a piece of small information about their order, customers need to scroll through a number of pages. FAQ chatbots can instantly help them by fetching their order details and sharing the information.
In case a customer wants to get more information or maybe cancel the order, the chat can be easily redirected to a human resource from customer service.
5. Share relevant content
FAQ chatbots can be a great source to keep your customers engaged and redirect them to different pages on your website. Based on the user behaviour or keywords, chatbots can share blogs, articles and videos with the customers and help them know your product better.
AI chatbots can also help the customers with product demonstrations and guide them through the process of using your product.
6. Enable self-service for employees
FAQ chatbots can also be used within an organization with the aim to help the employees resolve their queries instantly. This can help improve the efficiency of the HR department as they can focus on tasks that are not repetitive and need more human involvement.
It can also be used to solve common IT issues and share information about the company policies regarding cyber security.
4 steps to build FAQ chatbots quickly and efficiently
Several large enterprises use a set of frequently asked questions to support agents. However, adding these manually one by one along with training data is tedious. Yellow.ai has solved the problem by introducing a Q&A hub using which customers can upload a CSV file with a set of questions and answers and train the AI-driven FAQ chatbot.
This is especially beneficial for SMBs and startups that don't have enough data to build a standard operating procedure. The bot can start functioning almost immediately and be modified just as easily.
The Q&A hub can help businesses in creating an FAQ chatbot. The simplification of the process has eliminated one of the major drawbacks of using an AI-driven chatbot to answer frequently asked questions, that is training time. With the help of this feature, businesses can explore the following benefits.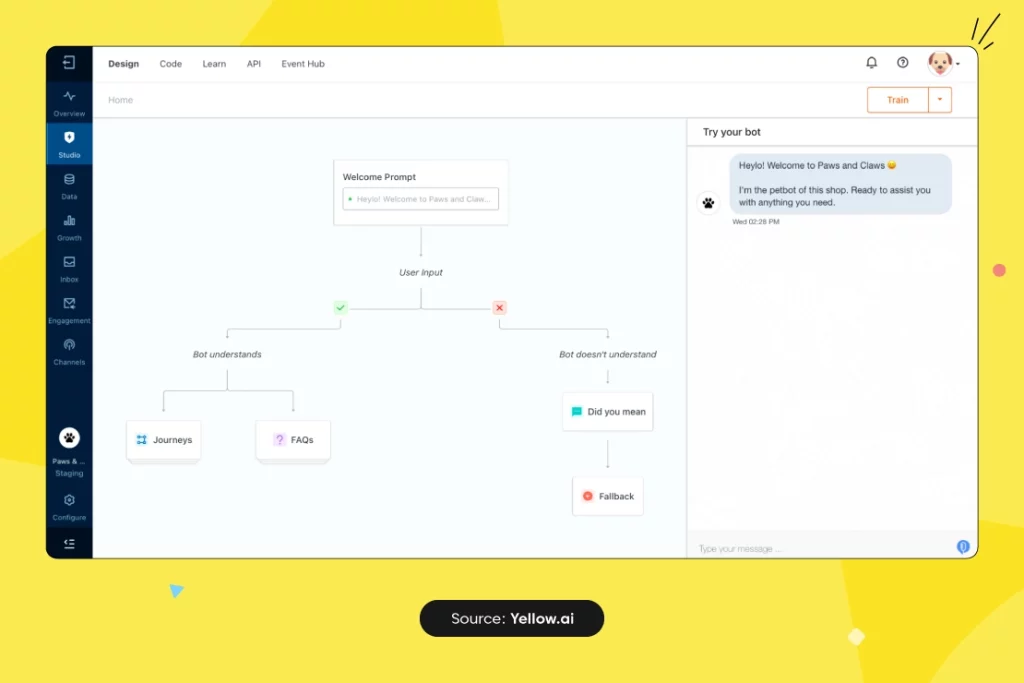 1. Consolidation of multiple data sources
Businesses can now connect multiple questions and answer data sources along with the knowledge graph to improve resolution rates.
2. Recommendation and self-learning
With the Q&A hub, businesses can leverage AI technologies such as self-learning and ensure that the user is always directed to the most appropriate answer even with an ambiguous query. Organizations can use 'did you mean' responses and record them to further improve the FAQ chatbot.
3. Reduction in time to market
With the Q&A hub, businesses can go live with their AI-powered FAQ chatbot within minutes. This can help in cutting down on the research time and begin improving customer experience immediately.
4. Business-friendly implementation
The complete process of training a chatbot is automated. Businesses can simply feed the chatbot with all the data at the click of a button. In addition, creating an FAQ chatbot with a Q&A hub does not require any prior experience in creating chatbots or coding.
The benefits of deploying an AI-driven chatbot for resolving FAQs are tremendous and now when it can be implemented in no time, all businesses can take advantage of technology to improve their customer satisfaction.
Conclusion
We hope this blog helped you with all the essentials about an FAQ chatbot and its functionalities. AI-powered chatbots can significantly help businesses improve their CSAT and build an empire with loyal customers.
If you are a business struggling with long resolution time and dissatisfied customers, we have a number of solutions to solve your problems. Schedule a demo and talk to our experts about implementing an FAQ chatbot or any other conversational AI chatbot. Help us in automating and improving customer experience.