Push notifications are simple short messages sent by a mobile app that pops up on the lock screen or in the top section of a mobile device. They are triggered when a user is inactive on the app.
Be it your favorite food delivery app reminding you to order snacks at 4 pm, or your shopping app telling you about an upcoming sale, we're used to the red blinking dots on our screens.
Push notifications are popular and effective compared to traditional channels like emails and SMS since they drive users to engage with the app directly.
In fact, in comparison to email, push notification campaigns seem to perform significantly better; open rates are higher by 50%, click rate by 7 times, and retention rates by 93%.
But indiscriminate use of these notifications can overwhelm and annoy users. To ensure that users engage and act on these notifications, it is critical to make them relevant and personalized.
With a conversational touch, these notifications can enable marketers to improve user engagement and conversion rates. Here are a few examples of how they can help marketers run campaigns more effectively.
Achieving marketing goals with push notifications
Increase your revenue with time-bound notifications: These notifications can be sent on the basis of a certain calendar event, such as celebratory offers, expiry dates to purchase, or limited offers. They create a sense of urgency in your customers and boost sales.
Provide timely updates during transactions: Customers care about transaction-related updates: has payment gone through, has their order been placed, where's their order?
Reduce cart abandonment rates: Customers might drop off from your app before checkout. By sending notifications at the right time, brands can create an effective strategy to bring customers back by offering discounts, alternative products, etc. Be sure to monitor the success of such campaigns by tracking the necessary conversion goals.
Be glocal: If users have traveled to a new location, brands can send them information about the local haunts. Reach out to users, for example, when they are close to your store, and incentivize them to give you a visit. These notifications can be a great way for omnichannel brands to increase foot traffic in their offline stores.
Creating conversational push notifications on Yellow.ai
At Yellow.ai, we've added push notifications as an additional channel for marketers to send campaigns and devised a way to make your notifications conversational.
Once users tap on the notification, you can direct them to the bot in your app and initiate a conversation with the users. Based on the user response, the bot will have the required context to continue a conversation with the user without breaking the flow.
For instance, say you send out a push notification campaign for an upcoming sale from your shopping app; and if the user responds to it, you can enable a bot to continue the conversation by providing options for the user to view products, get personalized recommendations, or place an order.
What's more, these notifications do not require an opt-in from users and they are free of cost.
Setting up push notification messages on Yellow.ai is quite easy.
All it takes is 3 steps; marketers must define:
What -> Create a template for the push notification content: Customize the message, upload an image, and configure the action to be performed by the bot when the user taps on the push notification.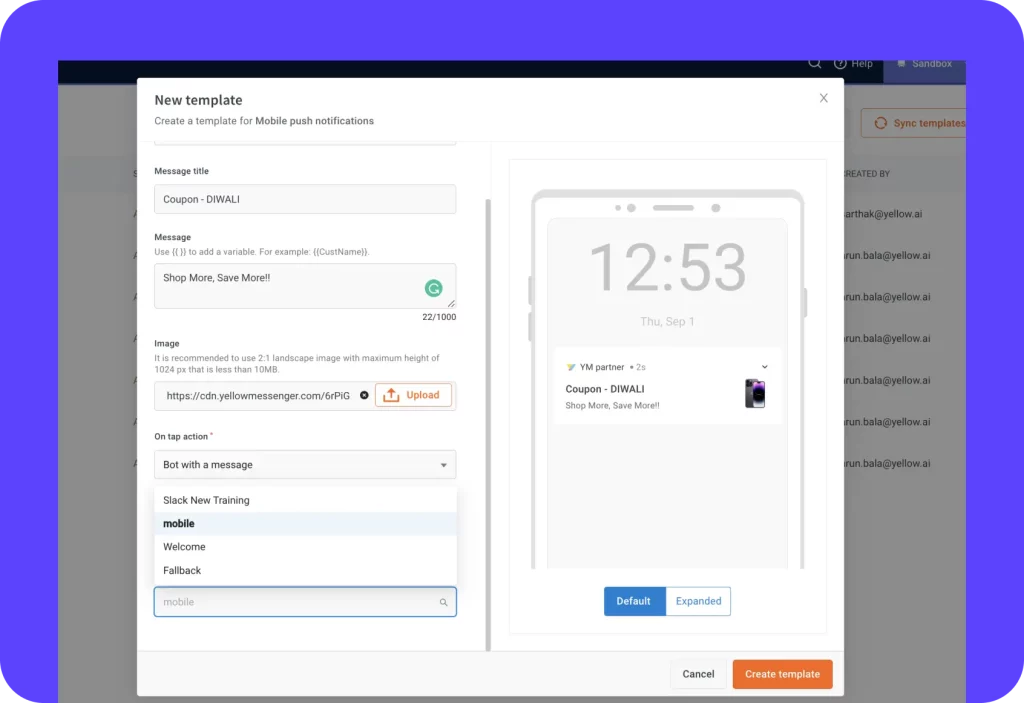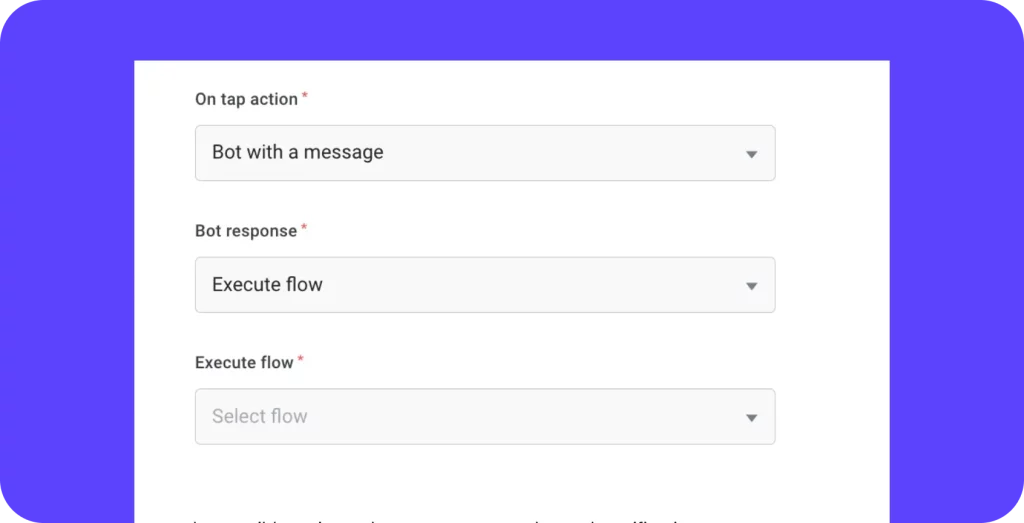 Who -> Which segment of users will receive the notification? You can either choose an audience from the existing list of segments or create a new segment: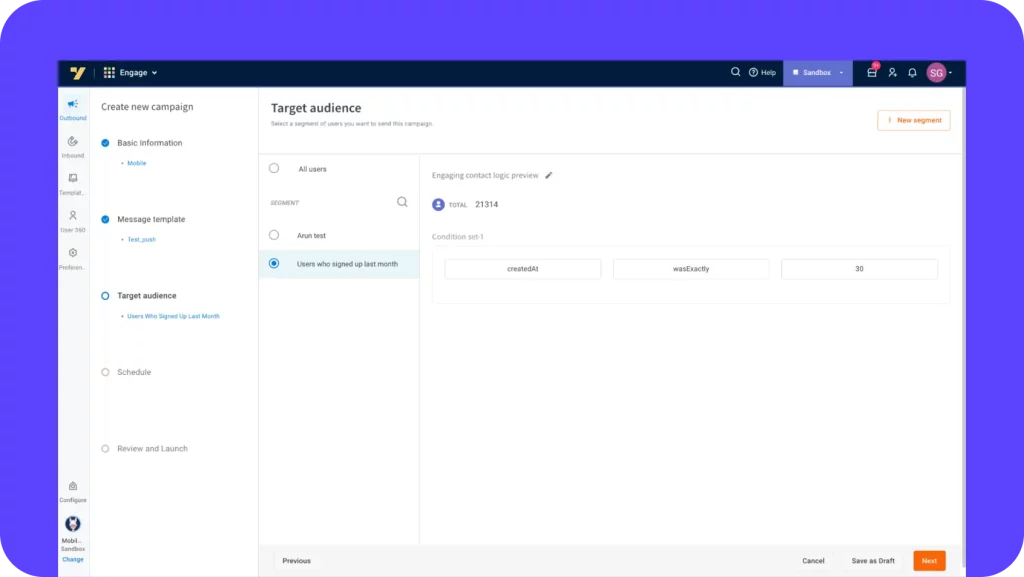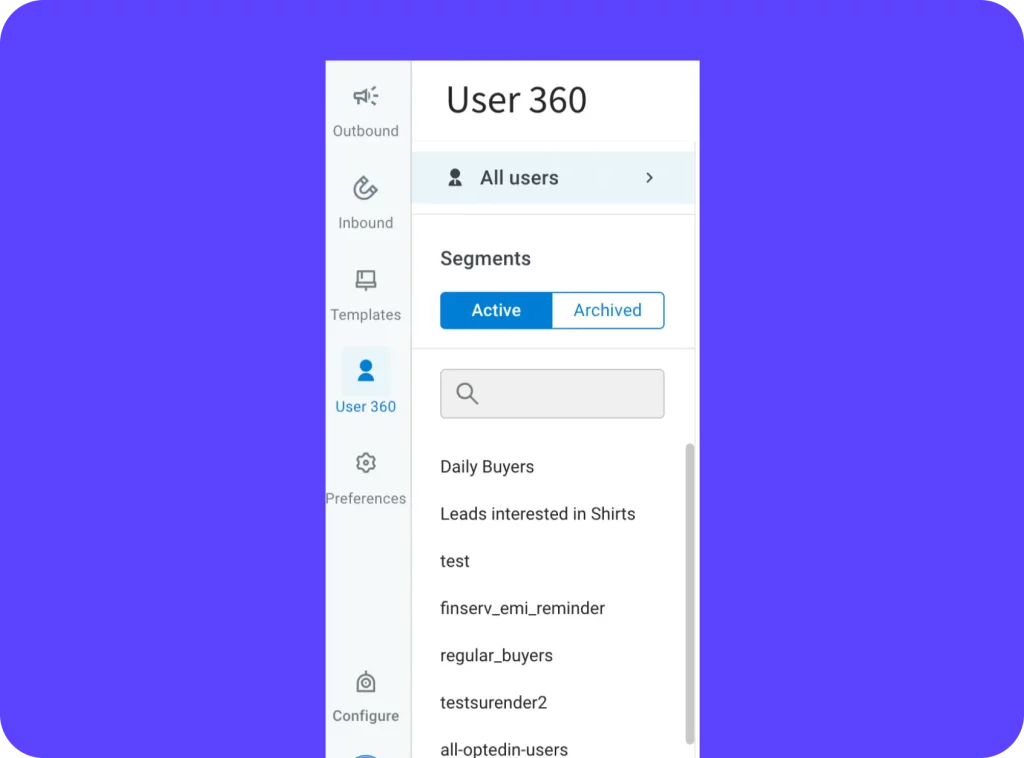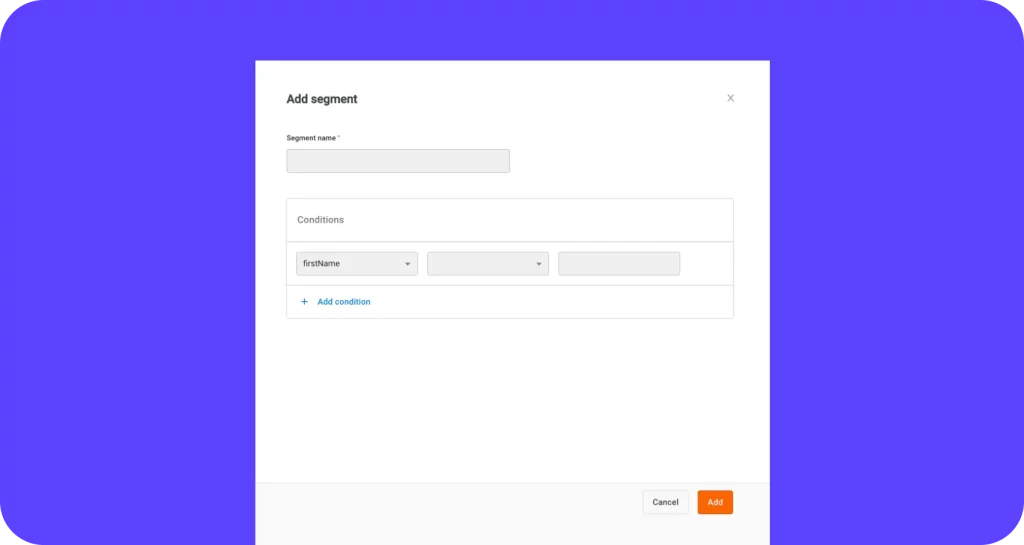 When -> Define when the notification will be delivered: immediately, at a scheduled time, or when the users perform a certain activity.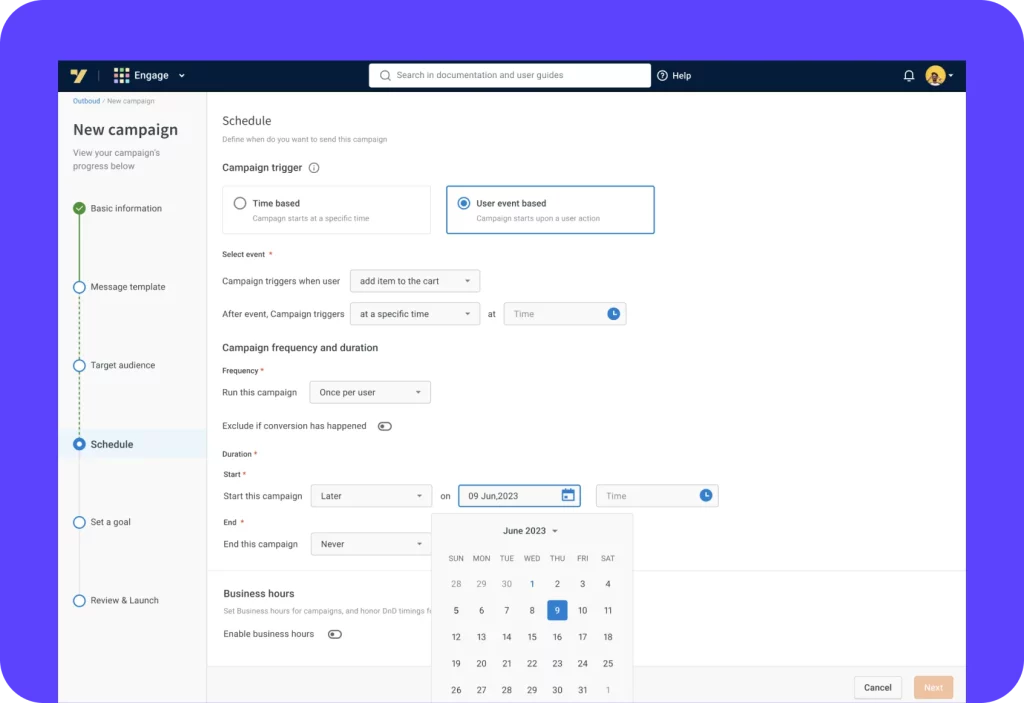 Summary
Push notifications are still a relevant, cost-effective channel to run drive in-app engagement.
Making your notifications more conversational makes for a better user experience, guaranteeing higher conversion rates.
Setting up conversational push notifications on Yellow. ai is simple and quick.
Sign up and give this feature a try today.