Business organizations are emphasizing strongly on self customer service, empowering customers to seek solutions for their problems independently. With self-service, customers resolve their issues instantly and get feasible solutions for their queries.
Read this article to know more about self customer service and why it's an excellent way of delivering customer support.
Learn how India's largest paint manufacturer cuts down call volumes by up to 25% with Yellow.ai.
Self customer service – What does it mean?
Previously when customer service was delivered over phone calls and emails, it would take a long time to resolve issues. However, with evolving technologies, customers want instant services. If businesses delay responding to queries, customers are likely to leave.
Providing customers with self service options reduces the need for them to contact human agents and helps them self-resolve problems. Along with problem resolution, customer self-service is also applicable when customers carry out work independently without assistance from company staff.
Many self-service tools are available to make this concept of customer self-service successful and the services don't restrict to a single platform. The most common customer self-service tools are knowledge base, chatbots and online discussion forums.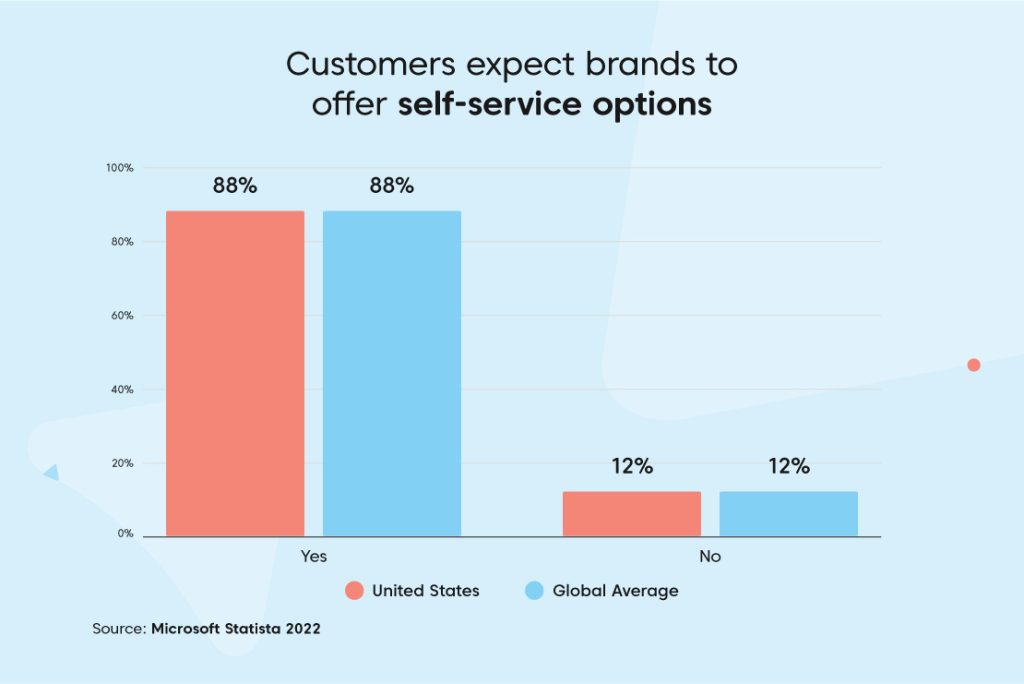 Self customer service benefits
Today's tech-savvy customers are self-reliant. As per Gartner's report, almost 70% of customers seek various self-service channels for resolving issues. Customer self-service not only helps customers but also enables support teams to work efficiently.
Let us take a look at some major benefits of customer self-service:
1. Offers round-the-clock support
When a business hires customer service executives, they can only provide services for a limited time. The services may remain off on holidays or weekends. However, with the self-service feature, customers can avail of support anytime throughout the year. Customers need not remain stuck with an issue for long with such services.
2. Boosts sales
Did you know that the feature of customer self-service can impact the sales figures of your business? Customers tend to abandon transactions if they wait long for problem resolution. A self customer service feature will give customers instant and accurate answers to their questions.
3. Minimizes support expenses
Businesses can extend help to many customers with self-service features at much lower costs. On the contrary, customer service professionals providing such services entail hefty expenses for the business.
4. Keeps staff productive and satisfied
Most support agents believe that customer tickets are repetitive and monotonous. Hence, the job becomes mundane and boring after a period. With self-service, agents have lesser numbers of repetitive questions in the queue. Agents become free from this tedious job. Instead, they can divert their mind toward more complex issues which need human intervention for resolution.
5. Improves customer experience
Customers make or break a business and providing a satisfactory customer experience is the motto of every company today. With improved technology, customers often seek answers to questions independently and avoid contacting support professionals for problem resolution. Since customers get instant results for their queries from self-service, the result is a satisfactory customer experience.
Best tools for customer self-service
The number of online customers is increasing steadily. Businesses are offering various self-service options for customer services. This feature helps in attending to customer queries and reduces the volume of customer service tickets.
Here are some standard options for self customer service:
1. Mobile app
Customers can trigger workflow automation for services from a mobile app. Consider a restaurant app. Customers can change orders and get refunds with just a few taps or clicks. Moreover, users can use their mobile apps to report delivery issues and don't need to contact dispatch for any support.
2. FAQ page
One of the most prominent self-service options is an FAQ page. The FAQ pages have answers to common queries of customers. Besides providing actionable solutions, most FAQs have a short explanation. The best FAQ pages are concise and easy to follow.
3. Messaging and AI-enabled chat systems
You will find chatbots on almost every website or app offering assistance to users. Customer service teams can upscale their operations with chatbots and messaging tools. Customers get instant support with quick problem resolution. Customer service agents become free and can concentrate on work and conversations where there is a real need for human intervention.
4. Help center content or knowledge base
You can answer queries proactively with an AI-enabled knowledge base. To get help center content, customers look for a search tool on the business website. Finding results on search engines also helps. You can also look up the business' mobile app for help center content. As soon as the customer types a query, article suggestions come up.
5. Automated call center
For self customer service, a voice bot seems to be a great option. Many business organizers have an automated call center for issue resolution. Implementing a voice bot can guide the customer successfully.
How to improve your self customer service strategy?
Self customer service is that it should be simple, helping customers complete their actions successfully – whether looking to resolve an issue or searching for an answer to a question.
Let's look at some tips which will help improve your customer self-service strategy.
1. Accessibility
Every customer support channel comes with some accessibility benefits. While thinking of customer self-service channels, consider the problems customers might have when seeking help. A successful channel will be one that can support the needs of various kinds of customers.
2. Discoverability
With excellent customer self-service, you will find the correct answers conveniently. There should be a focus on the customer self-service option in all the company channels. Place the help center link on the business website's home page if possible. If there is scope for internal search on the website, check that the navigation is accurate so that customers get their relevant answers.
3. Clarity
Simply put, do not provide lots of information to customers as it confuses them. Use plain and simple language in the conversation. With some research, you will know what kind of words and language your customers use. Try using the same types of words and language for answering customer queries. For knowledge base articles, organize them under different categories for smooth navigation.
Empower customers to solve up to 80% of their problems independently with easy self-service options. 
Conclusion
With effective self customer service, you empower your customers. They are not dependent on others for problem-solving. By choosing a suitable customer self-service option, you can enhance customer satisfaction and customer experience significantly.