We all will agree to it, the most difficult part about traveling is planning. From booking flight tickets to preparing an itinerary, travel planning takes up most of the travelers' time. It creates an unnecessary loop of research and kills the thrill of a vacation.
Thankfully, chatbots for the travel industry have come to the rescue. With travel chatbots, travelers can easily book flights, make hotel reservations, and prepare itineraries at their convenience without any hassle.
Travel companies need to be technologically adept to deal with the needs and expectations of their Gen Z customers. Gone are the days when people would visit a travel agent and discuss their plans and get a complete travel package booked. With the internet at their fingertips, everyone can plan and create their travel packages on their own.
Travel companies that understand the need for digital transformation have already built their digital presence and are ready for new changes. Chatbots in the travel industry are definitely the most efficient addition that makes companies customer-centric, and also transforms the complete travel planning experience. Travel chatbots have a number of use cases from itinerary planning, to customer support. These chatbots can be virtual travel companions and help travelers with all of their requirements.
If you belong to a travel company, and you are looking to transform your business digitally by adding travel chatbots, you have reached the right place. We will discuss travel chatbots and their benefits in detail, and articulate some of the best use cases for companies deploying chatbots for the travel industry.
What are travel chatbots?
As the name suggests, chatbots when used in the travel industry are known as travel chatbots. Travel chatbots help businesses provide the best customer experience by communicating with them during all stages of their customer journey. This builds a strong relationship between the customer and the business and leads to growth in revenue.
Travel chatbots are software solutions with conversational AI implementation for communication in the travel industry through business websites, applications, and other channels like social media. They help integrate AI capabilities with communication in order to provide a better traveler experience for their customers and an easier and automated customer experience strategy for businesses.
The travel industry has digitally transformed in the last two decades. People today don't even get the thought of booking tickets or reserving hotels offline. This shift has created a necessity for chatbots for the travel industry. Research depicts that on average a person visits approximately 38websites while planning their vacation. To overcome this situation, and avoid this churn, AI chatbots in travel are the solution.
Chatbots for the travel industry can bridge the gap between a perfect vacation and people trying to plan it out. Conversational AI on travel can help customers by:
1. Informing potential customers about the events and activities they can attend based on their interests.
2. Attending to queries 24×7 and helping customers in planning their itineraries.
3. Becoming a travel consultant, and smoothly completing the customer journey after satisfying all the needs and requirements of the customer.
Apart from these benefits, travel chatbots have a number of benefits for the businesses deploying them.
Benefits of chatbots for businesses in the travel industry
Chatbots can streamline the complete process of planning a holiday, without confusing customers with hundreds of traveling options in which they are not at all interested. With efficient use of artificial intelligence and machine learning, chatbots in the travel industry are proving to be an asset for businesses. Sophisticated usage of travel chatbots can take a travel business to the pinnacle of success.
Here are some of the many benefits of using travel chatbots:
1. Better travel guidance and planning
With conversational AI chatbots in travel and hospitality, businesses are providing a customer experience like never before. They are providing the best guidance about your preferred locations or events immediately as you search about them. Customers now don't need to jump to different websites, instead, they can just interact with a travel chatbot and gain all the knowledge that they need before traveling to a destination.
Businesses are now providing the best travel plans in no time. If a customer tries to book a ticket for, say a football match in Madrid, a travel chatbot can plan a complete trip, from hotel reservations to an itinerary with the best places to visit for a football lover.
AI chatbots obviously cannot replace humans but can increase their work efficiency and speed of delivering just the perfect travel plan for their customers.
From booking tickets to taking care of the overall travel plan, chatbots can take care of all things when planning a trip for your customers.
2. 24×7 Automated travel support
Even if things go south, a travel chatbot is there for your customers' support. This is the reason why it can be the best travel companion for travelers.
Chatbots are known for their round-the-clock customer support and instant responses. Suppose in a travel plan, your customer faces some issue while checking in to a hotel. A travel chatbot can look into the problem and solve it as soon as possible. However, if an issue or query cannot be solved by a chatbot, human intervention is a must.
Especially for hotels, airlines, car rental services and event organizers, providing travel support to their customers has become essential. Customers look up to businesses for solving any and every issue they encounter while traveling. AI chatbots are an answer to all the problem solving and travel support expected by the customers. Automation of customer support with travel chatbots can help businesses save a lot of their operational time and money.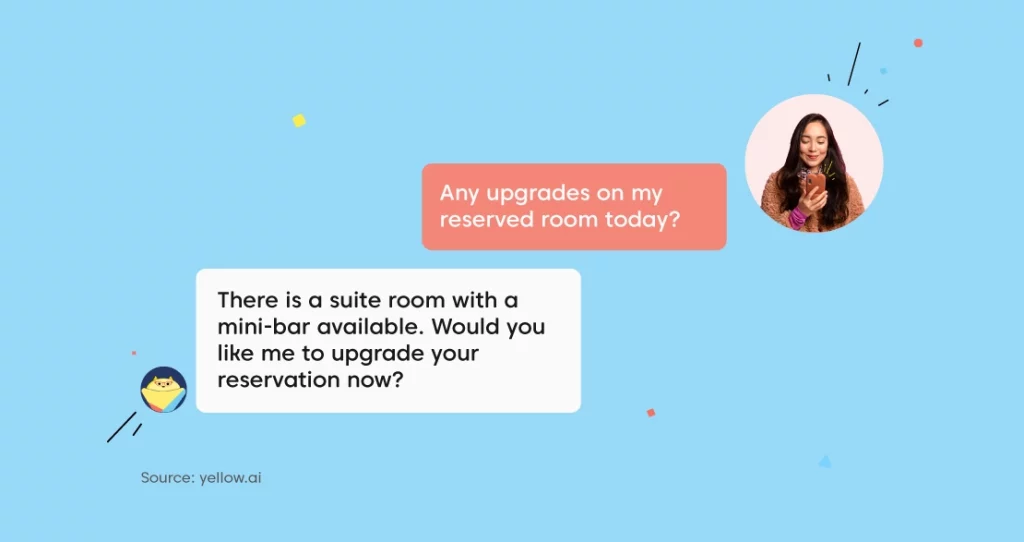 3. Scalable and accurate
Human travel agents can make mistakes while booking flights or making hotel reservations, but chatbots cannot. This computer software is hardcoded to carry out multiple tasks with full accuracy at a single time. Using chatbots can reduce the chances of any mistakes from the business's side.
Scalability is another benefit of travel chatbots, leveraging which companies can upscale and multiply their revenue. Managing multiple interactions and supporting hundreds of travelers is not a big deal for chatbots. Unlike human customer service representatives who can handle 2-3 queries at a time, travel chatbots can simultaneously book tickets, support customers, make a travel plan for a number of customers and proactively respond to every conversation without any delay.
This can help businesses build a strong trust in their customers' minds and thus improve customer loyalty. By providing customers with such a travel experience, businesses can ensure recurring and retaining customer relationships.
4. Assist direct bookings and reservations
Travelers today are in a habit of scrolling through a number of websites to find the best prices before booking or making a reservation. Especially for the travel and hospitality industry, competition is tough and people are looking for the lowest prices and best travel experiences.
Chatbots can easily help them attain direct bookings without scrolling through websites. Travel chatbots can directly provide information about all the competitors on the chat interface itself, and help customers get the best prices.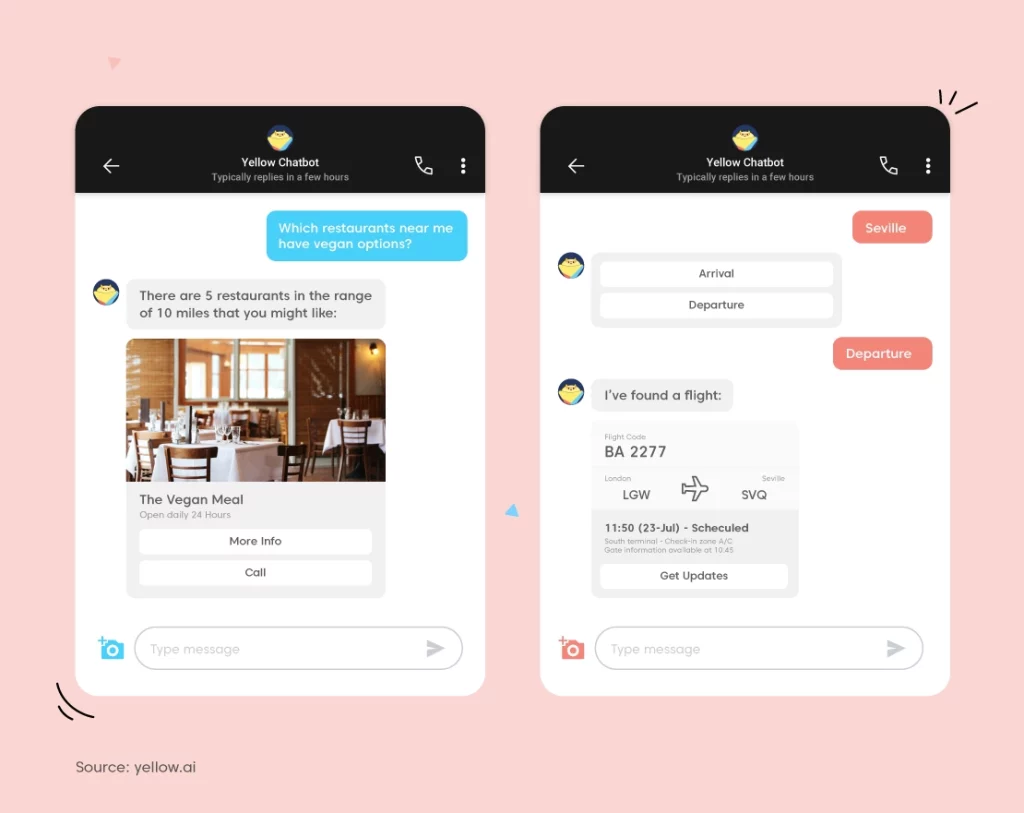 This experience can be a relief for customers and save them time. Businesses providing a direct booking service can win the CX automation game and get a competitive edge over competitors.
For maximum conversions, businesses must interact with their potential customers over all possible channels regarding the competitive pricing and direct booking features, be it website, app or social media. This will also give your business a high brand recall value.
5. Collect traveler feedback
The travel and hospitality industry runs on customer feedback. A hotel or a homestay with the best reviews and ratings is preferred by travelers. But collecting reviews can be a tough task for businesses.
Chatbots can take care of collecting feedback from travelers regarding all the business aspects, from the comfort of their stay to the ease of booking. Creating a detailed feedback profile with a good number of reviews can help your business gain traction and get more and more visits.
Businesses can automate feedback collection through chatbots on all the channels throughout the customer journey.
Travel chatbots can provide no hindrance to customer experience and interaction with 100% accuracy. If travel businesses begin to use AI chatbots to their full potential, they can set an example of growth and customer retention for all other industries in hospitality such as events, catering companies, restaurants and bars.
Practical use cases of travel chatbots
In general, there are several industries where businesses can apply chatbot use cases and automate their customer experience. Specifically for the travel industry, chatbots can be implemented in 4 different ways for businesses to provide an exceptional customer experience.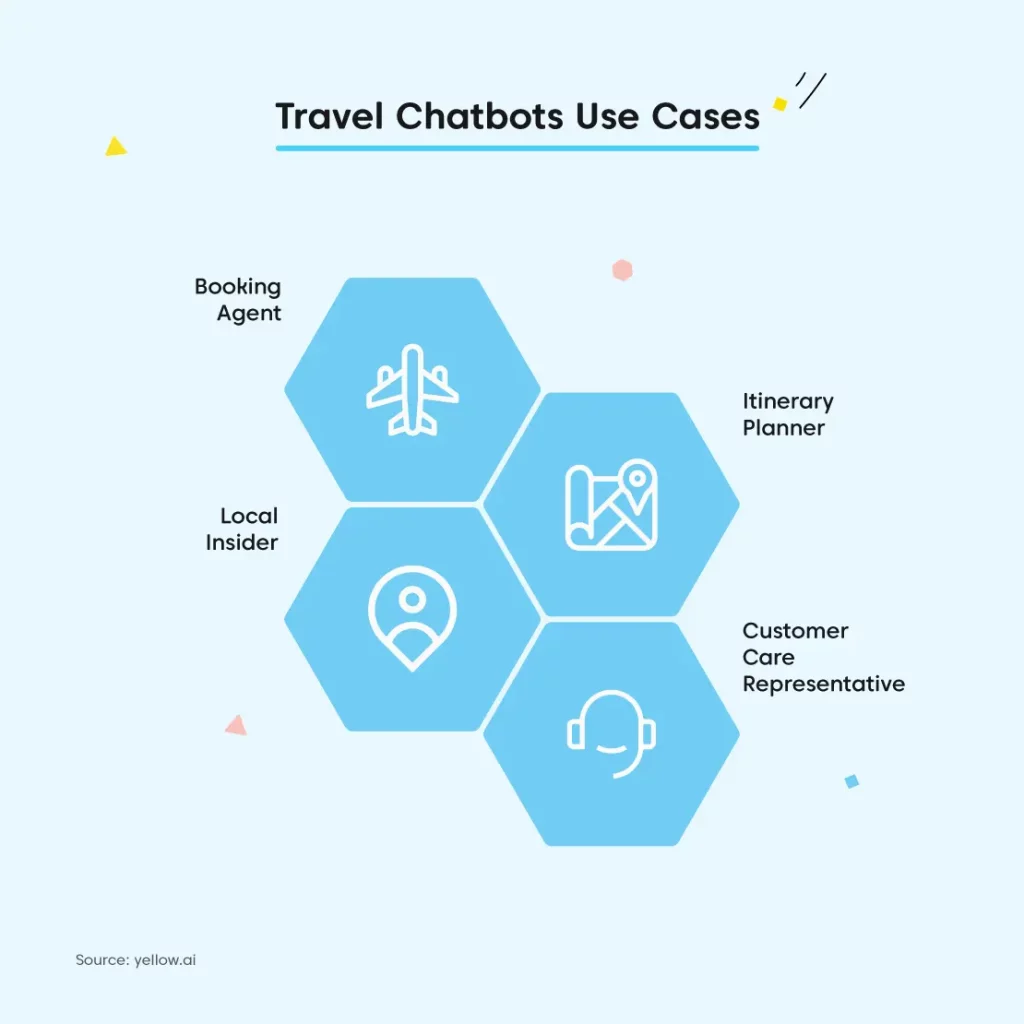 1. Travel chatbots as a booking agent
Checking flights and hotels that can suit your travel plans as well as your pockets has been the most time-consuming and tedious process ever. People planning a holiday need to scroll through hundreds of websites to find a suitable flight or a comfortable hotel.

Chatbots are here to make this task easier for customers. With the direct booking feature of travel chatbots, customers don't need to compare prices on different websites, and rather get the details on the chatbot itself.
Chatbots in the travel industry can bring a revolutionary shift in the planning of vacations. The ease with which customers will be able to plan trips is going to blow their minds.
2. Travel chatbots as an itinerary planner and travel guide
With technological advancements, travelers can now get their travel planned end-to-end without any hassle. Chatbots can save your hours of research and make to-do lists about the destination that you are visiting.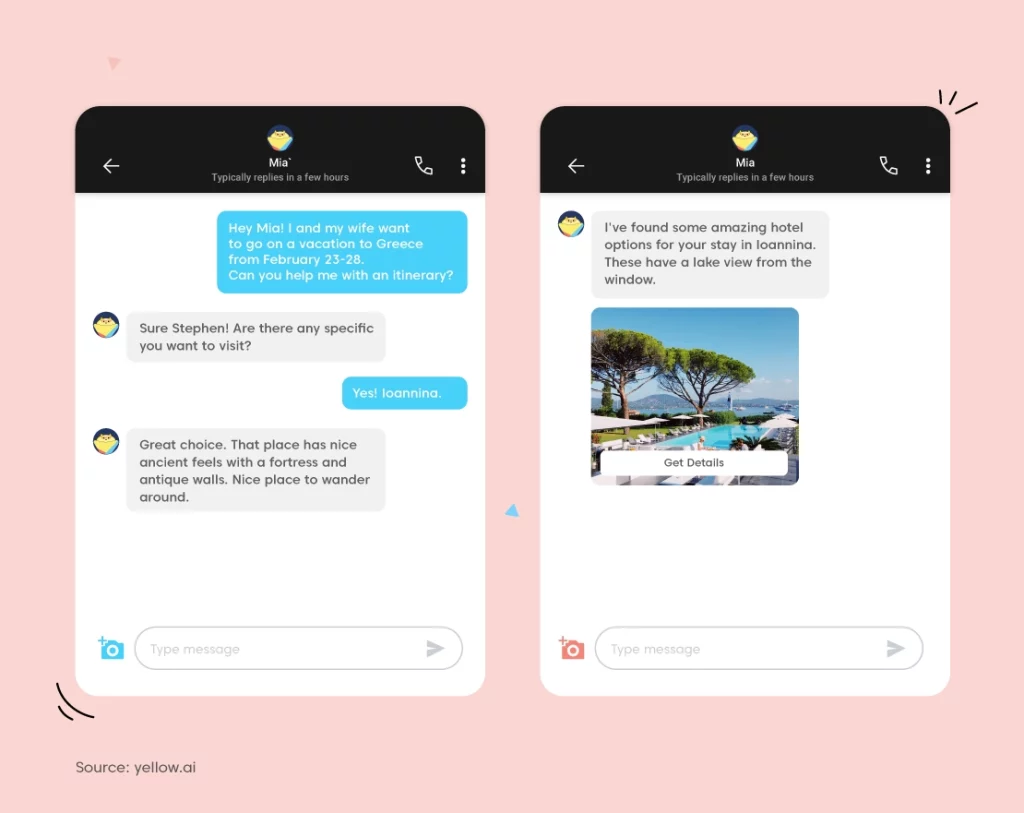 Travel companies that have installed chatbots can plan a trip for their customers in no time. A business can show all the places to visit and things to do in a single carousel for customers to select the activities and places that they want to visit. Chatbots can add it to the plan and make required bookings automatically. Travel companies can give their customers an actual break from all the work, even planning for their holiday.
3. Travel chatbots as a local insider
If you are a company that gives its travelers a truly local experience instead of just sightseeing and a comfortable staycation, chatbots can be your best business partner. They can help travelers reach places only known to a local resident. Even if a customer plans a trip to a different country, chatbots can help them know all about their culture and heritage and lead them to the most local places.
As a local insider, chatbots can also suggest some of the best places to visit and consider any impromptu changes in the itinerary. As a technologically advanced travel guide, chatbots are responsible for understanding customers and making their trip a memorable one.
4. Travel chatbots as a customer care representative
In case of any trouble with the bookings or itinerary made by the chatbots, they can help you by solving the issues within no time. Chatbots are available 24×7 for supporting customers in case they face any issues or have any queries.
These chatbots can be implemented by travel agencies in order to save time for their employees and also have a customer-centric approach towards support and problem-solving. Employees can intervene only in case of a complex query that cannot be handled by a chatbot.
There is always much more to technology and its implementation. Companies can find more use cases for chatbots in the travel industry and keep on upgrading their customer experience.
Are you looking for an AI chatbot for your travel company? Are you still confused about the implementation of chatbots in the travel industry?

Yellow.ai can solve all your queries and provide the best possible solution for CX automation. You can easily build an omnichannel customer experience strategy and gain traction from travelers across the globe from multiple channels. Schedule a demo with our subject matter experts and understand the capabilities of artificial intelligence and chatbots in travel and hospitality.