According to Annette Franz, In a world where products and services are becoming more and more commoditized, customer experience is the only true differentiator.
This statement cannot be denied with the growing reputation of chatbots. With this growth, companies are deploying artificially intelligent chatbots with a motive to provide an unbeatable customer experience.
However, it is very important to understand chatbot use cases and applications for succeeding in the process of flawless execution of a good customer experience strategy. Most companies have refined and improved their customer experience many folds by using chatbots.
To move forward and accomplish business goals, a thorough understanding of chatbots is crucial. Companies need to understand what are chatbots, their benefits, their true potential, and a deep analysis of their practical use cases and applications.
For reference, we would like to define AI chatbots and list their benefits here.
What is an AI chatbot?
A chatbot is an application interface between a customer and a business that creates a path for communication between them. It is AI-powered and has exceptional capabilities like processing, understanding, and generating natural language (NLP, NLU, NLG), dialog flow management, and machine learning.
This makes a chatbot useful for solving queries far better than that solved by FAQ bots, and much faster than a customer support team.
A company employs an AI chatbot to upgrade its customer experience for internal customers (employees) as well as external customers. In this article, you will learn about the most beneficial use cases of AI chatbots and how can your business leverage the AI capabilities and multiply revenues.

Here is a brief overview of the major benefits of using AI chatbots for your business and setting an example for the best customer experience in your industry.
Top 10 benefits of AI chatbots for your business:
1. Omnichannel Presence
2. Fast & Efficient query resolution
3. 24x7x365 availability for customer interaction
4. Easy analysis and improvement of customer experience
5. Scale up your customer support
6. Escalate customer engagement with AI Chatbots
7. Generate and qualify leads
8. Relieve overburdened customer support agents
9. Market your business with AI
10. Reduce data churn
These are a few most recorded benefits. There is a lot more to AI chatbots as businesses start using them and analyzing their overall performance.
Let us understand the most practical and applied use cases of chatbots.
Top 10 chatbot use cases to be applied in 2022
No matter which industry you belong to, if you need to put "customers" in your customer experience you need to use chatbots. With deep analysis and years of experience, we have come up with the most practical use cases where you can deploy chatbots and get outstanding results.
1. Troubleshooting and customer support
First and foremost, one of the most expected chatbot use cases is customer support. Customer support, being a subset of customer experience, falls under the responsibility of conversational AI.
67% of customers use chatbots for solving their queries. Although this report is from 2017, and since then the popularity of chatbots has only increased.
Customers today are self-reliant and try to self-serve their queries interacting with AI chatbots. Therefore, companies are deploying chatbots for troubleshooting and customer support on every platform.
Chatbot use cases and application for customer support includes:
a. Support on the website of the product/service
b. Support inside the mobile app
c. Support over social media
A good chatbot support example can be a query like "which is the best phone in 2021". A chatbot can take the keywords best phone and respond with an answer or a link from the knowledge database of the brand.
With a well-automated chatbot over all platforms, companies can stop stressing about their customers. They can utilize their efforts in doing productive tasks.
2. Growth and marketing
Chatbots help a great deal in growth and marketing for a company. Using chatbots, businesses build a stronger rapport in customer engagement and this, in turn, helps them get a bunch of happy customers. Happy customers are the secret to great marketing.
47% of customers prefer interacting with a chatbot during their buyers' journey.
Chatbot use cases for marketing and growth include improved customer engagement and a source to upsell products/services.
Chatbots collect and mine a lot of data about the customers and the business. With an understanding of the buying patterns and choices of your customers, you can stand out in personalized recommendations and upselling products. As personalized you get, the easier it becomes for your business to market your products effectively.
Also, through easy, round-the-clock query resolution and customer support, customers are likely to use your products and services because they believe in the brand, they believe in the chatbot.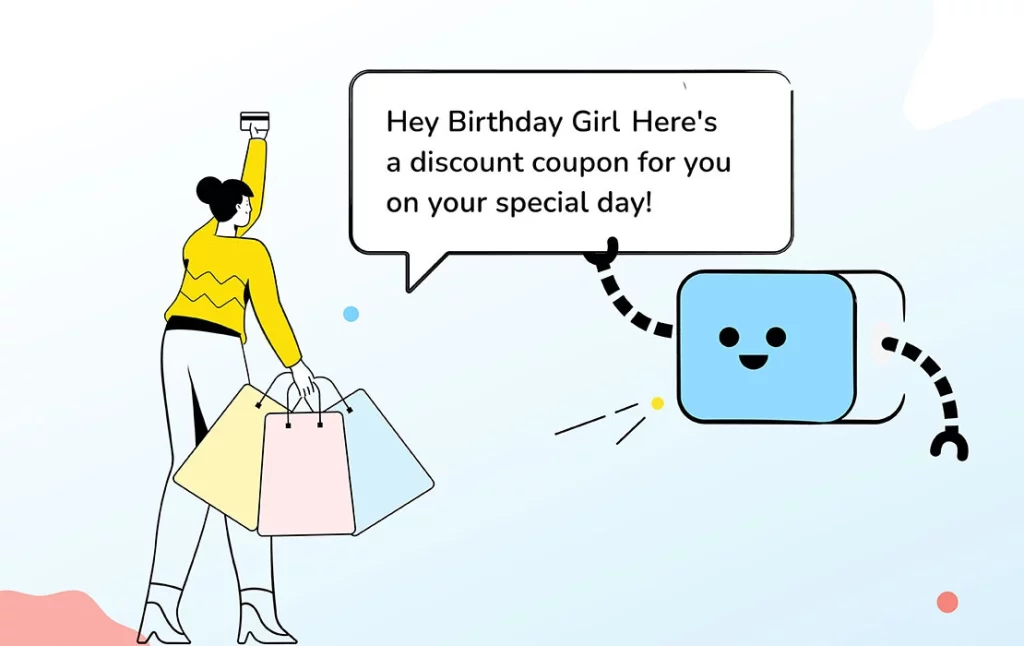 3. Sales and lead generation
Chatbots have proven to generate 4x leads when compared to a traditional lead generation tool. This is because customers like conversations.
For a business, customer engagement has a direct relationship with lead generation and revenue growth. With AI chatbots you can upscale your communication strategy and notice the rising graph of your revenue.
Chatbot use cases in sales are:
a. Better lead nurturing
b. Easy appointment scheduling
c. Placing orders online (via chatbots)
1 out of 5 customers prefers communicating with a chatbot and buying products. This is because chatbots assist customers and interact with them without any barriers.
Generate and nurture qualified leads using AI chatbots. Convert them by providing a world-class customer experience. Make them fall in love with your brand, easily.
4. Human Resources (HR) automation
Redundant tasks like sourcing candidates, scheduling interviews, and providing employee benefits. This takes up most of the time of HR executives leaving them worked up and stressed.
Automation in HR can help in all the tasks that can be done using artificial intelligence and do not need human resources.
For an HR team chatbot use cases can be:
a. Sourcing suitable candidates over all channels, emails, websites, and referrals.
b. Saving operational costs and time up to 14%
c. Being the voice of employees
d. Improving internal customer satisfaction
Happy employees ensure happy customers. HR automation can help businesses save up to 7 man-hours per week.
Also, using sentiment analysis, a business can ensure that its employees are happy and take necessary actions if not. As a result of this, the employee retention rate can be improved and companies can see a shift in productivity and ROI in regards to their employees.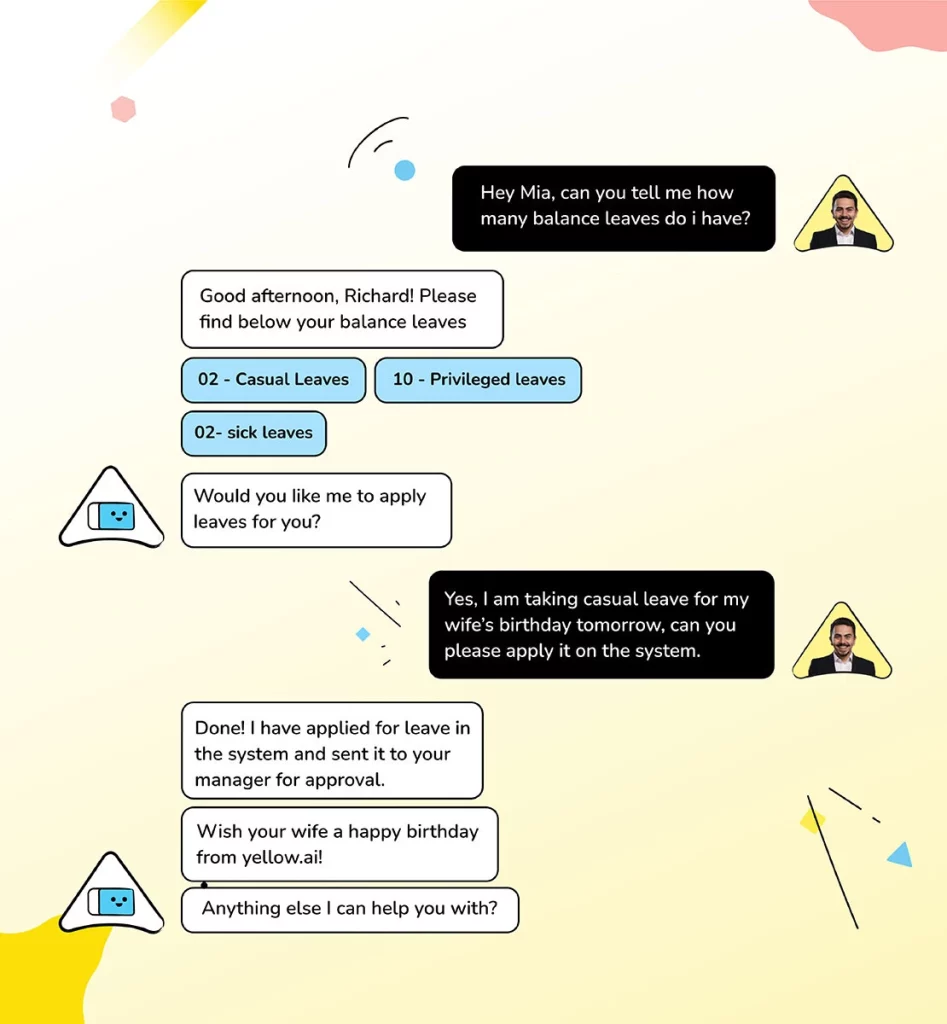 5. eCommerce industry support
Estimated, there are around 12 million-24 million eCommerce sites around the globe. Out of which hardly 1 million can generate a revenue of $1000/year. This makes this sector a room full of growth opportunities.
With AI chatbots, the eCommerce industry can function smoothly and can help their customers with the best customer experience possible.
Chatbot use cases and applications for eCommerce businesses are:
a. Solving queries related to shipment and tracking orders.
b. Supporting return/exchange requests.
c. Helping customers to place an order via a single message or a single click.
d. Giving product recommendations based on customers' choices.
e. Recording feedbacks from customers
f. Building an omnichannel presence for business interactions
For subscription-based companies, payments can also be automated, or at least customers can be reminded about their upcoming subscription payment details.
By deploying a well-strategized and developed AI chatbot, companies in this industry can fasten the shift from offline to the online marketplace. This can help customers with the best shop from home experience. Especially for retailers, chatbots are very beneficial while moving to the online marketplace.
6. Healthcare automation
The COVID-19 pandemic has taught us the importance of healthcare. With the increased difficulty and threat in the physical visits to the doctors and hospitals, the healthcare industry is now automating.
Patients are trying to interact via chatbots and safely heal themselves from home.
To facilitate patients and hospitals, the following chatbot use cases can be applied:
a. Recording patients' information
b. Booking consultation appointments
c. Generating appointments for tests and diagnosis
d. Providing healthcare tips
e. Generating test reports and sending them to patients
During COVID-19, Yellow.ai started a CSR initiative with #yellowAIcares. During this, we built free chatbots for hospitals and NGOs working for people affected by the pandemic in one way or the other. We understood the potential of chatbots and asked hospitals, NGOs, and anyone working for the patients, to leverage this AI-empowered bot and help patients get the healthcare they deserve.
7. Record keeping reviews and feedbacks
Reviews are feedbacks are the results of all your hard work that goes behind the business. From the top of the funnel to the bottom of the funnel, customers can share their reviews at any point in time.
"We all need people to give us feedback, that is how we improve."- Bill Gates.
Chatbots have an important role to play in this part of the sales funnel. Getting 100% true reviews and feedbacks from customers can be automated.
Chatbot use cases for reviews and feedbacks are:
a. Create a smooth passage for reviews where customers can feel heard
b. Record feedback and ratings
c. Derive insightful information about customer satisfaction
d. Suggest actionable insights for companies to improve their CSAT score.
With chatbots in action, customers tend to interact quite easily and share their thoughts. This encourages customers to fill the survey forms, or submit the review applications.
Also more the reviews and feedbacks, the more the product becomes sellable. Because people depend a lot on reviews and ratings of the products.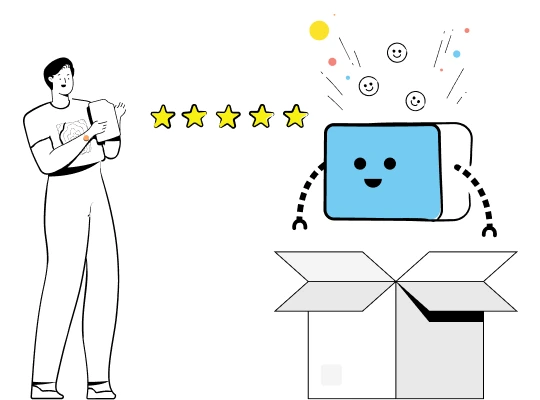 8. Provide financial advice
Chatbots can shine in providing excellent financial advice for banking and non-banking financial companies. With an enormous amount of data, and the ability to churn that data, accurate and personalized financial advice can be provided to customers.
Chatbot use cases for banking and financial services can be:
a. Smart and secure payment automation
b. Analysis of spending patterns
c. Actionable financial services
With artificial intelligence, chatbots can retrieve and process data about their customers' spending patterns and advise them what to do so as to manage finances in the best possible way.
This feature can be very useful for customers and financial and non-financial companies to build a strong engagement and create a rapport with their customers.
9. Social media automation
If businesses can market themselves and sell products on social media then why not automate the best customer experience over there. Customers today assess brands by their omnichannel presence and ability to interact on every channel.
Businesses have gained the access to be present where customers are. The platforms widely used by customers now provide a business account with AI automation capabilities.
Chabot use cases in social media automation can be categorized as pe platforms.
a. WhatsApp automation
b. Instagram Automation
c. Omnichannel automation with a single ticketing dashboard
Yellow.ai provides a customer experience platform on all possible channels and gives companies an outstanding cutting edge over their competitors. With more and more customer engagement and smooth customer service brands can multiply their revenue and expand globally.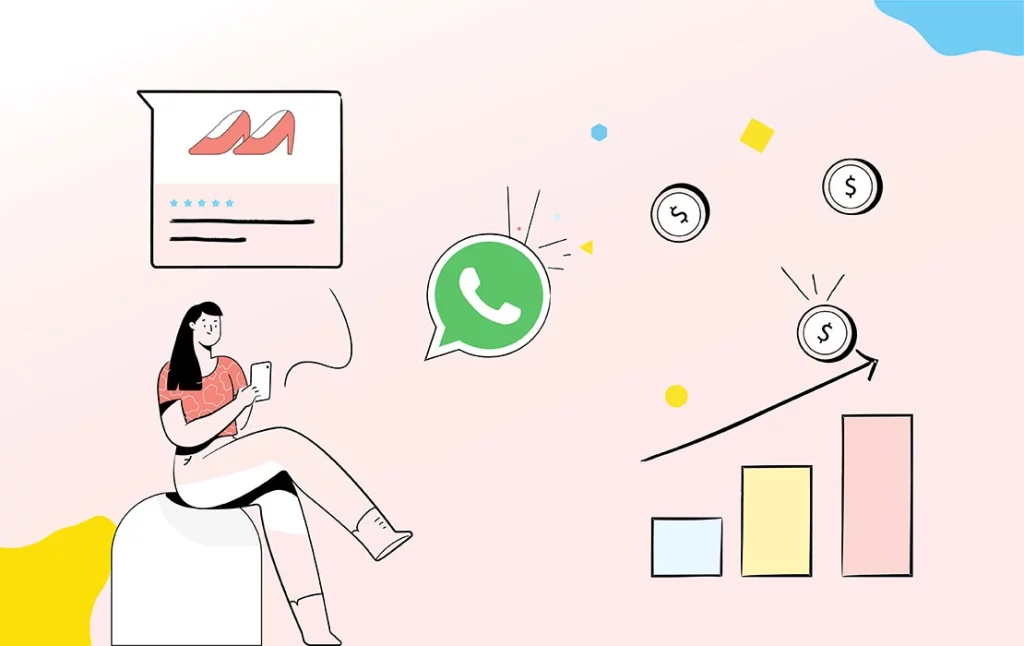 10. Industry-based customer experience automation
Automation in customer experience is a necessity for all businesses and all industries. No matter whether you belong to a B2B or a B2C market, customers need a good experience and they must get it. Industries that have been deploying chatbots and have seen the best chatbot use cases include:
a. Banking
b. Retail and eCommerce
c. Energy and utilities
d. Education
e. Gaming
f. Insurance
g. Telecommunications
h. Automotive
i. FMCG
j. Pharma and healthcare
k. Manufacturing
If you belong to any of these industries, we have a proven experience of providing the best conversational CX for your business. With chatbot applications, your business will definitely raise the bar of customer experience in your sector.
The graph of application of AI chatbots is growing exponentially. Global markets have seen and understood the capabilities of artificial intelligence and possibilities of growth. When are you planning to reform and automate CX for your business?
Conclusion:
Basically, we are here to tell you that chatbots are a boon to your business and can prove to be the greatest assets of all time. They can automate interactions (text-based and voice-based) and take your success to the next level.
If you are planning to upscale your business in 2022 and are determined to improve the customer experience you are at the right place. By understanding the most practical chatbot use cases and applications, you now know the opportunities you can create with a chatbot.
With Yellow.ai, fulfill all your CX automation needs by simply scheduling a demo and talking to our experts. You can also try and build chatbots with our no-code bot builder