WhatsApp is enormous. It is arguably the world's most widely used messaging application, with more than 1.5 billion active monthly users spread across 180 nations.
Understandably, organizations are trying their best to get through to this massive user base. It is a complex task and WhatsApp at this time, doesn't serve advertisements and its end-to-end encrypted messaging structure implies targeting would be severely restricted. Additionally, based on the type of app used, WhatsApp Business users must pay a fee to send out messages unless consumers contact them first.
Today, though, smart businesses have found innovative ways to reach out to customers on WhatsApp and it has exhibited its usefulness in customer service, one-on-one chats, and marketing campaigns.
Connect with your users on WhatsApp using cutting-edge brand experience automation tools
Request Demo
How WhatsApp Business was Conceived
Before Meta acquired it, WhatsApp used to charge a fee for sending messages on its platform. After the acquisition, WhatsApp became free and vowed to never have advertisements.
However, Meta was looking for a business model to make money from its colossal new asset. WhatsApp Business was the answer. Companies were using WhatsApp for marketing and expanding their network before the arrival of WhatsApp Business, through WhatsApp Groups, which was popular among people in the sales team.
For WhatsApp, it made perfect sense to charge companies to use the platform and eventually, in January 2018, WhatsApp introduced WhatsApp Business. The platform enabled businesses to connect with their customers across the whole journey with useful notifications and promotional messages. WhatsApp Business builds customized promotional campaigns that stand out and help engage customers with interactive messages and make them aware of the latest promotions and offers.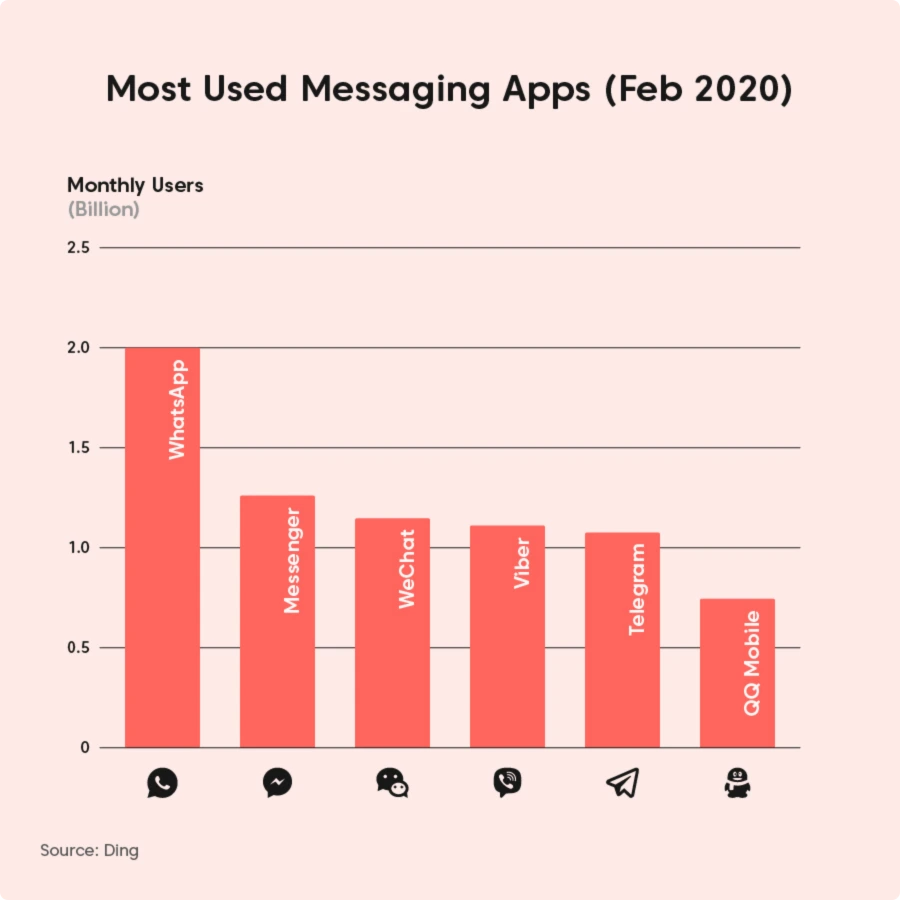 The Origin of WhatsApp API
WhatsApp API is normally meant for medium to large businesses that wish to make the most of WhatsApp with several users. WhatsApp API has no front-end interface and must be incorporated into a business software. WhatsApp is careful with who is allowed API access. Firms that intend to use WhatsApp API are advised to use the services of a third-party known as Business Solution Providers (BSP).
For most businesses, the only option available to be able to use WhatsApp API is through BSPs. Your experience with WhatsApp API may vary drastically based on your BSP. To streamline things, there are two kinds of WhatsApp BSPs – SMS providers and others. SMS providers combine WhatsApp API with their patented API. Consequently, it takes more effort and time on their end to update any additional features from WhatsApp. The bands that are not classified as SMS providers use proxy APIs that are similar to the setup of WhatsApp. So, it is easy for them to support new WhatsApp Business API features.
Earlier, hosting WhatsApp API was possible only through an on-premise API on the BSP's servers. BSPs today offer Cloud API, where the API is hosted on Meta. Cloud API is presently available in beta to a few BSPs. Organizations that are employing a BSP with Cloud API access will include the latest WhatsApp API features. In contrast, the businesses using on-premise APIs won't be able to get access to new WhatsApp API features until their BSPs carry out API software updates.
How is WhatsApp Chatbot so Beneficial to Businesses?
A software program that operates on an encrypted WhatsApp platform is known as a WhatsApp chatbot. Users of WhatsApp can connect with a chatbot via the chat interface as they would speak to a person. Here are some of the key benefits of the WhatsApp chatbot:
Customer chats are more secure with WhatsApp end-to-end encryption.
Customer experience customization can be achieved by customizing the WhatsApp script.
It develops loyalty and trust with customers.
Directs customers down the sales channel by allowing them to act fast.
Augmentation of customer experience is advanced with WhatsApp chatbots.
Real-time validations are likely with immediate responses to the customers' requests.
It encourages customers to act in response to questions immediately.
Allows assistance to customers on their chosen platform that they use every day.
Creating a WhatsApp chatbot is not a complex process, but it is essential to have a robust plan to develop a superior one. It is somewhat similar to creating Facebook Messenger bots. However, with WhatsApp, customization can be achieved in a flexible manner. Also, it is essential to get the approval of WhatsApp to build a WhatsApp chatbot without being blocked.
You can create a secure and functional WhatsApp chatbot by submitting an application for WhatsApp Business API. The approval takes time for making a WhatsApp chatbot. But the waiting time can aid in creating a WhatsApp bot with all the necessary conditions.
Why is WhatsApp Business important?
With millions of users on WhatsApp, it's tough to disregard the platform. In the year 2020, WhatsApp hit 2 billion users, a 33% surge from 1.5 billion users in 2017. This is an incredible achievement since it is closing in on Facebook's number at 2.7 billion users in 2020.
Besides the huge user base, it is also about engagement. Users on WhatsApp send close to 65 billion messages each day, which is around 750,000 messages each second.
In comparison to conventional techniques of reaching customers through emails, a large number of the messages sent via WhatsApp are delivered and seen within minutes. Infact, messages sent through WhatsApp Business have a 98% view rate.
Currently, over 5 million users are using WhatsApp Business and several more are listed with an API account. In the nations where WhatsApp is widely used, it has become essential for businesses to use it to reach their customers.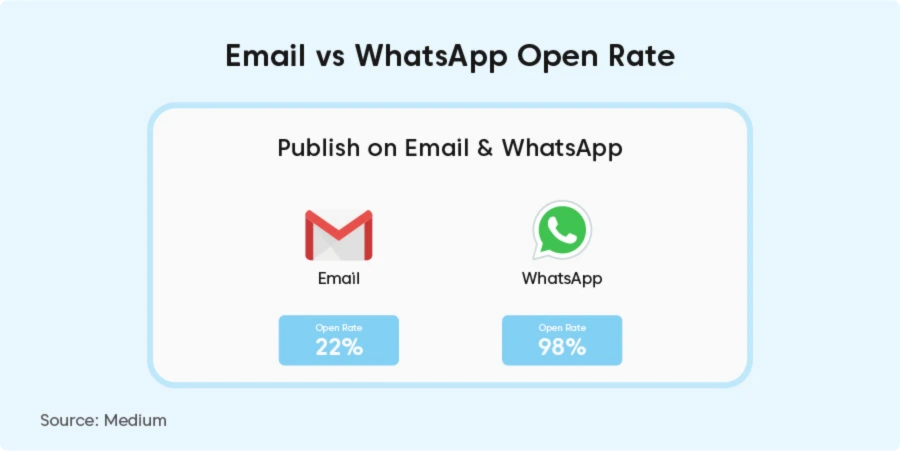 Difference between WhatsApp and WhatsApp Business
WhatsApp is one of the most popular messaging applications among the consumer community today. With an increasing number of users every day, the usage of WhatsApp as a communication tool is humungous. This makes the channel one of the leading messaging apps used by businesses to meet their customers wherever they are.
For customers, WhatsApp is absolutely free of cost and only requires a stable internet connection. It is one of the most used applications in most of Europe, the Middle East, Latin America, and the Indian subcontinent, as well as immigrant and diaspora communities in North America.
WhatsApp Business on the other hand is a platform used by businesses to interact with their customers. The platform enables companies to have real-time interactions with their customers without losing the context. Businesses can have personalized communication over text and can help their customers with instant responses.
The major difference between WhatsApp and WhatsApp business is the extra features that help businesses with some of their problems like onboarding customers and offering zero-wait time customer service.
WhatsApp Business Account and its Various Types
There are two types of WhatsApp Business accounts, WhatsApp Business app, targeted at mainly small businesses and WhatsApp Business API for medium and large enterprises.
1. Business App Account
The Business App enables SMBs to keep their personal and work messages separately. Since it is an app, firms can reply to messages instantly. Outside of working hours, firms can set 'away' messages and automated greeting texts.
To create a Business App account, download the app onto a phone from Google Play or Apple App store, verify the business phone number, set your business name, and fill in the profile details in settings and you are good to go. However, you must have a distinct SIM card or number for Business WhatsApp.
2. Business API Account
WhatsApp API is meant for large firms who wish to use WhatsApp Business with a large user base for sales and support. Applying for an API account is a long-drawn process and firms cannot apply for it through WhatsApp.
The process involves applying for an API account with a Business Solution Provider (BSP) who helps you get access to WhatsApp API. Once an application is approved, a business can connect the API to a WhatsApp CRM and start messaging. As the account gives access to an API, the potential of the account is contingent on the selected BSP and the pricing for an API account also differs between BSPs.
How to get started with WhatsApp Business Account
Once you have created a business profile the next step is to set up the app. The WhatsApp Business app as a messaging tool will help you save time by setting up automated greeting and away messages and you can also enable quick responses for users.
Here are the steps to set up your WhatsApp for Business communication account:
To set up messaging tools, go to Settings > Business Settings and go through the messaging choices available there.
You will see three options: Greeting message, Quick replies, and Away message. You can set any of these based on your requirements.
When you are unable to respond to users, you can enable an automated away message. There is also an option to send the away message at all times outside of business hours or on a tailored schedule.
Why Should a Company Choose a WhatsApp Business Account?
As mentioned above, there are two types of WhatsApp Business accounts. Both have their own set of benefits. The Business App account is about making sure small businesses flourish. Here are some of the few WhatsApp business account benefits and reasons why a company must choose a WhatsApp Business App account:
Supports WhatsApp catalog and WhatsApp payment
Comes with a feature of sending broadcasts to up to 256 contacts and all sorts of content is permitted
Has no messaging limitations and a business can message any contact at any time.
Has a straightforward method to implement as one just needs to purchase a new SIM & download the app
For medium and large businesses, the WhatsApp Business API is a more suitable option as it offers the following benefits:
Permits unlimited users and devices
Supports connection to a WhatsApp CRM
Supports programmatic messaging
Allows integration with chatbots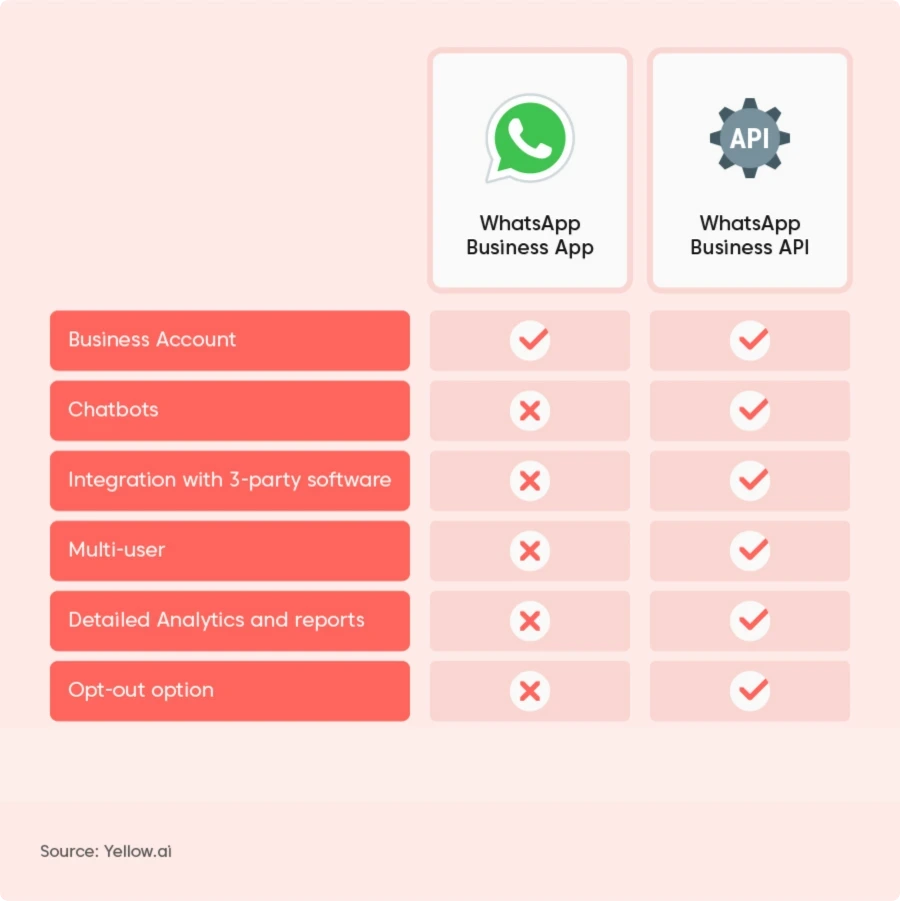 What are the Key Features of WhatsApp Business that Makes it a Must-have for Companies?
A WhatsApp Business account comes with the following key features:
1. Business profile
A business profile offers your customers valuable information such as your address, email address, business description, and website. A business account helps brands gain a user's loyalty and gives it a recognizable "face" and identity.
2. Automatic greeting message
A WhatsApp Business account allows you to generate a greeting message for users. The greeting message will be delivered whenever a user initiates a dialogue with your brand or after two weeks of inactivity. Through this message, you can introduce a brand to a new customer with no interruptions and waiting time.
3. Label contacts
Brands can manage their contacts and classify them with labels for quick access. This offers them an easy way to search through your contacts and keep them organized.
4. Catalogs and collections
Catalogs enable brands to showcase their products in a way that help people easily browse the items they are keen on buying. To make the shopping experience easier, a new feature called Collections was introduced that acts as folders to set items within a business account. Users can find their way to the category they're searching for quickly without going through the entire list.
5. Quick replies
These are recurring messages sent to answer common queries. It allows you to save and reuse messages you often send to effortlessly answer common questions fast.
6. Access message statistics
Through this feature, WhatsApp for enterprise enables you to access key metrics such as the number of messages sent, delivered, and read.
How to Collect WhatsApp Business Opt-Ins
WhatsApp being GDPR compliant requires explicit permission from the users to receive messages and notifications from businesses. This means that if a business is not willing to wait for the customers to send a message first, they can request their customers to opt-in to receive WhatsApp messages.
In order to collect WhatsApp business opt-ins, businesses must clearly mention the name of the company, and that the customer is ready to receive messages from the business on WhatsApp. They must abide by the WhatsApp policies without trying to bluff customers in any manner.
However, businesses can use any channel to collect opt-ins, they need to be really smart and creative in doing so. Below are the 5 most effective and time-tested ways that businesses can use and collect maximum opt-ins from their customers.
1. Using the website
The website is a great channel where potential customers come and understand all about the business. Leveraging a website can be a great way to collect WhatsApp opt-ins. Businesses can do this by either using a pop-up screen or by creating a separate landing page where customers can enter their contact details and choose to receive WhatsApp messages from a business.
In the case of a landing page, businesses can leverage various marketing tools and drive maximum traffic to the page.
2. Leveraging third-party channels
A business uses multiple communication channels such as social media channels, SMS, emails and app notifications. Using all these channels to get the customers to opt-in to the WhatsApp business messages helps businesses get more and more opt-ins.
Voice IVRs are also one way to reach out to the customers and get them to opt in for the messages. Businesses can automate calls and ask customers to dial a specific number to receive messages via WhatsApp.
3. Leveraging the purchase journey
Opt-in messages or notifications just when a customer is completing their purchase journey can get businesses many customers choosing to receive their invoices and updates on WhatsApp. For example, as soon as a customer orders something from a virtual store, businesses can ask them if they would like to receive their invoice and shipping information on WhatsApp.
Naturally, a customer would prefer WhatsApp as a communication channel and opt-in.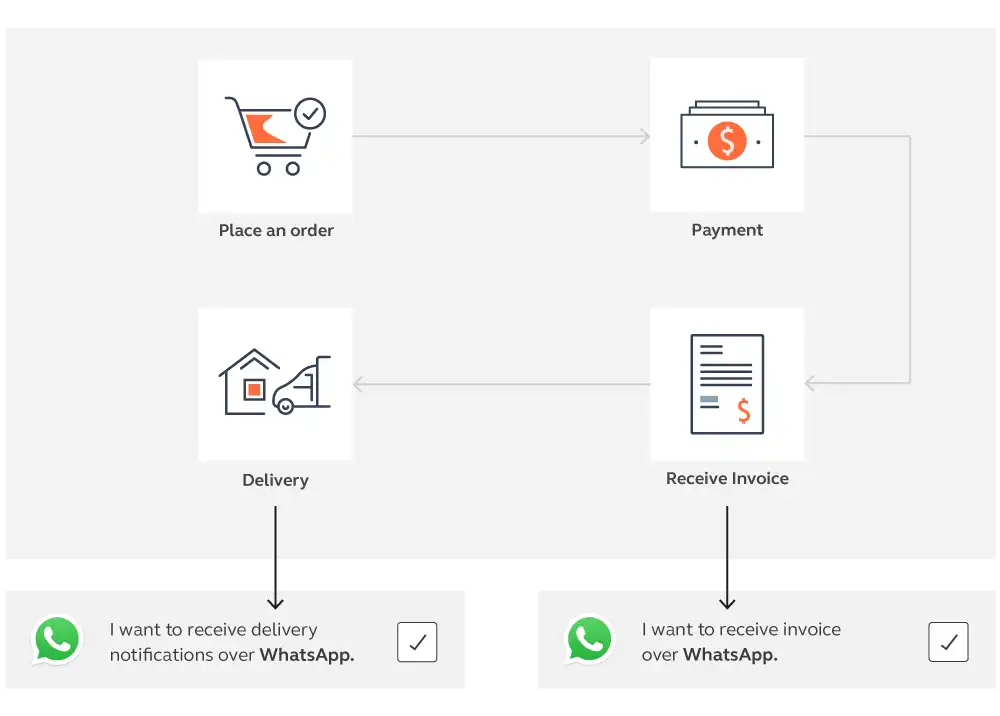 4. Including WhatsApp in customer contact preferences
While asking customers about their contact details and the channels they would like to receive business messages, businesses can add WhatsApp as one of the channels. If customers are willing to receive WhatsApp messages and interact with the business over the channel, they can opt in with a single click.
No matter which method businesses choose to get customers to opt-in for WhatsApp messages, the process must be simple and user-friendly.
5. Using in-store space
Businesses with retail outlets can use PoS (Point of Sales) to get their customers to opt-in for WhatsApp communication. They can use QR codes that lead them to the WhatsApp landing page, and from there, customers can opt-in to receive WhatsApp business messages.
Businesses can leverage information such as reward points, refund details and any other important information to get more opt-ins.
Which Industry Benefits the Most from Using WhatsApp Business?
WhatsApp Business is turning out to be a potent communication outlet for user engagement, especially for large firms serving a wide audience. Here are some of the industries where WhatsApp Business is playing a key role in expanding the reach of businesses: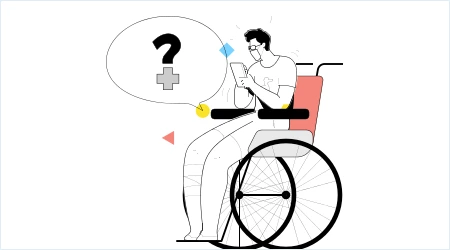 Healthcare
The evolution of digital communication has played a vital role in the healthcare sector. The growing demand for top-quality healthcare services has led to telehealth solutions becoming more popular. Today, the sector is focused on swifter and more dependable communication platforms to deliver integrated healthcare solutions.
WhatsApp Business is enabling that by acting as a medium to address several key requests. From sending prescription updates, medical test reports, and appointment confirmations to sharing insurance details and outstanding balance updates.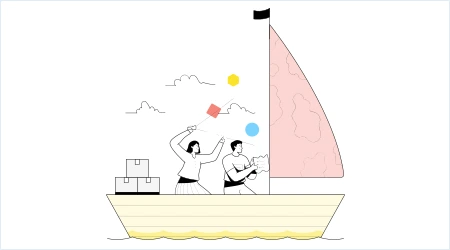 Online Travel Agencies (OTA)
The growing competition in the travel business has put online travel agencies under enormous pressure to demonstrate the value they bring besides price. OTAs are shifting their focus in travel marketing from getting a booking done to delivering an enhanced customer journey. At each stage of a traveller's journey, OTAs have a chance to engage with them, add value and boost revenue earning opportunities. Adding WhatsApp Business to their communication set will make them a more accessible and well-connected travel partner and make the whole customer journey more worthwhile.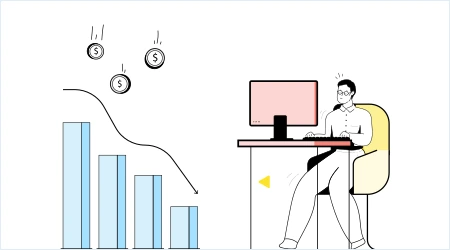 BFSI
Intense competition, evolving customer expectations, and digital innovation are transforming the BFSI sector. To flourish in such an ecosystem, businesses must find groundbreaking ways to provide unique services that plug unfulfilled customer needs. Incorporating WhatsApp Business in their communication strategy is helping BFSI firms efficiently manage customer chats and giving them a holistic understanding of their exchanges, thus helping them support their customers better.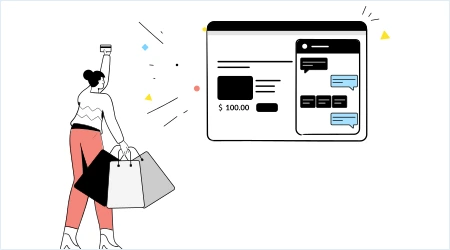 E-commerce
As E-commerce firms have inadequate face-to-face customer contact, they must make their online communications quick and compelling. By mapping customers' journeys, finding prospects at each stage, and enabling tailored customer service through immediate messaging channels, E-commerce companies can create a deeper relationship with their customers and offer them an enhanced shopping experience.
Benefits of Having a WhatsApp Marketing Strategy
Meta acknowledges WhatsApp as a lucrative marketing tool and why not, the channel is adopted globally and has rich media sharing capabilities that make it one of the best in marketing. Here are a few benefits that businesses can enjoy by having a WhatsApp marketing strategy in place:
1. Facilitates secure and private marketing
WhatsApp can be trusted with its end-to-end encryption and GDPR compliance. No third-party apps can be used to crack open WhatsApp encryption, thus no one can leak the interactions between a customer and a business.
Apart from this, WhatsApp has vowed to not show ads to its users. Unlike other marketing channels, customers trust WhatsApp. Businesses get verified by WhatsApp, thus customers know that they are interacting with a verified and trustworthy business.
2. Enables real-time customer support
WhatsApp has made it simple, easy and reliable for businesses to be available for their customers at any time of the day or night. The channel offers ubiquitous messaging and helps customers interact with businesses on a comfortable and familiar platform.
Businesses can easily send and receive messages at any time of the day and can help them solve their queries and issues within a short period of time.
3. Allows automation and FAQs
WhatsApp Business allows businesses to deliver fast customer support through automation and FAQs. Businesses can automate replying to customer messages with useful information that can resolve issues.
Businesses can use features like interactive list messages or quick replies to answer their customers. Even if a customer has a complex query, businesses can inform them when will a customer service representative be next available for them.
4. Reaches different demographics
Offering personalized service and continuous interaction on WhatsApp helps a business stand out and get an edge over its competitors. This is because the channel is used by everyone from the younger generation to the aged people.
A business can reach out to everyone and offer its products and services. It can also try out different demographics and reach people globally.
5. Helps in decision-making with deep insights
WhatsApp Business provides deep insights to businesses about their message open rates, number of messages, the context of interaction and a lot more. It helps a business understand the needs of the market and forecast the demands.
These valuable insights help them in making informed decisions faster and with more accuracy. Businesses can use the insights and offer exceptional service to their customers.
WhatsApp Business API Account
As mentioned earlier, the WhatsApp API account is targeted at large firms who wish to use WhatsApp Business with several users for customer sales & service.
Why is it Important to Have WhatsApp Chabot with WhatsApp Business API?
It is not possible for any WhatsApp number to have a chatbot installed. WhatsApp doesn't allow that. The WhatsApp chatbot was introduced when Meta launched WhatsApp Business API chatbot for businesses.
WhatsApp Business API allows businesses to be present on WhatsApp and they also obtain a substantiated WhatsApp Business account. With WhatsApp APIs, it is possible to integrate systems such as WhatsApp bot for business, chat agents dashboard, and CRM to automate customer support and sales.
WhatsApp Business API is preferred by several multinational businesses and retains its exclusivity as a platform without advertisements and puts users in control of their inboxes. Over time, the approvals will be faster to enable smaller companies as well to benefit from the facility.
WhatsApp offers the following benefits with Business API:
Security of the messages by transmitting them through API with an end-to-end encryption.
Raises the level of confidence of branded messages that a user gets
Offers the option to exclude spam
Safety of the users' personal data and space
Setting up WhatsApp Business Chatbot
WhatsApp chatbot for business has a good reputation in reducing the gap between businesses and consumers. Here is a step-by-step method to build WhatsApp chatbots for business:
1.Start by applying for WhatsApp Business API: The first step to creating a WhatsApp chatbot is to apply for the WhatsApp Business API as a solution provider or as an end client.
You must apply by including all relevant information, such as company name, website address, company representative details, and location. You can apply directly to WhatsApp or through one of its solution providers. After the review and approval by WhatsApp, you are authorized to run the chatbot.
2. Selecting the correct platform: It is important to choose the best platform that will combine the chatbot with the WhatsApp Business API. You can select from several different platforms available in the market, to avoid starting from scratch.
3. Establishing an appropriate conversation flow: Conceiving a suitable flow of dialogue that the chatbot will have with customers is a crucial step in designing a WhatsApp chatbot API. This also involves considering the sort of questions customers will have and how the chatbot will answer the questions it cannot answer. A chatbot service provider must create a suitable dialogue with inputs on the following aspects:
What is the purpose of creating the chatbot?
Will the dialogue that the chatbot will have with customers be guided or free-flowing?
What will be the tone a chatbot must have while chatting with the customers?
Things to keep in mind while working on WhatsApp chatbot are:
It must accomplish the goals set by the business
Identify the Where, What, and How of the functioning of the chatbot
Forceful planning and execution to work on the chatbot
4. Testing of WhatsApp chatbot: The objective of setting up a WhatsApp business bot is to improve the customer experience. To be able to accomplish this objective and create a high-quality chatbot, it is essential to test it by asking questions that the customers could ask the bot, recognizing the problems followed by correcting them at once and then rerunning it for best functionality.
How is WhatsApp Business Priced?
WhatsApp used to charge 99 cents annually. But after its acquisition by Meta, the messaging tool became free and also vowed to never have ads on the platform. Even today, the original product is totally free.
On the other hand, business solutions are charged. When it was newly launched, WhatsApp's business solution was essentially free, except for special charges for messaging customers 24 hours after their most recent correspondence. But on October 22, 2020, meta declared that it would start charging businesses for using WhatsApp.
WhatsApp Business app is free, but the WhatsApp API account comes at a price. However, several providers offer the solution at a reasonable price and offer easy access to the WhatsApp API for businesses. Here are some of the costs that a WhatsApp API solution provider may charge:
Monthly costs
This can differ significantly depending on the provider, so it is better to spend some time comparing.
Set up costs
Besides the monthly costs, a few providers also charge a one-time implementation fee to set up the whole thing.
Costs per conversation
As per the latest pricing model (in effect from February 2022), WhatsApp charges a fee per conversation and not per message template.
Why Yellow.ai for WhatsApp Business?
If you are planning to use WhatsApp for business for multiple users to boost your customer and/or employee engagement, Yellow.ai is the right choice as we are an authorized partner for WhatsApp Business accounts and a next-gen total experience Automation platform fueled by dynamic AI agents for businesses to provide human-like chats that boost customer satisfaction and employee engagement at scale. Get in touch with our experts to get started with WhatsApp Business API.
WhatsApp Business API
Connect with over 2 billion active users on the world's most popular messenger app
Request demo
Why Choose Yellow.ai's WhatsApp Chatbot Services
WhatsApp AI chatbot is an automated AI-powered software where people can converse through the chat interface, just like any other interaction with a person. It is a collection of automated responses that mimics a human chat on WhatsApp. As billions of people are using WhatsApp today, businesses have boundless opportunities to reach and engage with their audience through WhatsApp chatbots. With WhatsApp for Business, brands are interacting with their customers and WhatsApp chatbots are enabling them to interact instantly and on a large scale.
There are several chatbot building platforms that businesses can use to help them develop a WhatsApp bot. However, businesses need to be careful while choosing their vendor as a few of these platforms may not be able to provide them with WhatsApp business approval and without WhatsApp's consent, they will not be able to launch the chatbot.
Yellow.ai offers WhatsApp business chatbot services, where businesses can share and obtain text messages, URL, audio content, images, location information, stickers, videos, and any other document in any format.
If you are planning to use WhatsApp for business for multiple users to boost your customer and/or employee engagement, Yellow.ai is the right choice as we are an authorized partner for WhatsApp Business accounts and have the necessary automation experts to help you get started with WhatsApp Business. We are a next-gen Total Experience Automation platform fueled by dynamic AI agents for businesses to provide human-like chats that boost customer satisfaction and employee engagement at scale.
Frequently Asked Questions
What are the differences between the WhatsApp Business app and WhatsApp Business API?
WhatsApp is a messaging app meant for the general public while WhatsApp Business is a messaging app that businesses use to reach a wider audience.
What is the difference between WhatsApp and WhatsApp Business?
WhatsApp is a messaging app meant for the general public while WhatsApp Business is a messaging app that businesses use to reach a wider audience.
Can WhatsApp Business be used on multiple phones?
Under the latest beta program, it is possible to use the WhatsApp Business app on five devices of one phone + four more devices for each number.
Is the WhatsApp Business app free to use?
Yes, the WhatsApp Business app is free for all and was developed with the small business owner in mind.
Does WhatsApp business have a chatbot?
Yes, WhatsApp business offers a chatbot that operates on an encrypted WhatsApp platform.
What is WhatsApp Business API?
WhatsApp Business API drives a business's communication with customers worldwide, so they can connect with them on WhatsApp in a secure, easy, and trustworthy manner.