With almost 3 billion active monthly users, Facebook, now known as Meta, is an important platform for businesses to reach and engage with their customers. However, in order to make the most out of the numerous benefits of this platform, you need to first create a Facebook Business Page.
Read this guide to learn how you can create a Facebook Business Page for free in 5 easy steps and use it to grow your business by engaging with the vast user base of this platform. Let's get started!
Offer Personalized support and improve CSAT by up to 40% with Facebook Page Automation
Request a demo
What is a Facebook Business Page?
A Facebook Business Page is similar to a free business webpage that businesses may use to grow their online presence. Your Facebook Business Page, unlike a personal Facebook profile, not only allows you to send and receive messages, but also promote your posts, run Facebook ads and get access to Page insights.
Given how many businesses have a Facebook presence, your Page will need to stand out in order to attract attention to your brand's exclusive offerings. If you're unsure whether the effort required to distinguish your company on Facebook is worthwhile, the numerous advantages of Facebook Business Pages may persuade you to do so.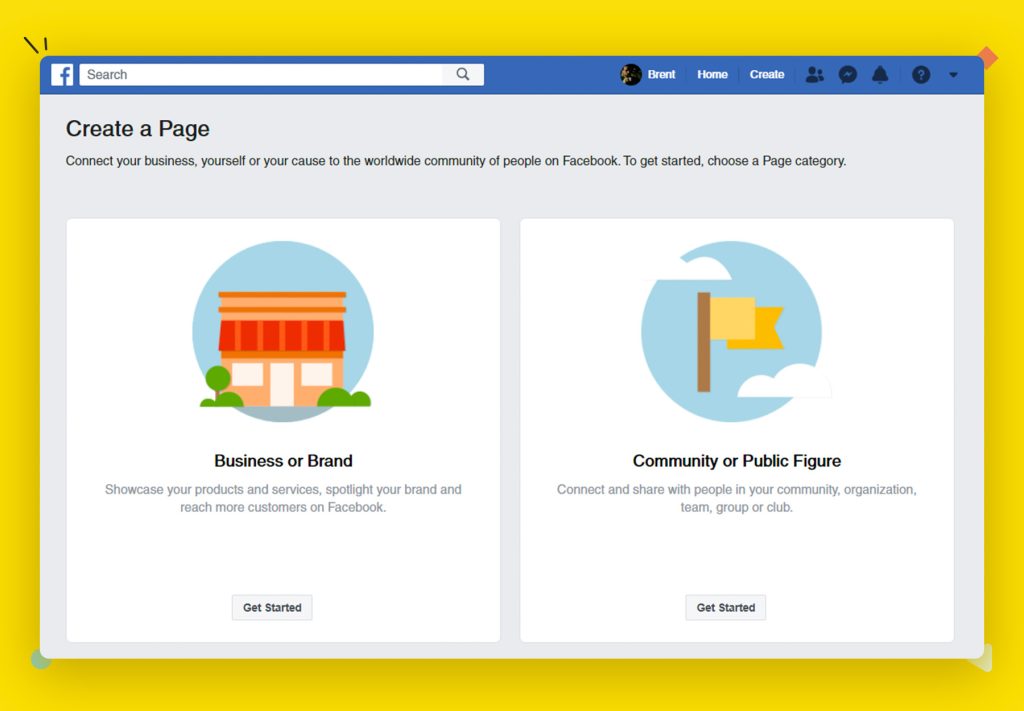 How to set up a facebook business page?
Log in to your personal Facebook account or create a profile and then go to the Create Page section on the Home tab.
There are two possibilities once you get there: Business or Brand, and Community or Public Figure. Under Business or Brand, click Get Started.
1. Get started
Once you have selected the Business or Brand option to create a Facebook Business Page, fill in your essential company information.
You'll be asked for a page name and category after selecting Business or Brand. Remember that while you can modify your category later, your page name is permanent.
What extra fields you'll need to fill in depends on the category you choose. If you choose Restaurant, for example, you'll provide the address and phone numbers for your location(s) as well as your business hours.
2. Choose a profile and cover phot
When your page's content appears in the Facebook News Feed and you comment on other posts, your profile image will appear as your symbol. This should ideally be your corporate logo.
Although square dimensions are ideal, Facebook will crop your photo into a circle for ads and posts, so leave some white space around the corners. You can preview the crop and make edits after you upload the image
Your Facebook cover photo is a terrific way to give a visual element that supports your branding, gets attention, or generates emotion from your visitors.
Your cover photo appears at various sizes on desktops and smartphones, according to Facebook: 820 pixels wide by 312 pixels tall on desktops and 640 pixels wide by 360 pixels tall on mobile devices. However, make sure that critical information and design components are in the middle of the image, and test it on mobile and desktop.
3. Complete the information on your page
Since Facebook Business Pages are indexed by Google, the text you publish on your profile can help you rank in both global and local search engine results. When you create a Facebook Business Page, you'll receive tips to help you fill out all of the information on your page. If you need to make changes, go to the About tab of your page and select Edit Page Info.
There are several fields you can fill out.
Username – Using a username instead of a string of randomly generated numbers in your URL (Facebook.com/YourUserName) makes your page easier to find.
Description – In 255 characters or less, tell people what your page is about.
Categories – Categories can help in the discovery of your page. Select up to three different categories.
Contact details – Add your contact information here if you have a business phone number, website or email address.
Location – If you have a physical store, include the location here. A service area can also be included.
Business hours – Include this information if you are only open during certain hours.
More – Include a list of your products, a price range and a link to your privacy policy in this section.
All of these characteristics will appear in the About part of your Facebook Page, where you may add even more details about your company, such as a brief description, achievements and so on.
4. Add collaborators to your page
If you want to delegate your Facebook marketing responsibilities to a group, you'll need to allow access and assign roles to different people. Go to the Page Roles section of your page settings to add collaborators. Any Facebook friend or individual who has liked your page can be typed in. You can also enter an email address associated with your Facebook account. You must be Facebook friends with anyone you add as a collaborator in either case.
5. Add CTA buttons
Go to More > Edit Tabs to choose a template or manually customize tabs on your Facebook Business Page.
By hovering your mouse over the template, you can see the default call to action (CTA) button and tabs. Each Facebook Business Page template includes pre-programmed buttons and tabs for various types of businesses. After you've chosen a template, you can adjust your tabs by removing or rearranging them so that the most important ones appear first.
6. Connect the Facebook page to your WhatsApp Business Account
WhatsApp Business is a part of the Meta suite of applications and has more than 2 billion monthly users. Connecting your WhatsApp Business account to Facebook Business Page allows you to create a button on your page or click-to-WhatsApp ads, making it simple for clients to contact you in a more direct and comfortable way.
Follow these instructions to connect your WhatsApp account to your Facebook Page.
In the bottom right of Facebook, tap
Tap Pages, then go to your Page.
Tap in the top right.
Tap WhatsApp.
Tap Continue.
Enter your WhatsApp Business number, then tap Send Code.
Follow the on-screen instructions to finish connecting your WhatsApp account.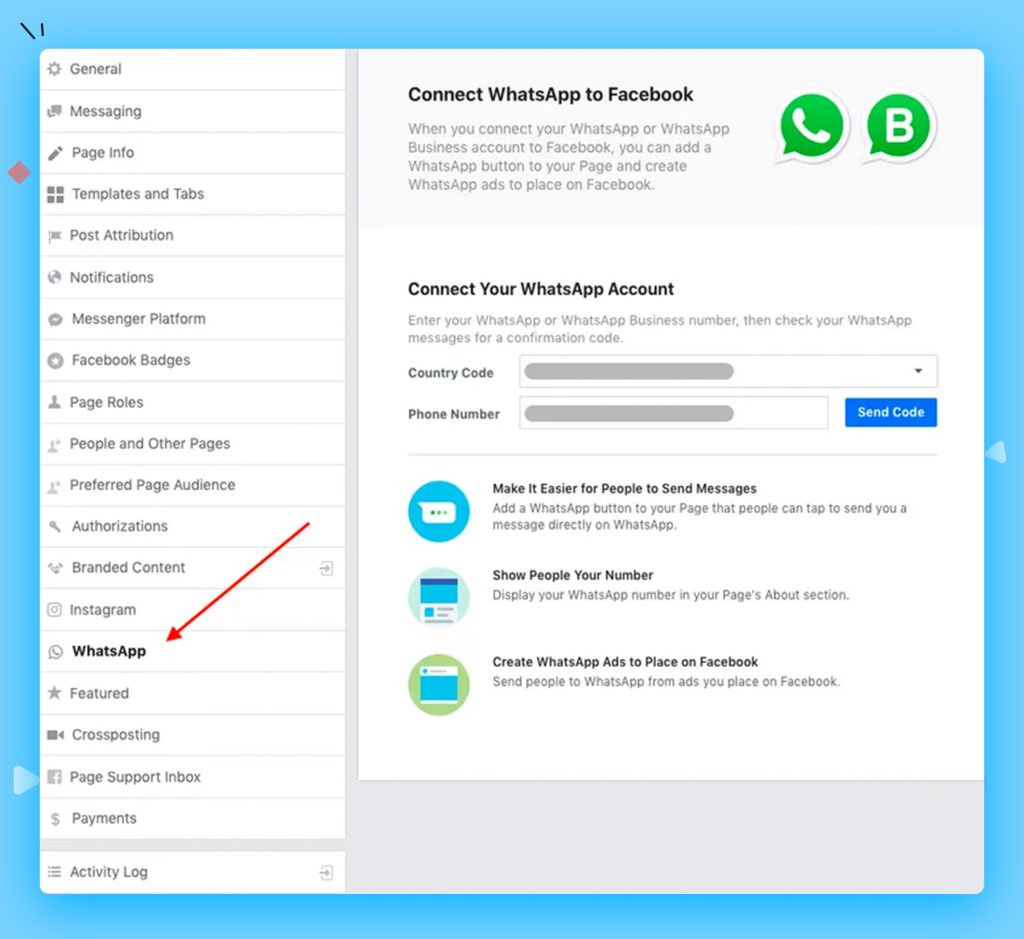 Benefits of setting up a facebook business page
While Facebook started off as a platform for college students and other young adults to connect online, it has since evolved into a valuable resource for businesses and organizations worldwide. Let's look at the six reasons why your small business should start a Facebook profile.
1. Know your target audience better
A Facebook business page allows you to communicate directly with your target audience. Consider it a running focus group. Your fans are there because they are interested in learning more about your company. While customers may expect good information from your Facebook page, you can also obtain useful information from them by having them participate.
Facebook Insights can also help you learn more about your fans and how they interact with your page. Your Facebook fans, as a subset of your target market, may teach you a lot about what they want through participation, comments and feedback. Another option to engage your audience is through Facebook groups.
2. Give your brand a personality
Social media is all about making genuine connections and communicating authentically, and Facebook allows you to give your brand a face, name and personality. While your Facebook page represents your business, it also allows you to demonstrate the human aspect of your firm through one-on-one interactions, personal tidbits and non-business contact.
Even if elements of your social media activity are automated, you can still include a moderate degree of live, on-the-spot conversation to build richer, more "human" interactions that go beyond direct customer support.
3. Create a loyal community
Facebook business pages are a great opportunity to gather reviews, exchange thoughts, voice concerns, and get input from your customers, prospects and followers. You can create a Facebook community in a variety of methods, including:
Posting links that are informative, relevant and interesting
Fans are being asked to contribute by leaving comments.
Contests and promotions planning.
Creating a space for customers to write ratings and other input.
Providing rewards for page activity.
If your business's Facebook page succeeds in bringing people together, you can build a loyal following that will continue to grow.
4. Improve web traffic and SEO
Facebook may be a powerful tool for driving visitors to your company's website and blog. If search engines index your posts, links and other actions on your public Facebook profile, they can help you rank higher in search results.
With the speed of social media and the additional weight that information shared through social channels is receiving, having a Facebook page full of great content related to your business can help you improve your search engine rankings.
5. Boost posts and run paid ads
While you can enjoy the free organic traffic that the Facebook platform boasts, you can always expand the reach of your business with the help of paid advertising. It's important to note that, you can not run ads without creating a Facebook Page first for your business.
One of the best ways to increase the CTR and conversions from paid Facebook ad campaigns is to use 'click-to-messenger' ads. This way, the customer doesn't have to switch between channels to use the offer or get the lead magnet. You messenger bot can greet the customer, collect important information about them and give them personalized offers.
6. Deploy messenger bots to automate user engagement
Nowadays, customers prefer to be able to get in touch with your brand whenever they want. This means you need to stay available for them 24/7. Deploying a chatbot is the best way to offer round-the-clock service to your customers in their preferred language.
Chatbots can follow-up on public inquiries via direct message, help customers choose the right product or service and help you increase engagement on your Facebook Page by running AI-powered campaigns, like contests, or giveaways.
How to increase customer engagement on your Facebook Page?
While you can create engaging posts and content, organize contests and giveaways to increase customer engagement on your page organically. You can also run paid Facebook advertising campaigns to reach a wider audience.
When you advertise on Facebook, you can reach people beyond the Page followers that you already have and build new customer relationships. You can do this by creating ads from your Facebook Page through desktop or mobile.
There are many forms of ads that you can create from your Facebook Page. They enable you to boost a post, promote your website, drive traffic to your local business and more. Select the best goal and ad format to help you reach your unique business goals. However, since 2016, when Facebook rolled out conversational ads, they have increasingly gained popularity because they offer the best ROI.
Let us look more closely into Facebook Conversational Ads.
Types of conversational ads you can create on your Facebook Page
1. Sponsored messages
Sponsored messages allow you to provide offers, promotions, and updates to the customers who interact with your business on Messenger. Use sponsored messages to reengage clients who have already interacted with you on Messenger, whether through a Messenger bot or live chat assistance.
Sponsored messages will be labeled as such in the chat, and they can be sent outside of the usual 24-hour messaging timeframe.
2. Click-to-messenger ads
Click-to-Messenger ads are similar to regular Facebook ads in appearance. They appear in standard placements like Facebook and Instagram feeds, but when customers click on them, they are directed to Facebook Messenger rather than a landing page or a website.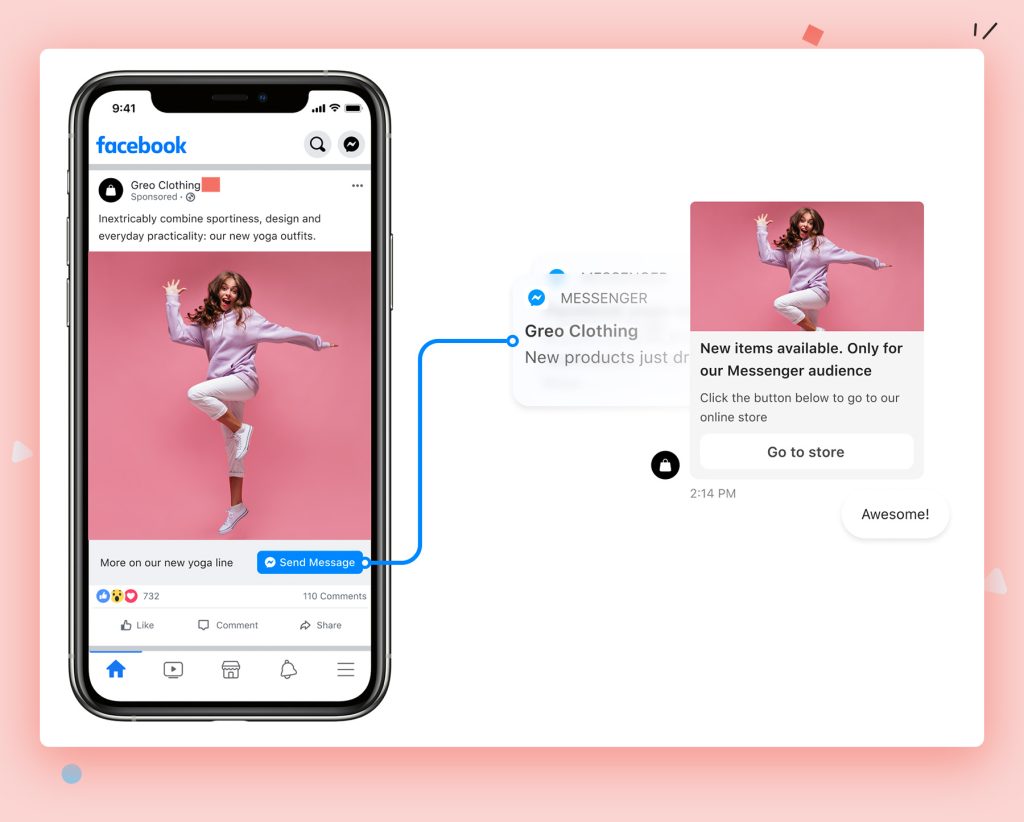 With Facebook prioritizing the Messenger ecosystem, more and more brands are running Click-to-Messenger ads, and for good reason. Research shows that CTM ads can reduce acquisition costs by up to 50%, increase conversion rates by two-three times and offer a new, direct channel to the audience for remarketing purposes.
3. Click-to-WhatsApp Ads
With Click-to WhatsApp Ads, businesses can add a "Connect on WhatsApp" CTA to their Facebook or Instagram ads. When the user clicks on the CTA, it leads them to the WhatsApp platform where a tailored chatbot helps in generating leads, providing information. raising awareness or driving end-to-end sales, whatever be the business requirement.
5 Reasons to use Facebook Conversational Ads
1. Instant lead capture
Marketers can use the traffic coming to their messenger ads to capture the details they need, and the sales representatives can reach out as soon as possible or in real-time. Converting the lead when it is hot. The chatbot can engage with users meanwhile by sending out relevant decks and meeting invites.
2. Personalized engagement
Conversational advertising is the holy grail that marketers have been looking for years. It combines automated engagement with a one-on-one connection with a potential customer in real-time, and that too, at the very beginning of the funnel!
A report by Segment says 49% of buyers have made impulse purchases after receiving a more personalized experience.
3. Social commerce
Drive end-to-end sales at the very beginning of the sales funnel. Automate the initial lead qualification and lead nurture as well as follow up with the same chatbot. After driving customers from ads to any of the messaging platforms, a customer can buy the product while chatting with the bot and complete the transaction as well right from the chat interface.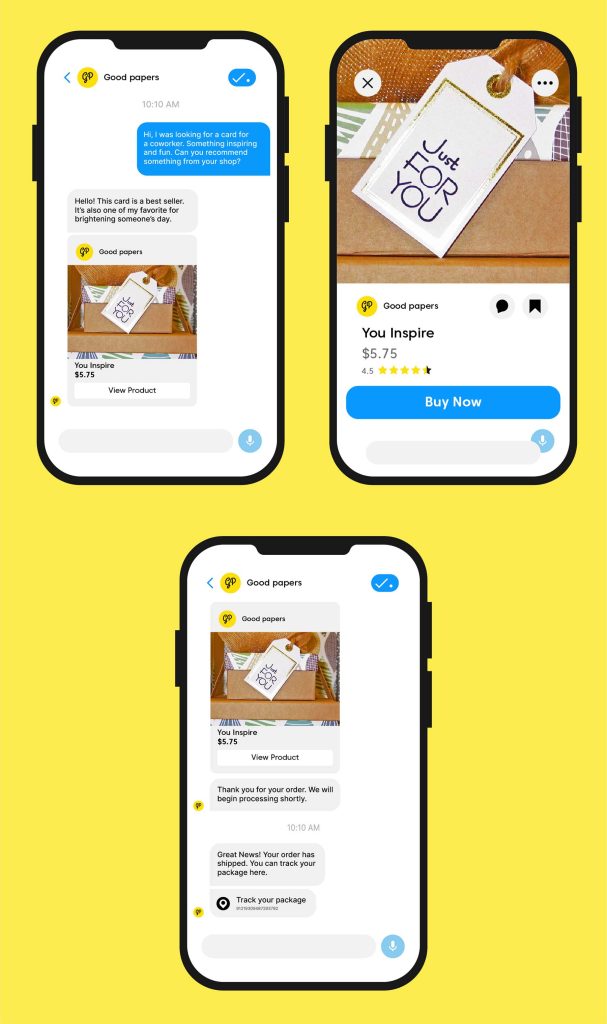 4. 24/7 Lead qualification and nurturing
After the initial lead capturing, bot can help in qualifying the lead as per the business's requirement. The bot can follow up with tailored content and help in converting the leads by engaging them in meaningful conversations.
5. Prefered medium of engagement
Customers, today, prefer messaging over other forms of communication. Infact, a study has found that 73% of customers prefer talking or to companies over chat rather than email, and 56% of people would rather message the business than call. By providing the option for communicating over text, you reduce customer effort, improve CSAT and increase the chances of conversion.
How can Yellow.ai help?
With our no-code chatbots building platform, you can create a chatbot and deploy it to 35+ channels including Facebook, with a single click. Our platform gives you the ability to set up different conversation flows for your Facebook chatbot ( such as product discovery, newsletter sign-up, raising complaints) and integrate it with powerful e-commerce solutions (such as Shopify), CRMs (such as Salesforce), and payment gateways (such as Razorpay) in just a few clicks.
1. Interactive ice-breakers
It's important to engage with customers proactively and ​​the best way to do that is to automate ice-breakers with the help of Facebook bots. When people come to your Facebook Page or interact with your posts, your bot can greet them with a welcome message and engage users in a friendly conversation.
3. 360-Degree user profiling
When users come to your Page and interact with your messenger bot, it will capture and create systematic records of customer data in real-time. These insights will help you get a deeper understanding of customer behavior and what works for them so that you can optimize your offering and improve customer satisfaction by up to 40%.
4. End-to-end customer journey automation
From product discovery to sales, you can automate it all with our AI-powered chatbots. You can even bring back lost customers through automated outbound engagement. Easily create workflows to retrigger abandoned carts, enable payments or help customers with important information and updates about your products or services.