Why Enable Conversational Commerce on Instagram?
Over the years, business through Instagram has been booming. More and more companies are using the platform of Instagram to deploy ads, suggestive content, flashy discount banners, among other things, to attract more customers and increase sales. They implemented all of it with the help of conversational commerce and the results don't lie.
Let's begin to understand what conversational commerce is, how it works, and how you can implement it on your own business to improve your business sales.
Why do you need conversational commerce on Instagram?
When a customer shops online or discovers products on Instagram, they may not be sure of what they want or the product they're looking at is going to be a right fit for them or not. Things like that can easily ruin their shopping experience, and they may simply leave, and if they don't complete a transaction, you don't make a sale.
The most common reasons behind failed transactions are –
Customer/client is unsure of what they are looking for.
They are not sure if they should make a purchase now.
They think they can get a better rate somewhere else.
These potential issues are the reasons that could potentially hinder their shopping experience and stop people from actually converting online.
Manually dealing with these issues can be expensive and daunting. That's where Yellow.AI comes in. Yellow.AI's Instagram automation can help you automate conversations like answering FAQs while seamlessly handing over to agents for complex queries and engaging with people on stories or mentions.
Conversational AI technology or even simple FAQ chatbots are proven to aid sales experiences and increase conversions of buying journeys on digital channels.
What are the benefits of conversational commerce?
Here are some of the essential benefits that conversational commerce platforms such as Yellow.AI can bring to your business or your brand: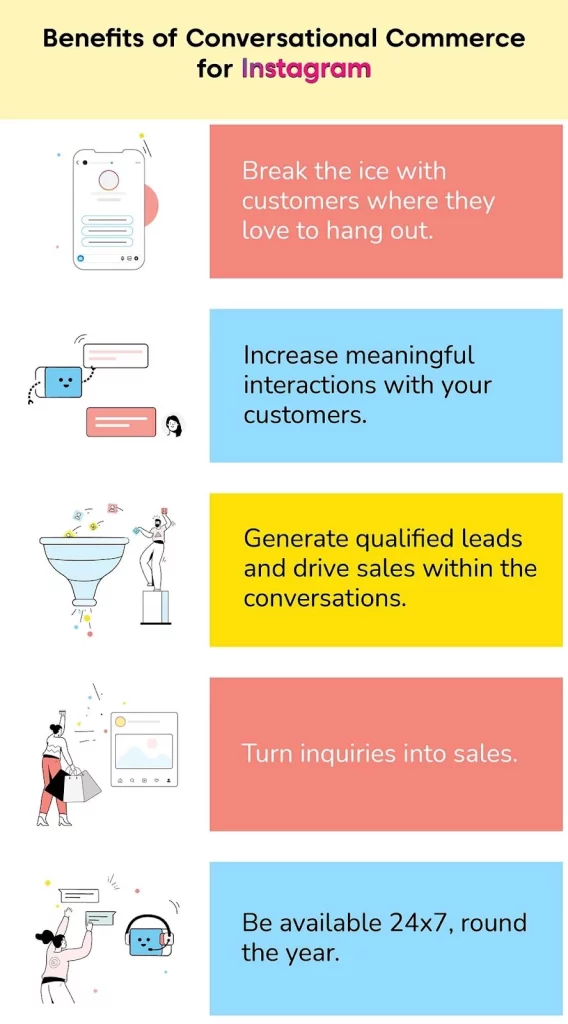 Break the ice with customers where they love to hang out.
Increase meaningful interactions with your customers.
Generate qualified leads and drive sales within the conversations.
Turn inquiries into sales.
Be available 24×7, round the year.
How can Yellow.ai's conversational commerce help transform your business?
Yellow.AI's Instagram API can help you connect with over 1.38 billion customers and initiate a chat conversation between your business and the customer, just like how you would chat on Instagram, WhatsApp, iMessage, among others. It's all about answering your customer's queries and concerns, helping them find what they are looking for, and establishing a solid trust and relationship with your customer.
Yellow.AI is one such platform that has helped a lot of businesses implement their version of conversational commerce. Over 700+ brands trust Yellow.AI and use their platform to help deal with potential issues.
Here are some of the ways Yellow.ai can help you deal with potential problems:
Suppose you have a retail store, and you primarily sell apparel. You have decided to have a summer sale and heavily promoted it through social media platforms such as Instagram to boost your sales. Sales are essential for year-end results, and we are sure every retailer can relate to that. While the sale was a fantastic idea, what ends up happening can be very different from what you have imagined. Due to increased incoming traffic, your customers may have trouble with promo codes. Your phone lines are bombarded with calls, and you don't have enough staff to deal with all the calls. Not a lot of people would like to wait, and you will lose potential customers. Yellow.AI's chatbot service can take over and help out with multiple customer queries at the same time.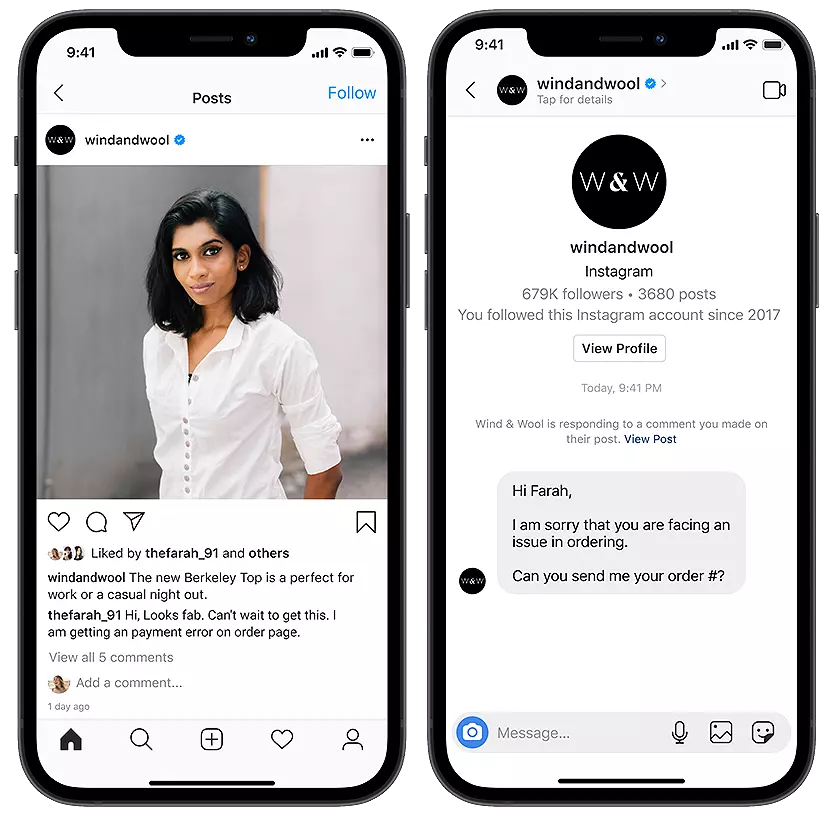 When a customer is not sure about a particular product and is proactively going back and forth between two products, an active chatbot can take over and help deal with the customer's issue and ultimately help them checkout, making a sale. Yellow.AI's chatbots can deal with multiple queries at the same time. This will help you cut back on human resources and reduce the waste of your organization's resources.

Just remember less issues = more sales.
How can you implement Yellow.ai's conversational commerce in your business?
You can building your own chatbot for free on our platform or connect with our experts to help find you the best use cases of Instagram conversational commerce for your business.
With Yellow.ai's services, you can
Answer FAQs about your products or services.
Generate qualified leads.
Address the pain points of your customers instantly.
Automate customer support operations for e-commerce and retail businesses.
Help drive innovation and improvements in your business goals and opportunities.
The possibilities that Yellow.AI's conversational commerce offers you are truly limitless. Whether you have a small business or a large business, the use of Yellow.AI's conversational commerce will help you reach potential customers, interact with them and help boost sales.