Conversational artificial intelligence or conversational AI is a technology that helps computers imitate human-like conversations.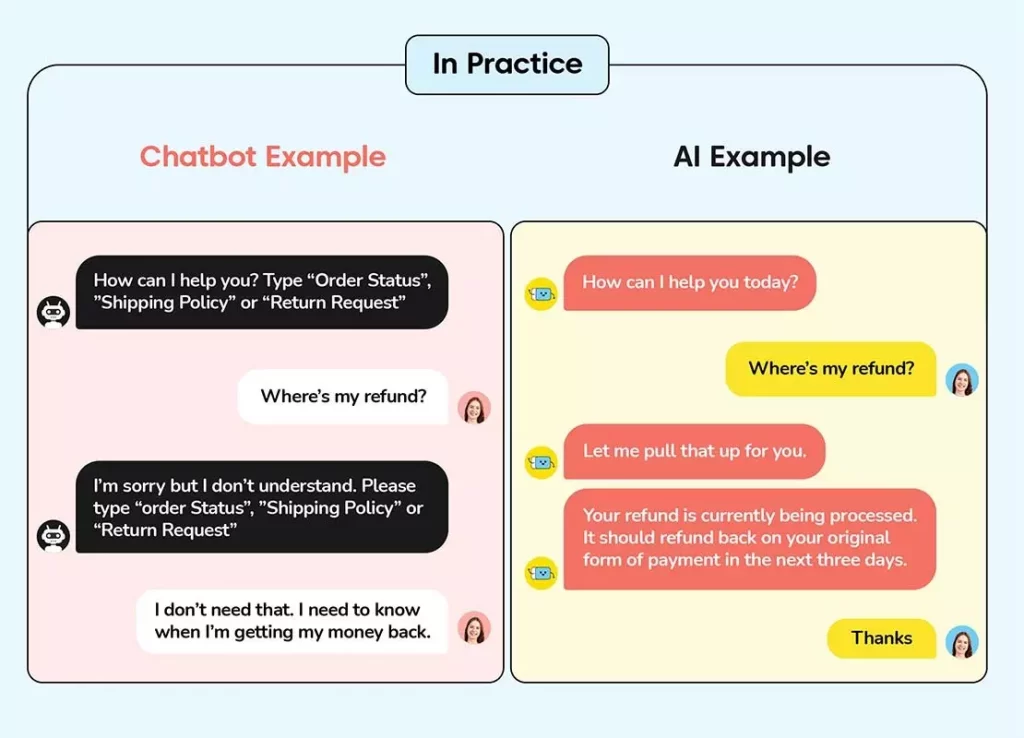 This means computers can help customers glide through their buyers' journey without any hindrances, delays, or call holds.
The key differentiator of conversational AI is that they use natural language processing with artificial intelligence for various business requirements, be it- customer experience automation, conversational commerce automation, HR automation, or ITSM automation.
For better understanding, you may look at the event recording below where brands discuss winning stories of brands that 10X their CX with the best of AI + humans (conversational AI differentiators).
What is conversational AI?
Conversational AI is a technology that helps computers and humans have a conversation effectively through voice and text mediums. Used across various business departments, conversational AI delivers smoother customer experiences without the need for much human intervention.
Let's take an example of an eCommerce website. The table below will clearly make you understand the difference in the customer experience with and without conversational AI.
| | | |
| --- | --- | --- |
| | Without Conversational AI | With Conversational AI |
| Product Information | Wait for the concerned person to respond | Instant response via chat |
| Payment Details | Call and hold to connect with the accounts team | Get details immediately |
| Complaints | Provide order details again and again to reach the appropriate team | No repetition. Enter details once and get your complaints registered |
| Service Requests | Open different web pages for requesting, tracking, and rating services | Chat on a single window for all your requirements |
Which customer experience would your customers prefer?
Businesses can use conversational AI so as to automate customer-facing touchpoints on every platform, be it social media platforms such as WhatsApp, Instagram, or Facebook, websites, apps, or even on their virtual assistants such as Google Home.
Importance of conversational AI in today's marketplace

Gartner predicts 80% of customer service organizations will abandon native mobile apps in favor of messaging by 2025. Today 3 out of 10 customers prefer messaging over calling to resolve any issues faced during a business deal, and this is a ratio to increase in the upcoming years. To give excellent customer experiences, businesses will have to shift to conversational chatbots or conversational AI.
As per Gartner's report, by 2025, proactive customer engagement will outnumber reactive customer engagement. Businesses and customers, both need a proactive approach to problem-solving with a reduced number of calls and quick response times. Conversational AI plays a huge role in proactive customer engagement and can help a brand with all its customer support needs.
It also plays an important role in improving customer satisfaction (CSAT) scores. Businesses that use conversational AI have seen a rapid increase in their CSAT scores by a minimum of 20%. Customer-centric companies, depending on their customers, are embracing the use of conversational AI in the form of chatbots, text+voice bots, or just voice bots.
Benefits of conversational AI over traditional chatbots
1. Lead Generation
Yellow.ai has seen a rise of an average of 70% in lead generation by the use of conversational AI as compared to traditional lead generation tactics.
This is because of the timely response received by the potential customers. Instant reciprocation helps potential customers turn into warm leads and thus leading businesses to close deals within no time.
2. Excellent Customer Experience
CX automation using conversational AI has seen far-fetched outcomes in terms of customer retention and customer loyalty.
Engaging with a customer is one of the most important parts of a business deal, yet most businesses get occupied with the drudgery of closing the deal. Here's where Yellow.ai's intelligent chatbots come to action and automate customer engagement.
3. Instant query/complaint resolution
Customer support is a mundane, monotonous, and time-consuming part of a business. Automating it can be tremendously relieving and the team can flex their dynamism to any other part of the business.
Conversational AI can consume, process, and evaluate an immense amount of data and respond to queries as per its knowledge in no time. Handling multiple complaints, and effectively resolving them is a part of their job.
4. Personalization
With machine learning (ML), bots can retain the buyer journey of all customers. This proves to be beneficial when a customer returns to the business. Bots can give personalized perspective to the customers as per their business and help them in decision making.
Even for new leads, bots can understand their needs exactly like a human would, and cater to their needs.
5. Analytics and insights
One of the most important benefits of everything digital is that it comes with the power of analytics.
With digital customer experience agents, you can keep an eye on journey visualization, revenue growth, and customer retention.
6. Connect with your audience globally
Modern times demand hyper localization and addressing the regional audiences in their first language of preference. Conversational AI is well capable of talking to people in multiple languages at the same time.
By appointing a multilingual bot, you can expand your business across the globe. Yellow.ai's AI chatbots can converse in 100+ languages fluently.
7. Support all business functions
Apart from sales, marketing, and customer success, conversational AI is very profitable for tedious HR tasks, such as responding to employees' queries, maintaining records, and handling data.
Yellow.ai's chatbots help in HR and ITSM automation by resolving HR and IT queries in just a few seconds.
8. Omni-channel presence
A major key differentiator of conversational AI is its ability to be present on all the platforms and cover customer engagement in 360degrees.
Chatbots can be spread across all social media platforms, websites, and apps, and help marketing, sales, and customer success team via omnichannel.
9. Round-the-clock availability
With AI chatbots elevate your customer experience by resolving product-related queries 24*7*365. Let your support team attend to just complex queries and leave the rest to AI chatbots.
10. Cost-Effective
Hiring a customer service team for round-the-clock support can be very expensive. However, employing a conversational interface for support with a small customer team for complex queries can be a profitable deal, especially for medium-sized organizations.
Now that we know how conversational AI is beneficial for your business, let us understand how it affects customers' mindsets.
Key differentiators of conversational AI for customers/leads:
We are all prospects for businesses and we all fall in love with some of the brands just because they give excellent customer experience. And by excellent customer experience, we don't mean long waiting queues on calls, hours of call-holding, and waiting for an executive to resolve our queries or complaints.
Here are some major key differentiators of conversational AI that are loved by customers:
1. Timeliness
Conversational chatbots can smartly handle all conversations 24*7*365 with 100% accuracy.
A perfect quote for a relationship between a conversational AI and a warm lead-
'One good conversation can shift the direction of change forever.' -Linda Lambert.
2. Messaging is preferable
Messaging is always a better option than having a conversation. As shared in Gartner's report earlier, customers now prefer messaging over calling a business with their queries.
3. Extensibility of usage
A single AI chatbot can at a time have thousands of conversations with the same speed and accuracy.
We all have faced situations where we hold calls for hours and hours to resolve our queries. customer executives are usually extremely busy and thus support becomes a headache for customers.
4. No loops of data collection
Conversational AI keeps a pool of data and extracts information regarding a customer or a complaint. There is no need of filling different forms in separate departments for solving a few queries.
Now it makes perfect sense to employ the excellent features of conversational AI for any business that has user touchpoints.
Technological key differentiators of conversational AI
Conversational AI uses various technologies such as automatic speech recognition (ASR), natural language processing (NLP), machine learning (ML), and advanced dialog management to understand, respond and learn from every interaction.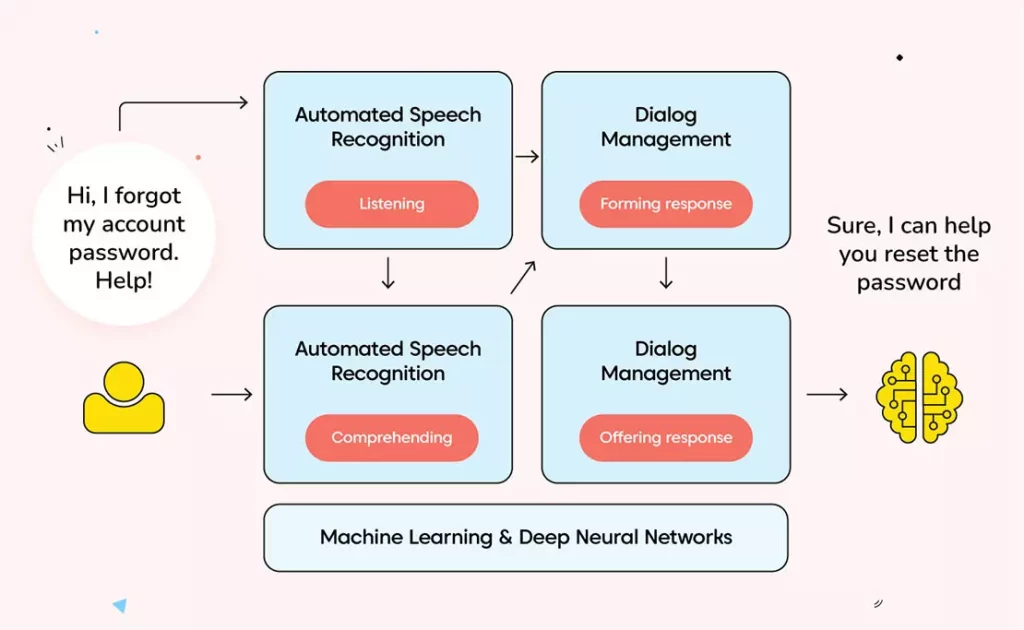 In the first instance, as soon as a query is given to a conversational Chatbot, it understands it using natural language understanding (NLU), a part of natural language processing (NLP) to understand the intent behind the text.
Next, the platform generates a response based on the text understanding and sends it to dialog management. Dialog management then converts the response to a human-understandable format using natural language generation (NLG), which is also a part of NLP.
In the end, the platform responds to the query in a human-understandable form. In the case of a speech query, automatic speech recognition (ASR) comes to play during the first and last steps. To convert speech to text and vis-a-vis.
Apart from this process, a conversational AI continually learns from its users. That is, with every conversation, the application becomes smarter by learning through its own mistakes using machine learning (ML). This feature helps brands solve many challenges like the use of advanced languages, change in dialects, use of short forms, slang, or jargon.
With all of this information, do you think you are ready to explore the opportunity to use conversational AI for your business?
World's leading conversational CX automation platform
With Yellow.ai, you can employ a conversational platform based on your purpose, be it, customer support, customer engagement, or conversational commerce. Personalize your conversations based on your industry and boost your customer engagement game with us.
You can build your own NLP-powered intelligent chatbot with a conversational AI flow within a few clicks or request a demo from our experts