Running a successful online business is no less than a bumpy ride to success. About a decade ago businesses could flourish with a website and an elementary supply chain model, but today they can't even set their foot in the marketplace with this strategy. However, every problem comes with a greater opportunity, and businesses can grab it and rise above the competition. Digital commerce is the solution to open new gates of success and thrive in the various business sectors.
In this era of the experience economy, simple e-commerce operations won't cut the chase and meet the expectations of modern-day customers. Businesses need to provide an impeccable experience from click to courier. They should understand the customers' need to engage with the brand over multiple channels, their need to make informed decisions and to pay in a way suitable for them.
For every business in the market, providing an above-average customer experience is the MO and it can be achieved using digital commerce. Despite commendable growth and compelling use cases of customer experiences, businesses are delaying the adoption of digital commerce, especially B2B and CPG businesses.
In this blog, we aim to provide information about digital commerce, its importance and some trends brands need to follow while embracing the benefits of this technology. In the end, we will also cover a case study of an Indian retail chain that used digital commerce and outshined during the tough time of the global pandemic.
What is digital commerce?
In simple terms, digital commerce is a blend of processes that provide customers with the ability to buy products and services online without contacting any human resources. It is based on delivering a completely self-serve customer experience.
As per a definition from Gartner, digital commerce enables customers to purchase goods and services through an interactive and self-service experience. It includes the people, processes and technologies to execute the offering of development content, analytics, promotion, pricing, customer acquisition and retention, and customer experience at all touchpoints throughout the customer buying journey.
All the facets from marketing and promotions to customer data management are critical to building a wholesome digital commerce platform.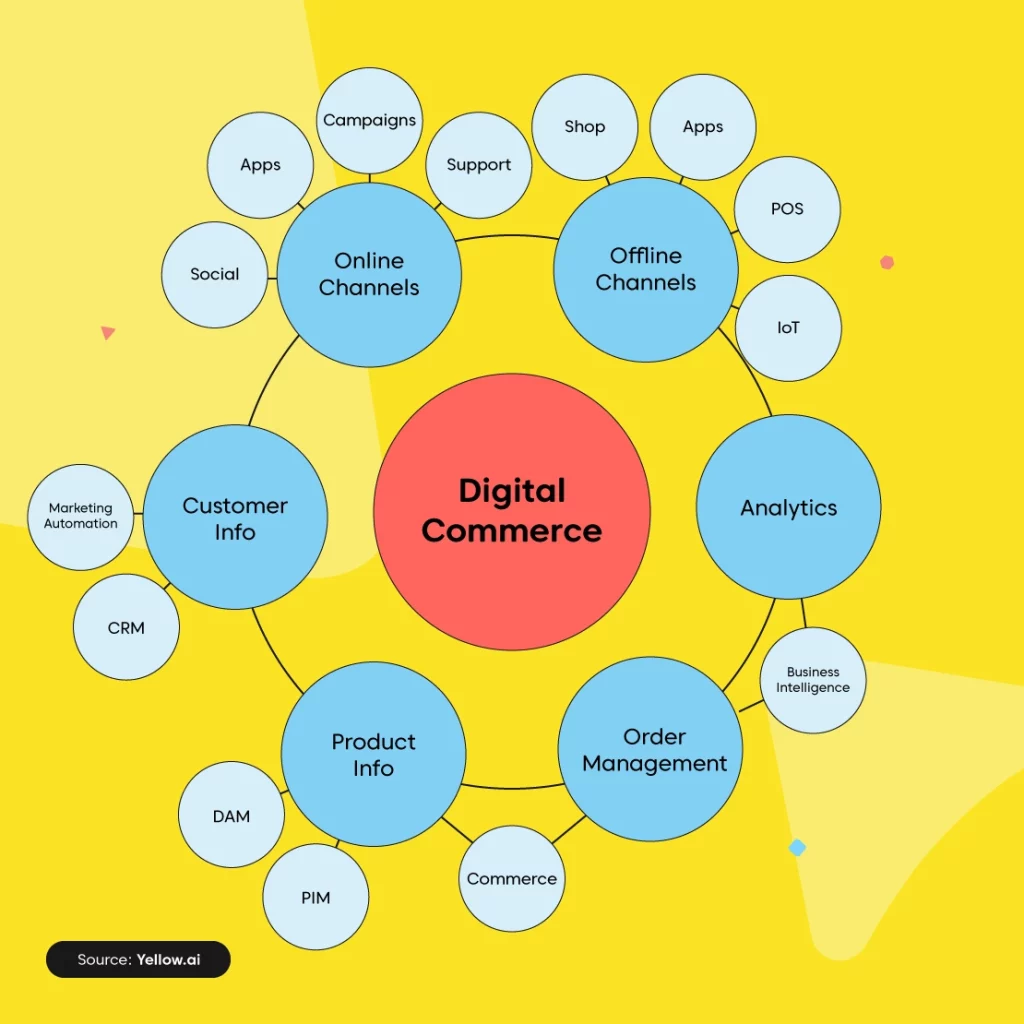 Difference between e-commerce and digital commerce
E-commerce includes the functional aspects of selling online, which include managing the supply chain, building a virtual storefront, enabling online transactions and collecting payments. It is just the managerial part of selling products and services online and does not involve attending to building a great customer experience.
Whereas, digital commerce is a culture that represents people, technology and data-driven processes that take retail commerce to the next level. Digital commerce includes facets such as content management, research and development, marketing, promotions and social media, analytics, customer experience and customer data management. It focuses on the ability to effectively improve the experience by adapting and rolling out to enhance each customer touchpoint with ease.
Digital commerce is a customer-centric approach to trading virtually, and it should not be confused with e-commerce. It has emerged as a discipline in order to use new technologies like conversational commerce and the Internet of Things (IoT) and help businesses deliver customer experiences like never before.
Importance of digital commerce
Digital commerce is the need of the hour for businesses as well as customers. With increasing digitization in B2B and B2C marketplaces, we observe extreme changes in customer behavior and preferences. The way they research the products and services, complete a transaction, recommend brands and retain with the organization has changed.
In modern-day commerce, a digital commerce platform is no less than a sales channel that engages customers and convinces them to complete a purchase. It involves every function and process that goes behind running a virtual business.
Let us, deep-dive, into some points that prove to portray the importance of digital commerce in businesses.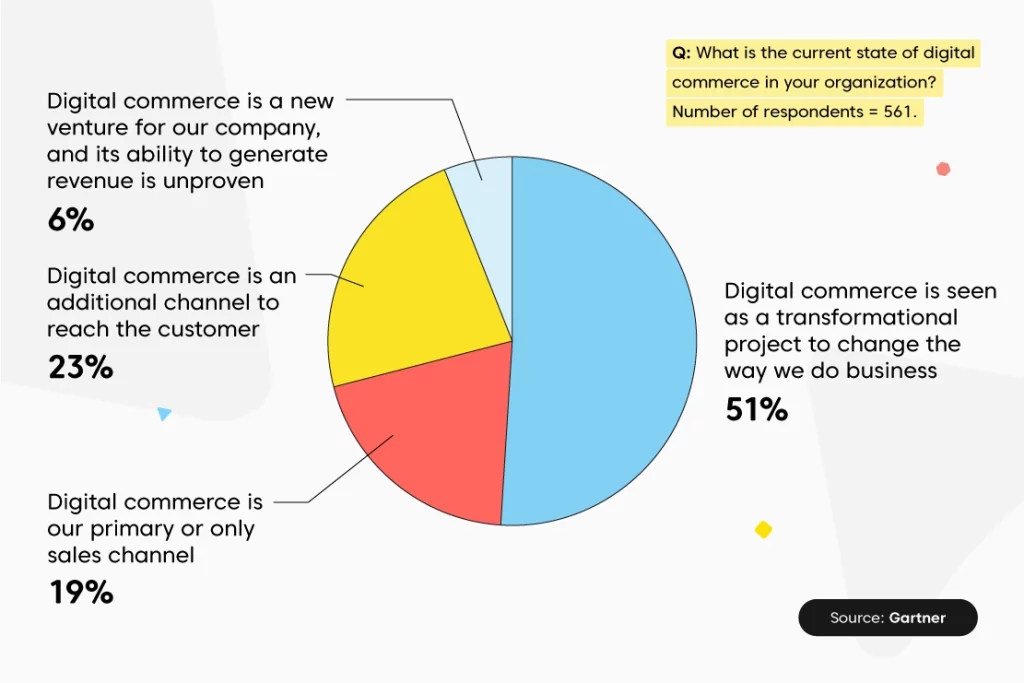 1. Ease in expansion
Brick and mortar stores are limited to location and can cater to customers only when they visit their store. Well, this is not the case with digital commerce.

When it comes to expansion, the physical stores need a huge amount of investment and thoughts behind finalizing the location. Digital commerce can expand by serving multiple locations without any hurdles. Even service-based businesses can expand using digital commerce.
2. Collect customer data and insights
Digital commerce makes it very easy to collect and store customer data and insights. Businesses can track each and every move of a customer as soon as they visit their platform. Monitoring customer interactions and their overall journey can tell a business a lot about customer experience.
Gaining actionable insights can help businesses in organizing and improve customer experience efficiently and easily.
3. Cost-effective advertising and marketing
As per Jennifer Polk, VP Analyst at Gartner, "Marketing's digital commerce priority aligns to CEO's goals."

The virtual platform can be marketed using digital channels such as social media posts, infographics, videos, attractive images, product descriptions and informative blogs. Using this content digital commerce brands can attract customers and sell their products and services with cost-effective marketing.
Sponsored ads, promotional coupons and emails can also be great tools to reach out to a defined target audience and attract them towards buying your products.
4. Enhance personalization and targeting
Digital marketing tools and conversational AI are extremely effective in hyper-personalization. Businesses can automate conversations with prospects, leads and existing customers and have personalized interactions that help in generating revenue.
With digital marketing, targeting is always specific and result-driven. Unlike traditional marketing, businesses can easily analyze results in real-time and make changes as per their needs.
5. Accelerate the buying process
With an opportunity to place orders 24×7, customers don't need to wait for the stores to open for buying anything. Businesses now enable swift order placements, online payments and quick order delivery so that the customers don't get the reasons to not buy online.
Customers feel delighted and satisfied with the experience of hassle-free shopping that is not possible while buying offline.
6. Ease in reaching new customers
Digital commerce allows businesses to reach out to customers from across the globe. They can target new demographics or marketplaces at a lower cost as compared to a brick-and-mortar store.
Due to higher reach, businesses obviously get a higher revenue leading to a better ROI. Digital commerce has become the way of shopping and businesses need to adapt it.
Challenges that come along with digital commerce
While with growing customer expectations it has become mandatory for businesses to adopt digital commerce, ever-changing technology and customer behavior can initiate some challenges.
We have listed a few potential challenges that businesses may encounter with digital commerce. Finding a way to resist these challenges can help you achieve happier customers with great experiences.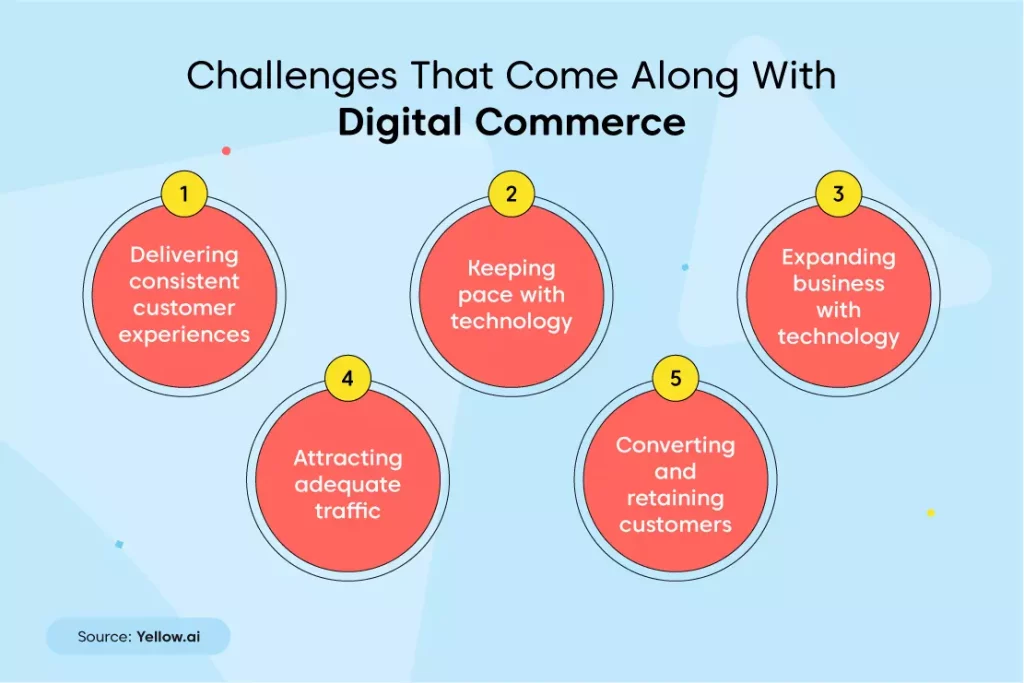 1. Delivering consistent customer experiences
In order to cope with the changing customer behavior, a strategic plan is very essential for delivering a consistent customer experience. Using various analytical algorithms and a keen eye on customer behavior can help businesses find a way to evolve as per the needs of the customers.
By constantly reading customer patterns, businesses can understand the areas for improvement and rectification.
2. Keeping pace with technology
The digital marketplace is ever-evolving and customers are evolving with it. Before purchasing any product or service, customers run through different digital channels searching for the right brand that they can trust.
With advancing mobile phones and other devices, businesses need to keep up with the screen sizes, color codes, visibility modes and a lot more. Customers can come in through any device and providing a consistent customer experience is crucial.
3. Attracting adequate traffic
Earlier e-commerce platforms would depend on a single source to generate traffic to their website, but that's not enough now. Businesses need to adopt various tips and tricks in order to attract customers to their website and moreover engage with the platform.
Using different marketing strategies such as SEO, PPC, affiliate marketing, email marketing, content marketing, video marketing and many other upcoming approaches can be challenging as well as overwhelming for businesses.
4. Converting and retaining customers
Using conversational commerce, businesses can successfully convert their prospects into paying customers. Retaining them is altogether another challenge.
Businesses need to run campaigns on a daily basis to encourage customers to shop from their platform. However, providing a good customer experience plays an important role in determining if the customer will return or not.
5. Expanding business with technology
Technology can be limiting at times. A brand needs to choose the technologies to use for automating its inventory management, shopping cart, invoicing, and many other business functions. These technologies can make or break a digital commerce platform either leaving customers highly satisfied or leaving them a wreck.
The productivity of the whole team also depends on the technology used by the brand. With efficient automation, teams can work more efficiently with no mundane tasks.
Digital commerce case-study: Spencer's Retail
We would like to discuss a case study for Spencer's Retail, India's leading retailer operating multiple retail formats.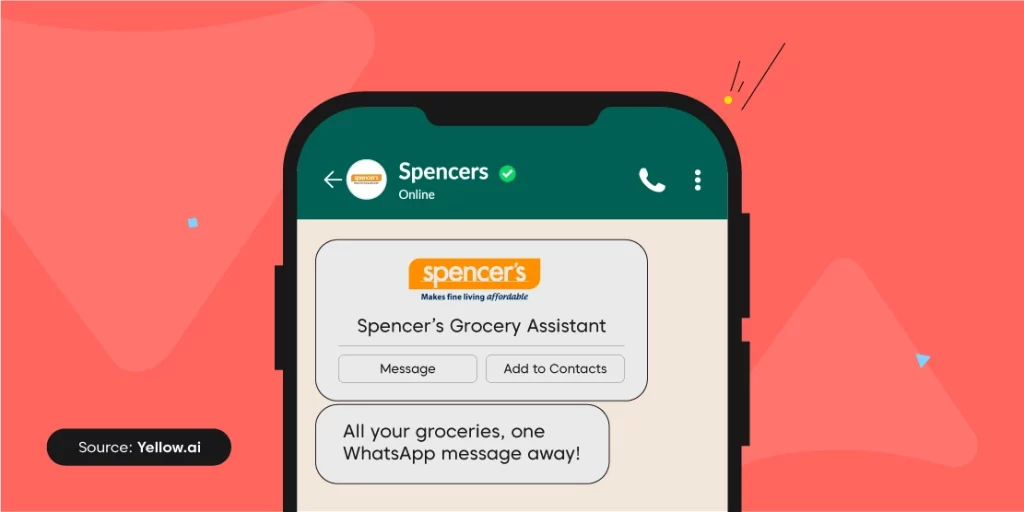 Challenge:
COVID-19 brought about an unprecedented upsurge in consumer demand amidst great panic for daily essential needs. Spencer's Retail started looking for solutions to further its unflinching mission to support the nation's cause and serve millions of households with daily essentials at their doorstep.
Spencer's Retail knew that a large proportion of consumers were digitally active, but not very savvy with regular e-commerce ordering for their daily essential needs.
To this effect, they were looking at solutions to reach millions of unserved households through a convenient and hassle-free platform, which eases the availability and access of daily essentials for its consumers.
Solution:
The management team at Spencer's Retail kept in mind all their customer personas and were hunting for a solution that solves for the real India. A solution that will see great adoption.
Spencer's caters to many personas. Homemakers who cherish the conversations with the nearest grocery store in-person or over a call to order daily essentials. Senior citizens and differently-abled consumers from whom the available technology ordering interfaces are not a convenient or preferred option. Office goers and young couples – who are always on the run and have hectic schedules, even during WFH times.
Spencer's and Yellow.ai joined hands together to build a first-of-its-kind and an industry-first product- 'Spencer's Grocery assistant' over WhatsApp, which is the most used proliferated digital platform in India with access to more than 550 million users.
The Spencer's Grocery Assistant (SGA) has come across as a revolutionary product for the retail industry. It is an intuitive, AI-powered chatbot that simplifies grocery and daily essentials ordering across 160 Spencer's stores in the country.
Now every Spencer's store is just a message away! All that the buyers have to do is add their WhatsApp number to their contact and start chatting to order, just like chatting with a friend.
Launched amidst the COVID-19 lockdown in India, Spencer's Grocery Assistant became an instant hit with consumers, who are loving the ease of connecting and ordering with any of Spencer's stores.
Milestones achieved by Yellow.ai
1. Spencer's Grocery Assistant was built in just 5 days while the company was itself undergoing a global pandemic. Our team worked day and night to take the chatbot to live for Spencer's.
2. The WhatsApp chatbot was launched in 33 cities across India wherever Spencer's had an offline presence.
3. Spencer's Grocery Assistant was launched in 160 stores across the 33 cities so that all the stores can serve their customers via WhatsApp.
4. The word got out quickly and 4.5 million consumer messages were sent.
5. Spencer's Grocery Assistant handled 1100+ concurrent conversations every second using the WhatsApp chatbot.
Conclusion
Digital commerce and conversational AI can go a long way hand in hand. The two technologies together bring an exponential curve in customer satisfaction and customer retention. If you are a business trying your hands on a digital commerce platform, schedule a demo with Yellow.ai and acquire a conversational AI platform for your business.