The Fast-Moving Consumer Goods (FMCG) industry needs to reach out to its consumers, and they need to do it fast. The industry is constantly looking for better strategies to place their products in the market such that they are closest to the consumers. FMCG chatbots can help solve all the concerns of the industry and elevate their sales beyond expectations.
If your business is looking to boost sales or improve its marketing, AI chatbots for FMCG have got you covered. With FMCG chatbots, all the conversational needs of your business can be met automatically. You can communicate with all your consumers instantly and accurately, without having to increase your customer-facing staff.
In this article, you will learn what FMCG chatbots are and what they can do for your business. We have also covered the benefits and use-cases of FMCG chatbots, and towards the end, you will see how chatbots work as an elixir in increasing your sales and revenue.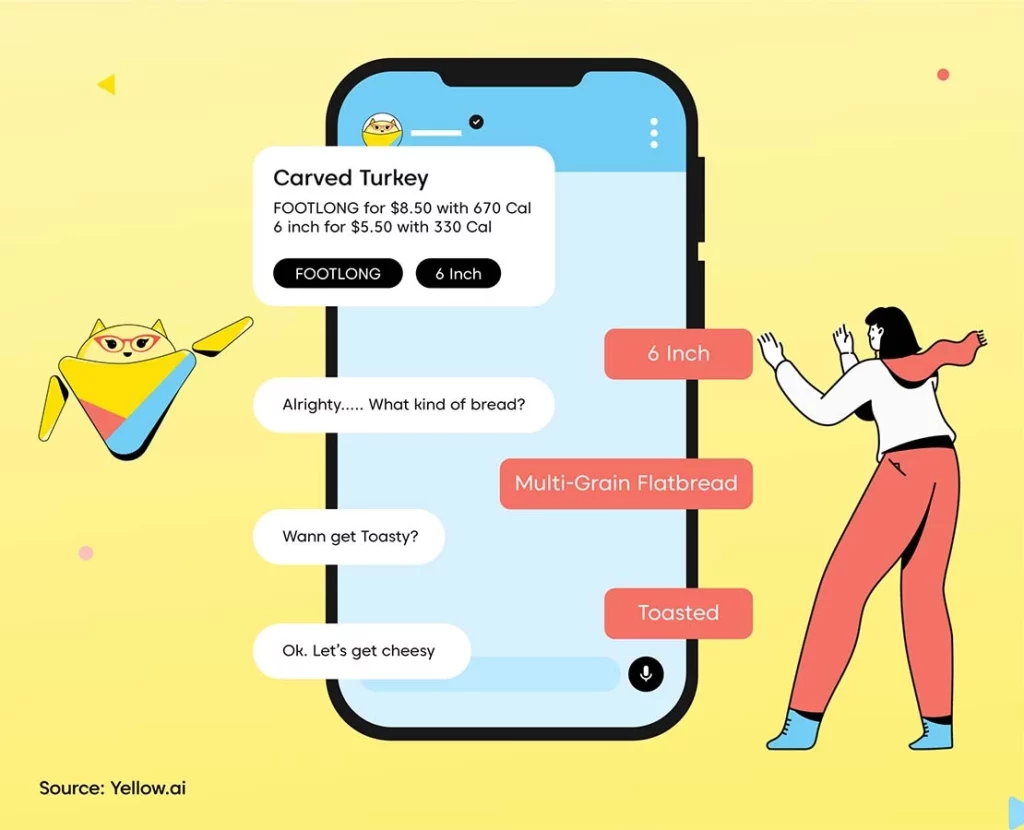 What are FMCG chatbots?
FMCG chatbots are conversational AI-driven software application that helps the industry in order management, lead generation and many other business operations by simulating human-like conversations with the consumers.
Research shows that the global FMCG market is projected to reach $ 15,361.8 billion by 2025, registering a CAGR of 5.4% from 2018 to 2025. The surge in trends of online shopping has opened many new avenues for the players in the industry.
In such a competitive and growing market, businesses need to go the extra mile and satisfy their customers in order to stand out. AI chatbots can help you achieve this edge by providing the customers with an outstanding online shopping experience.
Moving forward, let's take a look at the benefits of using FMCG chatbots.
Benefits of using FMCG chatbots
Retailers and top players in FMCG have seen enormous growth in terms of sales as well as customer satisfaction using AI chatbots. For example, Domino's, one of the big shots in the industry, reduced its query resolution time by 70% by using FMCG chatbots.
Let's look at some other benefits that can be achieved by using conversational AI chatbots in the FMCG sector.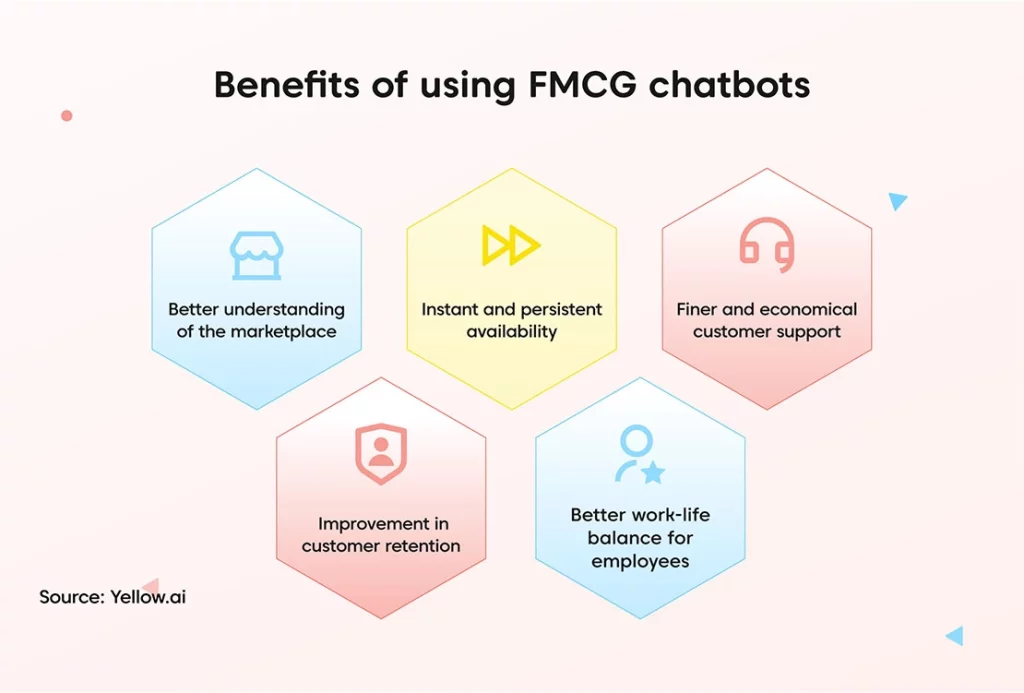 1. Better understanding of the marketplace
Understanding consumer needs is very essential for the FMCG market. Your brand needs to understand if a consumer wants to know the nutritional value of a product or the date of expiry before buying it.
With chatbots, it becomes easier to understand the needs of your consumer beforehand. For example, you have a grocery store with a facility to order online. Most of your customer queries are regarding the nutritional value of the products.
Since you know customer requirements, you can solve their query by either adding a nutritional chart image or training the chatbot about the nutritional value of each product. This will not only help customers in taking buying decisions faster but also help your business reduce the number of support calls.
2. Instant and persistent availability
Chatbots can help your business to be available for consumers 24×7. No matter the time of the day or day of the year, you can be present to respond to customer queries.
No one wants to wait for the customer service representatives to get on a call and solve their queries. People need immediate responses and fast query resolution. This is one of the major reasons why customers prefer live chat over any other means of communication for support.
FMCG chatbots can help you attain customer support such that you are always available for your customers and this in turn can help you gain customer loyalty.
3. Finer and economical customer support
In the FMCG industry, most of the queries about food products or personal care products are repetitive and do not need a human being for a response. Chatbots, when data-trained properly, can handle all the customer queries efficiently.
With a seamless handoff to the agent, chatbots can swiftly transfer the chat to a customer service representative with all the history about the customer. This helps the business to handle complex queries with accuracy and precision.
Although FMCG chatbots are not here to unemploy a human customer service representative, instead they are here to help the employees focus better on complex cases.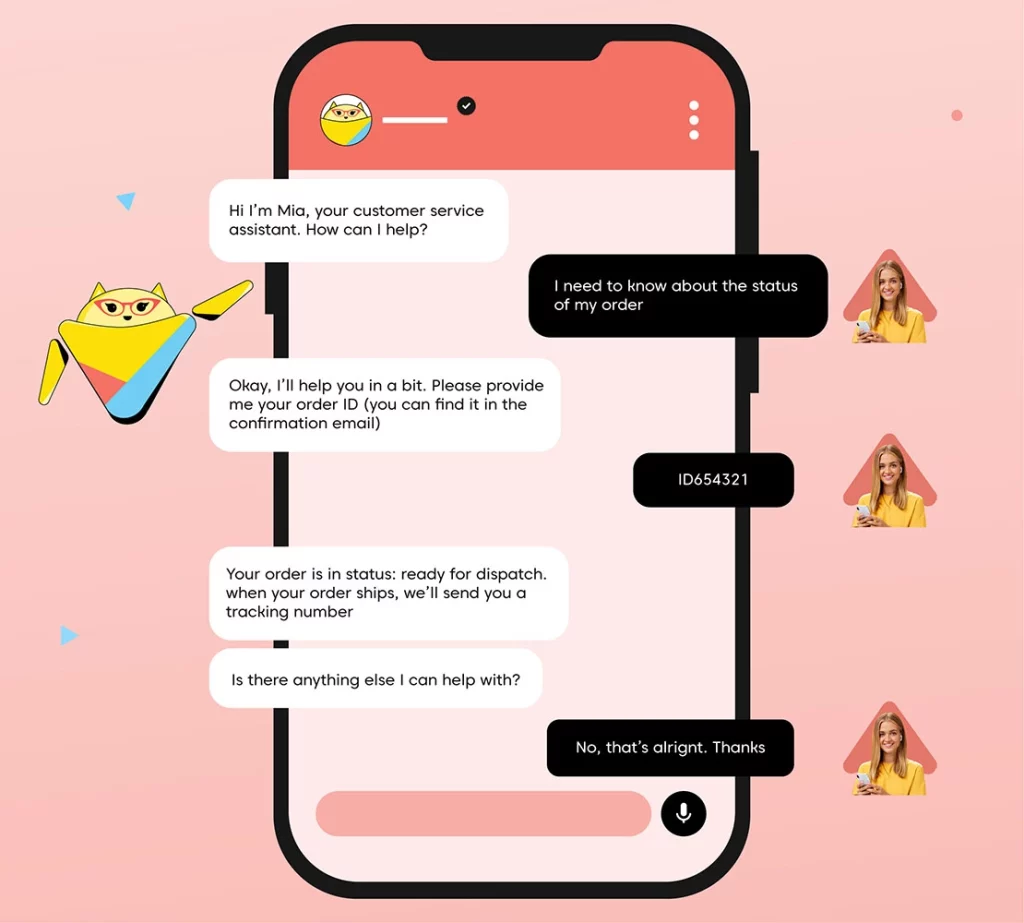 4. Improvement in customer retention
With a customer experience so blissful, customers would never want to leave you. Chatbots help in reducing the customer churn considerably, leaving the customer experience much improved. Customers only need to interact with a chatbot to fulfill their needs and get answers to their queries.
This reduction in customer churn ultimately leads to higher customer retention. For example, other companies in your competition need customers to send emails in case of any complaints but you provide an instant chat messenger, who do you think your customers will prefer?
Customer retention can further lead to your customers becoming brand ambassadors for your business. Thus, deploying chatbots can prove to be a very effective strategy for your business growth.
5. Better work-life balance for employees
When most of the queries are resolved automatically, your employees can focus only on complex queries. Plus, they don't even need to sit with their systems in order to respond to a query immediately.
With FMCG chatbots, your business can take care of all the conversational requisites of your business. You can send notifications regarding customer orders, share relevant content with them and even take payments over a chat window.
This can leave your employees with a better work-life balance and create a sense of trust in their hearts.
With these benefits specified for the FMCG industry, you might have understood how chatbots can help in your business growth, customer satisfaction and employee retention.
Use cases of FMCG Chatbots
Now that you know about the benefits provided by FMCG chatbots, it is the right time to understand how to use these in your business. In this section, you will learn about the optimal use-cases of FMCG chatbots for maximum results.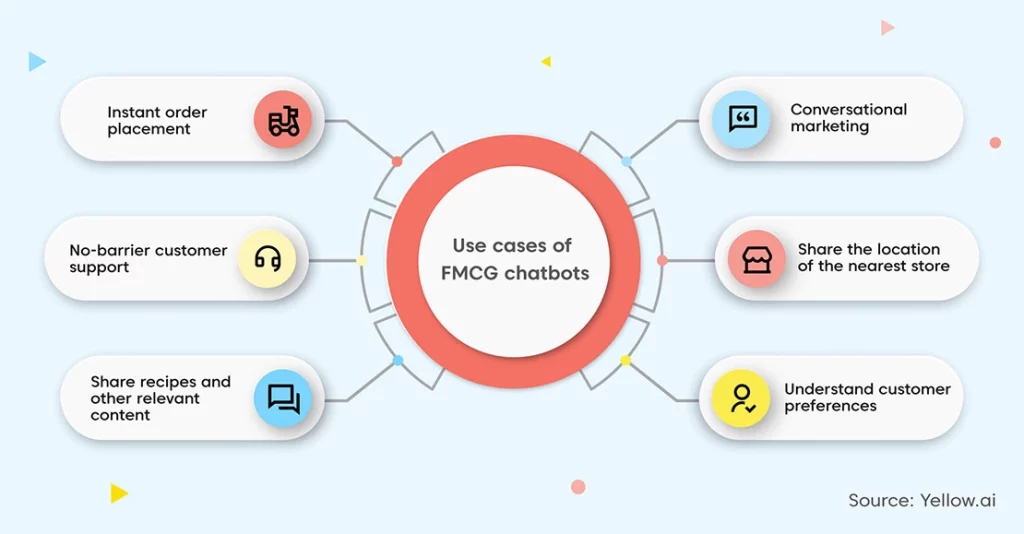 1. Instant order placement
You can help your customers place and track their orders over a messaging window. FMCG chatbots let you do that.
For example, if you have deployed a chatbot over your all-in-one grocery delivery mobile application, customers can enter the list of products required by them, and the chatbots can show them the products. They can add the products to the cart and check out from within the conversation. They can avail coupons, pay and track their orders easily.
Along with this ease, chatbots remember all the previous orders placed by the customers. This allows the customers to repeat their order without browsing through the whole list once again.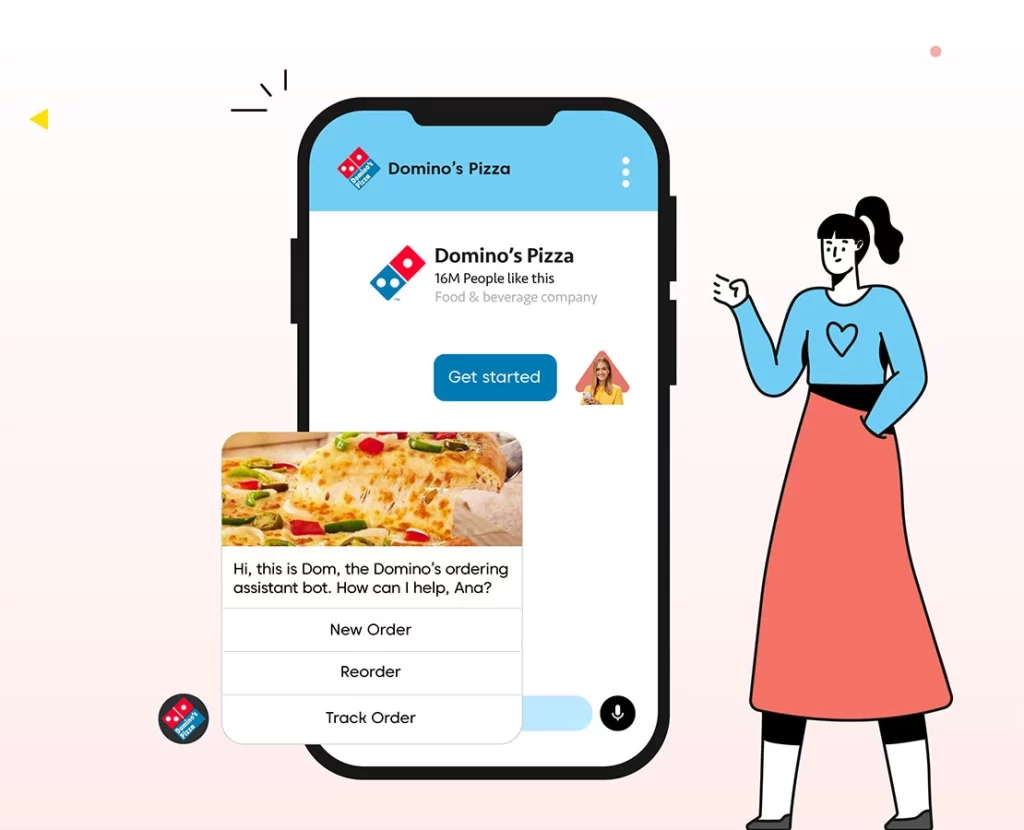 2. No-barrier customer support
Chatbots help businesses provide unhindered customer support. There are no language barriers, time barriers or holidays for providing support.
FMCG chatbots by Yellow.ai provide support in 100+ vernacular languages without any delay in responses or any limitations. Your business can expand globally without the need for a customer support team in every region.
Let your customers experience round-the-clock customer support, on any day of the week, no matter if it's a public holiday. Chatbots never go out of service. They are always available for answering queries and solving problems.
3. Share recipes and other relevant content
With conversational AI, you can share all the relevant content with your customers. For example, a customer buys oranges from your grocery store and wants to know some good drinks that can be made using oranges. You can share all the content that you have on recipes using oranges instantly.
The customer won't need to browse through the website or find recipes on different channels. It can be an effective way to market your content using a chatbot.
With good training, your chatbot can even respond to emojis. Like instead of typing "oranges" a customer can use emoji to get all the relevant information.
4. Conversational marketing
Once the chatbot becomes the primary source of placing orders for your customers, you can run various marketing campaigns on the channel. You can send out gift vouchers, discount coupons and other redeemable offers to your customers using conversational marketing.
It is a real-time one-to-one marketing strategy that can be used to push your customer through the marketing and sales funnel quickly. Chatbots can enable your business to use conversational marketing and win the race over your competitors.
5. Share the location of the nearest store
Develop a unified online and offline experience for your customers. The online platform must be able to share the locations and details about your offline stores near the customers.
Suppose a customer wants to buy groceries by visiting your store, your online chatbot must be able to share the location, availability, timings and other details with the customer.
All of this is possible with conversational AI. Your AI-driven FMCG chatbot can share all the information and provide a unified experience to your customers.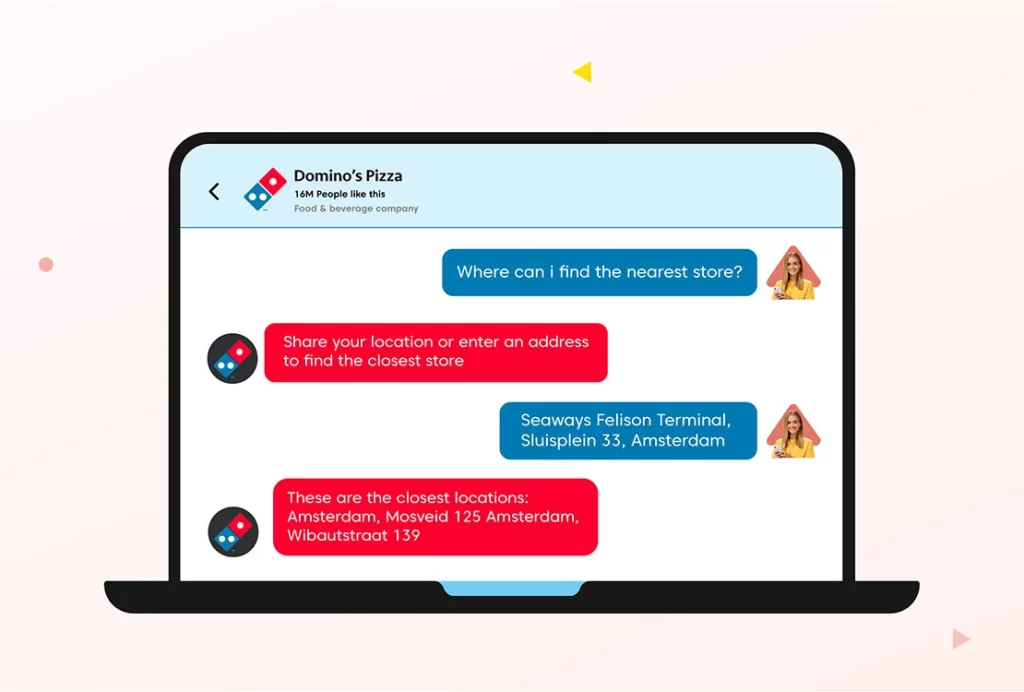 6. Understand customer preferences
Conversational AI-driven chatbots are smart and can remember all the details about your previous orders. It can understand your buying patterns and habits and suggest products according to your preferences.
Customers can simply reorder or get suggestions similar to their previous orders. This feature can really help restaurants in remembering if a customer is vegan or vegetarian, do they have allergies to any products, do they usually order healthy food or maybe junk food and all of their other preferences.
How can FMCG chatbots help in increasing sales?
Moving towards the end of the article, we would like to take your attention to how FMCG chatbots help businesses in increasing their revenue by using conversational AI. In this section, you will understand the observations you can make after deploying a chatbot in your FMCG business.
1. Self-serve and easier interaction
In the digitally transformed era, gen Z likes to self-serve their queries. From ordering food to opening a bank account, digital is the way of life. Thus, to satisfy this customer base, your business needs to enable self-serve channels on the website and mobile applications.
Customers today don't go store-to-store to meet their needs, instead, they search online. If you have a way where customers can interact with your business easily, your business will flourish.
2. Omnichannel customer experience
At a single time, your customers are scrolling through an average of 5 mobile applications. You need to make sure that you provide them a unified experience over all the channels wherever your business is available.

For example, if a customer has received a coupon code and wants to redeem it on your WhatsApp channel, your presence should be so strong that a customer must be able to do that. Omnichannel customer experience tears down all the silos in the conversations for the customers and silos in the data for the businesses.
You get accurate metrics and can make informed decisions based on the information acquired using conversational AI for an omnichannel experience.
3. Reduced cart abandonment rate
While having a conversation, customers tend not to abandon the cart and move through the sales funnel quite easily. Using FMCG chatbots, you will experience that the customers ordering through the chatbots place their orders, while others tend to lose their interest midway.
You can retarget your customers using chatbots by sending them notifications and reminders about their incomplete orders. Unlike human agents, chatbots never lose their temper and can be a great tool for marketing, targeting and retargeting your audience.
4. Consolidated insights and analytics
With conversational AI chatbots, you get CRM software where you can track and collect intelligent insights about the conversations between the customers and the chatbot. This information can prove to be extremely useful when making business decisions.
For example, if there is a product for which a number of customers are raising complaints, you can take a look and either discontinue the product or solve the complaints.
With insights and analytics, you can also know how many times a human agent was called and understand the circumstances of the intervention.
Conclusion
We hope we have given you sufficient information about FMCG chatbots and enough reasons to deploy them. Conversational AI has proven to be an asset in almost every industry in terms of customer experience and customer satisfaction. You must also leverage this excellent tool in your customer support and win the hearts of your customers.

If you would like to know more about FMCG chatbots or discuss the possibilities of deploying them to your website, mobile application or social media, we are all ears. You can simply request a demoand our experts will connect with you.