Almost 20 years since its inception, the E-commerce industry is infinitely growing, led by revolutionary technological advances in artificial intelligence and evolving user behavior. Although, due to fierce competition on a global scale, E-commerce players are finding it increasingly difficult to retain customers. This is where e-commerce chatbots play an important role.
Chatbots for E-commerce can upgrade your customer experience, so that you acquire and retain more customers, giving you an edge over your competitors. In this blog, we'll have an in-depth look into what E-commerce chatbots are, their benefits, use-cases and how you can implement them in your business.
What are E-commerce chatbots?
E-commerce chatbots are AI-powered intelligent virtual assistants that assist customers throughout their online shopping journey. They serve as a perfect equivalent of the helpful store-associate who understands customer preferences and needs to help them complete their purchase.
E-Commerce chatbots facilitate conversational commerce as they unleash the potential of conversation to sell products and services via chat interface. The term conversational commerce was first coined by Uber's Chris Messina in a 2015 piece published on Medium. Since then, it has become a way for E-commerce brands to compensate for the lack of a personal touch in their online stores. 
Benefits of E-commerce chatbots
Today's customers have high-expectations from a brand. They prefer high-value experiences that make online shopping more personal and dynamic. E-commerce chatbots can help you achieve this by engaging in one-to-one conversations with customers and answering their questions instantly.
Here are a few more ways in which E-commerce chatbots can prove beneficial for both your business and customers.
1. 24×7 Availability
51% of customers expect to be able to connect with a business any time of the day. However, staffing a support team that works round-the-clock can prove to be quite expensive. Also, human agents can only handle 1-2 customers at a time and it can cause frustration among other customerswhen they have to wait on hold.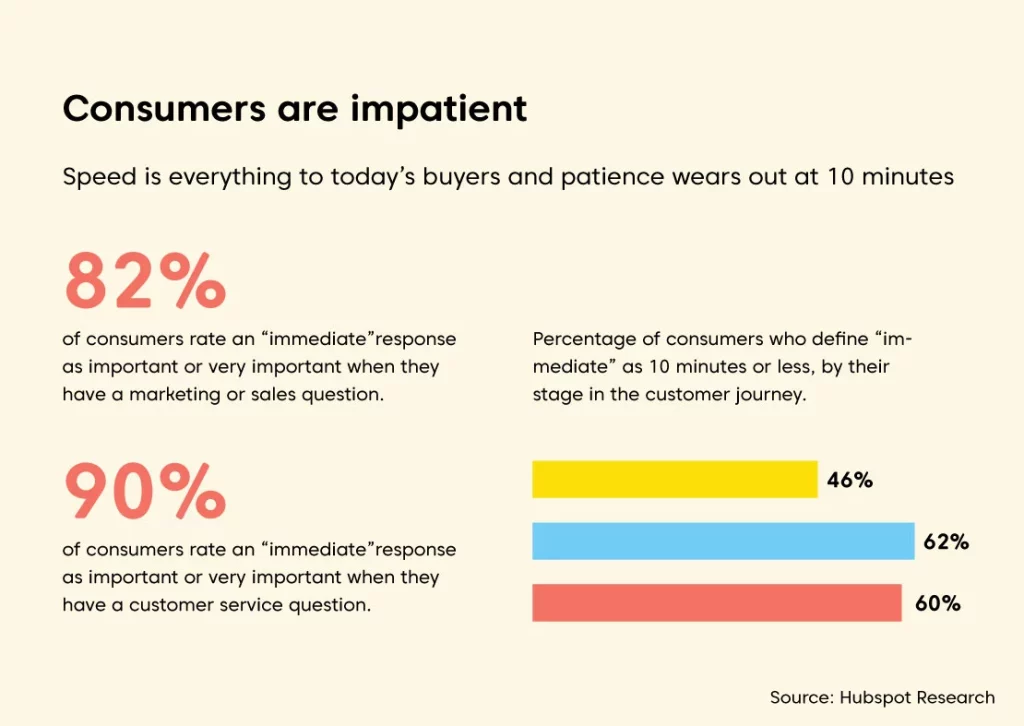 E-commerce chatbots on the other hand offer a 24-hour support to customers and can handle multiple queries simultaneously, reducing the response time. They can provide instant answers to customers' questions and handle 80% of the queries without any human intervention.
2. Personalization
8 out of 10 customers are more likely to purchase a product or avail a service from a brand that offers them personalized experiences. Intelligent E-commerce chatbots use AI and machine learning to constantly learn and adapt. They make the conversations more fluid by gathering and analyzing customer data in real-time to offer better suggestions and product recommendations.
3. Proactive support
In this highly-competitive E-commerce landscape, companies need to always be one step ahead to forge a stronger, more relevant connection with their customers. E-commerce chatbots help businesses provide proactive support, wherein, they solve customer problems even before they arise.
For example, sending automated order updates to customers to keep them informed throughout the order fulfillment process. This reduces the number of inbound calls and emails received by the customer support team.
3. Cost optimization
E-commerce businesses can cut costs by assigning repetitive mechanical tasks, which form the most load of queries received by support agents, to chatbots. This can free-up the personnel to focus on more complicated work and also, the company wouldn't have to hire more agents to scale its CX efforts. 
4. Improved customer experience
90% of customers use customer service as a deciding factor for whether or not to do business with a company. E-commerce chatbots can improve the impression of your business by acting as the first touchpoint in a customer's journey.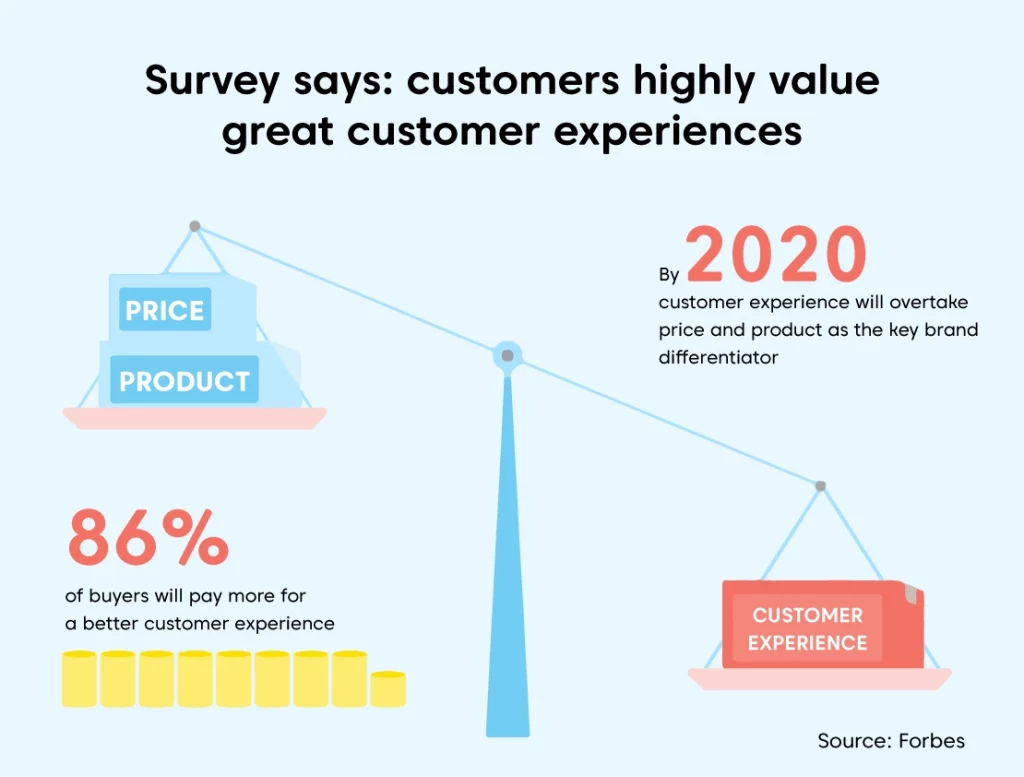 Very often, e-commerce websites are a maze of hundreds of products and customers tend to get confused and eventually bounce off. Chatbots can help customers find exactly what they're looking for by understanding their needs and preferences in real-time like a store associate. This not only saves customers' time and effort but also empowers a business to convert more leads into customers.
5. Cart Recovery
The key to recovering abandoned carts is re-engaging with your customers once they have left your site. Chatbots can do just that by reminding customers of the items that they have left in their cart and encourage them to complete their purchase by offering tailored offers and discount codes. E-commerce bots operate 24/7/365 to ensure that no sale is left behind and are capable of raising cart conversion by at least 30%.
E-commerce chatbot use cases
1. Real-time order updates
E-commerce chatbots enable two-way communication with customers. They're no longer just used to send updates or marketing messages, but customers can also ask them for order updates, real-time tracking information, to change the shipping address or share instructions with the delivery team.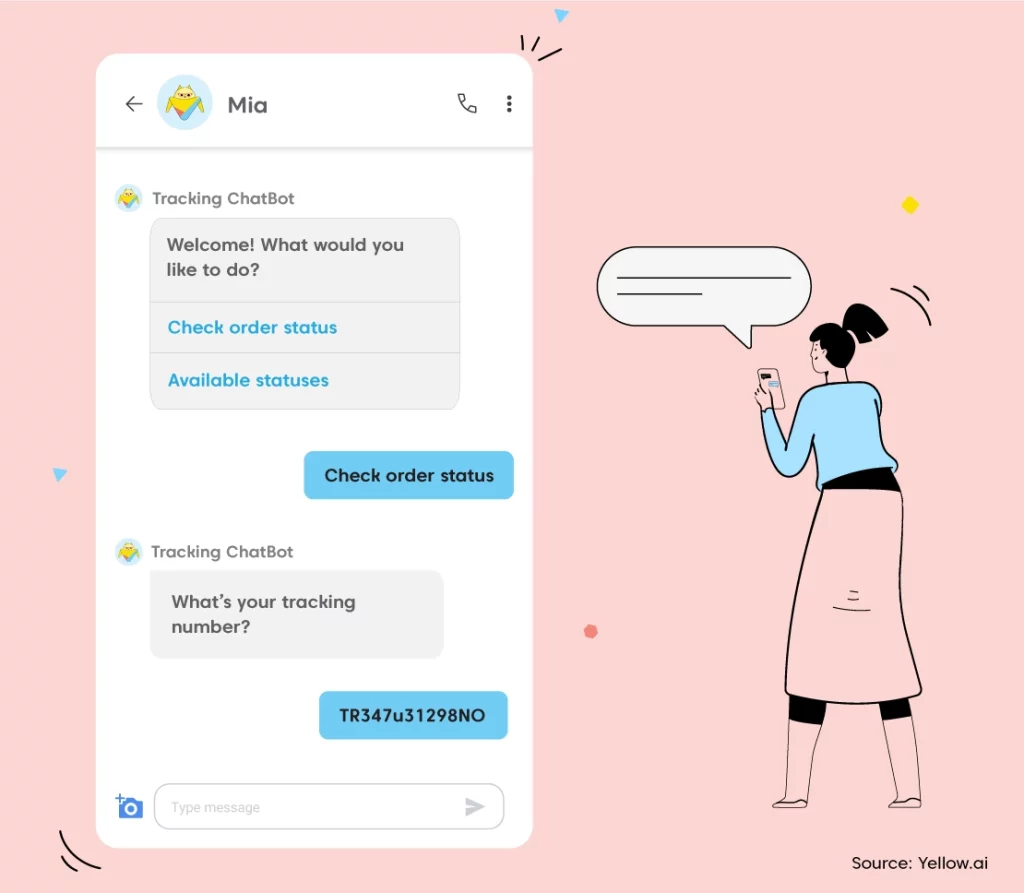 2. Up-seling and cross-selling
Chatbots for e-commerce are powered with sophisticated NLP engines that help them analyze customer sentiment and requirements. This enables them to identify up-sell and cross-sell opportunities to recommend better, high-value value products to customers.  
3. Lead generation
E-commerce bots take a conversational approach towards lead generation as they engage with customers using rich media to gather important information. They also send interactive surveys and forms to customers that have a better response rate than other lead generation campaigns.
‍4. In-chat payments
A report by Salesforce revealed that 74% of customers would switch to a competitor if the buying process is too complicated. This is why it's important to have fewer steps in the checkout process. E-commerce chatbots integrated with payment gateways can handle online transactions and accept payments right in the chat interface, thereby shortening the sales cycle. Now, customers wouldn't have to switch between channels to complete a purchase.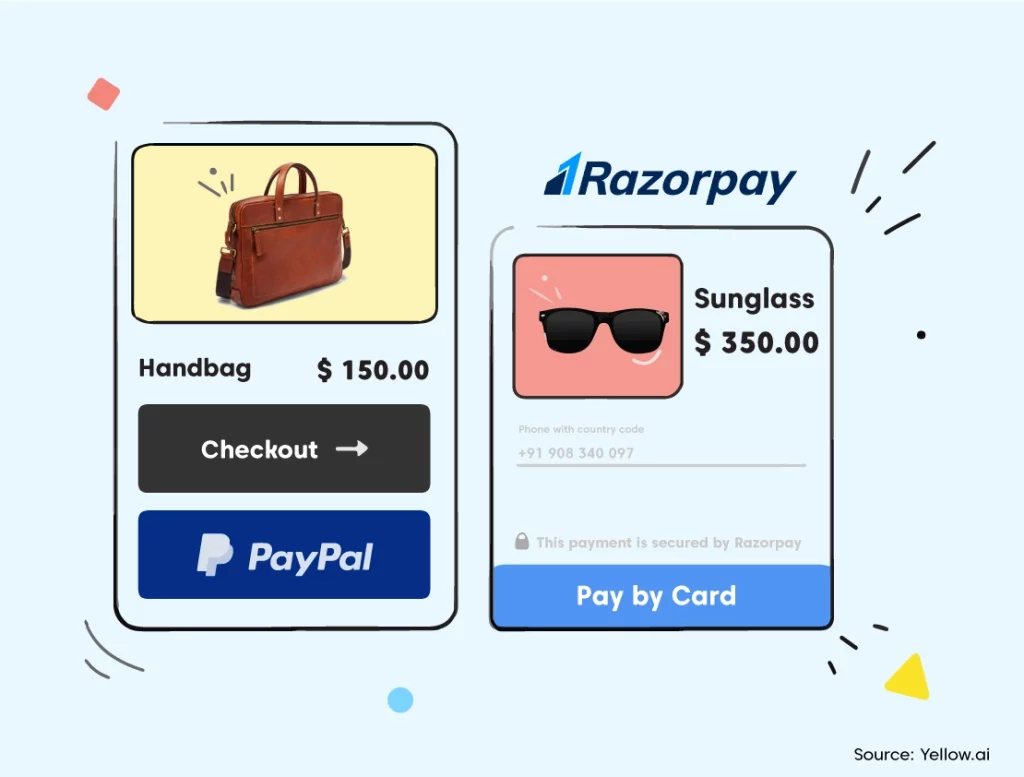 5. Offers and promotions
A chatbot, without being intrusive, can push notifications about new product releases and offers, keeping the customer's preferences in mind. E-commerce chatbots can also be used to broadcast messages and create tailored campaigns for every user. Chatbots are three times more successful at converting a prospect into a customer. Companies that use E-commerce chatbot marketing report an increase of 67% in sales.
Things to keep in mind while building an E-commerce chatbot
1. Identify customer pain points
Before building your chatbot, make sure you properly analyze the customer journey and trends to identify their pain points. This will help you get a headstart by establishing a few key use cases for your E-commerce chatbot. 
2. Design conversation flows
Conversation flow is the comfortable progression of questions and responses in a conversation. E-commerce customers prefer to engage with chatbots that have natural conversational abilities, so keep that in mind along with the customer journey and the kind of experiences you want to deliver while creating the conversational flow of your chatbot.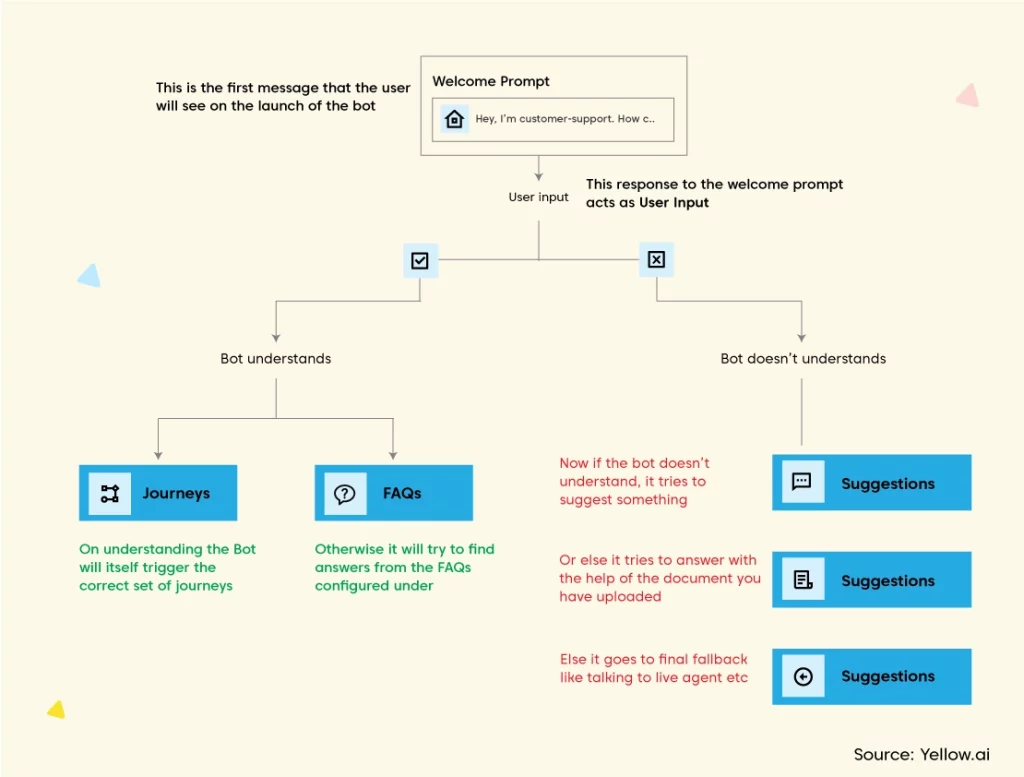 3. Enable data to be usable on chatbot platforms
Integrate your E-commerce chatbots with internal company databases like CRM, ERP Systems, SharePoint or other third-party APIs so that your chatbot can extract customer data in real-time to deliver more intelligent, human-like responses.
4. Train your chatbot with deep reinforcement learning
Your chatbot should be able to learn from past interactions and become more intelligent with time. With deep reinforcement learning, your E-commerce chatbot will improve upon itself with every interaction it processes – even with the queries it misses. It actively learns from every unresolved utterance to never miss the same query twice.
5. Give the chatbot a personality
In order to make an emotional connection with your customer, your chatbot should have a personality – name, appearance, tone, etc. Having a personality is a core component of user experience for any conversational interface.
6. Test your chatbot
Chatbot testing is important to improve conversation quality and make sure that the bot appropriately answers each user's queries. Since chatbots integrate multiple functions, you need to analyze if all the necessary features are implemented correctly. 
Here is a checklist for chatbot testing:
1. Conversational flow and personality
2. Active learning
3. Navigation and routing
4. Accuracy and error management
5. Response time
7. Launch on the channels where your customers are
Your E-commerce chatbot should be able to meet customers where they are, on social media pages, messaging apps, SMS, voice platforms and even email. It should be easy to deploy on multiple platforms and deliver a truly connected omnichannel experience.
To sum up
E-commerce chatbots are gaining popularity as they not only help businesses increase customer satisfaction but also in reducing costs, improving metrics like NPS, conversion rates, response times and boosting agent productivity.
In an era when chat is increasingly becoming the most-preferred method of correspondence with brands, E-commerce players must jump on to the chatbot bandwagon to deliver exceptional customer experiences.
If you're also looking to integrate a chatbot solution into your E-commerce platform, then you're at the right place. Our award-winning no-code chatbot building platform with a drag-and-drop editor enables you to create a custom E-commerce chatbot and deploy it to 35+ channels with a single click. Request a demo.