In the cutthroat world of e-commerce, it is not only about offering exceptional products but offering an exceptional shopping experience that makes a store stand out.
Shopify is a powerful e-commerce platform for creating and managing your online store.
However, according to Hotjar, the average conversion rate for a Shopify store is currently just under 2%. 98 out of 100 site visitors from e-commerce sites walk away without purchasing anything.
But this can change with Yellow.ai.
By integrating with Shopify, Yellow.ai provides you a 360-degree view of your customers by integrating their Shopify data with other touchpoints. Proactively drive customer engagement, reduce cart abandonment rates, and increase the average order value for your shoppers.
Set up Shopify + Yellow.ai integration in a few clicks
Zero setup bot-deployment. No development time required.
Run on autopilot. Configure workflows automatically.
Initiate personalized conversations; no more broadcast messages.
Automatically convert one user at a time.
Improve the performance of your Shopify store with Yellow.ai
Increase brand awareness: Run contests and sale announcements on text and voice channels that encourage users to engage and inquire via the dynamic AI agent and share product catalogs with newly launched products to boost lead generation.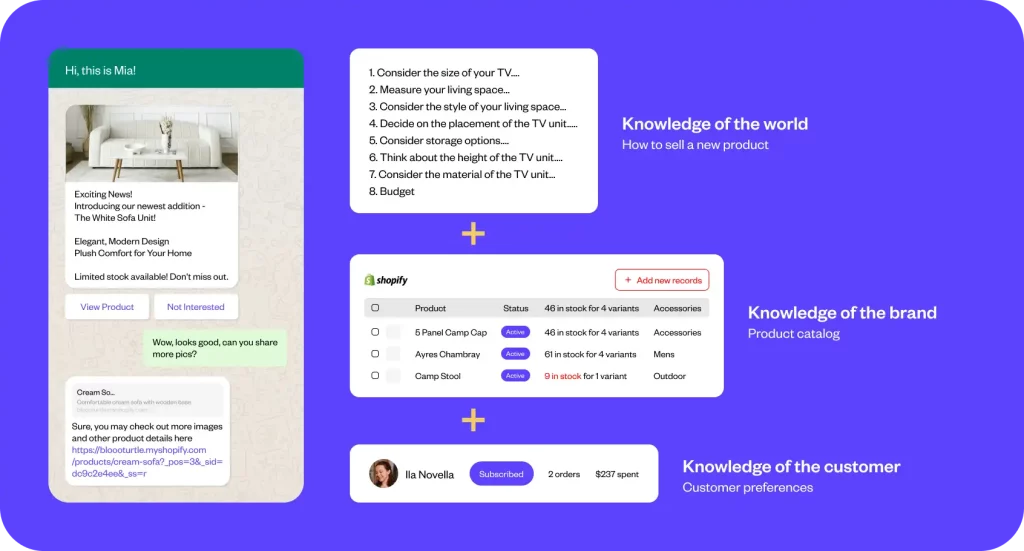 Proactive Product Recommendations: Provide AI-driven personalized recommendations, based on knowledge of a customer's preferences and behavior using the customer data platform.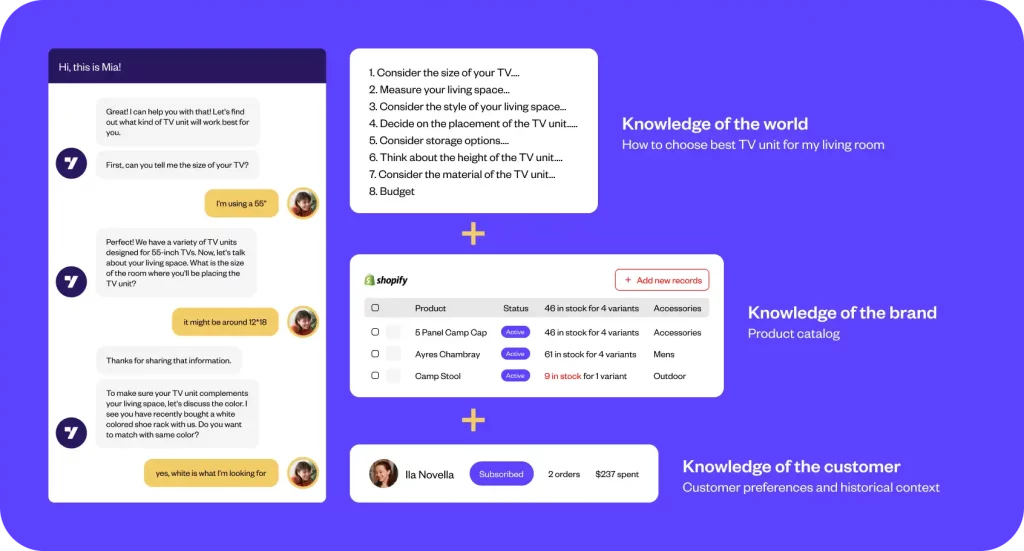 Abandoned Cart Recovery: One of the most significant challenges for online retailers is cart abandonment. Use dynamic AI agents to engage with consumers in real-time and offer special discounts and cashbacks at the right time to increase the probability of recovering lost sales.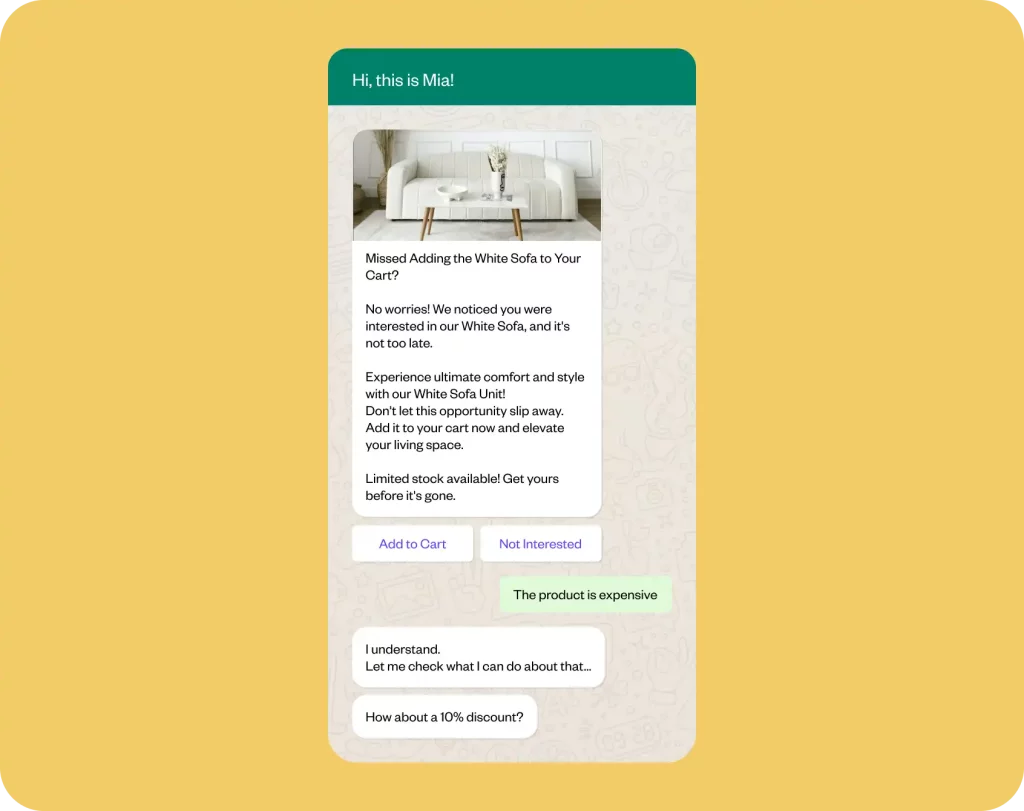 Real-time omnichannel customer support: Shoppers appreciate quick and helpful responses to their inquiries. Yellow.ai's dynamic AI agents can track purchase history and customer details directly from Shopify to provide real-time tracking updates, instant support in case of delays, refunds or cancellations. All of these interactions can happen across various channels, including chat, email, WhatsApp and more.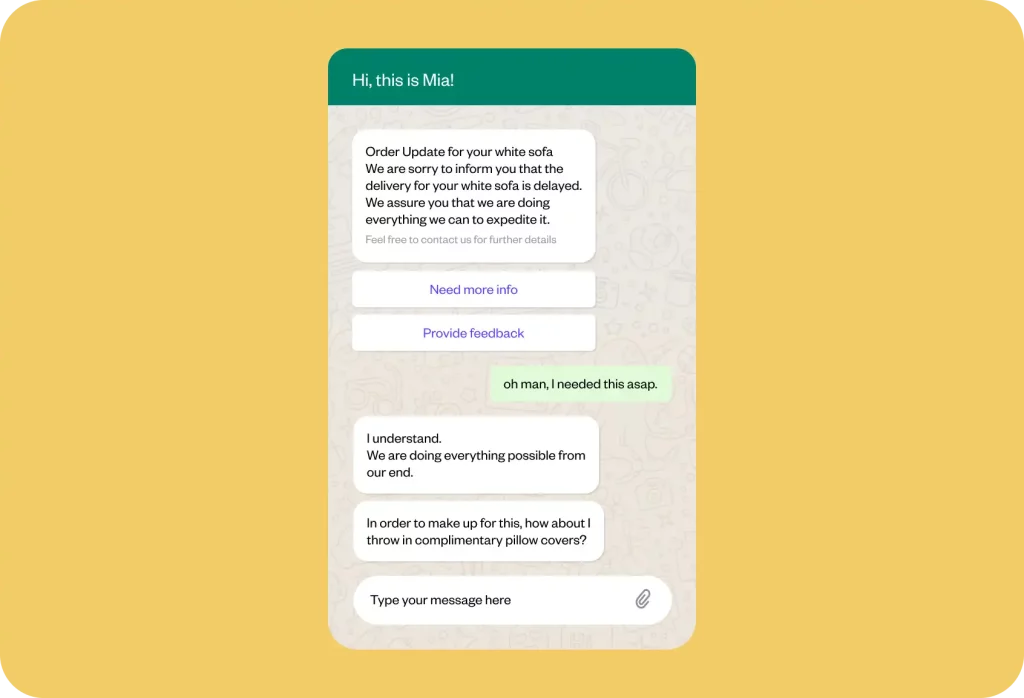 Receive customer feedback: Run regular surveys with customers to know about their buying experience, reward repeat customers with loyalty or reward programs and improve customer retention.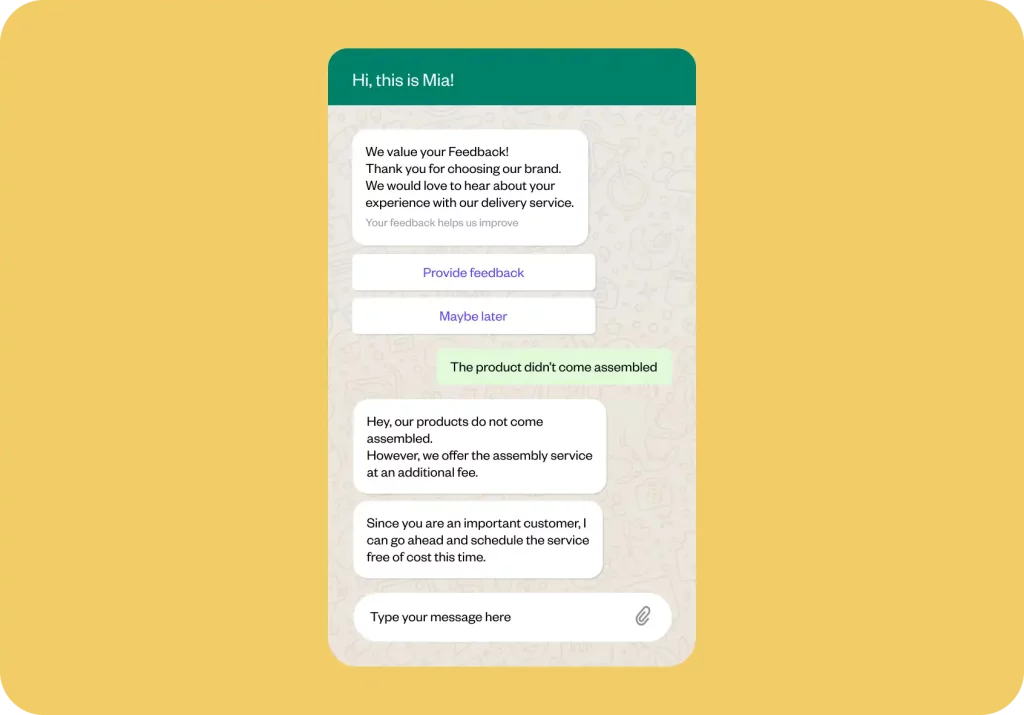 Improve the ROI of your Shopify store with Yellow.ai
Increase cart conversion rates by 8–10%
Achieve read rates of 75–80%
Improve customer engagement by 60%
By harnessing AI-powered conversations, provide a more personalized, engaging shopping experience for your customers to drive higher sales and customer satisfaction.
Get started with Yellow.ai to drive better conversions for your Shopify store