Have you future-proofed your business and your customer experience strategy with intelligent virtual assistants? If not what are you waiting for!
The COVID-19 pandemic has created a sudden upsurge of digital transformations in all industries. Customers today look up to companies that have remote-everything, that is, remote need creation, remote demonstrations, or showcases, remote purchase cycle, and remote customer support. Adapting to these circumstances and shifting the market from offline to virtual has been the focus of businesses.
Intelligent virtual assistants (IVAs) have been a critical part of this shift and have transformed the shape of the customer experience industry digitally.
With artificial intelligence elevating customer experience (CX) strategy, design, and development, businesses are blooming. The world has not seen a transformation of this scale since the internet transformed print collaterals into digital establishments.
From dual-tone multi-frequency (DTMF) in the 1980s to intelligent virtual assistants (IVAs) in 2021, customers have undergone various types of customer service experiences. IVAs are the recent favourites for both, businesses and customers.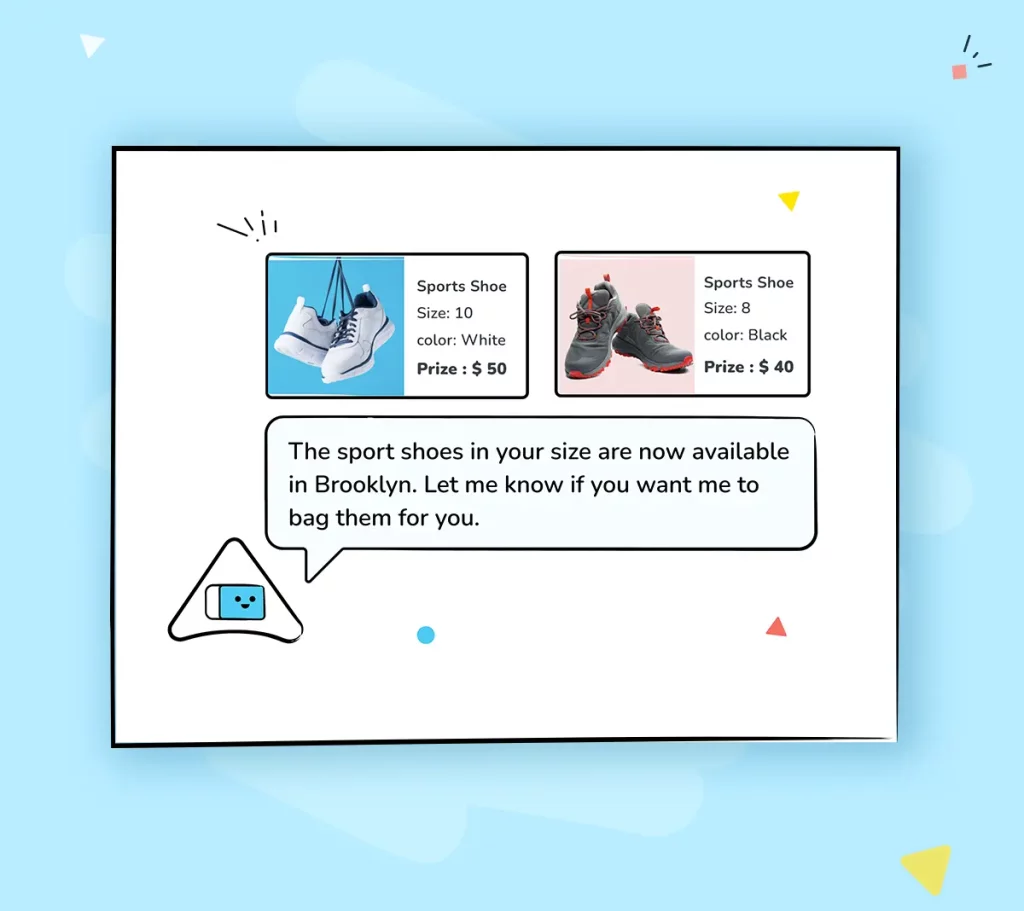 What are intelligent virtual assistants (IVAs)?
Intelligent virtual assistants or virtual assistant chatbots are application software with the capabilities of artificial intelligence for supporting customers throughout their buyers' journey and providing businesses with a whole new blueprint of customer experience (CX).
Basically, IVAs are chatbots with artificial intelligence and the functionalities of a virtual assistant. That is, IVAs are smart chatbots that understand and interact like humans and have the ability to learn with every interaction.
AI virtual assistants leverage AI technologies like automated speech recognition (ASR), natural language processing (NLP), natural language understanding (NLU), dialog management, text-to-speech (TTS), and machine learning (ML) to provide businesses an edge over their competitors in regards to customer experience.
Types of Intelligent virtual assistants: IVAs can be classified into two types on the basis of their usage- personal or professional.
We all have used the personal virtual assistants known by the names of Amazon's Alexa, Apple's Siri, and Google's Home assistant. We have used them to make calls, set alarms, turn on the lights, and sometimes even to play music. This shows the understanding potential of virtual assistants.
Businesses also use IVAs for business communications. They depend on IVAs to automate customer interactions and query resolution. Earlier, chatbots also helped in automating customer interactions but they were rule-based and could not have a lasting impact in automating customer service.
IVAs or AI virtual assistants are generally used interchangeably with chatbots, but these two are different. Let's see how.
How are intelligent virtual assistants (IVAs) different from chatbots?
1. Artificial Intelligence
Chatbots are not intelligent. They are rule-based customer support agents that interact with customers based on a particular set of if-else statements. As soon as conditions are not matched, they push the conversation (text-based or voice-based) to a human agent.
This is not true with virtual assistant chatbots. Customers can interact with IVAs in a natural language, be it technical jargon or industry-related terminology. Virtual assistant chatbots understand and respond appropriately.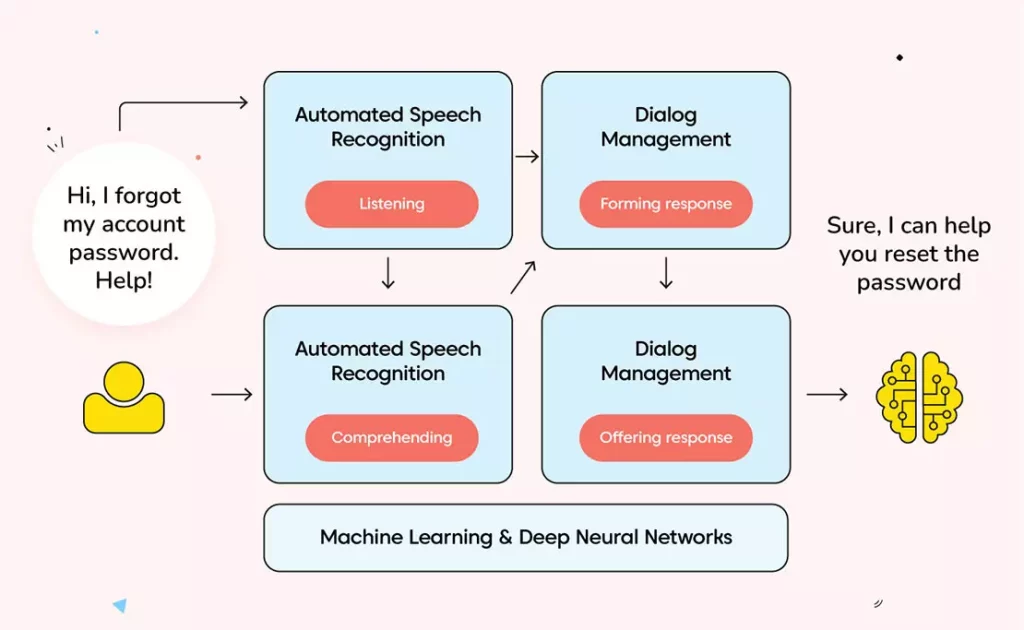 2. Data trained
Simple chatbots, also known as FAQ chatbots, come with a set of predefined questions and an answer tree. If the questions asked (or generally selected) by the customer match the predefined set of questions, chatbots respond an answer. If not, the conversation is taken over by a human agent.
Smart chatbots, or IVAs, on the other hand, are trained with the previous data so that they can understand queries, analyze sentiments, and generate data-driven responses. They can handle complex sentences and provide exceptionally fast responses that are humanly impossible.
Enterprises that are obsessed with their customers' satisfaction deploy intelligent virtual assistants instead of chatbots because they want customers to have quick query resolution, zero wait time, and no redundancy. These features of intelligent virtual assistants introduce a business as a customer-centric brand in the marketplace.
These differences might persuade you to shift to IVAs and never look back to FAQ bots. But before you make the decision, let's deep dive into the essential characteristics of IVAs and how are they beneficial for your business.
Characteristics of intelligent virtual assistants
1. Best for customer query resolution
With better understanding capability and the power to provide data-driven responses, IVAs serve customers with exactly what they need. Customers can have open-ended questions like 'what are smart chatbots?' or shoot complex sentences stating their concerns. Unlike FAQ chatbots, IVAs provide customers with a comprehensive solution to their queries.
This can help your business establish a sense of trust in the minds of your customers. In turn, this trust helps your business is thriving and generate multiplied revenue.
2. Asset for customer support team
80% of the customer queries can be resolved by AI chatbots. This fact itself is convincing enough for the customer support team to love IVAs. With virtual assistants around the corner, the customer support team can focus on the tasks that need a human mind. At the time of complex query resolution, they can be in a correct frame of mind and can solve queries satisfactorily.
Happy employees lead to happier customers. Especially for the customer support team, it is very essential to be in a good state of mind while facing/interacting with the customers. Then there lies another fact, the best marketing of all is happy customers.
3. Customer-first approach
Customers today do not like to wait for hours to get a response from businesses. With the global market at their fingertips, they always prefer brands that have the courtesy to value their customers. IVAs understand this and allow customers to speak out their hearts, in their regional language at any time. That is, IVAs are smart enough to understand complex sentences, multilingual and available 24×7 round the year.
Businesses can achieve high CSAT scores with this feature. As customers feel valued with such convenience, they will definitely fall in love with your business. Thus, they will retain for a longer duration. This can lead to a better experience for the customer and higher revenue for your business.
4. Contextual customer experience
IVAs understand and remember the context behind customer interactions. A customer can easily skip a conversation or switch the channel of communication, smart virtual chatbots, without any delay, continue the conversation from where they left. Collecting data and retaining information helps IVAs reduce redundancies and generate fast responses as per past customer behavior.
For businesses, this feature helps in upselling and cross-selling products and services based on customer behavior. Deriving useful insights from all the data collected by the IVAs can help companies grow exponentially by attending to their shortcomings. Also, faster responses can save a legit amount of time and human resources.
5. Customer sentiment analysis and emotional intelligence
Analyzing sentiments and understanding customers' intent is something businesses need. IVAs shine in this domain. Based on the speech patterns and sentence structures, IVAs analyze customers' moods and intent behind the interaction. This characteristic of IVAs gives them the ability to respond appropriately and amaze customers with the best experiences.
Understanding customers and responding to their queries with exactly the right responses helps customers take faster and better decisions. Comprehending customers' intent helps businesses approach them with exactly the product or service they are looking for. With this knowledge, companies can take their brand loyalty to a next level of maturity.
6. Machine learning
With machine learning (ML) capabilities, IVAs learn and improve with every interaction with the customers. Over time they begin to need lesser human intervention, as they solve most of their queries on their own.
Businesses don't need to worry about updating AI virtual assistants with new features and functions as they learn everything on their own. This can reduce the operational efforts and costs for companies and help them focus on tasks that cannot be automated.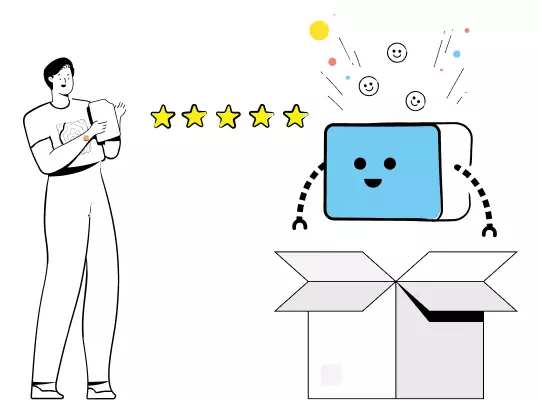 By simply focusing on building a competent Intelligent Virtual Assistant, businesses can gain a lot of attention and consideration from their target audience and acquired customers. Turning customer experience (CX) upside down with just a few clicks is definitely worth a trial.
How can businesses install intelligent virtual assistants?
If you have decided to go ahead and install an AI virtual assistant for your business, you have reached your destination. We can provide solutions for all of your CX needs, be it automation, AI integration, omnichannel presence, or a customized AI chatbot for your business.
With expertise in the domain, Yellow.ai can provide a 100% automated intelligent virtual assistant- text and voice-enabled, for your website. Also, if your business needs automation on other platforms like WhatsApp and Instagram, we are all ears.
You can approach us with any of your business needs related to AI/CX and you will be nothing but satisfied with our product.
Are you ready to deploy intelligent virtual assistants for your business?
Try out our no-code bot builder and build your AI-powered smart chatbot within 10 clicks.
Or you can simply schedule a demo with us and we can do the rest of the work for you.