With over 2.7 billion users, WhatsApp is the most popular messaging app worldwide. It is also one of the most preferred channels for customers and businesses alike, as it is more convenient, ubiquitous & efficient than the traditional support channels like phone or email. Businesses can leverage WhatsApp Business API to provide a seamless and proactive conversation experience for their customers. As of 2021, there are over 5 million businesses that use this feature to reach their customers.
Related must read:
In this article, we'll be focusing on session messages, their limitations, and how to overcome them
Different messages that customers and businesses can leverage with WhatsApp
1. Inbound messages (Session messages)
Customer initiated conversations that are used for customer support. Session messages are called so because businesses only get a window or a session of 24 hours to reply to these messages.
2. Outbound messages (Highly structured messages)
Business initiated conversations can be proactively sent using WhatsApp API. WhatsApp provides certain templates in which outbound messages can be sent out (subject to approval by WhatsApp) and these template messages can be used to send notifications, reminders, updates, or any other information that companies need to pass on to their customers.
If you'd like to know more about the outbound message templates for WhatsApp, you can read our previous feature blog here. 
What are Session Messages?
WhatsApp Session Messages are any messages sent and received in response to a user-initiated message to your business. A session starts when an end-user sends your business a message and lasts for 24 hours from their last message.
In this session window, the content is not pre-approved. Businesses can freely interact with the customers using any type of message format like text, images, pdf, templates without any restrictions. There is a small fee for the first time a user initiates a conversation. However, WhatsApp does not charge you for the rest of the conversations during this session
Limitations of session messages
"If a person initiates a chat with you, you may continue that conversation via WhatsApp for up to 24 hours after the last message sent to you by that person without any charges ("24-hour Window"). Outside of the 24-hour window, you may only send messages via approved Message Templates, for which we will charge the applicable rate." – WhatsApp
This can mean two things for businesses.
For every message from the end-user in a conversation, a 24 hr session window will open during which the business can send both normal & template messages for free.
Post the expiry of the 24hr session window from the last end-user message, the business cannot respond to the end-user without using approved message templates.
A snapshot of what it would look like: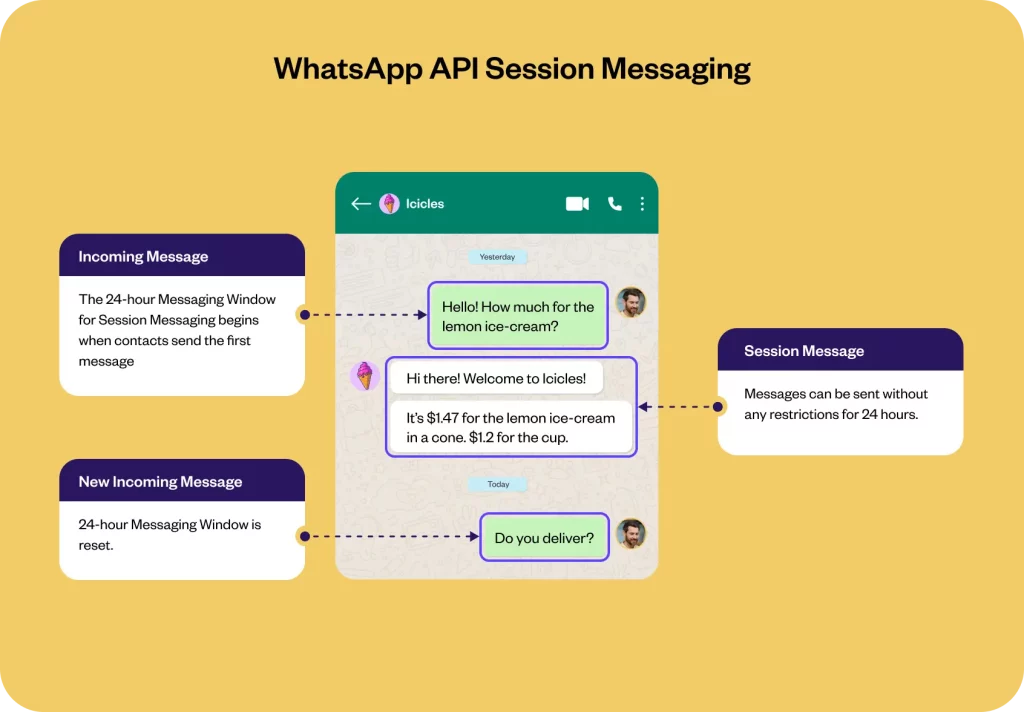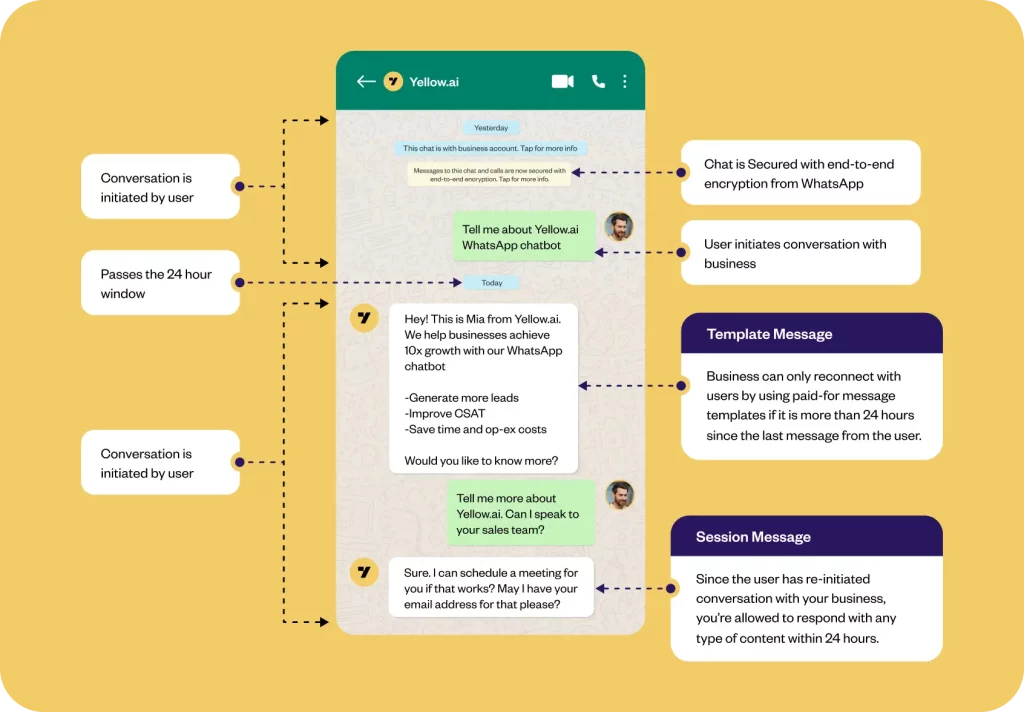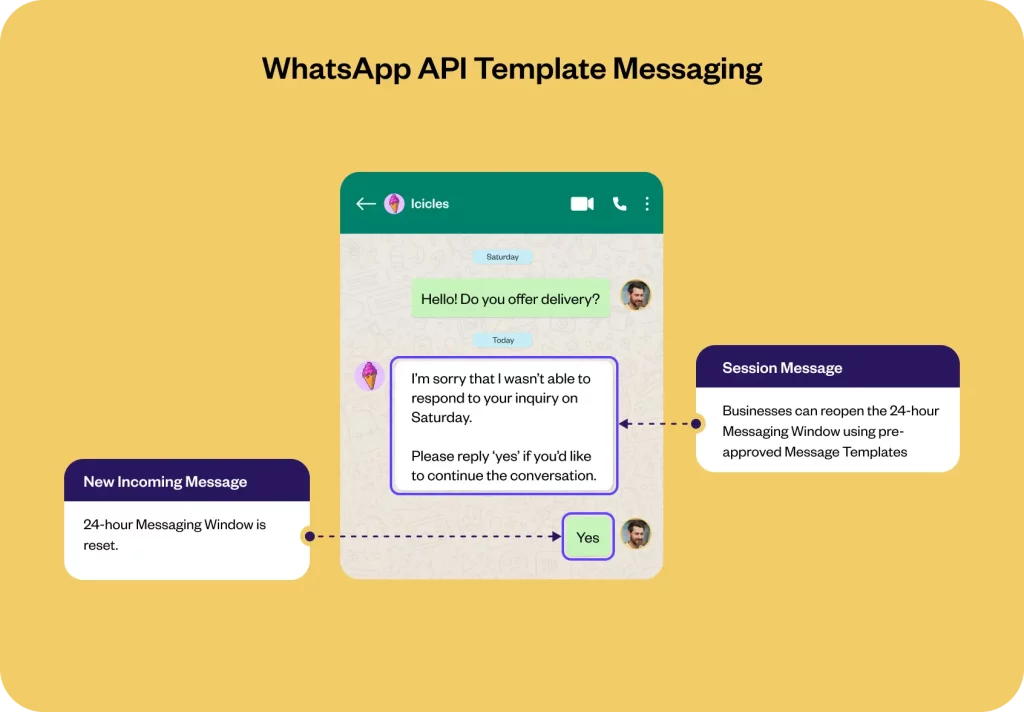 Now imagine the following scenarios:
An end-user reaches out to you during the weekends when your support team is not working
A customer reaches out to you during the holidays
Your customer support needs a day or two to resolve the issue completely
Your support team loses track of a couple of conversations due to high incoming ticket volumes
You want to reopen a WhatsApp chat ticket at a later point in time
What happens in these kinds of scenarios?
In a nutshell, once the 24hr session window expires, businesses are practically cut off from the end-user irrespective of whether the issue has been resolved or not.
What's the solution to this?
To better equip businesses, the solution is to send out pre-approved message templates which, when replied to, will start a new 24 hr session window enabling businesses & customers to chat freely.
For this, we have built an out-of-the-box feature that lets agents send out pre-approved templates to re-initiate expired WhatsApp chat tickets at ease, without the hassle of re-engaging them with mass WhatsApp campaigns.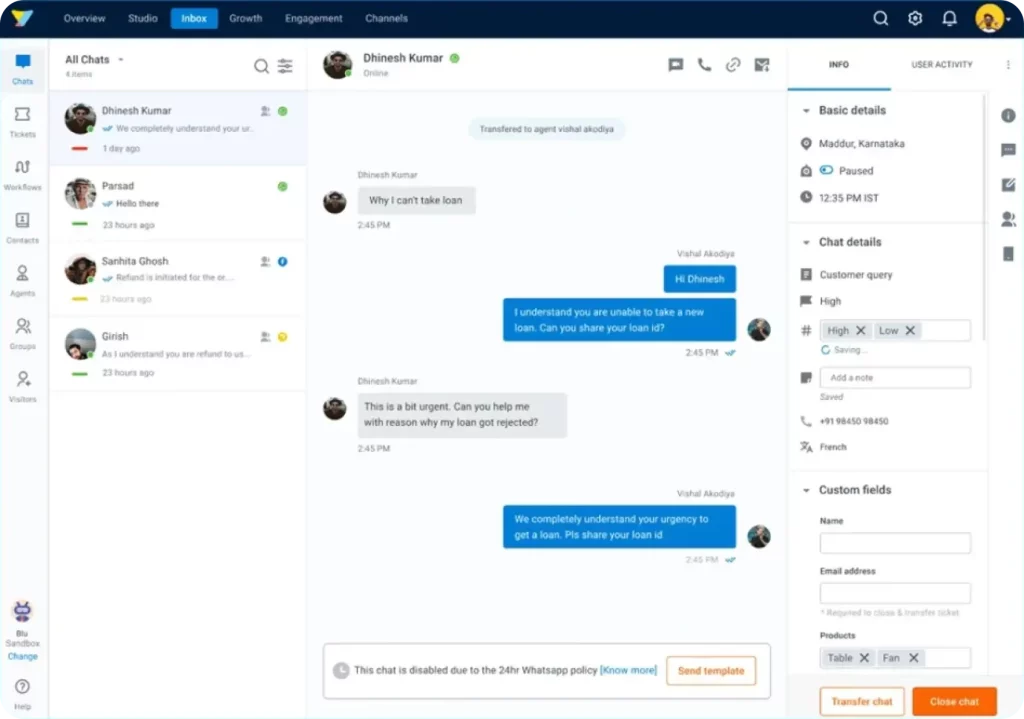 Now your agents can send out templates on the spot for each expired chat in Yellow.ai's Inbox module. You can even respond to multiple session-expired WhatsApp chats at once by sending out a mass outbound WhatsApp campaign through Yellow.ai's Engage module.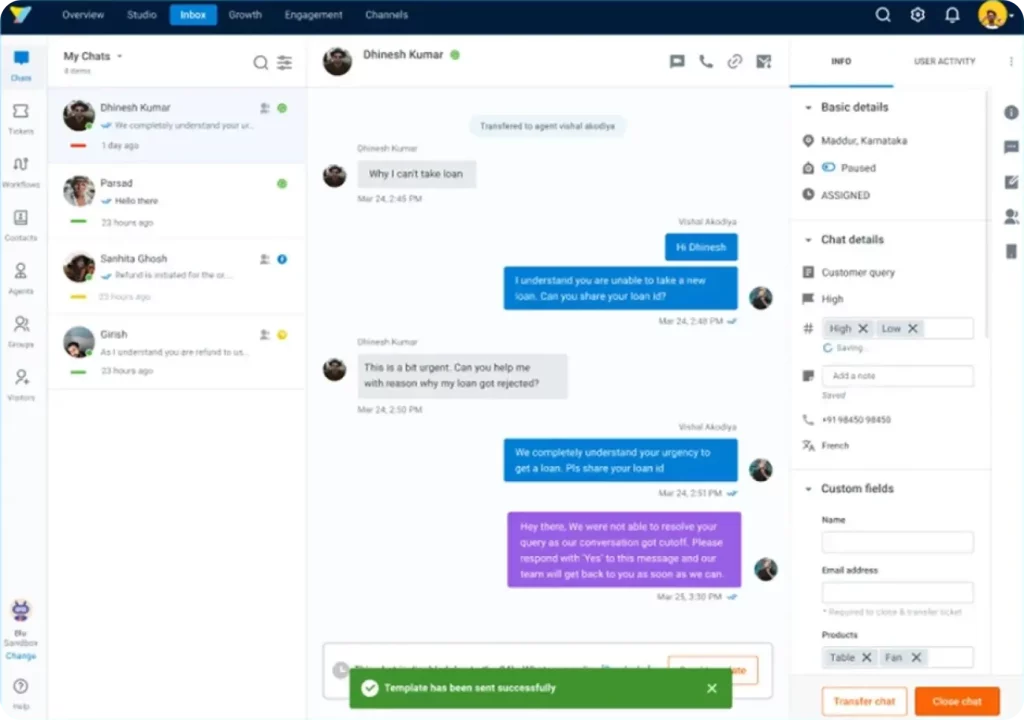 Conclusion
In order to use WhatsApp business API to its full potential, Yellow.ai has devised a solution with pre-approved templates to re-initiate and reopen expired WhatsApp chats at ease beyond the 24-hour window.
With proactive communication over WhatsApp, enable your customers with prompt replies, resulting in customer delight and loyalty.
If you are looking for a WhatsApp partner to get your WhatsApp API, schedule a demo with us. Our subject matter experts will take you through the use cases of conversational WhatsApp chatbots in lead generation, marketing, customer support, and other business functions to make an informed decision.
Our customers have seen the difference with using WhatsApp message templates with Yellow.ai. You can try it too!