WhatsApp Business has excellent features and tremendous potential for reactive and proactive customer engagement. With thorough knowledge and effective techniques, there is a lot that a business can do with WhatsApp Business Application and WhatsApp Business API.
One of such features is WhatsApp auto-reply or WhatsApp autoresponder. This feature enables your business to be within easy reach for your customers round the clock.
You might have already experienced this feature while interacting with some businesses that already use the WhatsApp auto-reply feature to engage with their customers.
Related must read:
Types of WhatsApp auto-reply messages
Broadly categorized, there are 2 types of auto-replies. Let's dig deeper into these.
1. Simple rich-text auto-reply using WhatsApp Business Application (Free)
You can automate instant responses as soon as you install the WhatsApp Business app. This feature can be activated under the settings of your business page where you need to enter your business hours.
Businesses can set up welcome, OOO or away and delayed response messages that can reach your customers as an instant response from your side.
Since it is a free service, there are certain limitations to it. Businesses cannot use dynamic buttons or lists to make the messages interactive. However, you can use multimedia files such as images and videos and make your messages visually attractive.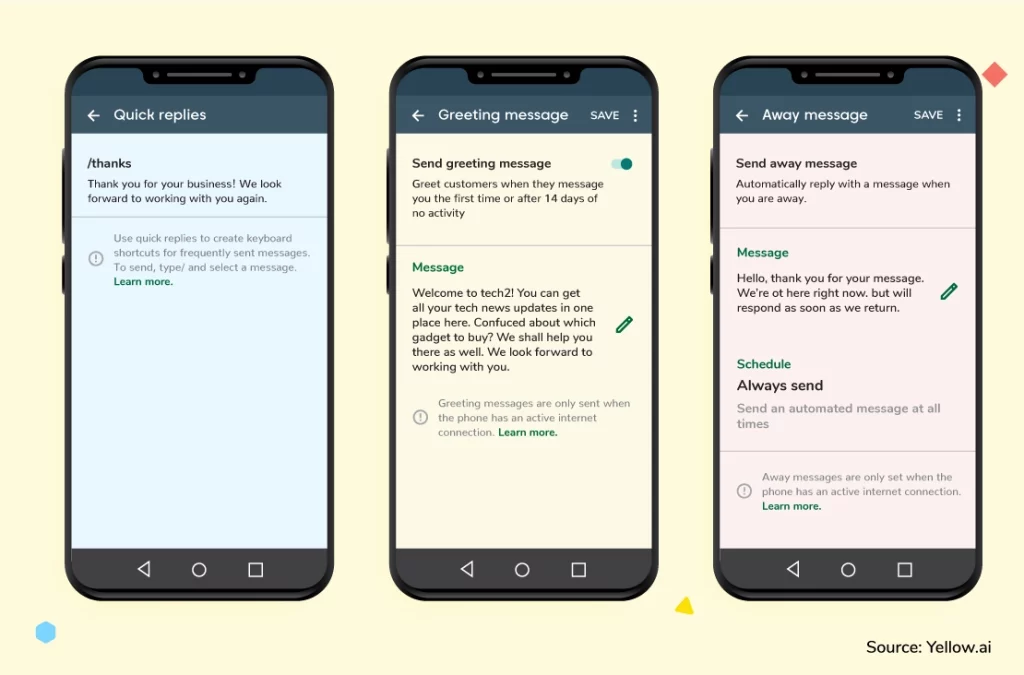 2. Custom interactive auto-reply using WhatsApp API
Using WhatsApp API, businesses excel in customer experience by sending out reactive and proactive messages to their customers. These messages are interactive and can contain dynamic buttons, lists, or dynamic buttons + lists.
Businesses can add their services in a list format or even provide quick response buttons to facilitate their customers. A combination of both is also possible.
Custom WhatsApp auto-reply messages can be reactive or proactive based on the choice of a business. If you want to send a message only when a customer reaches out to you on your WhatsApp business page, you can choose a reactive message.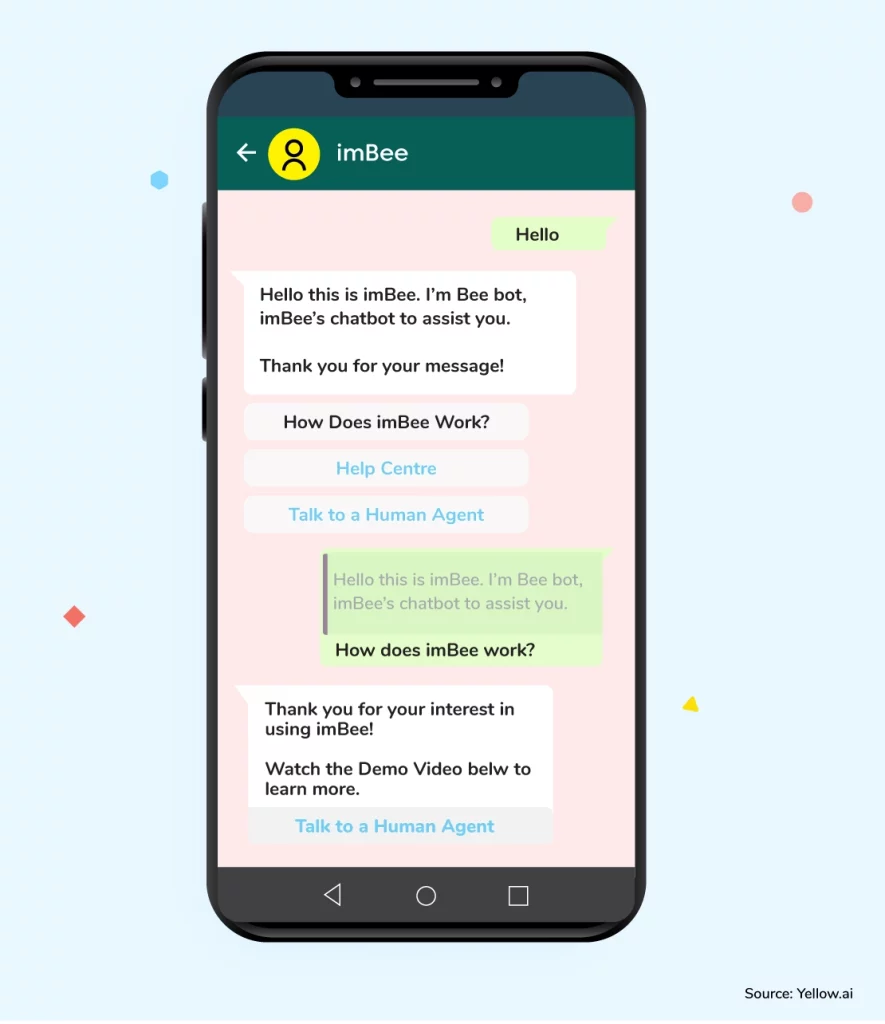 In this article, we will demonstrate how to use custom WhatsApp auto-reply for best results, look at its benefits and also suggest some sample messages that businesses can use to engage with their customers.
How to set up custom WhatsApp auto-reply messages?
When you get your WhatsApp API from any of the WhatsApp business partners, you get a dashboard for accessing all the features, interacting with customers and tracking various metrics.
From the dashboard, you can automate custom auto-replies for your customers. You can send them as a response to the customers or even as a new WhatsApp notification from your end.
Step 1: Create a list of customers to whom you want to send the message. You can also select an already existing list of customers saved as tags on the dashboard or upload a pre-existing file from your device.

Step 2: After creating and uploading the list to the dashboard, find create a new custom auto-reply on the dashboard and click on it. A screen will appear for you to create the message.
Step 3: You need to enter the customer inputs to trigger this message. Suppose you want to send a WhatsApp auto-reply message to a customer coming to your page for the first time. You can keep customer input options like "Hi", "I need some help", "Hello", "I want details about the product", and many other pertinent input options. The message will be triggered based on the exact match of the input variations.
Step 4: Moving ahead, you will set up the message body that can comprise text. There are two ways to set up auto-replies for your business using WhatsApp API- dynamic reply buttons and product collection list messages.
What are dynamic reply buttons in WhatsApp?
This feature of WhatsApp allows your customers to make quick choices out of the options provided by the business in the form of a button. This type of message is faster for users to make a selection from a menu when interacting with a business.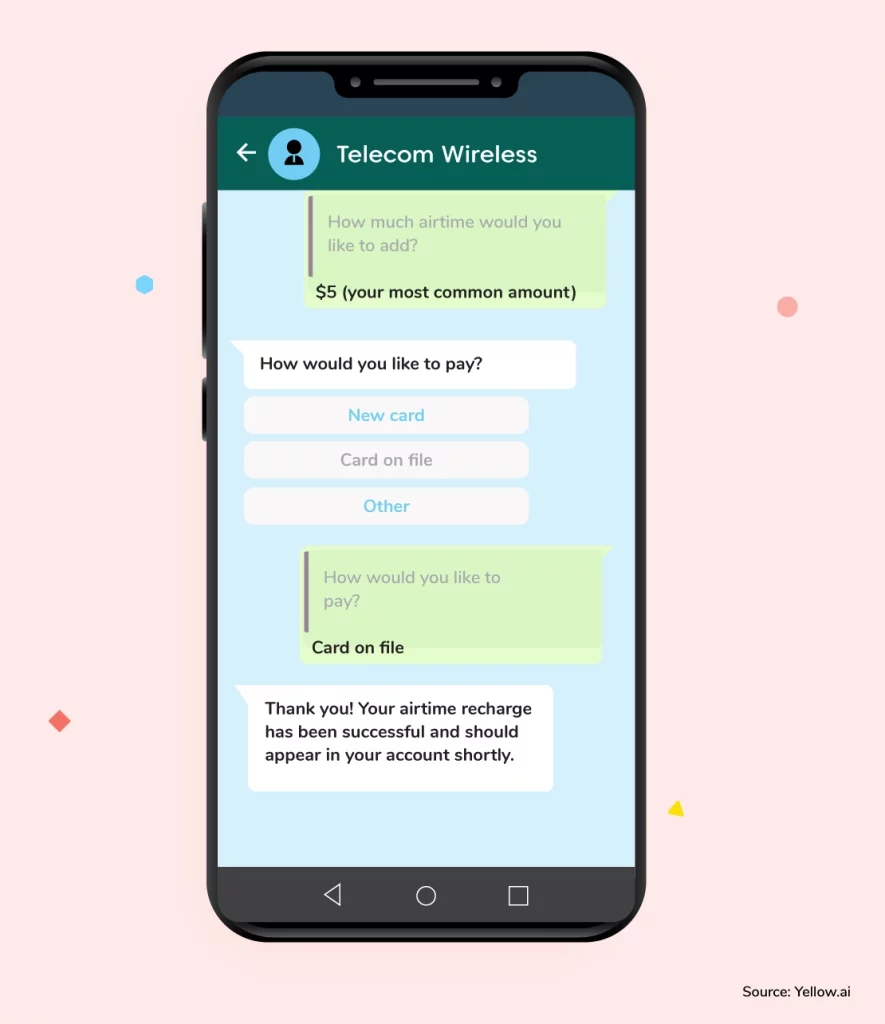 What are product collection list messages?
For a business that wants to provide a list of their products and services to a customer, they must use a list auto-reply. They can add as many as 10 sets of products as a part of their WhatsApp message.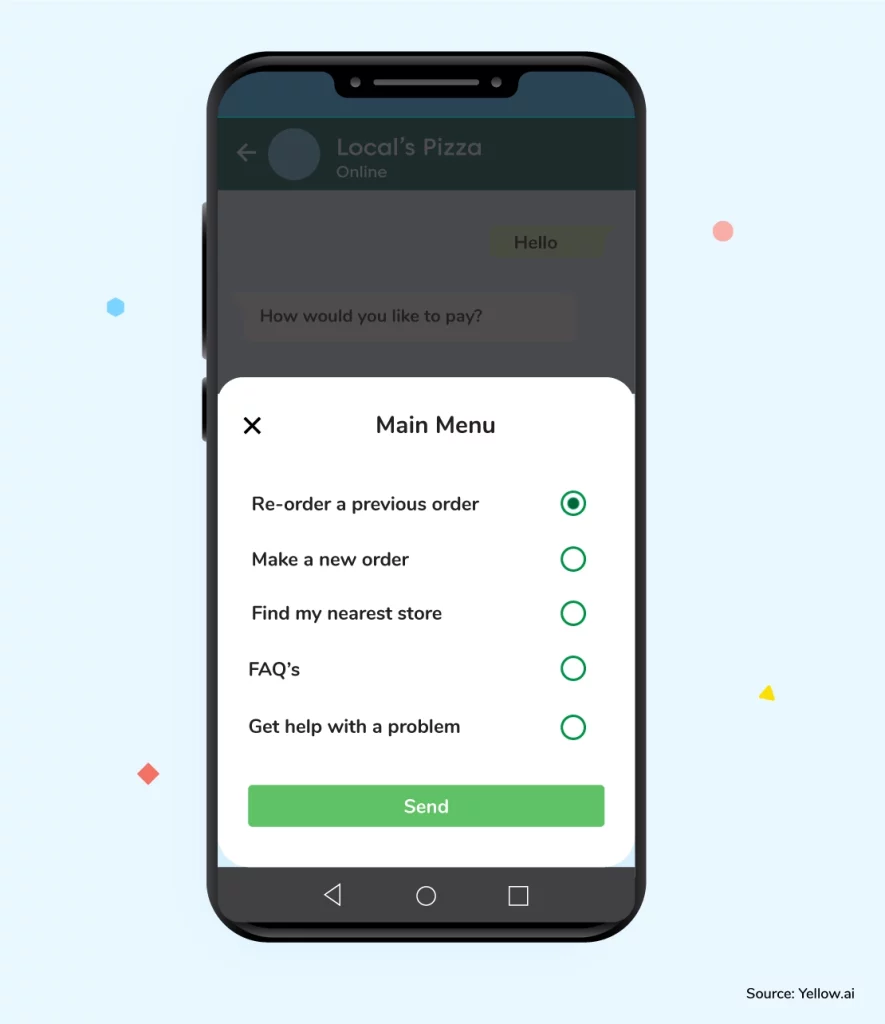 You can use a combination of both a dynamic reply button and a product collection list message and help your customers get a gist of your services via WhatsApp.
Step 5: Once your message is ready, you can test it once and save it for use for various contacts.
The process is quite simple and doesn't require any technical knowledge to complete the task. Businesses must utilize this feature with an aim to improve customer experience and generate more leads.
Benefits of WhatsApp auto-reply
Businesses using list messages and dynamic reply buttons for their chatbots have achieved significantly higher response rates and conversions compared to those that are text-based. This is because of the ease of replying and a better customer experience. You can expect a few benefits as soon as you start using WhatsApp auto-reply.
1. User Comprehension
During testing, businesses found that people had higher comprehension levels, and lower dropout, with these features than chatbots using text-based lists. Customers could find all the information they needed then and there without even a second's delay.
2. Business Outcomes
Higher responses and conversations are obvious with the WhatsApp auto-reply feature. Businesses in all industries can expect a sudden surge in their revenue and customer satisfaction.
3. Personalized
WhatsApp auto-reply messages are populated dynamically in real-time, so can be personalized to the customer or situation. For example, you can show a list message of available appointment booking slots, or use auto-reply buttons to show previous delivery addresses.
4. No Templates
Interactive Messages do not require templates or pre-approvals from WhatsApp. These messages can have a sales tone but businesses should understand their customers' privacy and should keep the messages short and crisp.
Conclusion
WhatsApp API has a lot of potential in terms of improving customer experience and revenue for businesses, especially SMBs. If you are still not considering using it, you might lose your customers to your competitors and hurt your business.
To start using WhatsApp API, you can simply request a demo with our experts. I'm sure they will help you set up WhatsApp and also help you set 2–3 WhatsApp auto-reply