The history of live chat began in the 1970s, that is, 2 decades before the internet. Growing since then, with the evolution of the internet, live chat has become a crucial part of people's lives, be it personal or business-related. The importance of live chat software has been growing in businesses and human lives ever since.
Customers today are impatient and need faster responses, faster service and faster query resolution. To cope with this responsibility, businesses came up with a solution- live chat software for business communication.
It is completely accepted by businesses as well as customers for a number of reasons. In this article, we will discuss the numerous benefits and use cases of live chat software for businesses.
What is live chat software?
Live chat software is a computer program that enables real-time messaging, text or voice, for businesses in order to communicate with their customers. This software can be integrated with websites or any other applications, so as to enable a live chat feature and engage with customers at any given point in time.
It is a modern-day solution for continuous and contextual interaction with your customers in order to engage with them, support them throughout their buying journey and retain them in the longer haul.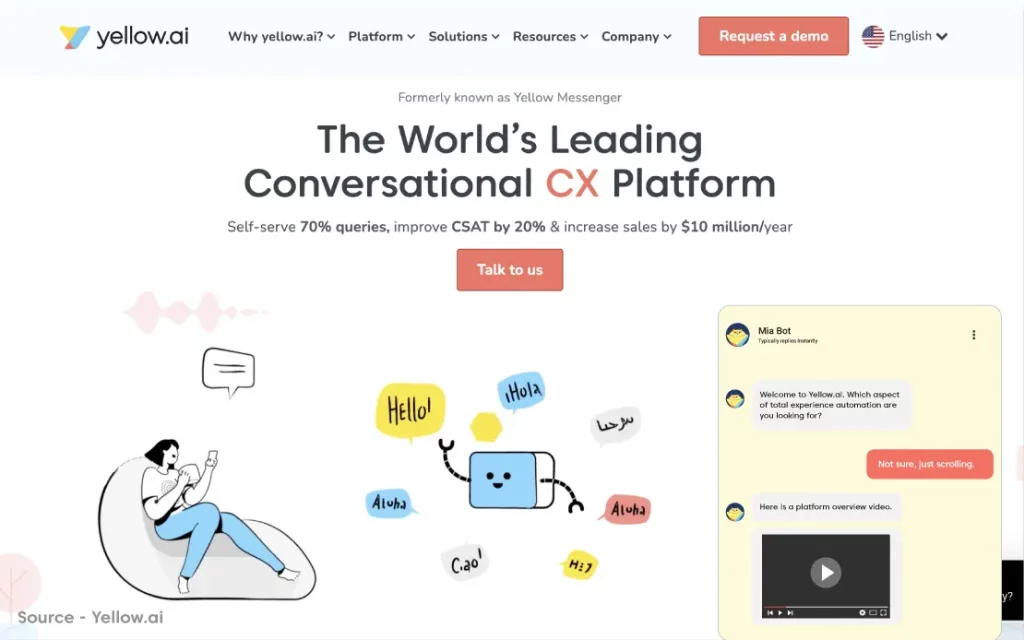 By 2022, 85% of businesses across the globe are expected to opt for a live chat software for customer support. Why exactly is that? With live chat software, companies can save 15-33% costs when compared to traditional agent support via calls and emails.
These statistics represent the traction that live chat software has gained over the last decade.
Live chat software gives your business a competitive advantage by providing a personalized customer experience and better business engagement. Deploying live chat software can help your business in many business functions like marketing, lead generation, customer support, HR and prove to be profitable for your business.
Why do businesses need live chat software?
Today, with the rise in competition, businesses in every industry need to provide the best possible customer experience to be among the leaders in the market. To provide the best customer experience, businesses need to be where customers are- on multiple communication platforms over the internet.
For example, your business delivers healthy bites and comes with a target to replace all the unhealthy snacks with your products. A customer can reach out to you via any platform, say Instagram for instance, and wants to know the various options you provide in healthy snacking.
If your business doesn't respond timely, you can miss the opportunity of converting a lead into paying customer just because of the absence of live chat software.
With the whole world at their fingertips, customers prefer digitally transformed businesses that can provide everything they need over the internet, remotely. They are now in a habit of selecting, researching, and shopping online. To build a bridge from offline to virtual, B2B and B2C businesses in every industry have transformed themselves digitally and improved their customer experience drastically.
Live chat software is an integral part of the digital transformation. As customers started preferring messages over customer support calls and emails, businesses started to move from traditional communication methods to live chat software. This shift to a live chat environment also came with a set of other benefits like customer loyalty and retention, and user-friendly customer support. Businesses began to use live chat software in multiple business operations and automate all the required business communication.
Let us now understand the various benefits of a live chat environment for businesses and their impact on the customers.
Top 8 benefits of live chat software
Live chat software has been evolving and improving as your business needs to be the most beneficial tool for customer experience. To give you a glimpse of what live chat software can do for your business, here are some benefits of the software: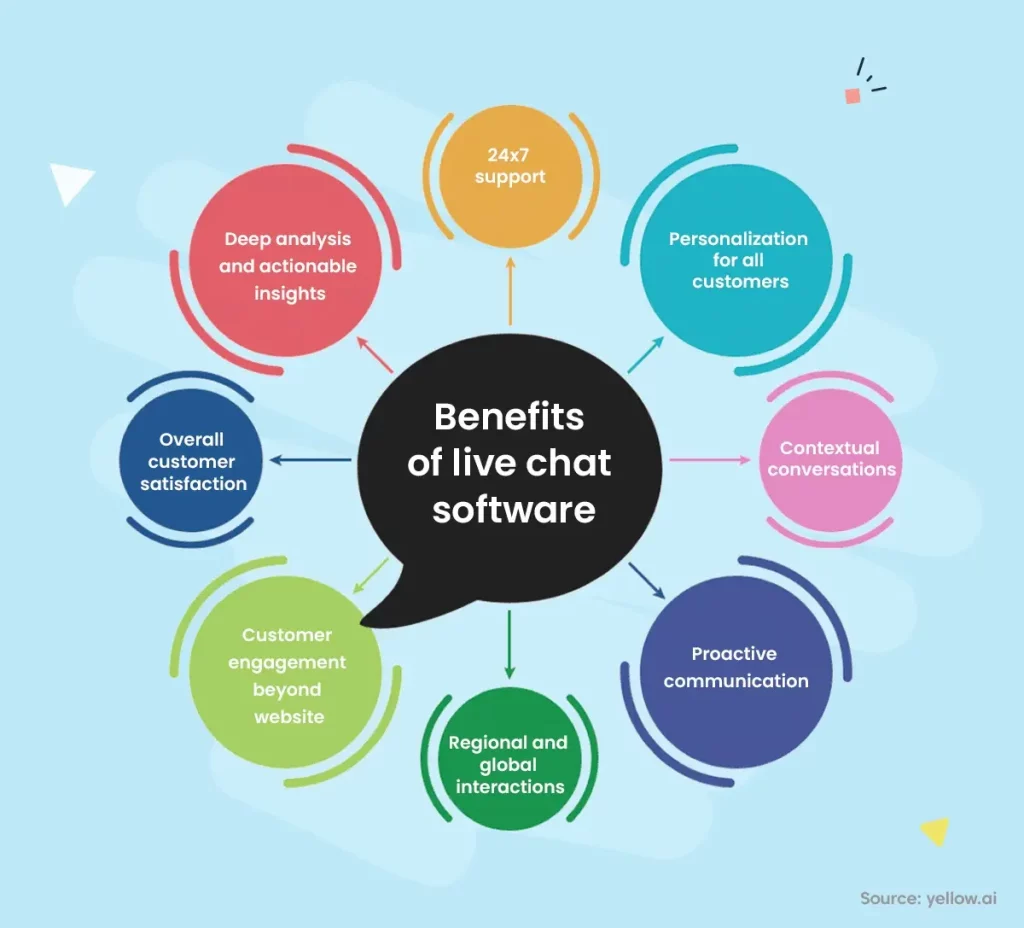 1. 24×7 support
With live chat software, brands can be available for customer interaction round the clock. Supporting customers through their buyers' journey and solving their queries instantly, live chat software can help businesses in building a strong customer experience strategy so as to win the hearts and minds of their customers.
Also, with 24×7 support and response automation, the customer support team can get time for introspection and retrospection. They can work on finding better solutions for improving customer experience and customer retention rate.
Brands don't need to have a team for different time zones, rather just live chat software can cover all time zones, no matter the day of the month or time of the day.
2. Personalization for all customers
Customers like to get personal attention. 72% of the customers coming to the live chat windowwant businesses to know about their history with the brand and order details even without asking.
It is humanly impossible to remember the details of each and every order of each and every customer. Live chat software is trained with all previous data about the company and its customers. Thus, it can personalize every conversation with respect to customers' previous interactions and communications with the business.
This can help brands in building a healthy and close relationship with customers. Also, with personalized responses, customers can feel privileged and have a high brand recall value in their minds.
3. Contextual conversations
Automated conversations without machine learning and natural language processing usually lose the context of the conversation once the website or communication channel is left by the customer.
Live chat software can help businesses with the potential to have contextual conversations along with a number of different channels with the same customer. For example, a customer is messaging over the website regarding a product and needs to know some information about it.
He had seen the image of the product on Instagram and needed to take the conversation on Instagram. If the company has live chat software on Instagram, live chat software can understand the context and communicate accordingly.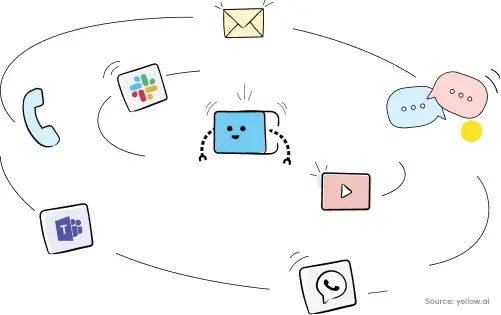 4. Proactive communication
With live chatbots, a business can prompt messages as soon as customers visit their website. They can share information about the product and services and take a chance to welcome their customers.
These messages can be automated as per the different pages of the website that a customer visits. For example, if a customer visits an edtech website and clicks on a blog regarding the best digital marketing courses, the message prompt can be "would you like to know more about the courses?" or "are you planning to upskill in digital marketing?".
Such proactive communications can help businesses by converting more and more visitors to customers.
5. Customer engagement beyond website
Brands intervene in customers' lives through many channels such as search ads, social media, display ads, mobile apps, websites and many more. Customers expect a strong engagement on all of these platforms.
Live chat software can help brands build a customer engagement strategy for every platform and help in automating business processes for customers coming through different channels.
For example, a customer coming through a WhatsApp chatbot can continue their conversation on the website. Also, if a customer has some queries and wants to ask over Facebook messenger, he/she can engage with the company and a live chat software will make sure that queries are answered.
6. Regional and global interactions
Live chat software supports 100+ languages for interactions. Customers can comfortably text or speak in their own language and with speech recognition technology, the software will understand it and respond in the same language as the customer.
With natural language processing (NLP) and artificial intelligence, live chat software offers multilingual capabilities and supports customers without any barriers.
Along with interacting in 100+ languages, live chat software leaves no communication hindrances for customers, be it time, day, language, or even cultural differences. It is the best software when it comes to customer support and customer experience. A major point to remember is that it is not a replacement for human agents.
Yellow.ai live chat software comes with a proprietary NLP engine for truly human responses and automated interactions. It has multilingual capabilities for communicating in 100+ languages.
7. Deep analysis and actionable insights
Analysis and insights help in the improvement and are very important for any business. Insights for customer experience and customer support can easily be obtained from live chat software.
Many metrics like session duration, sentiment analysis, agent hand-offs, number of messages during the interaction, and many more, are constantly recorded with the live chat software.
These insights provide detailed information about customer service. Businesses can work upon their shortcomings and improve their customer support based on the insights.
Companies can also create their own custom dashboards as per their requirements and program the live chat software accordingly.
8. Improvement in overall customer satisfaction
As soon as customers feel valued and heard, customer satisfaction improves dramatically. Customers fall in love with your brands and spread the word about your products and services without any incentivizing offers.
89% of the customers are likely to make another purchase after having a positive customer experience.
As it is said, "people will forget what you said, people will forget what you did, but people will never forget how you made them feel."
Live chat software ensures a positive customer experience and better customer satisfaction for the company.
9. Cost-effective
Live chat software is proven to be cost-effective when compared to traditional customer engagement tools such as phone calls or emails. This tool saves cost in terms of building a team for customer engagement, providing training, and also saving a lot of time for the employees by automating mundane tasks.
With Yellow.ai, a business can pay as per the number of conversations and the number of channels required. We have a pay-as-you-go payment structure which makes it easier for businesses to upgrade their plans as per their business requirements.
All these benefits can drive you to install live chat software to your business and automate business communication. But before you do that, understand the various use cases of live chat software and identify which of these use cases do you need a live chat software for.
Use cases of live chat software
Deploying live chat software is easy but deciding its purpose and setting it up is a really difficult task. With so many business functions and varied business communications, how would you decide which functions to automate and how. Here are some of the most common use cases of live chat software for your business:
1. Customer engagement automation
If your company needs a live chat feature only for engaging and educating customers about products and services customer engagement automation would be an apt solution. Human agents from respective departments can take the conversation forward and understand the requirements of the lead so obtained.
2. Customer support automation
For solving queries, answering questions, and dealing with problems faced by the customers, the customer support automation live chat tool can be beneficial. This live chat software would engage with the prospects and hear them out. It will not be responsible for educating the customer about products and services. That part needs to be undertaken by a human agent.

3. Conversational commerce automation
Live chat software that works throughout the buyers' journey is a conversational commerce automation tool. It helps customers from pre-purchase to post-purchase support, tracking shipment details, return/exchange, refund, and all the other processes of a commercial transaction. The software behaves like a personal shopping guide for the customer and assists them till the end of the transaction.
4. HR automation
Internal customers (employees) must be happy and satisfied with the company. Live chat software can make sure to improve employee satisfaction. With HR automation, companies can source candidates, qualify them, and lead them towards interviews. This can save a lot of time for HR executives and help them create a better environment for the employees. Live chat software can also communicate with the employees in case of any queries or problems, and solve them instantly.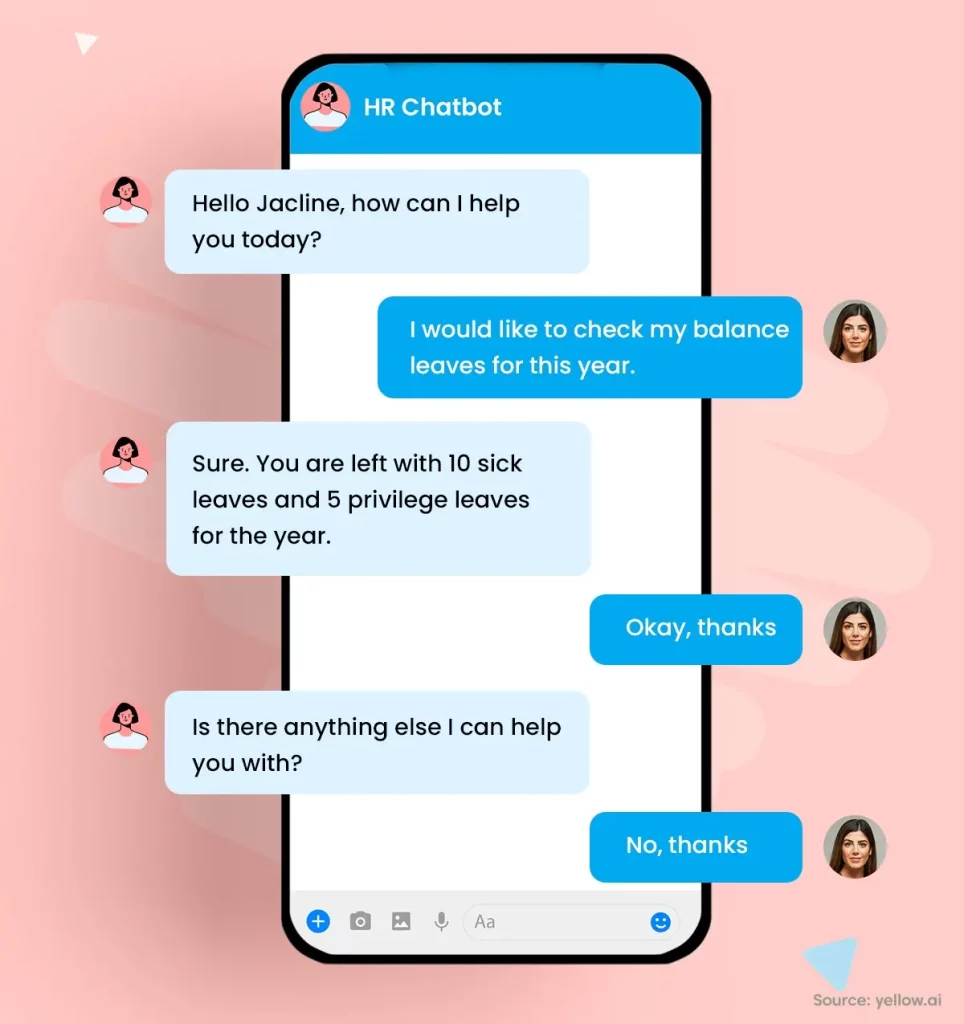 5. ITSM automation
Live chat software can help in all the IT-related requests in a jiffy. Changing passwords to creating new accounts, every functionality can be taken up by the software. Live chat software can help customers by generating tickets and resolving them through ITSM automation. However complex queries that need human attention are handed to agents seamlessly.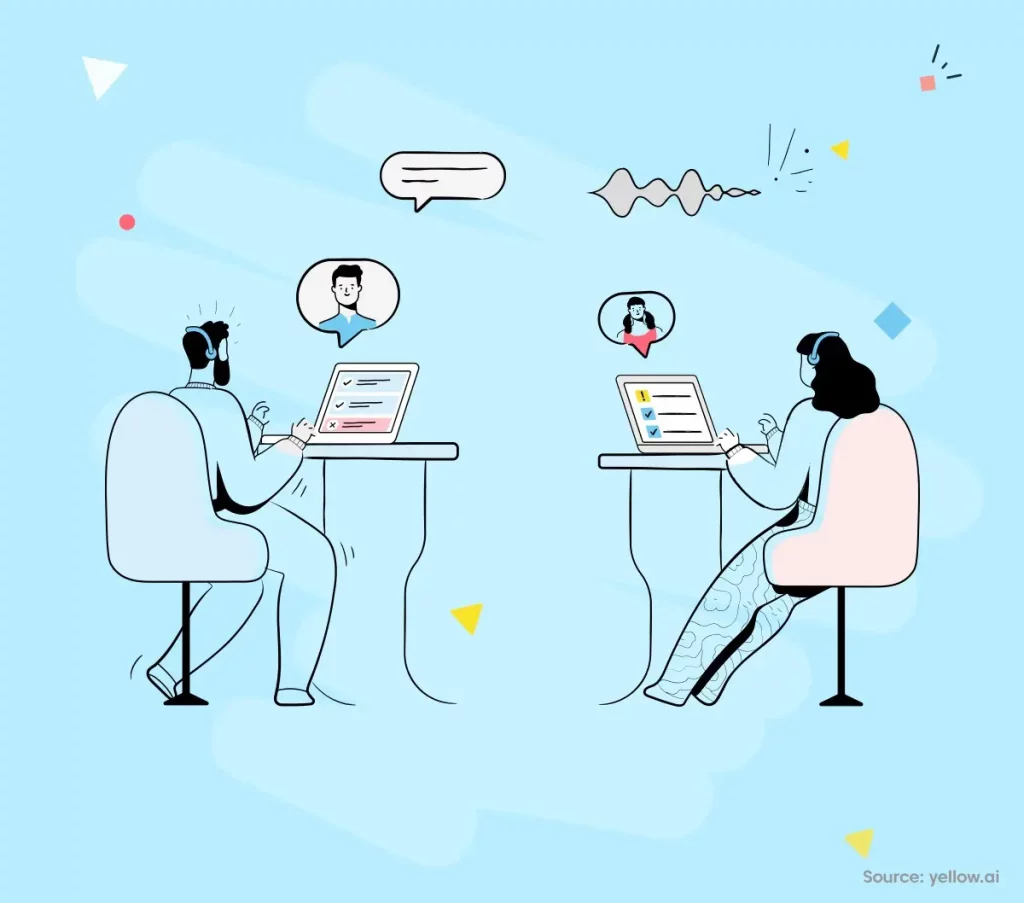 These are very broad categories of bifurcating the functionalities of live chat software. Companies can divide and sub-divide them for usage as per their requirements.
6. Multi-channel live chat integrations
Businesses are willing to interact with their customers' overall channels, be it websites, mobile apps or social media. None of the touchpoints should be missed for customers to bounce from your digital space to your competitors.
To use live chat software to its full potential, businesses need to blend conversational AI into social media conversations such as WhatsApp, Instagram and Facebook Messenger. After the recent addition, even Google My Business has provided a live chat feature for its customers, known as the Google Business Messaging (GBM).
Points to remember while deploying a live chat software
There are a number of companies providing automation services for businesses. However, there are a few points that you must consider before deploying live chat software.
These include omnichannel capabilities, analytics and reporting, and features. Some companies provide automation only for websites and applications, with limited features. Such live chat software will not be able to thrive to its full potential and will become a drawback for your organization.
Yellow.ai can be your one-stop solution for total CX automation. With live chat software available for all the channels including WhatsApp and Instagram, yellow.ai can build text and voice automation software for companies.
Also, regarding the reporting and analytics, with Yellow.ai companies get an analytics dashboard, however, they can create their custom dashboards also.
With world-class customer experience automation, Yellow.ai has a reputation to provide the best automation solutions. With our no-code bot builder, build your own live chat software within just 10 clicks and check it out yourself. Observe the growth in customer retention rate and multiply your revenues.