Ever since Facebook extended its messenger API to Instagram, more and more businesses have been using it to offer real-time support to their customers. In order to use Instagram messaging API, you need to have a professional/business account.
In this guide we'll look at how you can switch or activate an Instagram business account and how you can deploy chatbots on instagram to automate customer support, cross-sell, up-sell and enhance the impact of your marketing campaigns on this platform.
What is an instagram business account?
Instagram business account is a special profile that brands and enterprises can use to connect with their customers. Instagram introduced business profiles in 2016 with a suite of exclusive features that personal profiles don't have.
Features of an Instagram business account
1. Access instagram analytics
For a personal account user, Instagram doesn't offer much when it comes to metrics and performance information. However, with a business account, Instagram gives you access to analytics and insights on how your account is growing and your posts are performing. It gives you an idea of what type of content and campaigns are working for your target audience and what is it that you need to improve.
With Instagram analytics, you can check the amount of followers, impressions, reach, profile views, website visits and email/call button clicks you have received in a week.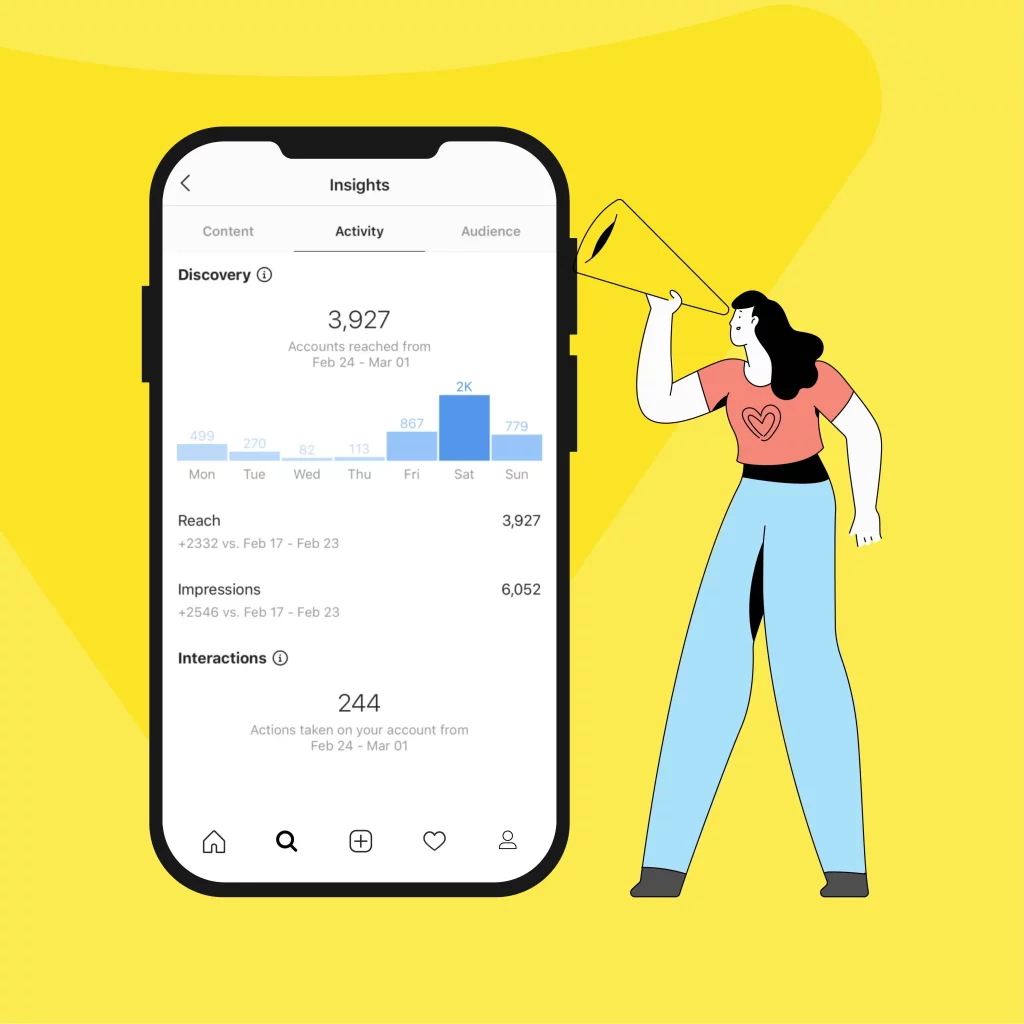 2. Add contact and action buttons
Adding a Contact button to your profile is a useful tool available to business accounts. When someone presses the button, you can direct them to send you an email, make a phone call, or view a map of your location.
You can also choose to sync your Facebook page with your public contact information. This implies that anyone with the ability to edit your Facebook page can make changes that will sync to both your Facebook page and your Instagram account.
There are also various call to actions buttons that you can add to your profile. These buttons go beyond the normal call or email options and allow customers to interact with your business directly from your Instagram profile. For example, making a reservation, order food, book tickets, etc.
3. Upgrade your bio
The appearance of an Instagram Business profile differs from that of a typical personal account. Business accounts have the option of adding an identifying industry label like clothing brand, restaurant, health/beauty, etc, in addition to a brief description and URL.
When you first set up your Facebook page, you are asked to choose your industry. When you link your Instagram Business Profile to your Facebook page, the industry you choose reflects in your bio. Also, as discussed above, with a professional profile, you can add contact and action buttons to your bio as well.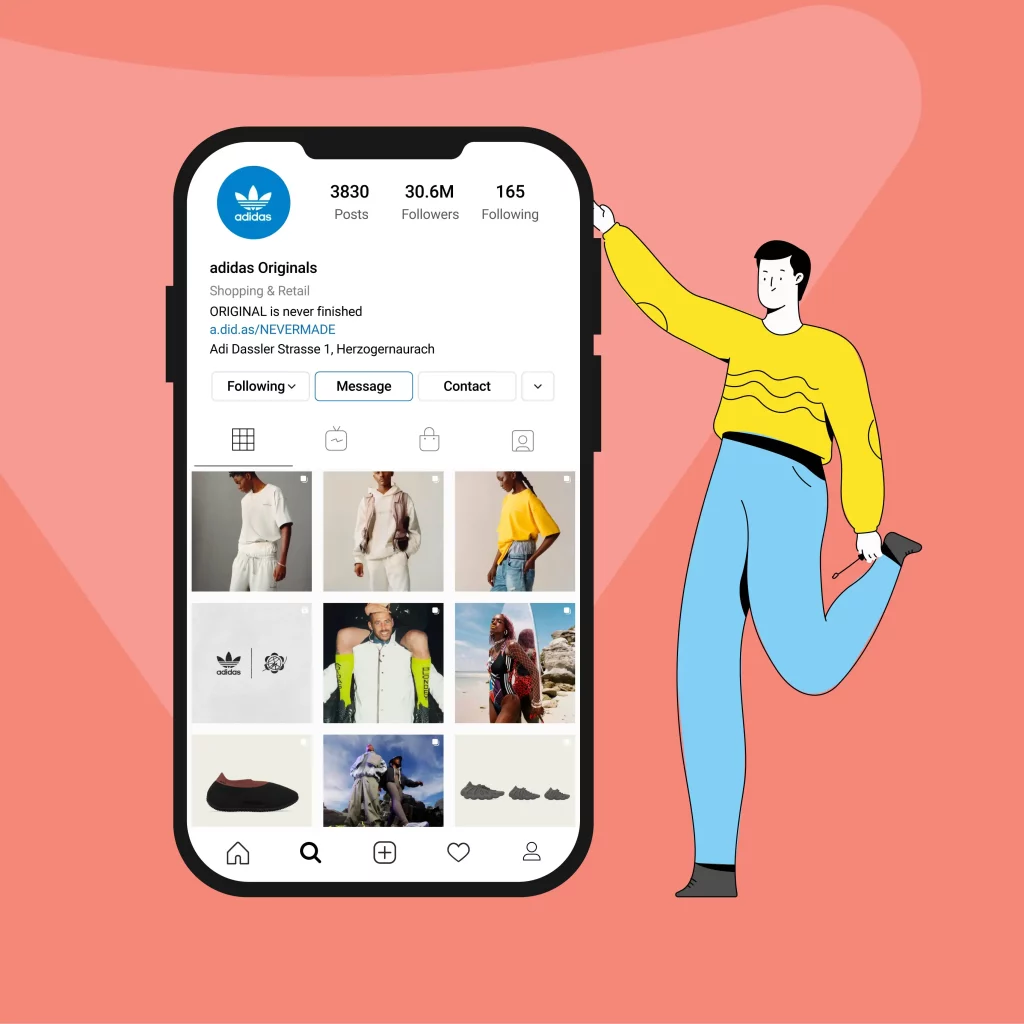 4. Include links in stories
A recent study by Smart Insights revealed that 75% of Instagram users take an action such as visiting a website after looking at a post or a story. This is where the feature of adding links to your instagram stories comes in handy.
From a marketing point of view, one of the most annoying things about Instagram personal accounts is that you can't use clickable links. The only link you can show in your profile is the one in your bio but with a business account, all you have to do is tap on the gif icon at the top of your Story (the middle icon). Then tap on a chain like icon for the web link and add the URL. Once you've clicked Done, you're all set.
5. Set up instagram shop
This feature integrates your product catalog with your instagram profile so that your customers don;t have to switch to another channel to complete a purchase. You can tag your products in your posts and as soon as the customers clicks on it, they'll be taken to your instagram shop where they can place an order. Follow these steps to set up an instagram shop:
Go to your Instagram business profile and tap the three lines in the upper right corner.
Select Settings- Business – Shopping.
Select the Product Catalog you want to connect to your account.
Select Done and you're ready to sell.
6. Access ad tools
If you want to run paid ad campaigns to increase the reach of your business, you would need to create an Instagram business account. Instagram offers ad tools to business profiles through which you can boost any post to turn it into an ad, or use Ads Manager for more advanced multi-platform campaigns.
Instagram has also recently launched shoppable posts that allow businesses to tag their products in the posts, the same way that people tag their friends. People who tap on the tags are taken to a detailed product description with a "Buy Now" button.
7. Deploy chatbots
Instagram messenger API enables businesses to offer end-to-end customer support. You can set up automated responses and deploy chatbots to offer round-the-clock customer support. Rather than sending a standard response to anyone who engages with them, brands can program the API to send specific messages, personalized for each action taken or keyword mentioned by users for a quick resolution of user queries.
Instagram messenger API has changed the way business is conducted on Instagram. It helps brands to automate and streamline how they tackle valuable customer interactions and turn conversations into outcomes.
How to switch to an instagram business account?
Are you ready to make the switch to a business profile? Let's have a look at the step by step process of how you can set up an Instagram business account.
Pro tip: Before you begin, make sure your profile is set to "public." It is not possible to convert private accounts to business accounts.
Open your Instagram profile and click on the three horizontal lines at the top right corner.
Tap Settings – Account – Switch to a professional account.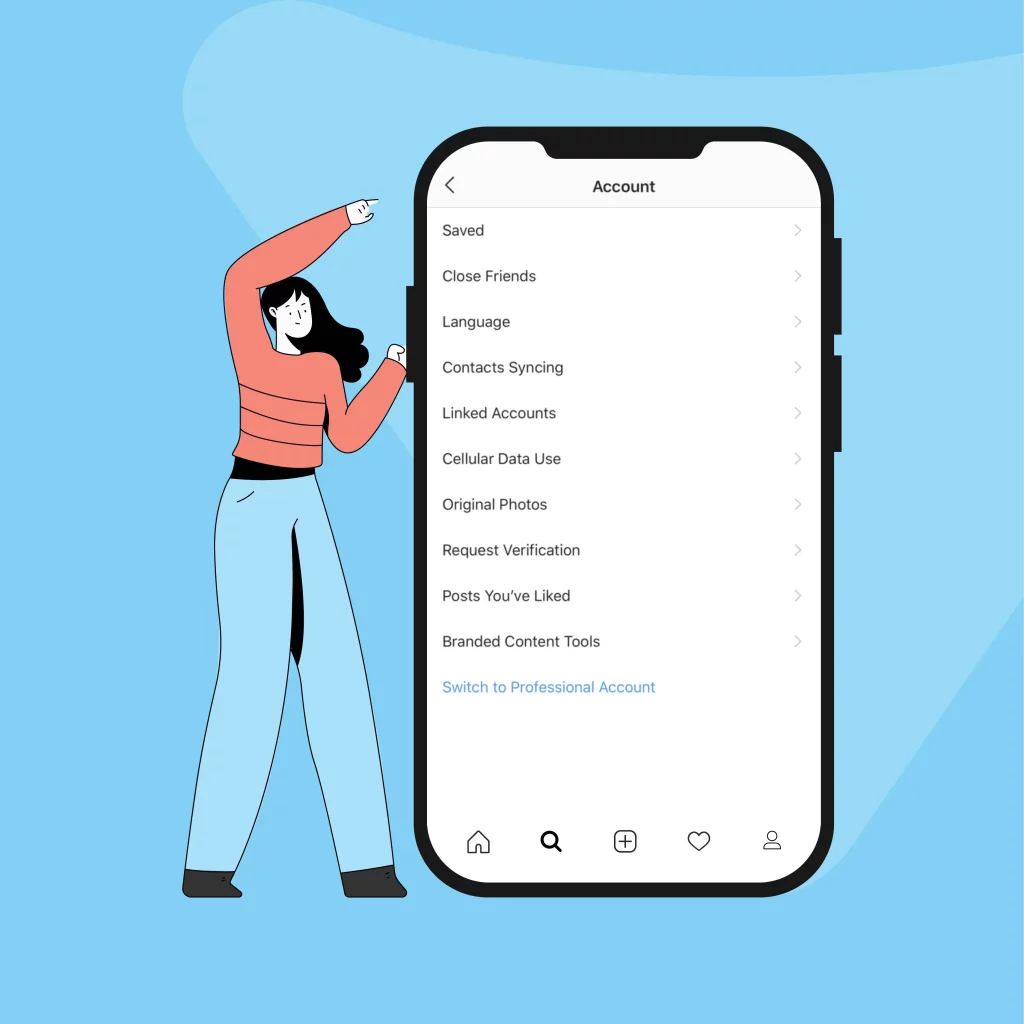 Select the type of account you wish to switch to – Creator or Business. A creator account is more suitable for influencers and sole-entrepreneurs. Whereas, a business account is meant for companies and enterprises.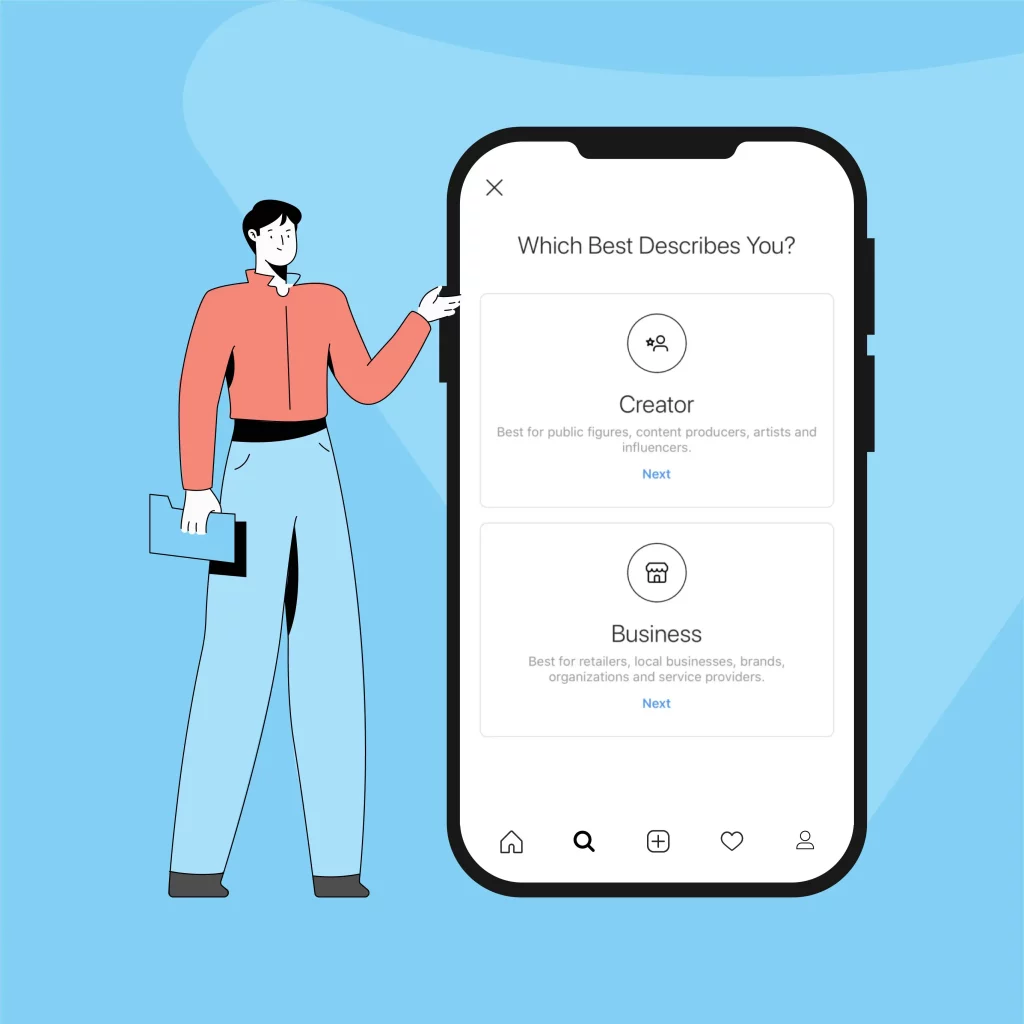 Now, connect to your Facebook page. You must have admin access to your Facebook page to be able to complete this action.
Once done, your account is officially open for business.
You can now go ahead and complete your profile – add a bio, website URL, contact information, address, CTAs, invite friends and more.
How to use Instagram for business?
Once you've set up a business account on Instagram, it is time to use it to reach out to your target audience and spread your message. It can be quite challenging and even daunting for business owners who have only used Instagram for personal purposes.
In order to attract your audience and get decent traffic on Instagram, there are certain points that need to be kept in mind. Based on your industry, businesses need to understand which type of content works best and which posts can get you more customer engagement.
Below are the 6 best strategies that you can opt to get results from Instagram and use the platform to its fullest.
1. Add valuable content
Instagram is not just a platform to run ads or attract customers through paid efforts. It needs content that is visually appealing, high-quality and encourages your customers to engage with your business.
Based on the industry, a business can set a tone and ensure that customers get some valuable content every day and engage with it in every way possible. For example, a food-delivery service page can keep its tone humorous and witty. The content can make the audience smile daily and engage with your posts through likes, comments and shares.
2. Maintain a consistent theme
Just like a website, every Instagram post on your business profile can be considered a page. In order to keep a user engaged and attracted to your posts, a consistent theme of colors, filters and image types is a must.
Consistency in the tone of message and captions is also important. A business can create a guideline for Instagram posts, stories and reels, ensure it has been applied to every single post and make a profile that is visually attractive.
3. Engage with your audience
Engaging with the audience makes them feel heard and as a result more connected to your business. It is a good practice to engage with your followers and provide them with valuable content and shareworthy posts.
There are many ways to engage with your audience over Instagram. Businesses can respond to DMs and comments, run giveaway campaigns, shout out to engaging followers, use Instagram poll stories and run contests specific to the platform.
4. Consider influencer marketing
Influencers can be a great way to attract new followers and also build trust among the existing followers. With influencer marketing, businesses can target the audience following the influencer and use their trust in the influencer to drive sales and increase revenue.
Influencer marketing can be very effective if it is planned keeping in mind the target audience, budget, image of the influencer, number of followers and authenticity. If your target audience and the followers of the influencer do not share the same demographics, it will be an effort in vain.
5. Run an ad campaign
Instagram is an excellent platform to run ads if a business is trying to reach out to the gen z audience. Running ads on Instagram can help businesses improve their brand awareness and increase sales. However, a business should focus on one goal at a time, as the designs and the message behind the ads differ a lot for increasing brand awareness and generating revenue.
Instagram ads can be run using Facebook Ads Manager where you can select the demographics, target audience based on interests and write ad copies based on the aim of the campaign.
6. Tag shoppable products and services
Businesses on Instagram can enable a virtual store on the platform. With the latest product tagging feature, they can directly redirect customers from an Instagram post to the virtual store.
This feature helps by reducing the friction in the sales process and helps businesses gain more revenue and book greater profits.
What is instagram message automation?
If you're inundated with repetitive customer queries and FAQs on Instagram, then instagram message automation is just the right solution for you. It helps you send messages to your Instagram followers or non-followers instantly, without any manual intervention. You can send automated messages on instagram by deploying an intelligent chatbot on your channel.
There are 6 ways in which you can use automated instagram replies.
With the Instagram bot, you can automatically respond to the comments on your posts – via a direct message or a comment reply.
Automatically respond to Instagram Direct Messages.
Automated welcome message to greet your customers.
Resolve FAQs without agent intervention.
Auto-Reply to mentions in Instagram stories.
Drip marketing campaigns that are fully automated and directed to your DM.
Instagram DM automation v/s Messenger bots
Messaging automation on Instagram is different from that on messenger. Although both platforms are by Facebook, the features are different. Below are the few major differences between Instagram DM automation and messenger bots for businesses.
1. Audience
Instagram DM automation has fewer options when compared to messenger bots. This is because there is a difference of half a billion in the audience of Instagram and messenger. Serving a comparatively less audience, Instagram allows only images with automated messages, while messenger bots can send gifs and other multimedia files.
2. Messaging process
For customers to reach out to your business, you can directly share a messenger link that redirects them directly to the chat window.
However, in the case of Instagram, businesses need to share the link of their business profile where customers can find the "Message" button and DM the businesses. There is no direct link to the Instagram DM window or the company's Instagram chatbot.
3. Follow-up process
For privacy reasons, Instagram has a 24-hour window during which a business can respond to a message sent by the customers. Once the window is closed, a business cannot respond to the customers.

This regulation is applicable on Messenger as well, but the only difference is that businesses can reopen the chat window using other options that allow businesses to start a conversation with customers.
What are Instagram chatbots and how can you use them?
Instagram Chatbots are a feature addition to Instagram Business for automating conversations between brands and customers. With Instagram's API and creative application, Instagram Chatbots can help you completely automate your account for social listening, instant messaging, customer support, replying to DMs, and much more.
Instagram is one of the fastest growing social media platforms. It has an active user base of more than 1 billion people worldwide, thus providing businesses a significant target audience in a single platform. No doubt why Instagram has now become a go-to place for marketers and business professionals to expand the reach of their brand, regardless of the industry.
With the launch of Instagram Business API, Instagram Chatbots can be used to automate Instagram DMs so that you can interact and assist more customers and offer seamless customer experiences. Let's look at some popular use cases of Instagram chatbots.
1. Social listening
Manually keeping a track of all the stories you are tagged in, is a nightmare. Stories are only visible for 24 hours, the bot can make sure you don't miss any of them when your staff is away. You can programme the bot to respond with a thank you message or offer a coupon code to the customer.
Also, if you were hosting a giveaway and required users to mention you in their stories as a condition of entry, the bot might serve as an automatic acknowledgement of submission, reminding users of the giveaway's terms and when the winner will be announced.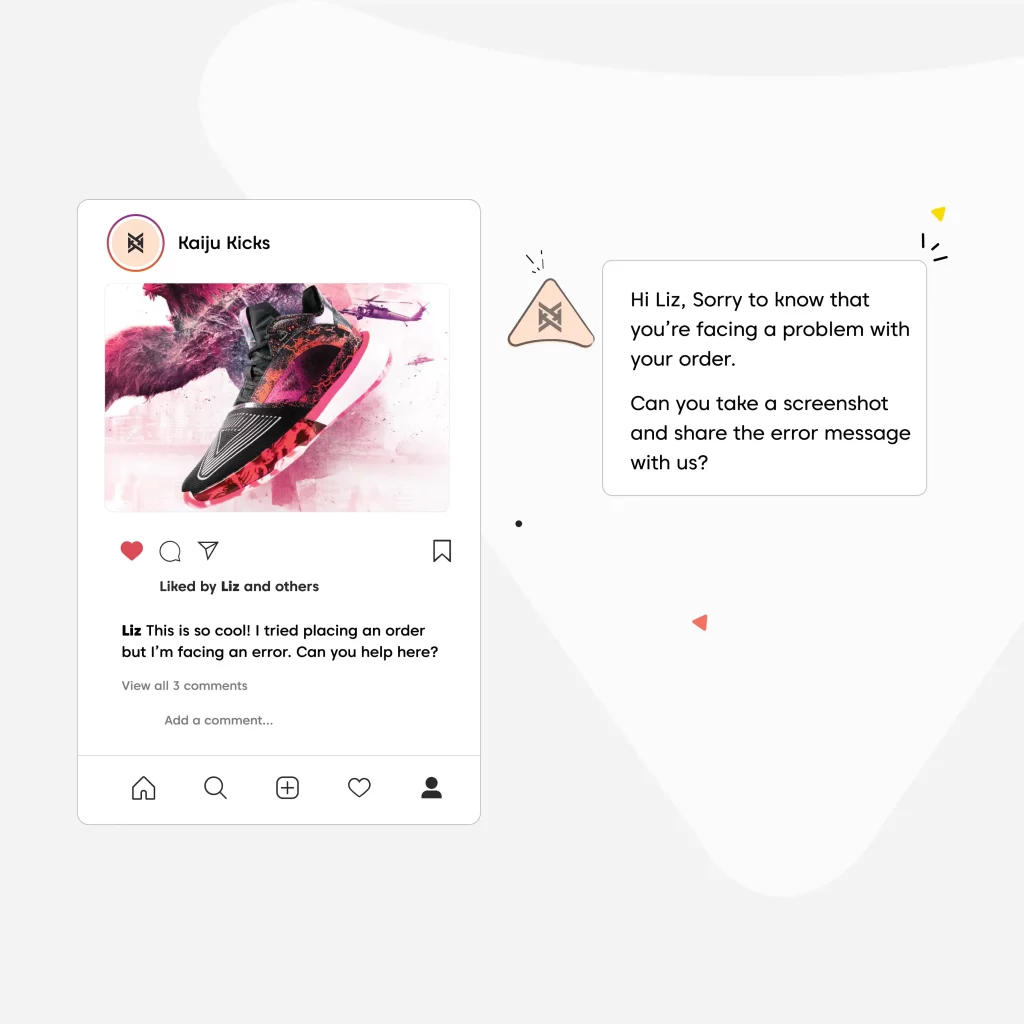 2. Campaign tracking
Bots serve as a useful tool for tracking and monitoring the performance of marketing campaigns. You can utilize the bot to keep track of the number of giveaway entrants, coupon code requests, website/landing page visits, email registrations, event sign ups along with sales conversions from the chat interface.
The bot will help you manage and track all these metrics so that you can analyze which campaigns are more successful for your company.
3. Strengthen your ads
How do traditional ads work? You show an image or a video to a customer with a lead magnet and direct them to a landing page where they are greeted with an intrusive request for their email. Not surprisingly enough, 90% of customers bounce off the post-ad landing page. This is where messenger bots can help.
Marketers can instead use click-to-messenger ads that can directly connect the prospects with an instagram chatbot. The chatbot then engages with the customer in real-time, automatically records their digital SSN, and finally allows the customer to download the lead magnet from the chat interface.
By keeping the entire conversation in messenger, you'll be able to reduce the cost per lead, achieve more engaged customers, score better leads, and add a personal touch to marketing.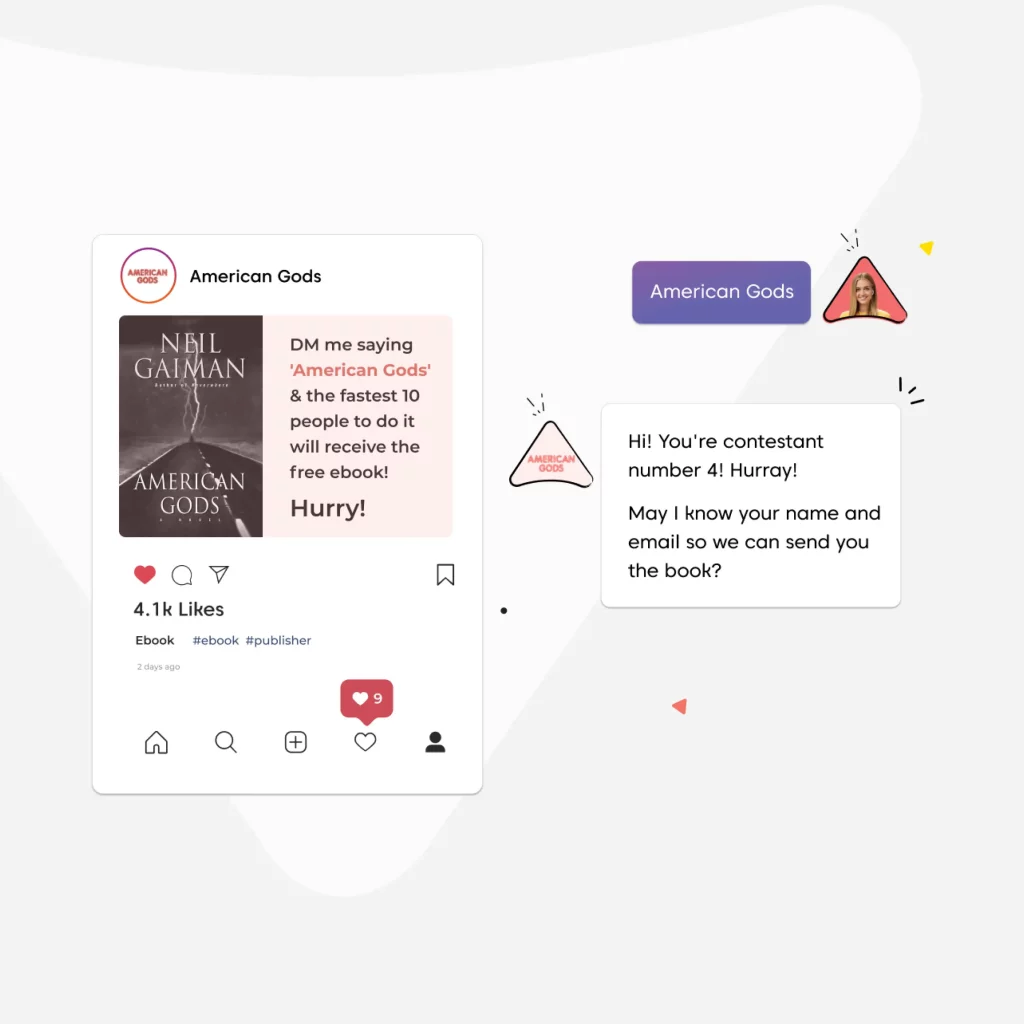 Types of Instagram automated messages to scale Instagram marketing
Instagram chatbots are a great tool for marketing as they provide a number of ways to use Instagram automated messages and engage with customers.
Below are a few types of automated messages that marketers can use on Instagram to scale up their marketing.
1. Automated messages for recommendations
A business can train their chatbots to understand customer queries and respond to them with relevant product recommendations on Instagram.
For example, if you are a clothing brand, a customer reaches out to you with a query "I need an olive green shirt", your Instagram chatbot can share the links of all the olive green shirts available in your virtual store.
This feature can help businesses attract customers and close more conversions quickly and efficiently.
2. Automated answers to FAQs
Customers can have multiple questions about the products they see on your Instagram profile. For example, a customer can ask about the available sizes, color options, product descriptions, and much more. Assigning these simple, frequently asked questions to a human resource is a waste of time for both the business and the customer.
Instagram chatbots can be trained to respond to FAQs and take a back seat in case of a complex query. This can help the marketing team to reduce the efforts that go into being constantly available for customers.
3. Automated orientation of new customers
Welcoming and onboarding new customers is a good business practice and can help you stand out from the competition. It is a simple but time-consuming process where businesses need to assign human resources to continuously check for new customers and send them a welcome message.
Instagram DM automation can help businesses onboard customers and guide them through the process of buying their products and services.
Welcoming and engaging with customers can have a lasting impact on the minds of the customers as they might forget the names of pages they visit but they won't forget the brands they interact with.
4. Automated response to Instagram DMs
With so many shoppers flocking to Instagram, brands tend to miss the DMs and comments of prospective customers. This results in a loss of revenue and also creates a negative brand image.
With DM automation on Instagram, businesses can automate responses to the initial messages from customers. This can help marketers engage customers and generate revenue without any human resources involved.
Businesses can automate business interactions throughout the sales process starting from awareness to post-sales services. This can help improve customer experience to a great extent and increase customer satisfaction.
5. Automated reply to mentions on stories
Customers, very frequently, mention their favorite brands in their stories. If a brand responds and acknowledges their effort, they are furthermore motivated to spread a positive message about their products and services.
Automating responses to mentions on stories can highly increase the number of followers and improve brand awareness on Instagram. Automation can also help at the time of giveaways and contests when a huge number of customers mention the brand in their stories.
Replying to mentions also makes customers feel heard and as a result, they end up becoming loyal customers and retaining them for years.
6. Automated DM drip campaigns
Drip campaigns are very efficient in increasing customer engagement and pushing prospective customers down through the marketing funnel. They can help send a series of messages to the customers specifically timed as per the campaign's target.
Instagram DM drip campaigns can be well-planned to interact with customers at the right time with the right message. The Instagram chatbot can help by sending a series of messages and sharing information about their product or service.
By using these automated DMs, Instagram marketers can increase efficiency and reduce marketing costs to a great extent. They can allow human resources to work on the tasks that need their involvement.
How can Yellow.ai help you with Instagram messaging automation?
Yellow.ai is enabling brands, influencers and organizations to automate user engagement, support or sales at scale on Instagram. Be it answering simple FAQs, lead generation or up-selling, businesses can leave all of these and more to instagram automation. This way, your agents can spend their valuable time only on high-value conversations and escalations. Sounds exciting? Now let's get into details.
1. No-code Insta Chatbot Builder
With our no-code chatbots building platform, you can create a chatbot and deploy it to 35+ channels including Instagram, with a single click. Our platform gives you the ability to set up different conversation flows for your Instagram chatbot ( such as product discovery, newsletter sign-up, raising complaints) and integrate it with powerful e-commerce solutions (such as Shopify), CRMs (such as Salesforce), and payment gateways (such as Razorpay) in just a few clicks.
2. Interactive ice-breakers
It's important to engage with customers proactively and ​​the best way to do that is to automate ice-breakers with the help of instagram bots. When people interact with your posts or follow your account, your bot can greet them with a welcome message and engage users in a friendly conversation. Our human-like NLP powered bots will understand your customers' intent and steer the conversation to deliver more personalized experiences.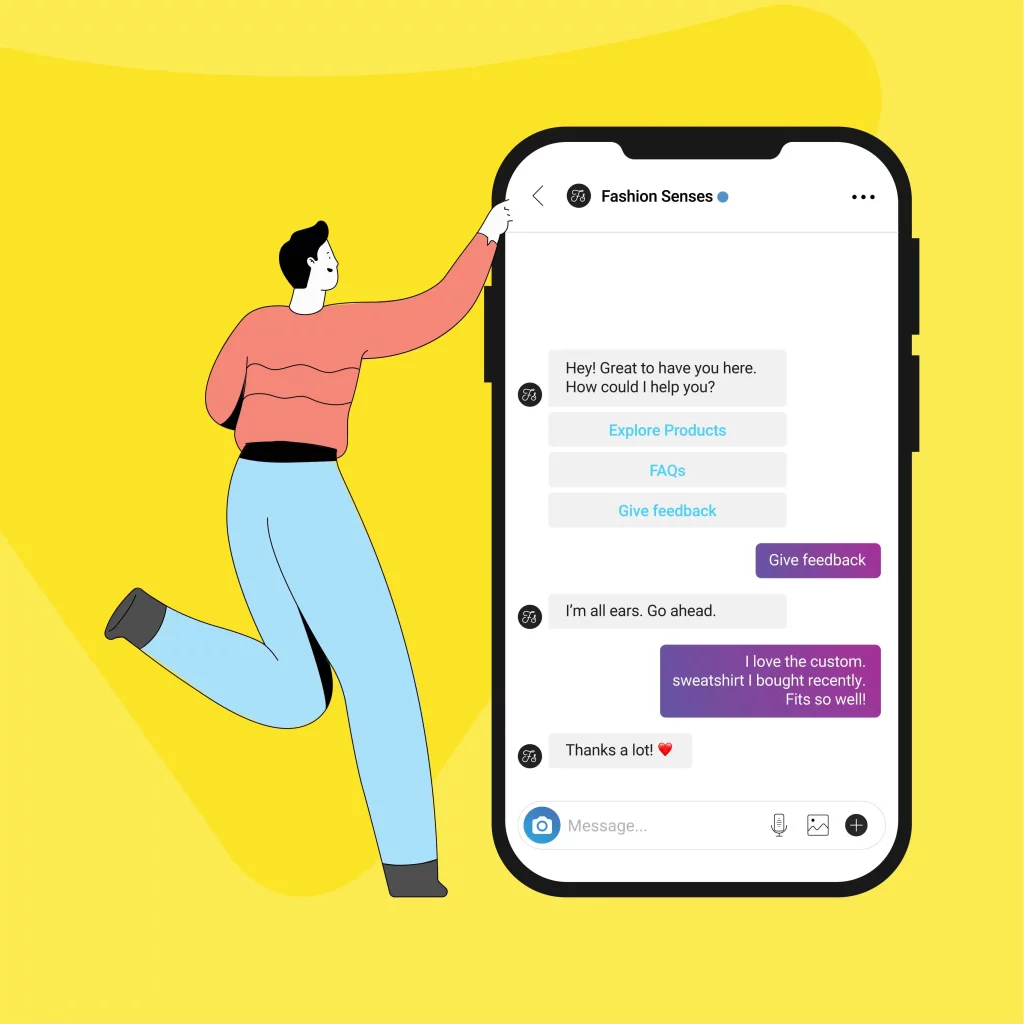 3. Instagram comments automation
Customers may share their feedback in the comments section or ask a question. Maintaining an active comments section is a crucial engagement goal for any brand. What matters most is how the brand quickly and contextually responds to customer comments.
Now, brands can automate their response in multiple ways. You can either choose the option of replying with a comment or send a private reply to the user via direct message.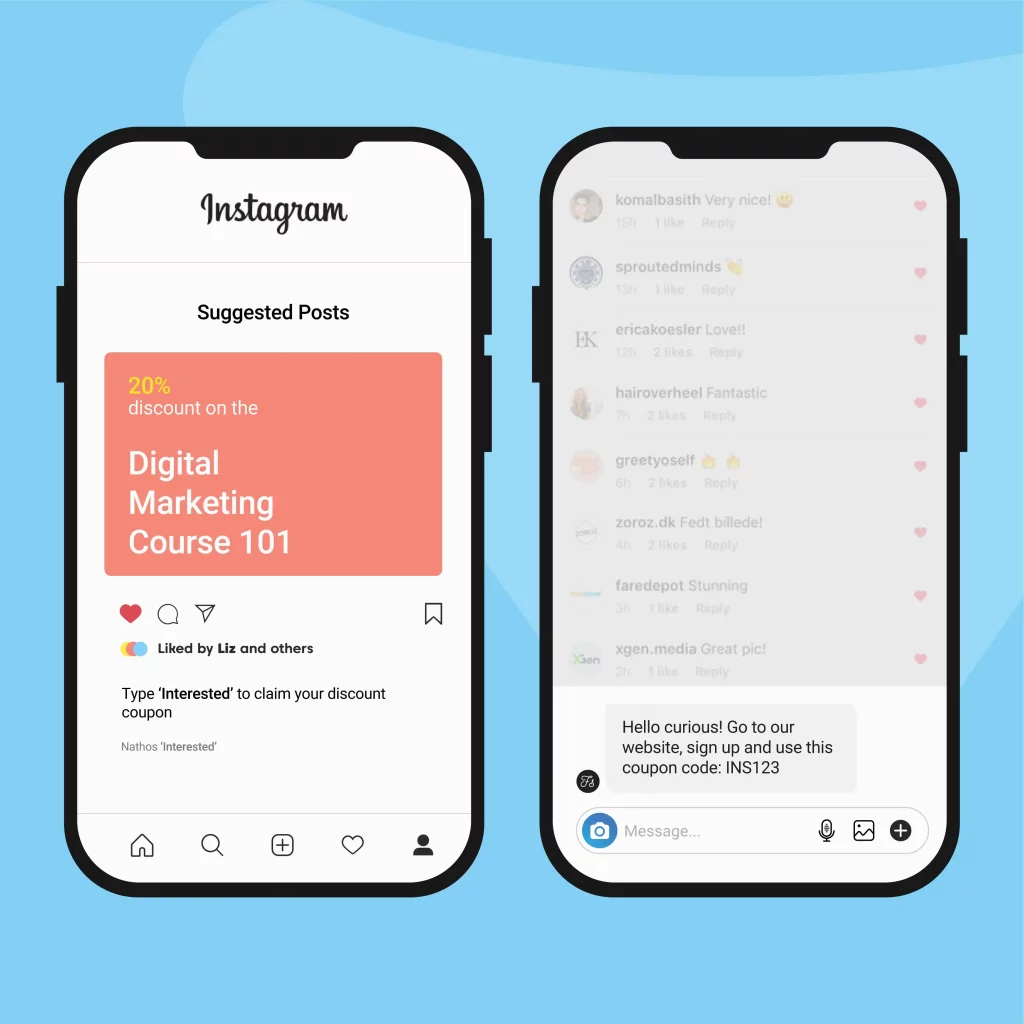 4. Instagram story mentions
Insta stories are ruling the user-generated content space. The richest ever brand validation could be straight from the customer's heart. The customers are taking to 'Insta Stories' on their fantastic experience with a product or service that brands have to offer.
Now with story mention automation, brands can automatically kick-off fresh engagement with the users. A brand could thank a user's positive feedback and offer a discount coupon for their next purchase. This will have a direct impact on customer loyalty, as it will show your customers that you appreciate their feedback.
Note: The users should @tag the brand for the Story Automation to work.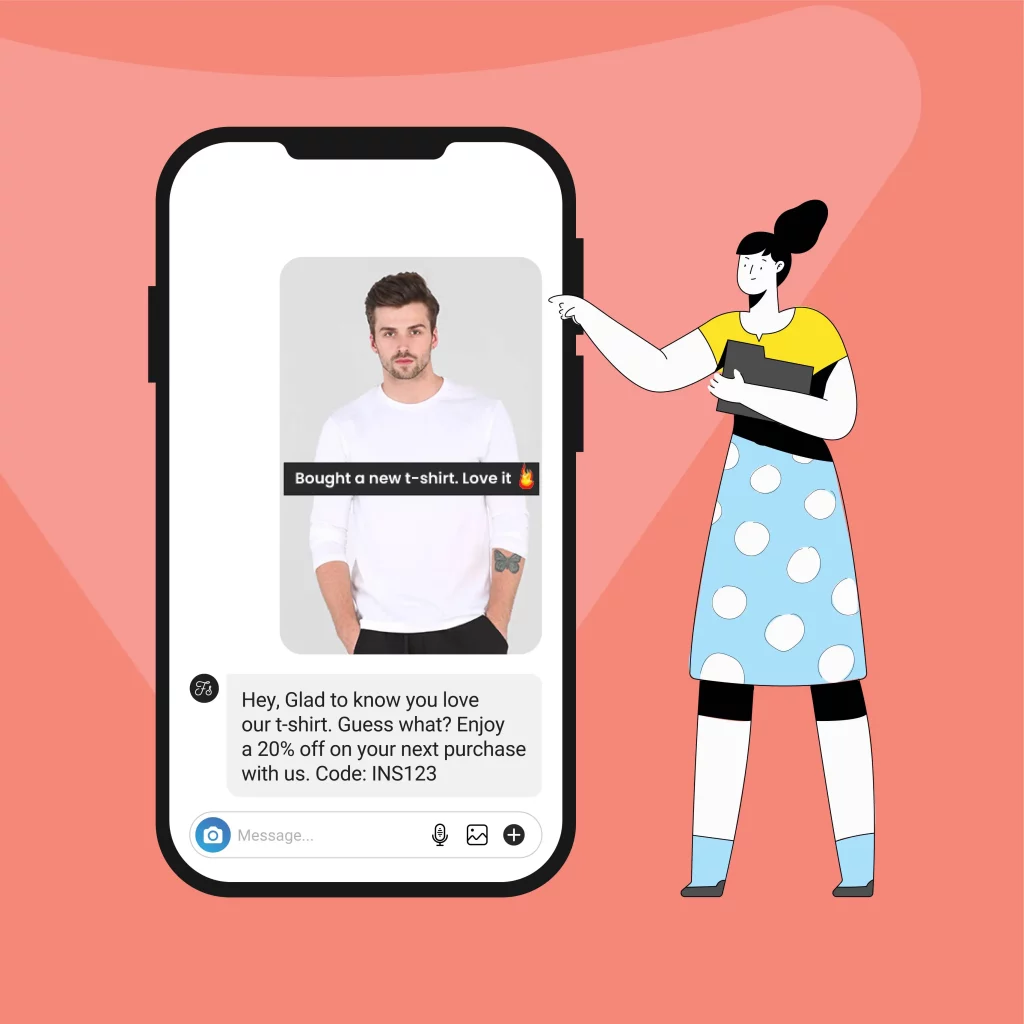 5. AI + Human approach to automation
Automation is not a set and forget strategy. It does not completely replace the need for human agents. Infact, the blend of AI and human resources can do wonders for your total customer experience.
This is why we not only help you offload repeated up to 80% of repetitive customer queries to chatbots but also escalate complex issues to the right agents, at the right time.
Besides, we are trusted by more than a thousand enterprises worldwide who accredit us for their CX success. Request a demo and our experts will help you get started.
Frequently Asked Questions
1. Instagram creator vs. business account – What's the difference?
There are three types of instagram accounts – Personal, Business and Creator. Personal account is for someone who is looking to use the account to share personal posts and content with their friends and family. However, someone who is looking to use the account for professional purposes, can use a creator or business account.
Creator account is meant for influencers or people who wish to create fan groups, secure brand collaborations, and share information within a specific industry. Instagram creators are a vital component of the platform's ecosystem.
On the other hand, a business account is especially for enterprises looking to connect with their customers and expand the reach of their business. So, these accounts come with special features that help businesses like shoppable posts, instagram shop, adding links in stories, CTA buttons, the ability to promote posts, instagram messaging API, etc.
2. What are instagram business account categories?
An Instagram business category is the industry that a company belongs to and can use in their Instagram bio. A business can choose from over 1,500 different Instagram categories: everything from fast-food restaurants to architectural designers. A personal account cannot select a business category; therefore, if you want to select a category, you must create or convert to a business account.
3. How do I create a chatbot on instagram?
To build an Instagram Chatbot, you must have an Instagram Business Account. Once you've created a business account, the second requirement to use the Instagram chatbot is that an Instagram account must be linked with your Facebook page.
You will then need a trusted chatbot building platform. Luckily for you, you can create an NLP-powered intelligent chatbot on Yellow.ai award-winning no-code chatbot building platform. Here's a step-by-step guide to take you through the process.
Locate the instagram card in the channels section on our platform and open it.
Go to the IG channel on the platform and click on connect to Instagram.
Then select the facebook page which is connected to the IG account from the list, connect the IG account in the next step and accept all the permissions shown and click done.
After clicking done, you will be redirected to IG channel integration page in the platform, Ther click on connect.
Enable access to comments for the bot you built and then you're done.
Sounds a bit technical? Let our team help you with the process. Get in touch with our experts and deploy your first instagram chatbot in just a few clicks.
4. Can you create an Instagram chatbot with a personal profile?
You will need a professional account – creator or a business profile to deploy a chatbot on your instagram channel. If you don't have a business profile, it's free of charge to switch to it and has a very simple process. Once you switch to a business account, you can follow the steps mentioned above or consult our experts to create your first chatbot and deploy it to Instagram.