Would you, as a customer, pay more for a better experience for a brand you love? Or rather would you purchase from a brand with a poor customer experience strategy?
A lot of studies have shown that leaders and brands prefer delivering a better customer experience over cost as their main priority.
Customers today are clearly indicating that they need a good customer experience or they will shift to other businesses in the industry. As we move towards an all-digital world, digital customer experience becomes a necessity for businesses to stay over the top and lead the industry.
Brands that embrace this shift towards digital transformation and accept this new remote everything business culture are excelling and moving towards digital customer experience. With the growing penetration of eCommerce and the digital marketplace, the need for a seamless digital customer experience along all digital channels is increasing dramatically.
For businesses, a well-strategized digital customer experience establishes a foundation for improved customer retention rate and customer loyalty. For customers, a great digital customer experience ensures that they feel heard and understood by the business on any and every channel as per customers' convenience.
Keeping aside all of the reasons mentioned above, when the customers are ready to pay then a business must provide exquisite service and customer experience without fail. It is the responsibility of a business to bridge the gap between customers' expectations and the business's services.
Since now we've covered the basic reasons to opt for a digital customer experience strategy, we have created a CX strategy template where you can add your CX goals and work toward achieving them by answering the questions that follow.
Free Resource
Build an effective AI chatbot strategy to turbocharge your CX.
Download template to get started
What is digital customer experience?
Digital customer experience (DCX) can be defined as the aggregation of all the interactions between a customer and a brand, over multiple digital conversational channels.
It is majorly about the perspective of the business that customers create in their minds after having an interaction with the company. It may be a website visit, or app usage, or a complete transaction and post-purchase customer support.
It is a vast field of strategizing the best connection between the business and its customers every single time on all channels with virtual touchpoints, be it a website, social media, or a chatbot. Digital customer service must assure that customers can easily glide through the online journey starting from the first interaction with a brand.
Digital customer experience (DCX) is basically a subset of customer experience (CX) that embraces the virtual part of interactions. However, for customers, keeping a consistent tone for business communications is essential, virtually and physically. So if a brand maintains a playful and humorous image in stores, the same needs to be followed virtually.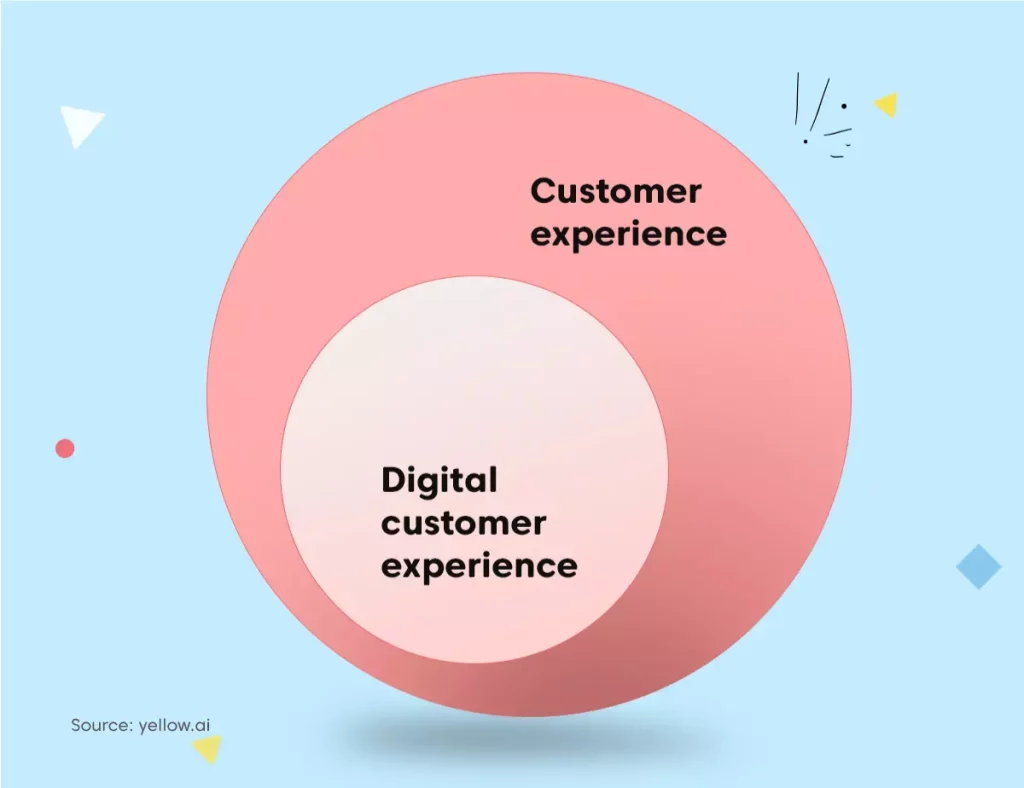 To build a strong digital customer experience strategy, businesses need to have thorough knowledge about all their virtual touchpoints and understand how to leverage them to their full potential for providing the best customer experience. Building a presence with half or no knowledge can be a setback or even a failure for your business.
Importance of digital customer experience in 2022
A recent report from Salesforce says that 67% of customers are ready to pay more for a great customer experience.
Millennials, the biggest adult cohort, who cover about 23% of the global population, prefer to shop over the internet. As the marketplace is shifting towards digital platforms, it is of great importance that businesses build a great digital customer experience.
Leaders from all industries have already experienced the power of a good customer experience. Businesses have invested in improving their overall customer experience, and have observed the tremendous results so obtained. They saw additional revenue growth of 4%-8% simply by valuing customer experience and implementing it.
Where customer experience focuses on all possible aspects of the customers' journey, digital customer experience attends to the virtual aspects of it. The global compound annual growth rate (CAGR) of the eCommerce market is expected to grow by 14.7% between 2020-2027. This ever-growing market is eventually resulting in a paradigm shift in the shopping habits of customers.
Another important aspect of digital customer experience is the ability to analyze and draw actionable insights from every customer interaction. Suppose some of your pages have a high loading time, and customers bounce off from that page. Deploying a conversational chatbot on the page can engage customers immediately and reduce the bounce rate. Such measurable insights provide a deeper understanding of customers' perspectives about the business.
In 2022, to match customer expectations, companies need to have a strong digital customer experience (DCX) strategy. Regardless of the channels, when a customer interacts with your business, he/she must be satisfied with the experience and willing to spread the word about the business and the experience. This is when digital customer experience will be used to its full potential, and start providing value to the organization.
78% of customers have abandoned their purchases because of a poor customer experience. This is how important it is to have a successful digital customer experience in 2022 and beyond.

Business benefits of digital customer experience (DCX)
Having a great digital customer experience is a necessity today, and if businesses are still thinking about implementing it, they must hurry up.
Let us discuss some of the major business benefits your brand can expect from a good digital customer experience strategy in 2022.
1. Improved customer retention
2. Increased customer lifetime value
3. Higher customer satisfaction (CSAT) score
4. High brand equity
How to improve digital customer experience?
If you are a customer-centric brand and are willing to build or revamp your digital customer experience, you might want to consider the following points.
1. Digital customer experience with technology and automation
The importance of digital customer experience is known to everyone. With technological advancements and evolutions, SaaS companies have created some excellent tools for improving and automating digital customer experience.
Using tools and technology can help businesses improve their productivity, simplify DCX processes, and seamlessly coordinate between teams for smoother and friction-free interaction.
Modern-day sophisticated conversational AI platforms like Yellow.ai provide state-of-the-art NLP, automation, machine learning, dialogue flow management and multilingual technologies to deliver very good customer satisfaction scores.
Leveraging these tools can result in an excellent digital customer experience (DCX) without stressing the employees or going on a hiring spree.
2. Website or mobile app optimization
If the page load time goes from 1 to 3 seconds, the bounce rate is increased by 32%.
Website or app issues like loading time, broken links, redirects, low-quality content and images, lack of SEO/ASO, poor mobile-friendliness, and many more, can be a huge setback for your brand. Customers interested in your products or services would bounce off and reach out to your competitors with a better customer experience.
Running thorough tests of your website and application at regular intervals is mandatory for a good user experience. Fixing all the issues and building a rock-solid digital presence can help your business rise exponentially.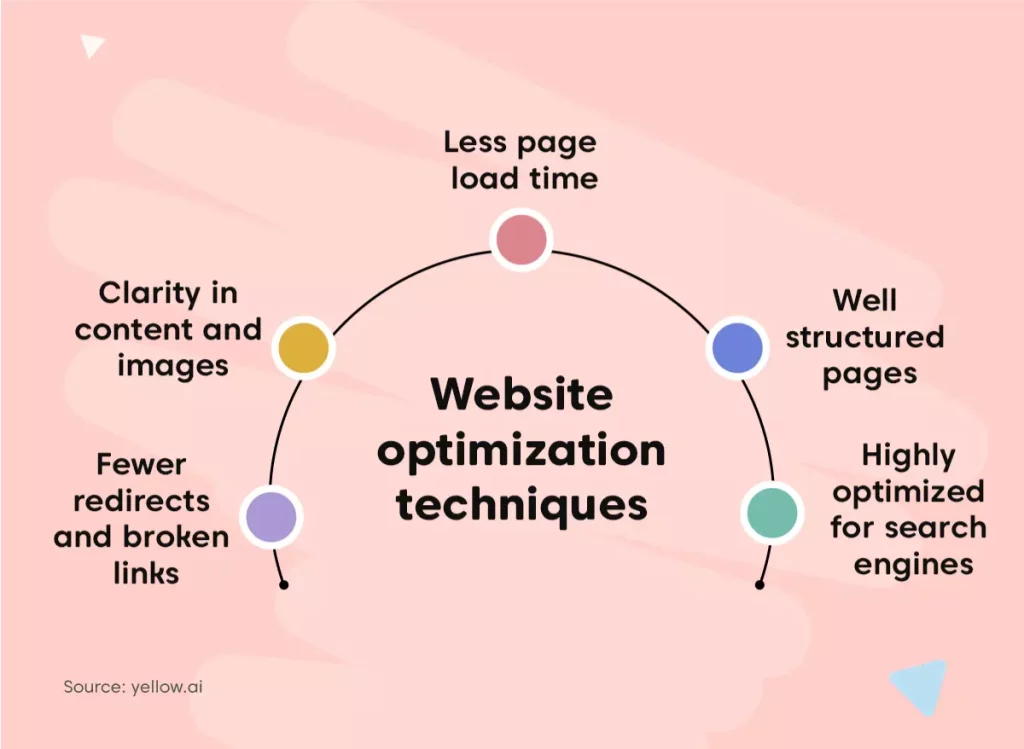 The basic requirements for a website to have a good digital customer experience are:
a. Fewer redirects and broken links
b. Clarity in content and images
c. Less page load time (optimally under 2 seconds)
d. Well structured pages
e. Highly optimized for search engines
By improving these simple yet powerful aspects, your website can do wonders for your business.
3. Omnichannel customer-friendly customer interactions
Building a systematic omnichannel presence is another great way to improve your digital customer experience. Customers expect businesses to know all their details, previous orders, and history with the company. This is possible with an omnichannel strategy for DCX.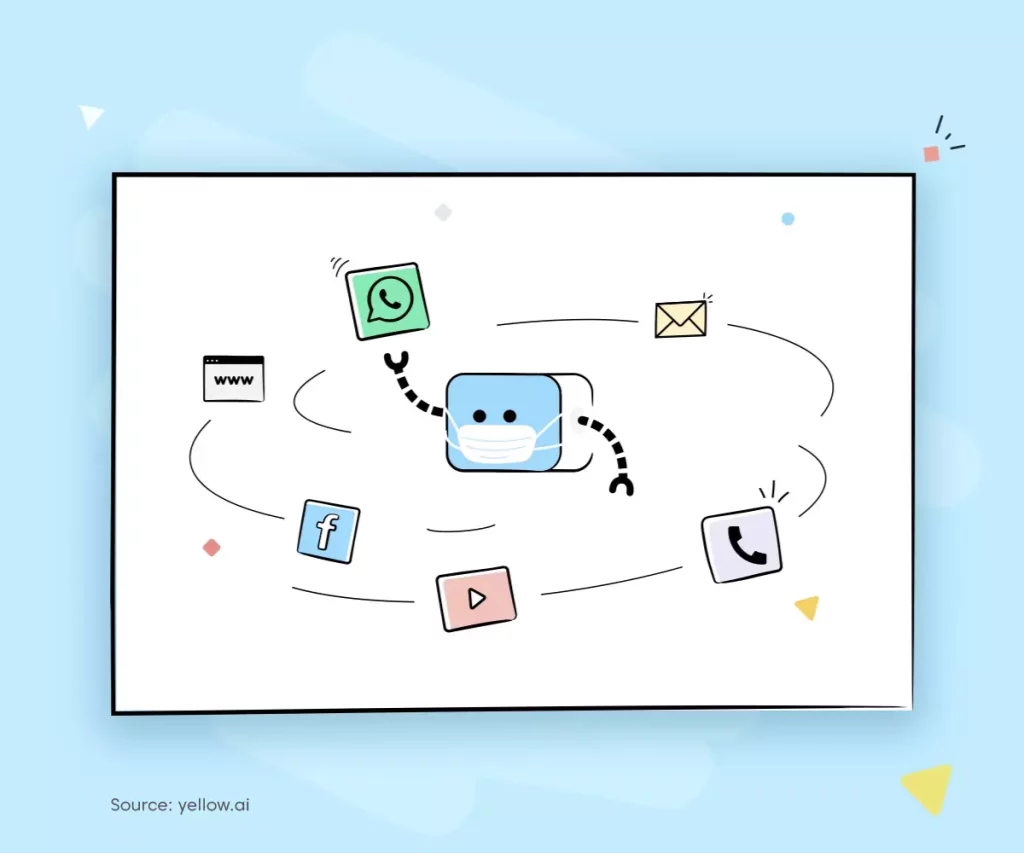 Contextual conversations are a major division of an established customer engagement. With an omnichannel presence of the brand, contextual conversations become automated.
Also, a customer-friendly approach to the customer experience is very important. There should be no barriers or friction between the customer and business during an interaction. Barriers like language and timing can be easily overcome by using technology and automation in digital customer experience.
How to build a successful digital customer experience strategy?
Before building a digital customer experience strategy, businesses need to clearly understand their target audience and create a detailed buyer persona. This is an essential factor for the success of a DCX strategy. Companies must understand the requirements of their customers and the channels they can use to fulfill these requirements.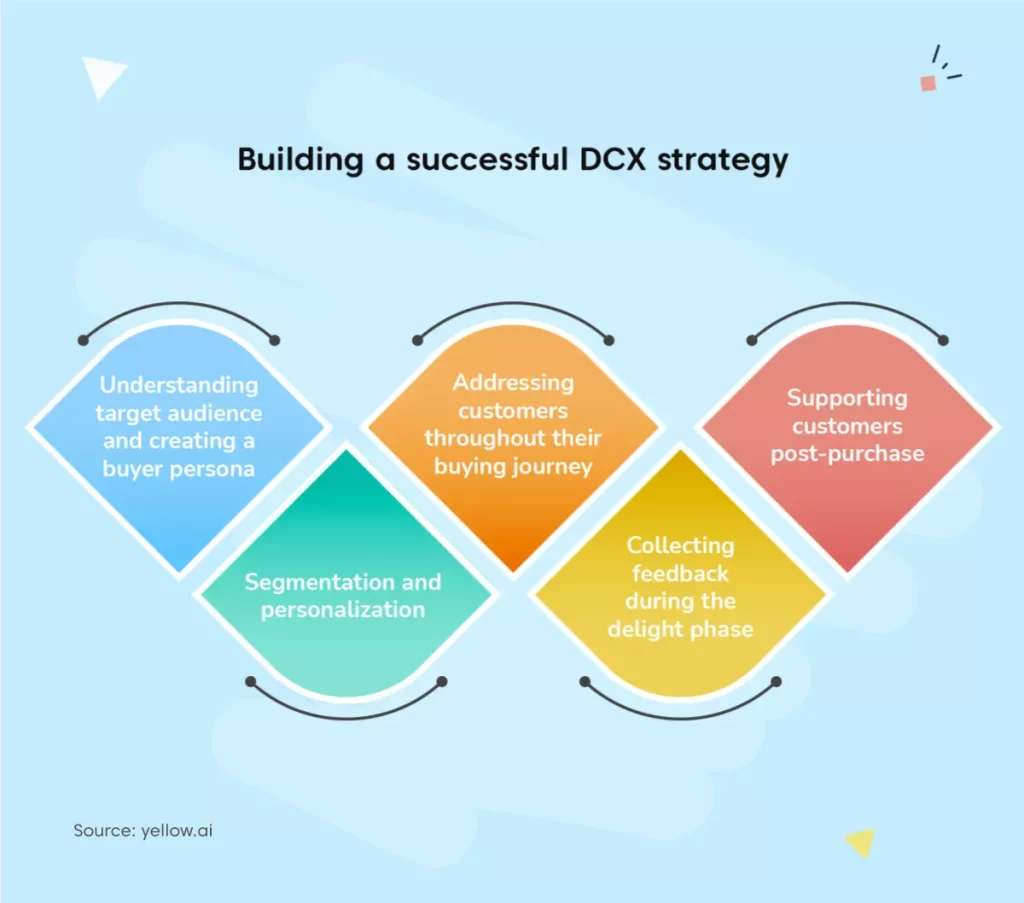 Once this is done, businesses need to segment their audience as per their customer journey, and requirements. Mapping customer journeys can help businesses reach out to the customers exactly when they need to interact with exactly what they want. Sharing the right information and content pieces at the right time can help in customer acquisition and satisfaction.
Customers can easily feel the missing human touch and can get really disappointed if they don't feel valued. While building a great digital customer experience, personalization must be taken care of. Businesses' automated tools must attend to each customer as per their requirements and customize conversations as per their sentiments.
Transactions do not end when a purchase is made. A good digital customer experience strategy deals with the delight stage also. Taking feedback, ratings, and reviews from the customers and working on them is an aspect most companies forget about.
Customer experience is not just during their interactions with the company but also after they've used your product or service. Post-purchase customer support and problem-solving are also addressed under DCX. Customer support is the deciding factor for customer satisfaction and retention rate, thus, it is important to automate it.
Tools used for enhancing digital customer experience
a. Artificially intelligent chatbots
Integrated with the website and mobile app. This NLP-powered software can help you automate all your business interactions and provide instant responses to the customers. There are a number of benefits of using an AI chatbot, for businesses as well as customers.
b. Live chat software
Automation along with a human touch makes the digital customer experience a win-win for both customers and businesses. With live chat software, businesses can convert more customers and reduce the bounce rate effectively.
c. Voice and video chat automation
Increasing preference for voice and video interactions has given businesses another opportunity to ease customer experience and automate voice and video calling features for a better customer experience.
d. WhatsApp business automation
Social media is a powerful tool that businesses can use to get in touch with their customers. With WhatsApp business automation, reach out to your customers exactly where they are.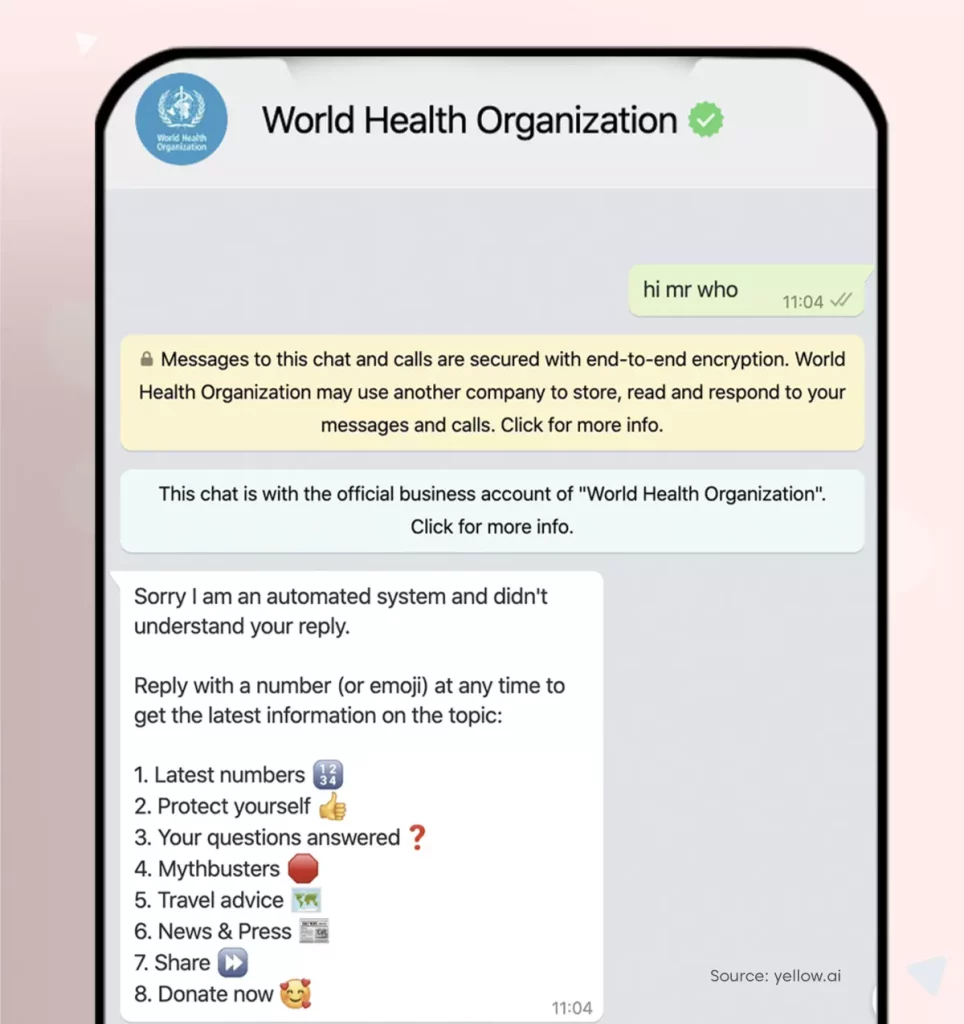 e. Instagram automation
With a rise in Instagram's popularity as a marketplace, the company launched a new feature that can automate Instagram conversations and help businesses interact with their customers even during odd hours.
Leveraging these tools can result in an excellent digital customer experience (DCX) without stressing the employees or going on a hiring spree.
Digital customer experience: A competitive advantage
The post-pandemic world demands remote everything, from buying daily needs to opening a bank account, scheduling appointments to buying a car, everything has moved digital.
Customers today expect to buy products and services with a single click, voice command, or a message. They expect brands to be smart enough to understand their needs and quickly act on them. 85% of customers expect a digital customer experience where companies must reply within 6 hours. Social media messages, comments, and even mentions need to be addressed or else customers will switch and shift to your competitors.
With higher customer expectations comes an opportunity to create a personalized experience for each of your customers. If businesses lag behind in building a digital presence today, they may be lost in the grey.
Yellow.ai is an answer to all your digital customer experience needs. We can build a strong and automated customer experience strategy for your business from start to finish. No need to go with our words, instead read how our customers have transformed their digital customer experience with us.
Download our free digital customer experience strategy template and work towards achieving your goals for the year. You can also schedule a demo with our experts in order to understand what best fits your business needs and aligns with your CX goals.
Free Resource
Build an effective AI chatbot strategy to turbocharge your CX.
Download template to get started