WhatsApp has more than 2 billion active users globally, making it the undisputed global market leader in the field of instant messaging. Healthcare organizations can capitalize on this popularity of WhatsApp to connect with their stakeholders in an efficient and timely manner.
The simplest and most cost-effective approach for taking advantage of WhatsApp's massive reach is to deploy a WhatsApp healthcare chatbot.
In this blog we'll have a look at the role of WhatsApp chatbots in healthcare and how the healthcare industry can use them to deal with the ripple effects of COVID-19. 
Related must-reads:
Role of WhatsApp chatbots in healthcare
COVID-19 has expedited the adoption of digital healthcare solutions by healthcare systems and organizations around the world. The 'digital front' has become the 'only front' for patients to receive clinical services in many nations. Outpatient hospital and general practitioner appointments have been revolutionized around the world, with up to three-quarters of all consultations now taking place digitally.
While patients now have the facility to consult doctors online, there are still some challenges that follow this rapid acceleration of digitalization in the industry. One of the major challenges being the unprecedented increase in online user engagement. Healthcare companies are finding it difficult to bring down overhead expenses while handling a huge volume of online queries received on a daily basis.
WhatsApp chatbots provide new and affordable opportunities for healthcare companies to improve service time and support customers at scale. They are capable of handling up to 80% of repetitive queries so that your human agents can focus on more complex issues and escalations.
Use-cases of WhatsApp chatbots in healthcare
WhatsApp has surpassed Facebook Messenger, WeChat, Telegram and iMessage as the most popular messaging platform in the world. The dominance has led to small and large businesses in every industry using WhatsApp to enhance customer satisfaction and accessibility.
It is only time that the healthcare companies, that have been relatively slow to adopt digital transformation, jump onto the bandwagon and offer digitally superior medical assistance to their customers.
With the help of WhatsApp chatbot API, healthcare businesses can streamline their communication process and make it simple for stakeholders and potential clients to connect with them at any time of day. Let's look at a few ways in which you can use WhatsApp healthcare chatbots to offer delightful customer experiences.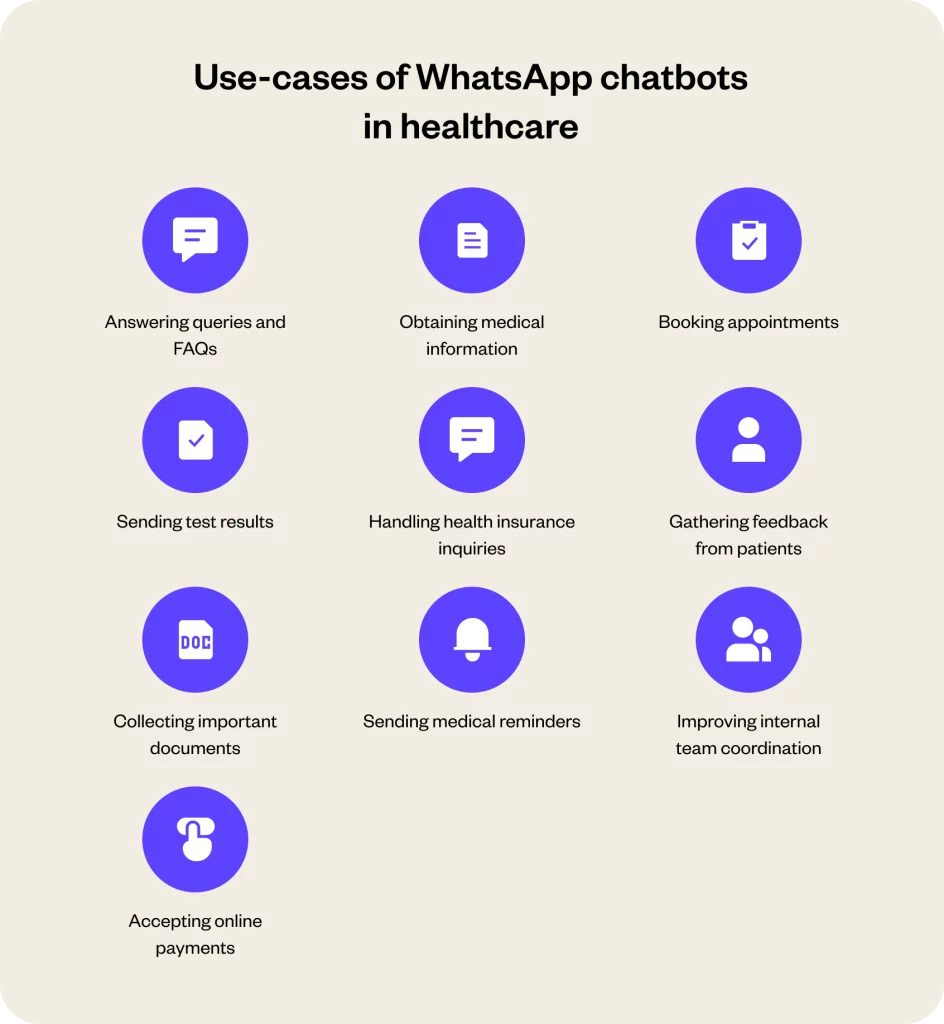 1. Answering queries and FAQs
Customer queries, even if repetitive, are mostly urgent in nature and need immediate attention.
NLP-powered healthcare chatbots, that are trained on massive amounts of data, can understand user queries and offer prompt responses. They can also be integrated with internal databases to continuously train and improve the accuracy of their answers.
2. Obtaining medical information
During the pandemic, when there were many apprehensions and restrictions surrounding face-to-face doctor visits, online consultations really came in handy. Patients can easily share their symptoms and medical history with the WhatsApp chatbot, who will then direct them to the relevant medical practitioner.
Also, this way, doctors will have access to necessary details like frequency and severity of symptoms beforehand. This will help them get a better understanding of the patient's health issues.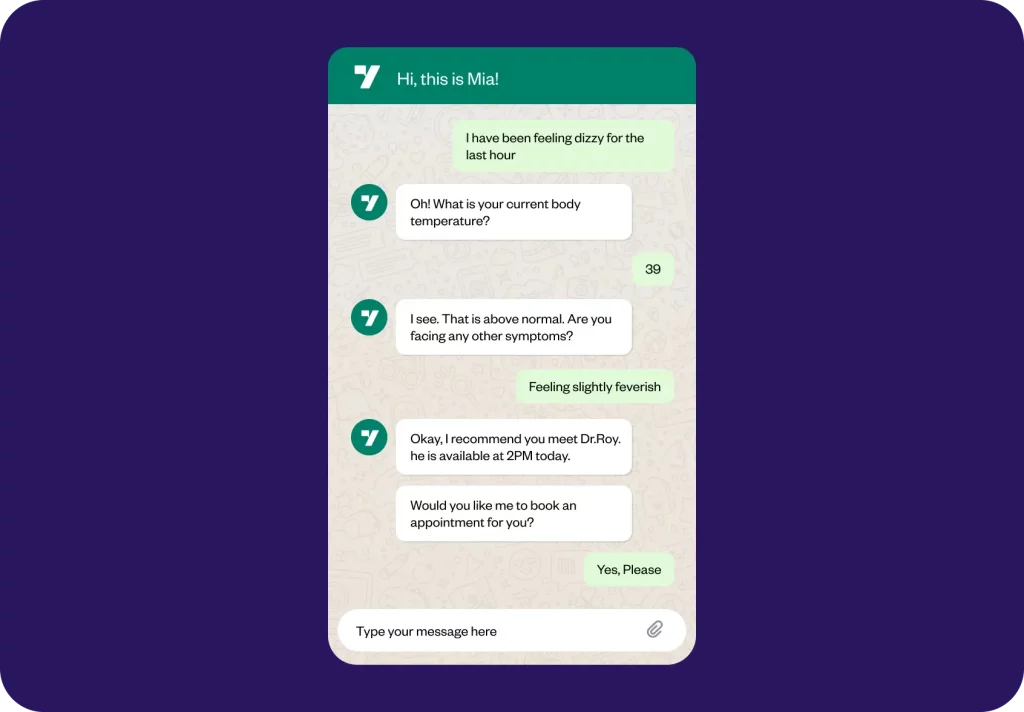 3. Booking appointments
Healthcare chatbots on WhatsApp can easily book appointments with doctors based on their availability. The bot can also keep track of follow-ups and visits for specific patients via third-party APIs.
Chatbots can be integrated with back-end medical systems to extract information about appropriate physicians, open slots, clinics and pharmacy hours. Patients can use WhatsApp chatbots to reschedule or cancel appointments and locate the nearest hospital/testing center.
4. Sending test results
You can use your bot to send test results to your patients so they don't have to collect them in person. Your patients can also use healthcare chatbots on WhatsApp to check the price of different tests and keep a track of their pending medical reports.
5. Collecting important documents
Patients can directly send copies of important medical documents to the WhatsApp chatbot. This way they won't have to carry the documents with them to their appointments or upload/email them to the healthcare company's website. The documents will be stored in an encrypted folder and would only be accessible with the patient's permission.
6. Sending medical reminders
With everything that goes on in our day to day lives, we can forget to take our medicines on time. This is true for children who must balance school, extracurricular activities and social lives. Also, adults who spend a significant portion of their day working and traveling, and elderly patients who might have a hard time remembering things.
A WhatsApp chatbot can be used to send reminders to patients anytime they need to take their medicines or refill their prescriptions. This will ensure that they take them on time and without forgetting, keeping them healthier and assisting them in recovering faster.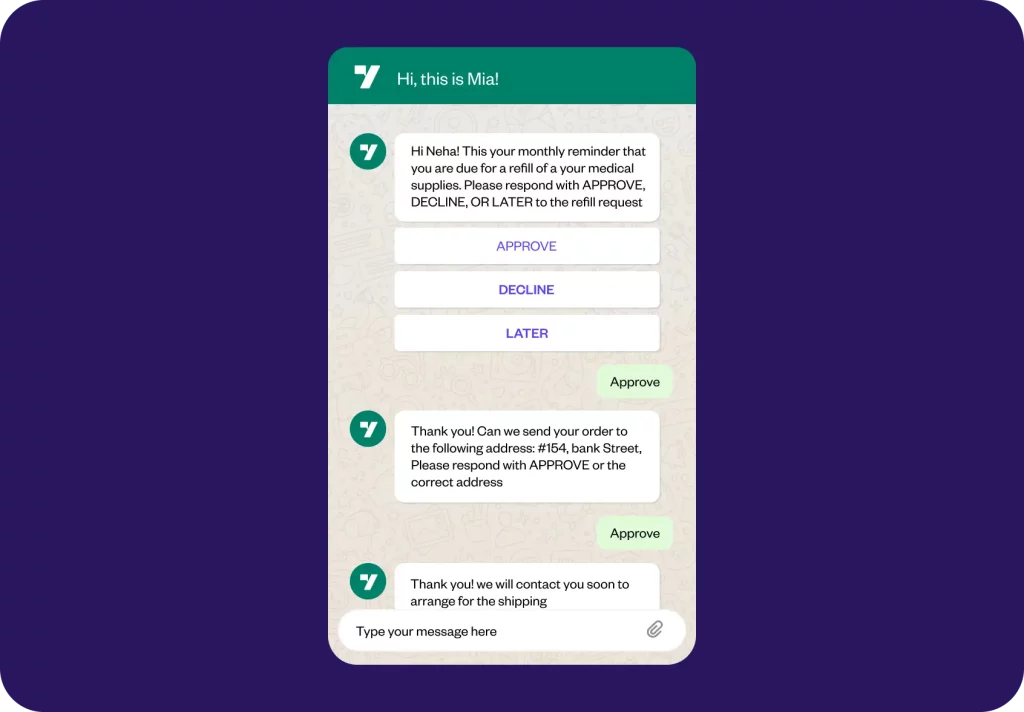 7. Handling health insurance inquiries
Insurance generally entails a mountain of paperwork, invoices, and inquiries. Patients can now get answers to their insurance-related queries using a WhatsApp chatbot. Required documents can also be submitted by scanning and uploading them directly in the chat interface.
Moreover, by integrating your WhatsApp chatbot with RPA and other automation systems, insurance claim processing and healthcare billing can be automated.
8. Gathering feedback from patients
Research has shown empathy and compassion to be associated with better adherence to medications, decreased malpractice cases, fewer mistakes and increased patient satisfaction. By listening to your customers and taking action on their feedback, you can make sure your customers know that you care about them.
Through a simple, automated conversation flow, learn what your patients think about your hospital, doctors, treatment and overall experience. You can do post-visit surveys to learn how your customers feel after speaking with you. Were they able to book an appointment easily and if they faced any challenges while making an online payment? A short WhatsApp text can go a long way towards improving patient experience.
9. Accepting online payments
It can be quite tedious to wait in line at a hospital to schedule and pay for medical consultations. This is especially true when people have to arrive early, wait in line and then decide whether they want to go home and return for their appointment or simply wait for an hour (or more) at the hospital or clinic. Allowing patients to book appointments and make payments directly through your WhatsApp chatbot can help simplify the whole process and improve customers satisfaction
10. Improving internal team coordination
WhatsApp chatbots can not only help your patients, but also your healthcare staff. Care management teams are more overworked than ever before. A chatbot can be used to maintain track of internal hospital equipment such as beds, oxygen cylinders and wheelchairs. When a team member needs to know whether or not a piece of equipment is available, they may simply ask the bot.
The bot will then retrieve the information from the system, putting important operational data at their fingertips. This improves team collaboration while reducing delays caused by interdependence between teams.
Bottom line
The healthcare industry is teeming with processes that can be automated to make care-giving more efficient. WhatsApp chatbots can play a vital role in eliminating redundancies from healthcare processes. With their help, companies can be accessible to their patients 24 hours a day, seven days a week and interact with them on a more personal level.
To deploy a WhatsApp chatbot you need WhatsApp business API, and the easiest way to get that is to partner with a BSP like Yellow.ai. With the help of our no-code platform, you can create chatbots and deploy it to 35+ channels, including WhatsApp, with a single click.
We've partnered with top healthcare organizations to implement WhatsApp chatbots and virtual assistants that help with appointment scheduling, data entry, in-patient and out-patient query resolution and customer service automation.
Get in touch with our experts to learn more about how WhatsApp chatbots can help your hospital or lab reach more customers and serve them better!