FinTech, a portmanteau of 'financial technology, is a combination of new technologies with the products and services of the financial industry. Since the 1800s, the combination of financial industry and technology has grown beyond one's imagination to automate all aspects of banking and financial services.
The use of artificial intelligence technology with fintech, especially for customer experience automation, has a huge potential of paving the way for many financial service operations. Fintech chatbots are a great example of the brilliance that can be achieved by integrating artificial intelligence with CX automation in the finance industry.
Chatbots have gained popularity during the last decade and fintech companies are figuring out the extent to which they can automate business communications and customer experience. Because today it is very essential to build an online presence for all your services as the millennials, especially Gen Z, have not seen a world of computers, phones, and automation.
Introduction to fintech chatbots
The finance industry, known for its clutter and competition, needs simplification and a better customer experience strategy. This is all that a conversational AI chatbot can do for finance organizations.
Assisting customers with all of these concerns with an instantaneous response and 100% accuracy, fintech chatbots are winning the CX game and bringing a shift in the finance industry.
For a fact, studies have shown that 85% of customers prefer solving queries with a chatbot instead of scrolling through the website.

Fintech chatbots are here to reconstruct the idea behind communications in the finance industry. With AI chatbots in the finance industry, customers can solve all of their queries and concerns from the comfort of their couch, and this is all they want.
For businesses, fintech chatbots have proven their profitability during the last decade, especially with the pandemic and all the restrictions.
Fintech chatbots can help customers in making transactions, updating account details (that do not need a signature or biometric recognition), providing investment advice, and supporting them throughout with their queries.
Functions like analytics, billing, and collections, renewals, upselling, and cross-selling of services are automated and organized in such a way that the personnel can rely on the chatbots completely. Lead generation is another great functionality of chatbots that helps businesses in automating qualifying leads, nurturing them, and as a result multiplying their revenue.
With these advantages, fintech chatbots are giving a competitive advantage to the companies deploying them and using them to their true potential.
Best use cases of fintech chatbots
With our expertise and experience, we have come up with the best and the most practical use cases of fintech chatbots, and how they are beneficial for businesses as well as customers.
1. Digital transactions
Fintech chatbots can assist customers with all types of digital transactions across the globe. With all the different limits and various types of transactions, customers may find it difficult to find a solution as per their requirements. With fintech chatbots, customers can set reminders and automate their subscription payments, investments, and paying monthly bills.
This feature can help financial institutions attract more customers for a better customer experience (CX) and ease of transactions. Chatbots can be trained and automated in such a way that it prompts exactly what customers want, and win their loyalty towards the financial institution.
2. Account management
Customers get annoyed when they need to visit banks or websites time and again to update or verify their account details. With fintech chatbots, customers can update and verify all of their details in a convenient way. However, there is a need for biometric recognition for some details, which cannot be carried out virtually.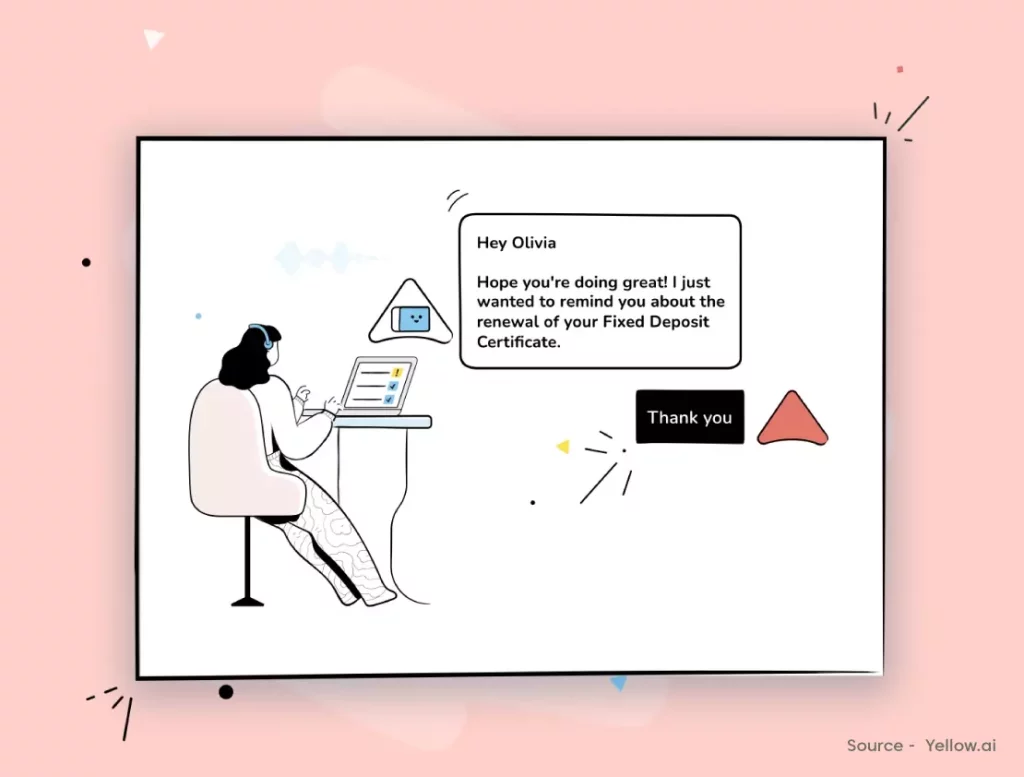 Financial institutions can save a lot of time and human resources by automating the process of updating details and verifying them. Employees can actually focus on tasks that need human interaction and attention. Although, security being a priority, must be taken into account when automation of changing and verifying account details.
3. Investment advice
With technologies like machine learning (ML) and natural language processing (NLP), fintech chatbots have an enormous amount of data about customers. By processing and mining this data, chatbots generate useful and extremely personalized information about customers. This information is then used for providing investment advice.
Based on customers' spending patterns and saving capacity, fintech chatbots can create a realistic investment plan and portray the benefits.
For financial institutions, providing customers with a detailed investment plan can build credibility in customers' mindsets and improve the customer retention rate and customer lifetime value. Also, by automating this process, a lot of man-hours can be saved studying the data and building an investment plan.
4. Customer support
Finances are a sensitive matter. Customers might need support any time and any day regarding any of their financial operations. Fintech chatbots are the answer for the best customer support. With a customer-first approach, financial institutions must deploy a chatbot for customer support.
With so many features and benefits of chatbots like round-the-clock availability, multilingual support, accurate responses, and high-speed query resolution, artificially intelligent chatbots actually help customers with their queries and concerns.
A very common example that may have happened with everyone is a stuck digital transaction. Customers get stressed about their hard-earned money getting stuck for unknown reasons. In such a case, when they seek customer support, a fintech chatbot can help them by solving their issue.
5. Insights and analytics
Fintech chatbots generate actionable insights for companies about their customer experience, customer retention, session duration, and many more metrics. These insights are not just essential but also comprehensive and thorough. It can help institutions understand their shortcomings and take required actions.
For example, customers for insurance and loans are more likely to request for a human agent to solve their queries, companies must analyze the chatbot conversation to understand customers' expectations. With this information, the fintech chatbot can be modified and programmed to help the customer.
With conversational AI in finance and banking, sentiment analysis is also a major metric to understand customers' perspectives about the firm and its functionalities. This metric can be used to know how satisfied or dissatisfied customers are with the different aspects of their buyers' journey.
6. Insurance and loans
If a customer needs insurance and loans, they usually have many queries and traditionally they would go to a bank and have a long conversation with the bank personnel regarding the same.
With fintech chatbots, all of this can be done from home. Ask the customer for a few details, and chatbots can give them the best possible, customized, and cost-effective services available.
When trained properly, AI chatbots can easily solve any and every customer query and concern and guide them through the process. From providing information to uploading the required documents, every step can be automated for the comfort of the customers.
This can save a lot of time for the employees at a financial institution. However, chatbots are not a replacement for customer support agents. It is just a tool that facilitates customer support along with the agents. In case of complex queries or any miscommunication, human agents have to come into the scene and solve the complexities.
7. Fraud detection and prevention
Fintech chatbots are of utmost care when it comes to customer security and privacy. Customers have to go through an authentication process every time they want to have a conversation with the chatbot. Even with the voice bots, voice biometric authentication is essential during logging into your account.
With a high level of security and privacy, chatbots can detect any case of a security breach or fake logins and instantly alarm the customer and the company regarding the same.
Any fraudulent actions are easily detected and prevented by intelligent virtual assistants. Financial institutions have great power of handling hard-earned money, and with great power comes great responsibility. Therefore, a high level of security and privacy is extremely essential for the customers as well as the organization.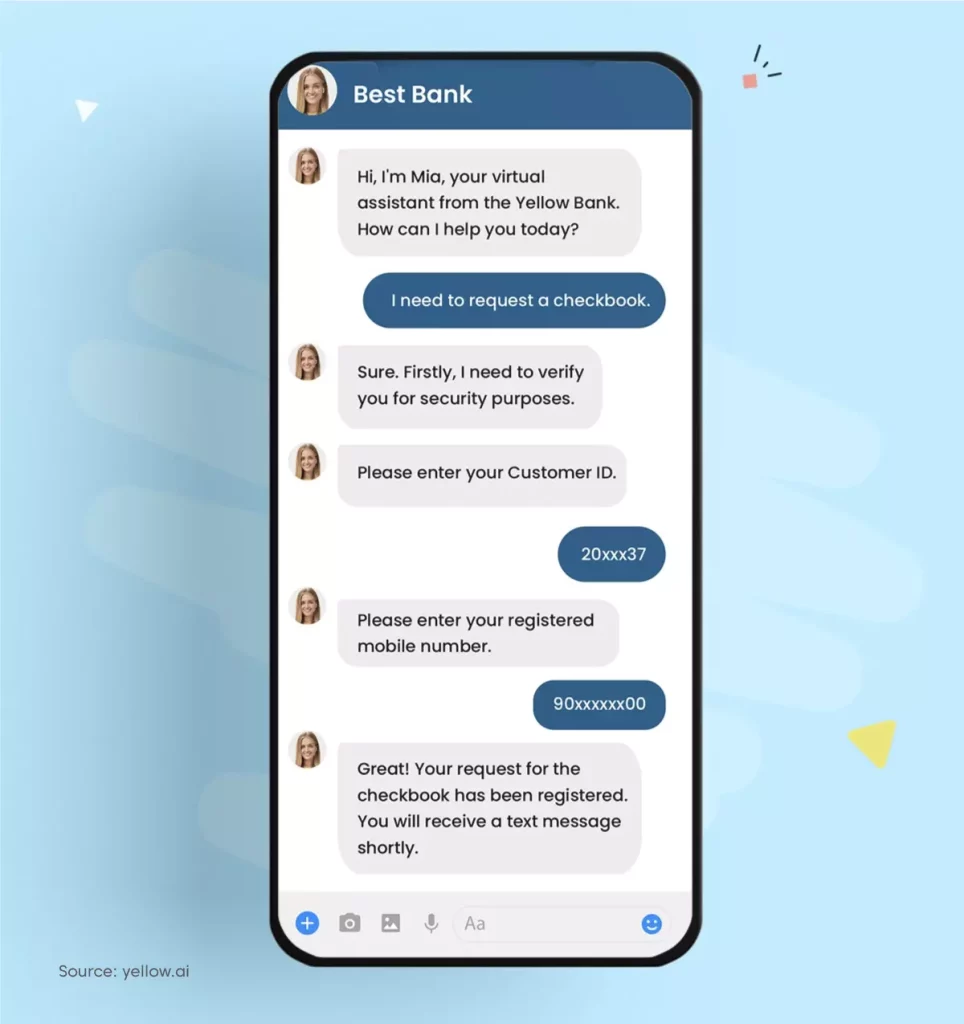 8. Finance advice and portfolio management
Chatbots can be your customers' personal financial advisors. With all the data, chatbots can help customers with smart savings, investment advice, and personal finance management.
Customers can set a budget, and chatbots can remind them about their expenses based on their transaction history and savings every time they tend to invest or spend their money unreasonably beyond their budget.
This feature is beneficial for customers and for financial institutions. With a free personal financial advisor giving the customers useful information and guiding them towards a better future, they tend to retain and become loyal to the organization.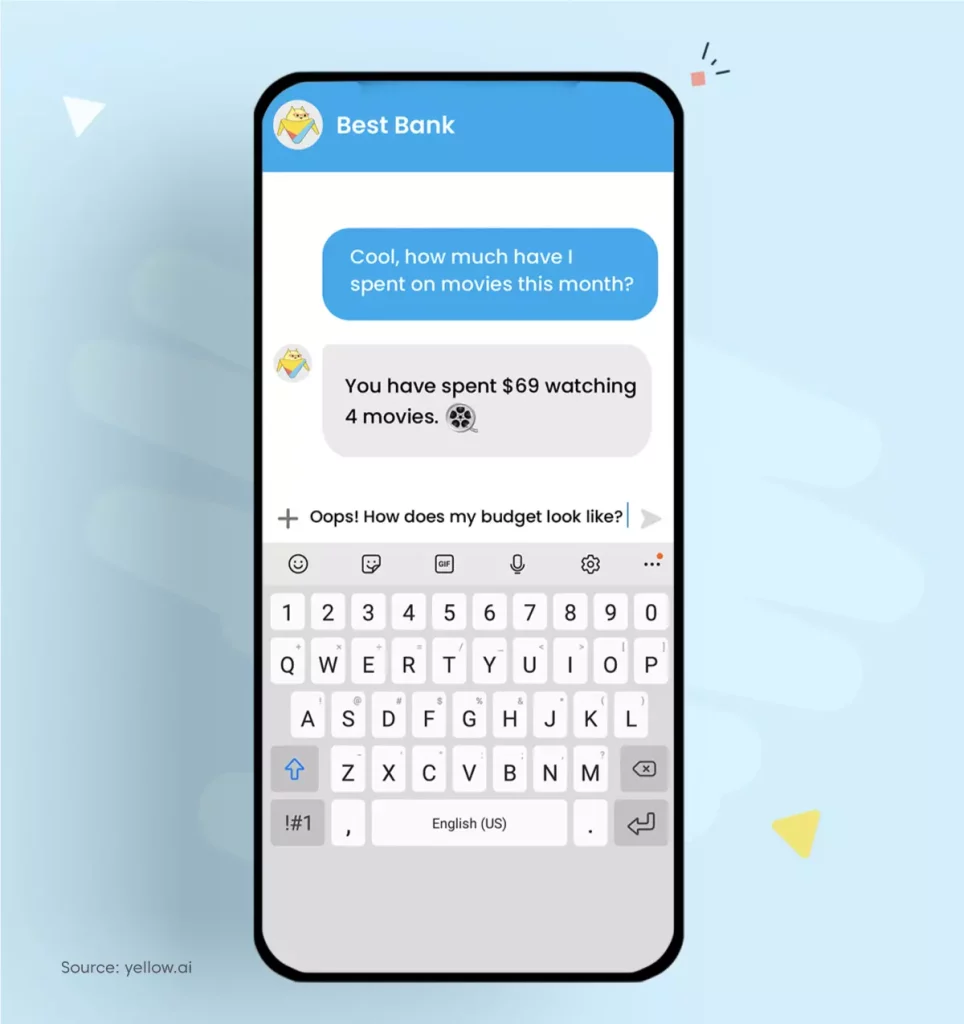 Clearly, fintech chatbots are extremely beneficial to businesses and customers with regard to customer experience and finance management. Fintech organizations have seen unparalleled growth and success in customer experience automation by deploying fintech chatbots. Not just this, they've actually generated more leads and multiplied revenues simply by automating conversational AI using chatbots and speech recognition.
Benefits of Fintech chatbots
Deploying fintech chatbots, organizations are transforming the industrial standards of business communication, customer support and the overall face of financial institutions. With such use cases and benefits, these chatbots are getting more and more love from customers and organizations. For competitive advantage, companies are rushing towards deploying and training their fintech chatbots to be the best in the industry.
Fintech giant- Bajaj Finserv saved over $16 million by deploying a chatbot.
A few major benefits that have been experienced by the finance industry with the application of fintech chatbots are:
a. Ease of communication
Building a frictionless path for communication and query resolution
b. Convenient customer support
Keeping up with the increasing remote everything culture
c. Easy cross-selling of services
Promoting and marketing all the available financial services as per customer requirements
d. Cost-effective
Considerably saving operational cost and time for organizations
e. Contextual conversation
Personalizing and customizing conversations as per every customer based on their preferred language, spending habits, and other demographics.
Conclusion
The role of artificial intelligence in the finance industry is increasing day and night without even a second thought. Institutions are coming up with more and more use cases for AI chatbots for the industry and deploying them as an integral part of their customer support team.
Today, millennials are tech-savvy and like to have everything within the reach of their fingertips. Thus, AI chatbots are a need of the hour, not just for financial services, but for every customer-centric business that has an aspect of customer support.
Especially for the financial sector, which is known for its complex operations and cluttered functionalities, the use of technology and chatbots for organizing the operations and delivering a better customer experience is essential. The future calls for it, and the industry has to level up with the requirements of the industry and its customers.
So are you ready to deploy a fintech chatbot for your organization and transform your customer experience with artificial intelligence and automation?
With Yellow.ai, an insurance giant reduced its operational costs by 80% and scaled up 5 times simply by deploying a conversational AI voice bot. The voice bot proved to be 12% more efficient than the traditional team of live agents in solving queries and meeting customer requirements.
Level up your customer experience with artificial intelligence and automation and deploy the best fintech chatbot with Yellow.ai.
You can also try out our all-new bot studio to build a chatbot with a no-code bot builder. Create and deploy fintech chatbots within 10 clicks and observe the exponential growth in customer loyalty and customer retention