One of the biggest challenges for marketers is creating content that resonates with their target audience. Marketers need to balance their content creation efforts with their available resources, including time, budget, and team members.
The marketing landscape is constantly changing, and with so much content available online, it is no easy task to constantly churn high-quality content that is: a) creative, b) consistent with the brand, and, most importantly, c) resonates with the audience.
Meet YellowG's AI Content Engine
YellowG's AI Content Engine leverages generative AI for template creation to easily design contextual WhatsApp, SMS, and email templates for marketing campaigns.
By spending fewer hours on content creation and campaign planning, this feature will make marketing teams more efficient and productive. Here's how.
Save time in creating campaigns: By customizing a pre-designed template for specific marketing campaigns, marketers can save time on creating content, design campaigns quickly, and focus on more strategic tasks at hand.
Add consistency in messaging: Consistent content creation is essential for building a strong brand and maintaining audience engagement. Marketers need to ensure that their content is delivered consistently across all channels and platforms.
The AI content engine ensures consistency in brand messaging and design across all marketing channels, including email, SMS, and WhatsApp.

Improve engagement with personalization: The AI content engine creates relevant and hyper-personalized content based on insights related to customer behavior, preferences, and purchase history from the customer data platform. Using these contextual templates in a marketing campaign will significantly increase customer engagement and response rates.
Creating templates for WhatsApp and SMS in just a few clicks
Our generative AI-powered Content Engine utilizes GPT-4 to create optimized templates designed for any audience or objective you want to achieve, be it connecting with new users or promoting a feature for your customers.
1. Create a brand persona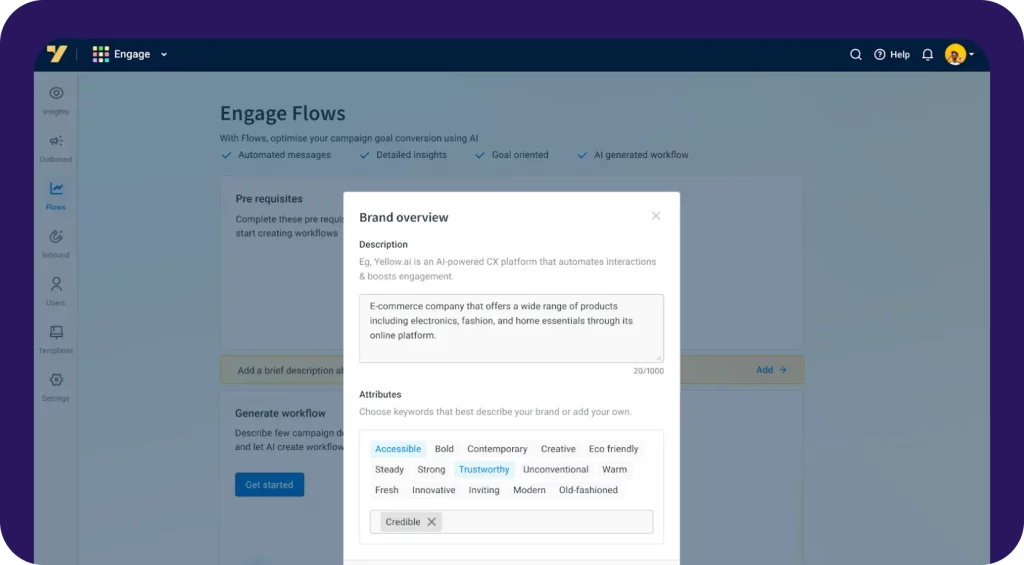 By incorporating the brand persona into marketing content, a brand can communicate more effectively with the target audience, building brand loyalty and trust. Build a brand persona by providing a brief description of the brand and pick attributes that describe your brand. This exercise helps to create a consistent and coherent message that resonates with the target audience.
2. Provide a prompt for the AI content engine
Simply key in details to enable the AI content engine to create content in just a few clicks. Define the goal of the campaign (is it for lead generation, user engagement, customer retention?), the user segment, demographic (age, gender, location) or behavioral data (e.g., did they abandon their cart, or did they browse the page and leave?), and finally the call to action.
This enables the AI content engine to create content that is more relevant to the audience and addresses their specific needs and interests.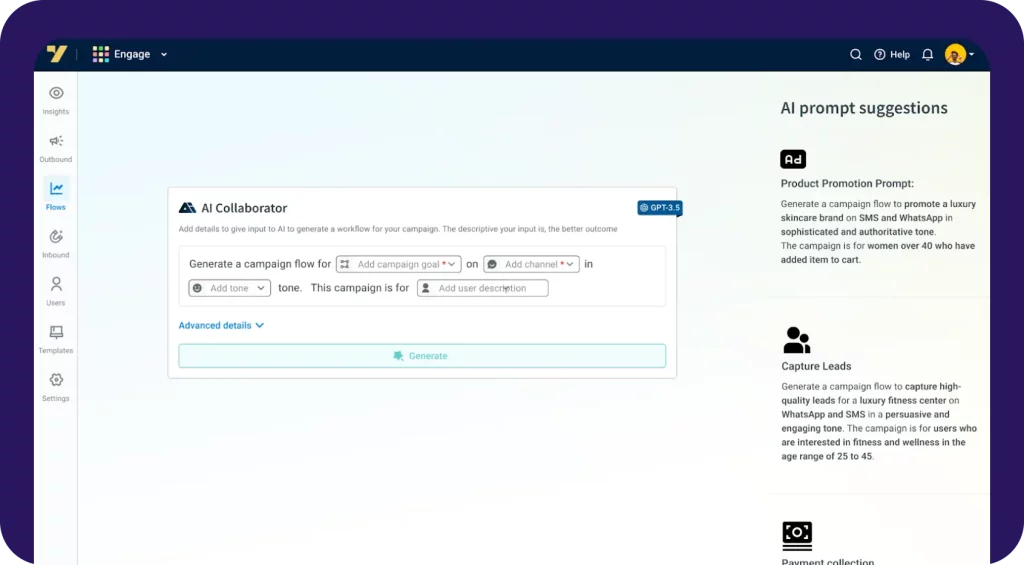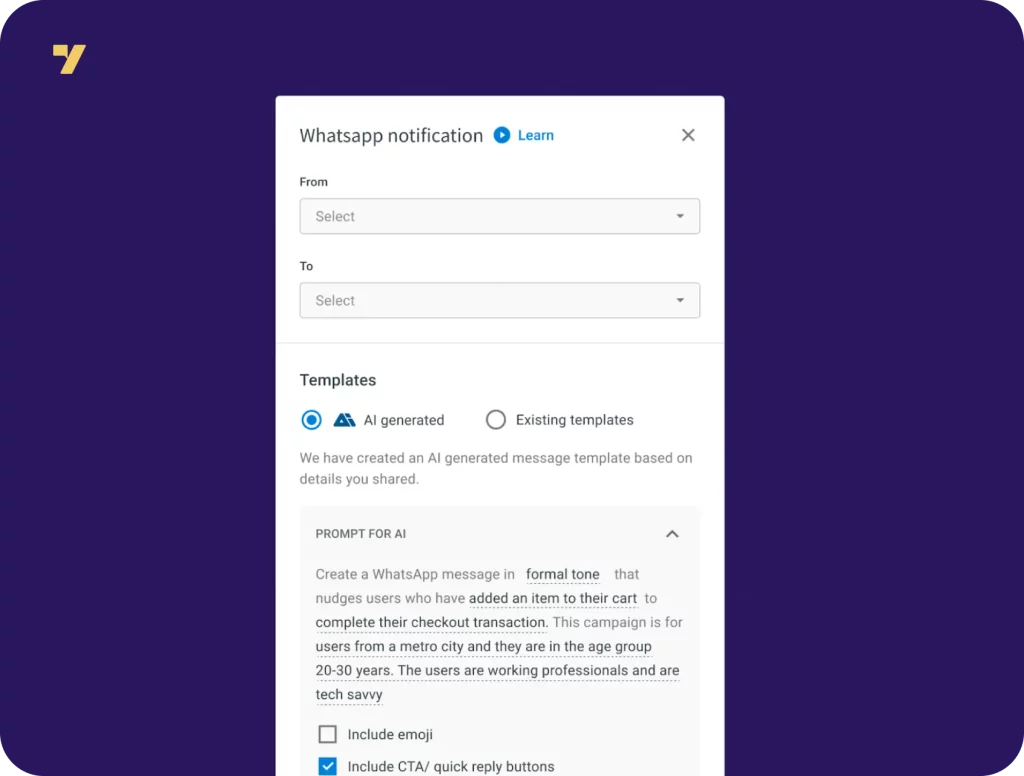 3. Choose the 'tone' via the tone configurator
While crafting messaging templates for campaigns, it's important to use a tone that feels realistic and genuine to that persona. With YellowG's content engine, marketers can specifically choose the tone for the text to be generated.
Select from different tones for the auto-generated template including Urgent, Persuasive, Entertaining, Formal, Informal, Humorous, and Authoritative. By adjusting the tone slider, the content engine changes the characteristics of the suggested template accordingly.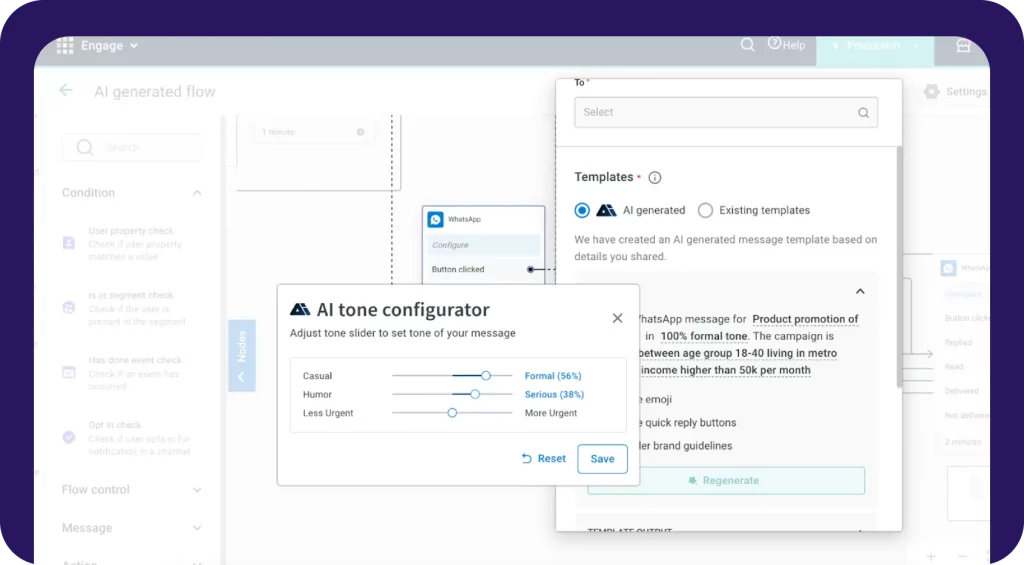 Conclusion
Over the next few months, we will be shipping out generative AI-powered features that'll enable organizations to drive conversational commerce. Stay tuned for more.
Reimagine marketing campaigns with YellowG
Learn how YellowG can enable enterprises to maximize their marketing funnel with relevant, hyper-personalized campaigns.