We're excited to share that Yellow.ai has been recognized as a leader in the G2 Grid Report for Bot Platforms, Winter 2022, based on receiving a high customer satisfaction score and having a large market presence.
With 62 reviews, Yellow.ai received a stirring rating of 4.5 out of 5 stars which positions us higher than other players in the market like TARS, Rulai, Lex, Verloop.io and Google Cloud Dialogflow.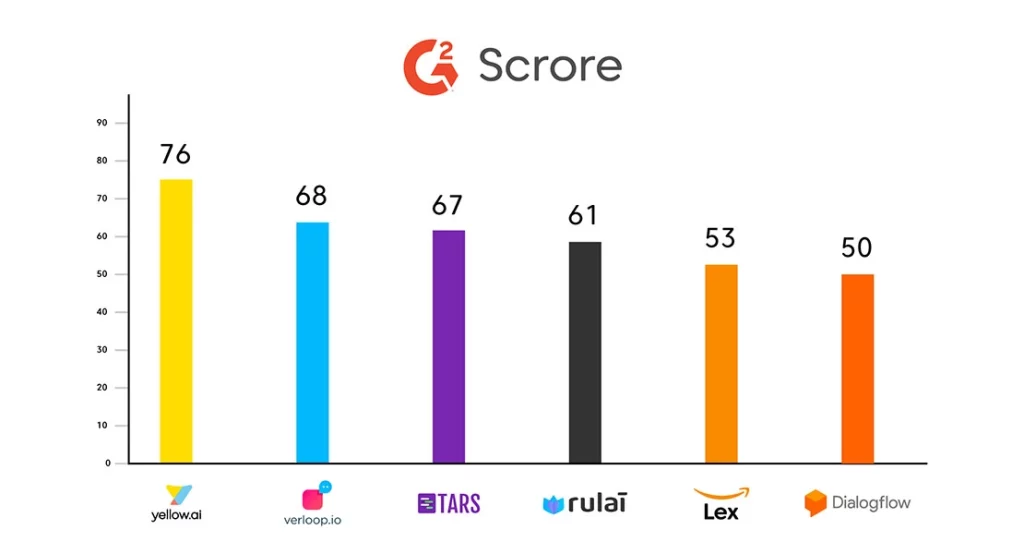 98% of users rated us 4 or 5 stars, 92% of users believe it is headed in the right direction, and users said they are likely to recommend Yellow.ai at a rate of 89%. – Grid® Report for Bot Platforms, Winter 2022
This year alone, Yellow.ai has carved its position as a market leader in G2 reports for 4 consecutive quarters across categories including Intelligent Virtual Assistants, Live Chat, Conversational Support, and Conversational Marketing. 
We are elated with this news and would like to thank our customers for believing in us. Your continued support and trust has made us one of the top 5 global leaders in the conversational AI and customer service space today.
What makes Yellow.ai a leading bot platform globally?
Innovation is at the core of everything we do at Yellow.ai. We help you build robust chatbots and deploy them on multiple platforms like WhatsApp for Business, Facebook Messenger, Instagram, in-app and website, to help streamline your customer journeys and positively affect your bottom line – ​​CSAT, NPS, Revenue growth, and Savings.
We have been recognized and rated better than our competitors in the market on,
1. Ease of both; setup and conducting business
2. Easy deployments
3. Price point and product offerings
4. Product direction of development
5. Quick SLA
6. Capability of duly understanding and accomplishing user requirements in time
We are trusted by more than a thousand enterprises worldwide who accredit us for their CX success and the number keeps on growing.
Talk to our team and get a first-hand experience of how brands are improving their CSAT by at least 20% and increasing sales by $10 million/year using our world-class conversational CX platform. Get a free demo now.