As the world continues to navigate the challenges posed by the COVID-19 pandemic, it's clear that employees have gone through a lot in the past year. Companies have had to adapt to new ways of working, and many employees have faced unprecedented levels of stress and uncertainty. In this environment, it's more important than ever for companies to prioritize the well-being of their employees.
Employees are increasingly recognizing the importance of their overall well-being in the workplace. From physical fitness to mental health, and work-life balance, wellness is becoming an essential part of what employees expect from their employers.
Why is employee well-being so important? For one thing, when employees feel supported and cared for, they are more likely to be motivated, engaged and productive. This can ultimately lead to a stronger and more successful company. In addition, a focus on well-being can help create a positive company culture and foster a sense of community among employees.
At Yellow.ai, we believe that the holistic well-being of our employees is crucial to their overall health, happiness and performance at work. That's why we've launched the Yellow.ai Wheel of Wellness (WOW) initiative, which focuses on four key areas: Mental, Physical, Financial and Social Wellbeing.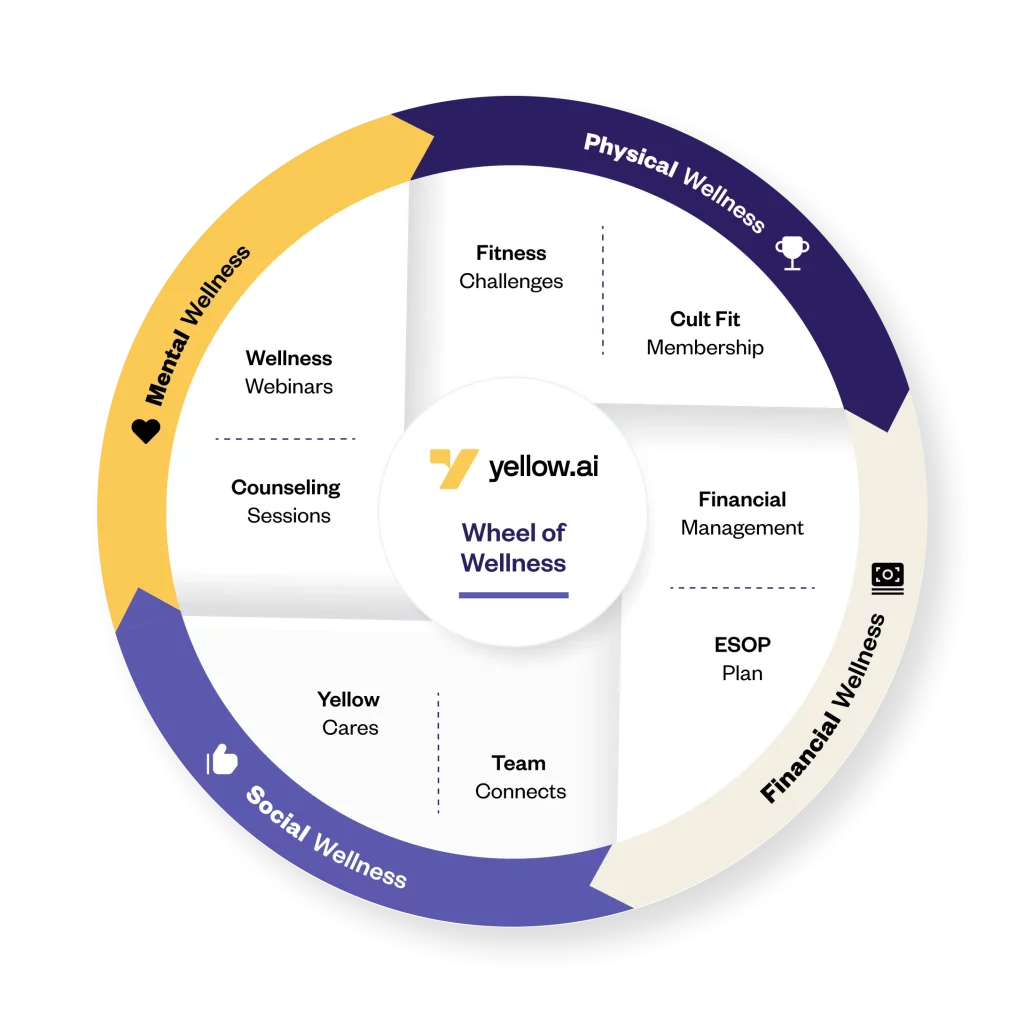 Mental wellness
At Yellow.ai, we understand the importance of mental wellbeing in the overall health and happiness of our employees. That's why we offer a range of resources and initiatives to support their mental health. For example, through our partnership with YourDost, we provide 100% free, unlimited counseling sessions to our employees on demand.
Employees can connect with qualified therapists to discuss a range of topics, including love and relationships, self-improvement, psychological disorders, career and academics. In addition, we provide real-time access to free resources on anything related to mental well-being.
We also offer Wellness Wednesdays, where we conduct webinars every month covering a diverse range of topics that are relevant to a large number of people. These webinars focus on topics such as relaxation, yoga, stress and anxiety, emotional intelligence, nutrition and more.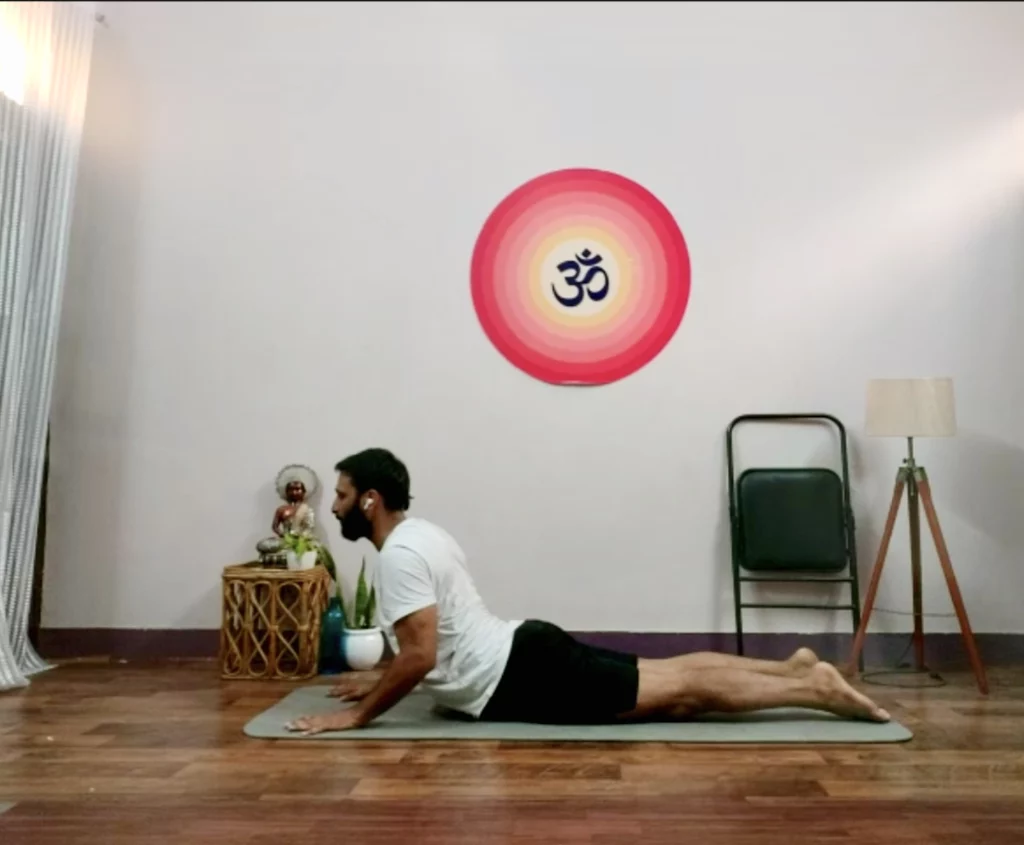 Additionally, we have implemented a global initiative where we have no meetings in the second half of Fridays, giving employees an opportunity to unwind, complete pending tasks, plan for the next week, reducing anxiety and stress to help prevent burnout. To build awareness and share new initiatives, we also send out a weekly newsletter.
Physical wellness
Good physical fitness levels translate directly into energy levels at work, which is why we are committed to promoting and fostering physical well-being among our employees. To support this, we provide access to free gym and community workout memberships through our partnership with Cult.Fit. This includes access to the Elite club membership benefits and digital services, as well as access to Cult partner gyms and group workout sessions. We also offer a range of online fitness sessions through the Cult.fit app.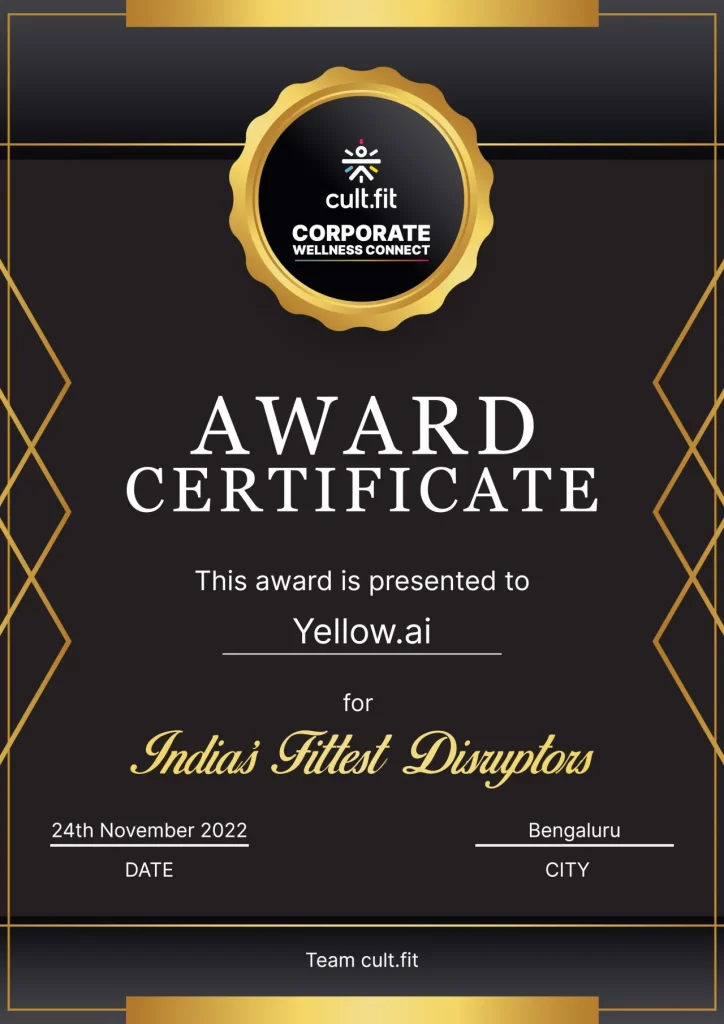 In addition to this, we conduct a fitness challenge every month, giving everyone at Yellow.ai the opportunity to participate. The winners of these challenges receive XOXO reward points, both for individual and team efforts as measured by a leaderboard. We also offer employee health insurance and free or discounted health check-ups and medicines through our Plum partnership. Employees can take advantage of free vision check-ups and unlimited dental consultations. We also encourage our employees to participate in events such as marathons, walkathons and challenges with other companies.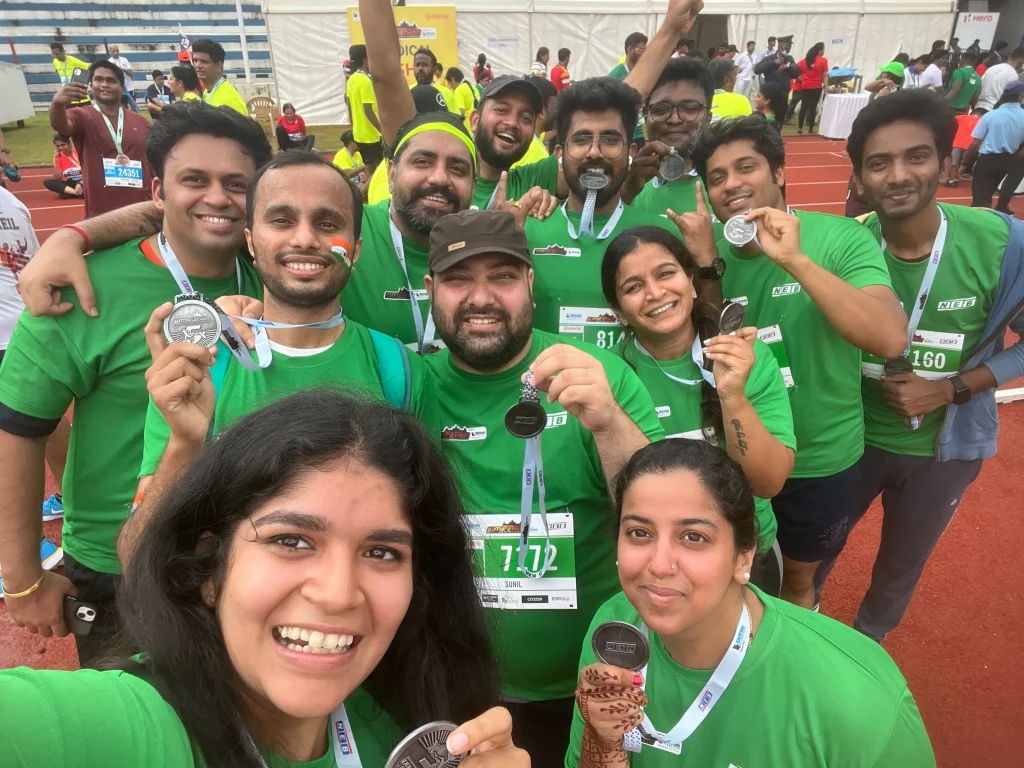 For employees who come into the office, we have recreational facilities such as a snooker table, table tennis and foosball table, allowing everyone to take a fit break during their workday. We also host an annual Yellow Championship cricket match, with the winning team receiving XOXO points. Finally, we offer free healthy lunches for employees working out of our Bangalore office.
Financial wellness
Financial insecurity can be a major source of stress, which is why Yellow.ai is committed to improving the financial well-being of our employees. We offer an Employee Stock Ownership Plan (ESOP) that gives our employees ownership interest in the company in the form of shares of stock. Our ESOP program, totaling $43 million, covers more than 90% of our workforce and has the lowest possible exercise price.
"I am very proud to be working for a company that values its employees by having an employee stock ownership program. It strengthens my belief that I'm at the right place with the right people for my professional and personal growth. It also helps me to have a better sense of ownership in this company, and it's proof that Yellow.ai is a company that invests in the long-term wellness of its employees."
– Pradeep Vhanshetti, Senior Pre-sales Consultant, Yellow.ai
Additionally, we offer a range of financial wellness resources, such as budgeting and financial planning workshops, to help our employees stay on top of their finances and improve their spending management. To support employees during times of financial hardship, we offer a confidential Employee Assistance Program (EAP) as well.
Social wellness
In addition to supporting our employees' mental, physical and financial well-being, we also recognize the importance of social well-being in overall health and happiness. That's why we offer a range of initiatives to support the social well-being of our employees.
For example, we have a Buddy Program in place, which pairs new employees with existing ones to help them acclimate to the company and make connections within the organization. We also have regular team-building and social events, such as outings, picnics and movie nights, to help our employees get to know each other and build strong bonds.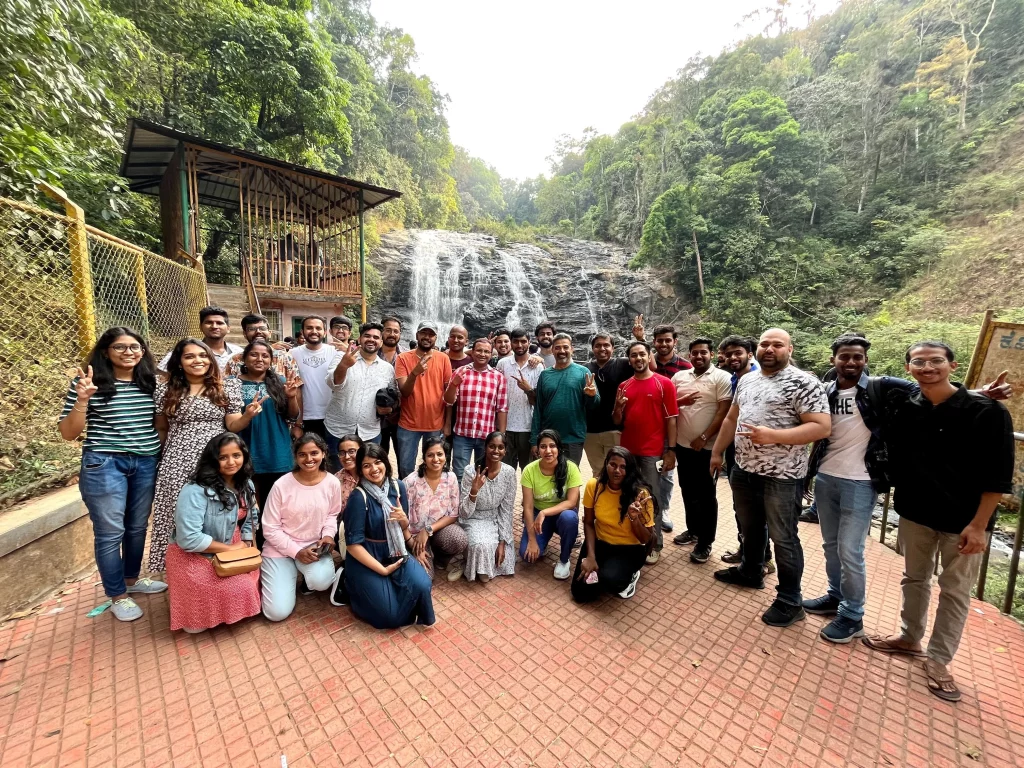 Moreover, we support the charitable efforts of our employees through our Yellow Cares initiative. This program allows employees to volunteer their time and skills to support causes they are passionate about, and we provide resources and support to help them make a positive impact in their communities.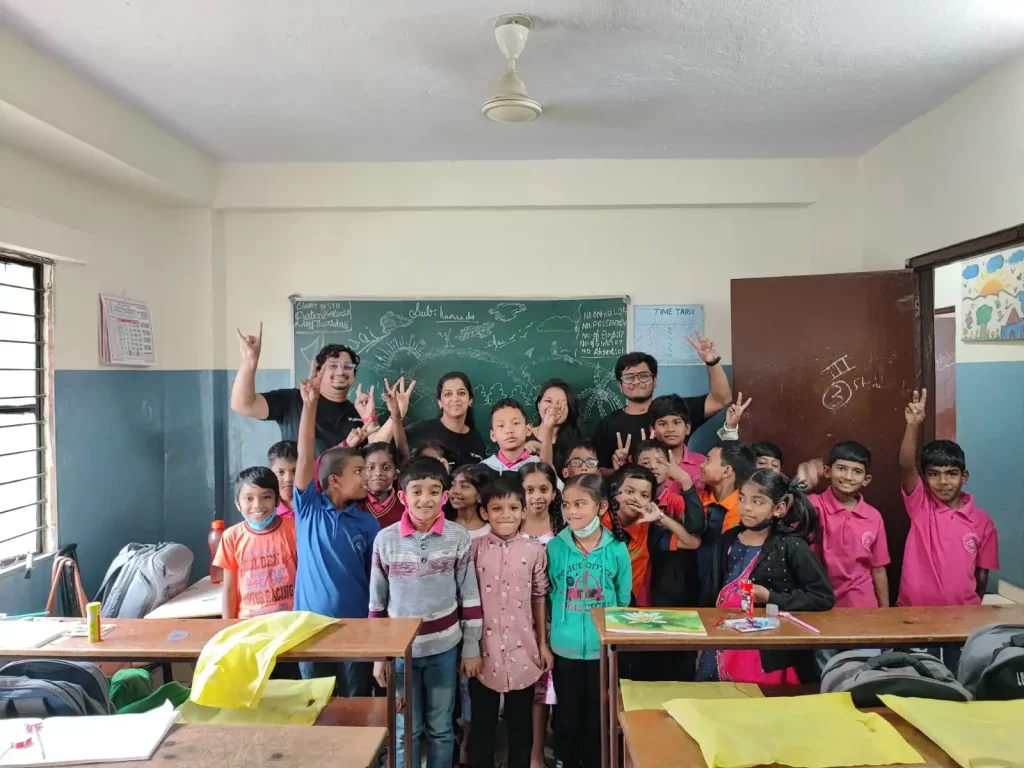 In conclusion
At Yellow.ai, we understand that employee well-being is not only crucial for the overall health and happiness of our employees but also for the success of the company. That's why we have made the Yellow Wheel of Wellness (WOW) a core pillar of our employee value proposition (EVP).
As we plan for the next big leap in personalizing the wellness experience with conversational AI at its core , we are designing a wellness buddy , AVA, who will be the personal wellness partner for every single employee. AVA is designed to be an intelligent conversational agent that can understand the employee's well-being needs, provide personalized recommendations and track their progress. AVA will be able to provide personalized, on-demand support for employees in areas such as mental health, physical fitness, and work-life balance.
At Yellow.ai, we're constantly looking for new and innovative ways to support our employees' well-being. By leveraging the latest technology, we're able to create a personalized and proactive approach to employee well-being that will help our employees stay healthy and happy.