The recent buzz around ChatGPT has propelled AI into a higher plane of nuanced, natural conversations. Users across the globe spent hours "talking" to the bot, in awe of its ability to respond like a human.
ChatGPT is great for generic conversations. But, when it comes to creating a bot for our business needs, is it really that easy?
Unfortunately, not. And that is exactly the gap that we set out to fill while making Yellow.ai a self-serve platform.
The Challenge
Most of the products in the conversational AI space fall into two broad categories: a) Easy to set up, but with limited customization & ability to solve business problems; and b) Enterprise-ready, highly customizable platforms, but complicated and code-heavy.
Organizations today face this dilemma – if they opt for a highly customizable platform, they need to heavily rely on their developers to build, train and manage chatbots. Business users have almost no control over the bot-building process – impairing the adoption of the tool and the innovation that can come from it. This severely limits an organization's ROI from a powerful conversational AI platform.
So, is there a way to strike a balance? Can we build a platform that is not only powerful but also easy to use?
The solution- Do more with less
Our vision at Yellow.ai is to put conversational AI and automation abilities in the hands of every single business user, from the founder of a small business to the support admin at an enterprise. To achieve this we have built a conversational AI platform that enables users to design, build, test, and launch virtual assistants quickly without code. We also invest heavily in our ecosystem to provide users with the best possible support, enablement, and community, that unleashes innovation from the bottom up.
Yellow.ai's low-code, self-serve cloud enterprise grade platform is designed for technical and business users alike. Users can employ pre-built templates to build conversations, take advantage of dynamic NLP that eliminates bot training, and take their chatbot live in minutes, saving countless hours and increasing operational efficiency.
The response from our users has been amazing. In fact, this is what one of them had to say.
"I have seen multiple platforms that allow us to create journeys by using code. We need a developer to do everything, but with the help of yellow.ai, it basically helps us to get rid of dependency with the developer and it's an easy platform to understand how it works."

—Huzaifa Dhapai, Digital Mktg. Trainer – IIDE, Founder – WebVerge
The three pillars of Yellow.ai's self-serve approach
Enriched UI/UX ( seamless onboarding)
Templates & marketplace ( pre-built workflows)
Enablement and support (community, academy, docs, guides)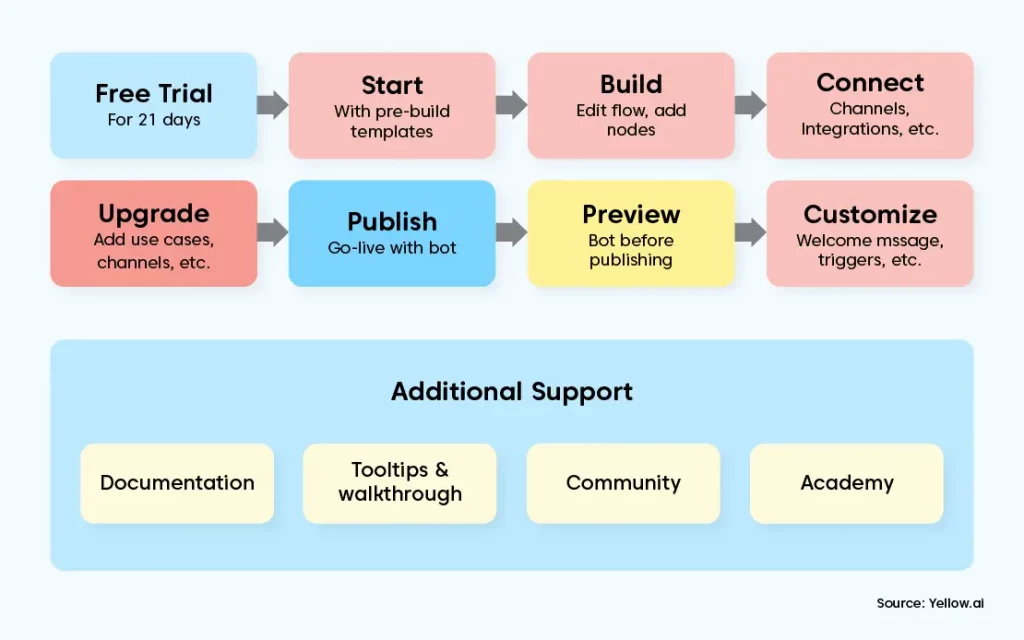 We offer a free trial on our website for 21 days, so that users can sign up on the platform and start building a bot from day 1.
Using our marketplace, they can choose from 150+ templates and import a bot template based on industry or a specific use case. We also support different channels, and integrations so that users can experiment with different use cases.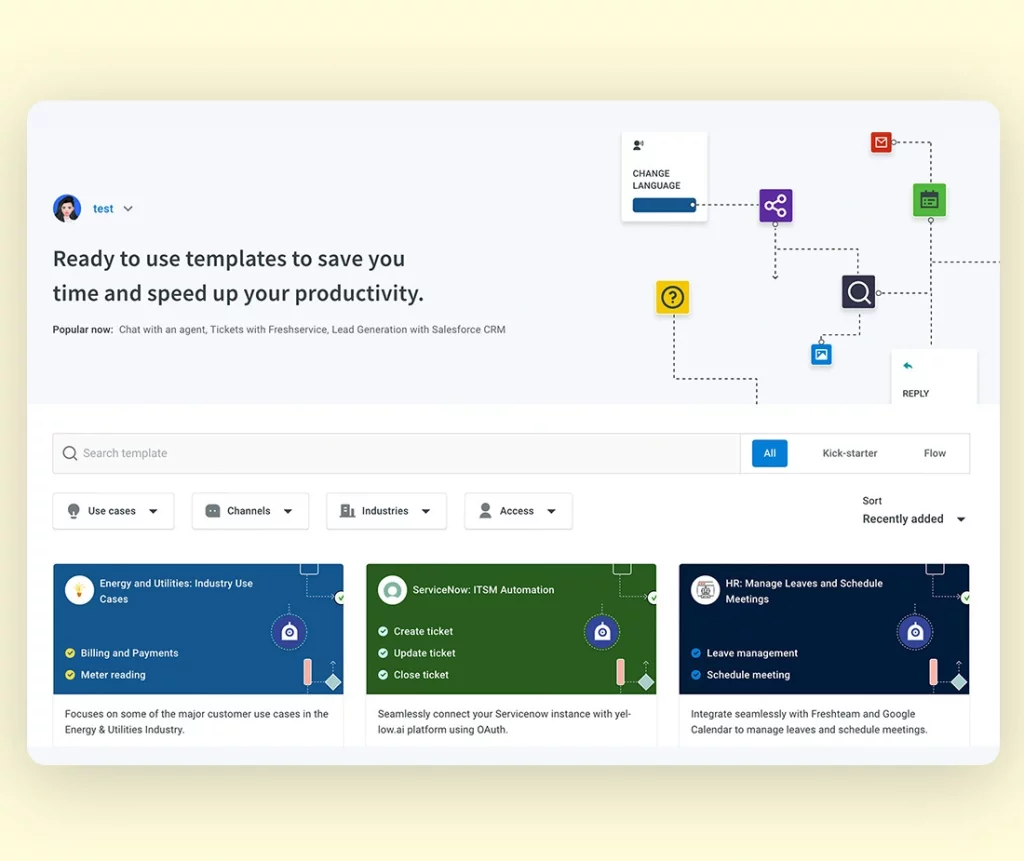 Once the design is done, users can preview the bot, test the workflow and take it live. Using the dashboard they can measure the bot's performance and take stock of how well it worked.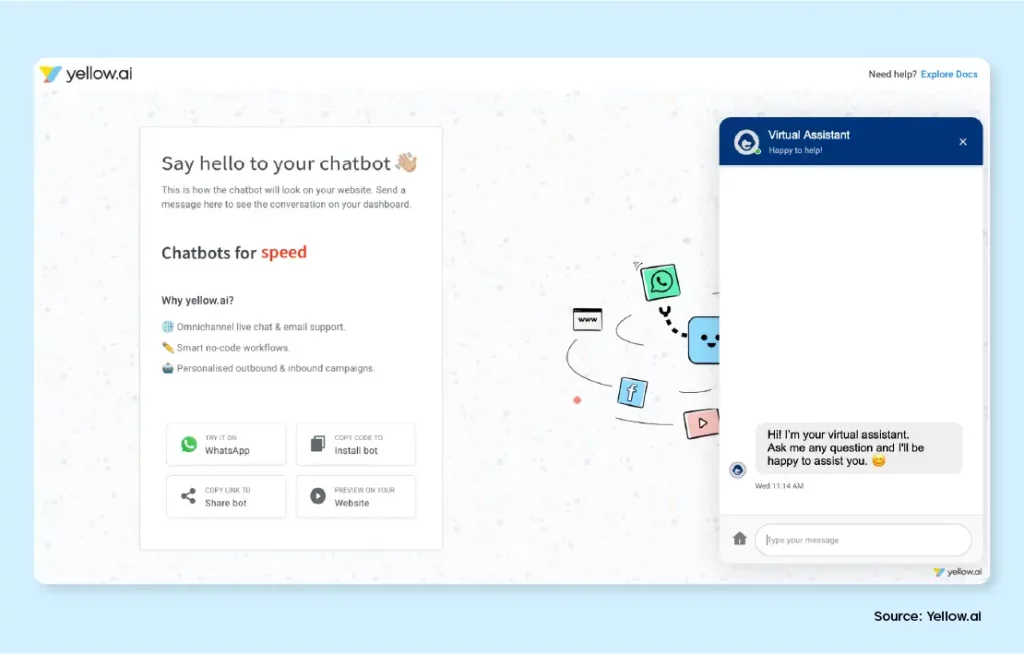 To enable users to understand the platform better, we've also curated tooltips, walkthroughs, and feature descriptions.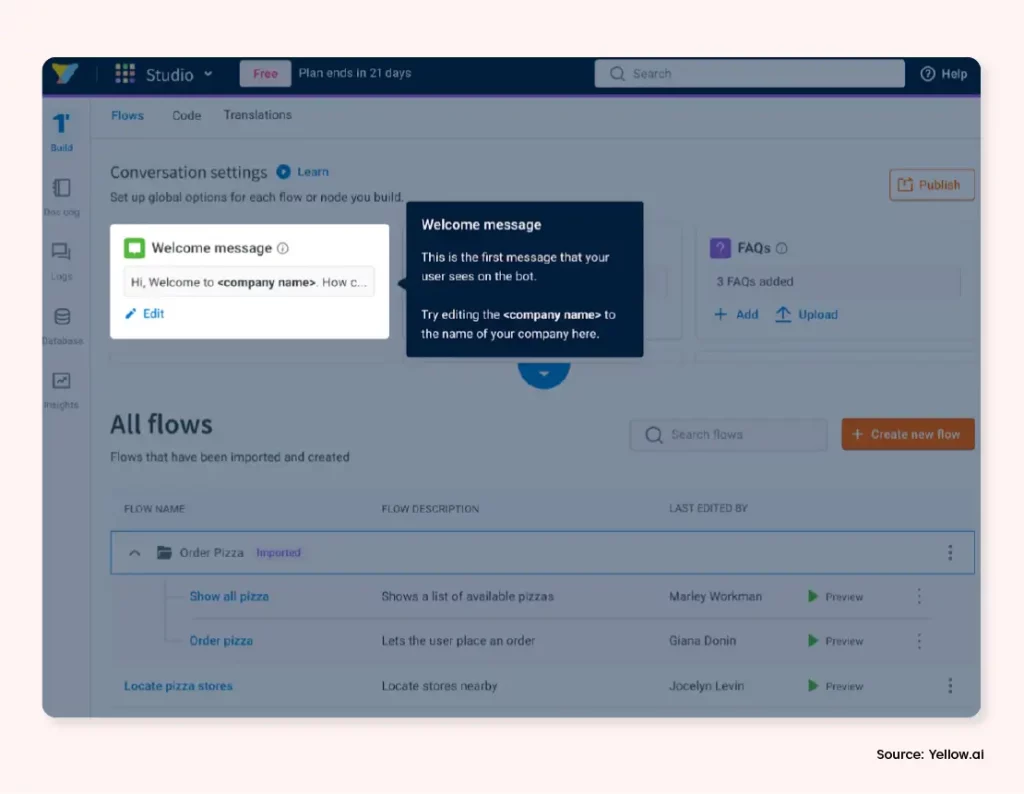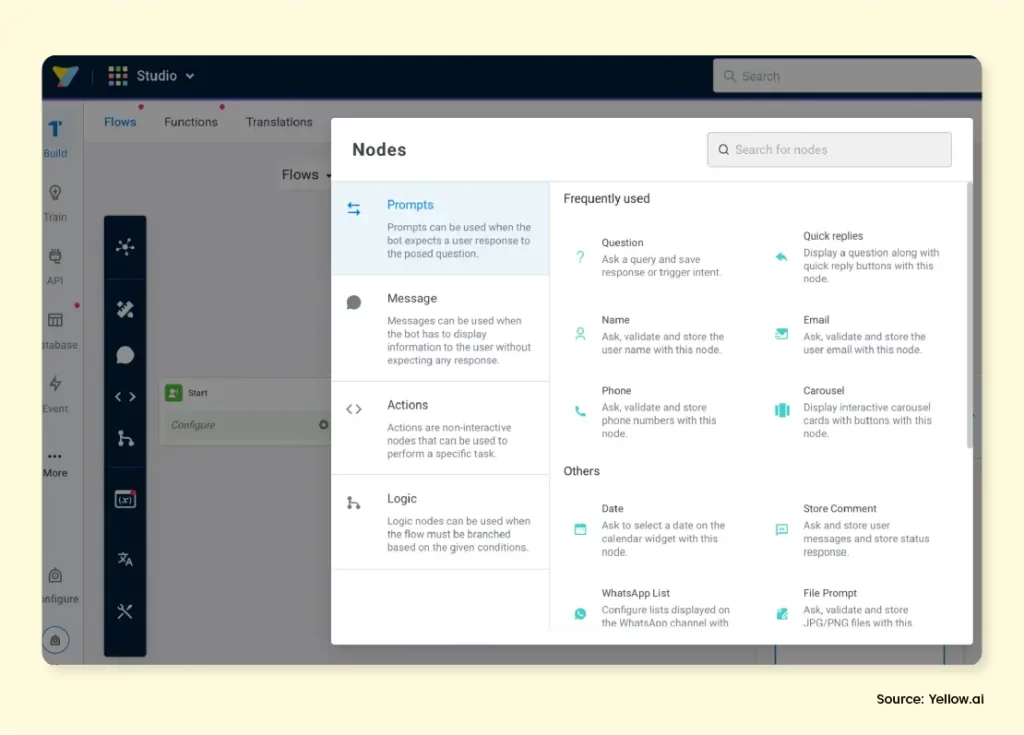 What's more, users can also access training resources in our academy and document library. Additionally, they can seek help via our support chatbot and community.
What is Yellow.ai Academy?
Access to extensive training and courses, where users can learn more about the platform, and showcase their skills. In the past year, we've had 1841 user registrations and 64 training sessions.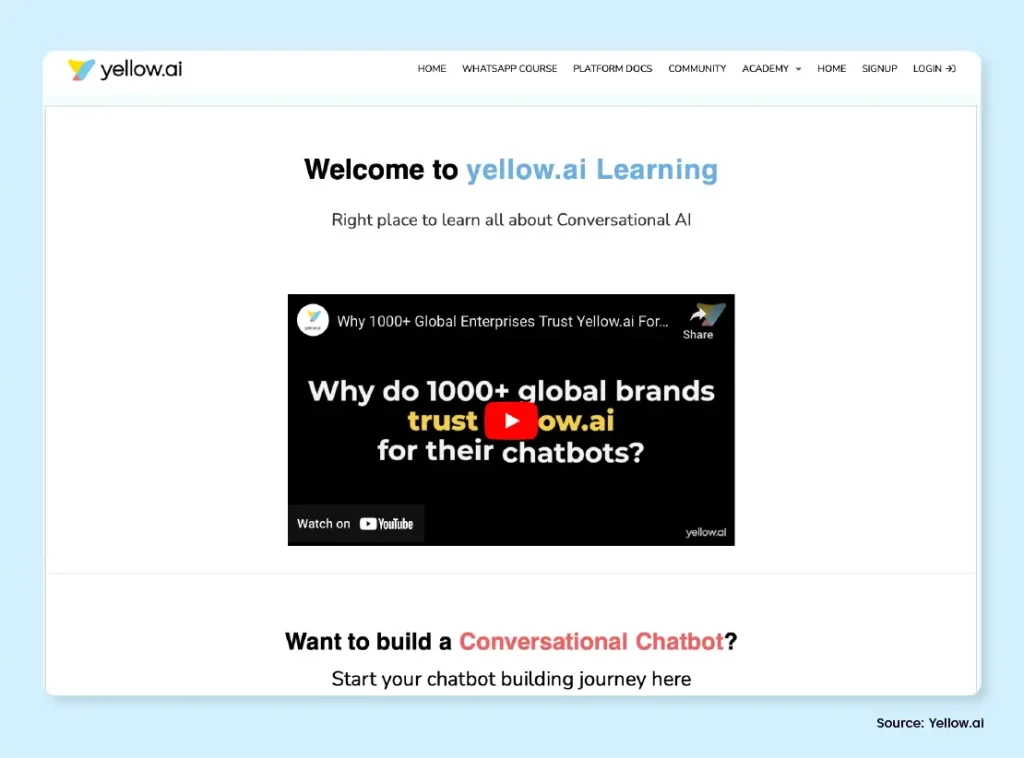 What does the Yellow.ai Document Library cover?
We've added 150 new articles, a spotlight search to access documents easily. This has reduced platform-related queries by 60-70%.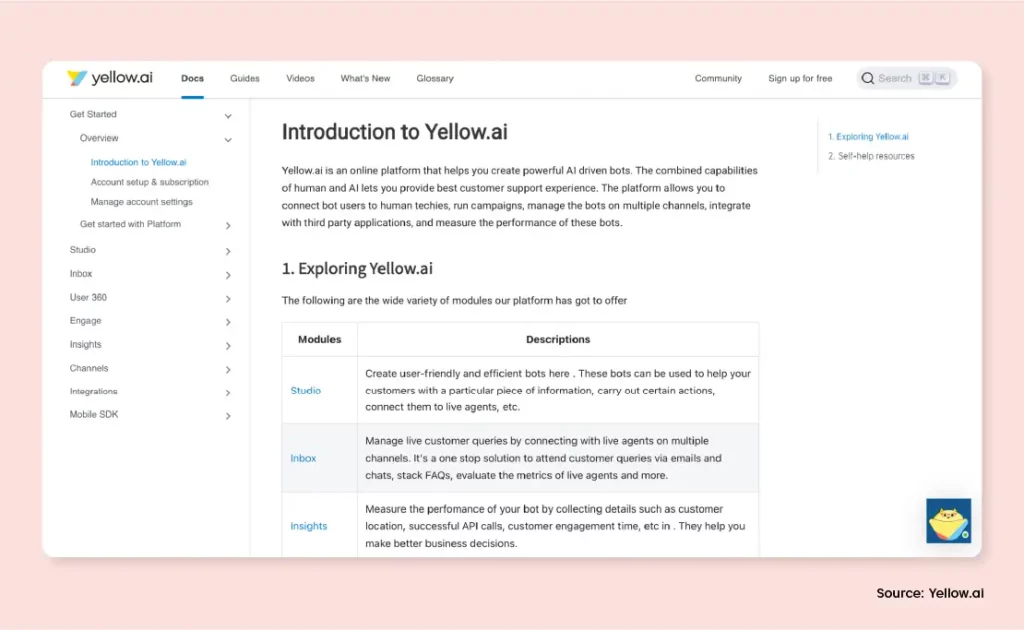 How can Yellow.ai Community help you?
The Yellow.ai community has 233 members; 926 questions have been posted on the community and users typically receive replies in less than 5 hours.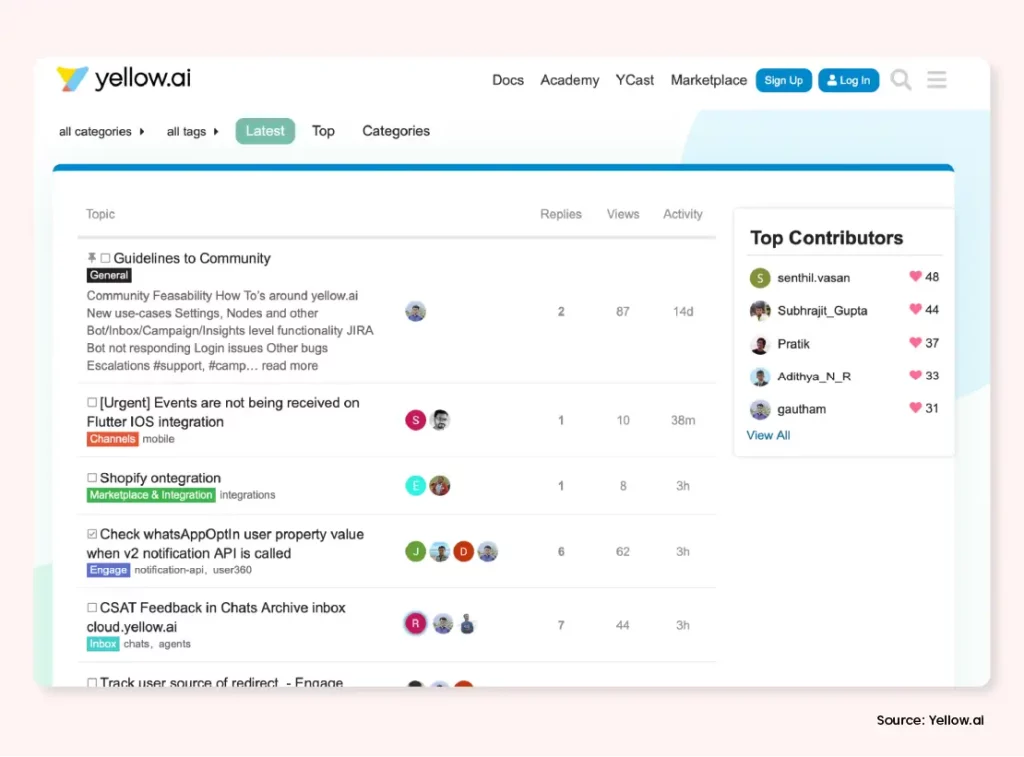 The impact
Launched 1000+ bots on the cloud platform
Opening up the platform and making it more accessible to business users has significantly improved the pace of innovation. In the past year, our customers launched more than 1000 bots, the highest ever in recent times.
Drove 30% adoption using marketplace
With 150+ templates on the marketplace, users unlocked the potential to automate thousands of use cases across industries.
Reduced code by 80% for faster deployment
By adding templates and nodes, we reduced the code on the platform by 80%. With our drag-and-drop builder, users could easily design, prototype and launch flow, instead of relying on their technical teams. Now it takes less than 2 days to launch a prototype.
Unlocked creativity through enablement
We've conducted multiple hackathons with 100+ developers, and partners and were amazed at the display of creativity – from building a taco bot to scouring through 300 pages of the 'Dungeons & Dragons' guide, they found wonderfully creative ways to explore the possibilities that Yellow.ai has to offer.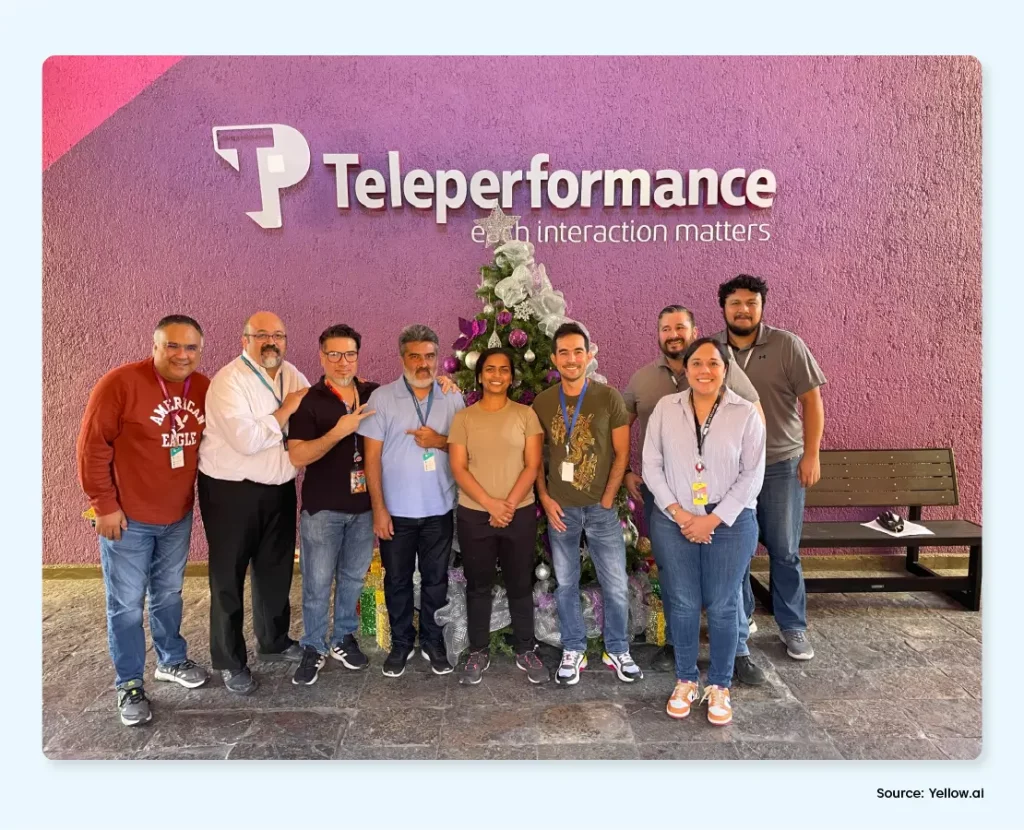 Note: We're working on something that will help you create your own bots based on a custom-made template. Stay tuned!
See our self-service mode in action.
Note: We're working on something that will help you create your own bots based on a custom-made template. Stay tuned!