Be it real estate business owners, agents or customers, everyone is benefitted from the use of chatbots in terms of time, money and other additional resources. Chatbots for the real estate industry has brought in a wave of a truly exceptional customer experience using virtual channels such as websites, mobile apps and social media platforms.
Before the pandemic, real estate was primarily an in-person affair, where a customer and an agent would physically wander across the city and visit properties of interest. It was indeed an exhausting process and resulted in an extra cost for the agents.
With the help of chatbots in the real estate industry, the buying pattern has changed. Customers prefer surveying all the properties online, shortlisting and then going for a visit. They carefully scrutinize the images, location and reviews of other customers, based on which they move forward in the sales process.
In this blog, we aim to provide you with the top use cases of real estate chatbots that can help you convert customers easier and faster. We are willing to assist you in the process of automating business processes and improving customer satisfaction for your real estate company.
Importance of chatbots in the real estate industry
Although it is difficult to collect industry-specific data on the usage of chatbots, the real estate industry is at the forefront of benefiting from using conversational AI, followed by travel, education and healthcare.
Implementing real estate chatbots helps in reducing the burden for the agents so that they can focus more on finding more relevant properties and working on the marketing strategy. A survey shows that conversational chatbots can help enhance employee productivity by automating following up on scheduled tasks, networking with the customers and delivering personalized attention.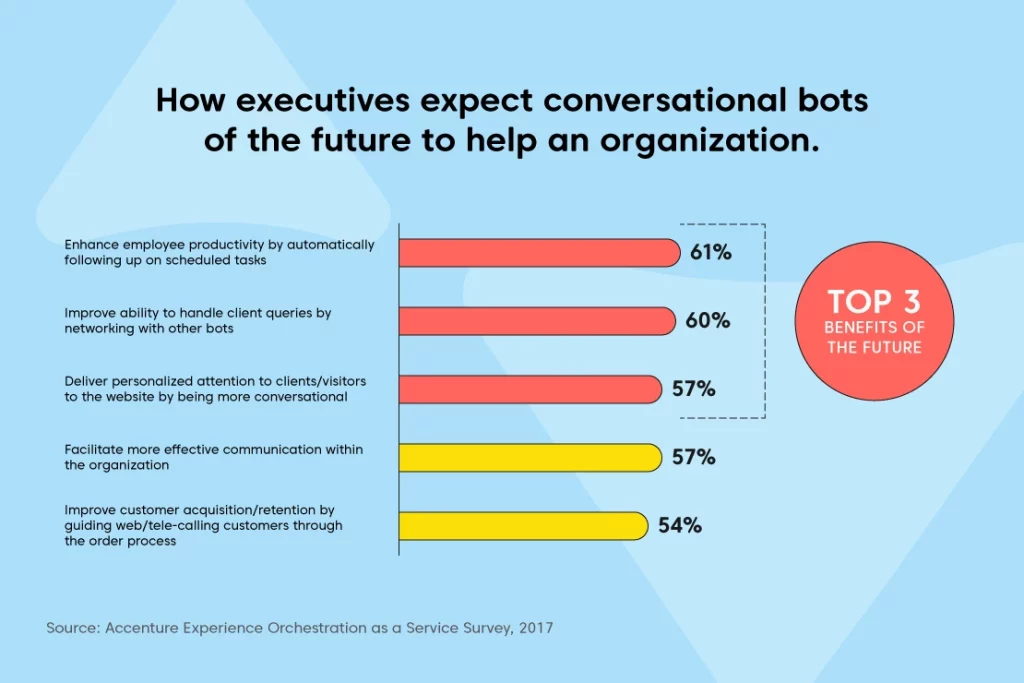 From customers' perspective, chatbots in the real estate industry efficiently help them in finding properties for buying and renting as they can provide instant responses in multiple languages and exhibit relevant properties by understanding customer preferences.
Top 15 use cases of chatbots in the real estate industry
There are an infinite number of business operations that go behind running a real estate organization. Some of these are mundane and repetitive while some need the emotional intelligence of human resources.
We have listed below 15 tasks that can be automated using a real estate chatbot. Depending on your feasibility and business processes, you can use conversational AI for one or all of these use cases.
1. Resolving queries about properties in real-time
Chatbots are known for their contribution to supporting customers and resolving queries in real-time. In the real estate industry, customers will usually go for a property hunt after their offices and have queries at odd hours and days.
It is a challenge for companies to get back to their customers in real-time. This is when chatbots come in handy. They can be the first line of defense that respond to your customers instantly, and give them an estimated time of resolution in case of a complex query.
2. Building customer profiles as per demographics
Chatbots can take customer data such as their preferred location, budget, requirements, property type and if they are looking for any special amenities. Based on this data, they create customer profiles that can be further kept under one umbrella with similar profiles.
Data converted into information becomes useful for real estate companies. Chatbots as well as human agents can use this well-categorized, segregated information to target their customers based on different properties.
3. Converting visitors into leads
If you want to capture your website visitors and convert them into leads, a real estate chatbot is a tool for you. With immediate and personalized attention, chatbots can engage visitors and ask for their requirements in detail.
Once a visitor enters the details, your sales representatives connect with them and push them forward into the sales process. Even if a customer is not willing to share their details, chatbots can engage with them and help them build a relationship with the company.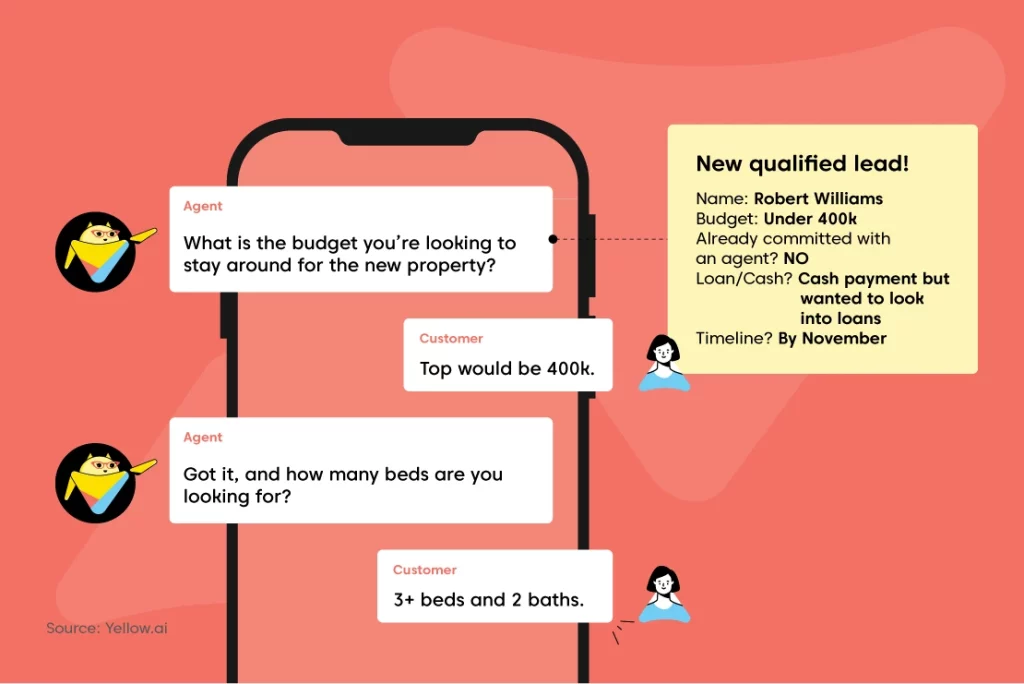 4. Providing virtual property tours
The most important feature of online property search is photos and videos. With the help of these, customers are able to figure out everything about the property. They can get the gist of the structure, built-up area, placement of the rooms, furniture and furnishings and the location.
Real estate chatbots can not only share the images and videos of the properties but can provide a complete virtual tour to the interested customers. Customers can be 100% aware of all the pros and cons before scheduling a property visit.
5. Scheduling property visits
Chatbots in the real estate industry can enable scheduling a property visit without making any calls or sending emails. Customers can directly select a time from the available time slots and visit the place at their convenience.
This feature reduces the number of calls for property dealers and real estate agents and allows them to focus more on converting the prospects into paying customers.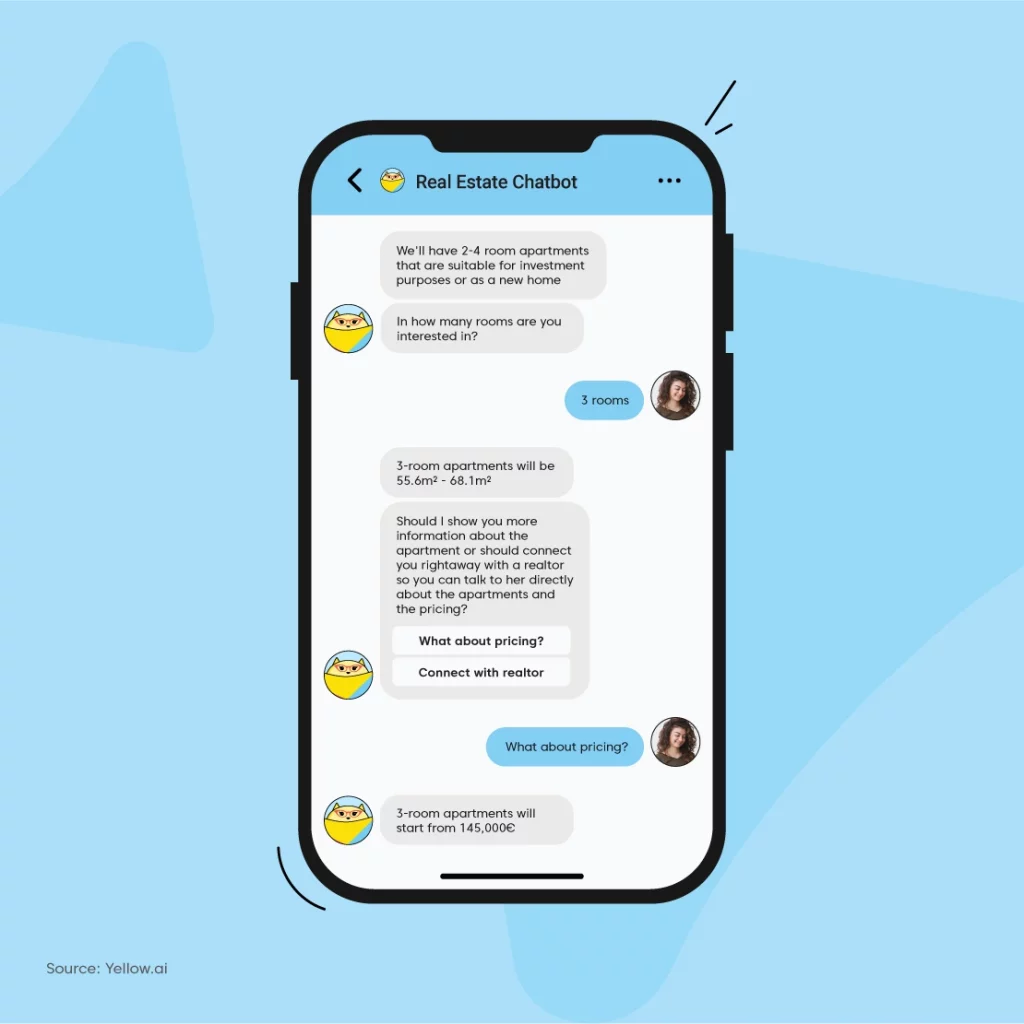 6. Automating follow-ups
Sales representatives and real estate agents clearly understand that in order to bring in some conversions, follow-ups are extremely important. Customers tend to be more inclined towards businesses that engage and build a rapport with them.
Conversational AI in real estate can help automate follow-ups and provide answers to customer questions if any. It can provide a seamless agent handoff in case of complex queries.
7. Sharing loans, finance and mortgage details
Buying or renting a property is not as easy as a pie. Customers survey all possible options and go with a property that provides the most feasible loans or mortgage options. It is crucial for a real estate business to provide complete details about the available payment options to the customers.
Real estate chatbots can help businesses share information with their customers without any human intervention. They can calculate loans and give the customers the most convenient and economical deals.
8. Collecting customer reviews
Reviews are another great source of building trust and increasing traction on your business website, app or social media platforms. Especially in the case of properties, customers rely a lot on reviews and ratings.
With the help of chatbots in the real estate industry, businesses can collect customer reviews. It is easier for customers to provide reviews on a chat while interacting instead of filling out forms or speaking with an agent.
9. Increasing customer engagement on the website and other channels
Visitors coming to your website or other channels will stay if there is some kind of customer engagement. With chatbots, you can reduce the bounce rate and increase customer engagement without any extra effort.
You can deploy a chatbot simply to welcome visitors and lead them to the relevant web pages as per their requirements.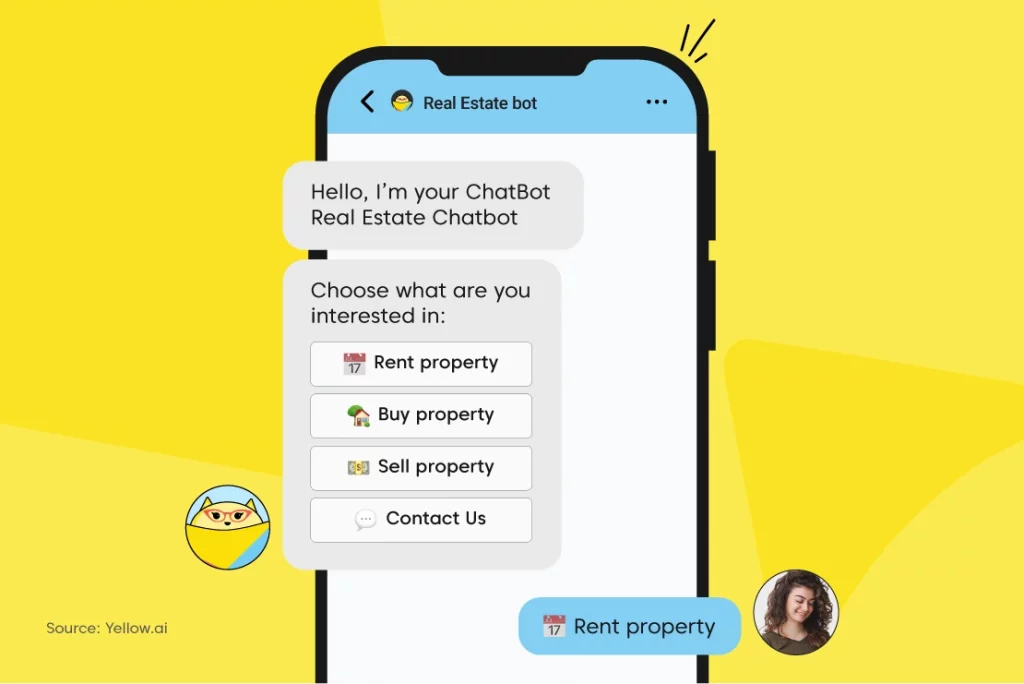 10. Easing documentation and record-keeping
Once a customer decides to buy or rent a property, there is a lot of paperwork required to close the deal. For security reasons, businesses need to verify where their customers come from, their profession and other details.
Chatbots help in collecting and verifying the documents. They can also share documents such as a rent agreement or a sales deed with the customers.
Sharing documents through a chatbot also helps in record-keeping which is beneficial for businesses as they can refer to it anytime they need to.
11. Providing assistance throughout the sales process
There are a number of questions a customer might have related to a property or its sales process. For an instance, a customer may need answers related to the power backup or a copy of the building plan. Such simple questions are time killers for human resources and can be easily automated.
Using real estate chatbots, businesses can provide answers to all the questions and help customers glide through the sales process.
12. Understanding customers' intent
Using natural language processing (NLP), chatbots understand the customers even when they communicate in a casual day-to-day language. They allow customers to interact in a flexible language unlike rule-based chatbots.
For example, if a customer sends a message "I need to buy a new house in Houston.", the chatbot understands that the customer is looking for a residential property and responds accordingly.
13. Retaining previous customer interactions
Another useful feature of real estate chatbots is their ability to retain and record all the previous data about every customer. Beginning from the customer demographics and their requirements to every query and the final conversion, chatbots remember all the details and leverages them whenever possible.
For example, if a customer wants to buy a property in California, they share the requirements and leave your website. Whenever that user visits again, the chatbot will remember the requirements and will share relevant listings and take the conversation forward.
14. Sending payment reminders
Chatbots can send notifications to the customers about new property listings, installment reminders and any fraudulent activities in customers' accounts.
Using notifications, businesses can charm their customers, lure them to the website or mobile app and engage with them. Reminders can help customers to meet the payment deadlines and avoid any kind of penalty fees or punishments.
15. 24×7 online presence
Chatbots enable your company to be online and available for your customers round the clock. If they need a property tour or have simple questions about the property, your business can be always available.
This will build trust in the hearts of your customers and lead to an increase in customer satisfaction and customer retention.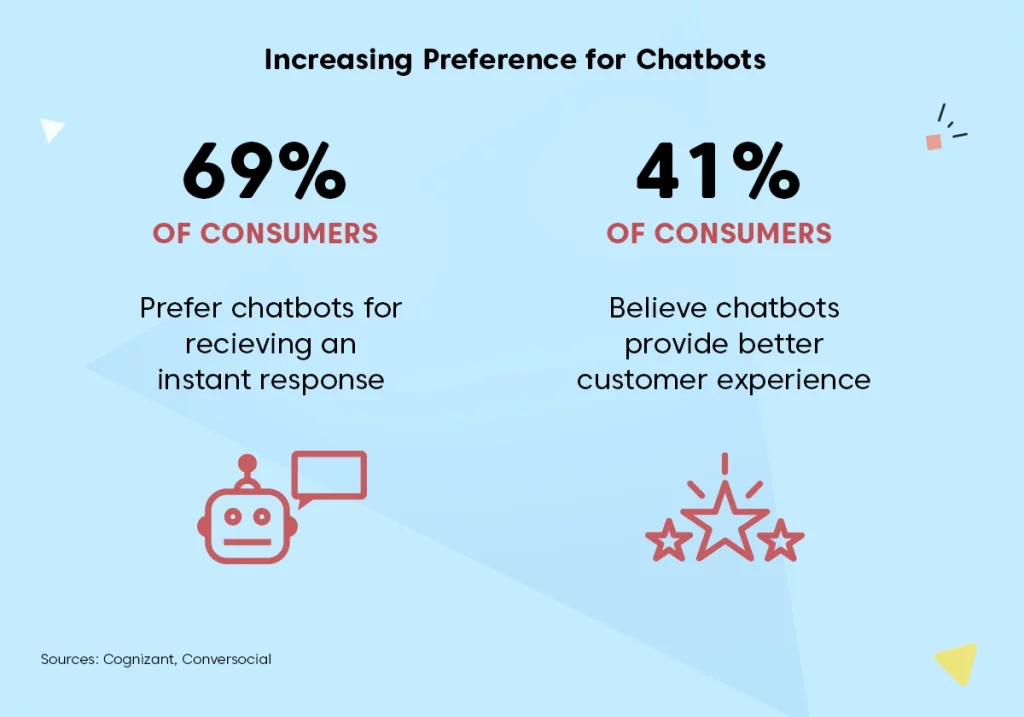 Businesses can use chatbots as per their business requirements and processes. These use cases of chatbots in the real estate industry are just examples to demonstrate what can your business expect with conversational AI and automation.
Benefits of using chatbots in the real estate industry
Real estate organizations deploying chatbots for varied use cases have seen nothing but benefits. Here is a list of benefits that your organization can observe by using real estate chatbots along with the team to run and automate business processes.
1. Boost customer satisfaction
With unstoppable customer engagement, no-barrier customer support and the best possible customer experience, customer satisfaction is bound to increase.
In fact, customers prefer interacting with chatbots to receive instant responses and have a better shopping experience.
2. Multilingual customer interactions
Your business won't need a translator for interacting with customers from across the globe. Chatbots can help you interact with customers in multiple languages and take your business to a global level.
With this feature, your business can let the customers be themselves and support them without any language barriers.
3. Omnichannel customer engagement
Give your customers a truly omnichannel experience with chatbots in the real estate industry. Whether they like to contact you on the website, mobile app or social media platforms, deliver a unified experience.
Omnichannel customer engagement can help you tear down silos and obtain flawless insights from all your communication channels.
4. Easy integrations and direct data entry
AI chatbots help simplify business processes by integrating different software that you might be currently using. Businesses can integrate billing and invoicing software, salesforce, fresh sales and any other software of their choice.
Chatbots also help you feed data provided by the customers directly into your databases so that you don't need a separate team for data entry.
5. Growth in brand awareness and sales
The ultimate aim of any business is to increase revenue by increasing its brand awareness. Real estate chatbots can help you achieve that.
By delivering an unparalleled customer experience businesses don't just create happy customers, but brand ambassadors for your business.
Conclusion
In our attempt to provide a detailed knowledge of chatbots for the real estate industry and its use cases, we hope we helped you with the answers that you were looking for. Real estate chatbots can help your business in delivering a customer experience like no other.
If you are willing to take a detailed look and understand the working of AI chatbots, you can schedule a demo with us. Our experts will take you through the process and help you with any and every question that you may have.