Recently, the Limelight Networks' State of Online Gaming Report revealed that the average Indian gamer is a millennial who spends over 8 hours a week playing video games. Another study from Digital Media Trends Report by Deloitte mentioned that browsing the internet and engaging on social platforms was one of their favourite activities, indicating that the millennials and gen Zs prefer to spend time having digital interactions over the web.
With younger consumers, comes a whole new set of expectations – instant gratification, 24/7 customer service, gaming forums and FAQs and advanced services like in-app purchases and upgrades.
This is very clear from the statistics of our platform usage, suggesting exponential growth in 2021 alone in the online gaming sector, with more users being interested in our platform and jumping the conversational engagement bandwagon.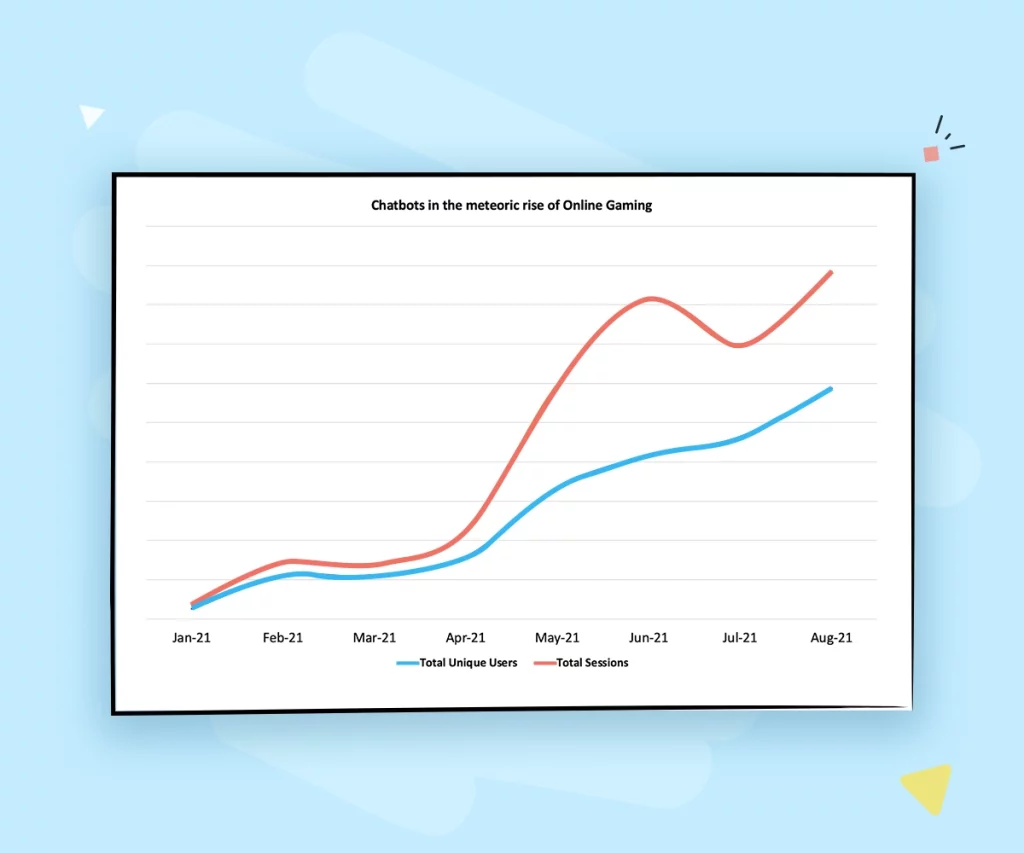 APAC clocks in at 55% of the market share of 2021 in Online gaming, of which the Indian gaming market is expected to grow to a whopping $3.91 B by 2025, as forecasted by KPMG.
The huge growth in this sector is due to multiple factors, chief among them being
Affordability of mobile devices – people no longer need expensive gaming consoles like the PS5 or XBox to have rich, graphic-filled gaming experiences.
Faster and cheaper Internet/data providers.
COVID-19 pandemic – which has rendered us to be dependent on these devices more than ever before.
The motivation to automate has always been driven by volumes. The gaming industry is no different in this aspect. Like nearly every vertical that faces immense volumes of traffic, the mobile gaming sites and apps need a cost-effective, one-size-fits-all kind of an approach that will free up their live agents for interactions that can't be addressed by a bot. No one wants to leave the app to get resolution for seemingly miniscule issues. And herein lies the biggest selling point of using bots to solve common issues.
The trends we have observed from the users clearly suggest that the chatbot solution is working in freeing live agents from answering repetitive questions resulting in massive savings when computed across use cases.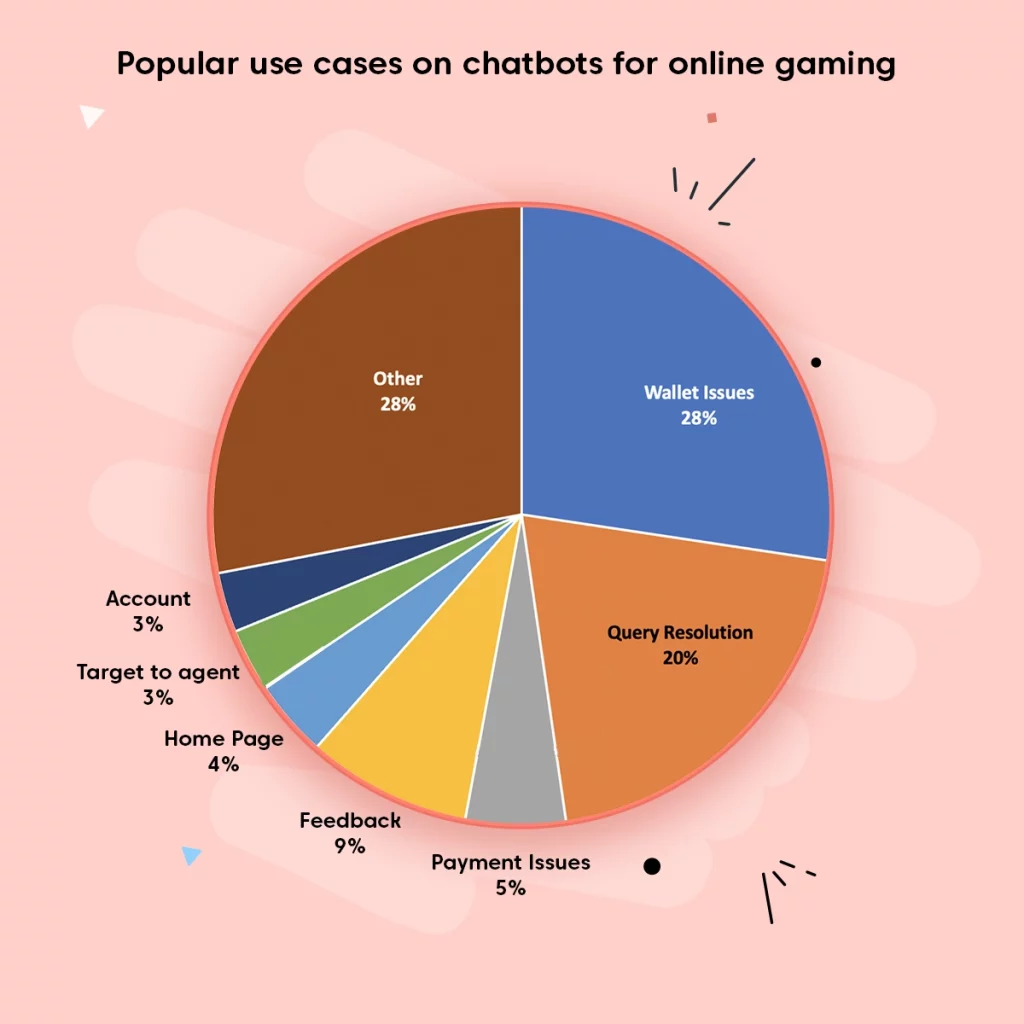 For the hours that a chatbot is deployed across different use cases, we studied the ROI from the chatbot for one of our customers – one of India's leading gaming portals with clientele spread across the country, especially Tier II and III cities. Here is the waterfall chart detailing the same.
It is clear that savings of up to 60.38% of process costs are achievable by deploying chatbots to solve the most common issues that come up for users.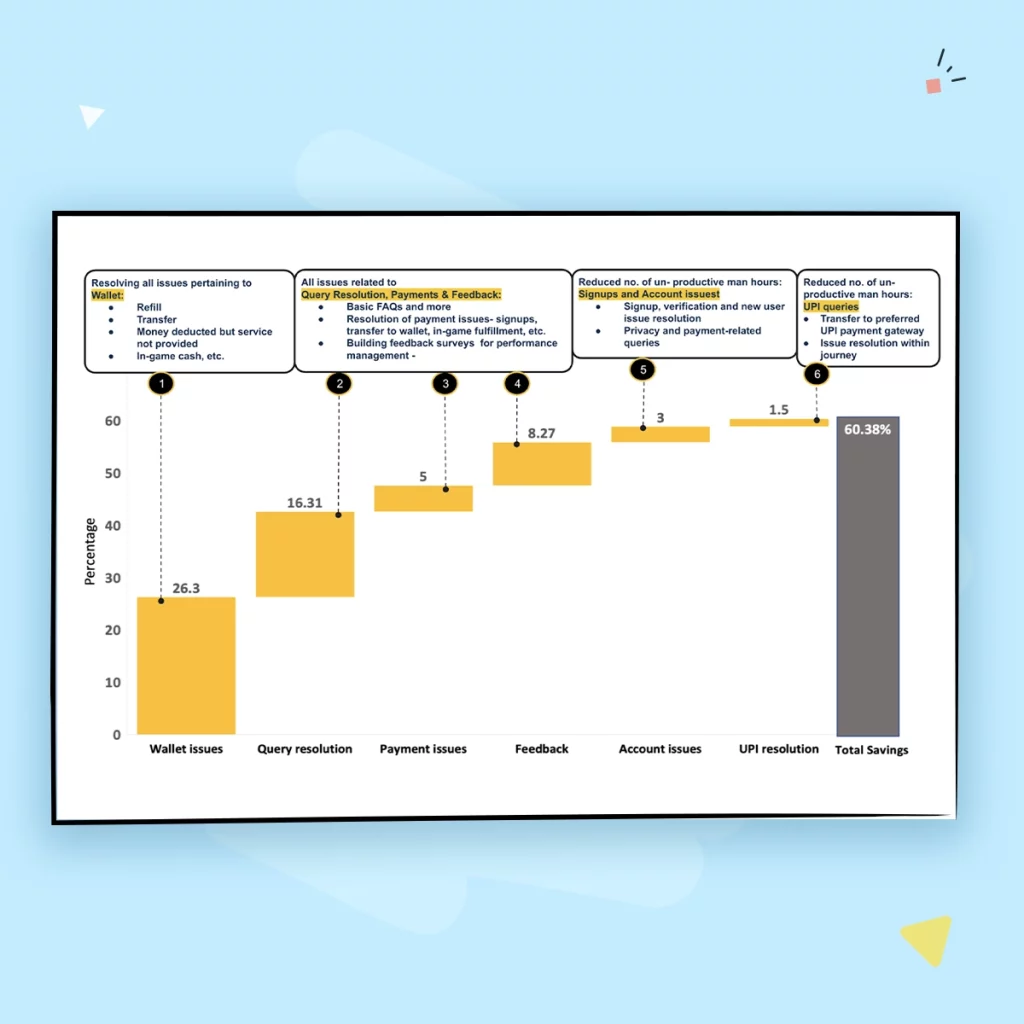 The future for bots in the gaming industry include a host of possibilities, right from integrating games into messaging apps, allowing one to seamlessly play with friends from within the primary channel of your choice to creating richer experiences using NPCs (Non-Playing Characters), within the gaming universe using AI.
As each game developer integrates their own bots, with its rich lexicon, characters, assets and upgrades, the gaming experience will improve manifold and enable users to control simple things by text or voice and integrate into multiple channels and play with friends and strangers around the world in a seamless manner.
Feel free to request a demo of our platform to know how you can transform your business the way other online gaming players have. Delightful customer experiences using conversational AI are but a click away.